1inch Exchange Review 2023
Unlike centralized cryptocurrency exchanges (CEXs), which are fully controlled by a specific financial institution (e.g. Kraken, Bitstamp, or Coinbase), decentralized exchanges (DEXs) do not rely on a third party to oversee and regulate their operations. Generally, DEXs (like Uniswap or SushiSwap, for instance) are characterized by non-custodial, automated, pseudo-anonymous, globally accessible services, but also – thin order books. 


It's also easier to trade on a DEX because the trader only needs an email address to begin trading rather than disclosing private information to businesses. The ease of use and the possibility of trading without revealing one's personal details make DEXs continuously rise in popularity over CEXs.
With over 1.000.000 users on the Ethereum Network, 1inch exchange is one of the decentralized exchanges that seem to enjoy high popularity among its users as a liquidity provider. What's the formula of their success? Is it the robust security architecture of the platform, the innovative 1inch protocol, dedicated customer service, or competitive transaction fees? All of that, and – none of it.
The 1inch exchange is a technological innovation in the DeFi industry that operates as a liquidity provider and a DEX aggregator. The creators of this crypto exchange, Anton Bukov and Sergej Kunz, set up a yield farming platform labelled Mooniswap before working on their new crypto venture. Mooniswap ceased to function in December 2020 when Bukov and Kunz launched the 1inch platform.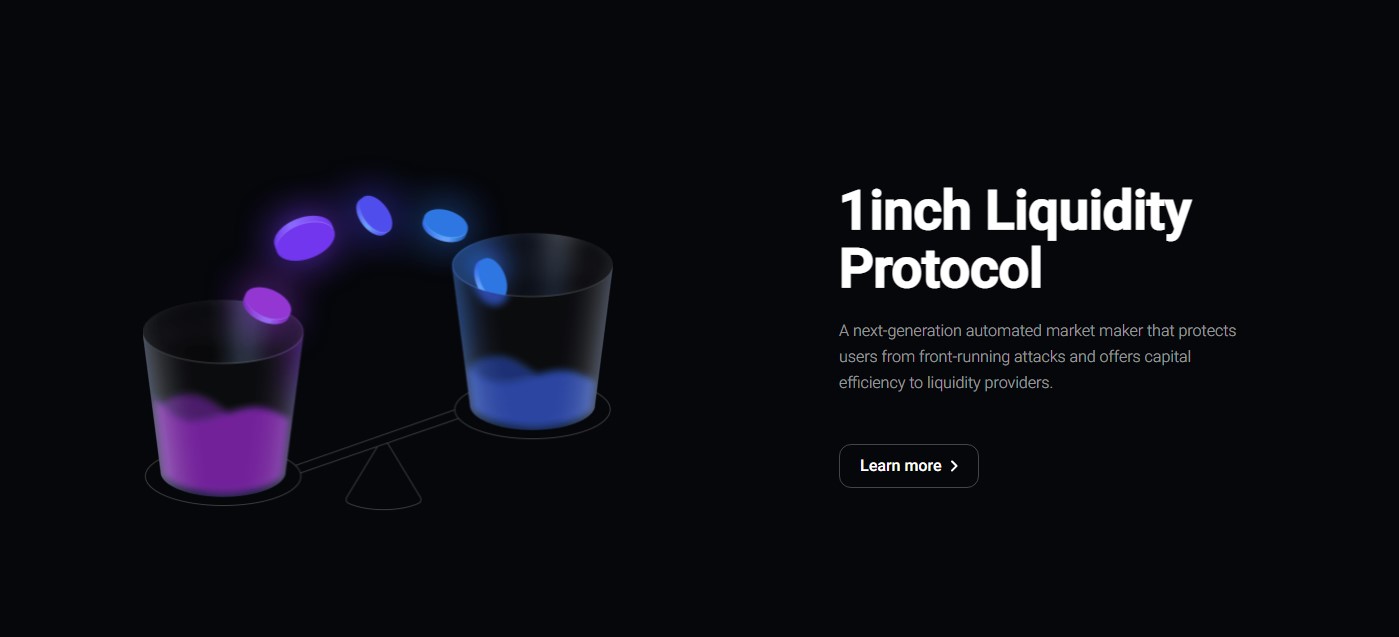 Users of this decentralized exchange, which is more than an automated market maker (AMM), can make use of three primary services provided by the DEX aggregator and liquidity protocol: 
Trading, 
Staking, and 
Liquidity mining.
1inch's principal feature is the DeFi DEX aggregator, which finds the best cryptocurrency rates across a wide range of decentralized exchanges for its users. 
How Does the 1inch DeFi Aggregator Work?
With the 1inch aggregation protocol, the DEX ecosystem is protected from price fluctuations by reducing slippage on atomic transactions, thus improving market liquidity. Namely, by distributing a single trade transaction across multiple DEXs to acquire the best available pricing, traders can avoid the volatility of coins and trade on a more stable market. 
For this, the innovative DeFi aggregating protocol scans several liquidity pools and recommends the most effective approach to exchange tokens instead of just switching tokens from a particular liquidity pool.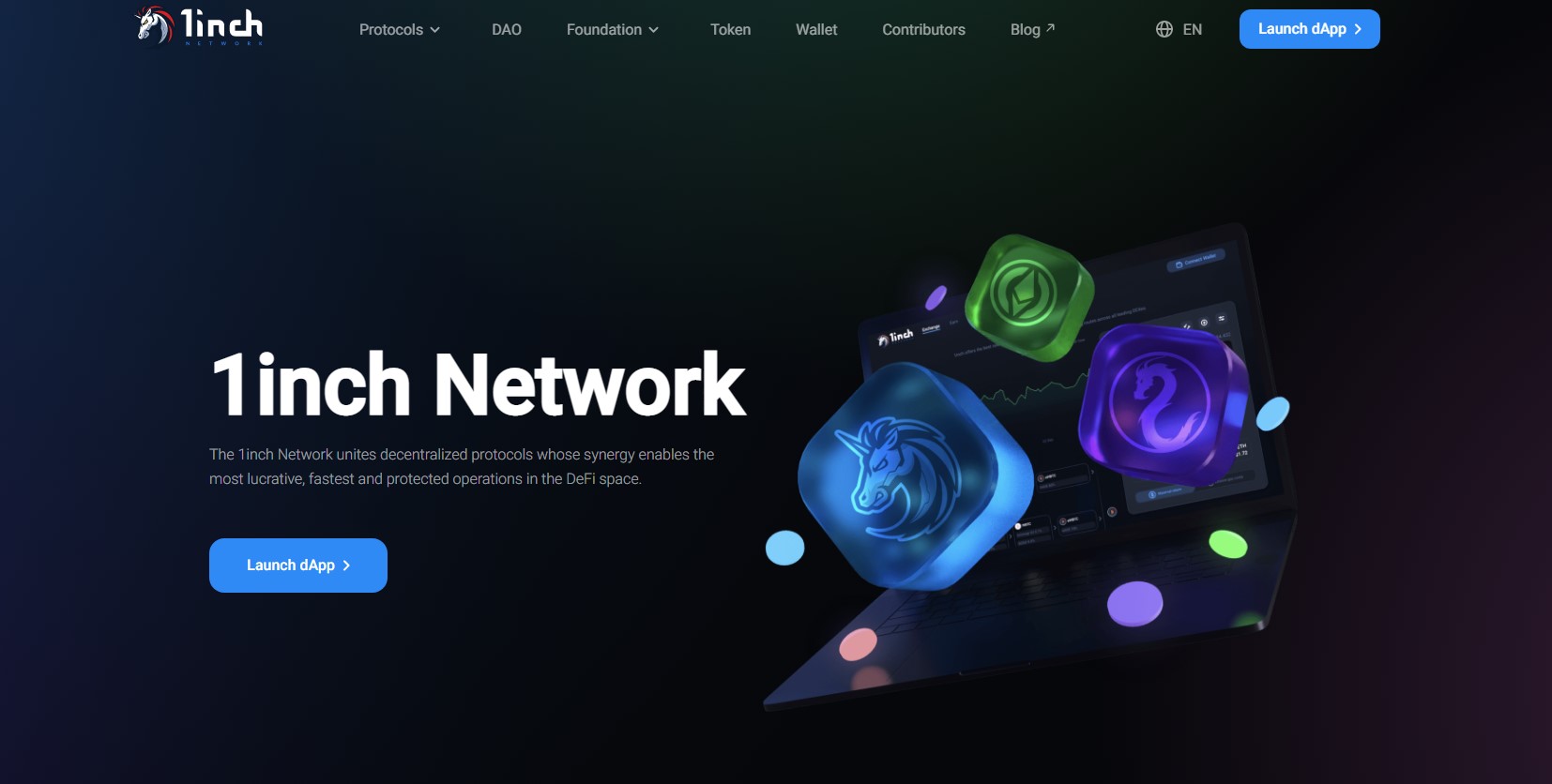 The central part of the 1inch DEX aggregator is the 1inch v4 smart contract, which checks transactions when they occur. This way, user investments can't be lost even if traders deal with an untrustworthy source of liquidity.
As the smart contract ensures that the trade is securely executed, this protocol can be implemented in different aggregation services, like Pathfinder (operated by the 1inch Network). 
The Pathfinder is an API based on a discovery and routing algorithm supported by the Ethereum blockchain network and the Binance Smart Chain (BSC). It helps customers save up to 40% on gas costs by identifying the optimal trading pathways and exchange rates across market places in a split of a second, hence lowering the overall cost of a transaction.
Issued by the non-profit 1inch Foundation, the 1INCH token is designed as both a governance token and a utility token based on the Ethereum blockchain and is used to manage the functionality and operations of the platform. Additionally, holders of the 1INCH token can participate in the voting process. 
The users with 1INCH tokens in their portfolios can also have a say in any future modifications to the protocol settings governed by the 1inch DAO, like the governance reward, liquidity swap fee, or the price impact fee.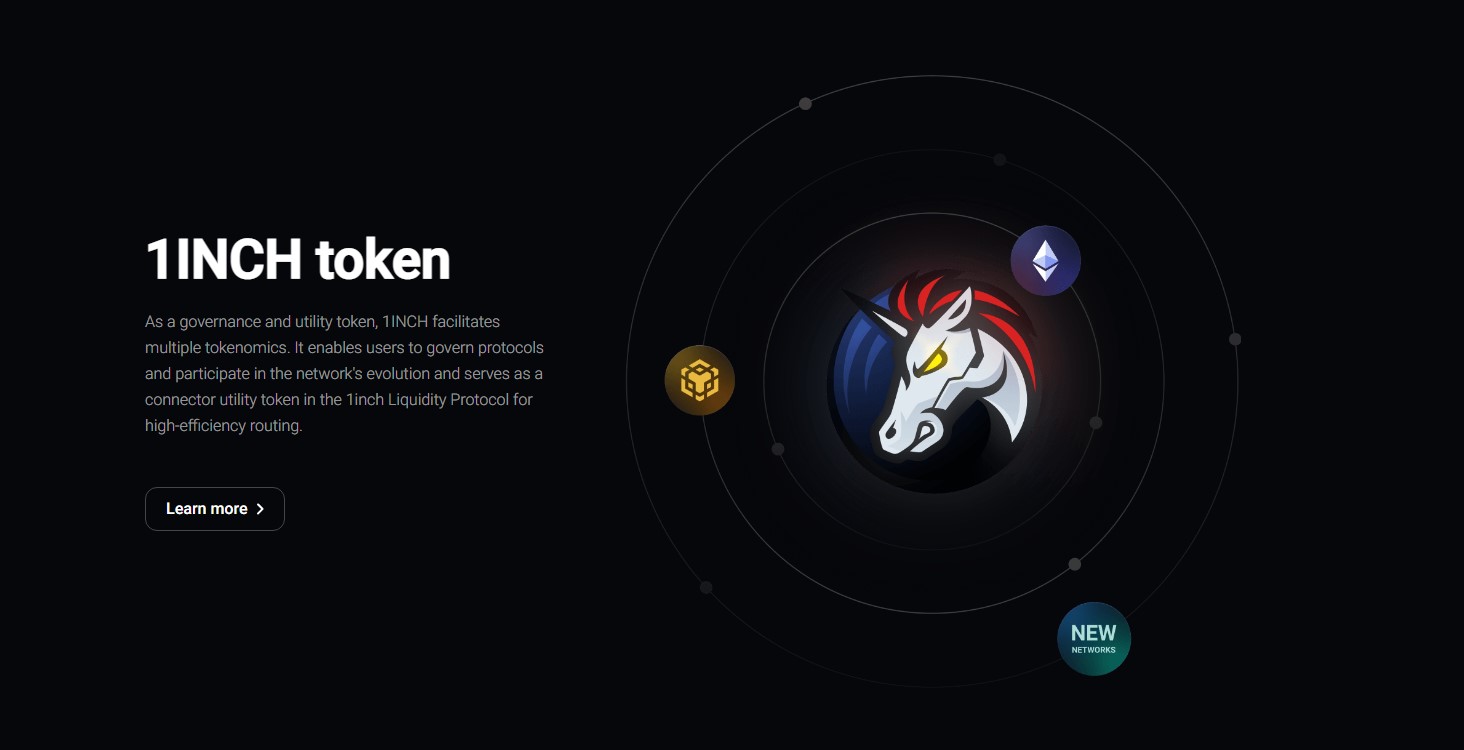 You can only purchase 1INCH with Tether (USDT) or Bitcoin (BTC). As a futures contract, you can trade 1INCH using the US dollar as the only supported fiat currency. 
How to Pay Lower Gas Fees With 1Inch Exchange
A significant advantage of using the 1inch Exchange is that it may greatly reduce the amount of gas required to conduct trades. The gas fee can be reduced by utilizing the exchange's unique gas token or the Infinity Lock function. Here's a brief explanation of these two cost-reducing options. 
The Infinity Unlock Feature
The 1inch exchange's Infinity Unlock function allows the platform to spend a particular token indefinitely so you won't have to pay gas fees to unlock the token later again, which is how this feature saves you money on transaction costs.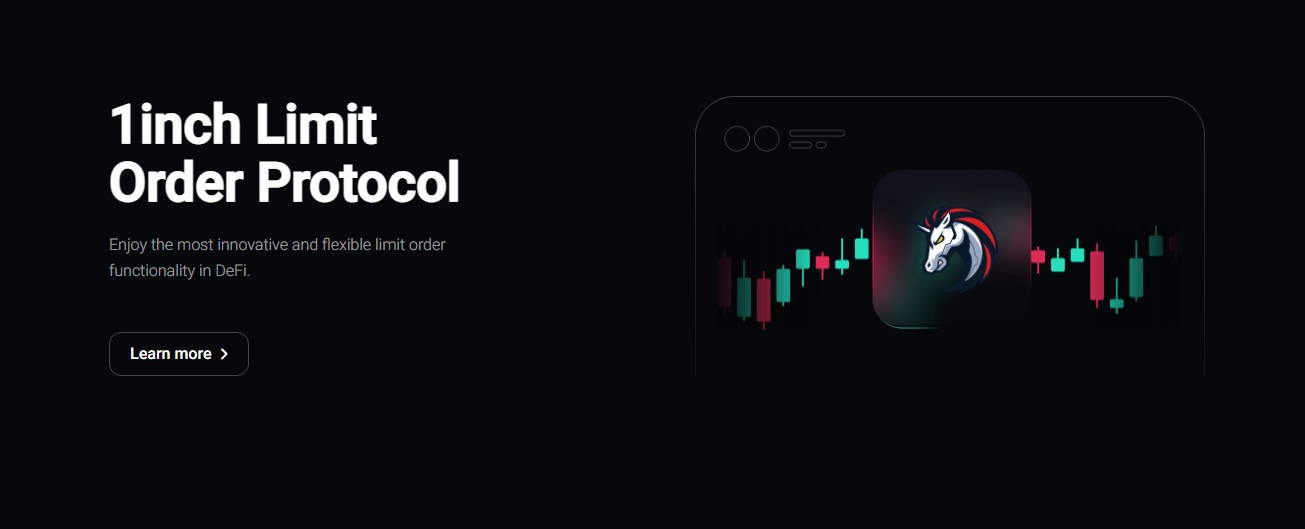 The CHI Gastoken is an ERC-20 token designed for crypto traders to save on gas expenses for crypto traders. Users may trade on the 1inch platform for up to 42% less than average transaction fees, thanks to this token's peg to Ethereum's gas price.
Supported Cryptocurrencies
1inch exchange supports over 400 cryptocurrency projects. The non-exhaustive list includes:
Ethereum-based (ERC-20) tokens, such as Synthetix (SNX), Linkswap (LINKSWAP), Uniswap V2 (UNI-V2), xSigma (SIG), etc.; 
Binance Smart Chain (BEP-20 and BEP-721) tokens and stablecoins, including Binance Coin (BNB), PancakeSwap (CAKE), Bitcoin BEP-20 (BTCB), Binance USD (BUSD), etc.;
Polygon Network tokens, among which we find Aave (AAVE), SushiSwap (SUSHI), etc.;
Optimism Network tokens, Synthetix (SNX) and Uniswap V3 (UNI-V3), and
Arbitrum Network tokens, like Balancer (BAL), Dodo (DODO), and Wrapped Ethereum (WETH).
To purchase Ethereum (ETH) on the 1inch exchange, you can use your debit or credit card and pay with MoonPay. However, be aware of the enormous processing fees before engaging in such a venture. 
1inch Exchange Fees and Limits
The 1inch exchange does not charge any withdrawal fees nor any other fees for trading cryptocurrencies on this platform. The network fee, i.e. the mining fee for the respective token's network, is the only fee one must pay while trading through the 1inch exchange.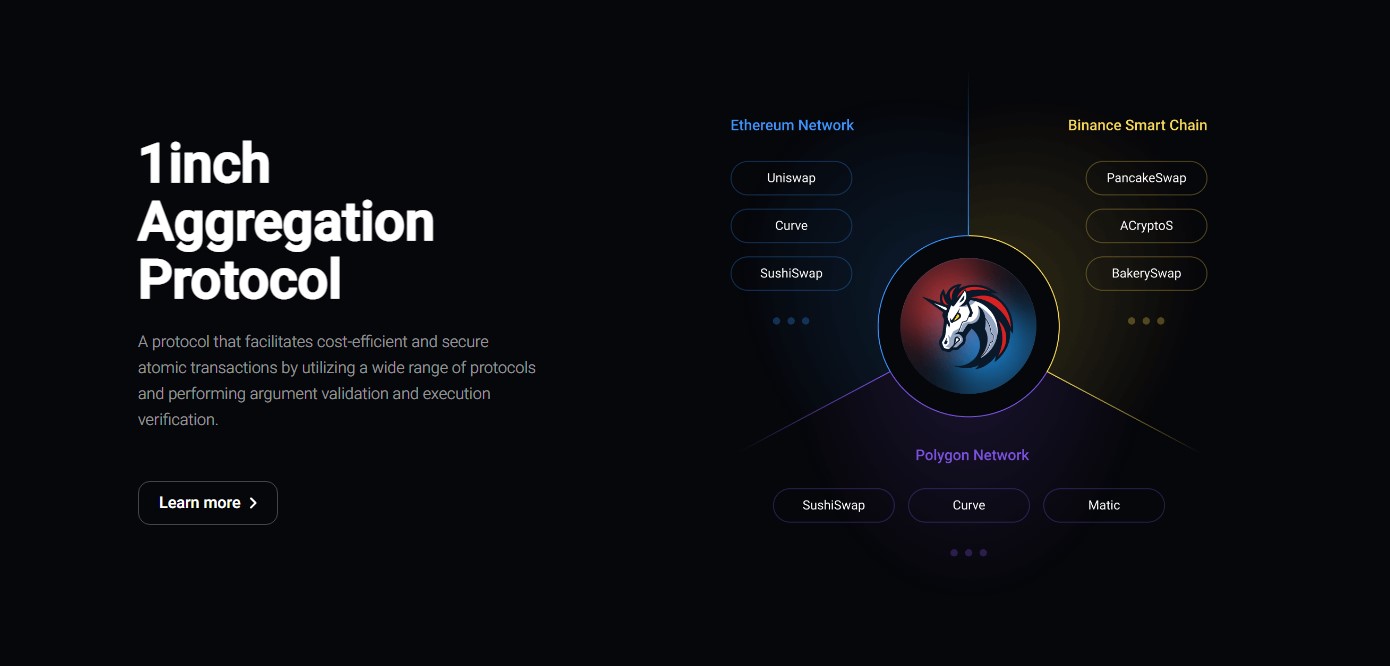 In terms of security, 1inch takes particular care ensuring that all users' assets and transactions are kept safe. Several renowned audit teams in the industry examine 1inch smart contracts for compliance. This exchange is audited regularly by Consensys Due Diligence, OpenZeppelin, Haechi Labs, SlowMist, Certik, Coinfabrik, Chainsulting, Mix Bytes, Scott and Bigelow.
Furthermore, the 1inch exchange is a decentralized platform of a non-custodial character. In other words, the cryptocurrencies you trade using the platform are stored in a trading wallet, not on the platform. So, in case of a hacking incident, your funds will be safe.
1inch exchange provides its users with customer service that is available 24/7. You may get in touch with them via live chat or by sending them an email with your inquiry. Because they are active on social media, you may also contact them through their Telegram or Twitter pages or by subscribing to their YouTube channel, which has more multimedia information on the exchange's functionalities.
Frequently Asked Questions
Does 1inch have a mobile app?
Yes. People who use the 1inch exchange can use it on their phones and tablets. Using this app, you can access the deepest liquidity pools and the best token exchange prices across many different DEXs.
Does 1inch provide a cryptocurrency wallet?
Yes. The 1inch wallet is a cutting-edge solution for safe holding, transferring, and exchanging digital assets through your mobile device. You can also effortlessly link another web3 wallet and begin trading ERC-20 tokens at the most advantageous prices. 
There are many wallets that a 1Inch trader can use to exchange tokens on this exchange, like MetaMask, WalletConnect, MEW, 1inch Wallet (iOS), or Ledger hardware wallet, to name a few. If you want to link a wallet to the platform, tap the "connect wallet" icon in the top-right corner of the dashboard. A pop-up will display all compatible wallets. Select your preferred one and add it to the list.
Can you engage in staking on 1inch?
Yes. Your tokens can be staked through the DAO section of the platform's app by inputting the planned number of tokens you wish to stake and then giving the platform permission to stake your tokens. Stakers become eligible to vote on the platform's Aggregation and Liquidity protocols if they stake their 1INCH tokens.
1inch decentralized exchange aggregator offers an innovative trading approach to the crypto scene. While the automatic DeFi DEX aggregator helps traders to identify the best market and the best rates to swap tokens, some of the 1inch features may be a little difficult to grasp for beginners in the crypto trading realm.
The 1inch trading platform is a little more sophisticated than some other DEXs in the industry, but it's worth the effort of mastering it in the long run, given that this is one of the few exchanges that does not impose transaction fees. Keeping up with technological advancement is always a step in the right direction, and that's what the 1inch creators had accomplished with their crypto project.
This page was last updated on August 23, 2022