In an age where digital currency and finance is growing and expanding by the hour, it's getting increasingly hard to sift through the sea of exchanges, currencies and features. It makes sense that a lot of traders have gotten a severe case of option paralysis and have been leaning towards the truly decentralized side of the crypto coin. 
Decentralized crypto trading platforms can be anything you want them to be. Not every single one of them, but a great deal of them can be customized to occupy just one lane or be programmed to automatically execute orders on set parameters. In other words, when given the option to choose a decentralized crypto exchange over a centralized one, users are actually choosing to create their own offering and personalize the platform that they do business through, without the need to learn the ins and outs of every available feature under the sun. 


While this sounds amazing on paper, it's not so seamless in practice. A trader needs to know exactly what they want and how to get it in order to set it up. Oh, and did we mention that most DEX platforms do not accept fiat currency deposits?
So, where does AirSwap fall in all of this? Is it better than the next DEX? Is it more beginner-friendly? Or does it make more sense to stick to a CEX where everything is sorted out for you? Let's compare decentralized and centralized crypto platforms and see what AirSwap has under the hood.
And if you're looking for a decent local centralised exchange, have a look at our comparison of the best crypto exchanges in Australia.
Centralized vs Decentralized Cryptocurrency Exchanges
Decentralized crypto exchanges or DEXs usually employ automated protocols known as AMM in order to make good on orders and execute functions. In a sense, DEXs are what CEXs were advertised to be when they first hit the crypto market in the early years of Bitcoin.
Centralized Cryptocurrency Exchanges
Centralized crypto exchanges or CEXs for all of their advantages to traditional banking are still grounded by the same principles. In order to start doing business through a CEX, users have to register for an account on the crypto exchange platform, provide credentials, verify their identity, add funds to their balance, find an offer that they like and pay fees for the service and execution of that trade.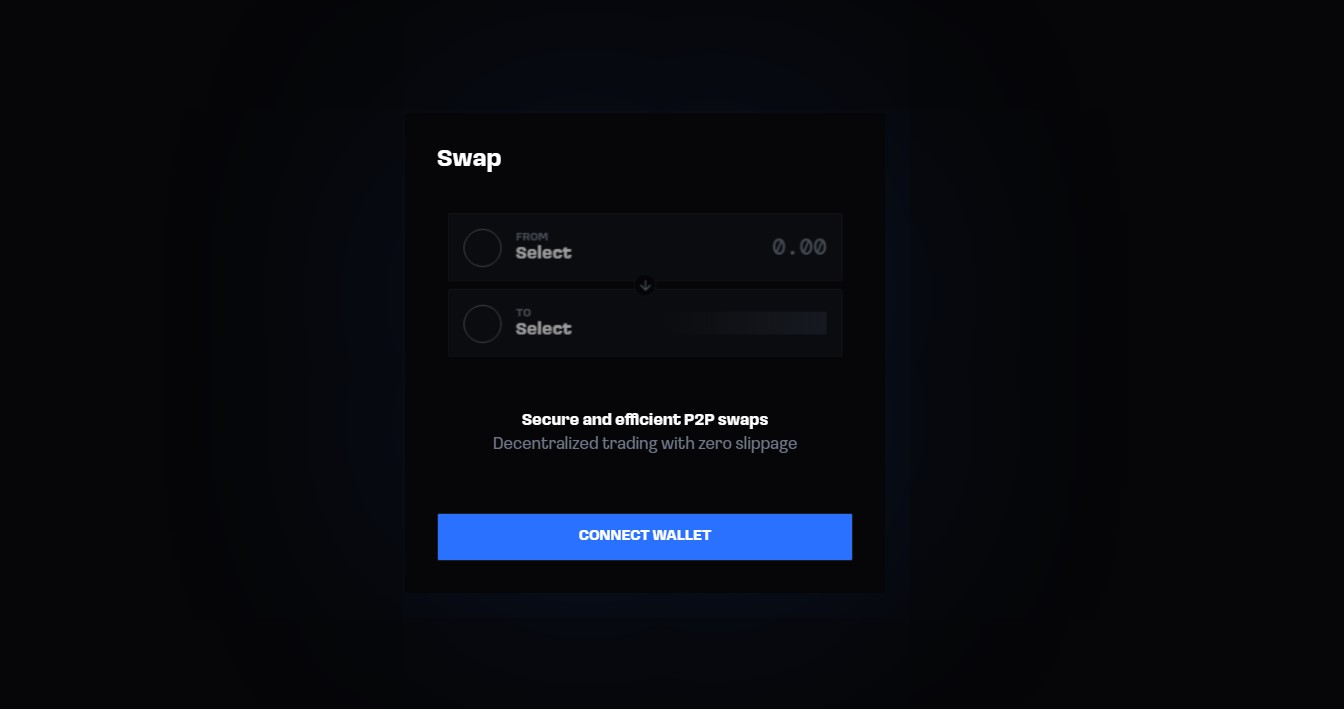 While this method works and has proven very beneficial for traders and institutions alike, it still resembles the old commerce model. The main difference is that when going through a centralized crypto exchange platform everything is in the digital realm. The problem is that this way, blockchain-based assets and blockchain technology are underutilized by employing a service that controls, oversees, executes and taxes its clientele's money transfers.
Decentralized Cryptocurrency Exchanges
DEXs, on the other hand, employ P2P (peer-to-peer) protocols that provide users with complete and utter control of every faucet. By using truly decentralized finance (DeFi) platforms, traders can open, track and execute trades without the need of a third party or a mediator. In fact, their trades are automatically settled by smart contracts that validate transactions.
The trustless protocol approach to trading has made it possible for a great deal of improvement on all fronts. DEX platforms are able to provide traders with a lot more practical solutions than CEXs ever could. Users don't have to rely on anyone to manually execute their positions, they don't have to share any personal or private data with the trading platform, can do business from virtually any spot on the planet that supports an internet connection, and don't have to pay staking and hidden fees every step of the way. 
So, you're probably asking yourself why isn't everyone using one? Well, DEXs can be so different in nature that they have little in common other than the fact that they are non-custodial and decentralized. This makes them very inaccessible for inexperienced traders. It's not a question of whether DEXs are better than CEXs. It's a question of whether DEXs are better than CEXs for you.
About the AirSwap Exchange
The AirSwap crypto trading platform is driven by the Ethereum blockchain network. The exchange provides users with decentralized trades and crypto swaps in its native token, ASP, as well as some of the most popular ERC-20 tokens and stablecoins.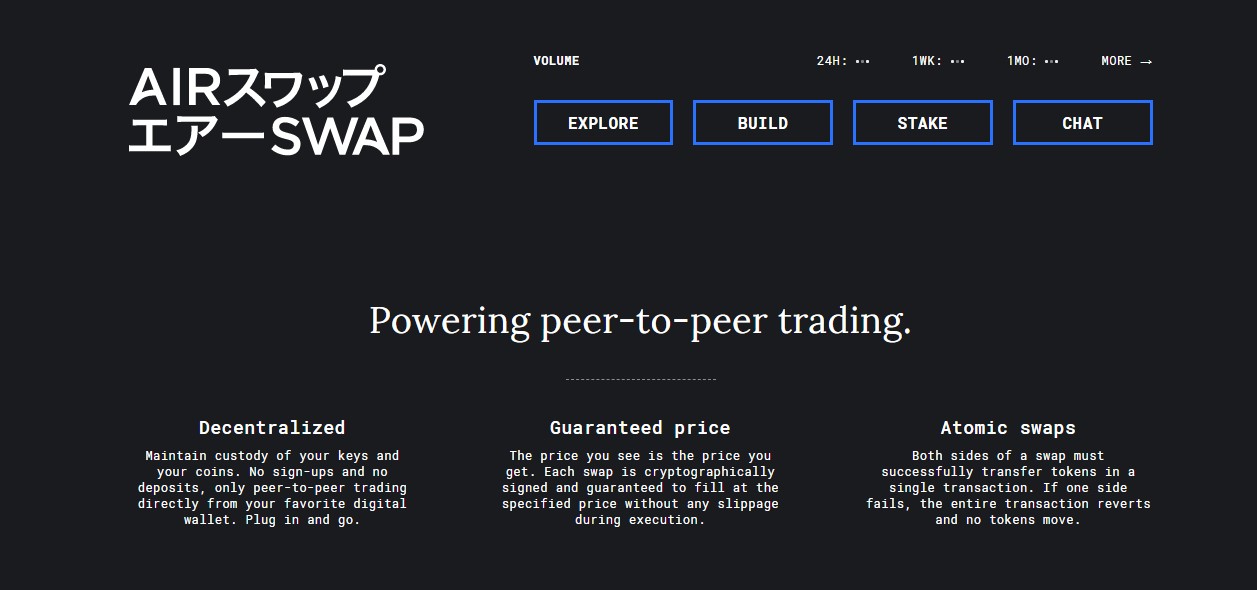 AirSwap doesn't employ any hidden fees on deposits or withdrawals. Instead, the crypto trading platform relies on its native ASP token for profit. The exchange has no limits or thresholds of any kind, and there is no need to register for an account in order to open and execute a trade. 
Launched in 2017 by co-founders and finance and development experts Michael Oved, Don Mosites, and Sam Tabar, AirSwap didn't waste any time setting up its first ICO offering. Their combined experience of providing services at some of the biggest companies out there, such as Google and Zynga, were put to good use and the crypto platform managed to secure over 33 million in USD dollars on its initial ICO offering. 
AirSwap provides users with an intuitive and easy-to-use website that is online from everywhere in the world and accessible at https://www.airswap. The trading platform automatically delivers its users with the best possible rates on the market. Open positions at AirSwap usually have a three-minute window, during which traders have to set their preferences in regards to gas prices and confirm the offer. 
The trading platform employs its own personal Swap Protocol that makes it possible for everyone to execute traders fee-free. The smart protocol makes use of the ETH blockchain network in order to zero in on an order and finalize atomic swaps via smart contracts. The platform provides its Swap Protocol service off-chain, which means that the processing times are considerably lower because the trading platform doesn't have to go through the whole blockchain in order to confirm an order. On-chain transactions usually clock in at about fifteen seconds or less; however, off-chain exchanges are able to validate and execute an order in a matter of milliseconds.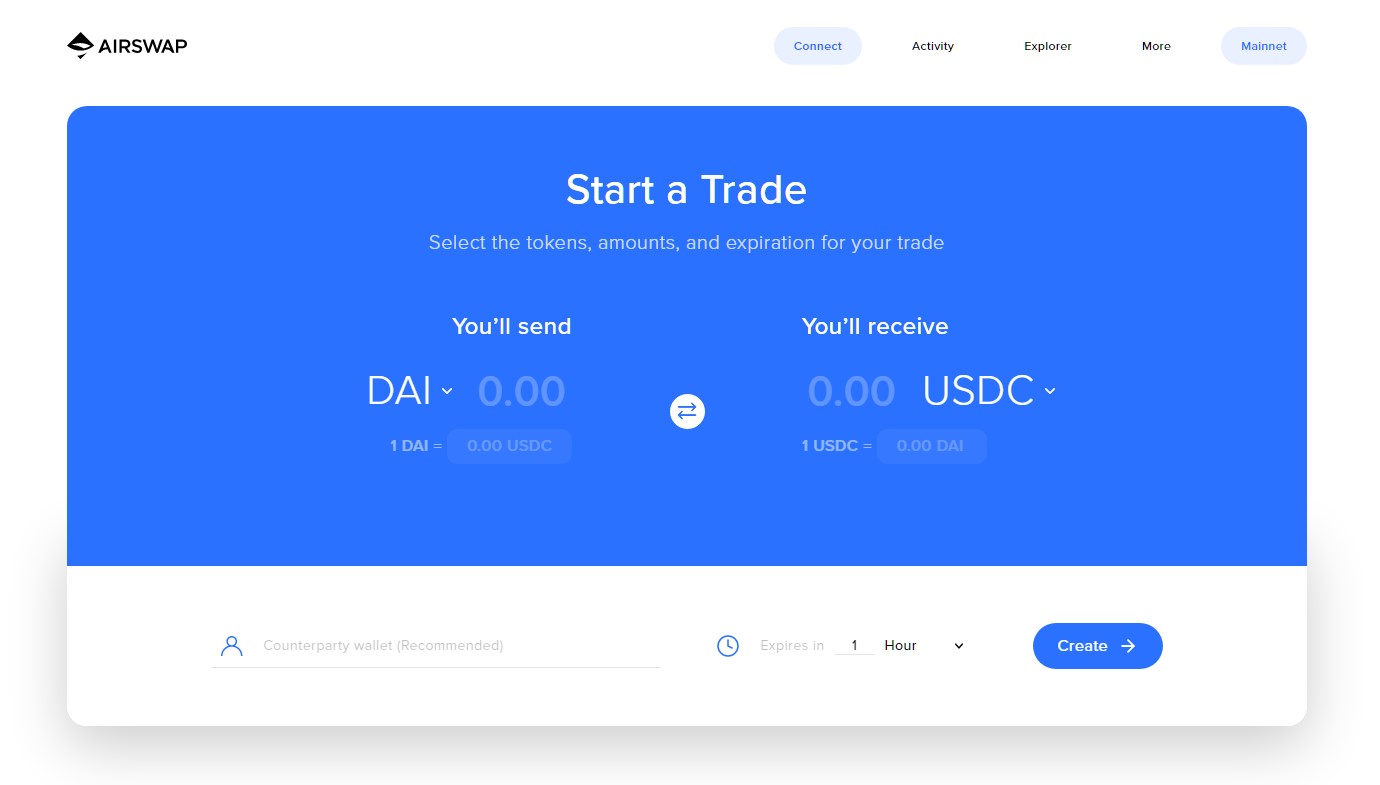 AirSwap's Swap Protocol does not rely on a traditional order book where users can browse and settle on trading pairs; instead, it employs the services of AirSwap Index and Oracle features. The Index feature resembles a search feature, while the Oracle delivers the best market prices at any given moment in time.
The trading platform's native AST token has continuously risen through the ranks and become one of the most sought after digital assets in the ERC-20 token field. Market makers can employ the AST token as an underline currency and add liquidity exactly where needed to finalize the trade at the best possible rates. AirSwap makes its living on the spread. This means that the fractional price difference that occurs between the asking price and the eventual price at which the trade goes through goes to the trading platform itself.
The trading platform's liquidity pools are open to all stakers who are willing to part with at least 250 AST tokens. Once deposited, the staked tokens are off-limits for at least one week. The trading platform usually sees deadly traffic of about 8 million of its assets, with the total supply reaching 500 million coins. The token offering has remained one of the best ERC 20 assets since the date of its inception.
Supported Cryptocurrencies
Because AirSwap is an Ethereum-based crypto trading platform, the exchange is exclusive to ERC tokens such as Binance Coin (BNB), Grid+ Coin (GRID), Decentraland Token (MANA), RChain Token (REV), AST, Ether (ETH), 0xProtocol (ZRX), Bloom token (BLT), OmiseGO (OMG), Basic Attention Token (BAT), Dai (DAI), DigixDAO (DGD), Augur (REP), Kyber Network Coin (KNC), and Enjin (ENJ). 
Like most decentralized crypto trading platforms, AirSwap does not provide support on fiat payments and deposits.
Users who want to start dealing and doing business through AirSwap have to get a hold of a third-party crypto wallet and connect it to the trading platform. The most popular and utilized types of crypto wallets are hardware wallets, which provide traders with cold storage for their private keys, and software wallets, which store digital assets and altcoins in hot storage – online. 

It's paramount that users do some research and figure out which crypto wallet will suit their needs best before they pull the trigger. Traders who plan to hold onto their assets or take long positions on trades are better off with a wallet that provides cold storage so that their balances don't fall prey to malicious attacks and scams.
AirSwap is compatible with some of the most sought after crypto wallets out there, such as Trezor, Ledger, Coinbase Wallet, Argent, Gnosis, MetaMask, and imToken.
The fact that AirSwap is a non-custodial trading platform means that it does not provide its users with a native crypto wallet. Users retain full control over their funds and private keys at all times. Because the trading platform stores no user data on its servers and doesn't employ hot or cold asset storage, it's illogical for someone to attempt to breach it in the first place. 
Furthermore, the trading platform has its servers scattered across multiple different locations in Europe and USA. This significantly reduces the chances of someone creating a mess that will bring the platform down. Even in an unfortunate event where a hacker would breach into one of the trading platform's servers, the platform's network will still stay the course and function as normal.
Frequently Asked Questions
Can I buy AST tokens with cash?
Unfortunately, this is not an option because AST is a DeFi token. There are workarounds and ways to get a hold of AST tokens with cash; however, the road is long and, in many cases, comes with a transaction fee in tow. Users that are adamant about purchasing AST tokens by means of cash have to go through an entry-level crypto exchange that accepts fiat-to-crypto deposits. There they will be able to purchase BTC or ETH in exchange for their fiat and then bring their digital assets to AirSwap. 
Another option for traders who do not want to take the centralized exchange route is to convert their funds using Coinjar's Blueshyft terminal. Here users are able to deploy their fiat funds, convert them and then navigate to trading pairs that feature the AST token, such as AST/BTC or AST/ETH. AST trading pairs can also be found on crypto trading exchanges such as Binance, Huobi Global, CoinSpot, Bitfinex, and OKEx among others.
Fluidity is a company based in the USA that provides blockchain technology services and solutions. The platform serves as the parent company of AirSwap and specializes in tokenized security trades as well as real-estate tokenization. In 2020, Fluidity was acquired by ConsenSys, a company that provides app builds and blockchain-based financial infrastructure.
A Few Words Before You Go...
As a truly decentralized exchange, Airswap.io excels at peer trading. The platform is able to support high trading volume traders that would like to deal on Ethereum networks at no market cap whatsoever. Through the AirSwap platform, users are able to start trading at minimal slippage and zero trading fees.
AirSwap's top priorities remain user-friendly and stable; instead of going for every trading feature in the book. Is it for everyone? Of course not; there are crypto trading platforms that are able to provide users with higher liquidity, greater speeds and automated market makers. However, AirSwap remains a solid choice for traders who want to enjoy the ride and rely on the platform's model of consistency.
This page was last updated on August 23, 2022