As the crypto world keeps expanding and reaching new heights with every passing day, it seems that more and more people are seriously considering the proposition of leaving traditional finance and entering the digital realm. All signs are pointing toward a future when crypto and digital goods will be the economy's norm, not the exception or alternative. 


The good news is that it's never too late to get started with cryptocurrency and unlike traditional analogue finance, where users have to know all the ins and outs of the industries they invest in in order to survive, thrive, and make a profit, cryptocurrencies allow traders to get into the game on their own time because they are so very different from each other.
There are different types of trading platforms that provide different services and, in some cases, completely different features (see our pick of the best crypto exchange in Australia). How different? Well…
Types of Trading Platforms
This is the main reason why potential traders hesitate to switch to digital assets and cryptocurrency – they fear that they won't be able to bear the pace and the speed at which the pendulum will swing. This can be true if a user decides to take on everything there is to cryptocurrency, cryptocurrency exchanges, and blockchain technology, however, the beauty of the cryptocurrency industry is exactly that. 
The two main types of cryptocurrency exchanges are centralized crypto exchanges or CEXs and decentralized cryptocurrency exchanges or DEXs. If a trader chooses to do business through a centralized cryptocurrency platform they don't have to know anything about decentralized crypto exchanges or P2P trading, and if they choose not to dabble in advanced leverage and margin trading, they do not require any knowledge on those features whatsoever.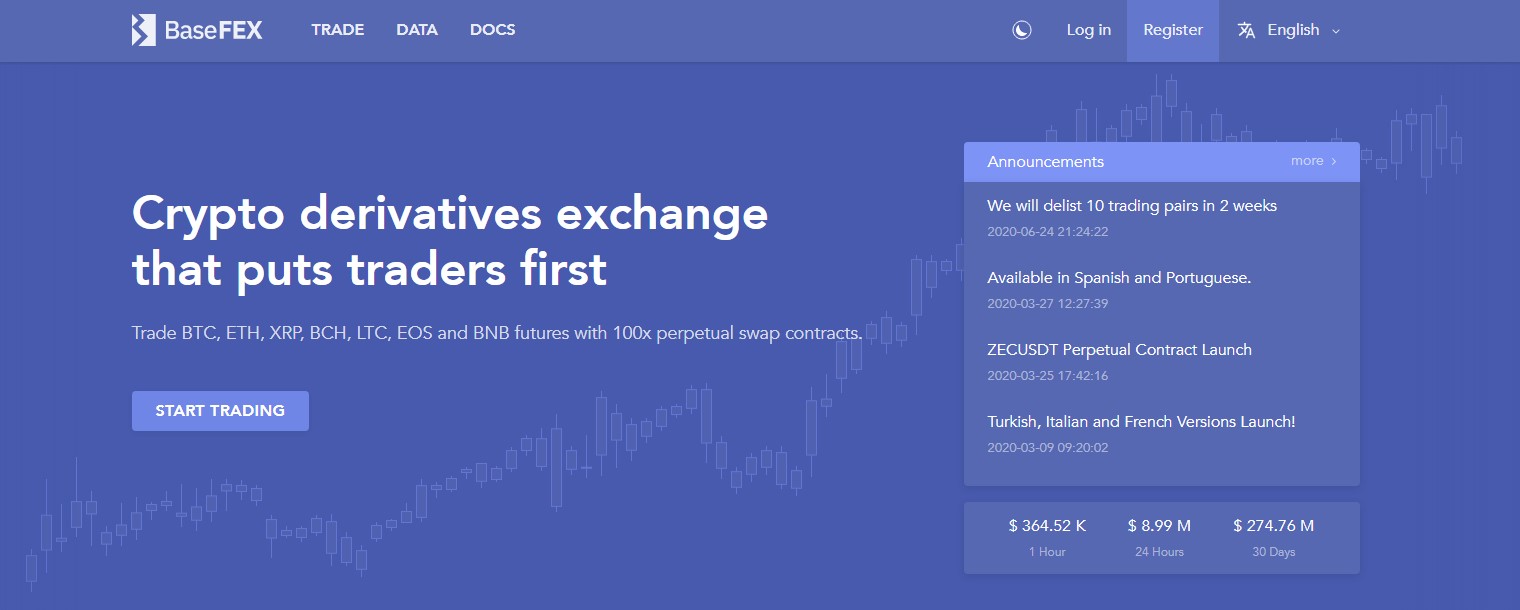 Or they can choose to stick to derivatives crypto exchanges, trade underline assets, and never come across a crypto coin in their life. As you can see from the examples above, the beauty of cryptocurrency is that it's as limitless or limited as you make it.
BaseFEX is a crypto exchange platform that offers just that – options as far as the digital eye can see. The platform can be as simple or as complex as you want it to be. Veteran and experienced users using it are able to make the most of leveraged crypto trades and deal in contracts of Bitcoin (BTC) and Tether (USDT). The leverage magain goes up to 100x while the fee application remains low throughout. The trading platform also supports an Insurance Fund, a featured TestNet account, as well as a carefully thought through API. 
But we're getting ahead of ourselves! Let's take a step back and take a look at where and how BaseFEX originated.
BaseFEX came on the crypto scene back in 2018. The platform is based out of Hong Kong, however it resides in the Seychelles due to the Chinese ban on cryptocurrency as a whole. 
BaseFEX didn't waste any time in establishing a presence and partnering with Ceyuan Ventures as well InBlockchain and big.ONE, which led to an instant jump in the ranks and provided them with some well worthwhile backing in terms of reputation. The trading platform exceeded all stop-trading expectations and provided the crypto market with a fresh breath of air. 
The trading platform's philosophy is geared towards innovation and reliability. Software development and forex trading experts and co-founders of BaseFEX Jesse Wu and Isaac Zeng have made a promise to keep all company operations fully transparent and provide users with the latest and most technologically advanced features available for derivative crypto exchanges and vendors. 
How to Get Started With BaseFEX?
Setting Up a BaseFEX Account
In order to get started at BaseFEX, traders will be required to set up an account at the derivative exchange platform. This is done by providing the platform with an active email address and unique credentials, such as a username and password.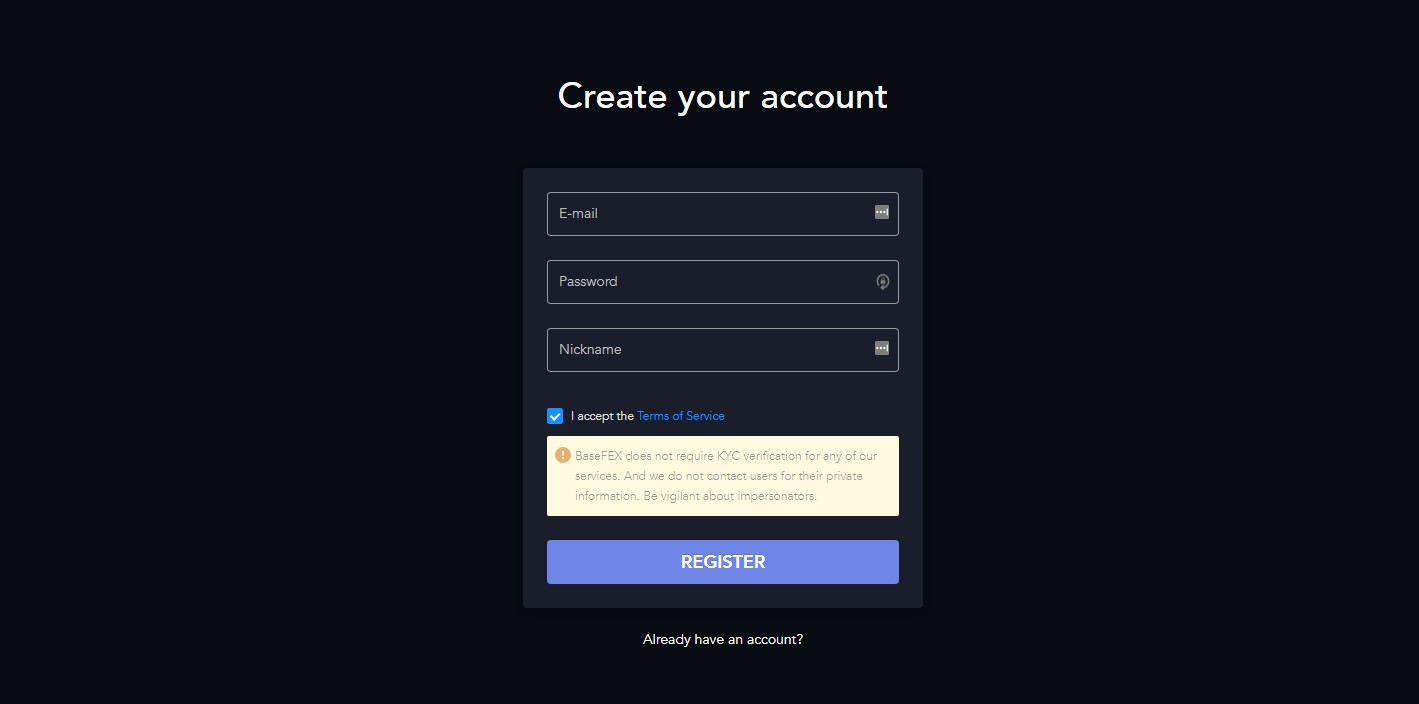 Once this step is completed, users should receive a confirmation email on the address that they have provided. The confirmation email contains a unique code that they have to copy and paste in order to verify their email address. BaseFEX does not employ Know-Your Customer (KYC) verification processes on its users. So there is no need for providing the exchange with personal documents or a selfie in order to confirm your identity and history of transactions.
The platform does feature a two-factor authentication (2FA) protection layer that users should activate in order to receive notifications on logins and withdrawals. 
Deposits at BaseFEX are made exclusively in Bitcoin (BTC). This might be an obstacle for traders looking to enter the fold by making a fiat or altcoin purchase, however, there is always an option to bring a third-party spot-trading exchange on board, convert any asset to Bitcoin and then deploy the newly acquired Bitcoins to BaseFEX. 
The process of depositing funds to BaseFEX is pretty easy and straightforward. All that users have to do is enter their account page and navigate to the Balance Page tab. There they will find the Deposit button. Once they settle for the sum that they wish to deposit on the trading platform's premises, they will be given a preview of the crypto wallet address that will receive their BTC. Users who opt for depositing their funds via the pllatfrom's mobile app will have to scan a QR code in order to verify the link and confirm the deposit.
The BaseFEX Trading Platform
BaseFEX features an intuitive and well-thought-through interface that most traders will find quite convenient and easy to navigate. Traders are able to choose different interface languages including English, Japanese, Korean, Chinese, as well as Russian. Users have the option to choose between multiple perpetual contracts listed in BTC or USDT. The list of the crypto trading platform's supported cryptocurrencies is displayed on the main page along with a price history chart that updates every hour.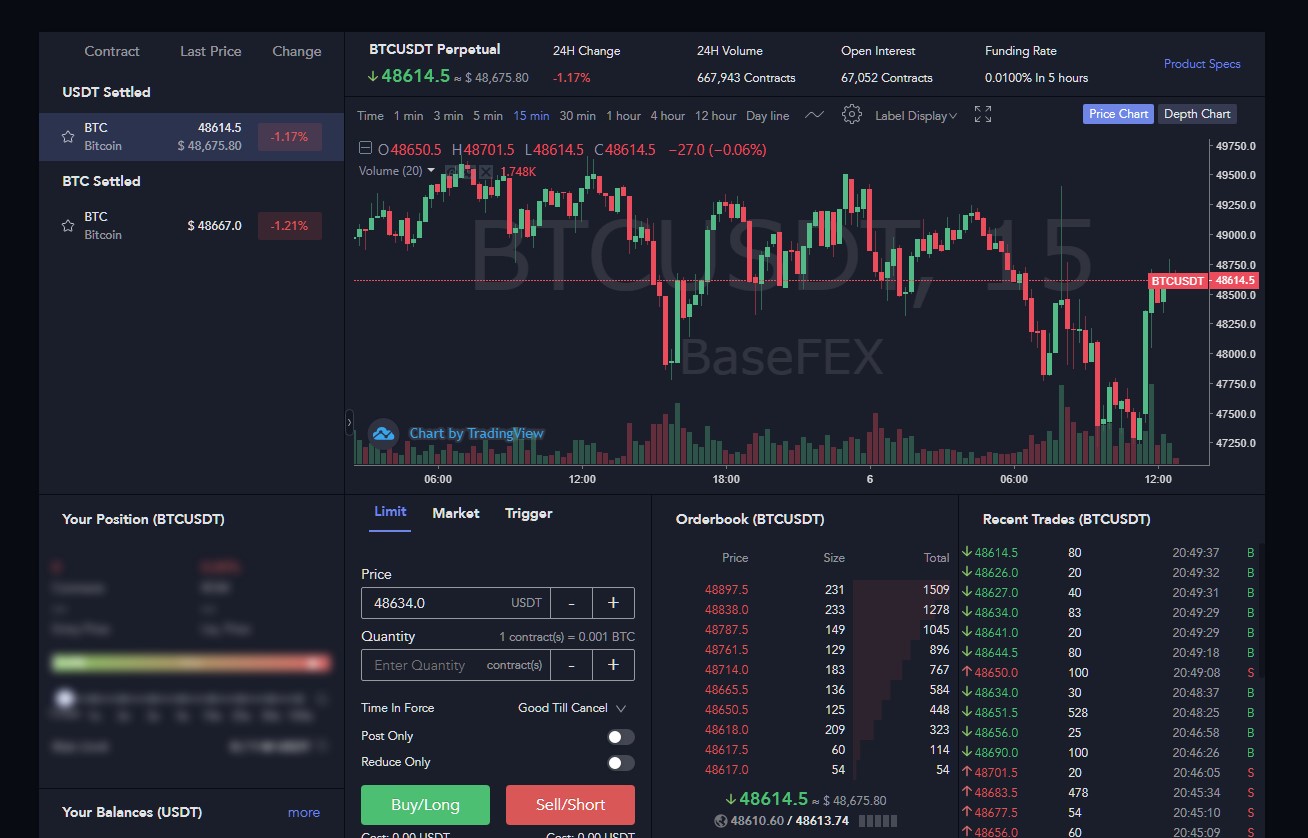 Users have the option to change this setting and switch the feed updates to intervals of four and twelve hours. Or, if they need more frequent updates, they are able to set the update rate in minutes instead of hours and receive updates on all prices in spans of one, five, fifteen, or thirty minutes. 
Veteran and experienced traders are able to make the most of the trading platform's TradingVIew chart feature. Here they will be able to take advantage of all the advanced tools that TradingView has to offer. Traders can preview and follow their open trade positions, as well as the margins, profits, losses, entry prices and funding rates in real-time. 
Placing Orders on BaseFEX
In order for an order to be placed, users will need to navigate to the dashboard and select their parameters. Naturally, they will have to set the volume of the trade, set the trade as a market or limit order trade, and choose if they want a Buy/Long or Sell/Short position. 
Experienced traders will find the advanced order type offering for BaseFEX quite satisfying, as the trading derivative platform supports advanced features such as immediate-or-cancel, post-only, good-till-cancel, fill-or-kill, as well as reduce-only orders.
Margin Trading on BaseFEX
Margin trades are one of the most popular and utilized features at BaseFEX. Traders that are looking for a thrill or a golden ticket usually take their chances with high leverage positions. BaseFEX features support for up to 100x leverage for BTC underlying assets. Users that want to deal in alternate derivatives such as Ethereum (ETH), Bitcoin Cash (BCH), Litecoin (LTC), Ripple (XRP), EOS (EOS), and Binance Coin (BNB) will have to make do with 20x on leverage.
Bitcoin and Other Supported Cryptocurrencies
Because BaseFEX functions as a derivatives crypto exchange platform, all of the trades on the platform are executed in BTC or USDT. However, because USDT is a pegged currency that derives its value from the US Dollar it makes it a lot more stable in relation to other altcoins and derivative cryptocurrencies. Traders are able to deal in perpetual contracts in currencies such as BTC, BNB, LTC. XRP, BCH, ETH, and EOS.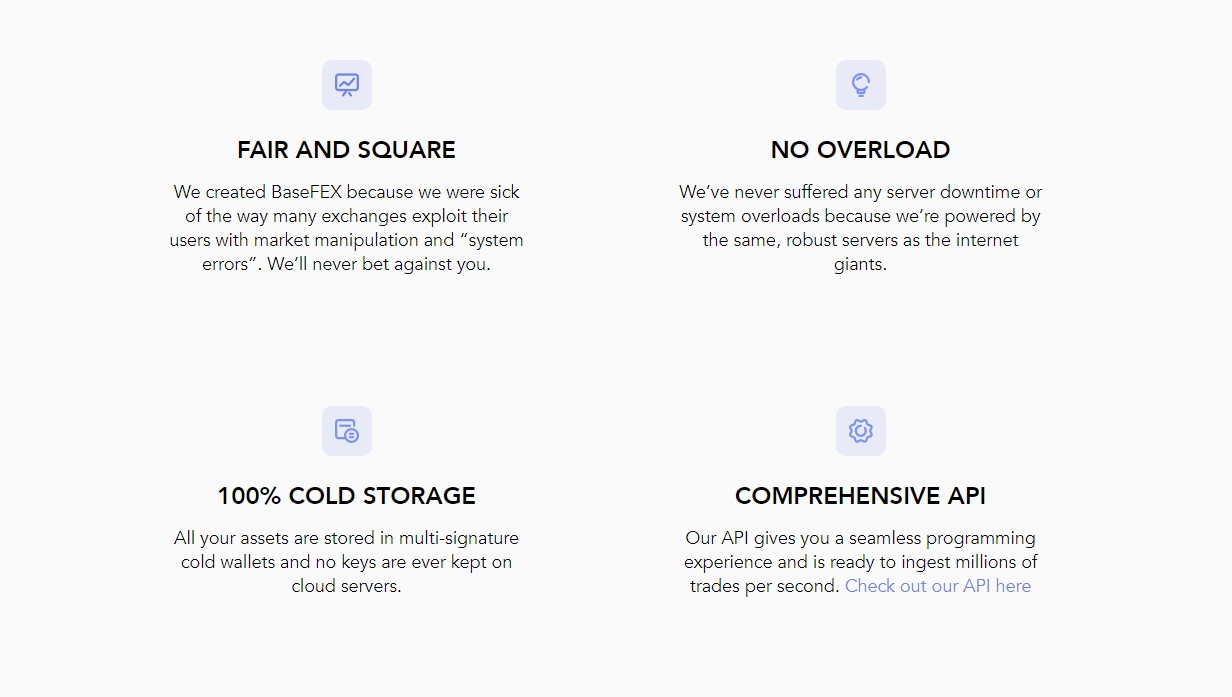 BaseFEX calculates its trade fees based on the type of the transaction. When it comes to futures and high leverage positions, the trading scheme is set up in regard to the size of the position rather than the initial margin. The derivatives crypto exchange supports fully transparent pricing and provides a competitive and slightly more affordable pricing structure than derivatives market exchanges such as Bybit and BitMEX. 
Base FEX employs different maker fees and taker fees. This is a direct result of makers aiding the trading platform's liquidity and takers draining it. BaseMEX doesn't employ any additional fees on crypto contracts, while BTC/USD pairs are subject to a -0.2% fee. By administering a negative fee, the trading platform rewards users who choose to deal in BTC/USD and incentivises them to continue to do so. Takers are subject to a 0.2% or a 0.5% fee, which depends on the type of contract that they have running. BaseFEX has a funding fee on open positions that is executed once per every eight hours.
BaseFEX has a minimum deposit threshold of 0.0001 BTC. The derivatives exchange does not apply any deposit or withdrawal fees on its users, however, traders still have to settle their transaction fees that go towards the miners of the platform's employed blockchain network.
BaseMEX also features a fee discount that is available to large-volume and high-net users. Traders that make use of the trading platform exchange services frequently and deal in large sums are privy to a whopping 50% off. In order to be eligible for fee deductions traders are required to cross the 35 million USD threshold in a span of one week. BaseFEX employs six different discount level tiers that are calculated on a monthly basis. Users that keep their monthly totals below 100 BTC are situated as a Level 1 user and are subject to higher fees on trades. The fees drop lower and lower with every higher tier level.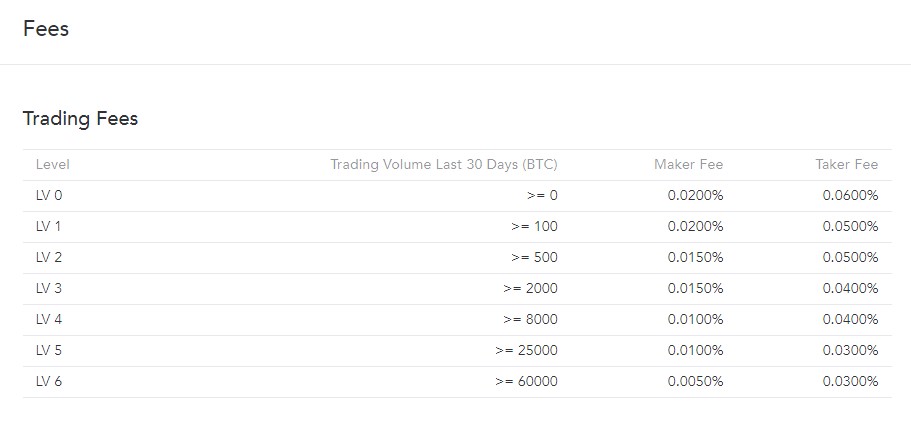 Is the BaseFEX Exchange Safe?
BaseFEX has never been breached or fallen prey to malicious attacks. The trading exchange platform employs a state-of-the-art security infrastructure and encrypts all of its data through SSL encryption. Users are advised to activate the two-factor authentication (2FA) security feature that notifies them of every entry or withdrawal attempt. The trading platform runs frequent audits across its servers as well. 
Customer funds are kept in cold storage at all times and can be accessed only through a multi-signature entry. The fact that the assets are stored in cold storage means that they are stored offline, which makes them unattainable even if someone were to breach the platform's robust security.
Withdrawals at BaseFEX are executed manually. This means that each and every withdrawal request on the trading platform is inspected and confirmed by BaseFEX employees before they exit the crypto exchange premises. Even though BaseFEX isn't a first-wave crypto trading platform and is relatively new, the trading platform has managed to garner quite a reputation in regards to security for the time that it has been offering its services. 
BaseFEX offers its clientele a multitude of ways to get in touch with its support team and is very responsive and attentive when it comes to solving problems. The go-to approach of getting in contact with the trading platform's support team is the conveniently-placed live chat bubble that users can turn to without having to open a separate contact page or tab. Traders are also able to get in contact with BaseFEX by reaching out to the official social media pages as well as joining the trading platform's official Telegram group.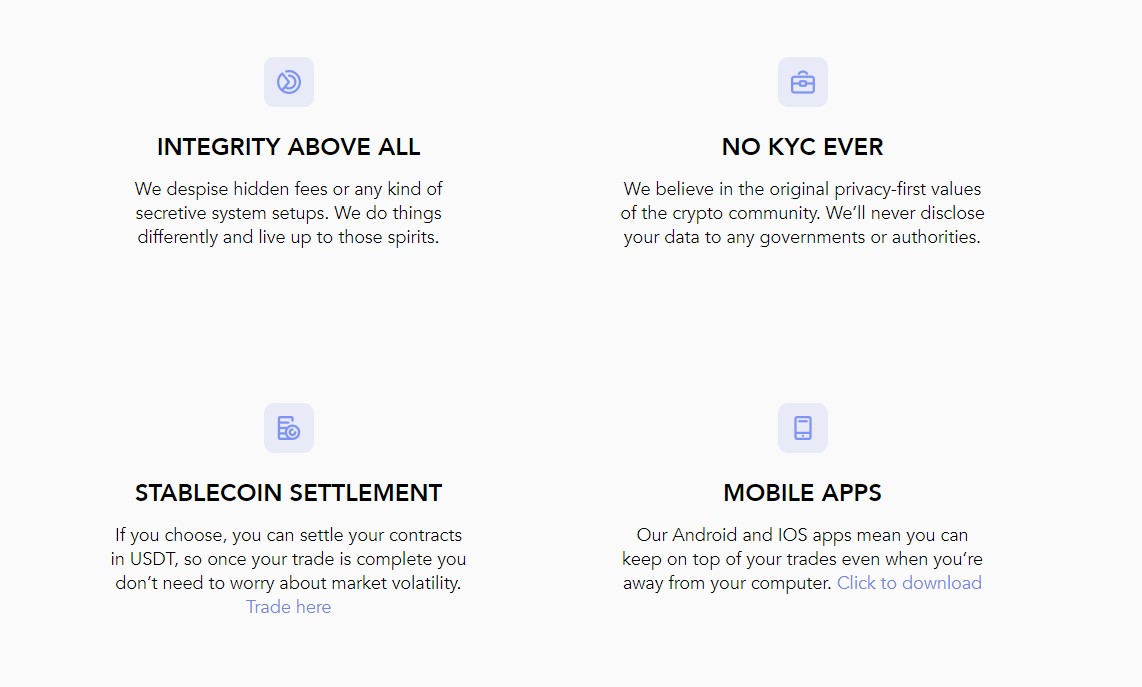 BaseFEX also features an extensive knowledge library that can be found under the FAQ section. Here traders are able to educate themselves on how the trading platform operates, familiarise themselves with the platform's margin trading scheme, learn of insurance fraud and how to avoid it, as well as learn about the trading exchange's liquidity pools, fees, deposits, and withdrawal protocols. BaseFEX provides step-by-step guides that are neatly organized by categories and topics where users will be quick to find the answers to the most common tangle-ups and quarries. 
Frequently Asked Questions
Can I download a BaseFEX mobile app?
Yes. BaseFEX's API works flawlessly in its app iteration. The trading platform provides users with a smooth and sleek design that allows them to stay on top of all their operations and daily business ventures. The trading platform's app is available for both Android and iOS devices.
How can you use the BaseFEX Testnet?
Yes. Users are able to make use of BaseFEX's dedicated testnet platform that can be found at testnet.basefex.com. The Testnet platform is a demo mode trading exchange clone where traders are able to hone their craft and develop their chops without the risk of losing any real assets in the process. 
The Testnet platform features a desktop interface and mirrors all of the features that can be found on the original crypto platform, however, traders will have to register for a new separate account in order to log in on the tresnet platform. Once they create a new account, they will find that they have 10 demo BTC to their names to spend however they choose.
What countries does BaseFEX support?
Because BaseFEX is registered as a derivatives crypto exchange platform, its exchange can be accessed from most corners of the world. However, there are territories where their platform is offline due to regulatory and legislative laws. Some of the territories where BaseFEX is off-limits include China, USA, and Canada.
A Few Words Before You Go...
BaseFEX is a crypto derivatives trading platform that offers an intuitive trading interface where users are able to start trading in no time and take advantage of the latest derivatives trading features. The trading platform features high liquidation on trades and has no problem supporting high trading volumes. 
Veteran and experienced users will find that the trading platform supports a plethora of advanced trading features such as auto-deleveraging, futures contracts, advanced market orders that support cryptocurrency futures, futures trading stop loss, and take profit.
By employing the latest technological advances, BaseFEX has managed to outgrow most of its contemporaries and offer services at low fees, competitive market prices, and affordable network fees across the board.
This page was last updated on August 23, 2022