Best Bitcoin Wallet for Android 2023
Bitcoin (BTC) is the world's first cryptocurrency, and to date, it's also the most famous one. Year after year, as interest in purchasing digital currency continues to be on the rise, digital assets investors looking to buy Bitcoin, in particular, are becoming ever more numerous. 
For any trade involving crypto assets to take place — whether it's a Bitcoin or an altcoin transaction — the crypto buyer needs to have a cryptocurrency wallet. Some of these wallets are available for Android mobile devices, among other things.
If you're looking to use a Bitcoin wallet compatible with Android, we've got you covered. In this article, you'll find a description of Bitcoin wallets and a list of some of the best Bitcoin wallets for Android. We'll help you understand how Android wallets work and choose the one that best suits your needs, so read on to find out more. 
What Is a Cryptocurrency Wallet?
A Bitcoin wallet is a cryptocurrency wallet that supports Bitcoin trading. Here, it should be noted that the name "wallet" can be a bit misleading — these wallets don't actually store Bitcoin in the same way traditional wallets and bank accounts store fiat currencies, for instance. Instead, Bitcoins are stored on Bitcoin's blockchain, a distributed public ledger technology that stores crypto transactions in blocks. 

A Bitcoin wallet, on the other hand, stores the private and public keys associated with crypto assets. These keys, consisting of strings of letters and digits, are necessary for performing Bitcoin transactions. The difference between these two types of keys is that private keys are only available to the crypto holder and are necessary for them to access their crypto assets, whereas public keys are shared with other parties who want to exchange coins with the asset holders.
In other words, you should not give your private keys to anyone else — and especially parties you don't trust — since it is through these keys that you manage your own crypto assets, and you wouldn't want them to fall into the wrong hands. On the other hand, when it comes to your public keys, you need these to interact with crypto traders — if you want to sell them some Bitcoin, for instance, you need to share your coin's public keys with them.
Generally, there are two types of wallets: hot and cold wallets. Hot wallets are wallets that require an internet connection in order to operate, such as software-based and browser-based wallets. Cold wallets, on the other hand, store keys offline — in most cases, these are hardware wallets, although they can also be paper wallets on which you print out your public and private keys.
In our case, we'll be talking about hot wallets. Android wallets and other mobile wallets are software-based, and they require an internet connection. Software wallets are arguably your best choice in terms of comfort. You can use them anywhere you are — as long as you're online — and you'll be able to access your Bitcoin assets quickly and conveniently by just working with your mobile device.
On the other hand, hot wallets (including mobile Bitcoin wallets for Android) lack in terms of security, at least when compared to the far safer cold wallets. This is because when you use the mobile app to purchase Bitcoin, your private keys are stored on your Android. While this seems like a relatively safe option so long as you have your Android with you, it can cause you serious trouble if you ever end up losing it — particularly if you have a lot of Bitcoin value on the private keys in your Android wallet.
If anyone steals your Android on purpose (which may actually happen if they know you use a Bitcoin wallet app on it), they may try to steal your crypto assets through accessing your private keys, as well. With this in mind, if you ever lose or break your Android, you can always recover your Bitcoin wallet, provided you use your seed phrase — a combination of words that the Bitcoin wallet generates for you to allow you to access the private keys and the coins they unlock. 
While the seed phrase is extremely useful in worst-case scenarios, bear in mind that it also acts as a kind of replacement for the private keys. This means that you should also keep your seed phrase from getting into the wrong hands since anyone that has access to it can consequently access your Bitcoin, too. 

However, if your Android device gets stolen by pro hackers, they may try to break into its software and steal your Bitcoin before you even get the chance to use your seed phrase. Because of this, while you may be inclined to use Android wallets because of their accessibility, we don't advise you to keep larger amounts of your Bitcoin on them. It's always better to use an offline wallet for this purpose. 
Alternatively, if anything goes wrong, you can always contact the wallet's customer support, but it's still important to keep the above-mentioned precautions in mind so that you avoid unwanted scenarios.
With that out of the way, let's go through a list of some of the best Bitcoin wallets for Android available on the Google Play store.
Best Crypto Wallets for Android
Coinbase Wallet — Best Beginner-Friendly Wallet
This wallet is issued by Coinbase, one of the leading cryptocurrency exchanges in the world. It can be accessed by downloading the Coinbase wallet mobile app for Android as well as through an internet browser. 
The Coinbase crypto exchange enjoys the trust of tens of millions of users in over 100 different countries. It manages crypto transactions worth billions of USD passing through its exchange platform and wallet app, which requires constant innovativeness and comprehensive funding. For these reasons, many people prioritise the reliability and renown of the Coinbase wallet.
This wallet comes with numerous features. Among other things, you can use it to access dApps, connect it to crypto-friendly bank accounts, store digital collectibles (most notably NFTs) in it, and more.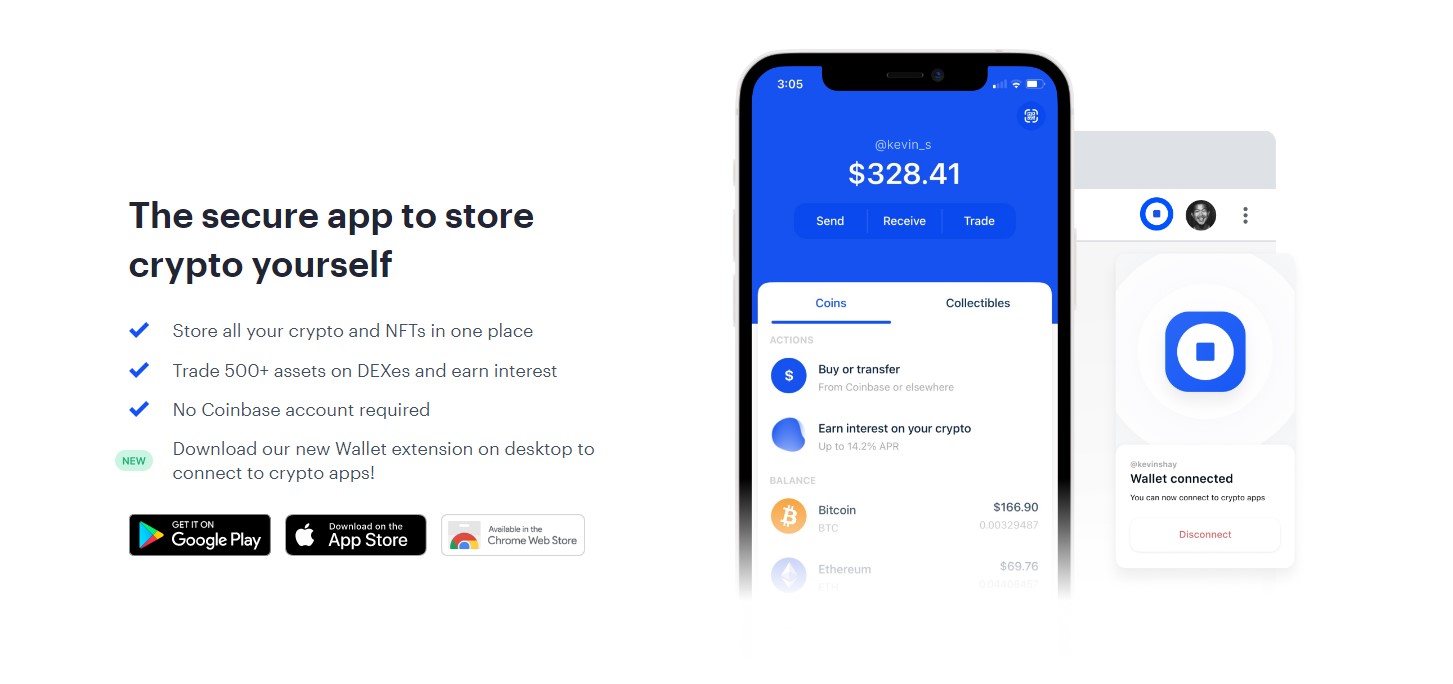 Security-wise, Coinbase has done much to make up for what its hot wallet lacks in this field. This includes its Secure Enclave feature, which ensures strong protection of your private and public keys within Coinbase's wallet. Aside from this feature, Coinbase also uses biometric authentication and allows users to back up their private and public keys on a cloud server, which can be a useful feature should you ever end up losing your keys.
In general, Coinbase is a custodial wallet, which means it keeps control over your private keys if you use it. However, it's a less known fact that you can also opt for its non-custodial version, which is a multisig (that is, multi-signature) wallet, for extra security.
Apart from Bitcoin, some other cryptocurrencies this wallet supports include Ethereum (ETH), Bitcoin Cash (BCH), Litecoin (LTC), Dogecoin (DOGE), and more. Android and iOS users can download Coinbase's wallet for free. However, for using the wallet, Coinbase will charge you a network fee as well as a variable transaction fee on top of this one, ranging anywhere between 1.49% and 3.99% depending on your payment method.
Coinomi — Best Anonymous Bitcoin Wallet
The Coinomi wallet is one of the oldest crypto wallets on the market. Besides Android, it can also be downloaded on iOS, Windows, Mac, and Linux. It boasts a user base of millions across the globe, supporting over 125 blockchains and over 1,770 different crypto assets (coins and tokens). 
Coinomi's wallet is another popular option for Bitcoin traders because of the many cryptocurrencies they can trade it for. The built-in exchange of this wallet allows you to trade Bitcoin for other altcoins without the need for a cryptocurrency exchange. What's more, Coinomi comes with a dApp browser, a functionality for paying crypto taxes, the option to buy Bitcoin with your credit card, and other useful features.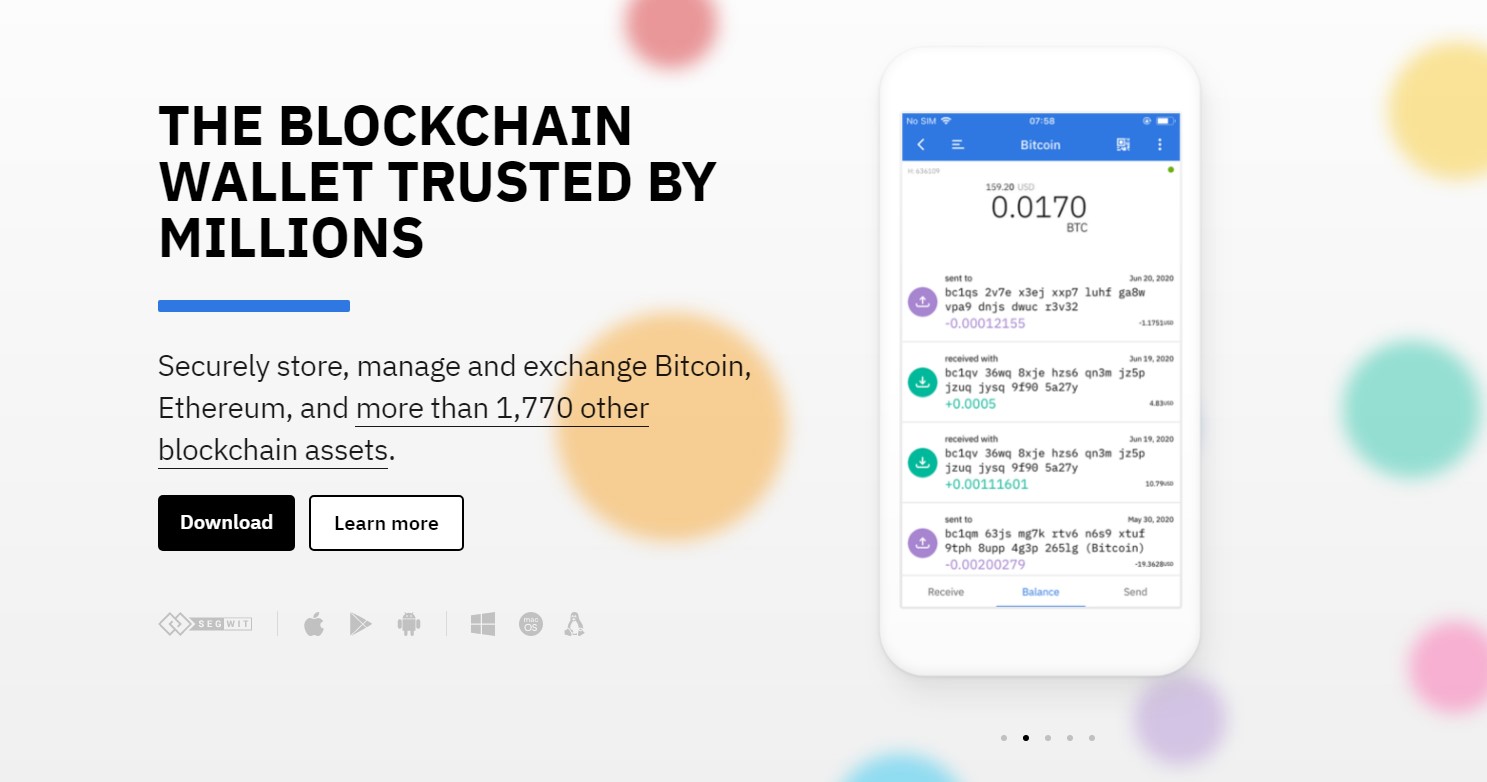 Anonymity is an aspect Coinomi prides itself in — and for a good reason, too. If staying anonymous while trading Bitcoin on your Android is your priority, consider the fact that Coniomi doesn't oblige its users to undergo KYC (Know Your Customer) procedures, which are a major privacy concern for many Bitcoin traders. Besides, Coinomi hides your IP address to make your requests anonymous, and it also refrains from collecting user data and tracking transactions, which is a big plus in terms of maintaining your privacy when trading Bitcoin.
Coinomi's encrypted wallet also holds pretty well for a hot wallet in terms of security features. It uses cryptography to keep your private keys safe. It's a non-custodial wallet that stores your private keys on your Android, and for every sensitive action (such as withdrawing funds), it requires you to enter a password.
Downloading Coinomi for your Android is free. However, outgoing transactions are subject to transaction fees. Besides, Coinomi offers users a dynamic transaction fee functionality with three options (low, normal, and high), affecting how long it takes to confirm their crypto transactions.
Mycelium — Best Hardware Wallet Integration
Mycelium is another Android wallet heavily focused on Bitcoin trading, and it's also non-custodial, meaning it gives you direct access to your private keys. However, unlike most of its competitors, this one's only available for mobile devices (Android and iOS). 
Another thing that sets Mycelium apart is the fact that it's reproducible. This means that its code can be reproduced and compared to the original over and over again to find flaws in it and improve upon them, reinforcing its security. In fact, there aren't many other reproducible wallets out there, which makes Mycelium a unique choice, particularly for users who understand coding.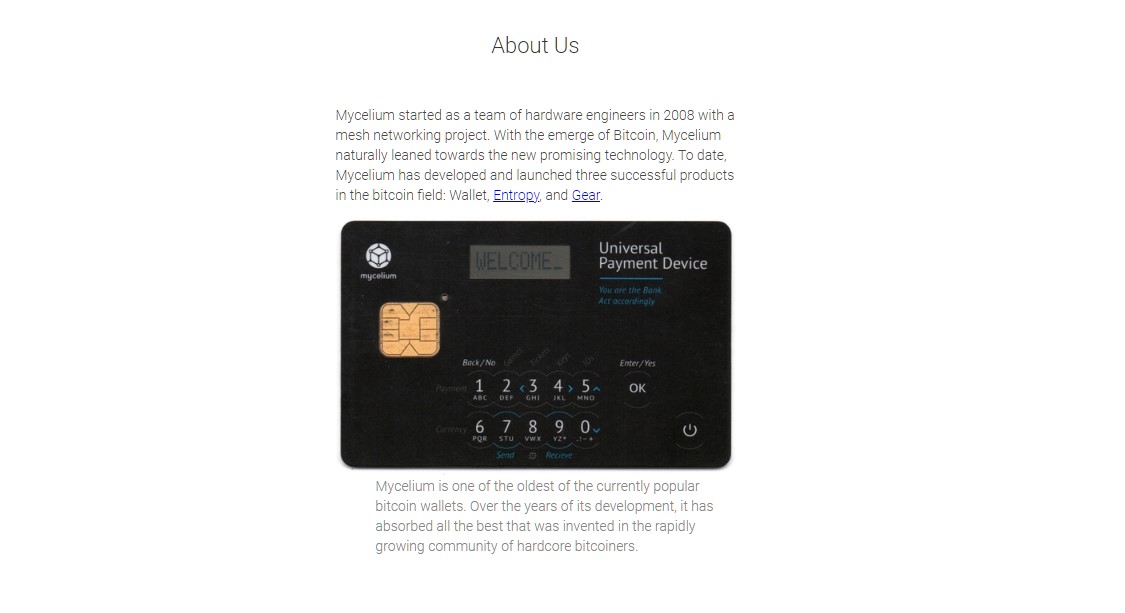 Mycelium also allows for in-app trading, and the application also contains educational materials in its knowledge base. It's also important to note that this Android wallet is compatible with some hardware (cold storage) wallets, such as Trezor and Ledger's wallets (Ledger Nano X and Ledger Nano S).
With that in mind, Mycelium is more limited in terms of digital assets support than its competitors. It only allows you to exchange Bitcoin (BTC), Ether (ETC), and ERC-20 tokens.
Downloading and holding assets through Mycelium is free, but you do pay Bitcoin network fees when using it. These fees vary depending on the levels of congestion of each network.
Guarda Wallet — Best Modern Wallet Solution
Guarda is another Bitcoin wallet for Android that's compatible with Ledger's hardware wallets. Apart from its mobile versions, Guarda can also be used on a desktop and even as a browser extension. 
Guarda is also another one on the list of non-custodial wallets, giving you direct control over your private keys. Besides, it's also a fairly anonymous wallet that doesn't collect your data when you use it.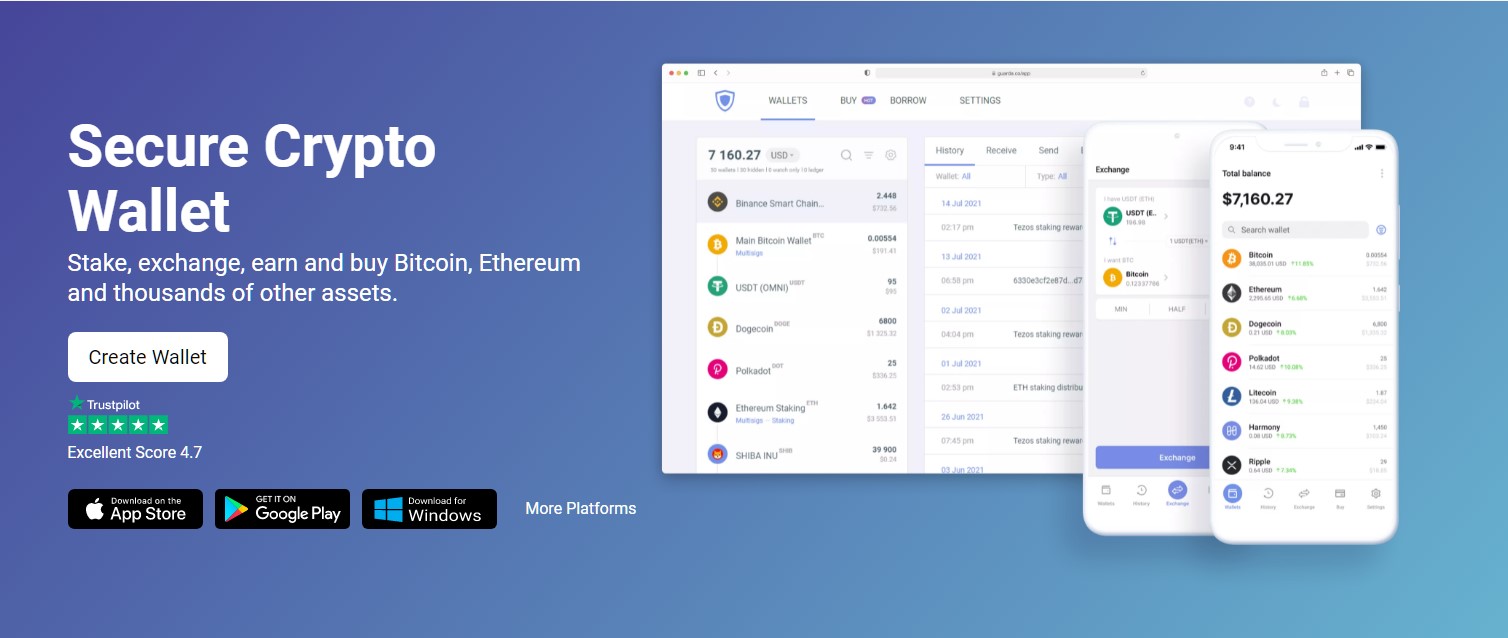 With Guarda, you can exchange crypto from more than 50 blockchains, including some of the biggest ones on the market, and it also supports hundreds of thousands of tokens and multiple stablecoins. Apart from its regular built-in exchange that allows you to buy Bitcoin with fiat money, Guarda also offers you additional functionalities, including delegation and staking. 
Like other Android wallets, downloading and using Guarda is free, but it charges you a 3.5% fee when you use its built-in exchange service.
Electrum — Best Advanced Bitcoin Wallet
The Electrum wallet, last on our list, only supports Bitcoin transactions. However, you can't trade Bitcoin from within the wallet — you have to actually send your Bitcoin to a crypto exchange or another crypto wallet that supports trading in order to engage in transactions.
With this in mind, Electrum absolutely deserves a place on our list for multiple reasons. First and foremost, the fact that Electrum has stuck with Bitcoin for such a long time has contributed to improving its Bitcoin trading experience. Bitcoin transactions going through Electrum are exceptionally fast, smooth, and secure.
This wallet comes in mobile as well as desktop editions. It's open-source software, and it allows for multisig permissions, too. While it's fairly simple to use, it doesn't exactly focus on user experience but rather on functionality. With that in mind, Electrum is better suited for advanced users and less so for beginners in crypto trading.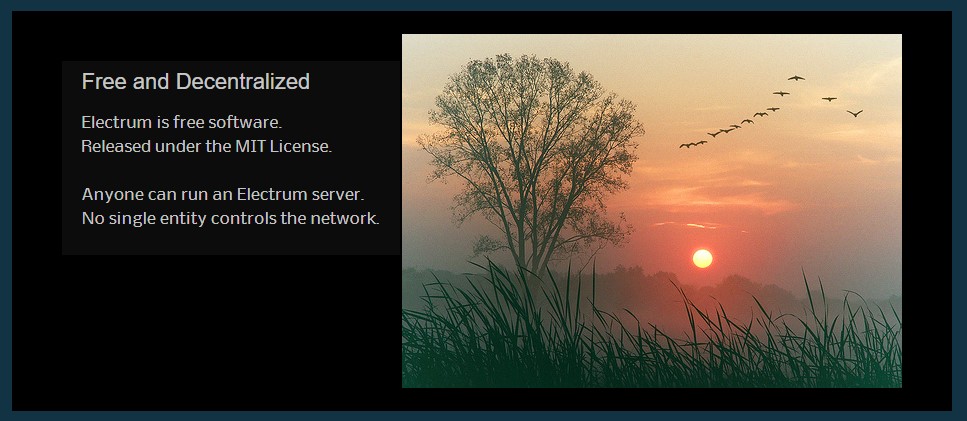 Electrum verifies all transactions through SPV and allows you to export your private keys to use them in other Bitcoin clients. Besides, Electrum's team prides itself that its wallet is fast and reliable because it doesn't download the whole Bitcoin blockchain and its servers are always on, ensuring there's no downtime in its app.
Electrum is also free to download and use but comes with transaction fees. These include network fees that depend on the amount of Bitcoin being sent. Electrum also allows you to pay more in fees if you want your transactions to be processed faster.
Exodus — Best User-Friendly Wallet
One of the more popular choices when it comes to Android wallets, Exodus supports Bitcoin, as well as more than 150 crypto assets in general. This wallet started off as a PC-only software limited to Windows, Mac, and Linux users, but it was also made available to Android and iOS users over the past years. 
Much like Mycelium, Exodus is also compatible with Trezor hardware wallets, allowing you to store your assets offline for extra safety. Even if you stick with Exodus' software wallet itself, it safely encrypts the private keys of your crypto on your Android, making them theft-proof.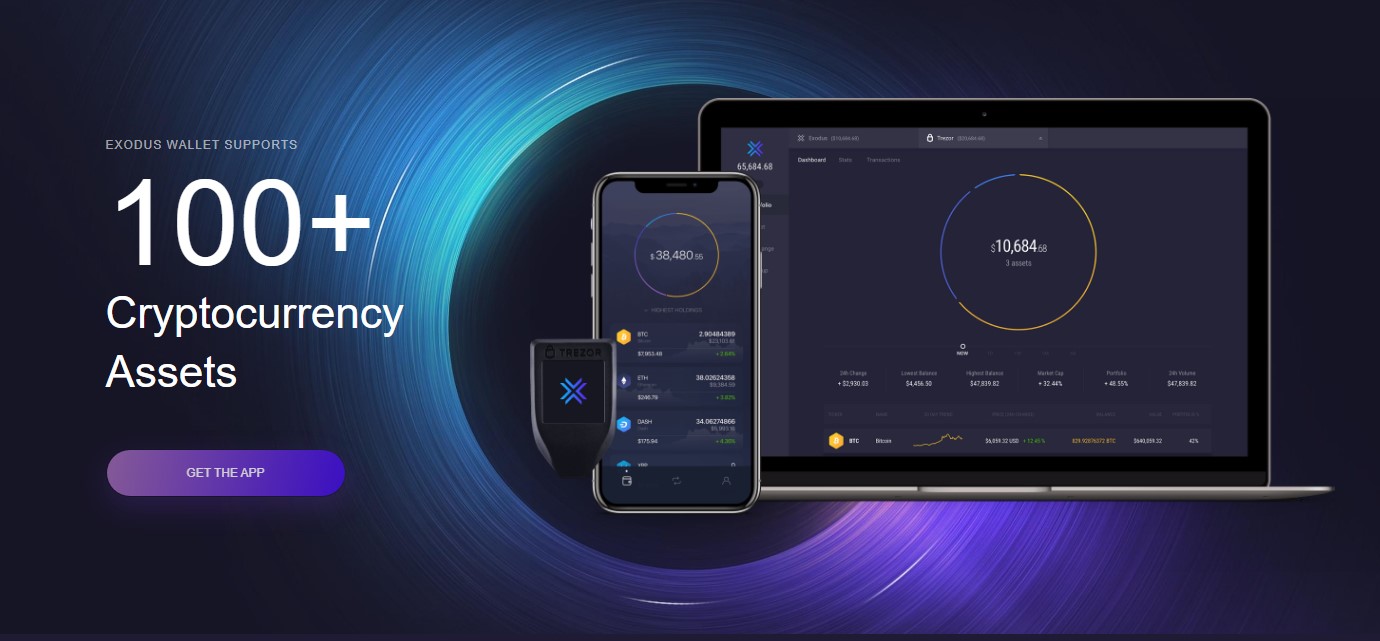 This software wallet makes it very easy to interact with crypto applications, making it perfect for seasoned users and beginners alike. The layout of the Exodus app is among the best solutions when it comes to simplicity of use — you won't need any manuals or video tutorials and can rely entirely on the intuitive user interface.
Like most other entries on this list, Exodus is also free to download and use, but it charges some network and miner fees for blockchain transactions. Apart from these fees, Exodus doesn't charge you for transactions or crypto withdrawals.
BitPay (CoPay) — Best Customizable Wallet
The open-source BitPay wallet started off under the name of CoPay back in 2011. In practice, even though it has officially rebranded as BitPay, both names are still in use interchangeably.
This wallet is limited in terms of the cryptocurrencies it supports and operates only with BTC and BCH. This makes it less than ideal if you're looking to exchange Bitcoin for other cryptocurrencies — but if you're only in the market for Bitcoin-to-fiat trading, BitPay has you covered.
BitPay's software wallet is a particularly interesting choice for users that value secondary features such as the ability to customise their wallets. BitPay allows you to create multiple Bitcoin wallets with different names, and you can create them as either regular or single-address wallets (the latter are more suitable for donations). You can change their colours through the software's interface, too.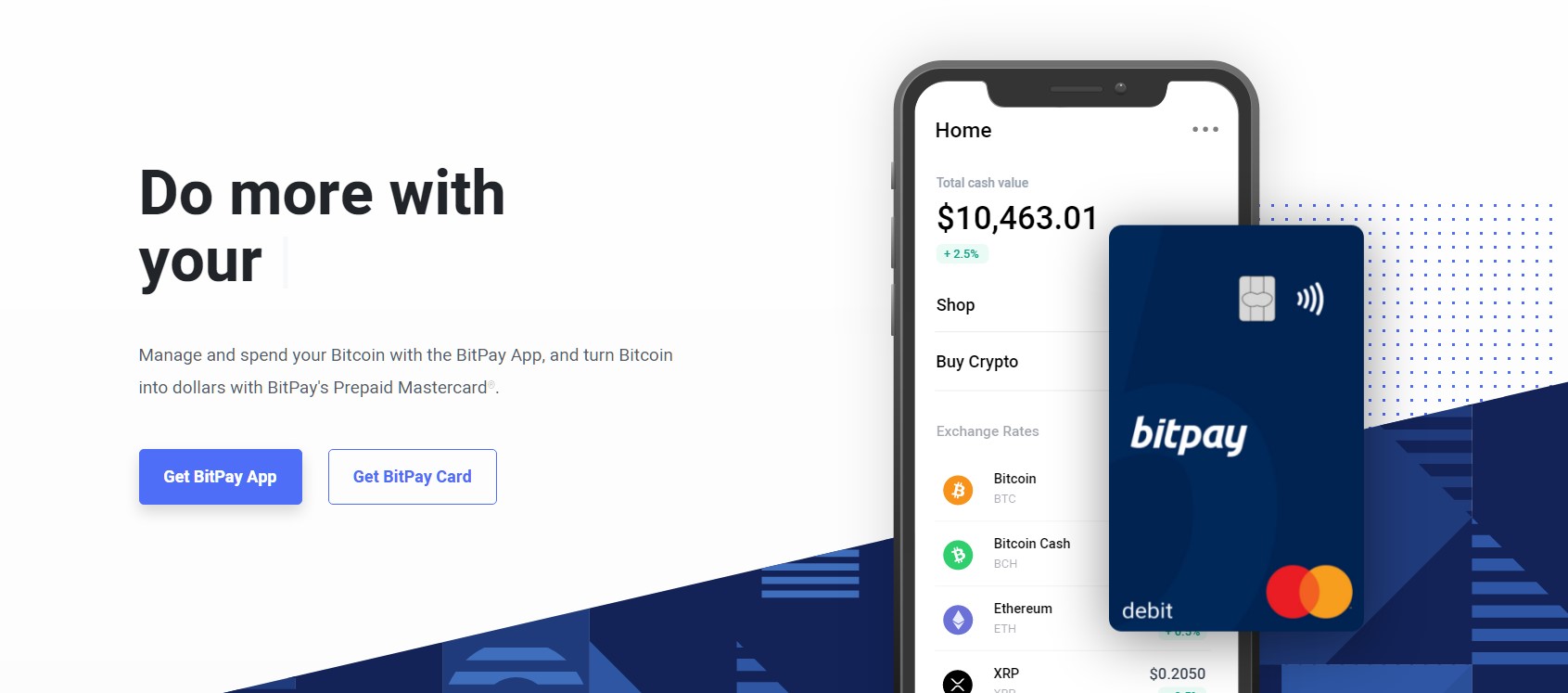 BitPay also supports Bitcoin testnet wallets and integrates Visa cards in its payment system, too. It comes with an interface that's fairly easy to navigate. You can send payments easily by scanning QR codes and saving contacts to an address book to make payments quicker.
BitPay's software wallet is free to download. It will, however, charge you miner fees (including miner fees for refunds you initiate), network fees, as well as a 1% processing fee to merchants — with the option of passing it on to buyers should merchants choose to do so.
A Few Words Before You Go...
For every Bitcoin transaction to pass, you need to have a Bitcoin wallet. While Bitcoin wallets don't contain your crypto assets per se, they do hold the public and private keys you need to be able to access your coins and trade them with others. 
If you're looking to trade Bitcoin on your Android device, there are specialised Bitcoin wallets that come in the form of Android apps you can use for this particular purpose. While doing so, you should bear in mind that these are so-called hot wallets — that is, wallets that require an internet connection — which makes them somewhat less safe than cold, offline wallets (which are mostly hardware-based). To add to this, Android devices often tend to get lost or stolen, so you should reconsider keeping too many private keys on them if you want to avoid the risk of someone gaining access to your Bitcoin.
You'll find some of the best Bitcoin wallets for Android listed in this article. They're all available on the Google Play store and can be downloaded for free, usually only charging transaction fees. We hope our description helps you get an idea of the specifics of each one of these wallets, so you can decide which one is best for you.
This page was last updated on August 23, 2022