Best Crypto Exchanges in Australia 2022
Let's get straight into it, if you're looking for a reliable and trustworthy Australian crypto exchange, the factors that seem to be most important are fees, support, supported cryptocurrencies, and safety!
These are the exact factors we also used to find the best crypto exchange for Australia.
While there are new players popping up all the time, the exchanges below are – in our opinion – the best ones at the moment.
Best Crypto Exchanges in Australia
Best Australian crypto Exchanges - 2022 Reviews
Swyftx is undoubtedly our favourite Australian cryptocurrency exchange. It has the most user-friendly trading platform and a great customer support team. They are registered with AUSTRAC and follow all KYC/AML standards. Since its launch in 2017, Swyftx quickly established itself as one of Australia's leading exchanges.
The creators aimed to build an innovative trading platform that would provide users with everything they need to trade cryptocurrencies in terms of features and accessibility. The platform's popularity has skyrocketed as today, the platform has over 250,000 active users.
The exchange makes day trading a breeze by letting you immediately exchange, purchase, and sell coins. The deposit methods in AUD include bank transfer, POLi, or PayID. The customer support team at Swyftx is very helpful and always available for any question or concern you might have. Users can reach Swyftx customer support via the live chat button on their website, by email, by phone, or by visiting the help section on the website.
Some additional features that have played a major role in Swyftx's rise to prominence include competitive trading fees and low spreads, more than 260 available crypto, an intuitive desktop interface, and a user-friendly app.
Swyftx also provides more advanced features for experienced traders. You can, for example, personalize your dashboard with your favourite KPIs, utilize TradingView graphing, set up regular payments, and have Swyftx create tax reports for you.
Binance is one of the most well-known cryptocurrency exchanges. It offers over 200 cryptocurrencies along with its native token, BNB. 
Binance is an excellent choice for traders who love experimenting with new cryptocurrencies as well as those who want to trade solely with well-known ones. Some of the most popular available cryptos include Bitcoin (BTC), Litecoin (LTC), Ethereum (ETH), Stellar (XLM), Bitcoin Cash (BCH), and Ripple (XRP). The exchange also offers a broad range of DeFi tokens like UNI, MKR, CAKE, XVS, LINK, AAVE, REN, SUSHI, COMP, SXP, YFI, and 1INCH, among others. Available stablecoins include Binance USD (BUSD) and Tether (USDT).
Another important reason why we recommend Binance is the platform's Secure Asset Fund for Users or SAFU. SAFU is an emergency fund that compensates its users if their funds are stolen from the exchange.
But don't worry – the exchange is considered safe and offers a wide selection of safety features such as 2FA via SMS, withdrawal address whitelisting, and anti-phishing codes. Also, as with all centralized exchanges, Binance users are required to follow a KYC (know-your-customer) identity check by offering an ID, passport, or another government-issued document.
CoinSpot is a great Australian crypto exchange with a simple-to-use and clutter-free interface, making buying and selling your first cryptocurrency as easy as pie. The exchange was established in 2013 in Melbourne to make cryptocurrency investments and purchases more readily available to institutional and retail traders.
Russell Wilson, the platform's founder, is a cryptocurrency enthusiast with expertise in software engineering and cybersecurity. He's been extremely outspoken on social media and online forums over the years regarding the principles that represent his organization's values such as top-of-the-line security and professional crypto trading tools. 
CoinSpot started as a Bitcoin-only exchange, however, as the number of cryptocurrencies increased, so did the interest to invest in them, driving CoinSpot to expand its supported cryptocurrency listing. CoinSpot is currently one of the most popular crypto exchanges in Australia with a wide range of trading tools and an instant buy & sell feature that enables users to trade easily whenever they want. 
Moreover, CoinSpot is one of the few digital currency exchanges in Australia that allows users to purchase and sell decentralized financial (DeFi) tokens. It also offers an OTC desk for large-volume orders and accepts a variety of deposit

Website:
digitalsurge.com.au
4. Digital Surge Exchange
Digital Surge is a notable Australian exchange that supports over 200 cryptocurrencies and accepts AUD. To promote a smooth trading experience, the platform provides educational tools, customized customer support, and convenience. It includes a digital wallet as well as the unique solution to pay bills with Bitcoin through the BPAY billing function. That's something that no other Australian platform currently provides, and it's a positive step toward wider use of crypto in the future.
The exchange was established in 2017 by Josh Lehman and Dan Rutter and is located in Brisbane. Both Lehman and Rutter have over a decade of experience in the financial tech sector. Their platform is founded on the notion that technology has the ability to make cryptocurrency more accessible and improve our lives.
The Digital Surge team attempts to build a transparent and trustworthy digital community, which is evident in their actions. Namely, they've held several community events to raise awareness about cryptocurrencies like Bitcoin and how to use them.
With industry-standard security features in place, Digital Surge is a safe platform. Some of the security measures implemented by Digital Surge include two-factor authentication, hot and cold storage wallets, and multi-layer security protocols. Since the founding of the exchange, there have been no known cyberattacks.
CoinJar is one of Australia's oldest and most well-known cryptocurrency exchanges. It was established in 2013 and today, it enjoys a global presence. The exchange is popular for its low fees and variety of trading tools and innovations, including a crypto EFTPOS card, crypto debit card, and the CoinJar wallet app. 
CoinJar is a reliable and trustworthy platform with more than 400,000 customers. A few of the most progressive investors have supported the exchange, including BlackBird Ventures, Digital Currency Group, and Boost VC.
In terms of fees, CoinJar has a reputation for having wider spreads when compared to our top-rated platform, Swyftx. Same as CoinSpot, the exchange charges a fixed fee of 1% on all trades. Makers and takers pay different trading fees based on their 30-day trading volume. The highest charge for makers is 0.1%, while takers pay a flat 0%.
CoinJar's security architecture includes data encryption, transport layer security, and regular security audits. CoinJar also employs cutting-edge machine learning algorithms to detect suspect logins, account takeovers, and financial crimes.

Website:
independentreserve.com
Independent Reserve is an Australian cryptocurrency exchange that was founded by Adam Tepper and Adrian Przelozny, two specialists in digital platforms' security. It is one of the most famous platforms in Australia and New Zealand as it supports traditional fiat currencies like AUD, USD, and NZD as payment options.
Amongst other things, Tepper and Przelozny started the exchange to educate people about digital currencies, that is: what they are, how they work, and other general info that traders can utilize to achieve better results.
Some of the supported cryptos on Independent Reserve include Bitcoin (BTC), Ethereum (ETH), Bitcoin Cash (BCH), Ripple (XRM), Litecoin (LTC), EOS (EOSIO), Stellar Lumens (XLM), Ethereum Classic (ETC), and Basic Attention Token (BAT). You could also check their complete list of available crypto.
Moreover, the exchange provides a few distinctive trading features such as the KPMG Tax Estimator and an OTC desk. The Tax Estimator is a tool that allows customers to trace their tax requirements for cryptos. Additional features on the exchange include order books, real-time market data, and the option to create an SMSF (self-managed super fund) account as well.
eToro is a well-known financial broker that supports crypto assets as well. The platform's purpose is to make trading accessible to everyone, everywhere, and it goes above and beyond to ensure that traders get a smooth experience.
What sets eToro apart from other platforms is its emphasis on incorporating a social aspect into the trading process. Users on eToro may share their tactics, successes, failures, and words of advice with other traders so that everyone can learn together.
The exchange charges fees through spreads—the difference between the purchasing and selling prices. These fees vary depending on market conditions and are unique to each cryptocurrency. For example, Bitcoin orders are charged 0.75%, whereas Ethereum orders are charged 1.90%.
A number of different policymakers such as Financial Conduct Authority in the UK, the Financial Crimes Enforcement Network (FinCEN) in the USA, and CySEC authority in the EU strongly regulate the exchange, so consumers can rest assured that eToro is a safe platform to trade cryptocurrencies on. Two-factor authentication and data encryption are required safety measures that ensure the security of user funds, accounts, and data.
Coinbase is the most popular cryptocurrency exchange in the United States, founded in 2012 during the early days of Bitcoin. Today, this exchange may be accessed from over 100 countries and is a starting point for millions of crypto novices across the world 
While Coinbase does charge a higher fee for fiat deposits, you are paying for value, security, and reliability. Card purchases, for example, have a 3.99% transaction charge, although purchasing crypto assets using credit or debit cards always costs extra regardless of the platform you use.
When it comes to payment options, Coinbase accepts a wide variety of methods, including bank transfers, credit cards, Visa debit cards, SEPA, and wire transfer. You can also use PayPal as a payment method.
While there are still numerous concerns about crypto security, Coinbase has a reputation for being one of the safest platforms available. Since Coinbase is located in the United States, it is subject to state and federal rules and legislation. As a matter of fact, Coinbase has extensively cooperated with lawmakers and authorities to guarantee that cryptocurrency brokerages are both safe and effective. This comprehensive approach has prompted various banks—such as the Bank of Tokyo—to invest in Coinbase and contribute to the development of an accessible, safe, and creative financial sector.


Website:
global.bittrex.com
Bittrex is a crypto exchange based in Seattle, Washington that is suitable for corporate investors interested in entering the crypto market. Former Microsoft security specialists Bill Shihara, Richie Lai, and Rami Kawach founded the exchange. Their decision to team up and launch a crypto exchange was founded on their shared view that cryptocurrencies deserve to reach their full potential internationally and that this can only occur if they are openly available to everyone in a safe and secure environment.
The majority of traders enjoy a wide selection of cryptocurrencies; over 220 coins and 400 trade pairs are supported by the exchange. The exchange imposes a fixed 0.25% fee on all trading orders.
Bittrex is rightfully recognized as one of the safest platforms on the market as it's never been hacked and none of its clients' assets have ever been endangered. Since Bittrex is based in the United States, it abides by the country's rigorous anti-fraud and financial crime laws and regulations. Bittrex also holds over 80% of all crypto in offline cold storage, while all Bittrex transactions are secured by mandatory two-factor authentication.
Coinmama was established in 2013 in Israel and a while later was registered in Dublin, Ireland under the name New Bit Ventures Ltd. The exchange is available in more than 188 countries, making it a very popular exchange all around the world.
You can purchase the following cryptocurrencies with Coinmama: Bitcoin (BTC), Bitcoin Cash (BCH), Ethereum (ETH), Ethereum Classic (ETC), Cardano (ADA), Litecoin (LTC), Tezos (XTZ), Ripple (XRP) and Dogecoin (DOGE). Moreover, it is well-known for its diverse payment methods, which include the opportunity to buy cryptocurrency using Visa or Mastercard credit cards, or via bank transfer (SWIFT and SEPA) with 0% processing fees.
Unlike other exchanges, which may require a skilled expert to assist traders in using the trading interface, Coinmama is quite straightforward. By visiting the Coinmama website, you can quickly learn about how the exchange operates. Every piece of information is readily available and the registration process is straightforward. Users need to register on the Coinmama website by offering basic information such as a full name, phone number, an address, and an email.
Kraken was established in 2011 by Jesse Powell, a recognized cyber-security expert, and was officially launched in 2013. Henceforth, it has grown to become one of the most notable Bitcoin exchanges in the industry.
Kraken is a powerful trading platform for experienced traders that supports over 50 cryptocurrencies and allows users to trade crypto-to-crypto and fiat-to-crypto. Bitcoin Cash (BCH), Cosmos (ATOM), EOS (EOS), Ripple (XRP), Tezos (XTZ), Cardano (ADA), Tether (USDT), Litecoin (LTC), Qtum (QTUM), Monero (XMR), Dash (DASH), Ethereum (ETH), Dogecoin (DOGE), and Gnosis (GNO) are among the most popular cryptocurrencies supported by Kraken.
The exchange has never been hacked thanks to Powell's expertise in the field. To create an account, you must pass the KYC (verification process) and submit your full name, address, email, phone number, and a valid ID. After you've finished setting up your account, you'll need to enable two-factor authentication and create a withdrawal whitelist.
Besides exceptional security, Kraken provides over 50 altcoins for trade and margin trading, and it also offers the services of private OTC brokers. Kraken is available to customers in 176 countries.
Kraken's user interface is both simple and appealing, making it suitable for both novice and experienced traders.
KuCoin is a famous cryptocurrency exchange that was created in 2017 by a group of passionate business professionals with prior experience at Ant Financial and iBox PAY. Michael Gan and Eric Don—KuCoin's creators—had a clear purpose to establish "the people's exchange", which would be cost-effective, user-friendly, and secure.
The platform currently has international branches in the United Kingdom, India, Canada, Singapore, Japan, and Turkey. KuCoin's trading website is translated into 17 languages to appeal to a wide range of nationalities. English, Russian, South Korean, Hindi, Turkish, German, Chinese, and French are a few of the languages you can view the site in.
Furthermore, KuCoin offers a diverse range of assets and services, high liquidity, and low trading fees. As of October 2020, the platform has over 5 million active members. In addition, the trading platform facilitates trades for over 750 currency pairs and more than 380 currencies.
KuCoin is a fully licensed and regulated exchange that requires all customers who trade over 2 BTC per day to complete KYC checks.
Bitfinex is one of the most advanced and liquid cryptocurrency exchanges in the world. Based in Hong Kong, the platform was established by IT technician Raphael Nicolle in 2012.
Except for a few countries, the exchange is available all over the world today, and it is one of the most popular exchanges on the market in terms of active users and daily trading volume.
The exchange supports over 200 cryptocurrencies including Bitcoin (BTC), Ethereum (ETH), Litecoin (LTC), Ethereum Classic (ETC), and Bitcoin Cash (BCH), among others. To start trading, you are required to verify your account, and then you can purchase these (and many more) coins with fiat currencies such as USD, EUR, JPY, or GBP.
Other noteworthy features are limit and stop orders, margin trading, an over the counter (OTC) desk, and so on. Everything is presented in a remarkably intuitive fashion with easy-to-navigate dashboards and menus.
Unfortunately, despite the strong security safety measures in place, Bitfinex has been hacked two times (in 2015 and 2016), though they refunded any money that users lost. Since then, the exchange has really worked on strengthening its security.
Originally established in China, OKEx, along with sister platform OKCoin, relocated to Hong Kong when the Chinese government prohibited initial coin offerings (ICOs) and is now expanding to the international market.
The OKEx exchange emerged from the OKCoin brand as a platform for more experienced cryptocurrency traders. While OKCoin is a simpler exchange, focused solely on trading cryptocurrencies and ICO tokens, OKEx is a more complex platform that resembles traditional exchanges for financial securities.
OKex introduced its own 'utility token' cryptocurrency in early 2018, following in the footsteps of other big Chinese exchanges such as Binance and Huobi Pro. The token may be used to pay for exclusive services such as specialized client support or to settle trading costs on the exchange platform.
Although no official announcement has been made, OKex is reported to be planning to create its own Ethereum-like public blockchain platform.
How to Find the Best Cryptocurrency Exchange in Australia
The Best Bitcoin Exchange
When you're looking for the best Australian Bitcoin exchange, aspects such as a variety of assets are not as important to you unless you're looking to trade crypto-to-crypto. Rather, you'd want a dependable platform that allows you to make orders quickly, has a straightforward, clutter-free design, and that offers various payment methods for BTC trading.
The great thing about Bitcoin exchanges is that they usually provide their clients with a range of payment options. That's why we propose Swyftx, an Australian brokerage service that accepts bank transfers, PayID, BPAY, OSKO, and POLi for deposits and withdrawals.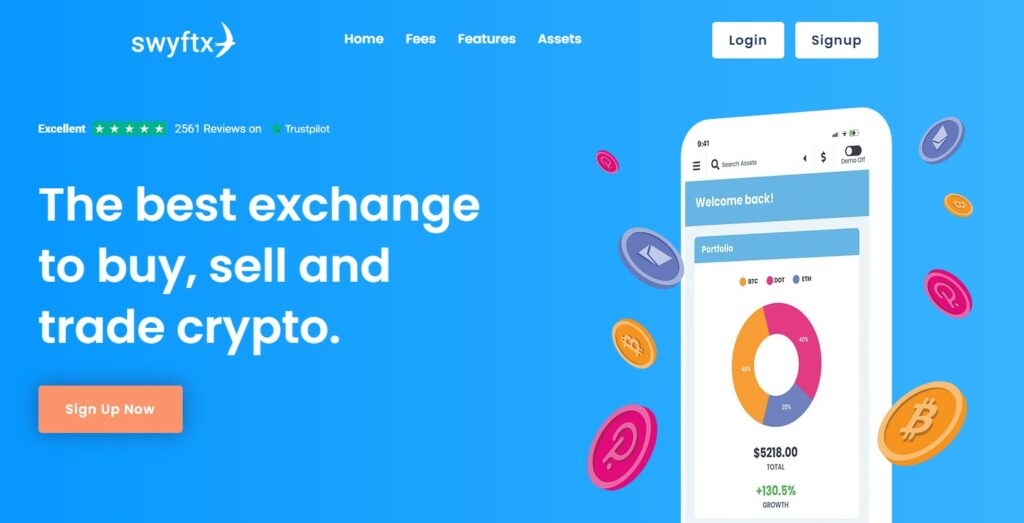 Using a local platform has the advantage of allowing users to pay for services in their currency, such as Australian dollars (AUD). Swyftx accepts Australian dollars for deposits and withdrawals.
If you're an advanced trader, we suggest CoinSpot and Independent Reserve—two other Australian exchanges, if you don't mind the minor learning curve.
The Cheapest Cryptocurrency Exchange
When it comes to picking a cryptocurrency exchange for Australia, it's natural to search for the most cost-effective option. However, keep in mind that low trading costs don't always mean a low-cost exchange. Trading fees may not be charged at all, but deposits and withdrawals may incur high charges or a large spread percentage may be applied.
Think over what tools and features you'll use on the crypto exchange – single investments or day trading? Then, check out the specific fees for your engagement of choice.
Also, please keep in mind that when you are looking for a low-fee platform, consider the payment method. At present, there are various payment methods such as credit/debit card, wire transfer (SWIFT, SEPA, or ACH), and alternative payment services such as Skrill, PayPal, or Netteller.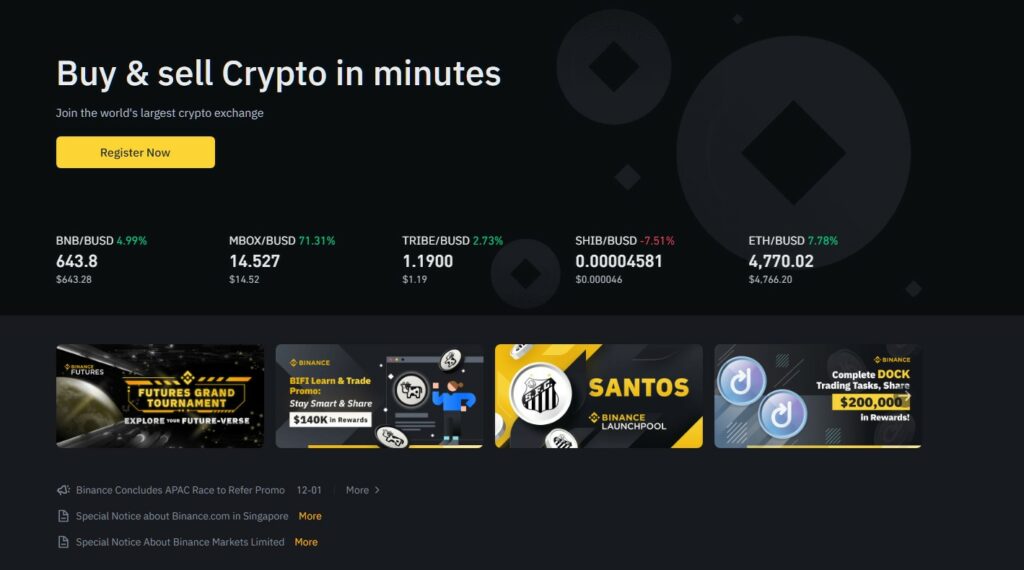 Binance is one of the cheapest platforms with a starting rate of 0.1% for both makers and takers. Over 100 Australian banks and financial institutions support the platform, which allows users to make fast deposits and withdrawals in AUD using PayID/Osko.
If you are considering an all-in-one crypto trading platform with numerous trading features and market-average fees of 0.6%, we once again recommend Swyftx. The exchange collaborates with global exchange platforms to offer deep liquidity for all trading pairs. This enables Swyftx to offer low spread fees for Australian users.
The Best Altcoin Exchange
Users love speculating on the price of these volatile currencies, and as a result, altcoins are increasingly popular among traders. Due to their low liquidity and market cap, altcoin trading is always risky, leaving them subject to "pump-and-dump" schemes. But they also have the highest growth potential.
There are many great places to trade altcoins, but the best altcoin exchange, other than the variety of available altcoins, is determined by the type of investment you want to make and the features you want.
Swyftx provides a variety of over 100 crypto assets, several payment options, and advanced features like stop and limit orders. Most significantly, unlike CoinSpot, which offers a great selection of currencies but at high costs, their services have reasonable fees.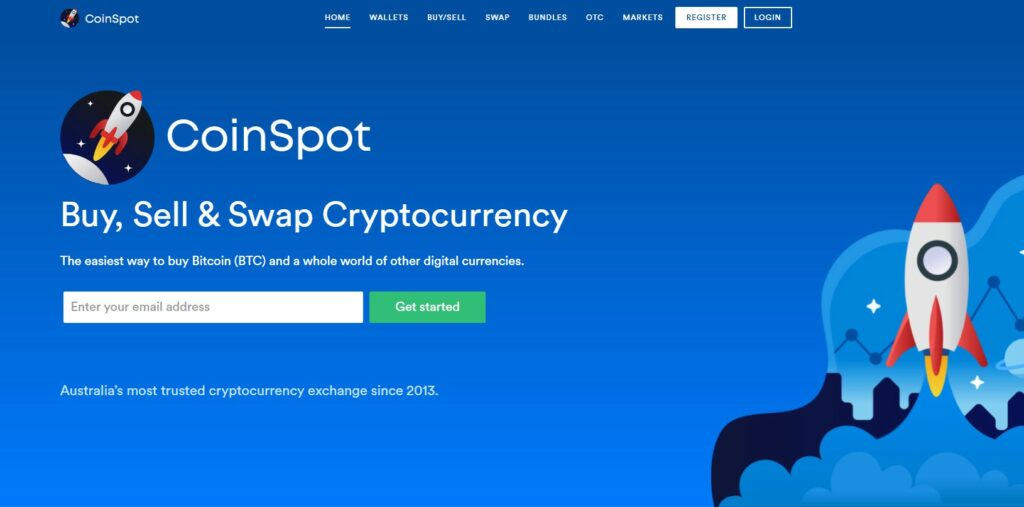 Binance and Coinbase are other famous options for altcoin trading. Although they aren't situated in Australia, their services are available almost anywhere in the world – including Australia.
Binance offers the most diverse selection of altcoins and provides over 500 trade pairs and 184 different cryptocurrencies.
Lastly, if you are a new cryptocurrency trader, Coinbase is a good place to start. The platform has over 40 different altcoins to select from, such as Ethereum (ETH), Stellar (XLM), Bitcoin Cash (BCH), Litecoin (LTC), Cardano (ADA), etc.
The Largest Cryptocurrency Exchange
When it comes to cryptocurrency exchanges, there are a variety of criteria to consider, but one of the most significant ones is their trading volume. The higher the trading volumes of a platform, the more used and liquid it is, implying that many traders rely on it to buy or sell large amounts of cryptocurrency.

There are plenty of online cryptocurrency trackers (for example, CoinMarketCap) that list the daily trading volume of each exchange and update their figures in real time. Experts, on the other hand, have questioned the validity of these figures, claiming that certain exchanges have inflated their volumes to attract more users.
Nevertheless, there are certain transparent blockchain research organisations, such as the Blockchain Transparency Institute, whose data appears to provide useful and accurate statistics on crypto platform trading volumes. Binance is the world's largest cryptocurrency exchange based on its daily trading volume. With a trading volume of nearly 150 million USD, Coinbase Pro is another popular platform that is one of our top picks for Australian traders.
The Most Popular Cryptocurrency Exchange
What should a currency exchange provide to attract clients from all around the world and become popular? To begin with, it should support at least a few cryptocurrencies, ideally the most popular ones, it should offer a range of payment methods such as bank transfer and credit/debit cards, it should be affordable, and it should be secure.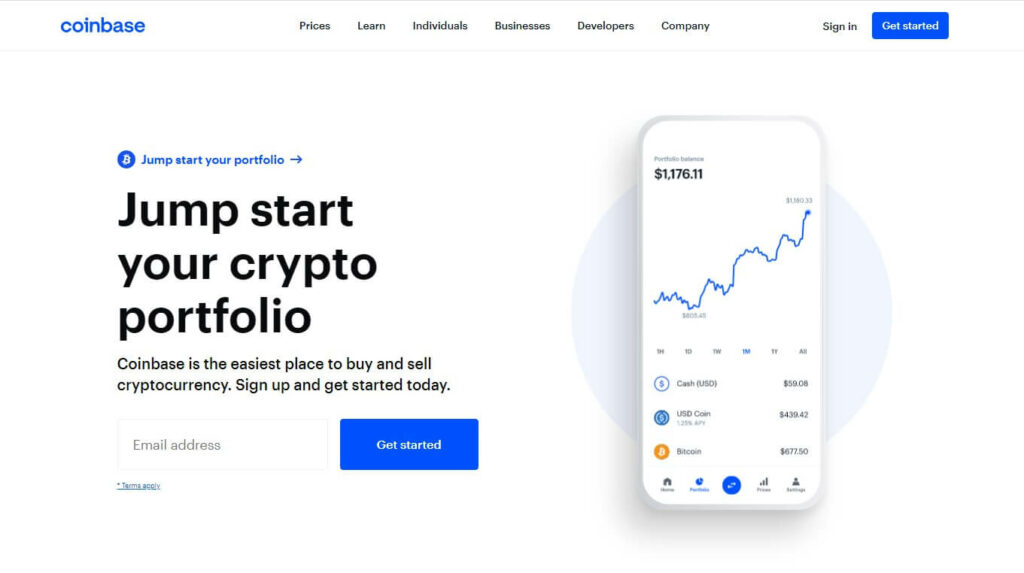 A popular exchange is safe, trustworthy, and offers great customer service. International exchanges have adapted their regulatory and trading services to the local laws of the countries where they're authorized. Binance and Coinbase have undoubtedly achieved these criteria and are the most popular international exchanges at the moment.
Swyftx, on the other hand, is by far the most popular cryptocurrency exchange in Australia. The exchange has been registered as a legitimate enterprise with Australian Securities and Investments Commission (ASIC) and complies with AUSTRAC (Australian Transaction Reports and Analysis Centre) legislation.
The Best Cryptocurrency Trading Platform
For new users, Coinbase and Swyftx are excellent choices, while if you are a more advanced trader we recommend Coinbase Pro where you can find more advanced features and illustrative market indicators. An exchange can provide brokerage services, trading platform services, or a combination of the two. Brokerage services are significantly more expensive, but they are easier to use. Trading services are less expensive, but they might be confusing for beginners.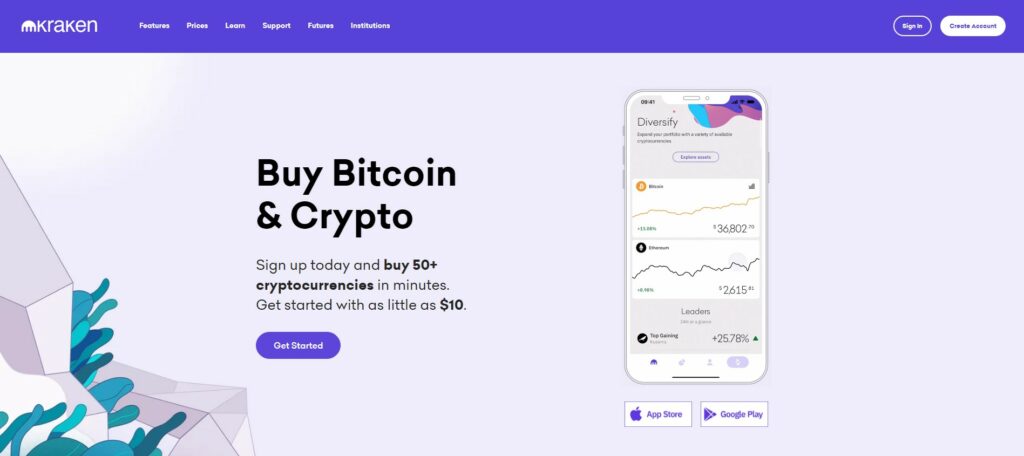 If you are looking for the whole package, our overall pick for the best cryptocurrency trading platform is Kraken. Kraken provides instant funding for customers that immediately make a deposit with Osko or PayID using Australian bank accounts. Customers can follow the market and manage their cryptocurrency portfolios using a single interface thanks to the platform's automatic portfolio monitoring.
Besides Kraken, other international exchanges that we recommend are eToro and Binance. Both of them offer high liquidity, which makes them suitable for high volume traders.
The Safest Cryptocurrency Exchange
All crypto exchanges claim to have top-notch security, but don't take their word for it. It's critical to ensure security because this is a relatively young and unregulated sector. Several high-profile exchange hacks have demonstrated how simple it is to lose money.
One such example is Mt. Gox, where around 850,000 Bitcoins, valued at around $450 million at the time, were stolen in 2014. Since then, only about a third of them have been found.
A reliable platform would adhere to anti-money laundering (AML) and counter-terrorist financing (CFT) laws, as well as local authorities' instructions on how to apply the industry's best security standards. Encrypting sensitive data, employing cold storage instead of hot wallets, conducting frequent audits, and completing KYC checks on clients are just a few of the essential security measures.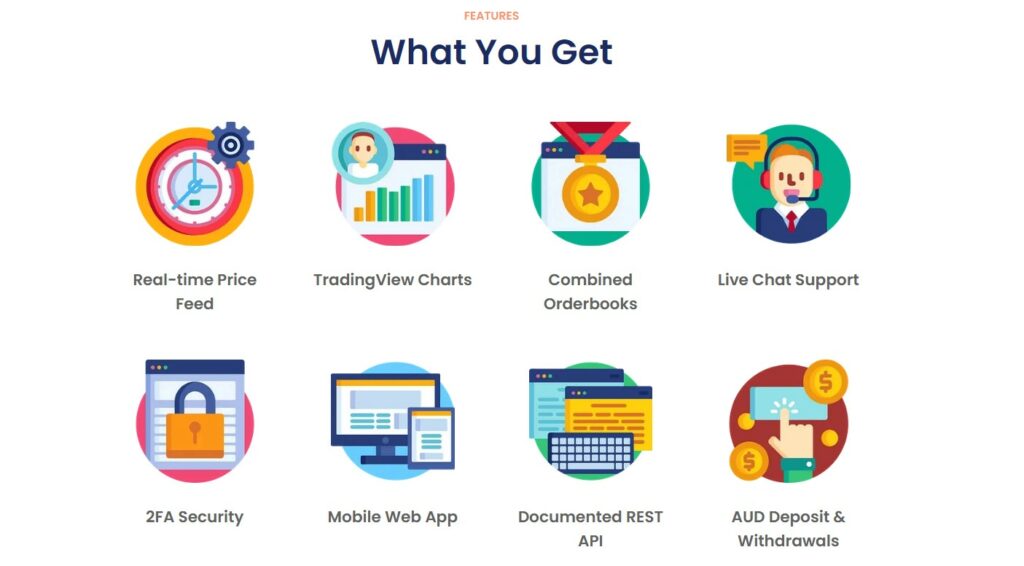 Furthermore, to give an extra degree of protection to customer accounts, exchanges should offer the option of setting up two-factor authentication.
Swyftx and CoinSpot both satisfy the criteria for a safe and reliable Australian platform. They're ASIC-registered, and they've never had a security breach.
Regarding international exchanges, Binance, and Coinbase are some of the safest platforms. They incorporate encryption protocols and keep assets in air-gapped cold storage.
Cryptocurrency Exchanges That Don't Require ID
When registering for a cryptocurrency exchange account, the standard procedure before using the exchange includes a KYC check, requiring the customer to provide personal information such as their complete name, address, phone number, and a photo of their government-issued ID.
Apart from the fact that such processes are time-consuming, there is a larger issue at hand: many traders are simply hesitant to provide private information to an online platform, even though, in doing so, they help the exchanges protect them against spam accounts and hackers.

If you share this sentiment, you'll be comforted by the fact that certain crypto platforms allow you to trade crypto without having to prove your identity. Binance and KuCoin both enable users to trade cryptos and withdraw up to 2 BTC per day without having to provide their ID.
Paxful and LocalBitcoins are other well-known peer-to-peer (P2P) exchanges where users can purchase Bitcoin without ID. Nevertheless, users are not able to deposit or withdraw more than a specific amount (1,000 EUR on LocalBitcoin and 1,500 USD on Paxful) without an ID.
Cryptocurrency Exchanges That Let You Pay With Cash
While the majority of cryptocurrencies, such as Bitcoin, are bought online, this does not rule out the option of buying them in person. This technique involves a few more steps than other methods, but Australia, fortunately, offers a variety of choices for buying cryptocurrencies with cash.
Using a P2P exchange like Paxful, finding a seller willing to meet you in person, and paying them in cash is the riskiest option. If you try this, make sure to check the reputability of the seller/buyer and take a friend with you to the meeting.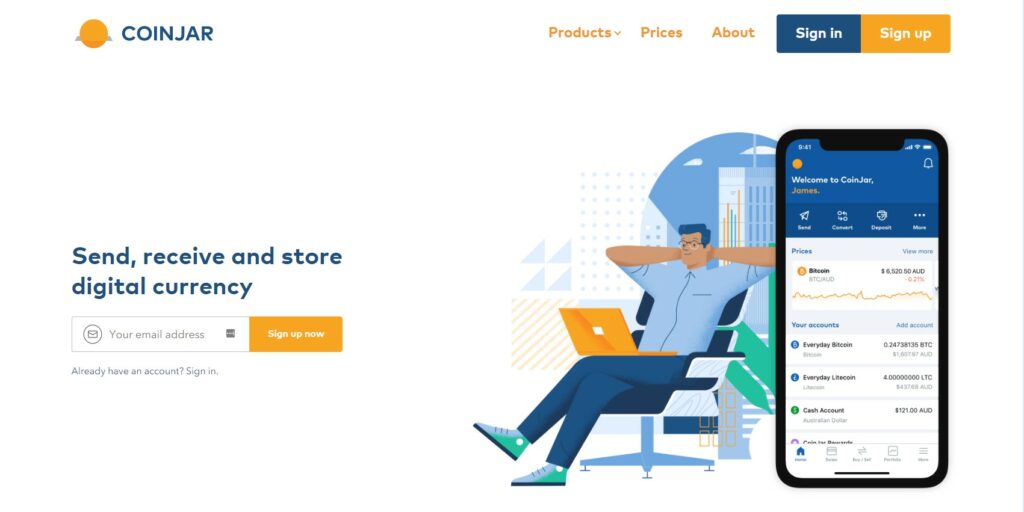 The second method you can use is to purchase coins through a Bitcoin ATM (BATMs), found in major cities in Australia. They are a convenient way for purchasing Bitcoin and provide many benefits, including ease of use, security, and speed. However, please note that BATMs have higher transaction costs than other payment options, with fees as high as 8% of the overall amount.
Exchanges such as CoinJar or Coinspot also allow users to purchase Bitcoin with cash. With CoinJar users can make AUD deposits into their CoinJar at any retail location supported by Blueshyft to make quick cash transfers. CoinSpot also provides over-the-counter (OTC) trading and users can choose to make a BPAY transfer for an additional 0.9% fee.
Best Non-Custodial Cryptocurrency Exchange
The majority of non-custodial exchanges raise privacy concerns and have been vulnerable to scams. One of the reasons for this is that they keep users' private keys on their servers. Consider your funds permanently gone if your private keys are stolen.

Non-custodial exchanges, on the other hand, provide you control over your funds. As a trader, it's on you to find a safe digital wallet or hardware device to keep your private key in. They will only deliver your cryptocurrency to the wallet address you have chosen.
Our top pick is Coinmama as the best non-custodial exchange if you have a secure wallet for your keys. The platform is registered with FinCEN in the United States as a money business service from the United States regulator. 
Best Decentralized Cryptocurrency Exchange
Centralized crypto exchanges comprise the vast majority of market activity. They handle transactions in the same manner as other commonly used financial processors, such as PayPal, and they have total control over the network's servers.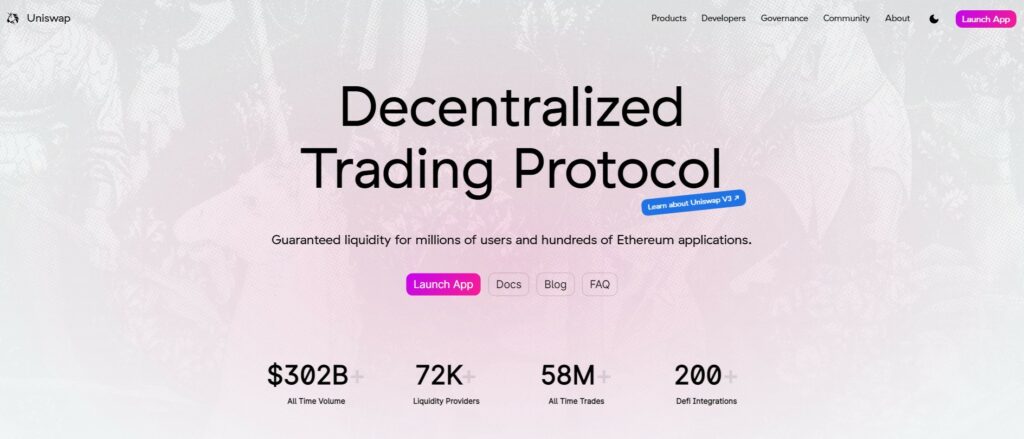 Decentralized exchanges, by contrast, rely on automated order books to help buyers and sellers discover their ideal match. These platforms employ smart contracts based on a blockchain proofing mechanism to ensure that all parties complete their end of the deal.
Bisq, Uniswap, 0x Protocol, IDEX, and Balancer are some of the most famous decentralized crypto platforms which only support ERC-20 tokens.
Frequently Asked Questions
Swyftx is our top-rated cryptocurrency exchange for buying, trading, and selling Bitcoin and other cryptocurrencies in AUD. It's an AUSTRAC-registered trading platform that allows anyone to trade digital assets clearly and transparently. Swyftx's team managed to combine charting, portfolio monitoring, leverage, financing, fiat, and risk management into a single easy-to-use platform.
Finding the best cryptocurrency exchange is a challenging task and should be based on what you believe suits your needs. CoinJar is a great option if you're seeking the cheapest platform to buy Bitcoin with AUD. It has no costs for deposits and withdrawals, and it incurs minimal transaction fees. If security is your priority, we suggest checking out CoinSpot. For all advanced traders, Binance is our recommendation. Finally, for the best overall trading experience, look no further than Swyftx, the best and most famous platform in Australia.
Due to its simplicity, using a cryptocurrency exchange is the ideal method to enter the crypto market. To start trading, you'll need to create an account. Most platforms allow all types of purchasing options like debit cards, credit cards, and bank transfers for Australian residents. Once you create your account, you'll need to set up 2FA. As a final step, you'll need to verify your account and select a payment method to make a fiat deposit.
Swyftx allows users to sell BTC for AUD and withdraw the fiat to their bank account, which takes 1-3 business days to complete. The maximum daily withdrawal is AU$20,000.
This page was last updated on March 23, 2022