Best Free Charting Software Technical Analysis 2023
Are you looking for charting software to assist you with your technical analysis and investment strategy?
Stock analysis software will not suddenly launch you to the top, but it will provide you with the knowledge you need to get there, whether you are a newbie, a day trader, or a long-term investor.
Charting software can assist you with understanding how to adjust your positions based on market fluctuations, apply strategies using historical data and make use of the up-to-date knowledge to avoid making emotional or reactive judgments. It's easier to make better-educated choices when you have the statistics from your stock analysis software.

Our list of best free charting software technical analysis includes a variety of functions such as charting, news, analytics, real-time data, etc. All features could vary based on the plan you select, so make sure to do your research and double-check what you're signing up for.
Charting software can be rather costly, so we also went ahead and selected the best free stock charts for you! Do you want to find out more? Read through!
What Is Charting Software?
The charting software allows you to create several types of charts based on the price action of a given asset class. You can also choose different chart layouts, based on what the software has to offer.
Free chart software frequently allows you to produce charts in 1-, 3-, 5-, and 15-minute intervals. These software applications collect information and make a fundamental analysis from a single market data source, so you might want to use a combination of them as well for a deeper insight. Still, even if you stick to one software, it can assist you in making well-informed trading decisions and technical analysis-based trades.
What to Look for in Analysis Charting Software
Let's take a look at some of the important aspects you need to consider when choosing the best charting software for you:
First of all, take into account your budget as well as your personal choices when selecting stock trading software.
Will the software you select still work for you when you grow as a trader? You don't want to spend your time learning how to operate stock trading software, only to change it when you outgrow it. 
Is the stock chart software capable of displaying vertical, horizontal, and trend lines? Lines are crucial since they enable you to recognize resistance levels and you're able to acknowledge trends with them.

Symbols and different shapes
The best stock chart software should have a robust library that allows you to add pictures as symbols. It should also let you label signals with symbols like exit long, purchase, exit short, and sell. Moreover, look for software that allows you to indicate specific price movements using drawing tools like shapes, rectangles, and ellipses.
Delayed information is inconvenient when you need to make rapid decisions. As a result, real-time price data enables quick response, allowing users to be proactive by grabbing opportunities and foreseeing potential problems.
The software must be simple to use. After all, even the greatest technical knowledge is meaningless if it cannot be easily comprehended. This demands a good interface, which translates into ease of use and quickness. Complex and inefficient software is nearly worthless since it causes time delays that might make certain transactions less profitable.

The software should also be customizable, allowing you to change any graphs to meet your unique trading demands. There's no software that works for all investors. As a result, customization is an important criterion for assessing software usability.
The Best Free Charting Technical Analysis
TradingView is definitely the most favoured charting and technical analysis trading platform. One of the most significant advantages of TradingView is that it can be used by both novice and experienced traders. In the recent past, the software was incorporated by the most widely used cryptocurrency exchanges and it also provides an essential networking function, allowing users to exchange trade experiences and obtain information and recommendations from other platform members.
This charting platform is simple and straightforward, with no complicated setups required. Each chart may be customized to your taste, including background colour, size, and other options. You may get started right away by accessing browser-based charts with real-time data. TradingView is free to use but if you want to unlock additional features, you must upgrade it for a certain price.
Some of the most useful features of TradingView are its clever trading tools, technical analysis signals, and strong scanning feature for locating the top forex pairs and stocks to trade.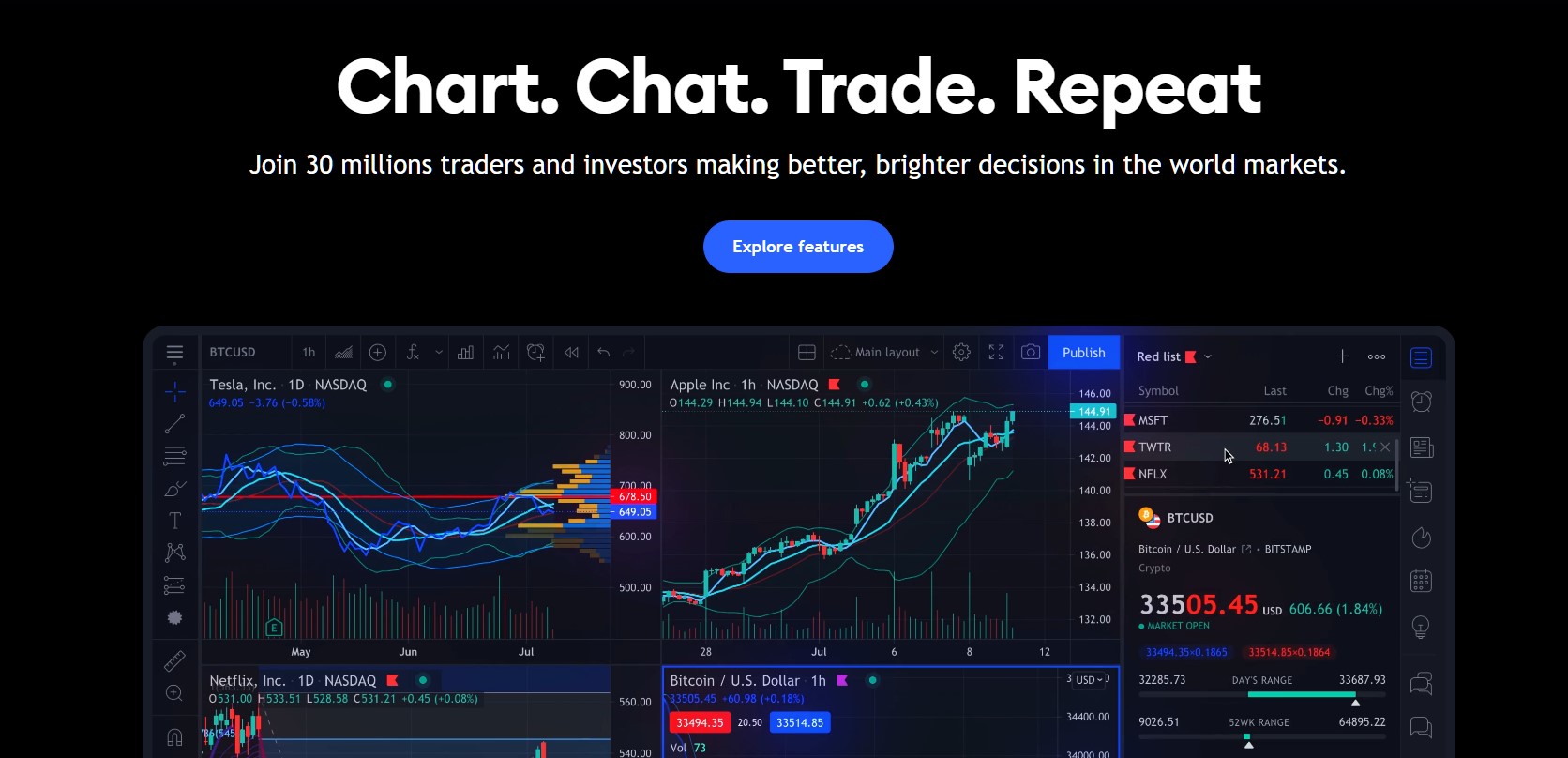 Regarding cryptocurrencies, over 200 coins are available for tracking. The default setting shows prices in USD and sorts crypto assets depending on the market capitalization. The crucial metrics like the closing price, availability and total amount of coins, traded volume and price change percentage tend to be available at a quick glance.
You may set alerts, which are a fantastic method to get notified when assets begin to move or to get reminded of potential setups. You may also create your own watch lists to keep track of popular currency pairings and equities. You can sign up for the premium or free version. The premium versions are divided into three categories: Pro, Pro+, and Premium, with monthly membership costs running from $14.95 to $59.95.
Cryptowat.ch is yet another extensive charting tool owned by Kraken that allows traders to make use of the live-streamed prices and volumes, along with order book data from more than 800 exchanges. In spite of the overwhelming dashboard, Cryptowatch is remarkably simple software and makes a fantastic addition to your trading toolkit. 
Along with visualizing live exchange information, CryptoWatch consists of many complex analysis indicators and overlays to enable you to make your calls. While this particular charting tool does not include as many indicators and drawing tools, Kraken is continually updating the website to add more.
Shrimpy is a portfolio management site that enables you to handle your whole crypto balance, which could reside across many exchanges. This indicates you do not have to sign in individually to each crypto exchange to carry out purchase and sell trades.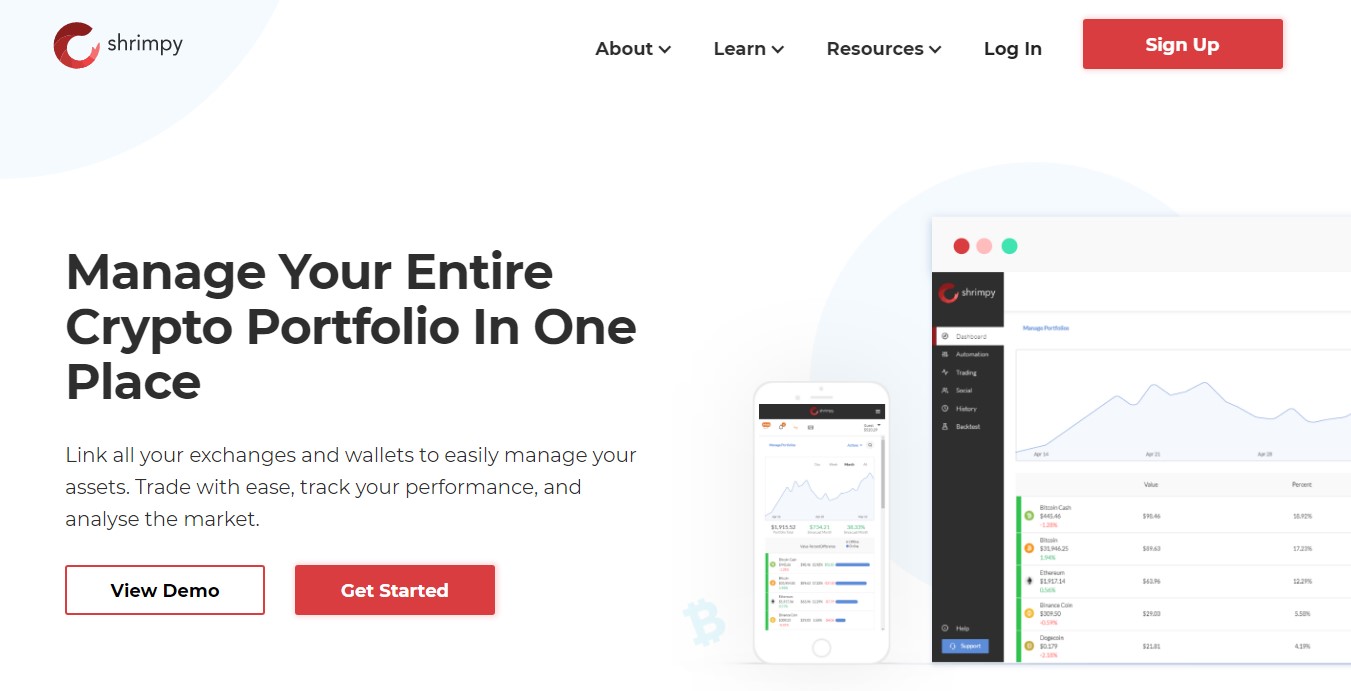 The distinctive charting capability of Shrimpy is that it makes it possible to picture your general allocation of cryptocurrencies on several platforms utilizing simple percentages with a visual snapshot. If market conditions change – e.g. Bitcoin dominance grows and you wish to minimize altcoin coverage – you can change the allocation automatically or manually by altering the percentages.
Finviz is a stock research program that provides traders and investors with easy access to market information. The platform provides free and paid tools for traders to develop ideas and identify trading opportunities in stocks, forex, and futures.
The platform provides users with the most recent financial data shown on the intuitive data feed and gives them access to market maps, comparison tools and charts, portfolio tracking, sophisticated screeners, and sector performance tools. It also includes a stock screener that enables you to filter stocks based on a range of technical, descriptive, and fundamental indicators.
Although Finviz is an excellent tool for experienced day traders, it does have certain limitations. To begin, users are limited to utilizing drop-down options with pre-specified settings. As a result, you cannot choose or enter values. Second, you cannot export results unless you subscribe to Finviz's Elite service ($24.96/mo).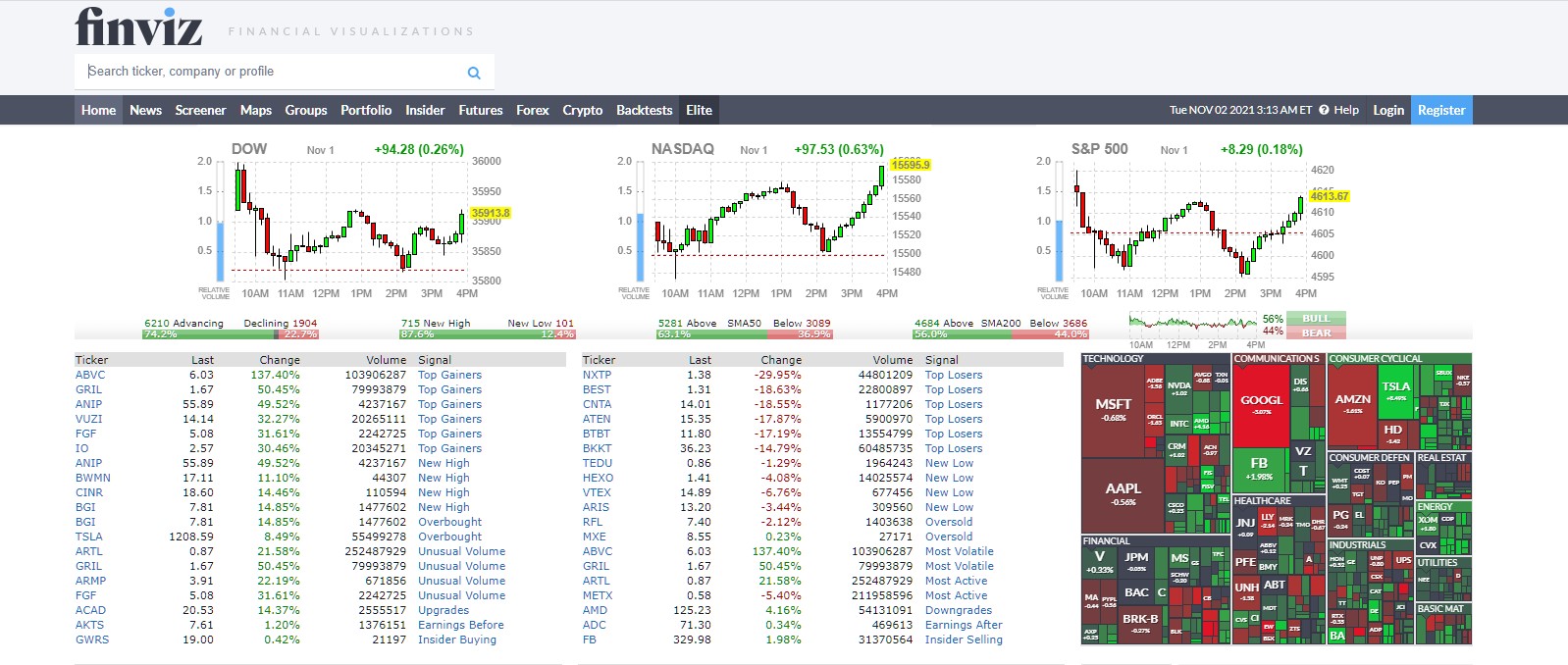 Yahoo! Finance is less complicated than most of the other technical analysis software on our list, and the relatively limited variety of services may be all you need in your financial activities as a novice investor.
The platform includes more than 100 technical indicators, as well as real-time price charts. What is perhaps most amazing is how you can trade stocks straight from the charts. You will not be executing trades via Yahoo! Finance, but rather through its collaboration with Trade It, a service that sends trade requests to prominent brokerage companies.
Not only will Stockcharts.com help you observe marketplaces more accurately, but it will also help you identify unique opportunities and enhance your portfolio management. Millions of traders across the world rely on StockCharts because it generates high-quality financial charts in a matter of seconds.
You may also use larger and more advanced charts, as well as custom scans, to find successful stocks. StockCharts lets you set up automated notifications and start receiving market analyses from experts in the field.
You can use StockCharts for free for one month, and if you like how it works, you can subscribe to Basic ($14.95/mo), Extra ($24.95/mo), or Pro ($39.95/mo) version. StockCharts offers several award-winning features, including an advanced chart, real-time intraday data, additional indicators and overlays, intuitive user dashboard, custom alerts, etc.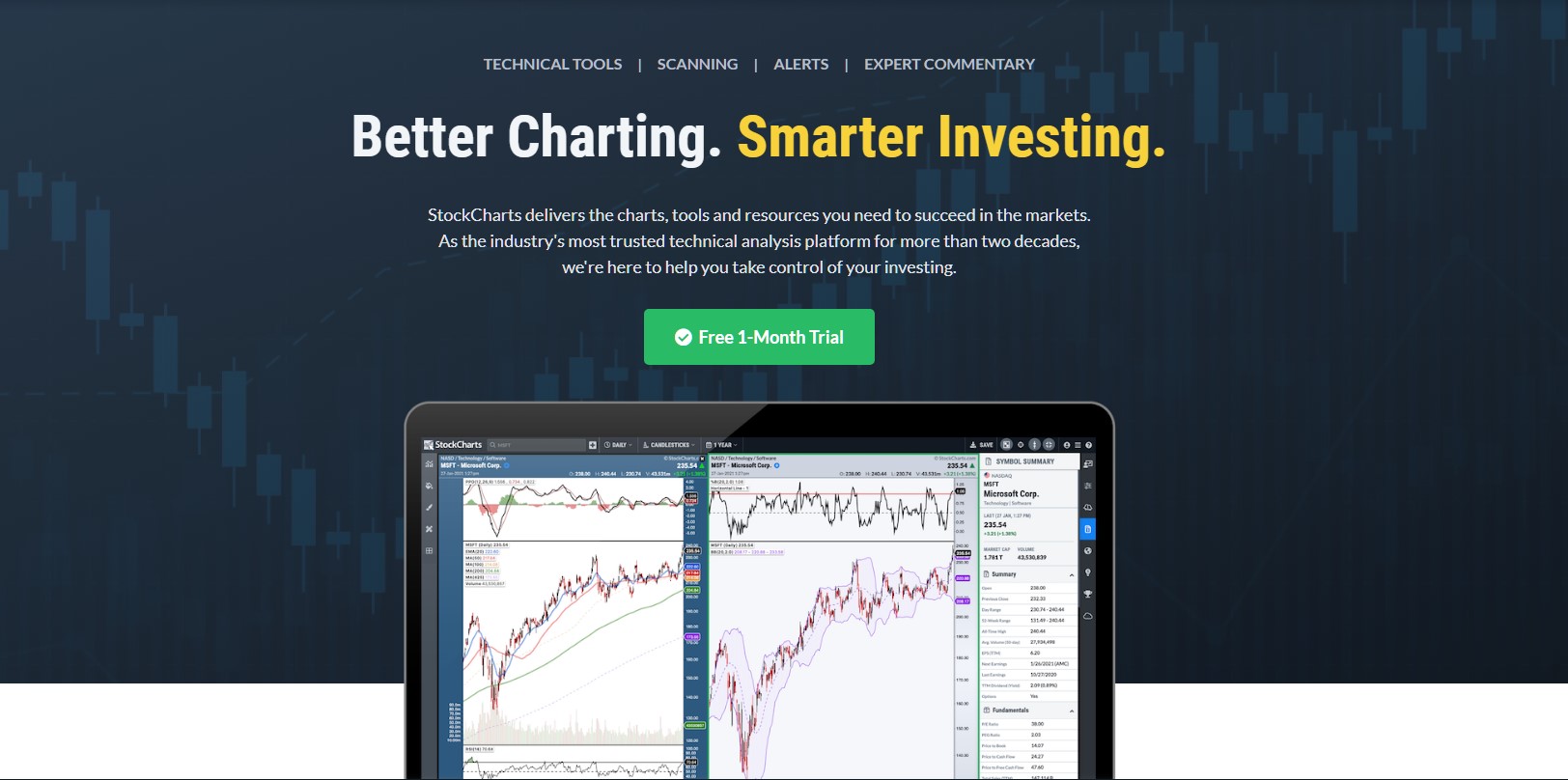 MetaTrader 4 is a great forex technical analysis software for trade execution. Initially designed for forex trading, the program has now been enhanced and expanded to enable trading CFDs, commodities, indices, and prominent cryptocurrencies such as Ripple (XRP), Bitcoin (BTC), and Ethereum (ETH). 
The MetaTrader 4 crypto trading software is appropriate for both professional traders and market novices. This is a basic, yet highly useful and instructive software that helps you get started quickly. You may also get a zip file of the platform from the MetaQuotes website. The MetaQuotes language used for this platform is software designed for creating specific trading strategies
Stock Rover is a one-stop solution for researching stocks, locating trading opportunities, and managing your portfolio. This tool is quite sophisticated, with possibilities for creating custom metrics for stock analysis and custom equations for stock screening.
Stock Rover provides an immense quantity of data, more than 10,000 stocks and hundreds of ETFs. A wide range of basic indicators, such as a company's balance sheet, cash flow, and dividend history, are publicly accessible via the app. Stock Rover additionally shows Morningstar's financial health, profit, and growth ratings for stocks.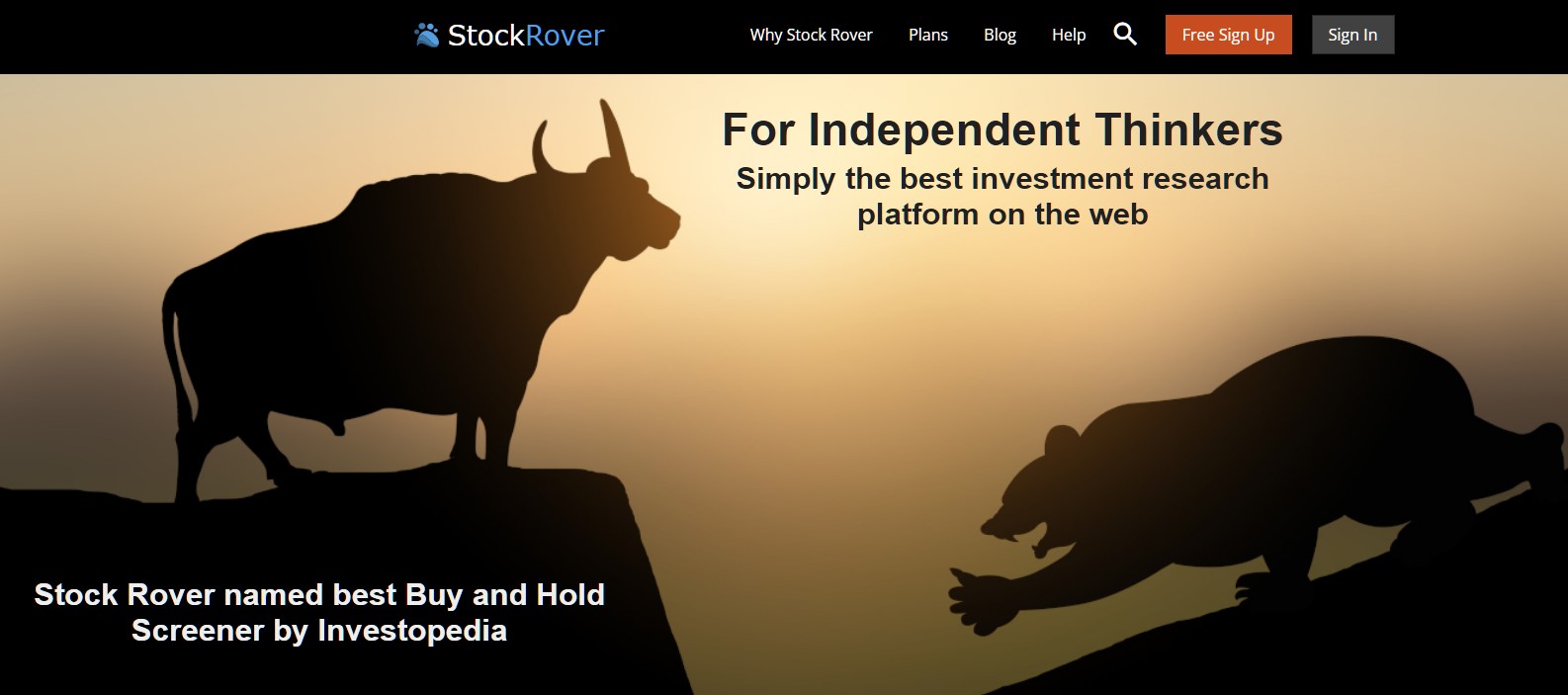 Stock Rover also includes charting software. It is not the most sophisticated charting tool on the market, but the charts are remarkably capable. Candlesticks can be plotted on daily, weekly, or monthly timeframes. Furthermore, the charts enable popular technical studies such as moving averages, Bollinger Bands, MACD, and RSI. When using lines instead of candlesticks, you may quickly compare returns by charting numerous stocks, ETFs, or indexes at the same time.
Robinhood is a free trading software that allows investors to trade stocks, options, ETFs, and cryptocurrencies without incurring commissions or fees. Robinhood was one of the first brokers to provide free trades in its early days. However, because almost all major online brokers have removed trading commissions and fees, Robinhood has had to find new methods to differentiate itself. 
To achieve that, it included a new recurring investing option and the ability to buy partial shares of stock. Currently, it is also one of the few brokers that allow traders to invest in cryptocurrency.
When it comes to safety, it follows a 2 step verification process. Robinhood gives cold storage facilities in addition to insurance against crypto platform breaches.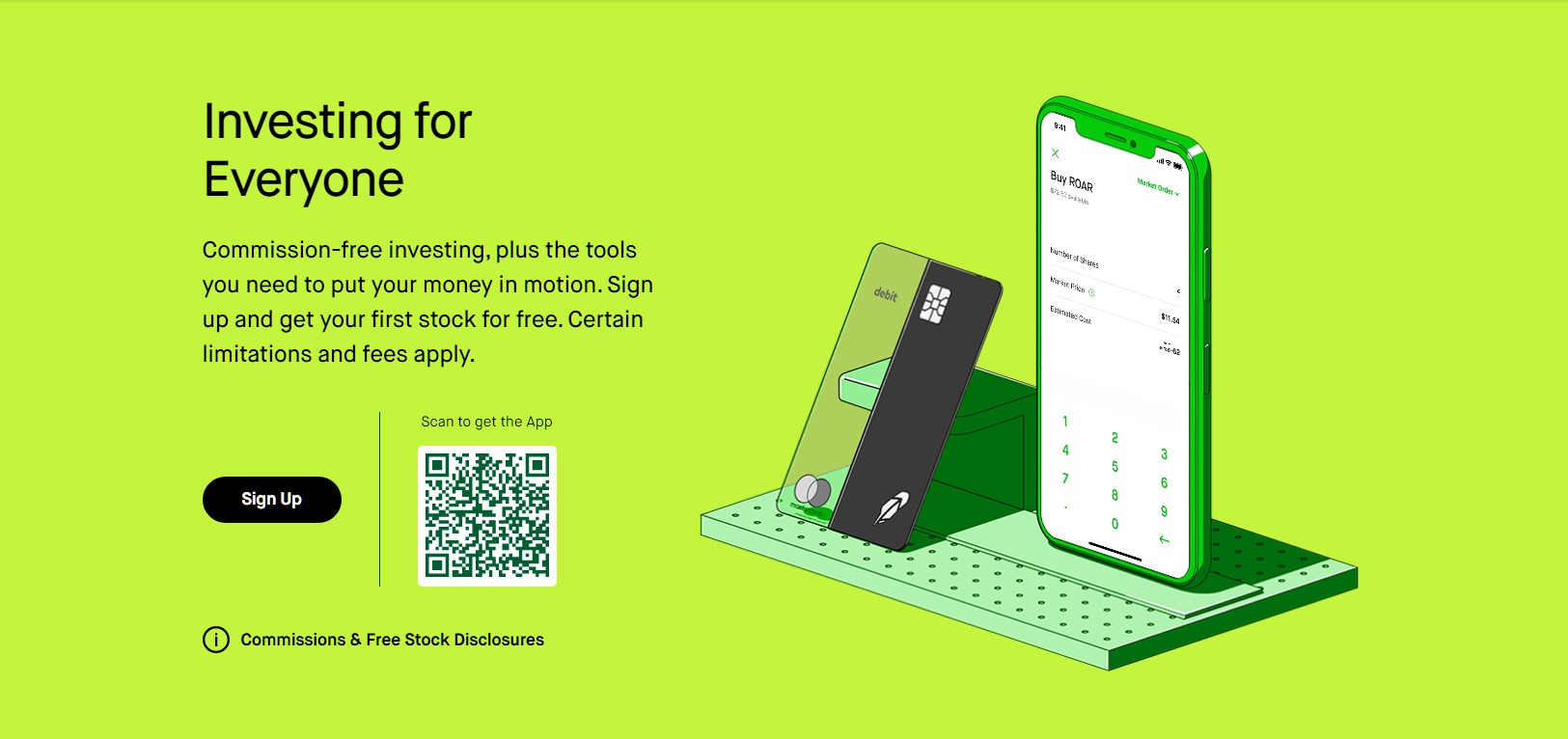 This brokerage has an easy-to-use software program whose UI is welcoming and shows the most typical features in one menu, rather than burying them in several menus with stringent hierarchies.
However, the biggest disadvantage when it comes to cryptocurrency trading is that you cannot buy, hold or even sell cryptos. Also, you cannot send your Bitcoin to another wallet or even use it for real-world purchases. The only thing you can do is deposit your coins, trade them and then withdraw them to an external wallet/bank account.
A Few Words Before You Go...
With so much free charting software for technical analysis, choosing the best one may be difficult. However, try choosing one that will work best for you and fit your preferences and needs. For instance, if you don't trade futures and options, you won't be interested in charting software that specializes in those markets. The bonus is that since they are all free, you will be able to test several before deciding on the one you like.
We also encourage you to examine each of the company's premium offerings. If you intend to be an active trader, you will most likely want to upgrade to a more advanced service at some point. Because your degree of familiarity with a platform is important, it's great to know you may upgrade your version at any moment.
In the best-case scenario, you will be able to pick charting software that will evolve hand in hand with your trading activity.
This page was last updated on August 23, 2022