Best Multi Cryptocurrency Wallet 2023
The interest in crypto trading has been on a steady rise in recent years. More and more investors are looking to get hold of digital assets, particularly cryptocurrencies. If you're a beginner looking to purchase several different crypto assets, you should know that you need to get a multi-cryptocurrency wallet before you make your first order.
Some crypto wallets only support a single cryptocurrency — usually Bitcoin (BTC), which is the case, for instance, with Electrum. Other crypto wallets offer you a wider array of coins to trade against each other together with the option to exchange them for fiat currencies. These wallets are known as multi-cryptocurrency wallets and are ideal for traders looking to deal in more than a single cryptocurrency.
This article will explain what multi-cryptocurrency wallets are and how they work. Read on to find out more about the different kinds of crypto wallets on the market, the features they offer, and some of the best cryptocurrency wallets that support multiple different coins.
What Are Cryptocurrency Wallets?
A crypto wallet is a type of digital wallet specialised for cryptocurrency usage and trading. The term itself might be a bit misleading in that you might think it's used in the same way as traditional wallets. In fact, unlike your pocket wallet or your bank account, you don't store any of the cryptos you own on your crypto wallet — they're actually stored on the blockchain. 
Instead, crypto wallets are used for storing public and private keys to crypto assets. These keys are usually strings of digits and/or letters that are necessary to "unlock" their cryptocurrencies for transactions. You can give out your public keys to anyone because it is by using these keys that they can sell crypto to you (or buy assets from you). Private keys, on the other hand, are to be kept secret. They give you access to the crypto you own, and you should do your best to avoid disclosing them if you don't want your digital assets to end up in the wrong hands.
Software and Hardware Wallets
There are two main types of crypto wallets: software (hot) and hardware (cold) wallets. The main difference between the two is related to whether they require you to connect to the internet to use them or not.

Hot wallets are crypto wallets that you access online. This can include online wallets that cryptocurrency exchanges provide you with, as well as desktop wallets and mobile wallets. 
Cold wallets, on the other hand, are offline wallets. This means that they store the public and private keys to your crypto without the need for internet access — also known as cold storage. Cold wallets come in the form of hardware devices and paper wallets.
Hot wallets are somewhat more convenient for users because they allow for more immediate access to the keys stored on them, particularly in the case of online hot wallets that don't even require program installation to operate. On the other hand, cold wallets are much safer because they eliminate the threat of malicious online attacks aiming to steal your keys. This is especially true for paper wallets, which are basically pieces of paper on which you can have your keys printed out (or even written down), although if you use these, you're faced with the risk of losing them and thus losing access to your crypto as a result. 
What Crypto Wallet Should You Use?
When looking for crypto wallets, you should be aware that they aren't regulated by international laws in most cases. This is another reason why you should carefully consider which wallet suits you best and take as many safety measures as possible to secure your crypto assets.
For one thing, wallets that can hold multiple cryptocurrencies are often prioritised over those that support fewer coins or a single one, and they should also be your priority for multiple reasons. This is mostly due to the advantage of not having to use multiple wallets, should you decide to buy different kinds of crypto. Ideally, with a single multi-cryptocurrency wallet, you should be all set for trading crypto to your heart's content.
The list below will guide you through the features of some of the most well-known multi-cryptocurrency wallets on the market.
The Best Multi Cryptocurrency Wallets
Designed by crypto solutions company Ledger, the Ledger Nano S wallet is cold storage hardware wallet that looks and feels like a USB drive (and has the same size as one, too). It allows users to trade in over 30 cryptocurrencies, including Bitcoin (BTC), Ethereum (ETH), Ethereum Classic (ETC), Litecoin (LTC), Ripple (XRP), EOS (EOS), Bitcoin Cash (BCH), and many more.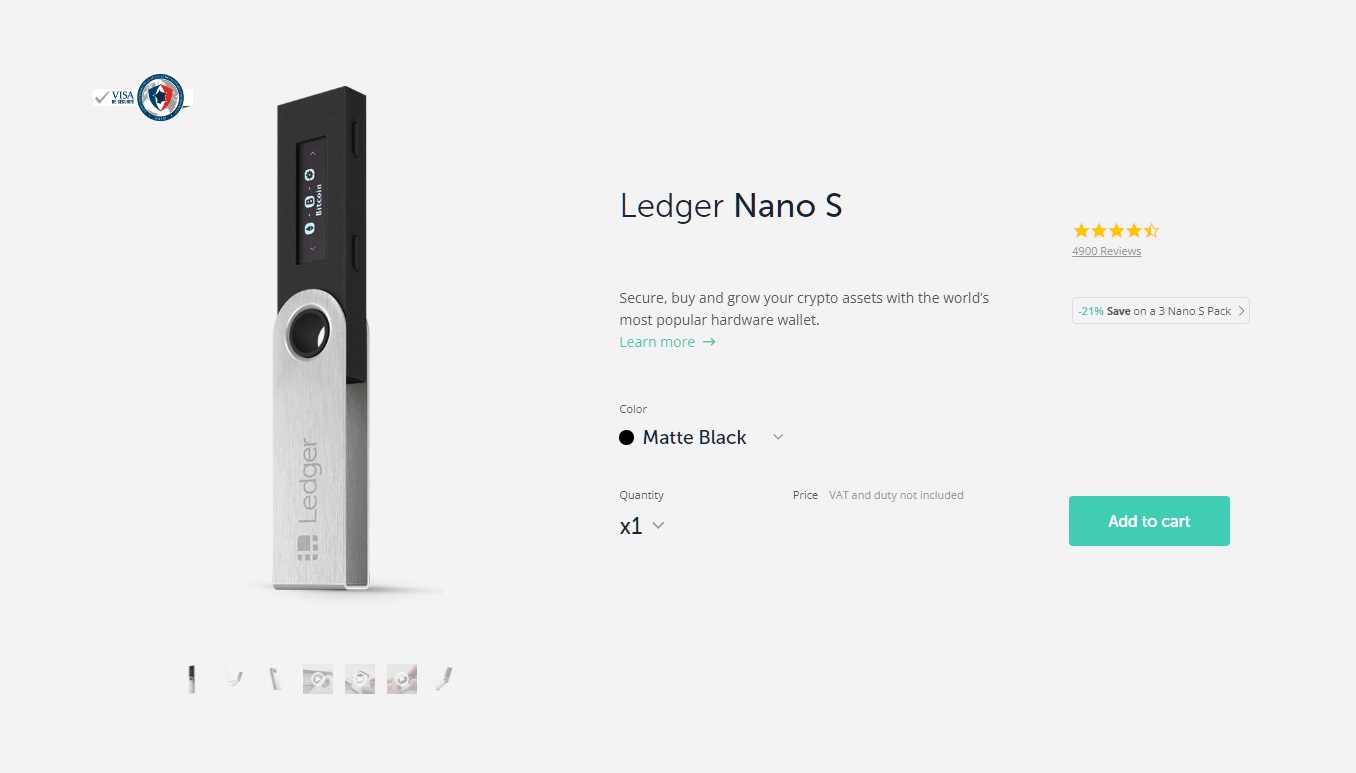 The Ledger Nano S wallet is also compatible with several software wallets. It's a fairly affordable wallet to boot, and you can use up to three crypto trading applications on it. What's more, it comes with a built-in security chip and offers solid protection against hackers and malware.
Another crypto wallet made by the same company, Ledger Nano X is basically an advanced version of Ledger Nano S with a similar design. It comes with all the features that Ledger Nano S offers as well as the same number of supported digital currencies — and goes even further in what it has to offer.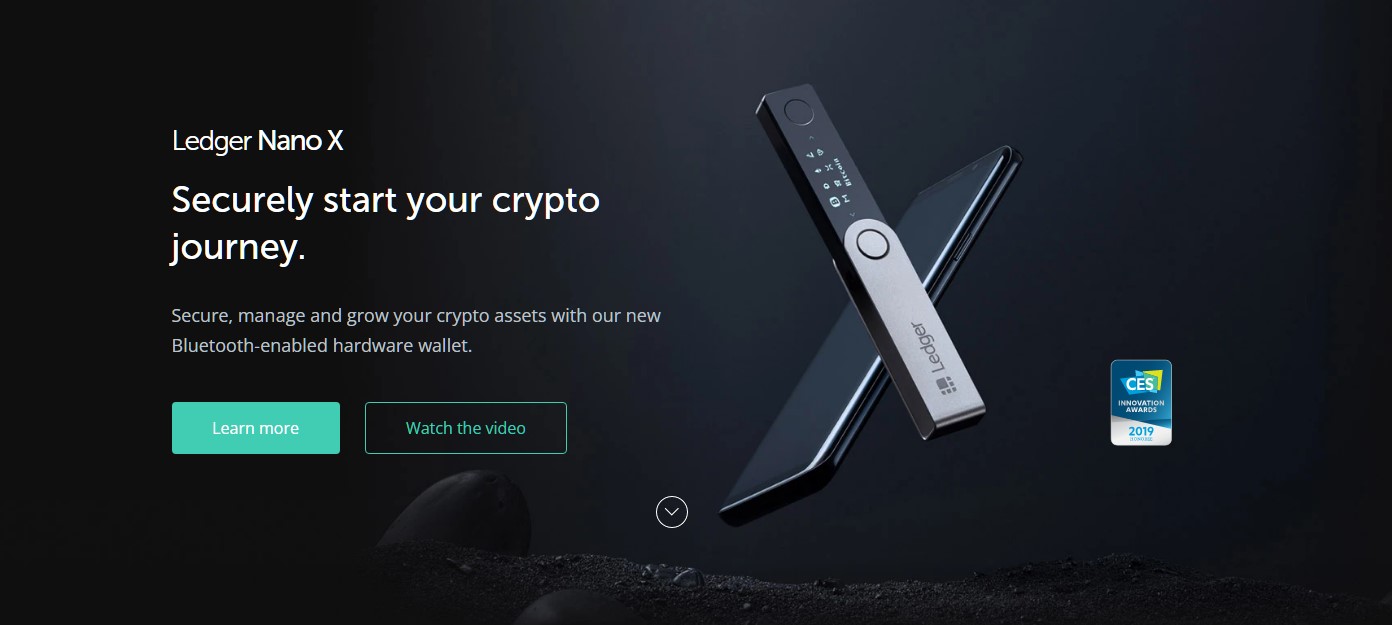 Namely, with Ledger Nano X, you can use up to 100 cryptocurrency applications as opposed to Ledger Nano S, which only lets you add 3. Besides this, Ledger Nano X comes with a Bluetooth function that is lacking from its less advanced counterpart. Needless to say, because of the wider array of options it comes with, Ledger Nano X is also more expensive than Ledger Nano S.
Another hardware wallet akin to a USB stick, Trezor is often praised for its incredible security. This is mostly due to its zero-trust security model that works by implementing extensive user verification and authentication before accessing the wallet, which effectively prevents unwanted parties from getting their hands on your funds.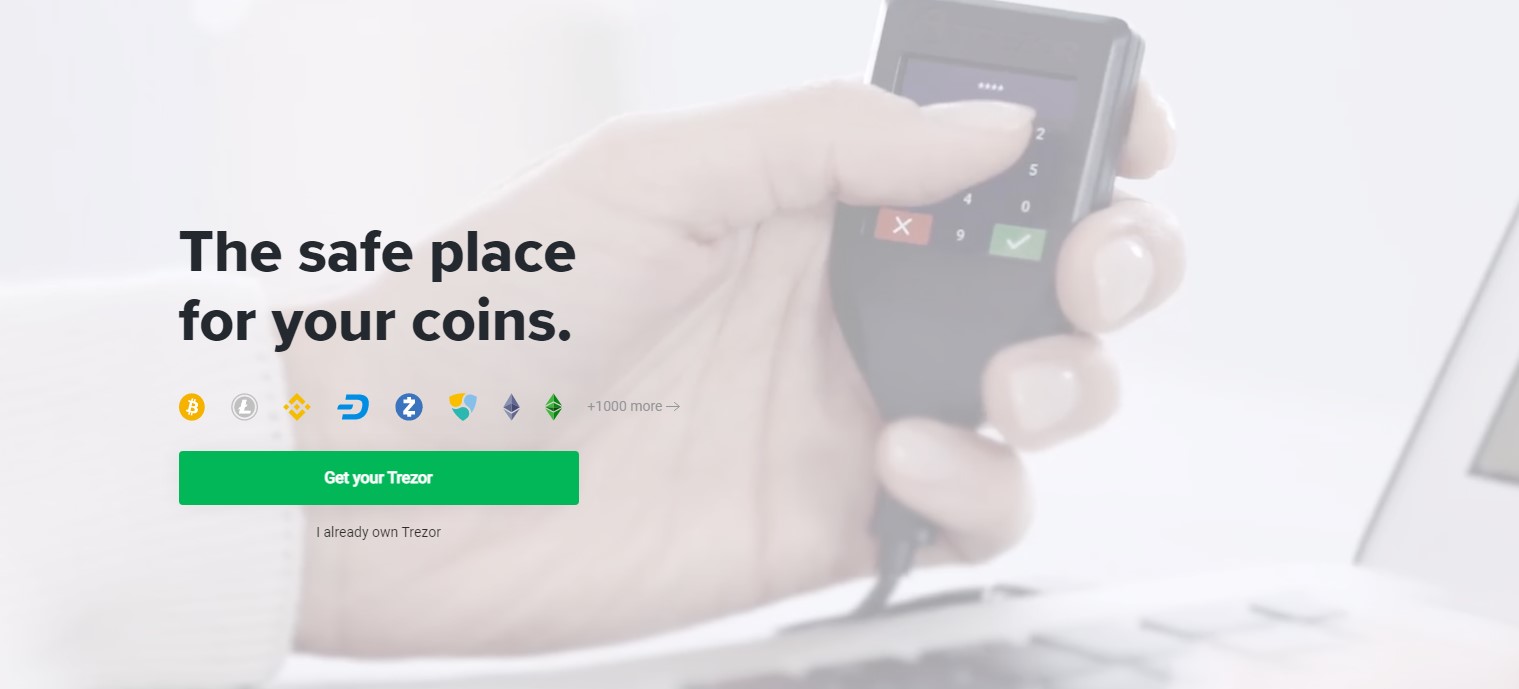 Trezor is considered a Bitcoin wallet because it mostly focuses on this cryptocurrency, although it does work with a myriad of altcoins, too. It also comes with downloadable software with a simple, intuitive user interface.
One of the oldest crypto wallets out there, Coinomi has millions of users, providing support for more than 125 blockchains and more than 1,770 blockchain assets such as coins and tokens. It's a wallet app available for download and compatible with Android, iOS, Windows, macOS, and Linux.
Coinomi's wallet comes with top-notch security features for software wallets, including strong wallet encryption, 2-factor authentication and cryptography that protect your private keys. It also boasts a high level of user anonymity because it doesn't include KYC (Know Your Customer) procedures, doesn't collect user data, doesn't track transactions, and anonymizes user requests by hiding IP addresses.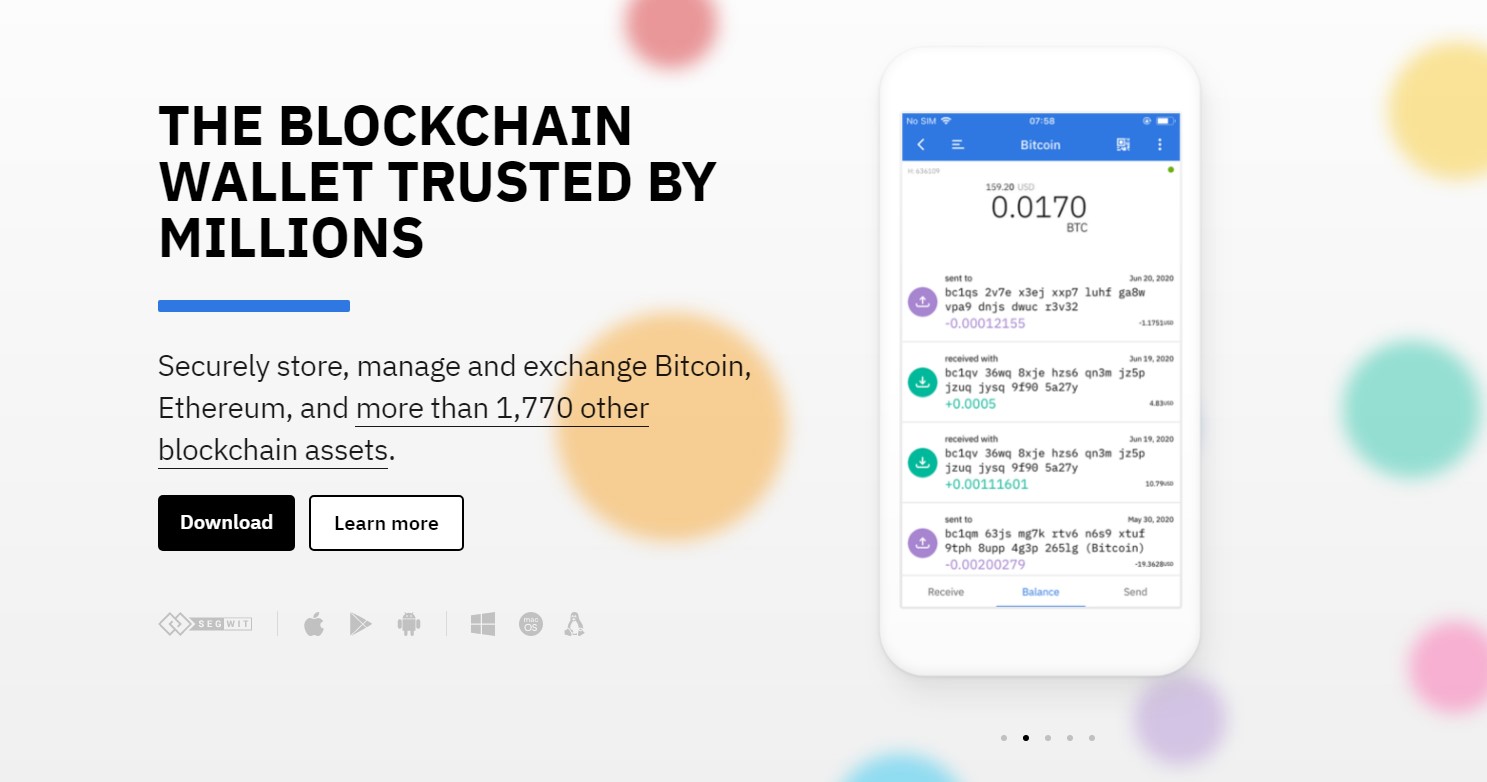 This software wallet integrates a number of different services. These include instant crypto exchanges (the likes of Changelly and Binance Dex, among others), a functionality through which you can file crypto taxes (software by Blocksentry), buying crypto through debit or credit card (by Simplex), and more. It also comes with a decentralised application (dApp) browser, it's available in 25 languages and supports 168 fiat currencies.
The Exodus wallet's original version is online, though it also offers a desktop and mobile app. It offers support for over 100 cryptocurrencies, with some of the most notable examples being BTC, ETH, LTC, Dash (DASH), and more. 
Exodus provides you with a light wallet, which means it's not necessary to download its full blockchain. Instead, it only downloads the block headers needed to validate the authenticity of crypto transactions. Light wallets such as Exodus are also non-custodial, which means that, unlike custodial wallets, there's no third-party storing your private keys. In other words, non-custodial wallets are generally safer than their custodial counterparts.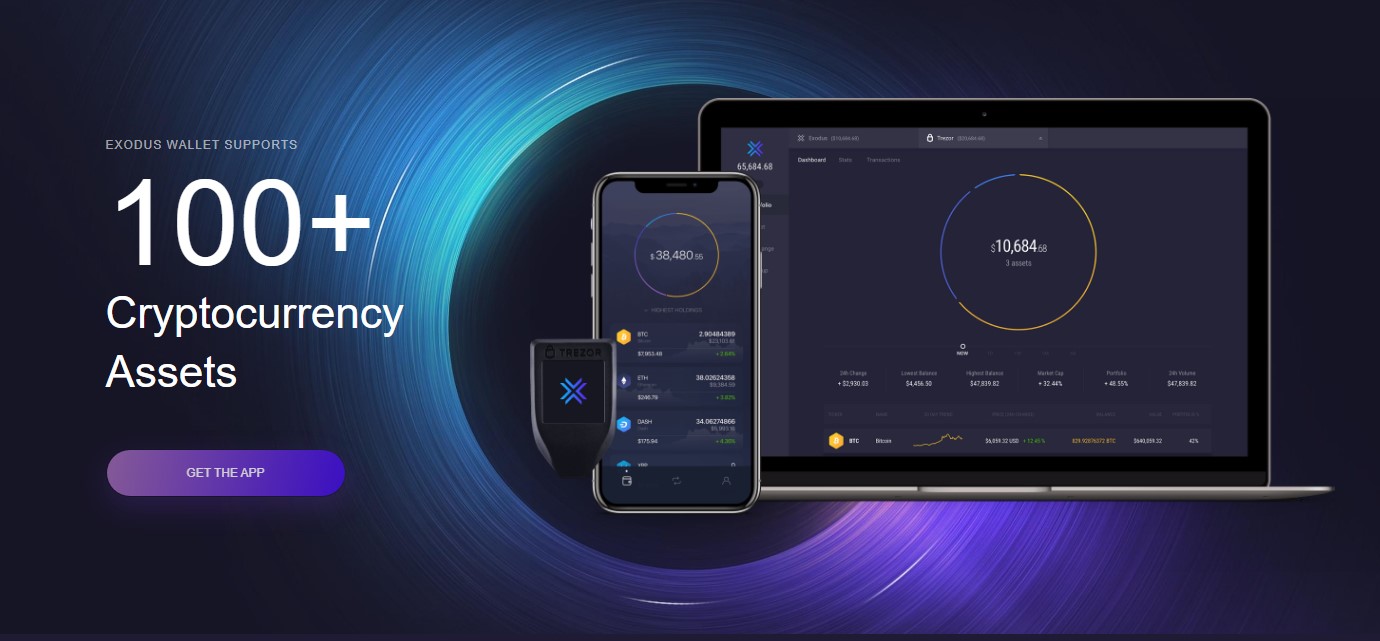 Its interface is user-friendly and gives you full control over your funds. What's more, with Exodus, you can trade through a crypto network, and you pay transaction fees to the network directly rather than to Exodus.
Another online wallet that can also be downloaded to desktop and mobile, Guarda even comes as a browser extension version. Much like Exodus, Guarda is also a light (non-custodial) wallet that gives you full control over your private keys and stores encrypted backups on your device. It's a safe, anonymous wallet that doesn't collect user data.
Guarda supports over 50 major blockchain platforms, countless tokens, as well as a wide variety of cryptocurrencies and stablecoins to boot. Some of the cryptocurrencies you can trade with this wallet include BTC, ETH, Monero (XMR), DASH, Cardano (ADA), and many more.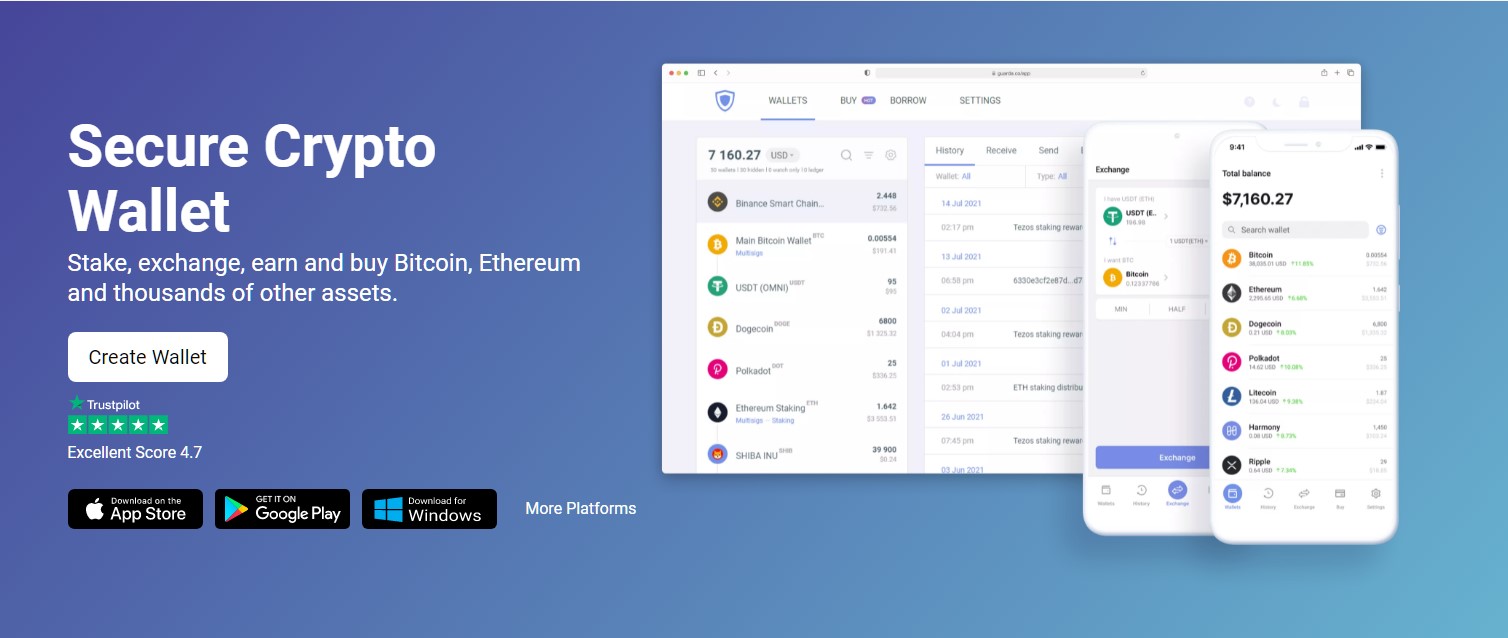 Guarda enables you to use built-in exchanges trade crypto for fiat currencies, and it's even compatible with Ledger's cold wallets. What's more, it also allows you to use functionalities such as delegation, staking for interest, and other features typical for particular coins.
The decentralised Atomic wallet is another example of a non-custodial wallet you can use for managing and trading over 300 assets such as cryptocurrencies and tokens. It's a software wallet available for mobile and desktop operating systems such as Android, iOS, Windows, macOS, as well as Linux distributions, including Ubuntu, Debian, and Fedora.
Atomic's simple interface allows you to use on-demand services to easily manage trading in several cryptocurrencies reliably and transparently. Some of the cryptos it supports include BTC, ETH, Binance Coin (BNB), XRP, Dogecoin (DOGE), Polkadot (DOT), and countless more.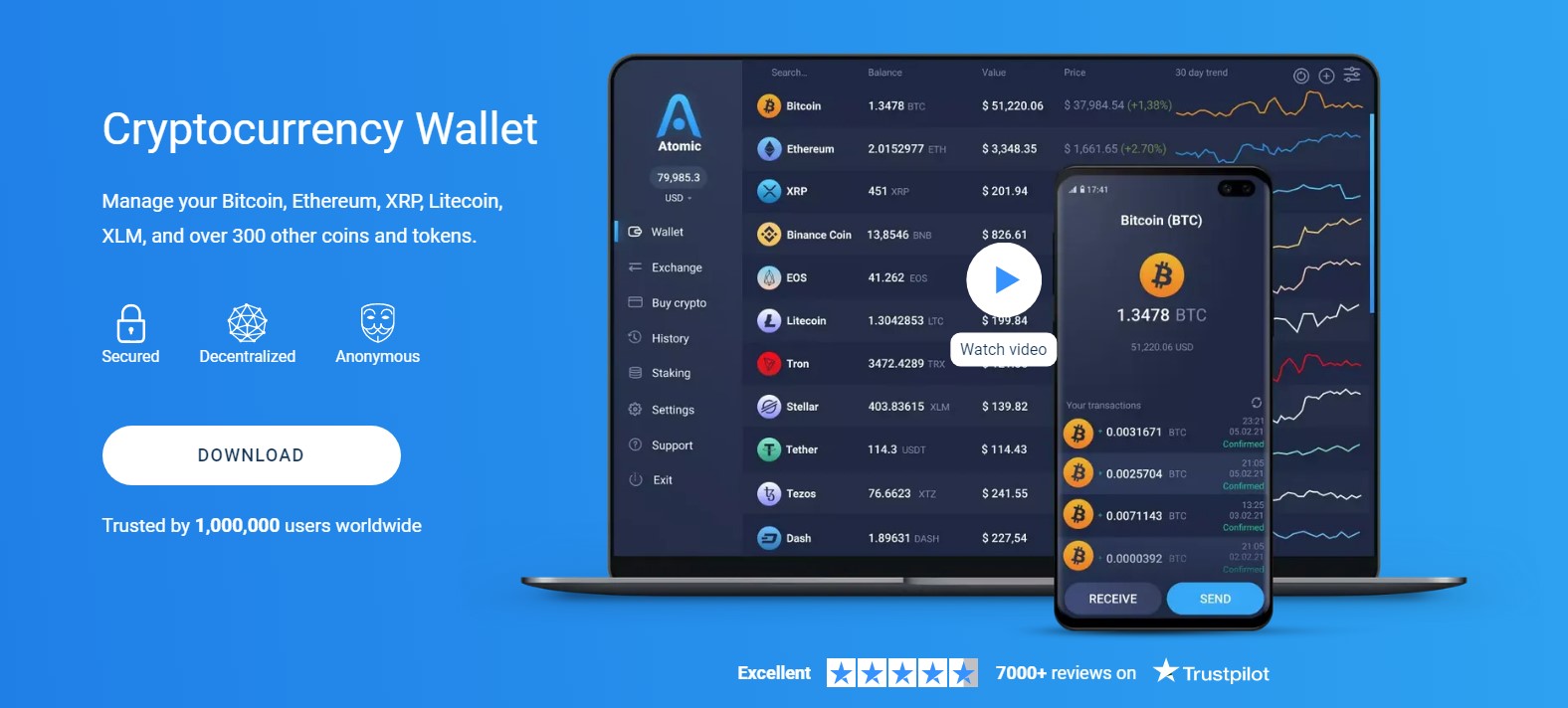 This wallet encrypts your private keys and backups, storing them on your device only. It's also a fairly anonymous wallet that doesn't require KYC verification.
Trust is the official wallet of Binance, which is the largest cryptocurrency exchange to date in terms of daily crypto trade volumes, as well as one of the most famous ones across the world. As Binance's name speaks for itself, Trust wallet's users are well over 5 million to date.
Trust wallet is a software wallet that is mostly available on mobile operating systems such as iOS and Android and has even issued a macOS desktop version, though it still doesn't support Windows or Linux. This wallet supports over 160,000 blockchains and assets, along with a huge number of different cryptocurrencies for trading — some of which can be staked for interest earning.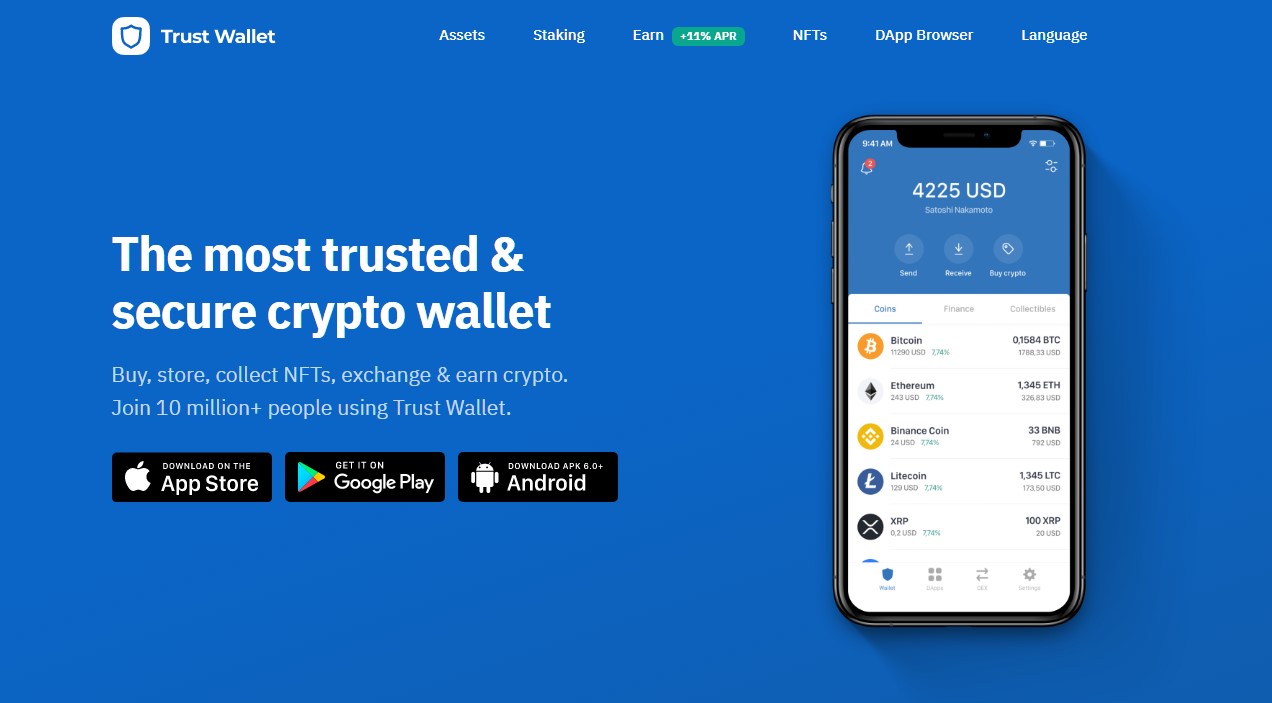 Like any other software wallet, Trust isn't as secure as hardware wallets. It makes up for this with frequent audits and a variety of other security measures such as PIN and fingerprint scans. It's also a fairly anonymous wallet that doesn't store user info on its servers.
Like many of its competitors, the Mycelium wallet focuses mostly on Bitcoin trades, but this one is a mobile-only wallet, available exclusively for iOS and Android. While it doesn't offer desktop support, Mycelium is nonetheless one of the best options in terms of mobile wallets. 
Perhaps its most specific trait is that it's a reproducible non-custodial wallet — that is, you can reproduce its code to compare it to the original in order to locate flaws, making this wallet even safer than other non-custodial wallets. There are actually very few reproducible wallets on the market, which is what makes Mycelium a valuable asset if you're OK with sticking to mobile-based crypto trading.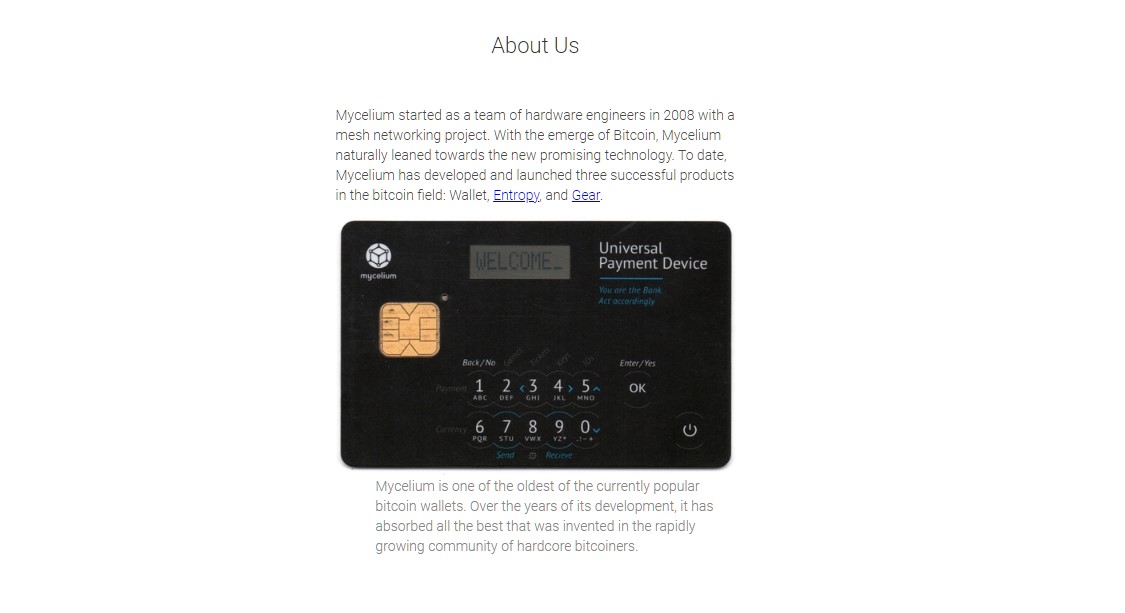 While it is a software (hot) wallet, Mycelium is also compatible with some cold storage wallets such as those of Ledger and Trezor. It allows for in-app crypto exchange usage, and it also comes with in-app educational materials for users. 
On the downside, you can only trade BTC, ETH and ERC-20 tokens with this wallet, which means it offers you a significantly lower amount of options than most of its competitors.
A Few Words Before You Go...
Crypto wallets are a necessary prerequisite for any kind of crypto trading, selling, and buying. Cryptocurrencies aren't actually stored on these wallets, though — they reside on a blockchain. Crypto wallets only store the public and private keys of cryptocurrencies, i.e. the encrypted wallet addresses that consist of a string of letters and digits that one needs to perform crypto transactions.
If you look to begin trading in multiple crypto coins rather than a single one, you should look for a multi-cryptocurrency wallet. In this article, we've listed some of the best multi-crypto wallets available on the market. All of these wallets can generally be divided into two categories: hot wallets (those which require online access such as web-based and software wallets) and cold wallets (offline wallets, which in our case specifically includes hardware wallets). When choosing the most suitable multi-crypto wallet for your personal use, bear in mind that each of the options mentioned above has different features specific to its design, and some may be more convenient to you than others.
This page was last updated on August 23, 2022