Binance vs. CoinSpot 2023
CoinSpot is among Australia's top crypto exchanges in addition, Binance is the largest cryptocurrency exchange in the world in terms of the volume of transactions.
You've heard about both of these major name brands. But which one is the better choice for Australians to utilize? I'm going to evaluate the two exchanges based on various factors to help you decide which one is right for you.
Overall, CoinSpot is my recommendation for investors who are new to crypto and who plan to invest in crypto for the long term. If you plan on trading on a daily basis or would like access to more advanced options like the ability to staking, margin trading as well as trading options, join Binance.
Get $20 Free BTC with CoinSpot
Binance vs. CoinSpot Comparison Table
| Features | Binance | Coinspot |
| --- | --- | --- |
| | | |
| Supported Coins | 600+ | 360+ |
| Trading Fees | 0.1% | Instant buy: 1%, Market: 0.1% |
| Deposit Fee | Free | POLi, Bank transfer, PayID, OSKO: Free; BPAY: 0.9%, Cash: 2.5% |
| Withdraw Fee | Free | Free |
| Payment Methods | PayID/OSKO | Bank transfer, OSKO, Cash Deposit, BPAY, POLi, PayID |
| | | |
Binance Pros and Cons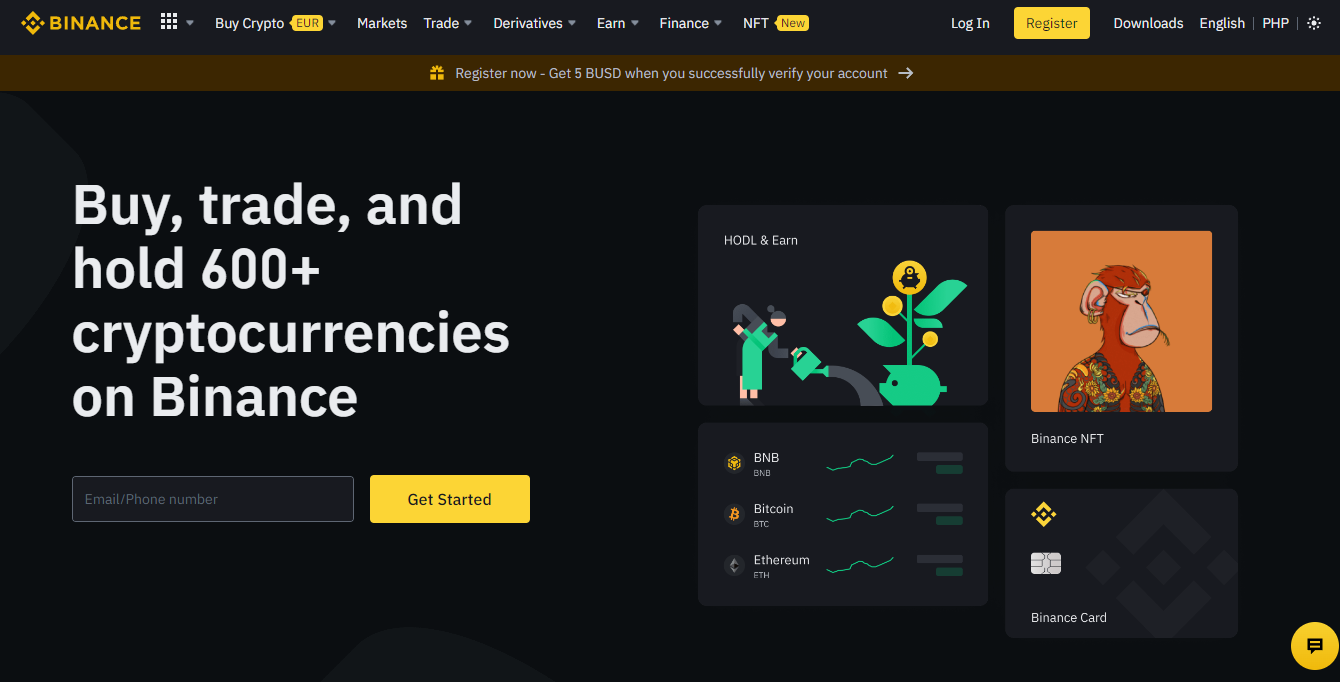 Pros
A huge spot market that includes more than 600 different cryptocurrencies
Affordable fee structure with the possibility to discount
Staking options to over 70 coins
Deposits and withdrawals that are sleek
Separate platforms for different markets
Advanced markets for professional traders
Cons
A complex platform design for novice
Excellent customer support
CoinSpot Pros and Cons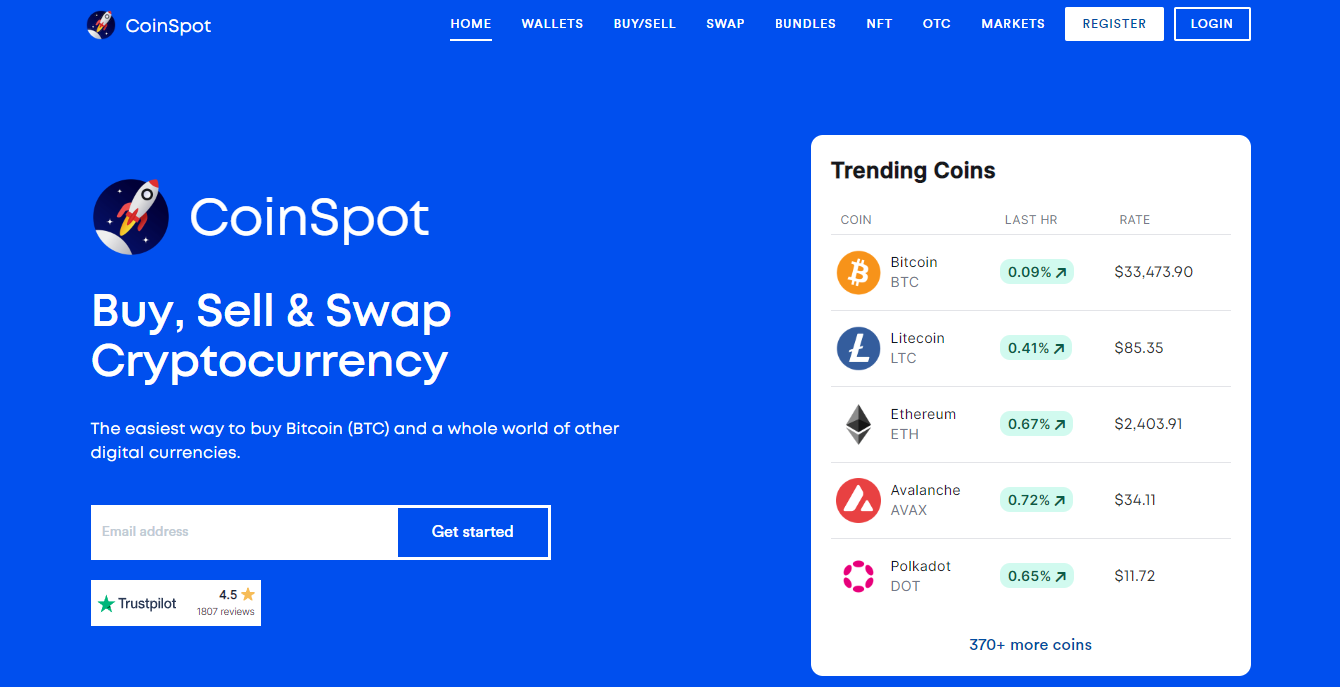 Pros:
An established track record as an honest company
A wide range of cryptocurrency options to make instant purchases and sales
Beginner-friendly design
Rapid withdrawals and deposits
NFT market available
Cold storage is used to keep the company's and user's funds inaccessible
Cons:
AUD withdrawals and deposits only
There is no option for credit or debit card deposits
Costs for purchase in a flash
Features
CoinSpot is a simple to use exchange, designed with the beginner in mind. It has a quick and easy buy and sell feature that is simple even for those who are new to cryptocurrency. Switching between coins is easy, and you can use CoinSpot from your PC or mobile devices too.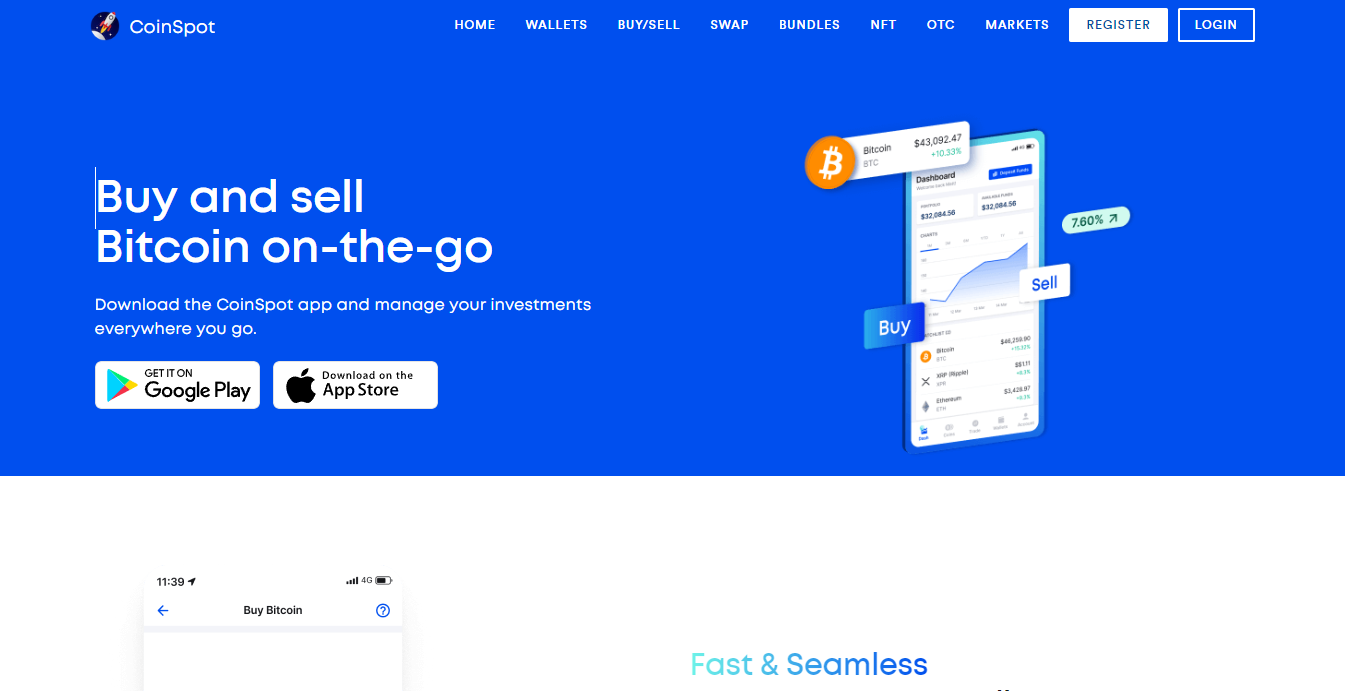 Binance provides a comprehensive cryptocurrency trading platform designed for experienced traders with the ability to trade margins, futures P2P marketplace, and advanced charting tools. It also has an NFT marketplace where the possibility of earning passive revenue earning interest on more than 70 different coins.
Binance wins out in the feature aspect regard because it is one of the top richly-featured cryptocurrency platforms. Newcomers as well as crypto veterans are sure to find something they love on Binance.
Winner: Binance
Supported cryptocurrencies
CoinSpot provides more than 360 different coins, and Binance has more than 600 different cryptos.
Binance is a winner thanks to its huge selection of more than 600 coins.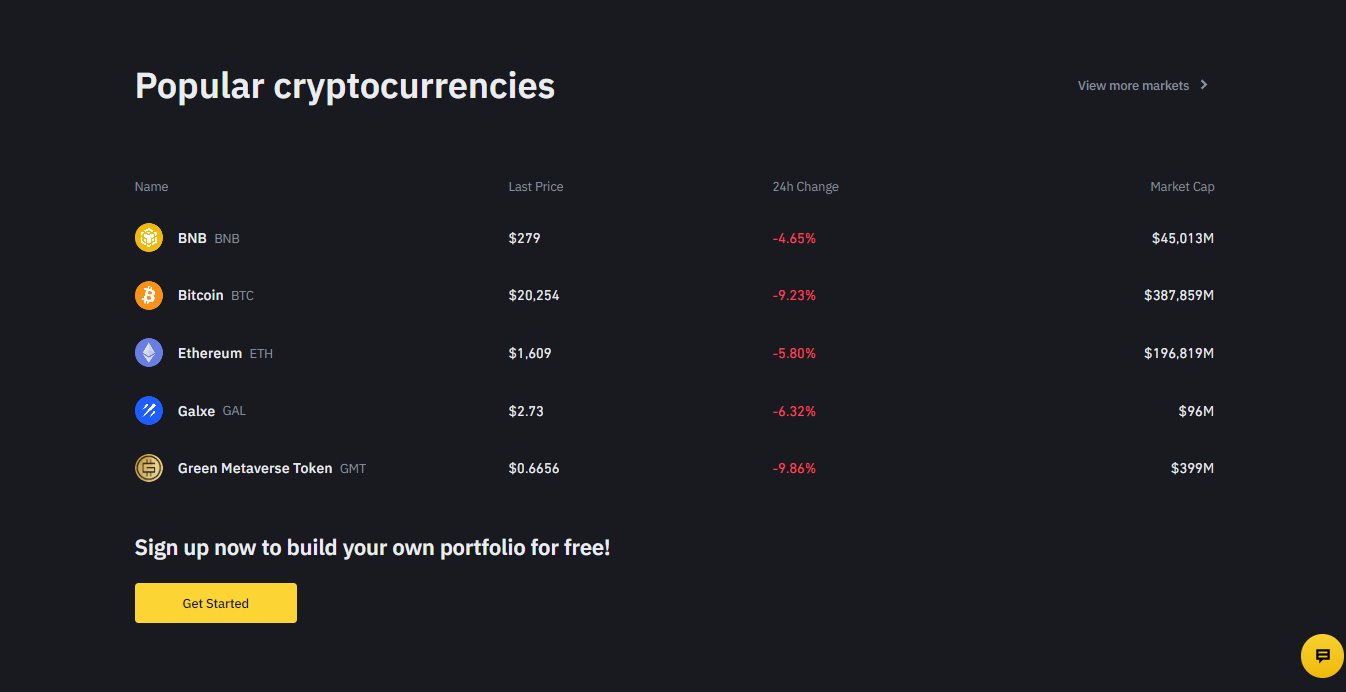 Winner: Binance
Fees
CoinSpot does not charge charges for withdrawals. In the case of deposits, there are no fees when you use Bank Transfer, POLi, PayID and OSKO However, there is a charge for BPAY (0.9 percent) and cash (2.5 percent). For instant purchase or sale of cryptocurrency, there is a one percent fee. If you sell your cryptocurrency with the marketplace, the cost is 0.1 percent per transaction however you're only allowed to access 14 coins in the market.
Binance does not charge charges for withdrawal or deposit. When you utilize the Convert feature of Binance (the equivalent of instant purchase and sell) it is free of fee, however the cost will be included within the spread. For trading with the exchange, the price is 0.1 percent. If you pay for your fees with Binance's own cryptocurrency (BNB) You will receive 25% off charges for trading. That means that instead of paying 0.1 percent, you pay 0.075 percent. You could further cut down on charges if you make an enormous amount according to the past 30 days.
Both exchanges allow no fees for withdrawals and deposits. However, Binance's lower fee for trading of 0.1 percent, which could lower to 0.075 percent when you make payments by BNB will make it the preferred choice.
Winner: Binance
Customer Support
The ease of use for users to users CoinSpot is its biggest selling aspect. Particularly, it has the ability to buy and sell instantly function that is user-friendly and simple even for those who are brand unfamiliar with cryptocurrency.
If you have any issues, Live Chat support (which isn't accessible for Binance) is available to help you. the best way to contact them is to Coinspot's expert support team via their Help Desk.
One of the biggest negatives of Binance is the absence of customer support. It's difficult to reach Binance via live chat or email currently. Customer service is offered by automated bots that redirect you to websites and are inconvenient even for users who are experienced who have particular questions regarding their account.
The fact is that Coinspot beats Binance in terms of customer service and this has helped Coinspot gain the trust of an extensive number of users
Winner: CoinSpot
Deposit Methods
CoinSpot accepts a variety of payment methods, including Direct Deposit PayID as well as POLi, and crypto. All of these are cost-free. Customers can also choose to deposit money using BPAY (0.9 per cent cost) or cash in at a local newsagent (2.5 percent cost).
Binance will only accept PayID or OSKO as fiat deposit options in Australia. You can also transfer cryptocurrency to the account of your Binance account.
Security
CoinSpot proudly boasts the distinction of being the most secure and certified cryptocurrency exchanges in Australia that comes by ISO 27001 certification, AUSTRAC registration, and membership with Blockchain Australia. CoinSpot employs multiple layers of security including 2FA (Two-Factor authentication) and individual withdrawal restrictions, anti-phishing words geo-lock logins sessions timeout settings, and offline cold storage for the majority of their digital assets.
Binance is extremely safe It has AUSTRAC registration and offline storage for the majority all of its cryptocurrency. However, in the year 2019, Binance was the victim of an attack and more than 40 million dollars of Bitcoin was taken. Binance paid for the loss, and no customers of Binance lost any money because of the hack. Within four months Binance has passed rigorous checks on their security and management, and was awarded an ISO 27001 certification, showing that their customers are dedicated to safeguarding their exchange.
CoinSpot has the highest secured and certified exchange in Australia and hasn't been compromised since its inception at the end of 2013.
Winner: CoinSpot
Conclusion
In the end, CoinSpot is an excellent option to begin your journey if you're brand new to cryptocurrency or are looking to buy and store your crypto to last for a long time. Binance is, however is a great option for frequent and experienced cryptocurrency traders. The additional tools for trading and price charts, as well as the lower fees offered by Binance will make it easier to maximize the profits from every transaction. All in all, CoinSpot is the winner in this crypto exchange comparison.
Frequently Asked Questions
Is CoinSpot Regulated In Australia?
Crypto-currency exchanges are considered legal entities in Australia and are required to comply in accordance with Anti-Money Laundering and Counter-Terrorism Financing Act 2006 (AML/CTF 2006). CoinSpot is a seasoned player in the industry, CoinSpot operates in full conformity with Australian laws.
What kinds of NFTs are offered on CoinSpot?
CoinSpot isn't very closely linked with CoinSpot isn't closely linked to DeFi part of the cryptocurrency world , but it does have a selection of the hugely popular art tokens known as NFTs. You can locate about twenty NFT collection on sale on CoinSpot which includes Decentraland (MANA), ApeCoin (APE) along with Sandbox (SAND)
Are CoinSpot the best exchange to purchase Bitcoin?
It depends. CoinSpot is always the preferred option for Bitcoin transactions (and trading generally) for those who require the assurance of the services they utilize. Its attractive design and a highly efficient customer service which make CoinSpot among the most reliable Australian exchanges. If you're an Bitcoin trading day-to-day, you might want to look for a less expensive and more diverse option.
How do I withdraw my money through CoinSpot?
To withdraw funds from CoinSpot it is necessary to trade them to fiat. It's as easy as buying. All you need to do is click the Sell tab, type in the amount of cryptocurrency you wish to withdraw, then enter the bank details required. The exchange will calculate immediately the exchange rate at the moment and deposit the cash into your bank account once you've confirmed the transaction.
What are the acceptable payment methods on CoinSpot?
In a nutshell, nearly every thing you can think of as a legitimate payment method across Australia other than credit and debit card, ApplePay and PayPal. Its CoinSpot list of payment options that are accepted includes cash deposits, bank transfer (Blueshyft), BPAY, Osko, POLi, PayID and, of course cryptocurrency.
Does Binance offer an account for cryptocurrency?
Since the year 2018 it has been the Binance wallet has been officially launched. Binance wallet has been Trust Wallet. It is free and simple to download via through the Internet, Trust Wallet is secure and private. It also can support thousands of different cryptocurrency.
Does Binance has a mobile application?
Yes. Binance's app is completely free and helps you trade and organize your cryptocurrency easy. It can be downloaded through both the Apple Store and Google Play.
How do Binance earn money?
In 2021, Binance reached a record revenue in the range of $20 billion from fees to trade in trades and fees. Additionally, Binance charges margin borrow interest, futures fees, trading, as well as cross interest rates for collateral.
Do you think it is safe to connect the bank account of a customer to Binance?
The transactions that take place on the internet is 100% secure, but according to the security measures that Binance has implemented, Binance is a reputable cryptocurrency venture.
How can I take my money from Binance?
The cash-out process using Binance is simple and rapid. Go to your Wallet page on your dashboard, and then select Spot Wallet. Just next to your AUD wallet you'll find the option to withdraw on cash Balance tab.
If your request is approved after which you'll get your money sent to your account within 3-5 business days.
How can I earn money with Binance?
Binance provides a variety of trading options so that you can purchase and sell cryptocurrency and benefit by profiting from the advantageous price difference. Additionally, you can speculate about prices of the assets available by trading on the derivative market. Additionally, Binance features a few options for passive earnings and stakes. It is true that Binance is a great platform to make a profit, with a sound trading strategy and some luck.
Related:
Top Crypto Exchanges Compared
| Exchange | Deposit Methods | Fiat Currencies | Cryptocurrencies | Trading Fees | Deposit Fees | Withdrawal Fees | Sign Up |
| --- | --- | --- | --- | --- | --- | --- | --- |
| Swyftx | Bank Transfer, Crypto, Credit and Debit Card, Osko, PayID | New Zealand Dollars and Australian Dollars | Over 320 | 0.6% | Australian Dollars Deposits: 0% Crypto: 0% | Australian Dollars Withdrawals: 0% Crypto: 0% | Visit Swyftx |
| Binance | Crypto, Credit and Debit Cards, Osko, PayID | 10 Fiat Including USD and AUD | Over 600 | 0% to 0.1% | 0% | Vary | Visit Binance |
| CoinSpot | Bank Transfer, Fiat, Crypto, POLi, and PayID | Australian Dollars | Over 370 | Instant Buy/Sell: 1% OTC: 0.1% Market Order: 0.1%* | Direct Deposit: $0 Cash: 2.5% PayID, POLi, and direct deposits: $0 BPAY: 0.9% Direct Bank Transfer: $0 | Australian Dollars Withdrawals: $0 | Visit CoinSpot |
| Bybit | Crypto, electronic funds transfer (EFT), wire transfer, bank transfer, credit card, and debit card | 50+ | 160+ | 0.1% spot trading 0.01% – 0.06% market makers/market takers fee | $0 | Does not support direct fiat withdrawals Crypto withdrawal fees: Network fees | Visit Bybit |
| Crypto.com | PayPal, Cryptocurrency, SWIFT, Fedwire, Wise, Debit Card, Credit Card, SEPA, BPAY, Bank Transfer (ACH) | USD, AUD, SGD, and 15+ more | 250+ | 0.04% to 0.4% | $0 | FREE via bank transfer. $25 for USDC withdrawal via SWIFT Network | Visit Crypto.com |
| Digital Surge | Bank Transfer, Crypto, POLi, Osko, PayID | Australian Dollars | Over 300 | 0.1% to 0.5% | Deposit Fees Bank Transfer: $0 POLi: $2 (capped at $3.30) | $0 for AU Bank Accounts Cryptocurrency: Depends On the Network | Visit Digital Surge |
| CoinJar | Fiat, Bank Transfer, Crypto, Credit or Debit Card, Apple Pay, Google Play | Pound Sterling and Australian Dollars | Over 50 | Maker: 0.04 to 0.1% Taker: 0.04 to 0.1% | Fiat: 1.5% CoinJar Users: $0 NPP: $0 | $0 | Visit CoinJar |
| Independent Reserve | Crypto, Osko, PayID, Electronic Fund Transfer, SWIFT | Australian Dollars, US Dollars, New Zealand Dollars | Over 25 | 0.05% to 0.5% | For SWIFT Deposit: $15 for deposits under Australian $5,000 equivalent $0 for deposits over Australian $5,000 equivalent For Electronic Fund Transfer: Australian $0.99 for deposits under $100 $0 for deposits more than Australian $100 | Crypto: Fees vary Bank Transfer: $0 for AUD $20 for non-AUD | Visit Independent Reserve |
| eToro | Bank Transfer, Debit Cards, Neteller, PayPal, Online Banking, and Skrill | 15 Fiat Currencies Including USD and AUD | Over 70 | Vary | Vary | $5 but minimum withdrawal of USD50 | Visit eToro |
| Coinbase | Debit Card | More than 20 Fiat Currencies Including USD and EUR | Over 200 | Vary | Credit Card and Debit Card: 3.99% | 2.49% | Visit Coinbase |
| Bittrex | Bank transfer (ACH) | Euro and US Dollars | Over 320 | 0.25% | $0 | Vary | Visit Bittrex |
| Bitfinex | Bank Wire Transfer, Crypto, Credit Card | US Dollars, Japanese Yen, Euro, Pound Sterling | Over 200 | Taker: 0.055% to 0.2% Maker: 0% to 0.1% | Crypto: $0 Wire: 0.1% (min 60 Euro/USD) | Crypto: $0 Wire: 0.1% Express Bank Wire (within 1 day on business days): 1% (min 60 Euro/USD) | Visit Bitfinex |
| Coinmama | Bank Card, SWIFT, Google Pay, SEPA, and Fedwire | 6 Fiat Currencies Including USD and AUD | Over 10 | 2.93% to 3.9% | 0% to 5% | N/A – assets are directly sent to the user's crypto wallet | Visit Coinmama |
| Kraken | Bank Transfer, Crypto, Wire Transfer, osko, SEPA, Apple Pay and Google Pay | 7 Fiat Currencies Including USD and AUD | Over 140 | Maker: 0% to 0.16% Taker: 0.10% to 0.26% | Vary | Vary | Visit Kraken |
| KuCoin | Crypto, PayPal, Wire Transfer, Credit or Debit Card, SEPA | 9 Fiat Currencies Including USD and AUD | over 645 | 0.1% | $0 | Vary | Visit KuCoin |
| Easy Crypto | Bank transfer, P2P, POLi, OSKO | AUD | 100+ | 0.5% – 1.6% | $0 | Fiat Withdrawal fees: $0 Crypto withdrawal fees: Network fees | Visit Easy Crypto |
| Coinstash | Crypto, PayID, Bank Transfer | AUD | 410+ | 0.85% | $0 | Crypto withdrawal fees: Network fees Fiat Withdrawal fees: $0 | Visit Coinstash |
This page was last updated on July 14, 2023