Bisq, previously known as Bitsquare, is a peer-to-peer network and desktop application established in 2014 by Manfred Karrer. The exchange incorporates all of the features of blockchain technology, including decentralization, accessibility, and privacy. Furthermore, the website emphasizes that the service doesn't require KYC registration or authorisation from any central authority. 
The exchange allows you to buy Bitcoin (BTC), Litecoin (LTC), and other cryptocurrencies with fiat currencies such as Australian dollars (AUD), Euros (EUR), US dollars (USD), etc.

Another notable functionality of the Bisq platform is its straightforward user interface. Decentralized exchanges sometimes feature sophisticated designs that cannot be described as user-friendly. It is one of the reasons why less-experienced traders choose centralized exchanges. However, the Bisq developers effectively dealt with this issue and designed a user-friendly layout for this decentralized trading platform.
Now let's dive into the detailed exchange review.
Bisq may be readily downloaded and installed from its website or GitHub in order to use it with Mac, Windows, or Linux. When you do so, it's also smart to double-check your installer file to ensure it hasn't been tampered with.
With Bisq, you have complete control over your finances and data. This implies that you enjoy unmatched authority, but it also means no one can help you if you lose something important—so make backups before utilizing Bisq for trades. The exchange also created a brief tour of the Bisq platform to help you get the most out of it and you can always visit the Bisq Wiki for more information.

To start Bisq trading, you must first set up a method to transfer or receive other funds. Bisq solely processes the Bitcoin side of the transaction; the rest is handled by fiat payment providers (banks, money orders, cash) or altcoin wallets.
The exchange provides numerous payment options. Some of them include bank Transfers, OK pay, Zelle, SEPA, AliPay, Perfect Money, and Faster Payments among others. Please note that credit cards aren't a permitted deposit method.
Supported Cryptocurrencies
The exchange platform enables users to sell or buy Bitcoin in exchange for a variety of crypto and fiat currencies. Nevertheless, it's not possible to sell or buy fiat cash or altcoins without first using Bitcoin.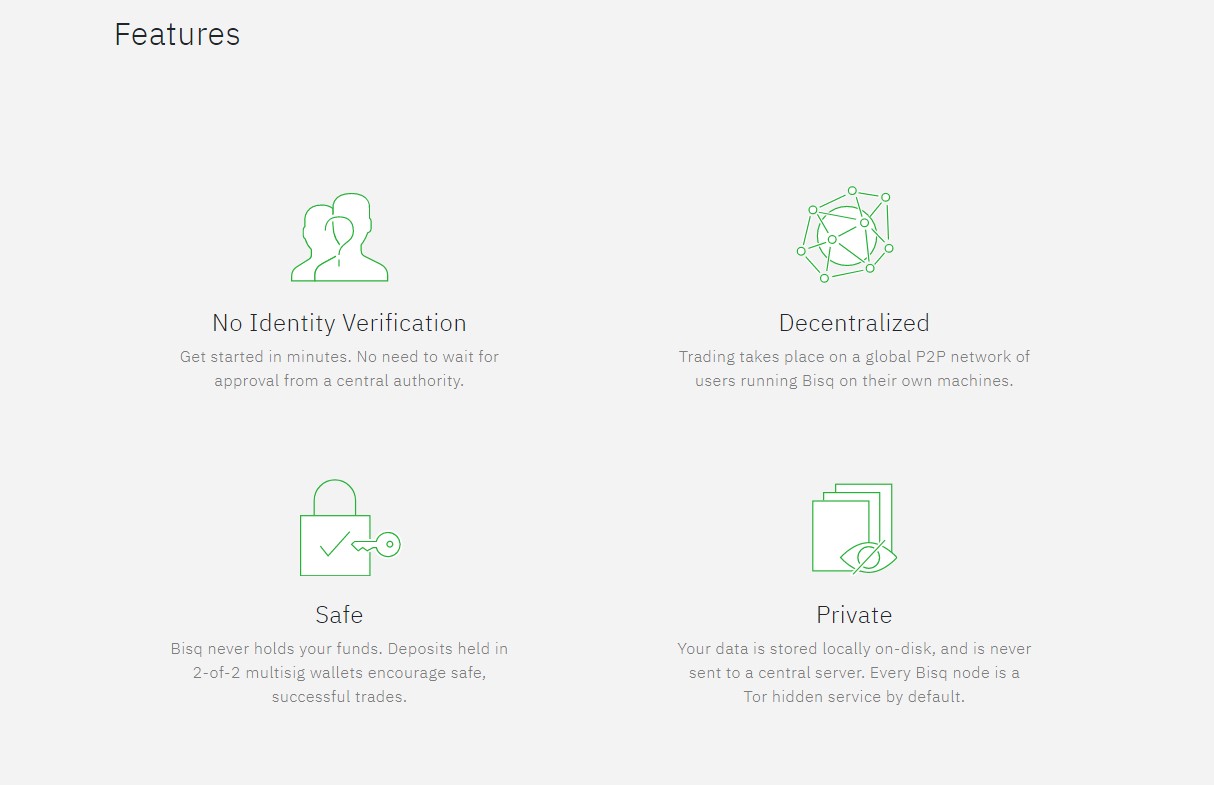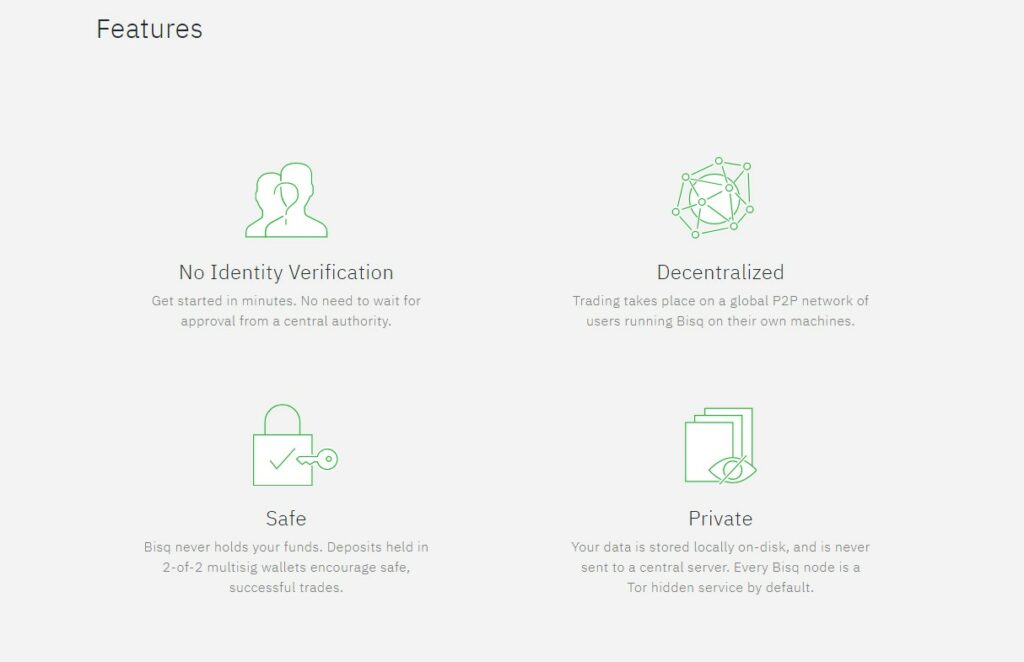 Regarding fiat currencies, you have a broad range of options, such as EUR, USD, YEN, etc.
Some of the cryptocurrencies Bisq offers include BTC, Ethereum (ETH), ZEC, Ether Classic (ETC), DASH, Litecoin (LTC), Dogecoin (DOGE), DarkNet (DNET), and more.
Fees are set as a proportion of the trade size: 0.1% for makers and 0.7% for takers if paid in BTC, and cut in half if using the Bisq native token.
Remember that you'll need to pay mining fees for on-chain transactions, as well as deposit fees to secure the multisig escrow. After the deal is completed properly, you will receive your money refunded in full.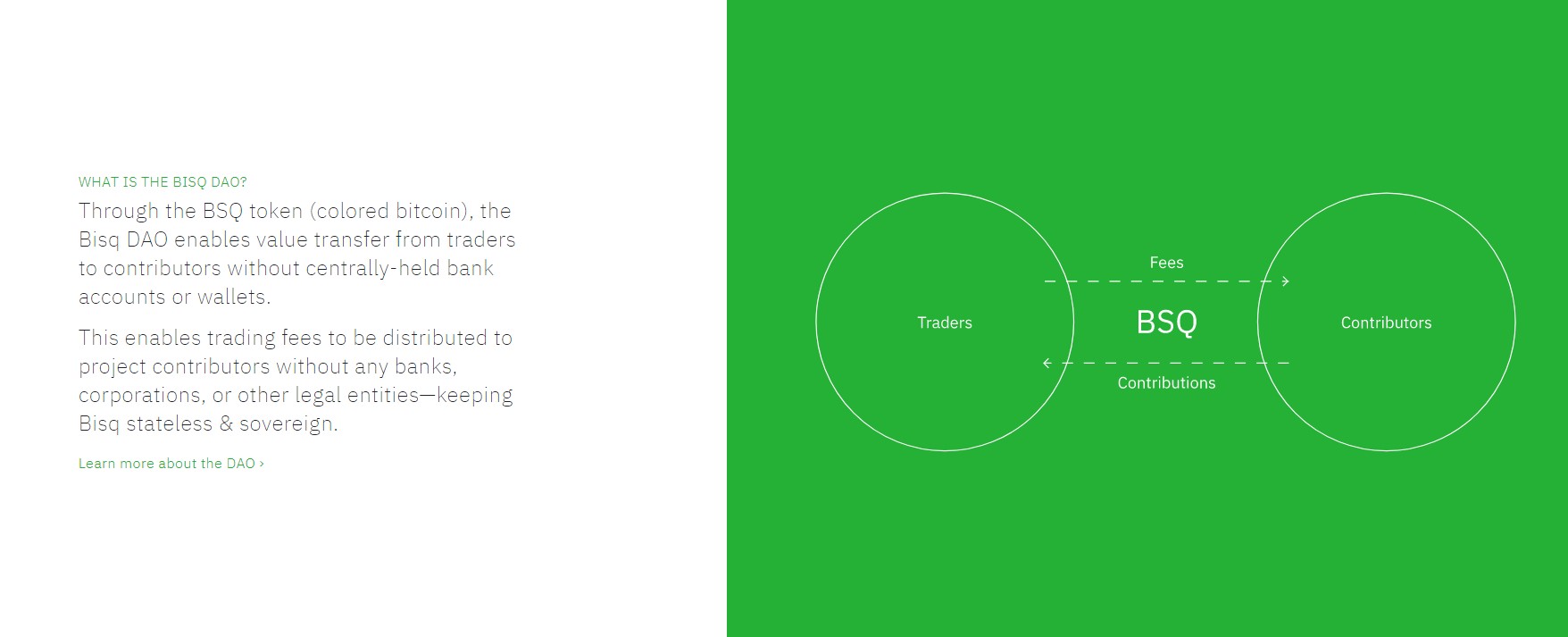 For security reasons, the Bisq exchange establishes trading limitations on each deal. This is done to prevent cybercriminals and make traders feel secure. The form of payment determines the limit. It's 0.25 BTC per trade for higher-risk payment channels like SEPA or 0.5 BTC for the less risky ones such as Alipay.
Many people assume that decentralized exchanges are designed to be secure. Nevertheless, there have been situations demonstrating that this isn't the case. Unfortunately, Bisq is one of the platforms that has been hacked in the not-so-distant past.
In 2020, during a routine system upgrade, a safety breach was discovered and used by cyber thieves to steal money from customers. Bitcoin and Monero coins were taken from six or seven Bisq users as part of the criminal operation. The loss equaled roughly $250,000 at the time of the occurrence.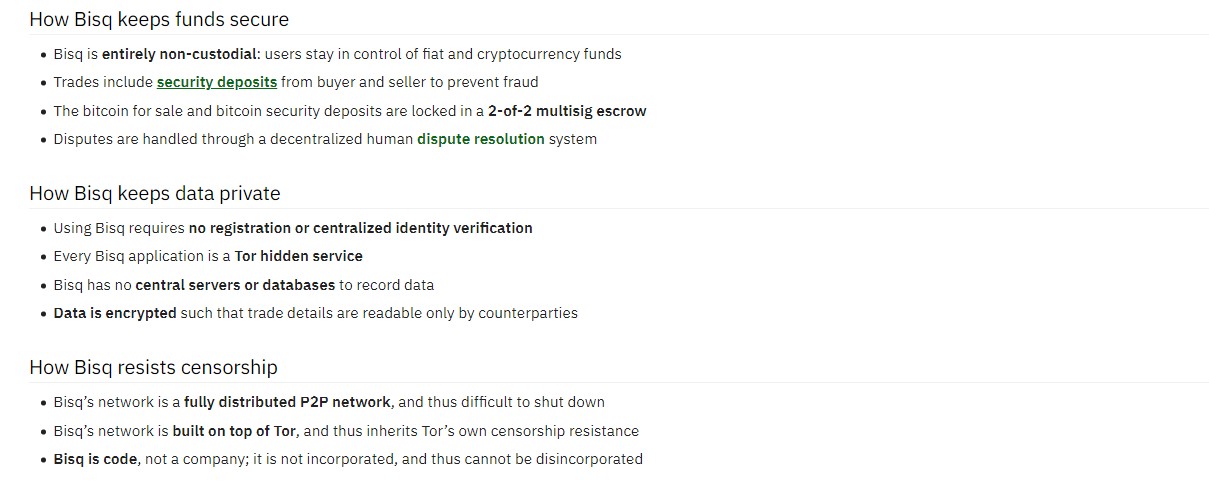 The example demonstrates both components of security on decentralized exchanges. On the one hand, these systems are difficult to attack but when it does occur, there is no way for the assets to be reimbursed as the platform doesn't take responsibility for users' funds. The absence of centralized authority is both a gain and a risk. Aside from the 2020 example, Bisq customers had no major security difficulties on the platform.
Currently, the exchange provides security through three key processes:
Bisq stores all Bitcoin transactions in a 2-of-2 multi-signature address.
Both traders must pay security deposits, which are repaid after the deals are completed.
Trade issues are resolved via a three-tiered system that incorporates end-to-end private trader chat, mediation, and evaluation.
It looks as if Bisq has learned from its negligence in the past and has built a stronger security infrastructure.
Bisq is only available as a desktop platform. It has a bit more difficult of a setup process than the "couple of clicks and installs" technique, requiring the integration of additional applications and the uploading of signatures to finalize the setup into your desktop. Nevertheless, this procedure validates the integrity of the installation package to determine if it has been interfered with, adding an added degree of protection.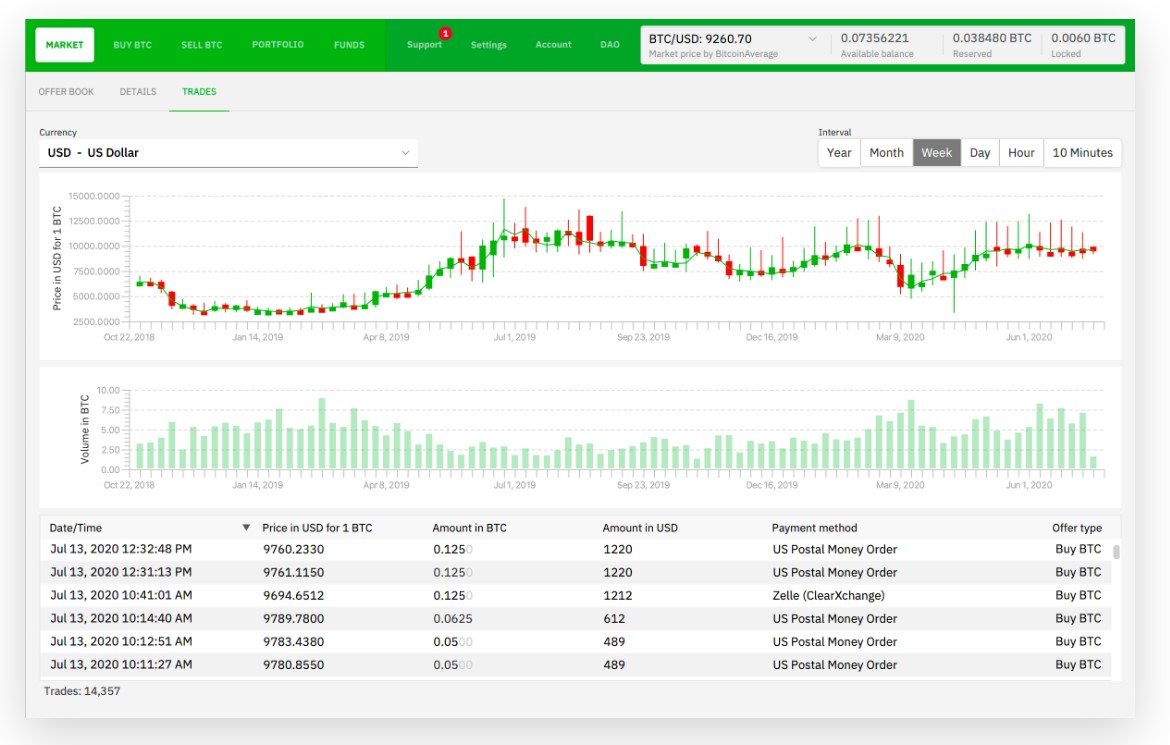 Frequently Asked Questions
Bisq is neither a firm nor a legal body of any type; rather, it's structured as a DAO. The DAO is in charge of the software's finance and strategy, allowing the Bisq system to prosper while also hardening it against assaults on the infrastructure that enables its governance and functioning.
DAO is just a general word for a software-sanctioned governance model: code establishes norms for administering the project regardless of the state's attitude. The governance paradigm of a DAO must be authorized by software, but not exclusively managed by software. It just establishes a structure for the Bisq project's participants to jointly govern the system directly.
Does Bisq have a mobile app?
Yes, the platform has a mobile app for iOS and Android. However, since Bisq is desktop-based, users are only able to monitor trade alerts and receive essential information like trade updates.
What are some of Bisq's advantages and disadvantages?
Some of the advantages include secure trading with 2 out of 3 multi-signature security, the possibility of earning an income as an arbitrator, and a diverse range of cryptocurrencies.
One of the disadvantages is that it's more difficult to use compared to other exchanges.
A Few Words Before You Go...
The Bisq cryptocurrency exchange is a great platform for trading Bitcoin and other popular currencies. Because of the exchange's decentralized structure, it's a fairly safe platform that does not require third-party networks to conduct Bitcoin trades.
With a plethora of currency alternatives, a variety of payment methods, and no verification, it's an excellent spot to get started with trading. 
This page was last updated on August 23, 2022