Bitfinex is a popular Hong Kong-operated trading platform for experienced traders worldwide, and one of the leading platforms in terms of trading volume. The exchange was founded in 2012 and is currently operated by the firm iFinex.Inc, which is based in Hong Kong and registered in the British Virgin Islands. 
One of the exchange's strengths is that it has a high level of liquidity. This allows Bitfinex to offer numerous order types and features such as limit and stop orders, margin trading, and over-the-counter (OTC) trades.

The crypto exchange had a glowing start where thousands of users from all over the world were drawn to the platform from its early years due to its wide range of digital currencies, affordable fees, fiat gateways, and user-friendly design. Everything is set out in an extremely accessible manner, with simple dashboards and menus.
Market players seeking a one-stop platform for all of their crypto needs will undoubtedly find Bitfinex to be both efficient and beneficial.
Before we move on onto the main review, if you want to compare Bitfinex with other crypto exchanges, here's an in-depth guide of the best cryptocurrency exchanges in Australia!
How to Set Up a Bitfinex Account?
To start trading on Bitfinex, simply visit the Bitfinex homepage, select the Sign Up button and then enter your email account. You'll be asked to select a username and a secure password. In addition, we suggest you enable two-factor authentication (2FA) and create a withdrawal confirmation phrase. Also, there is a Keep Session Alive feature that enables users to remain logged in during long trading sessions. 


If you wish to deposit funds by a bank transfer, you must first confirm your identity. You'll have to submit some personal information and then upload a copy of government-issued documentation.
Once you finalize the Bitfinex verification process, choose your preferred deposit option: EUR, USD, CNH, GBP, or JPY. If you plan on making bank transfers, insert your bank account information, as well as your reference number. You can also fund your account with cryptocurrencies and stablecoins. Be aware that this might take up to 10 days to process, which means you'll have to wait until you can begin crypto trading.
Bitfinex Exchange Features
On its platform, Bitfinex allows customers to enter into futures contracts through perpetual derivatives contracts. 
Users must first credit their Derivative Wallet with USDt0 in order to start trading. This demands a USDt to USDt0 conversion, which may be accomplished using the 'currency conversion' function on the wallets page. Once converted, customers can set a position, either long or short.


Users can open a trade by going to the derivatives page and selecting their Digital Token pairings. Then it's just a question of defining the quantity, price, and order type – sell or purchase.
The Bitfinex OTC trading desk allows users to place large market orders without using the public order books or paying extra fees on exchange commissions. What's more, these transactions will have no direct impact on the market price of digital currencies. You can use Bitfinex's OTC desk to gain access to real-time liquidity and trade directly with other users.
Margin funding enables users to provide funds through a peer-to-peer funding network. Your funds will be used by other users for their margin trades, while you'll earn interest. Because of the nature of Bitfinex's core risk-limiting system, fund providers are additionally protected from risks and losses. More information may be found here: What are the dangers of providing funding?
Bitfinex's margin funding platform enables customers to trade with up to 10x leverage by obtaining money borrowed from the peer-to-peer market.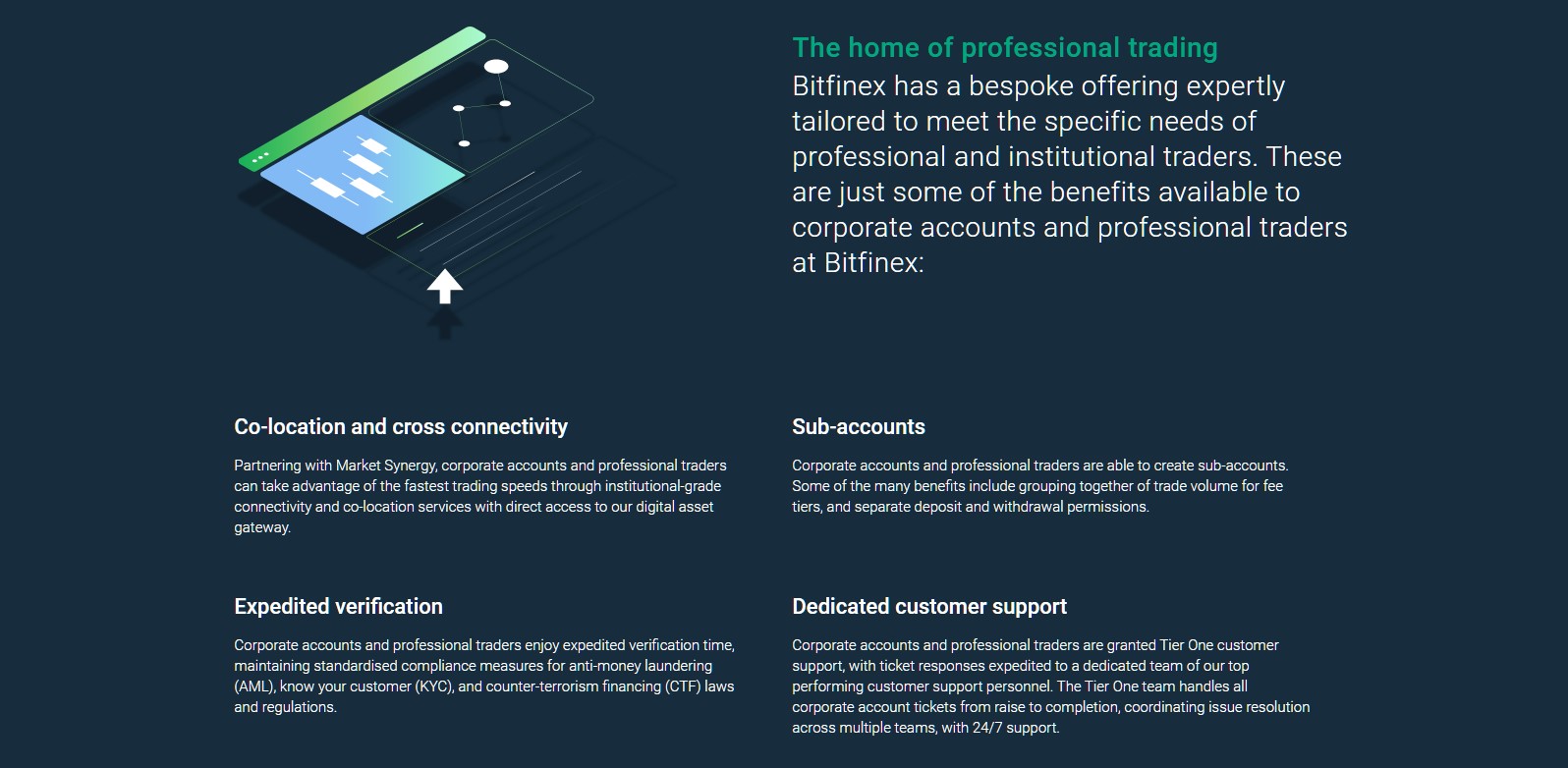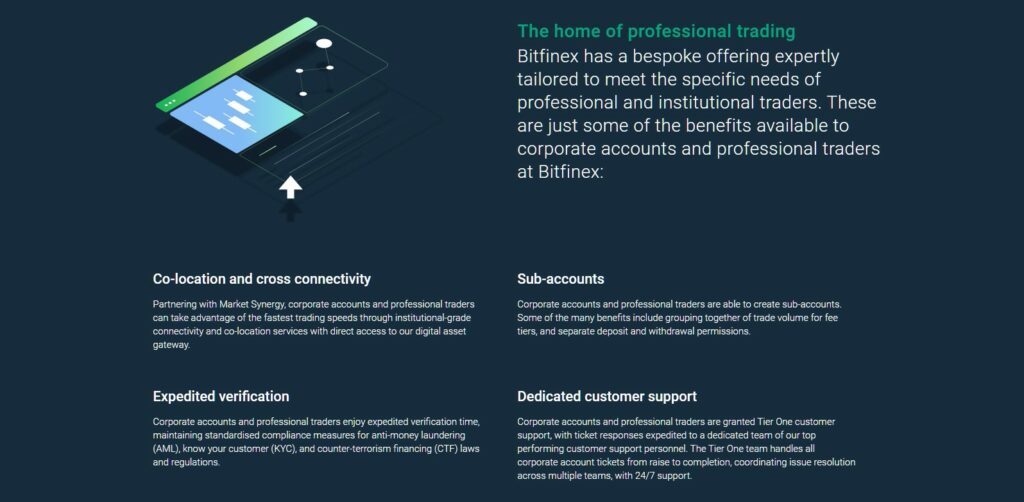 The way it works is you put an order to loan the necessary amount of financing at the desired rate and length, or simply open a position, and Bitfinex will provide you with the best possible rate. Please note that when you trade on margin, you must be informed of and responsible for your positions and collateral requirements.
Paper trading is a market simulation strategy in which you may test your trading techniques. Newly formed sub-accounts on Bitfinex can be configured to paper trade. Some of the strategies users can learn include margin and derivatives trading, margin funding, Bitifnex Borrow, honey framework and OTC.
The Honey Framework provides two open-source programs: bfx-hf-algo and bfx-hf-algo-server that together get a full algorithmic order system that is firmly incorporated into the Bitfinex Interface. These may be used to create unique, sophisticated order types for the Bitfinex platform.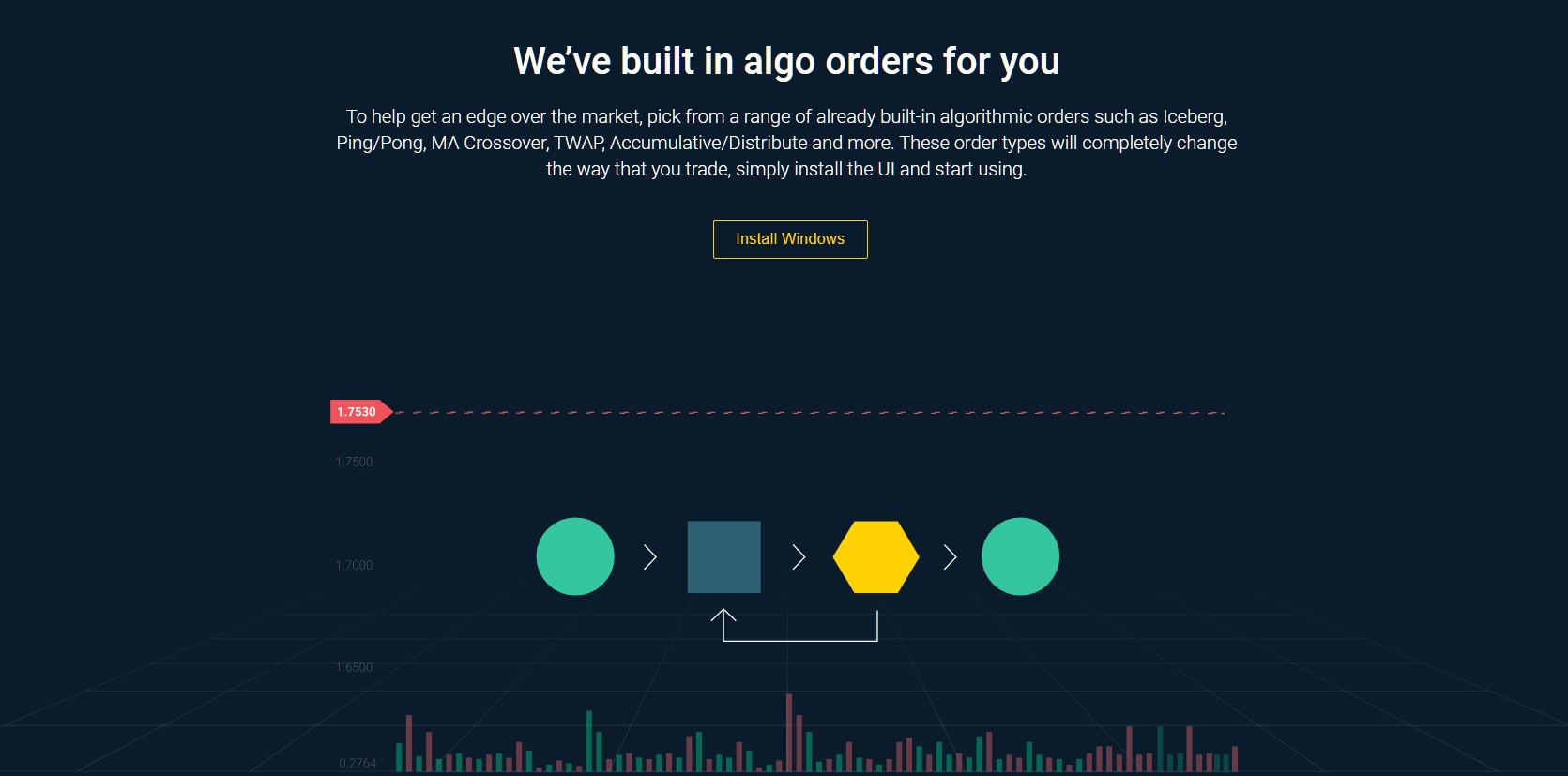 Bitcoin and Other Supported Cryptocurrencies
On Bitfinex, users can select from the extensive list of different cryptocurrency tokens, including Ethereum (ETH), Bitcoin (BTC), Monero (XMR), Tether (USDT), Ripple (XRP), EOSIO (EOS), Litecoin (LTC), ZCASH, DASH, Tron (TRX), NEO, IOTA and etc. You can visit their website for the complete list of supported tokens and cryptocurrencies.
Bitfinex charges fees based on volume for both makers and takers. The costs will vary based on whether you're a maker or a taker, as well as the volume of trading done in the previous 30 days. 
For instance, the maker fee starts at 0.1% but drops to 0.08% if the trading activity exceeds $500,000. Taker fees are charged when you withdraw liquidity from the order book by making an order that's placed against another order from the order book. The exchange fees for takers are 0.20%.


Bitfinex keeps 99.5% of its clients' funds in cold storage, while the remaining 0.5% is kept in hot wallets. Users are also required to use Google Authenticator for 2FA. The next level of protection is called Universal 2nd Factor (U2F), and it requires the usage of a physical security key. Withdrawals are also tracked using IP addresses and other user activity patterns. As a result, the administrator is required to keep checking for any unexpected withdrawals.
However, despite the fact that Bitfinex employs two types of wallets, cold storage for the majority of users' funds, 2FA, and a withdrawal whitelist to protect account access to unauthorized IP addresses, the platform has been a victim of two hacks in 2015 and 2016. Following the hacking assaults, the Bitfinex platform made a daring move and created a caption that reads, "Your security is our priority" which shows that the exchange is constantly improving its end-to-end security procedures.
Bitfinex's customer support is comprehensive, and they provide a dedicated help section with instructions and procedures for account setup, a search box in the Help Centre, and email support. Furthermore, Bitfinex is highly active on social media and can be followed on Linkedin, Twitter, Telegram, and YouTube.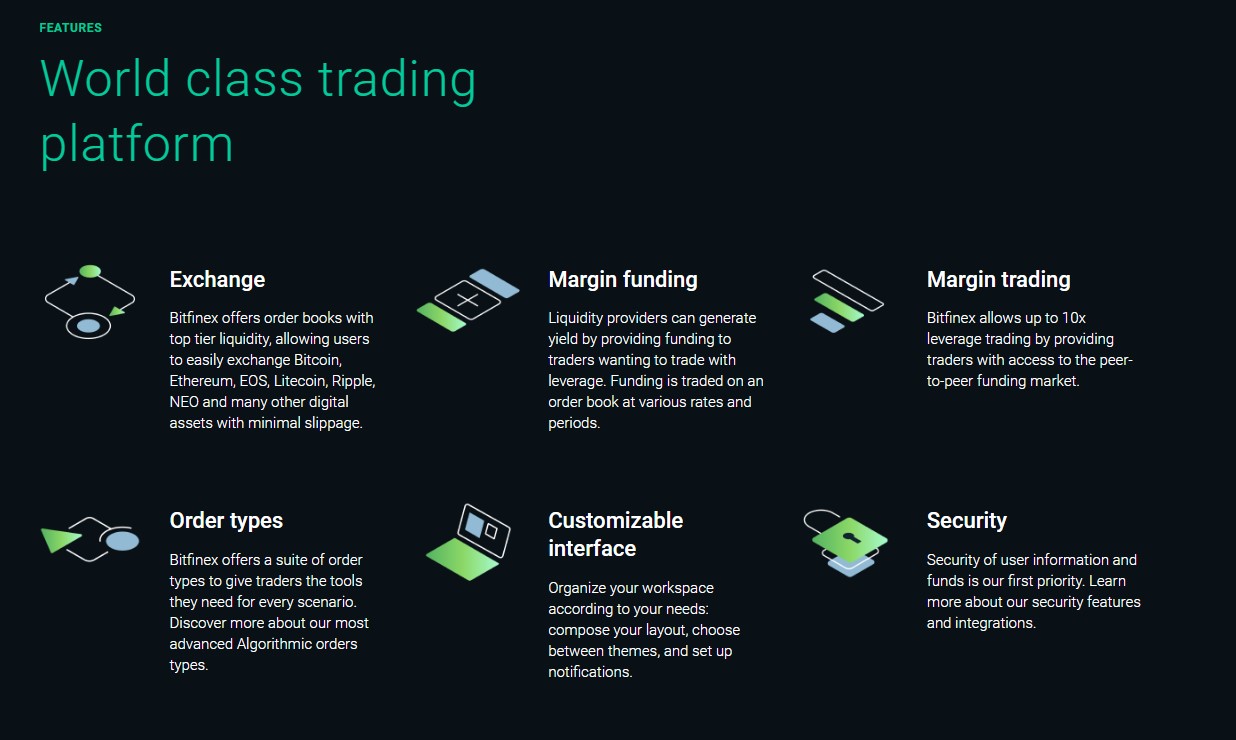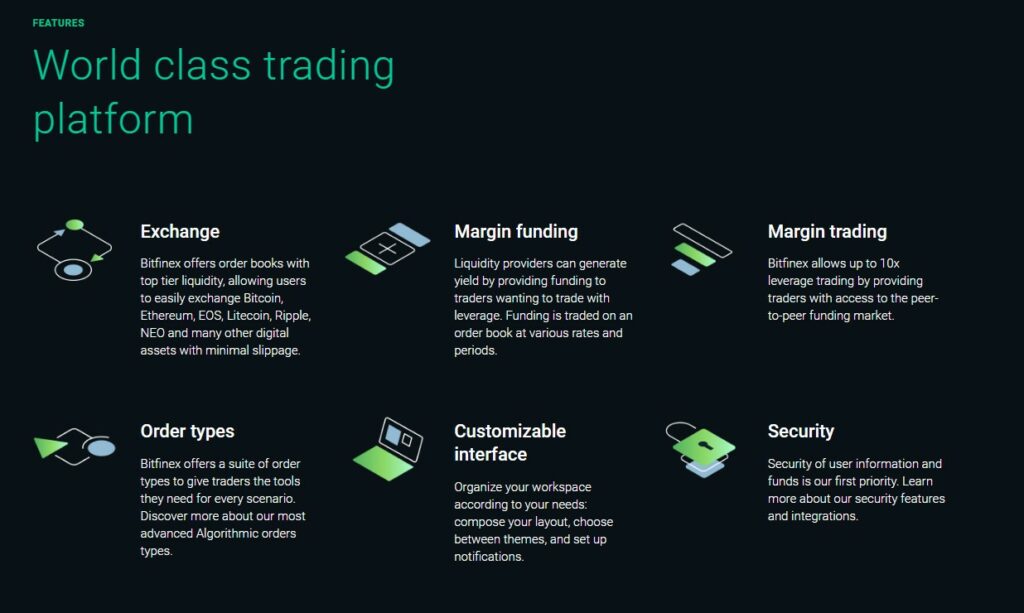 Despite its effort, the exchange has received a lot of criticism over the years, mostly for the lack of accountability in their operation and their tight relationship with the stablecoin Tether.
Frequently Asked Questions
What payment methods does Bitfinex support?
Bitfinex has several payment options that include credit card payments, debit card payments, SEPA wire transfers, and cryptocurrency payments.
Does Bitfinex provide a mobile app?
Yes, Bitfinex provides a mobile app for iOS and Android smartphones, covering all of the platform's most essential functions. The mobile app was designed to fit into the busy schedules of Bitfinex professional traders and help them keep up with the market changes while on the go.
What are Bitfinex withdrawal fees?
The charge for fiat withdrawals is 0.100%, with a fee rate of $60. The price for express bank wire withdrawals is 1.000%, with a fee rate of $100.
Withdrawals to the account of some other Bitfinex users are available for free. Read more about internal Bitfinex transfers at the following link.
A Few Words Before You Go...
To conclude, Bitfinex cryptocurrency exchange provides one of the most extensive lists of supported coins, enabling users to purchase and sell over 100 different cryptos. If you are an expert trader who likes to utilize high-quality charting analysis tools with high liquidity, Bitfinex may be a suitable option for you.
For anyone concerned about the security of their digital assets as a result of previous breaches, there isn't much to say except that it appears that Bitfinex has made it a priority to repay their users in such situations up to this point. Some may even claim that the numerous hacks have made the exchange far more resilient to future attacks.
Bitfinex Compared
Exchange
Deposit Methods
Fiat Currencies
Cryptocurrencies
Trading Fees
Sign Up

Swyftx



Bank Transfer, Crypto, Credit and Debit Card, Osko, PayID
New Zealand Dollars and Australian Dollars
Over 320
0.6%
Australian Dollars Deposits: 0% Crypto: 0%
Australian Dollars Withdrawals: 0% Crypto: 0%
Visit Swyftx

Binance



Crypto, Credit and Debit Cards, Osko, PayID
10 Fiat Including USD and AUD
Over 600
0% to 0.1%
0%
Vary
Visit Binance

CoinSpot



Bank Transfer, Fiat, Crypto, POLi, and PayID
Australian Dollars
Over 370
Instant Buy/Sell: 1% OTC: 0.1% Market Order: 0.1%*
Direct Deposit: $0 Cash: 2.5% PayID, POLi, and direct deposits: $0 BPAY: 0.9% Direct Bank Transfer: $0
Australian Dollars Withdrawals: $0
Visit CoinSpot

Bybit



Crypto, electronic funds transfer (EFT), wire transfer, bank transfer, credit card, and debit card
50+
160+
0.1% spot trading 0.01% – 0.06% market makers/market takers fee
$0
Does not support direct fiat withdrawals Crypto withdrawal fees: Network fees
Visit Bybit

Digital Surge



Bank Transfer, Crypto, POLi, Osko, PayID
Australian Dollars
Over 300
0.1% to 0.5%
Deposit Fees Bank Transfer: $0 POLi: $2 (capped at $3.30)
$0 for AU Bank Accounts Cryptocurrency: Depends On the Network
Visit Digital Surge

CoinJar



Fiat, Bank Transfer, Crypto, Credit or Debit Card, Apple Pay, Google Play
Pound Sterling and Australian Dollars
Over 50
Maker: 0.04 to 0.1% Taker: 0.04 to 0.1%
Fiat: 1.5% CoinJar Users: $0 NPP: $0
$0
Visit CoinJar

Independent Reserve



Crypto, Osko, PayID, Electronic Fund Transfer, SWIFT
Australian Dollars, US Dollars, New Zealand Dollars
Over 25
0.05% to 0.5%
For SWIFT Deposit: $15 for deposits under Australian $5,000 equivalent $0 for deposits over Australian $5,000 equivalent For Electronic Fund Transfer: Australian $0.99 for deposits under $100 $0 for deposits more than Australian $100
Crypto: Fees vary Bank Transfer: $0 for AUD $20 for non-AUD
Visit Independent Reserve

eToro



Bank Transfer, Debit Cards, Neteller, PayPal, Online Banking, and Skrill
15 Fiat Currencies Including USD and AUD
Over 70
Vary
Vary
$5 but minimum withdrawal of USD50
Visit eToro

Coinbase



Debit Card
More than 20 Fiat Currencies Including USD and EUR
Over 200
Vary
Credit Card and Debit Card: 3.99%
2.49%
Visit Coinbase

Bittrex



Bank transfer (ACH)
Euro and US Dollars
Over 320
0.25%
$0
Vary
Visit Bittrex

Bitfinex



Bank Wire Transfer, Crypto, Credit Card
US Dollars, Japanese Yen, Euro, Pound Sterling
Over 200
Taker: 0.055% to 0.2% Maker: 0% to 0.1%
Crypto: $0 Wire: 0.1% (min 60 Euro/USD)
Crypto: $0 Wire: 0.1% Express Bank Wire (within 1 day on business days): 1% (min 60 Euro/USD)
Visit Bitfinex

Coinmama



Bank Card, SWIFT, Google Pay, SEPA, and Fedwire
6 Fiat Currencies Including USD and AUD
Over 10
2.93% to 3.9%
0% to 5%
N/A – assets are directly sent to the user's crypto wallet
Visit Coinmama

Kraken



Bank Transfer, Crypto, Wire Transfer, osko, SEPA, Apple Pay and Google Pay
7 Fiat Currencies Including USD and AUD
Over 140
Maker: 0% to 0.16% Taker: 0.10% to 0.26%
Vary
Vary
Visit Kraken

KuCoin



Crypto, PayPal, Wire Transfer, Credit or Debit Card, SEPA
9 Fiat Currencies Including USD and AUD
over 645
0.1%
$0
Vary
Visit KuCoin

Easy Crypto



Bank transfer, P2P, POLi, OSKO
AUD
100+
0.5% – 1.6%
$0
Fiat Withdrawal fees: $0 Crypto withdrawal fees: Network fees
Visit Easy Crypto

Coinstash



Crypto, PayID, Bank Transfer
AUD
410+
0.85%
$0
Crypto withdrawal fees: Network fees Fiat Withdrawal fees: $0
Visit Coinstash
This page was last updated on August 27, 2022