bitFlyer is a high liquidity Bitcoin exchange founded in 2014 in Japan by Yuzo Kano and Takafumi Komiyama. It then expanded internationally as bitFlyer USA in the United States in 2016 and bitFlyer EU in Europe in early 2018. Its offices are currently located in Tokyo, San Francisco, and Luxembourg. The exchange allows you to use your preferred fiat currency, such as American Dollars (USD), Euros (EUR), or Japanese Yen (JPY), to buy and sell Bitcoin and other top altcoins. 


On bitFlyer, you may begin trading with as little as 1 EUR. In addition, if you're a novice to the world of cryptocurrencies, bitFlyer provides an Easy Exchange platform. If, on the other hand, you are an experienced trader looking for more advanced features, we recommend the bitFlyer Lightning Exchange platform.
Even though bitFlyer is a famous platform in Japan, it is the best-kept secret between European and US users due to its extremely affordable fees, fast service, outstanding security, and convenience of use. Keep in mind that, due to regulatory differences, the Japanese, European, and American versions of the cryptocurrency exchange provide somewhat different services at slightly different prices.
Btw, if you're looking for an exchange in Australia, check out our list of the best Australian cryptocurrency exchanges.
To start trading on BitFlyer, you must be a resident of one of the supported regions (the United States, Japan, or Europe) and complete a quick Know Your Customer (KYC) identification procedure. A minor advantage of trading with bitFlyer is that you may create an account first and later on confirm your identity if you want to expand your account limits.
The steps for opening a bitFlyer account are pretty straightforward. To open a trade account visit the bitFlyer webpage and enter your name, address, date of birth, email account, country of birth, nationality, identification document's number, and phone number. Finalize your registration by following the link in the confirmation email.


To open a verified Trade PRO account, in addition to the previous information you'll need ID and residential proof.
To get the most out of the bitFlyer platform and services, experienced or institutional investors can register for a corporate account. The client verification procedure is simple, quick, and straightforward. 
Bitcoin and Other Supported Cryptocurrencies
BTC (Bitcoin), ETH (Ethereum), LTC (Litecoin), BCH (Bitcoin Cash), ETC (Ethereum Classic), LSK (Lisk), and MONA (Monacoin) are among the most liquid and popular cryptocurrencies provided by bitFlyer.
Certain limitations will apply if you have not upgraded your account to Trade Pro. This option enables costumes to receive, send, buy and sell USD and cryptos with no daily limit. For example,
Bitcoin has a minimum purchase amount of 0.00001 BTC.
The maximum amount of Ethereum you may buy at one time is 60 ETH, and the lowest withdrawal amount is 0.001 ETH.
PayPal deposits on bitFlyer are subject to limitations. The minimum purchasing amount is 10 EUR, while the upper limit is 20,000 EUR per month.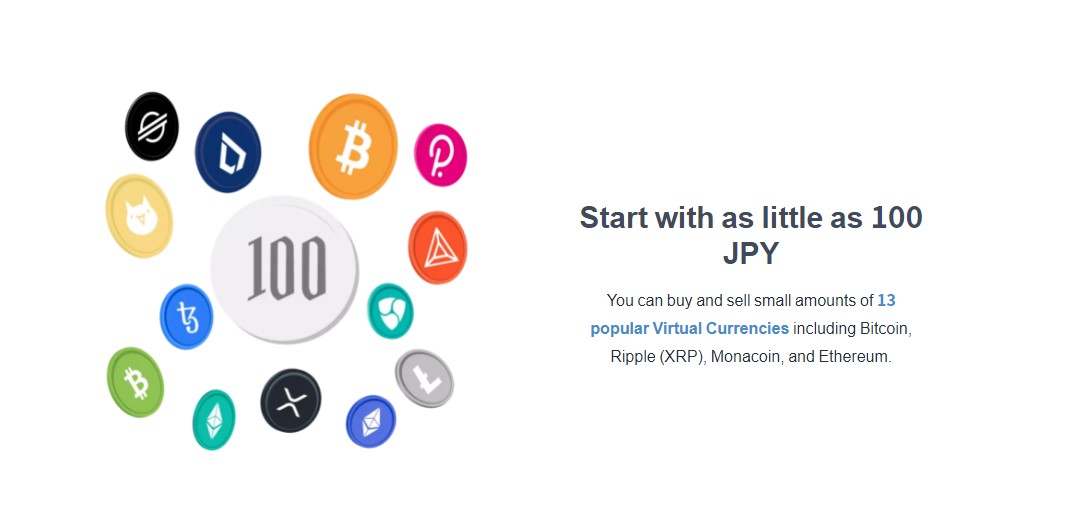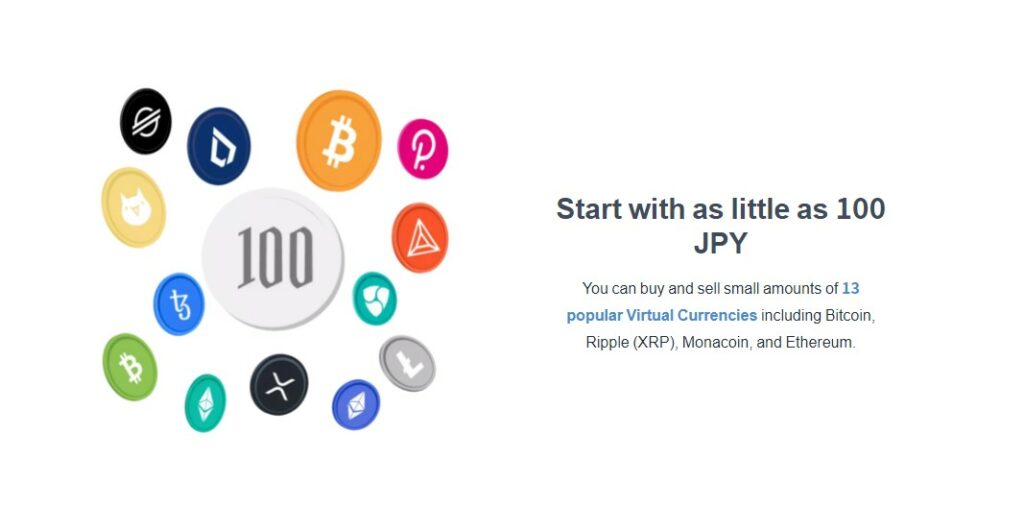 Regarding payment methods, the exchange includes wire transfers, bank transfers, and debit cards or credit cards.
The trading fees on bitFlyer are among the lowest in the market. They fluctuate based on the quantity of the trade, but they stay minimal even at the small end of the trade-size range. Furthermore, bitFlyer fees vary depending on your region, which means that bitFlyer Japan, bitFlyer USA, and bitFlyer Europe all have distinct pricing schemes.
In the United States, the price structure for bitFlyer customers varies somewhat. Generally, the fees for purchasing digital currencies are comparable to those charged by other US exchanges. There are no fees for depositing USD into a bitFlyer wallet through ACH or Fedwire. The Fedwire withdrawal charge is $20, which is a bit high for newcomers. Users should utilize ACH to withdraw funds online since it is free.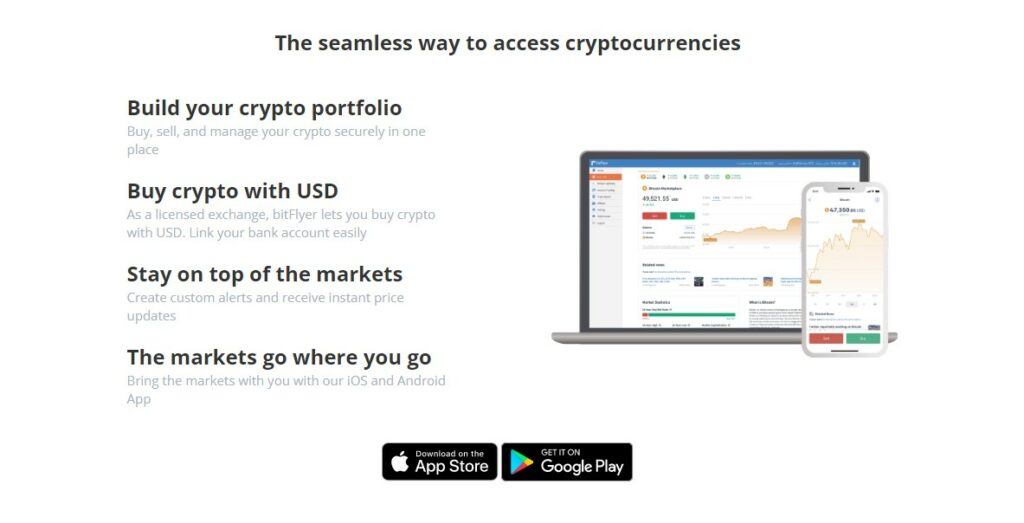 BitFlyer Europe doesn't really charge any fees for deposits; nevertheless, withdrawals vary in size and form according to the payment option. Debit cards, credit cards, and instant swap companies like Visa, and Mastercard allow for instant crypto purchases. To begin, you will be charged a 0.20% fee for each completed order placed through bitFlyer's Lightning exchange. If you increase your 30-day trading volume, the fee is reduced.
bitFlyer Japan has the largest number of supported cryptocurrencies and crypto services and its trading fees are regarded as cheap and competitive. The fee structure is tiered, which means that the trading fee steadily decreases with greater trading volume over the past 30 days.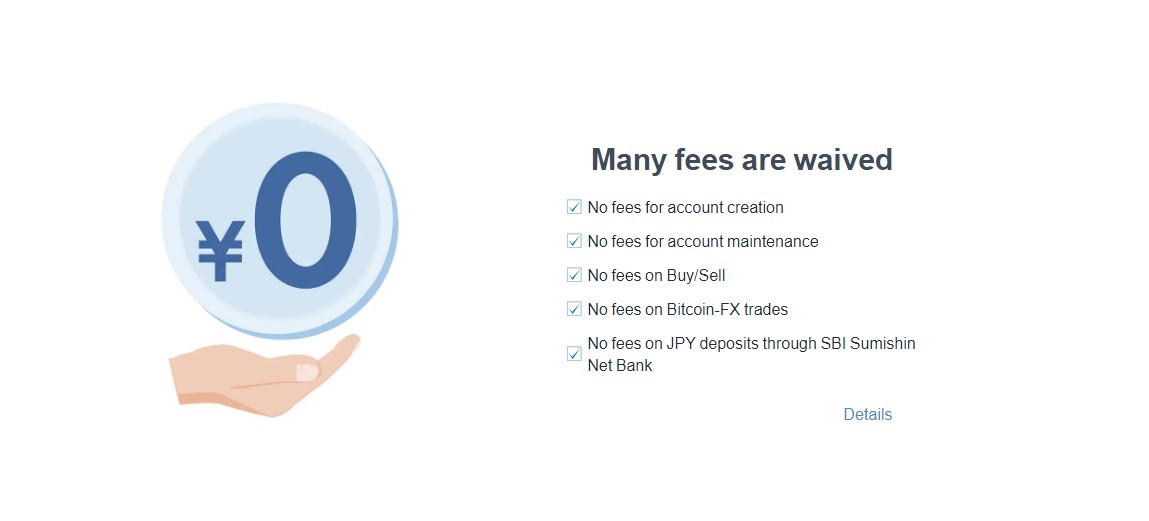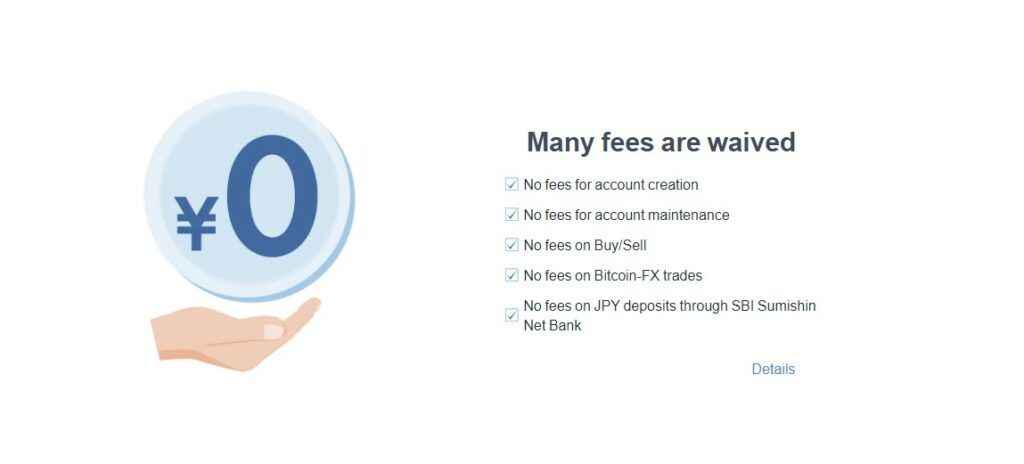 Various trade charges apply to Bitcoin and altcoin market purchases made through bitFlyer's standard exchange. Even though they are typically free, they carry a floating fee ranging from 0.1% to 6%, depending on market volatility. Users will be charged a minimal transaction fee for withdrawing cryptocurrency in addition to executing trades and acquiring futures contracts. In most cases, crypto deposits on bitFlyer Japan are free.
bitFlyer works hard to provide their clients with both simplicity of use and the highest level of security to establish an atmosphere where consumers feel secure to buy Bitcoin and other cryptocurrencies. They were the first to implement Multi-sig, the newest in Bitcoin security technology, to keep users' money secure, and have set market-leading standards with their AML (Anti-Money Laundering), KYC (Know Your Customer), and other regulations.
Furthermore, the exchange is secured by a firewall, meaning that unauthorized access is continually monitored by a Web Application Firewall (WAF). This requires users to use a strong password, blocks account access if the password has been typed wrong too many times, and enables two-factor authentication (2FA) through SMS or an authenticator mobile app. To protect users' funds, bitFlyer keeps 80% or more of its assets in a cold wallet. The wallet is protected by numerous physical locks and a 24-hour system for monitoring.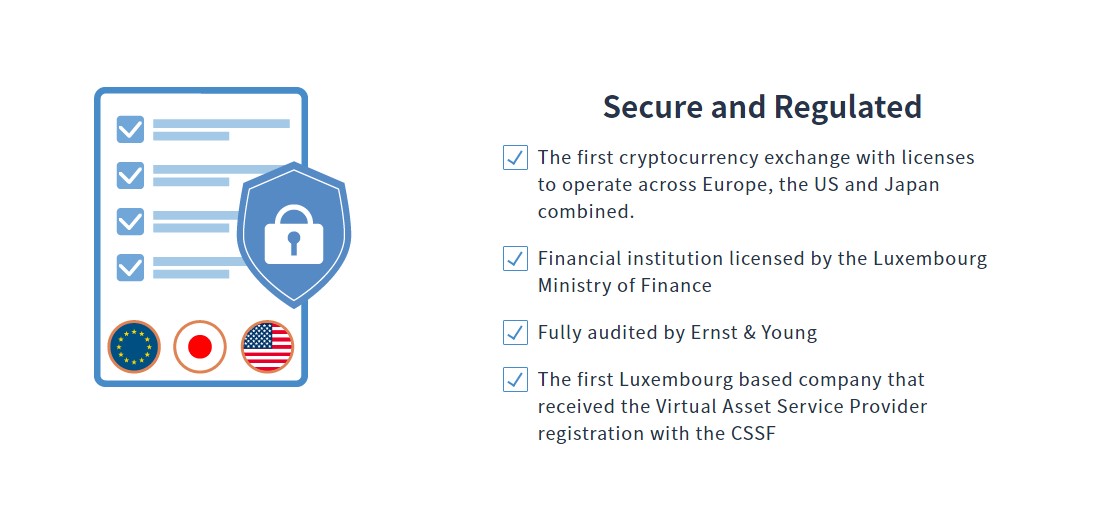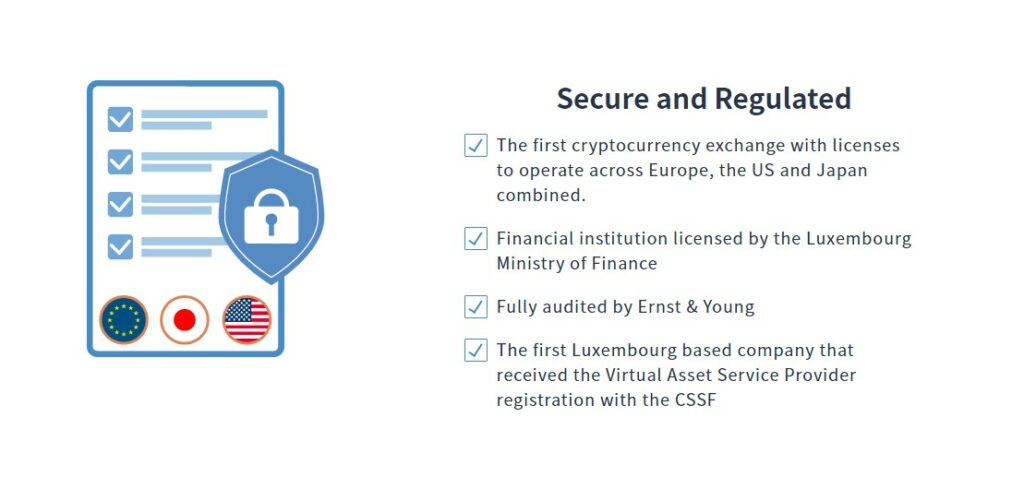 bitFlyer Europe is a fully licensed financial institution. The Luxembourg Ministry of Finance awarded bitFlyer a Payment Institution (PI) license to function in the European Union, and it is monitored by the Commission de Surveillance du Secteur Financier (CSSF). bitFlyer was the first trading platform to be regulated in Japan, the United States, and Europe all at the same time.
bitFlyer Europe was also the first Luxembourg-based firm to be registered as a Virtual Asset Service Provider (VASP) with the CSSF.
BitFlyer offers two web-based trading platforms for cryptocurrency assets. Users can select between using bitFlyer's buy&sell feature for beginners known as Easy Exchange, and the other as bitFlyer Lightning Platform.
The Easy Exchange is extremely user-friendly and was created with beginner traders in mind. When it comes to complex charting and analytical tools, the platform's features are rather restricted, but traders may examine a basic price chart, trading history, existing purchase orders, and place their own orders. The Easy Exchange platform is a great choice for inexperienced traders.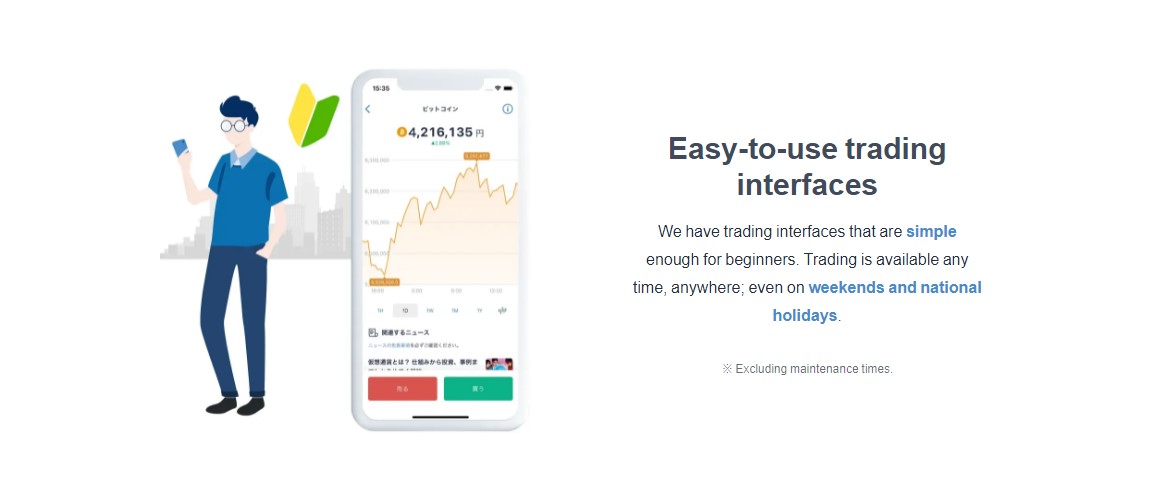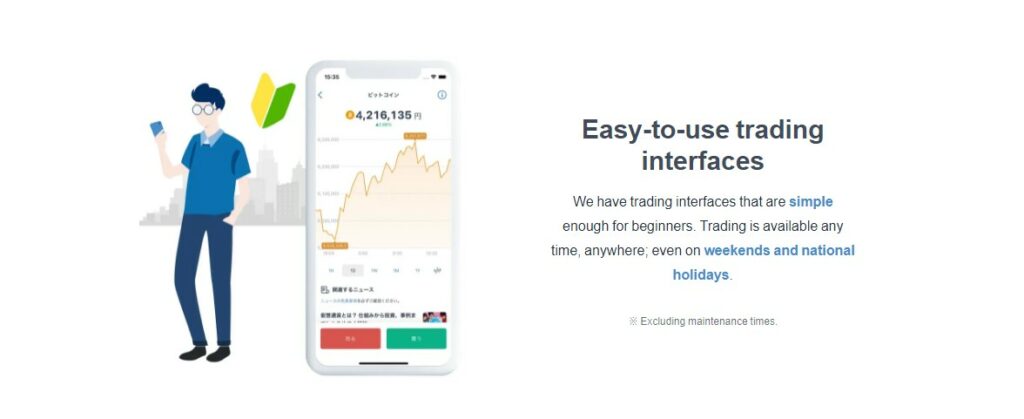 On the contrary, the bitFlyer Lightning platform was created with experienced cryptocurrency traders in mind. The interface has a sophisticated design and contains numerous advanced tools and features, which makes it feel much more like a typical forex trading platform. Traders may use the bitFlyer Lightning platform to trade Bitcoin futures, margin trading, and spot trading with 1:15 leverage.
The exchange also has a mobile app accessible for Android and iOS devices which is quick, easy to use, and convenient.
BitFlyer has continuously kept its users' content over the years by responding quickly to their concerns and delivering an attentive service. To begin, you may reach them using bitFlyer support, and you should hear back within 24 hours. Second, you may contact them by email at info.eu@bitflyer.com.
Aside from that, the bitFlyer exchange Twitter team replies to consumer inquiries. They also have Twitter accounts with active communities: @bitFlyer, @bitFlyerEU, and @bitFlyerUSA. If you have any questions about cryptocurrency trading, you can visit the bitFlyer academy website. You can also find answers to your questions in their large FAQ area.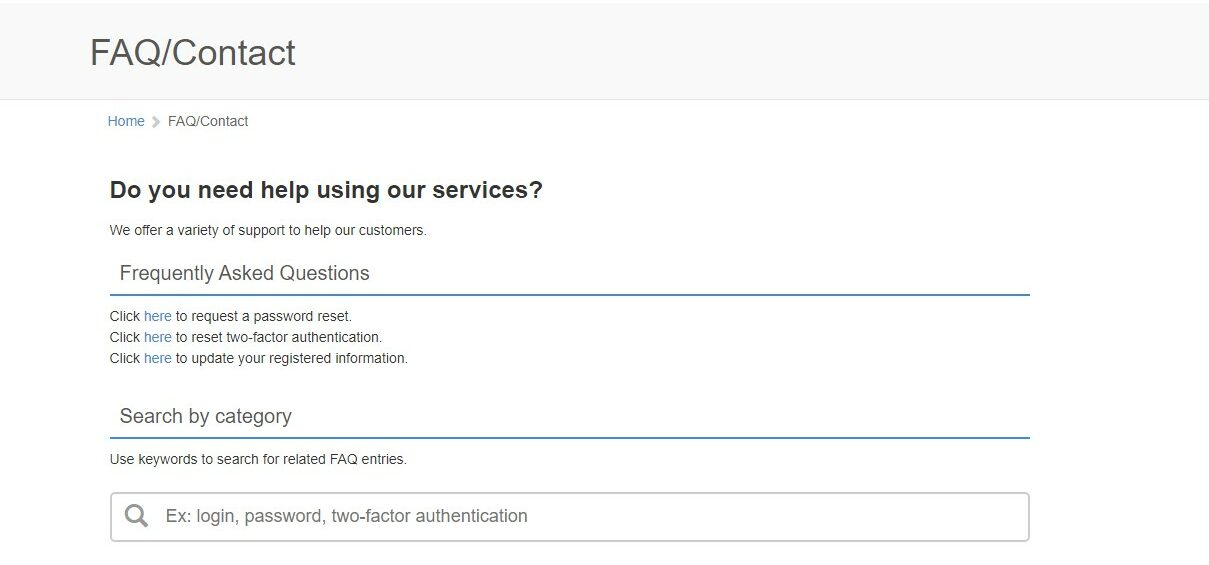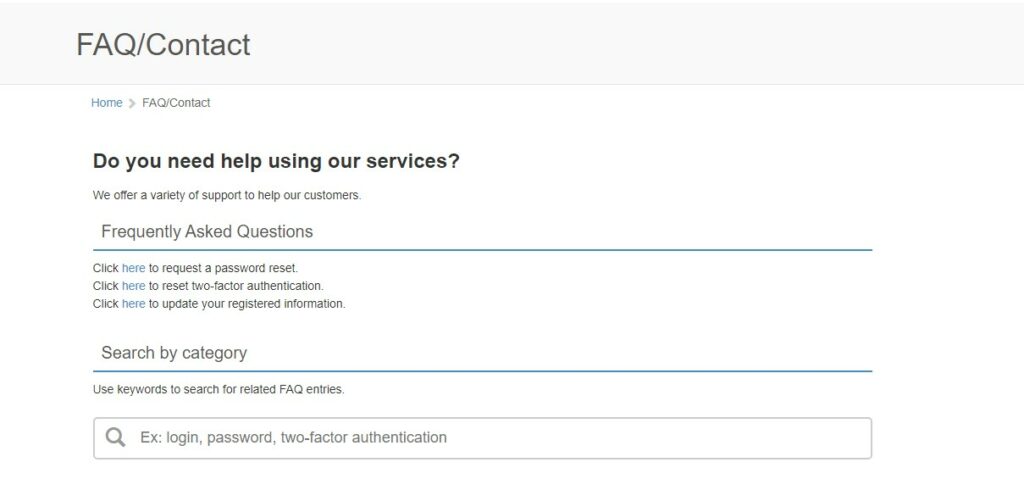 There is no phone number or live chat option for bitFlyer support. Aside from the FAQ, European users may only contact customer service through a contact form.
Customers of the bitFlyer Lightning platform may also connect with other customers via a chat window. In this manner, they can receive assistance from the community in the event of minor issues.
Frequently Asked Questions
What are some of the features of the bitFlyer Lightning platform?
The platform's functions may be restricted in comparison to other advanced trading platforms, but bitFlyer Lighting does offer all of the essential tools. Customers may examine a price chart, trading history, order book, and place trades with a limit or market order. bitFlyer Lightning now offers API integration, allowing users to create and test cryptocurrency trading bots. This does need programming knowledge to set up, but it is a fantastic feature that will cater to experienced traders.
What countries does bitFlyer support?
bitFlyer is only available to residents of Japan, the United States, and Europe. bitFlyer EU is currently functioning in every country within the EEA.
Is bitFlyer available in Australia?
Unfortunately, bitFlyer does not have an operating license in Australia and does not accept AUD for fiat-to-crypto purchases.
A Few Words Before You Go...
bitFlyer platform is a fantastic crypto exchange suitable for both novice and experienced traders. Although there aren't many digital assets to trade, there are fiat currency pairings, and traders may engage in futures markets and margin trading.
BitFlyer seeks to enhance the financial technology industry with its innovative blockchain applications. Furthermore, regardless of the type of trading platform you pick, the exchange provides an easy-to-use interface, a low fee structure, fast support, and top-notch security measures. Overall, bitFlyer is a simple, well-regulated, and reliable crypto exchange platform.
This page was last updated on August 23, 2022