Now that the blockchain industry has spawned an entire financial system of its own, the term cryptocurrency exchange is open to wide interpretation, as it stands for every virtual platform that supports the transmission of crypto assets. This is the reason why new users may find it difficult to pick a suitable crypto exchange for their crypto endeavours, as different platforms offer different benefits.  
Crypto trading platforms mimic traditional investment platforms. Some simply allow you to buy and sell crypto with fiat currencies, while others offer a full package of multiple order types, margin, and contract trading, supported by a professional trading view.


Today we're reviewing BitMEX, one of the few pro-exchanges that focuses on leveraged crypto derivatives by utilising the P2P (peer-to-peer) model. Using this derivatives exchange requires solid crypto experience and pre-acquired crypto capital since BitMEX comes without the basic entry-level buy-and-sell features. The entire feature set of BitMEX has already attracted around 1.3 million users worldwide.
About the BitMEX Trading Platform
The BitMEX exchange is run by HDR Global Trading Limited — a Seychelles-registered company with headquarters in Hong Kong and global scope of operations. It was established back in 2014 by the team of finance experts Samuel Reed, Arthur Hayes, and Ben Delo, who claims to be the first Bitcoin billionaire from the UK. 
This trading exchange was perhaps the first of its kind and saw immediate success at the time of release. Based on the trading volume, the positive rate continued over the years even though serious competitors popped up meanwhile.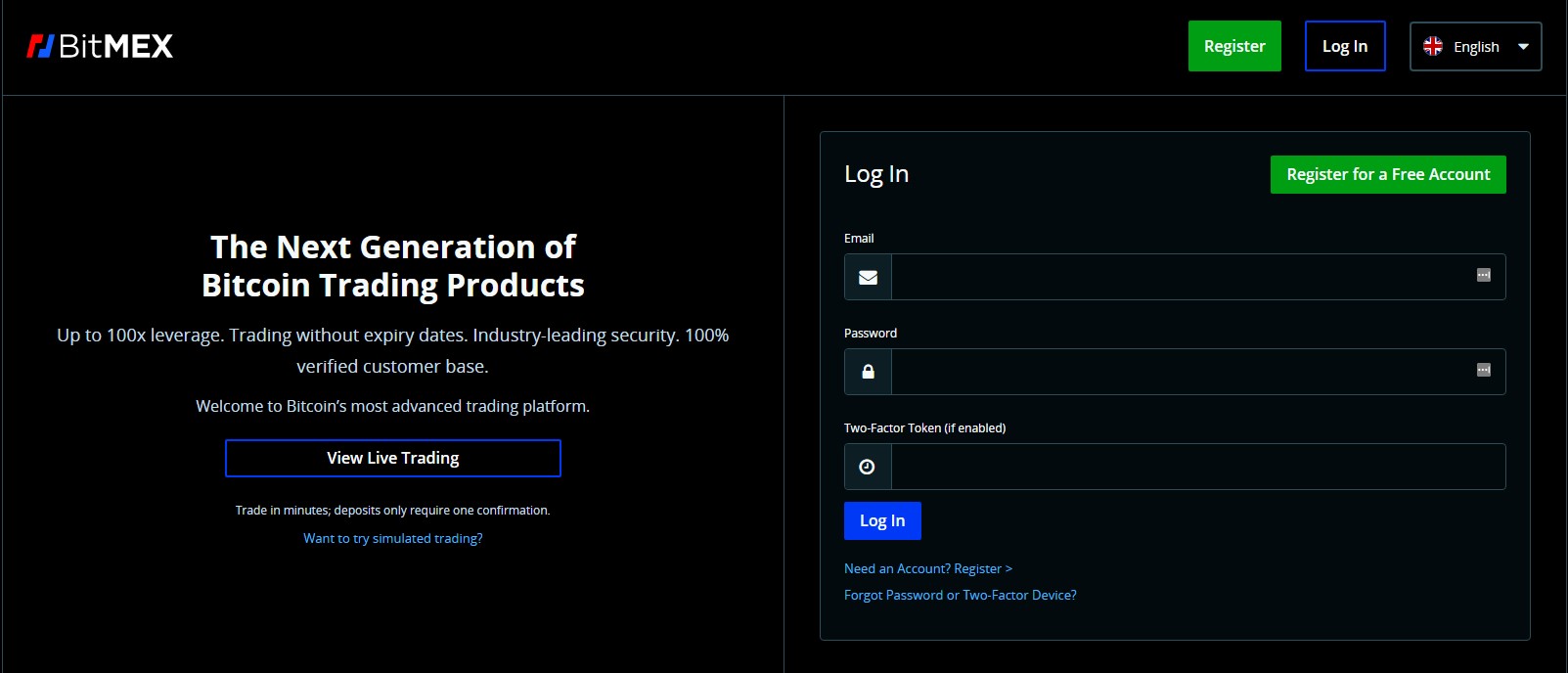 In 2019, the company went under review by the Commodity Future Trading Commission (CFTC) for allowing illegal activities that are against American trade requirements. These accusations were never substantiated, and BitMEX continued to operate with the same dynamics, but the exchange's services are no longer available in the USA.
Setting Up a BitMEX Account
BitMEX has recently introduced KYC verification, which is obligatory for all new users to start trading on the platform. Unlike the majority of KYC-regulated exchanges, the verification process on BitMEX isn't tiered. It requires uploading documents like bank statements, utility bills, or government-issued notices to prove your legal residential address. This has been a huge change to BitMEX's registering policy, as, until 2020, a valid email was enough for users to trade on the platform. After completing the KYC procedure, you can activate 2FA (two-factor authentication) and make your first BTC deposit. 
To the newbie traders, the BitMEX platform may seem outdated and over-cluttered since the exchange adheres to the traditional approach of end-user presentation. On the other hand, seasonal traders find it handy to have plenty of options all rolled under one. Objectively, the platform is rather intuitive to navigate if you have a solid basis for contract leverage trading.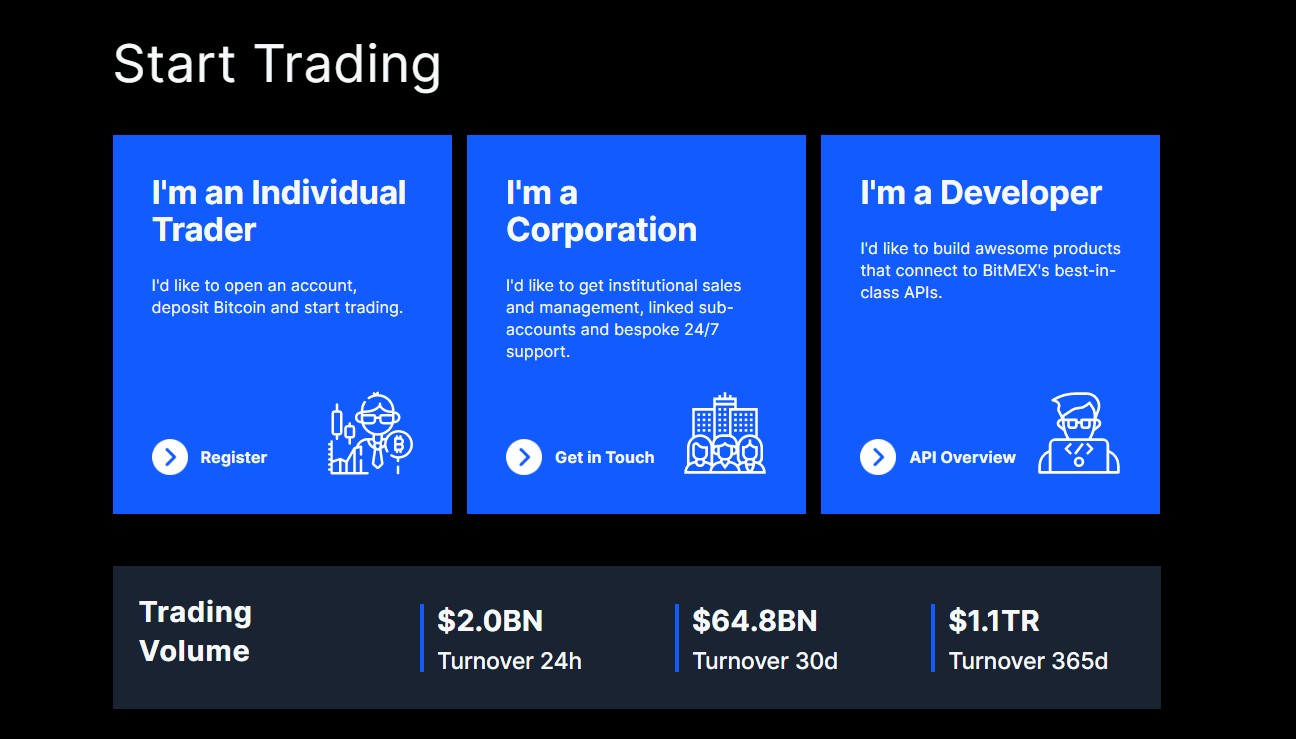 BitMEX uses TradingView, a well-known trading visualisation platform that provides advanced, in-depth chart systems and other trading tools to achieve such a professional performance.
Contract Trading on BitMEX
As implied at the beginning of our review, BitMEX doesn't have a market for instant fiat-to-crypto purchases nor does it provide spot trading — where you can buy and sell different cryptocurrencies against fiat money or other cryptocurrencies on the "spot", for immediate delivery. 
BitMEX exclusively supports derivatives trading, which allows you to trade contracts whose execution is set on a certain date in the future. Now that cryptocurrencies have proven to be a suitable active-trading instrument, the derivatives market seems to be blooming. On BitMEX, you can find four types of derivative contracts that differ depending on the execution time and user's position: 
Bitcoin and Other Supported Cryptocurrencies
If you research crypto, you may have noticed that sometimes XBT stands as a ticker symbol for Bitcoin instead of BTC. Since Bitcoin isn't an official currency or corporately-owned product, we can't say which one is correct; however, BitMEX is one of the few exchanges that sticks to the less popular XBT reference.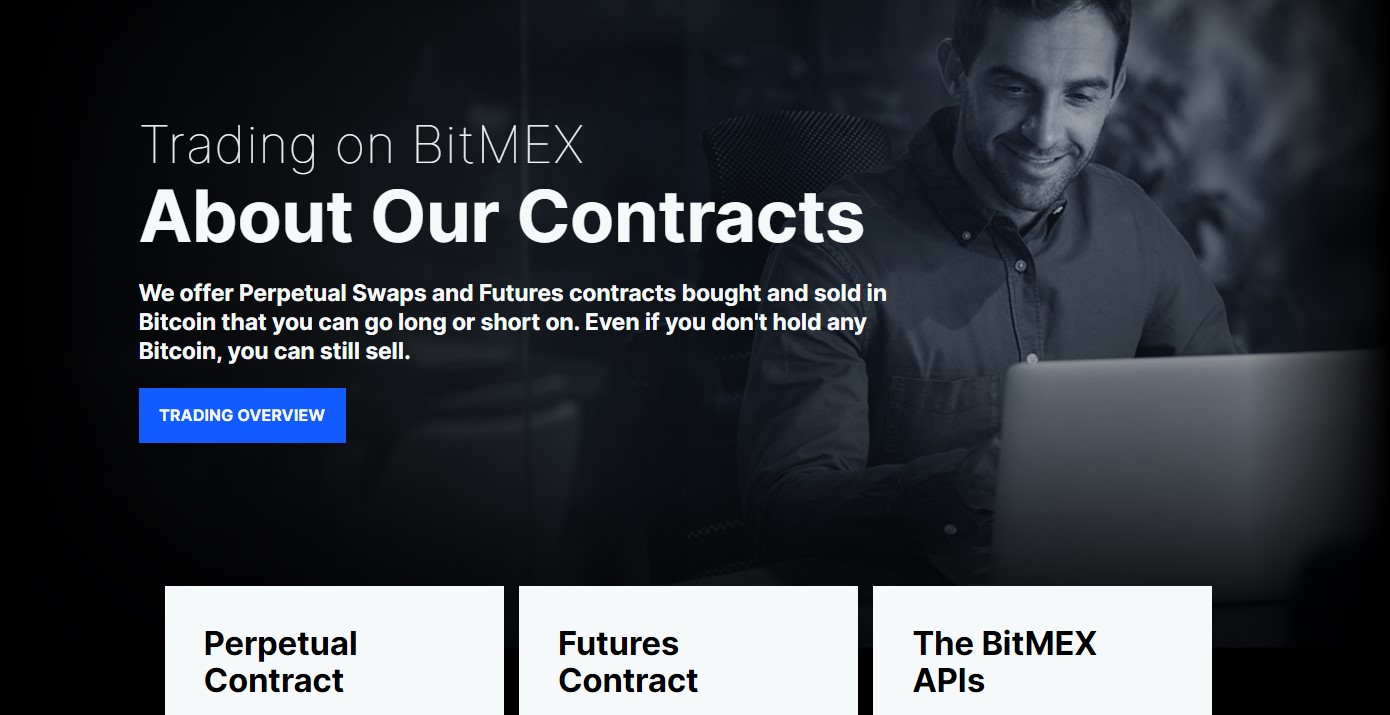 Back to BitMEX-supported currencies, the exchange has quite a range of altcoins for futures trading, including Ethereum (ETH), Cardano (ADA), Litecoin (LTC), Bitcoin Cash (BCH), Dogecoin (DOGE), Tron (TRON), Binance Coin (BNB), and Ripple (XRP), and some of the most popular DeFi tokens, such as SushiCoin (SUSH), Aave (AAVE), and Uniswap (UNI). 
You'll find many pairs on the BitMEX platform with fiat currency (USD or EUR) as the quote currency but you should know that no fiat is accepted as a deposit or withdrawal on BitMEX — only Bitcoin. 
BitMEX Features and Products
Unlike many crypto services out there, BitMEX doesn't offer different types of accounts based on user experience level or the size of their trades. Both beginners and professionals are given the same feature set, so there are no simplified modes or volume-scaled bonuses. This is what you can really expect from a traditional platform like BitMEX — the exchange has to offer quite a range of trading options to keep crypto-savvy enthusiasts busy. 
Margin trading is one of the greatest BitMEX perks as the available exchange leverage can reach up to 100x on certain markets. Thus, if you use EOS, ADA, or BCH as bases, you can enhance your position for up to 20x. For LTC and ETH, the leverage is 50x, while the ultimate 100x leverage can be used only for BTC. It goes without saying, you can't leave fiat currencies as collateral on platforms of this type. Apart from the high leverage, the good thing about margin trading on BitMEX is that the exchange allows you to adjust it right before confirming your trade.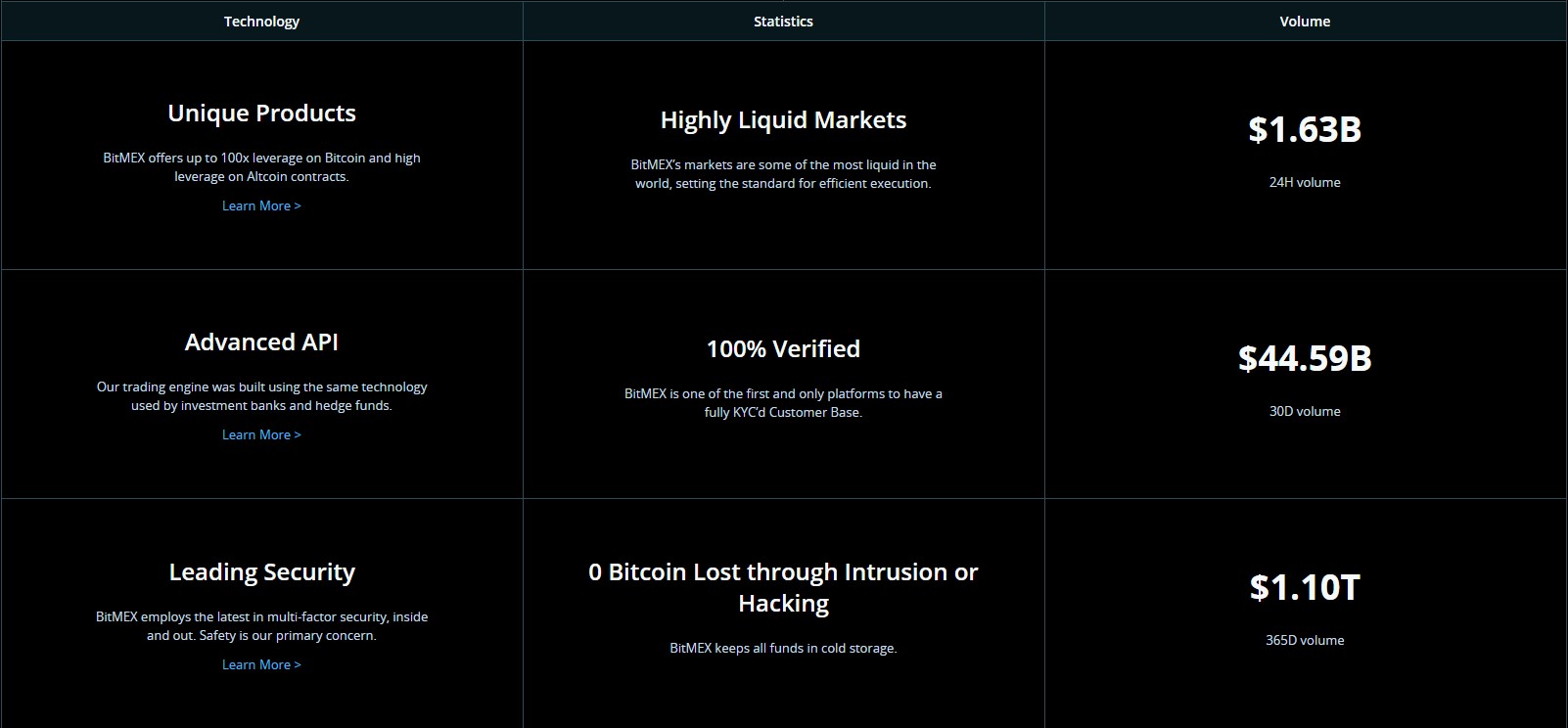 Please note that margin trading is an extremely risky practice, even though it seems pretty attractive. Regardless of your crypto experience and the trading strategies you've developed, trading with borrowed funds is gambling — one wrong move, and you can lose everything you have. Hence, we don't recommend you "play" with the maximum leverage unless you are pretty sure of the outcome of the trade. 
In order to soften the consequences of margin trading, the BitMEX exchange has launched an insurance fund to protect unfilled liquidation orders against the automatic Auto-Deleveraging exchange system. When a user's position is liquidated, the BitMEX liquidation engine takes control of it immediately. In case the liquidation cannot be executed by the time the market price reaches the bankruptcy price, the exchange automatically deleverages other traders' positions by priority order of leverage and profit.
The BitMEX insurance fund "helps" unfilled liquidation orders to avoid the auto-deleveraging system. It's continuously filled up by previous liquidations that got executed at a higher price higher than the bankruptcy price. 
Another sophisticated tool that BitMEX offers to ultimate Bitcoiners is a calculator that estimates the loss and profit as well as the risk rate for each of the participants in the trade. For example, you can calculate how the exit price compares against the entry price. 

Test accounts are popular marketing tools among trading platforms in general. They allow potential customers to test the grounds before making their first real investment. This style of demo trading is beneficial for new users to get comfortable with the platform's interface and gives them the freedom to develop new trading strategies without the psychological burden of fear of loss. 
However, the BitMEX TestNet version comes with one caveat. You can't use the same account for both the "real" and demo platforms. What's more, you'll have to deposit Testnet BTC, which can be easily acquired online through numerous faucets. 
Overall, the BitMEX fee schedule is encouraging for day traders and market makers. There are no additional deposit and withdrawal fees except for the network fee, which is incurred by the blockchain network and has nothing to do with the pricing system of the exchange. 
Trading fees on BitMEX are pretty variable as they're determined by the cryptocurrency itself and the type of contract you trade. Thereby, despite being highly competitive, trading fees on BitMEX are sometimes hard to calculate.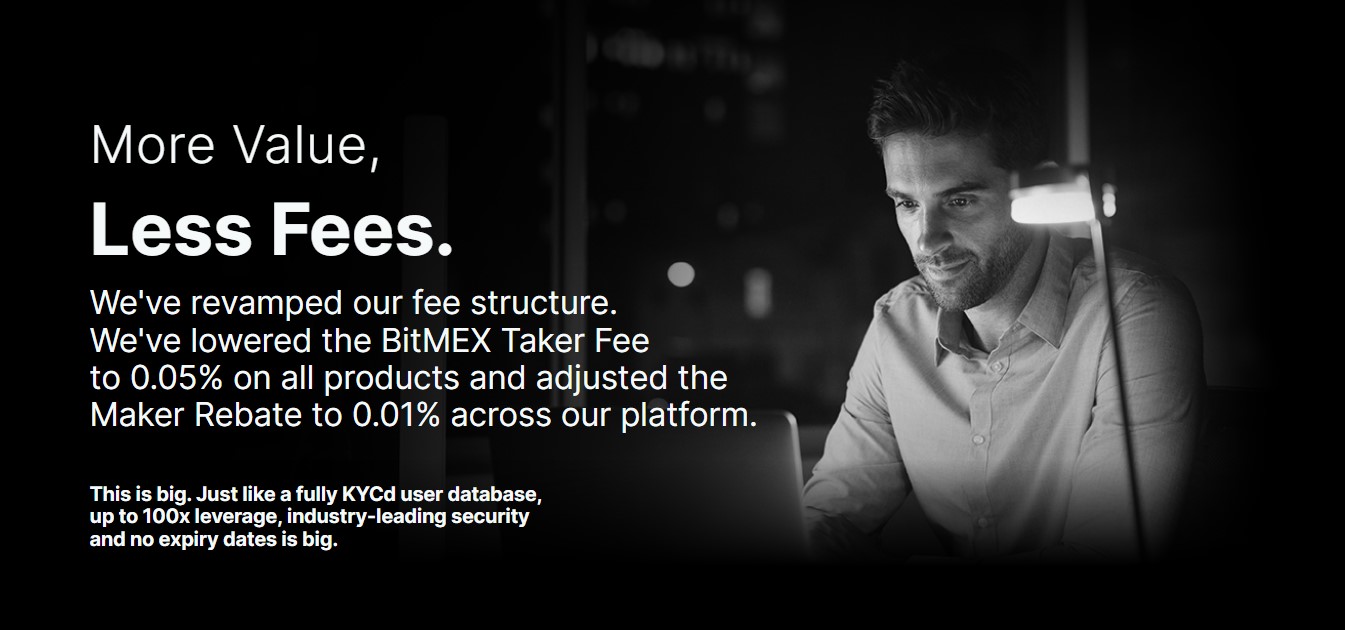 Depending on your transaction, you either pay a maker fee or a taker fee. Once you learn the fee price based on your position, the exchange adds up a settlement fee. You can earn a small reward for placing a regular futures BTC order since BitMEX rebates the makers 0.025% while charging the taker 0.05%. This is a common practice on platforms with a similar operational model as BitMEX such as FTX and BaseFEX.
When it comes to margin trading, you should know that the margin fee is calculated based on the entire leveraged position, not only the borrowed amount of assets. 
You can find a detailed BitMEX pricelist on their official web page.
BitMEX was established at a time when crypto exchanges were the top target of cybercriminals. Fortunately, the exchange didn't have to learn the security lesson the hard way — it has taken user and fund protection seriously since the very first moment of its launch, and so far, BitMEX has not been a victim of a critical hacker attack. 
In terms of user-account protection, BitMEX supports 2FA. You can activate IP pinning, which will alert you any time someone wants to log in to your account from an unknown device and PGP encryption to protect you against spam.
When it comes to funds security, BitMEX uses Amazon Web Services for system storage, which is the gold standard among renowned virtual businesses. However, the majority of circulating assets aren't stored on a cloud server but in a cold multi-sig wallet for full protection. A multi-signature wallet requires manual confirmation by several individuals before allowing withdrawals. 

Moreover, the BitMEX trading engine is developed in the kdb+ database, which is also used by reputable central banks and other money transmitters.
BitMEX provides comprehensive customer service. You'll find direct support through multiple channels — mainly email and social media, with an overall response time of a few hours.
The exchange also features a decent information base and a well-organized FAQ section. Finally, the platform is available in English, Russian, Chinese, Japanese, Korean, and Russian but due to the borderless diversity of BitMEX users, it should probably consider expanding the language support.
Frequently Asked Questions
Does BitMEX provide a good mobile app?
The BitMEX mobile app, available for both Android and iOS users, has the same professional touch as their online platform. The app features an exceptionally intuitive design for such an extensive service package and gives you full control of your portable account. The BitMEX mobile app is highly functional and nearly the same as the regular version since it supports all the main trading features this crypto exchange provides.
Does BitMEX have an in-exchange wallet?
In-exchange wallets aren't the safest place for storing large amounts of digital assets due to their exposure online. However, on BitMEX, you can get the best exchange-powered storage solution for your virtual currencies as almost all exchange capital is held offline and requires manual authorisation of your withdrawals. Cold storage makes your funds immune to intruders because even if someone gets to the exchange illegally, they'll be unable to reach your funds. 
Which countries are supported by BitMEX?
BitMEX is envisioned to respond to the needs of experienced traders regardless of their geographical point of residence. Accordingly, the exchange can be accessed from anywhere across the globe except for the US, where its services are banned due to non-compliance with the US Commodity Future Trading Commission.
A Few Words Before You Go...
BitMEX has a clearly defined target audience consisting of seasoned Bitcoiners with profound knowledge of crypto derivatives, who can confidently stay on the "most advanced platform for Bitcoin" — as the BitMEX team refers to their derivatives trading platform.
As we mentioned above, there are many crypto-derivative platforms that popped up after BitMEX that offer more cryptocurrencies and a more straightforward UI. However, it seems that BitMEX's traditional design has already gathered a large group of loyal supporters who believe that BTC-only transactions simplify things. 
If all these charts and sticks intimidate you, it'd be better to look for an entry-level cryptocurrency exchange where you can make the first crypto investment in a retailer manner.
This page was last updated on August 23, 2022