Bybit was launched in Singapore in March of 2018 and is comprised of experts from the forex sector, tech companies and investment banks and also the who were the first to adopt blockchain technology. Bybit is a registered cryptocurrency exchange in the British Virgin Islands, and has more than 2 million users at the time of writing this.

Bybit is a cryptocurrency exchange platform that provides the option of spot trades and trading derivatives. They concentrate on margin trading with up 100 times leverage on BTC/USD and ETH/USD trading pair.
Bybit is a great trading platform for crypto since it is a specialist in advanced crypto trading. That means it comes with a variety of features that are ideal for novices as well as experienced traders.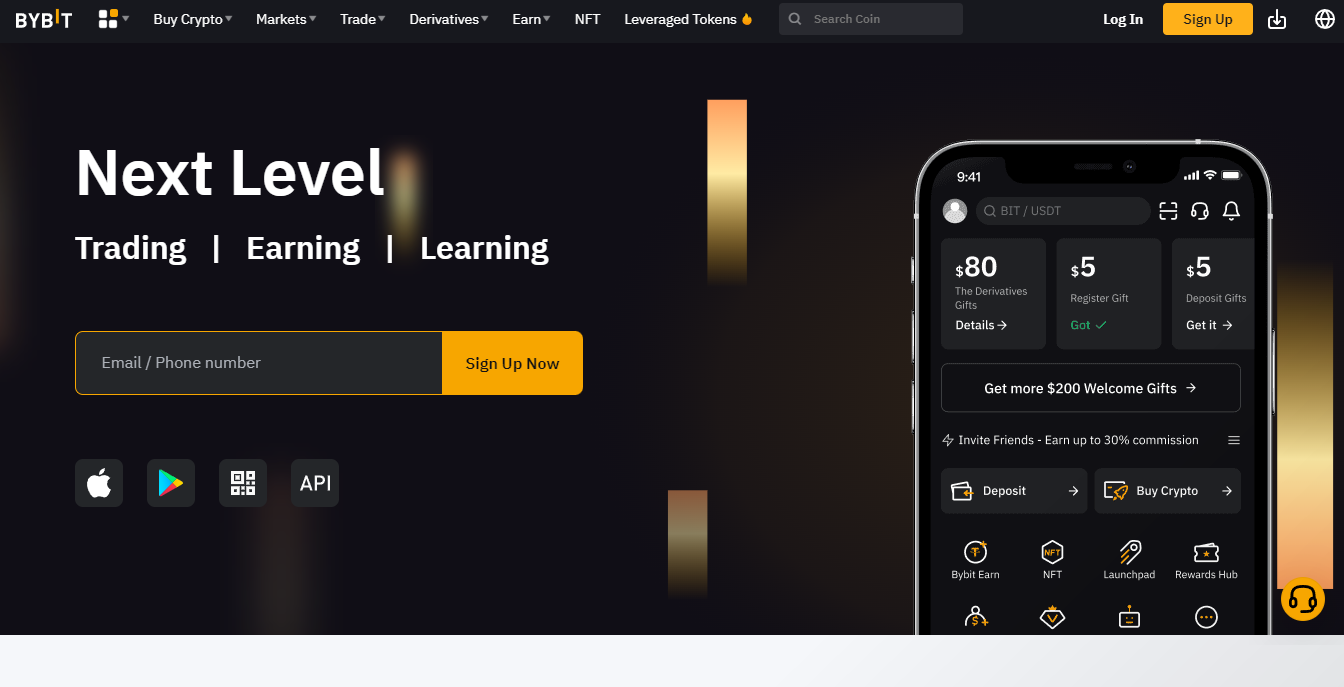 Because Bybit is among the largest digital currency derivatives trading exchanges within the cryptocurrency world (with more than 2 million users! ) It also has large liquidity, and their 24 hour volume sometimes exceeding $10 billion. Bybit provides Inverse Perpetual Contracts, USDT Perpetual Contracts and Inverse Futures Contracts for their derivatives option.
Pros:
Has a Testnet platform where you can practice trading and technical analysis
Offers margin trading, which you can trade up to 100x leverage
Bybit's crypto tools and features are advanced, which is ideal for seasoned traders
Provides educational resources and learning materials
Cons:
If you're interested in NFTs, you can't purchase them with Australian dollars
Bybit Trading Features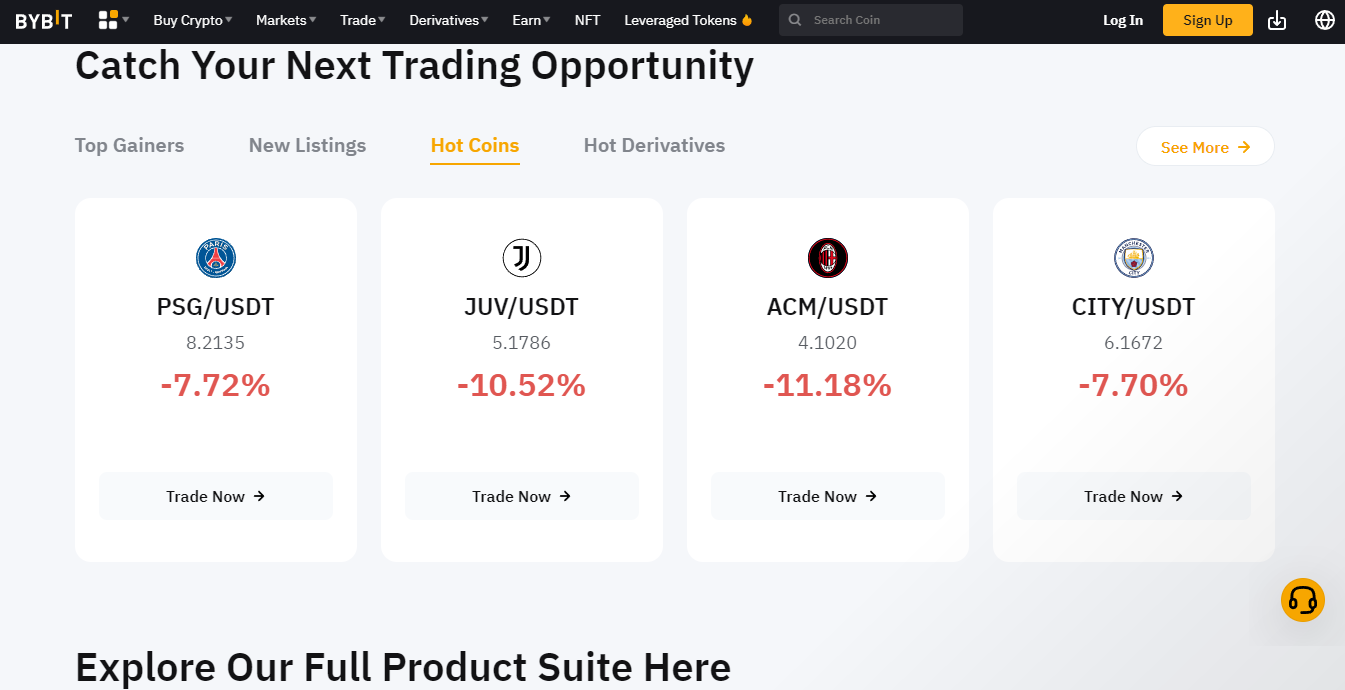 Spot Trading
To go along with their derivatives offerings, Bybit launched Spot Trading in the month of July 2021. Prior to that, their spot trading service only offered four trading pairs that include ETH/USD, BTC/USDT and EOS/USDT. XRP/USDT. However, they've added spot trading to their offerings by including greater than 70 different trading options.
Margin Trading
In addition to spot trading and derivatives, Bybit also offers margin trading that can be 100x leverage (yep 100x leverage!). Margin trading has become a popular feature in crypto for experienced crypto traders who want to make bigger profit on successful trades. If you're unfamiliar with margin trading it's an option to borrow money to increase the leverage of your trading.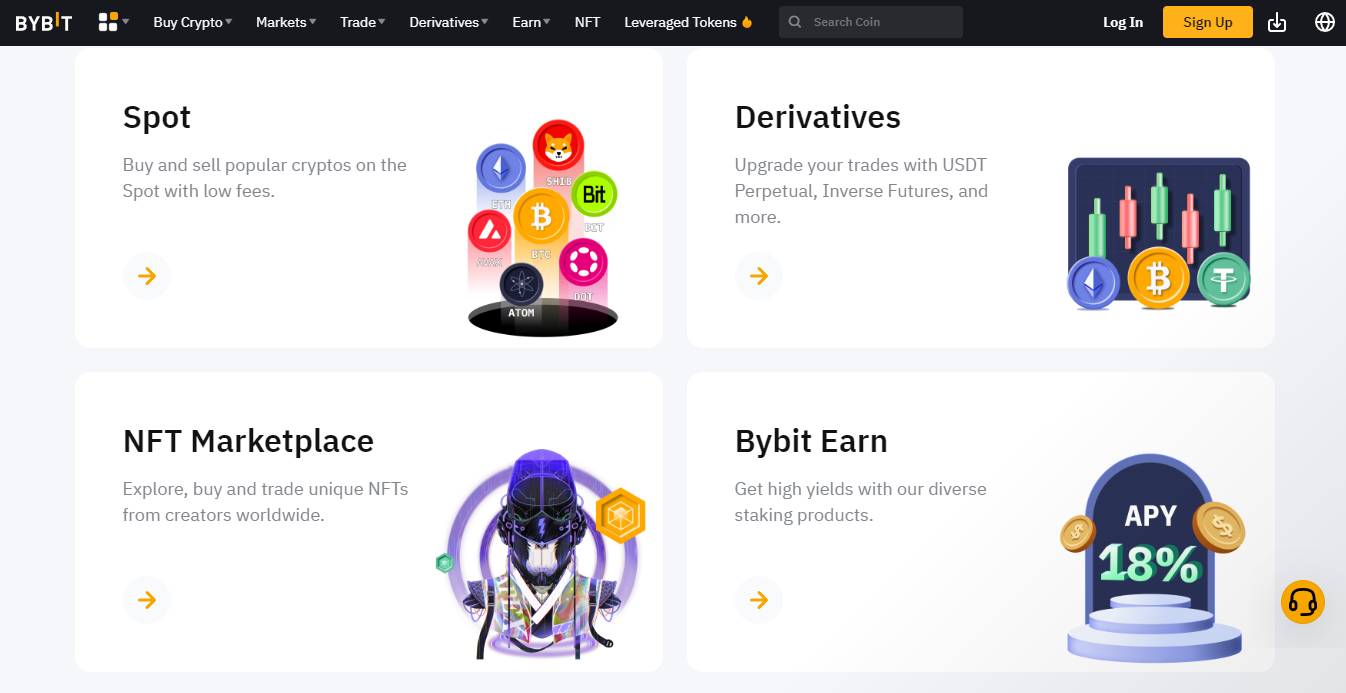 This can result in more profit with just the cost of a tiny investment. Bybit is unique in the field of margin trading because certain cryptocurrency exchanges can only offer 5x leverage However, Bybit can handle up to 100x leverage (that is included in Bybit's Bybit Insurance Fund feature). Take note (and take note of) it is a requirement that margin trades should only be conducted only if you have a deep knowledge the technical aspects.
Testnet
Apart from a range of other trading platforms for crypto, Bybit also has a Testnet platform that allows users to try out trading with crypto without having to invest any money or cryptocurrency. This is a great option for people who are just beginning their journey and are looking to master trading without investing even a penny.
Depost Methods
If you're looking to do what you've always wanted to do, Bybit offers fiat gateway to make deposits that are convenient.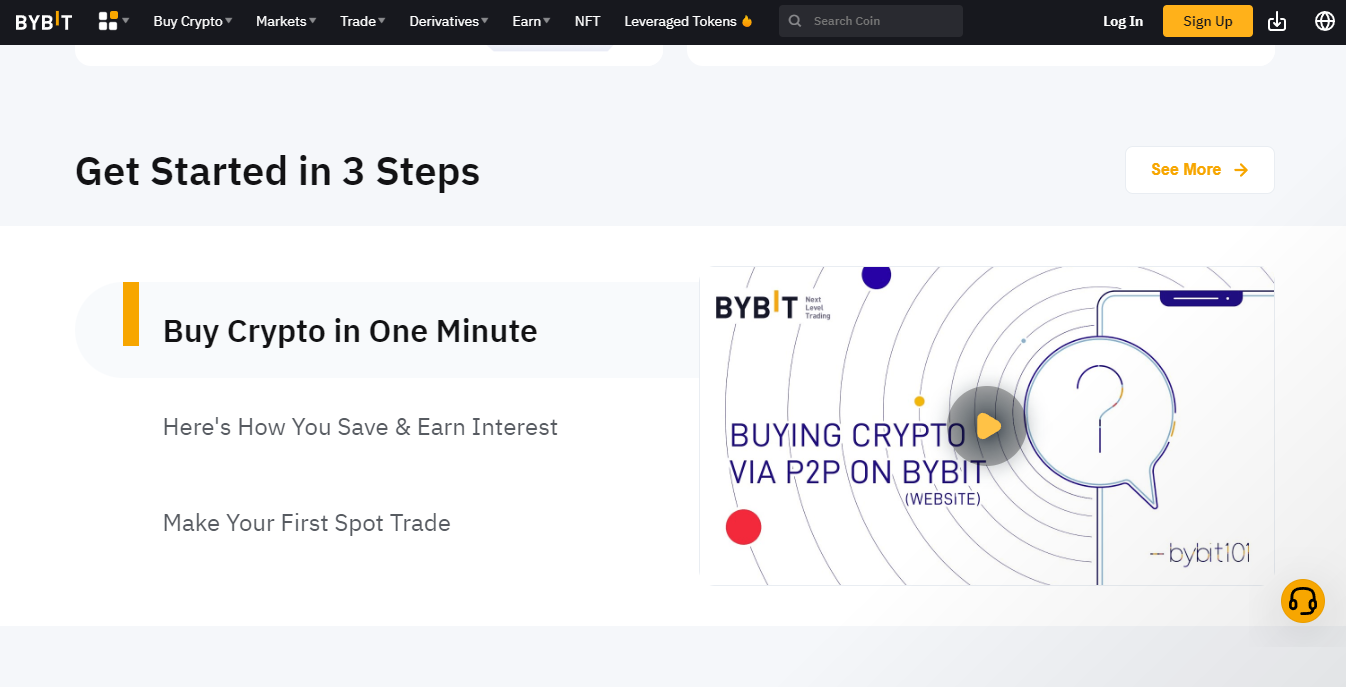 While Bybit does not support deposits in fiat currency directly however, you can access their fiat portal by pressing the Buy Crypto found at the top left of their homepage. Bybit accepts Bank Transfer, Apple Pay, Google Pay, Mastercard/Visa as payment options, based on the currency you'd like to deposit.
Bybit Fees
Concerning Bybit fees, which are deposits fees, withdrawal fees and trading fees The cryptocurrency exchange is competitive. Actually, Bybit doesn't charge any deposit fees. However there are fees for withdrawals and trading charges. When trading derivatives, this cost is anywhere from 0.1 percent to 0.06 percent. In the case of trades on spot, the cost is 0.1 percent.
Bybit Mobile App
Additionally, if you don't have the time to trade at your computer Do not fret as Bybit offers a mobile application available for users of both Android as well as iOS users.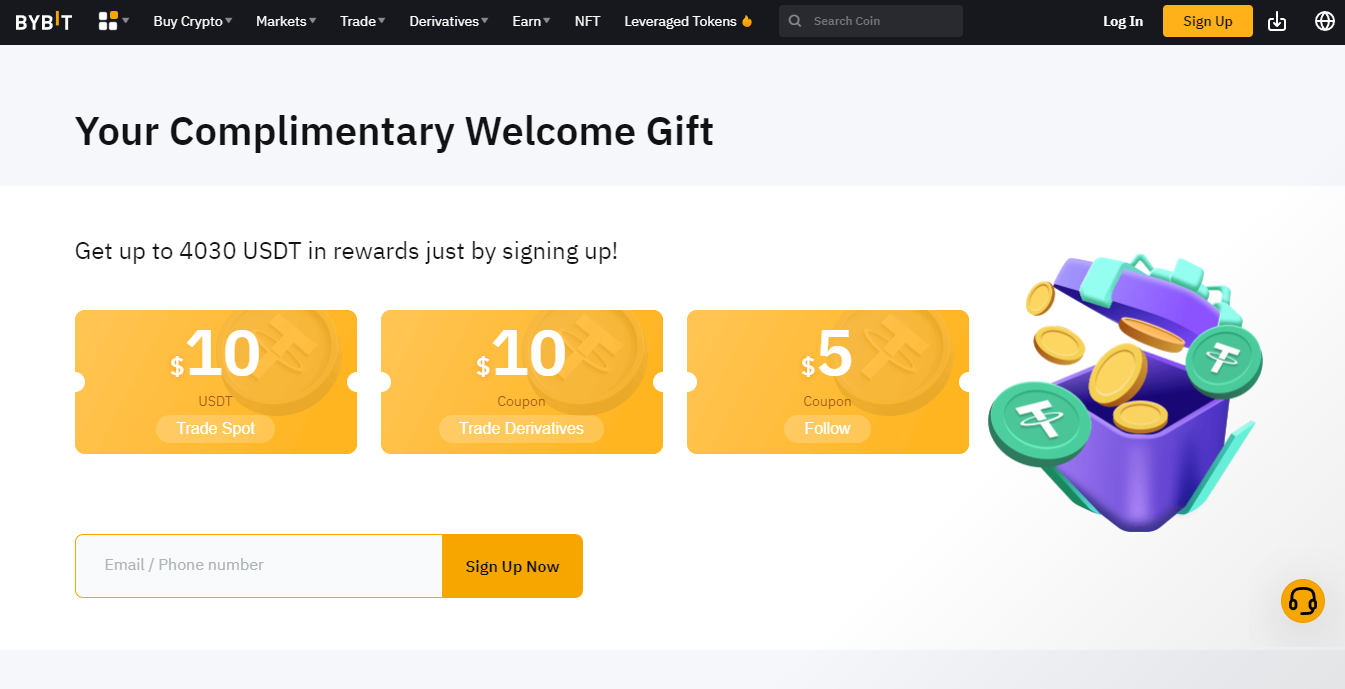 The Bybit mobile app is quick, user-friendly and, most importantly, includes all the tools for trading including conditional orders, a trading platform as well as charts you'll need (this is not offered on other exchanges with a good reputation available). With the Bybit mobile you'll be able trade wherever you are!
Customer Support
If you are having issues regarding the use of Bybit you can rest assured that they offer a live chat support staff which is available to assist all day long.
Frequently Asked Questions
How Much Leverage Bybit Offers?
Maximum leverage Bybit provides is 100x, however, you can easily alter the leverage using a slider to allow for margin trading that is not isolated.
Can I Deposit USD to Bybit?
Based on our investigation, we have concluded that Bybit accepts only crypto-based deposits.
Can US Citizens Use Bybit?
US citizens aren't allowed to trade through the Bybit platform due to a lack of compliance, regulation, or the constant anxiety about being accused of being sued in the US by The SEC within the US.
How to Take Profit on Bybit?
The user is able to set the price at which they want to exit short and long positions. It is also possible to opt for partial execution of orders. This can help to make money when the trader is on going.
Can I Use a Credit Card on Bybit?
Yes, you are able to use your credit card through Bybit.
How to Start Using Bybit?
New users must first sign up on Bybit and then deposit funds or cryptos, then trade. It offers both mobile and desktop versions featuring solid technology. It comes with a testnet to learn the ins and outs of trading.
Is Bybit Legit?
Bybit Fintech Limited is the operator of Bybit, a genuine cryptocurrency-only exchange that also has an online trading platform that is equipped with the latest technology for trading. Bybit is an anonymous exchange. So it is not required to undergo a KYC method is not required for Bybit. Bybit trading system.
The platform offers traders the option of inverse perpetual, inverse forward as well as linear perpetual contracts. Additionally, it includes an insurance fund for users' protection. You can read Bybit Reviews online online in order to find an honest assessment of the crypto exchange.
Who Owns Bybit?
The co-founder and CEO of Bybit is Ben Zhou.
Related:
Bybit Compared
Exchange
Deposit Methods
Fiat Currencies
Cryptocurrencies
Trading Fees
Sign Up

Swyftx



Bank Transfer, Crypto, Credit and Debit Card, Osko, PayID
New Zealand Dollars and Australian Dollars
Over 320
0.6%
Australian Dollars Deposits: 0% Crypto: 0%
Australian Dollars Withdrawals: 0% Crypto: 0%
Visit Swyftx

Binance



Crypto, Credit and Debit Cards, Osko, PayID
10 Fiat Including USD and AUD
Over 600
0% to 0.1%
0%
Vary
Visit Binance

CoinSpot



Bank Transfer, Fiat, Crypto, POLi, and PayID
Australian Dollars
Over 370
Instant Buy/Sell: 1% OTC: 0.1% Market Order: 0.1%*
Direct Deposit: $0 Cash: 2.5% PayID, POLi, and direct deposits: $0 BPAY: 0.9% Direct Bank Transfer: $0
Australian Dollars Withdrawals: $0
Visit CoinSpot

Bybit



Crypto, electronic funds transfer (EFT), wire transfer, bank transfer, credit card, and debit card
50+
160+
0.1% spot trading 0.01% – 0.06% market makers/market takers fee
$0
Does not support direct fiat withdrawals Crypto withdrawal fees: Network fees
Visit Bybit

Digital Surge



Bank Transfer, Crypto, POLi, Osko, PayID
Australian Dollars
Over 300
0.1% to 0.5%
Deposit Fees Bank Transfer: $0 POLi: $2 (capped at $3.30)
$0 for AU Bank Accounts Cryptocurrency: Depends On the Network
Visit Digital Surge

CoinJar



Fiat, Bank Transfer, Crypto, Credit or Debit Card, Apple Pay, Google Play
Pound Sterling and Australian Dollars
Over 50
Maker: 0.04 to 0.1% Taker: 0.04 to 0.1%
Fiat: 1.5% CoinJar Users: $0 NPP: $0
$0
Visit CoinJar

Independent Reserve



Crypto, Osko, PayID, Electronic Fund Transfer, SWIFT
Australian Dollars, US Dollars, New Zealand Dollars
Over 25
0.05% to 0.5%
For SWIFT Deposit: $15 for deposits under Australian $5,000 equivalent $0 for deposits over Australian $5,000 equivalent For Electronic Fund Transfer: Australian $0.99 for deposits under $100 $0 for deposits more than Australian $100
Crypto: Fees vary Bank Transfer: $0 for AUD $20 for non-AUD
Visit Independent Reserve

eToro



Bank Transfer, Debit Cards, Neteller, PayPal, Online Banking, and Skrill
15 Fiat Currencies Including USD and AUD
Over 70
Vary
Vary
$5 but minimum withdrawal of USD50
Visit eToro

Coinbase



Debit Card
More than 20 Fiat Currencies Including USD and EUR
Over 200
Vary
Credit Card and Debit Card: 3.99%
2.49%
Visit Coinbase

Bittrex



Bank transfer (ACH)
Euro and US Dollars
Over 320
0.25%
$0
Vary
Visit Bittrex

Bitfinex



Bank Wire Transfer, Crypto, Credit Card
US Dollars, Japanese Yen, Euro, Pound Sterling
Over 200
Taker: 0.055% to 0.2% Maker: 0% to 0.1%
Crypto: $0 Wire: 0.1% (min 60 Euro/USD)
Crypto: $0 Wire: 0.1% Express Bank Wire (within 1 day on business days): 1% (min 60 Euro/USD)
Visit Bitfinex

Coinmama



Bank Card, SWIFT, Google Pay, SEPA, and Fedwire
6 Fiat Currencies Including USD and AUD
Over 10
2.93% to 3.9%
0% to 5%
N/A – assets are directly sent to the user's crypto wallet
Visit Coinmama

Kraken



Bank Transfer, Crypto, Wire Transfer, osko, SEPA, Apple Pay and Google Pay
7 Fiat Currencies Including USD and AUD
Over 140
Maker: 0% to 0.16% Taker: 0.10% to 0.26%
Vary
Vary
Visit Kraken

KuCoin



Crypto, PayPal, Wire Transfer, Credit or Debit Card, SEPA
9 Fiat Currencies Including USD and AUD
over 645
0.1%
$0
Vary
Visit KuCoin

Easy Crypto



Bank transfer, P2P, POLi, OSKO
AUD
100+
0.5% – 1.6%
$0
Fiat Withdrawal fees: $0 Crypto withdrawal fees: Network fees
Visit Easy Crypto

Coinstash



Crypto, PayID, Bank Transfer
AUD
410+
0.85%
$0
Crypto withdrawal fees: Network fees Fiat Withdrawal fees: $0
Visit Coinstash
This page was last updated on July 14, 2023