Bybit is the best overall cryptocurrency exchange in comparison to Binance since they have lower costs, greater leverage in futures trading, and do not require KYC for signing up.
Binance currently has much more costly fees of 0.1 percent per trade, when compared to Bybit that offer an amount of 0.025 percent on trades. This means that you will be cash back to you for Maker Orders on their platform.
Bybit vs. Binance Comparison Table
| Features | Bybit | Binance |
| --- | --- | --- |
| | | |
| Supported Coins | 220+ | 600+ |
| Trading Fees | 0.00% – 0.26% | 0.1% |
| Deposit Fee | Varies | Free |
| Withdraw Fee | Depends on the withdrawal method and currency | Free |
| Payment Methods | Bank transfers, Samsung Pay, Google Pay, Visa/Mastercard, and Apple Pay | PayID/OSKO |
| | | |
Bybit Pros and Cons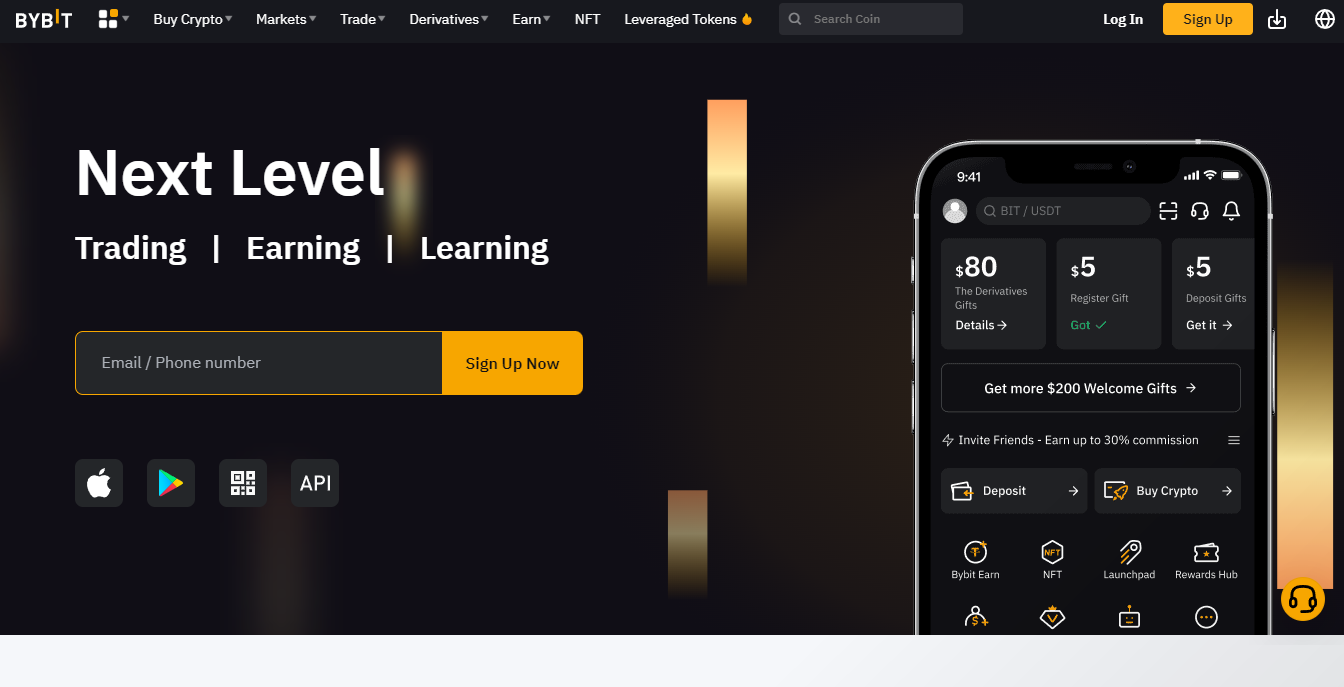 Pros
Has a Testnet platform where you can practice trading and technical analysis
Offers margin trading, which you can trade up to 100x leverage
Bybit's crypto tools and features are advanced, which is ideal for seasoned traders
Provides educational resources and learning materials
Cons
If you're interested in NFTs, you can't purchase them with Australian dollars
Binance Pros and Cons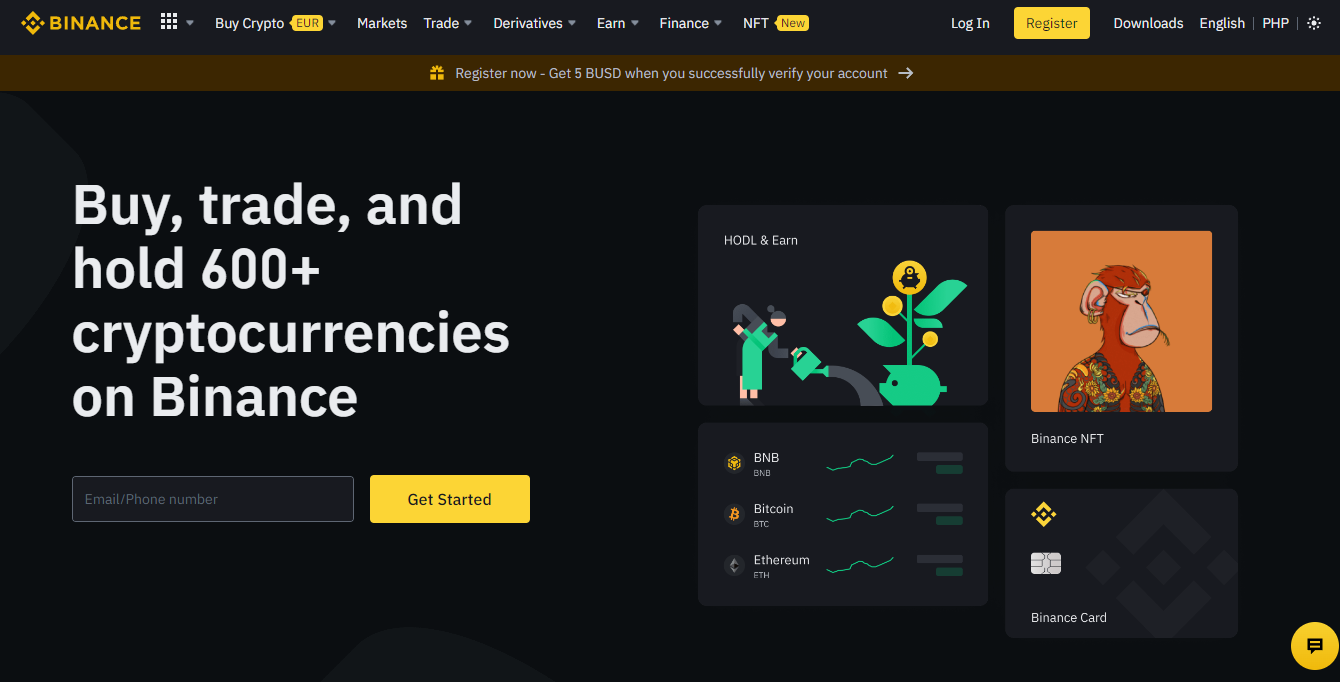 Pros
A huge spot market that includes more than 600 different cryptocurrencies
Affordable fee structure with the possibility to discount
Staking options to over 70 coins
Deposits and withdrawals that are sleek
Separate platforms for different markets
Advanced markets for professional traders
Cons
A complex platform design for novice
Excellent customer support
Features
Bybit began as an exchange that only dealt in derivatives It then delved into different aspects of the cryptocurrency world and added other trading options.
As the most significant trading platform for derivatives worldwide, Bybit offers incredibly high liquidity. You can trade using USDT perpetual contracts as well as inverse perpetual contracts and the inverse future contract.
Bybit excels in margin trading and is the top margin trading platform available. For experienced traders, leverage as high as 100x in order to maximise the profits they earn from their trading however, you must be aware of the potential risks, since cryptocurrency is extremely volatile.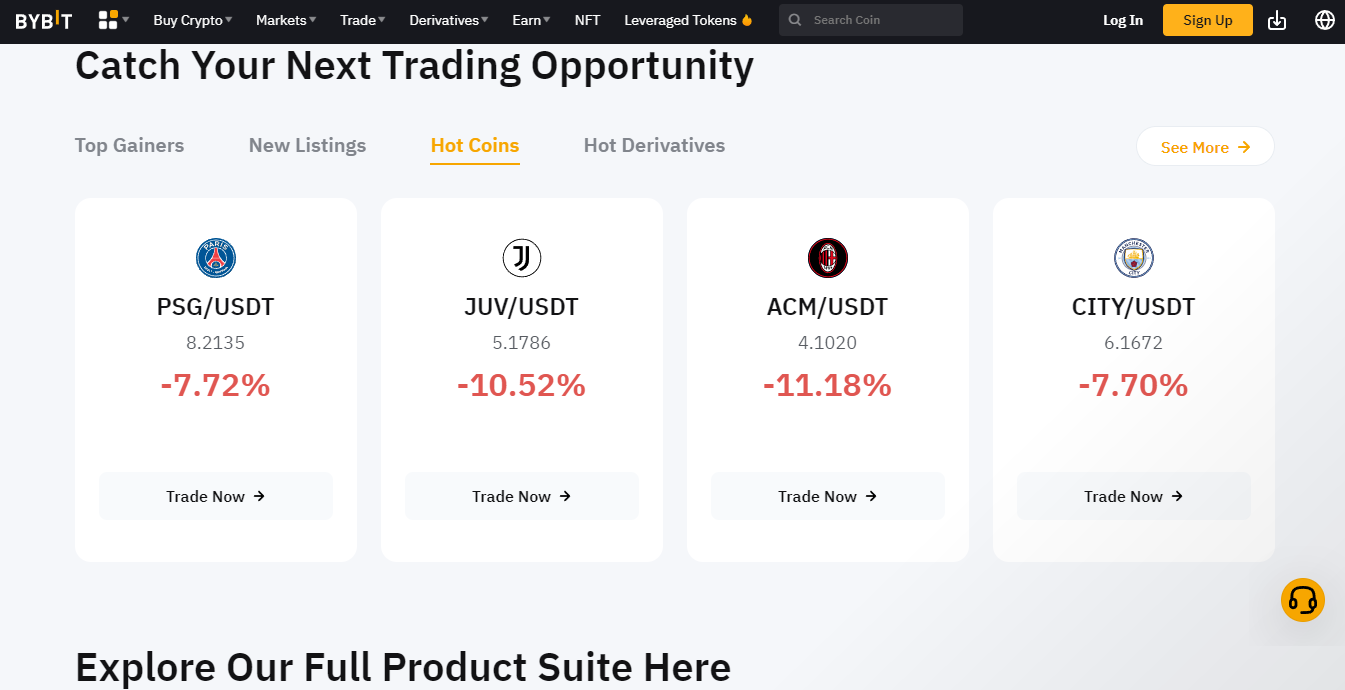 Bybit also comes with a range of options, like Copy Trading, where you can track the exact trading patterns made by the top investors and an option to demo, where you can master the art of trade or test various strategies without risk, with play money.
Binance offers crypto-based borrowing as well as crypto lending as well as a marketplace for P2P. It also has an NFT marketplace for those looking to purchase, sell, or even create your own NFTs. Furthermore the Binance Earn option to earn passive income through placing your cryptocurrency in.
The Binance exchange also allows withdrawals of fiat via the exchange, however this isn't supported by Bybit. If you want to withdraw funds from Bybit it is necessary to transfer your crypto funds to another exchange that is able to accept withdrawals before you do so.
Both platforms allow spots trading and margin trades and interest-earning crypto. But, Bybit comes out on top in this area because of additional features, such as Copy Trading and an Testnet demonstration mode.
Winner: Bybit
Supported Cryptocurrencies
Bybit has over 220 cryptocurrency to trade, and these are among the most well-known and traded cryptocurrency.
Binance has a huge selection of 600+ cryptos, meaning it is likely that you will discover the cryptocurrency you're seeking on Binance.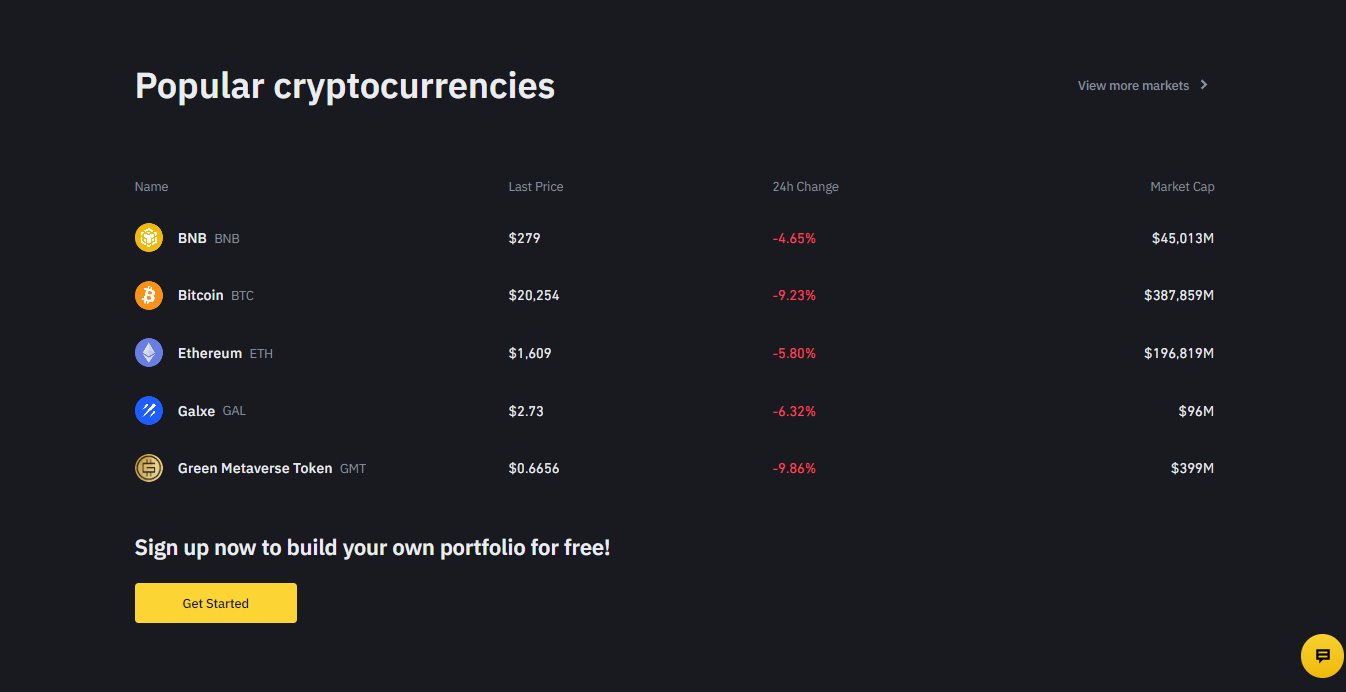 Binance is by far the most popular choice in this category, having more than twice the amount of coins offered. But, the Bybit range of 220 coins remains very substantial and comprises the most frequently traded cryptocurrency.
Winner: Binance
Fees
Bybit's fees are amongst the most affordable on the market as they charge spot trading charges of 0.1 percent and fees for derivatives trading of 0.01 percent for creators and 0.06 percent for users.
Bybit uses the fiat gateway, so you can transfer your crypto assets into fiat which will cost approximately 3%, based on the third-party processor. Making deposits with crypto or fiat is completely free, however, withdrawing crypto will cost fees that are contingent on the type of asset. Fiat withdrawals aren't supported by Bybit.
Binance also has fees for trading of 0.1 percent that can be reduced by 25percent by paying fees with the native currency of the platform, BNB. Funds that are deposited can be subject to an additional fee that is based depending on deposit methods used and currency.
Bybit's fees are among most affordable on the market and trading charges at a minimum of 0.01 percent for derivatives producers and 0.0 percent for customers who buy derivatives.
Winner: Bybit
Customer Support
Bybit is among the most active social media platforms in crypto , having more than 10 , online community. You can contact Bybit by Live Chat, E-mail, Twitter, Discord, Telegram, Instagram, Youtube, Facebook, LinkedIn, Reddit, Trust Pilot, TikTok & Medium. Support from the Bybit support team is able to be reached via more than 30 languages, including English, Spanish, Mandarin, Japanese and more.
Binance also offers live chat features on its platform, and provides help through email. However, while they not have as many online communities You can find Binance in Discord, Telegram, Facebook, Twitter, Reddit, LinkedIn, Instagram and VK.
Bybit provides support for its customers with more different languages than Binance does, and has substantially larger contact methods.
Winner: Bybit
Deposit Methods
Bybit, you can deposit Bybit You can deposit cryptocurrency, as well as a restricted number of fiat currencies which will be added within the next few months. You can currently deposit EUR GBP, BRL, ARS, and RUB via bank transfer. This is absolutely free. If you want to buy crypto in other currencies, you are able to make use of the fiat gateway, that supports a wider selection of payment options like Visa/Mastercard, bank transfer Google Pay, Apple Pay, Samsung Pay, and many more.
Binance allows a variety of deposits made with fiat, like bank transfer SEPA, credit card, ACH, debit card Google Pay, SWIFT, and SOFORT/iDEAL. Deposits in cryptocurrencies are also accepted by Binance.
Each Bybit and Binance provide a variety of payment methods available, and the method you choose will be based on your own personal preferences.
Winner: Tie
Security
Security and safety are essential particularly in a volatile market such as the cryptocurrency. Both platforms are highly secure and secure, with Bybit making use of 2-factor authentication (2FA), SSL encryption and cold wallet storage and three-level verifications among other options. Bybit is extremely strict with regards to the security of users security of their data and assets and has a remarkably transparent.
Binance makes use of cold storage for their majority of crypto-based funds to safeguard customers in the event of any security breach. They urge their users to enable 2FA whitelisting devices, create anti-phishing codes and also U2F (universal 2-factor authentication). In the year 2019, Binance was hacked, and more than $40 million worth of Bitcoin was compromised. Since that time, Binance has ramped up security and, just four months after, they received ISO 27001 certification.
Because Binance has a history in hacking Bybit has the edge. The main reason why Bybit is ahead in the security department.
Winner: Bybit
Conclusion
Bybit And Binance are two well-known cryptocurrency exchanges available on the market and are both suitable for traders who are frequent. However, Bybit is the clear winner of this competition because of its emphasis on its customers, its low costs for trading, and live chat 24/7.
Frequently Asked Questions
How Much Leverage Bybit Offers?
Maximum leverage Bybit provides is 100x, however, you can easily alter the leverage using a slider to allow for margin trading that is not isolated.
Can I Deposit USD to Bybit?
Based on our investigation, we have concluded that Bybit accepts only crypto-based deposits.
Can US Citizens Use Bybit?
US citizens aren't allowed to trade through the Bybit platform due to a lack of compliance, regulation, or the constant anxiety about being accused of being sued in the US by The SEC within the US.
How to Take Profit on Bybit?
The user is able to set the price at which they want to exit short and long positions. It is also possible to opt for partial execution of orders. This can help to make money when the trader is on going.
Can I Use a Credit Card on Bybit?
Yes, you are able to use your credit card through Bybit.
How to Start Using Bybit?
New users must first sign up on Bybit and then deposit funds or cryptos, then trade. It offers both mobile and desktop versions featuring solid technology. It comes with a testnet to learn the ins and outs of trading.
Is Bybit Legit?
Bybit Fintech Limited is the operator of Bybit, a genuine cryptocurrency-only exchange that also has an online trading platform that is equipped with the latest technology for trading. Bybit is an anonymous exchange. So it is not required to undergo a KYC method is not required for Bybit. Bybit trading system.
The platform offers traders the option of inverse perpetual, inverse forward as well as linear perpetual contracts. Additionally, it includes an insurance fund for users' protection. You can read Bybit Reviews online online in order to find an honest assessment of the crypto exchange.
Who Owns Bybit?
The co-founder and CEO of Bybit is Ben Zhou.
Does Binance offer an account for cryptocurrency?
Since the year 2018 it has been the Binance wallet has been officially launched. Binance wallet has been Trust Wallet. It is free and simple to download via through the Internet, Trust Wallet is secure and private. It also can support thousands of different cryptocurrency.
Does Binance has a mobile application?
Yes. Binance's app is completely free and helps you trade and organize your cryptocurrency easy. It can be downloaded through both the Apple Store and Google Play.
How do Binance earn money?
In 2021, Binance reached a record revenue in the range of $20 billion from fees to trade in trades and fees. Additionally, Binance charges margin borrow interest, futures fees, trading, as well as cross interest rates for collateral.
Do you think it is safe to connect the bank account of a customer to Binance?
The transactions that take place on the internet is 100% secure, but according to the security measures that Binance has implemented, Binance is a reputable cryptocurrency venture.
How can I take my money from Binance?
The cash-out process using Binance is simple and rapid. Go to your Wallet page on your dashboard, and then select Spot Wallet. Just next to your AUD wallet you'll find the option to withdraw on cash Balance tab.
If your request is approved after which you'll get your money sent to your account within 3-5 business days.
How can I earn money with Binance?
Binance provides a variety of trading options so that you can purchase and sell cryptocurrency and benefit by profiting from the advantageous price difference. Additionally, you can speculate about prices of the assets available by trading on the derivative market. Additionally, Binance features a few options for passive earnings and stakes. It is true that Binance is a great platform to make a profit, with a sound trading strategy and some luck.
Related:
Top Crypto Exchanges Compared
| Exchange | Deposit Methods | Fiat Currencies | Cryptocurrencies | Trading Fees | Deposit Fees | Withdrawal Fees | Sign Up |
| --- | --- | --- | --- | --- | --- | --- | --- |
| Swyftx | Bank Transfer, Crypto, Credit and Debit Card, Osko, PayID | New Zealand Dollars and Australian Dollars | Over 320 | 0.6% | Australian Dollars Deposits: 0% Crypto: 0% | Australian Dollars Withdrawals: 0% Crypto: 0% | Visit Swyftx |
| Binance | Crypto, Credit and Debit Cards, Osko, PayID | 10 Fiat Including USD and AUD | Over 600 | 0% to 0.1% | 0% | Vary | Visit Binance |
| CoinSpot | Bank Transfer, Fiat, Crypto, POLi, and PayID | Australian Dollars | Over 370 | Instant Buy/Sell: 1% OTC: 0.1% Market Order: 0.1%* | Direct Deposit: $0 Cash: 2.5% PayID, POLi, and direct deposits: $0 BPAY: 0.9% Direct Bank Transfer: $0 | Australian Dollars Withdrawals: $0 | Visit CoinSpot |
| Bybit | Crypto, electronic funds transfer (EFT), wire transfer, bank transfer, credit card, and debit card | 50+ | 160+ | 0.1% spot trading 0.01% – 0.06% market makers/market takers fee | $0 | Does not support direct fiat withdrawals Crypto withdrawal fees: Network fees | Visit Bybit |
| Crypto.com | PayPal, Cryptocurrency, SWIFT, Fedwire, Wise, Debit Card, Credit Card, SEPA, BPAY, Bank Transfer (ACH) | USD, AUD, SGD, and 15+ more | 250+ | 0.04% to 0.4% | $0 | FREE via bank transfer. $25 for USDC withdrawal via SWIFT Network | Visit Crypto.com |
| Digital Surge | Bank Transfer, Crypto, POLi, Osko, PayID | Australian Dollars | Over 300 | 0.1% to 0.5% | Deposit Fees Bank Transfer: $0 POLi: $2 (capped at $3.30) | $0 for AU Bank Accounts Cryptocurrency: Depends On the Network | Visit Digital Surge |
| CoinJar | Fiat, Bank Transfer, Crypto, Credit or Debit Card, Apple Pay, Google Play | Pound Sterling and Australian Dollars | Over 50 | Maker: 0.04 to 0.1% Taker: 0.04 to 0.1% | Fiat: 1.5% CoinJar Users: $0 NPP: $0 | $0 | Visit CoinJar |
| Independent Reserve | Crypto, Osko, PayID, Electronic Fund Transfer, SWIFT | Australian Dollars, US Dollars, New Zealand Dollars | Over 25 | 0.05% to 0.5% | For SWIFT Deposit: $15 for deposits under Australian $5,000 equivalent $0 for deposits over Australian $5,000 equivalent For Electronic Fund Transfer: Australian $0.99 for deposits under $100 $0 for deposits more than Australian $100 | Crypto: Fees vary Bank Transfer: $0 for AUD $20 for non-AUD | Visit Independent Reserve |
| eToro | Bank Transfer, Debit Cards, Neteller, PayPal, Online Banking, and Skrill | 15 Fiat Currencies Including USD and AUD | Over 70 | Vary | Vary | $5 but minimum withdrawal of USD50 | Visit eToro |
| Coinbase | Debit Card | More than 20 Fiat Currencies Including USD and EUR | Over 200 | Vary | Credit Card and Debit Card: 3.99% | 2.49% | Visit Coinbase |
| Bittrex | Bank transfer (ACH) | Euro and US Dollars | Over 320 | 0.25% | $0 | Vary | Visit Bittrex |
| Bitfinex | Bank Wire Transfer, Crypto, Credit Card | US Dollars, Japanese Yen, Euro, Pound Sterling | Over 200 | Taker: 0.055% to 0.2% Maker: 0% to 0.1% | Crypto: $0 Wire: 0.1% (min 60 Euro/USD) | Crypto: $0 Wire: 0.1% Express Bank Wire (within 1 day on business days): 1% (min 60 Euro/USD) | Visit Bitfinex |
| Coinmama | Bank Card, SWIFT, Google Pay, SEPA, and Fedwire | 6 Fiat Currencies Including USD and AUD | Over 10 | 2.93% to 3.9% | 0% to 5% | N/A – assets are directly sent to the user's crypto wallet | Visit Coinmama |
| Kraken | Bank Transfer, Crypto, Wire Transfer, osko, SEPA, Apple Pay and Google Pay | 7 Fiat Currencies Including USD and AUD | Over 140 | Maker: 0% to 0.16% Taker: 0.10% to 0.26% | Vary | Vary | Visit Kraken |
| KuCoin | Crypto, PayPal, Wire Transfer, Credit or Debit Card, SEPA | 9 Fiat Currencies Including USD and AUD | over 645 | 0.1% | $0 | Vary | Visit KuCoin |
| Easy Crypto | Bank transfer, P2P, POLi, OSKO | AUD | 100+ | 0.5% – 1.6% | $0 | Fiat Withdrawal fees: $0 Crypto withdrawal fees: Network fees | Visit Easy Crypto |
| Coinstash | Crypto, PayID, Bank Transfer | AUD | 410+ | 0.85% | $0 | Crypto withdrawal fees: Network fees Fiat Withdrawal fees: $0 | Visit Coinstash |
This page was last updated on July 14, 2023