CEX.io is one of the longest-tenured crypto trading platforms in the crypto industry. The platform was launched back in 2013 in the UK as a cloud mining service platform, and it wasn't long before it grew to provide over 40% of the total mining power in the United Kingdom. The platform expanded on the heels of its initial success and made its transition towards a fully-functional crypto trading platform in 2015. 


CEX.io has excellent coverage and can be accessed from most corners of the globe. Users have the choice of whether to utilise it as a brokerage on instant swaps or take advantage of its features and offerings.
The crypto trading platform is under regulation with FINCEN, which makes it completely compliant with AML (Anti-Money Laundering) and KYC (Know Your Customer) regulations. CEX.io stands as a reliable, secure and easy-to-navigate exchange. Let's take a look at what makes it shine.
CEX.io provides users with two distinct crypto purchase methods. The first and more direct one is the brokerage service, where traders can instantly swap apples for oranges, while the second one is an action-packed fully-fledged platform experience with advanced features. 
CEX.io's brokerage offering is excellent for users that don't have a lot of experience with their crypto avatars and can easily get distracted or confused by the endless flow of advanced features and charts. The crypto platform does all the heavy lifting for the users through the brokerage offering and makes it super convenient to swap one currency for another.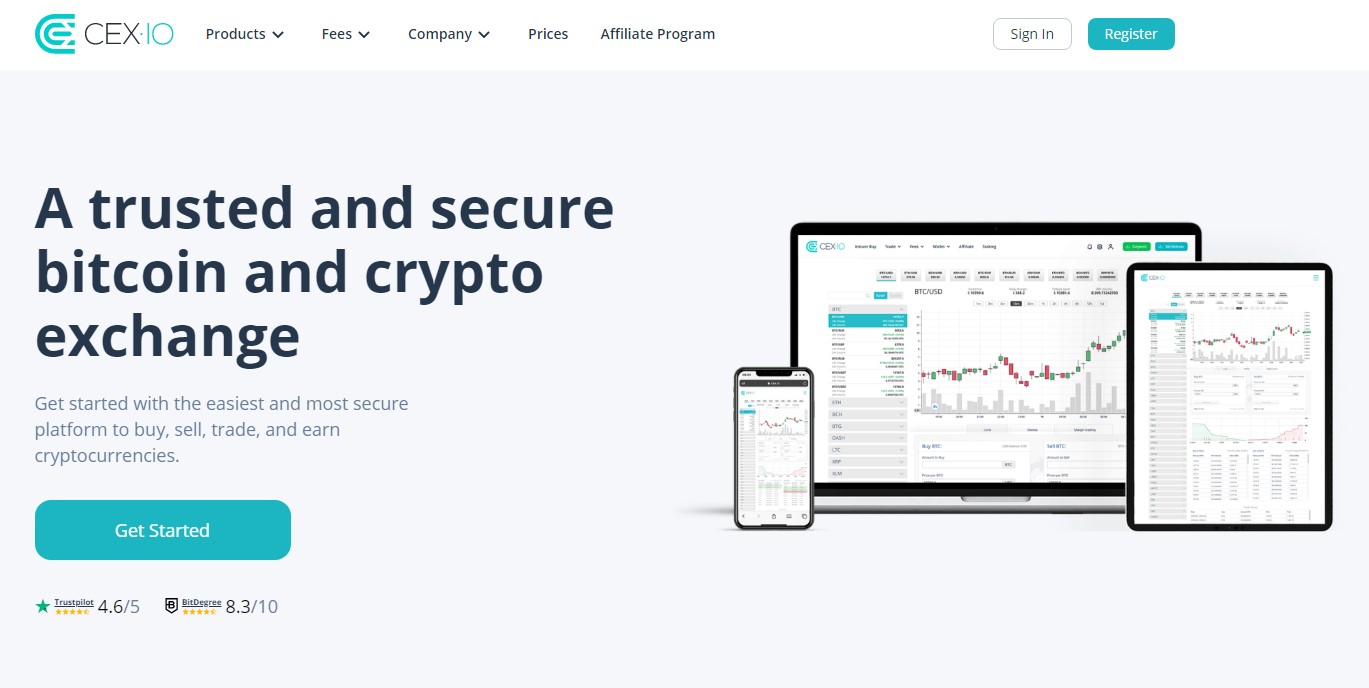 All users have to do is enter the fiat sum they wish to swap for digital goods and confirm their purchase. The transaction itself is administered by FOK (fill-or-kill) orders, indicating no customisation involved. Once that button is tapped, the trade goes through immediately.
Of course, this convenience and speed don't come at no expense. Traders should be willing to accept the higher fee structure that can potentially set them back up to 7% on purchases. However, the fees rarely go this high, but even if they do, the fee goes in line with the service that you are getting. 
CEX.io features one of the most well-built trading platform offerings on the crypto market. Veteran and experienced users can have a field day customising every last bit before setting it ablaze across the blockchain. The brokerage interface is a lot different from what other centralised crypto exchanges offer. CEX.io's brokerage feature is fully customisable, so traders can dive under the hood and tweak everything from the trading pairs to the employed price charts.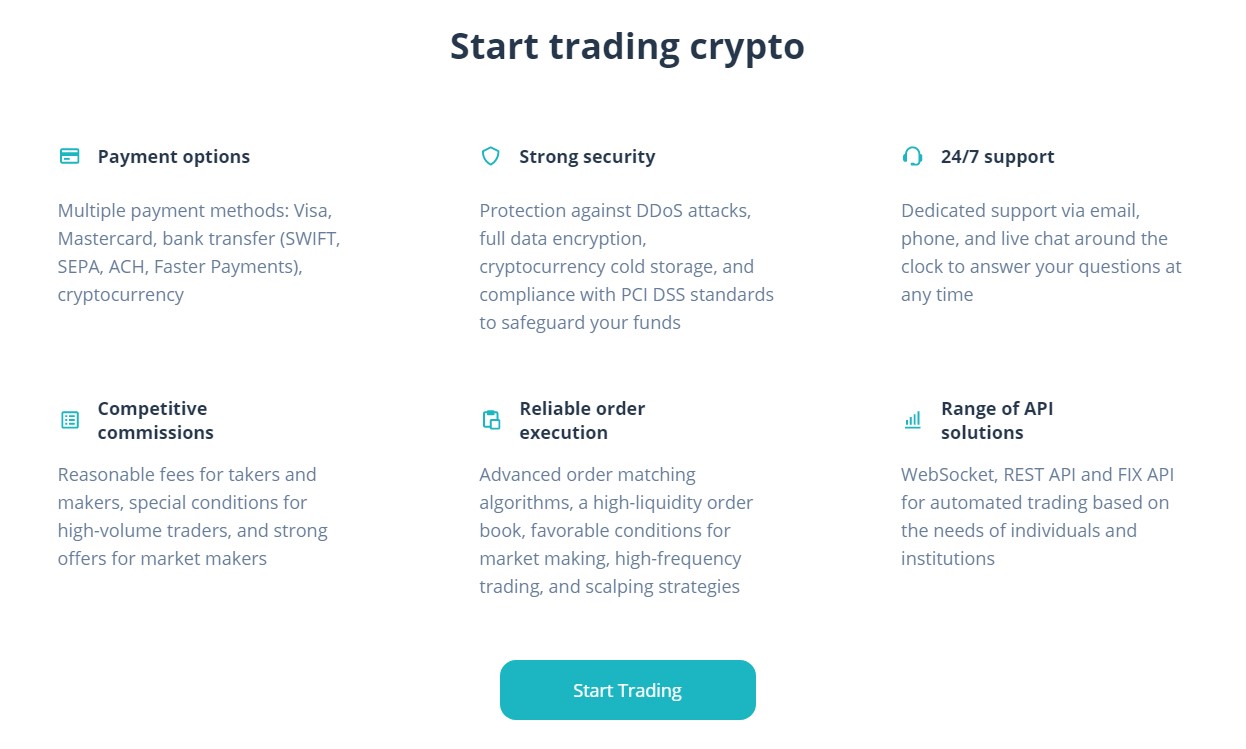 The trading platform makes it possible for users to engage in buy/sell orders and take full advantage of stop-limit orders at cross-platform swaps by making use of the platform's mobile app. The app features a synced API with its alma mater and can process and handle a lot of data. The crypto trading platform's fees fall right in the middle of the road and come at a standard of 0.25%. 
CEX.io provided its clientele with a margin trading feature up until 2019 when it decided that it would be better to separate the margin and leverage traders from the regular crypto folk. To that end, CEX.io introduced the CEX.io Broker service. The segregated brokerage offering provides users with avoidance of options, one of which is the support for CFD crypto trades. This means that gains or losses are distributed strictly on speculation and everyone's best guess.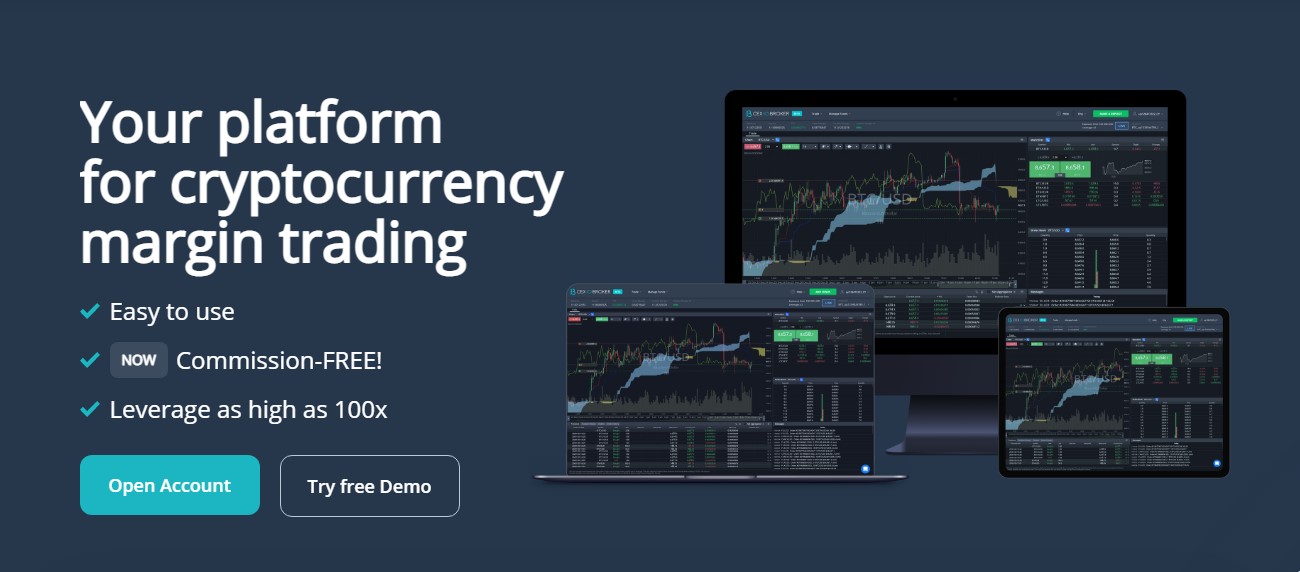 Withdrawals at CEX.io are made available exclusively in either Bitcoin or fiat currencies. So, users that have gained their digital goods as altcoins or tokens will have to swap them for either Bitcoin or fiat before exiting the trading platform's premises. The CEX.io Broker service provides users with up to 100x leverage on trades on some of the most popular currencies such as Bitcoin, Litecoin, and Ethereum. Users should be advised that they are entering this high stakes risk offering at their own peril and that things can fall apart as quickly as they can ascend. 
Supported Cryptocurrencies and Payment Methods
The crypto trading platform supports 30 cryptocurrencies through CEX.io's brokerage service. The most utilised names are featured on the list. So, traders will have no problems in choosing Bitcoin (BTC), Stellar (XLM), Dash (DASH), Bitcoin Cash (BCH), Bitcoin Gold (BTG), Ripple (XRP), Ethereum (ETH), Litecoin (LTC), and Cardano (ADA). 
All cryptocurrencies are available for purchase via USD; however, digital assets are also available in GBP, RUB, and EUR payments. Fiat deposits are administered by debit card, credit card, bank transfers such as ACH or Faster Payments, and wire transfers such as SEPA and Skrill. The latter option is only available for traders that employ GBP and EUR purchases.

CEX.io provides users with different currencies to choose from on deposits. The deposit offering between CEX.io and CEX.io Broker differs in that the regular trading platform only deals in the most popular and essential currencies and pairs like BTC/USD and BTC/GBP.
CEX.io employs a separate fee structure on trades, deposits, and withdrawals. The crypto exchange's trading fees are tied into the open position that traders enter. The biggest difference is based on whether the trader enters the position as a maker or taker. From there, the trading fees depend on the scale of the trading volume that's calculated on a monthly basis. 
Fees for makers usually go from 0.16% to a nonexistent 0.00%. As a maker, users are able to dodge the fee structure completely in their first 30 days of using the train platform's crypto exchange. Taker fees come at 0.26%; however, they can fall to a very competitive 0.10% at larger trading volumes. 
Purchase fees and fees on deposits are mostly in sync with the employed payment methods. On instant purchases that include fiat currencies and are deployed by means of credit or debit card, users can expect to be charged a hefty 2.99%. However, this is not a percentage that goes across the board, as instant swap providers such as Skrill are known to administer a 3.99% deposit fee on card purchases. Traders can also opt for traditional bank or ACH transfers, provided they can wait a bit longer for the digital assets to reach their balances.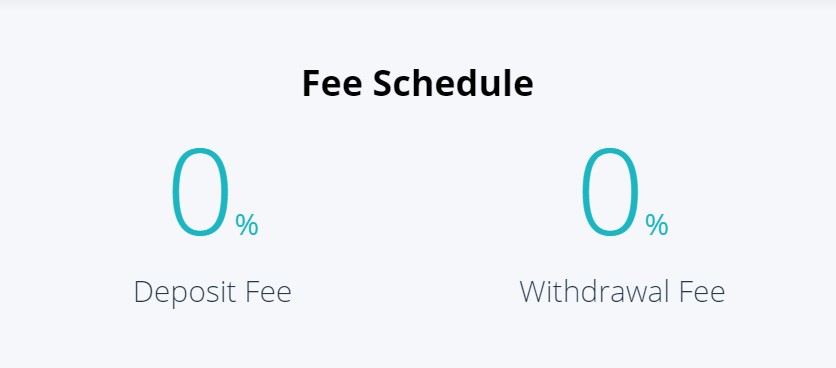 Fees on withdrawals are also mostly tied in with the method of withdrawal. For example, Mastercard administered a 1.8% + $1.20 and a 1.2% + $3.80 commission fee structure on withdrawals, while VISA values its services at 3% + $1.20 with a provision on top that can reach 3.80%. Users that opt to receive their digital funds via bank account transfers will be hit with a 0.3% fee of the sum of withdrawal and a fixed $25 on top. Skrill withdrawals are pretty favourable with a flat rate of 1%, whereas ACH withdrawals are free of charge.
The CEX.io brokerage fees are known to reach astronomical highs of up to 7% on commissions. The percentage is automatically deducted on order execution, so users have no way of knowing what they are in for until the assets drop on their balances. 
Deposit and Withdrawal Limits
The CEX.io trading platform employs different limits that directly tie into the level of their verification. The crypto exchange has four different verification levels, each one of which requires more documentation and user data. The four levels are Identity, Address, Enhanced, and Corporate.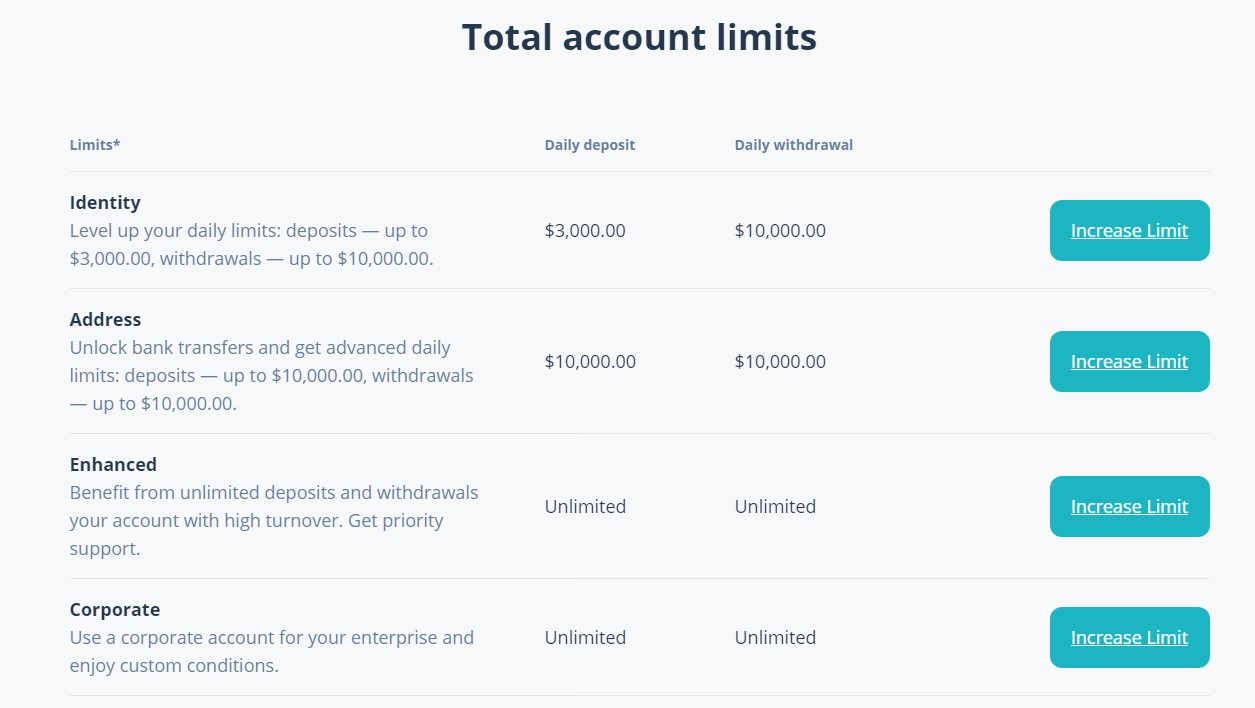 The Identity level is the most basic offering. Users that are part of it have a high ceiling of $1,000 worth of Bitcoin per day. Address verified accounts can only deploy funds to the trading exchange by means of debit or credit card. The third level, or the Enhanced level offering, asks users to provide a scan of a passport, driver's license or national ID card.
Enhanced user accounts are privy to all of the trading platforms' supported deposit methods and are exempt from the upper threshold of $10,000 on buys and the $50,000 limit on daily withdrawals. Traders will find that the Enhanced account isn't limited in any way, so they are able to make the most of what the trading platform has to offer. However, institutions and corporations are eligible for a Corporate account, which is customisable with what the institution, film or enterprise is after.
CEX.io has an excellent security infrastructure in place and provides its clients with the latest technological benefits and features such as end-to-end SSL encryption protocols and around the clock surveillance. CEX.io provides its users with an additional 2FA (two-factor authentication) layer so that they can be in the know and get notified when there is a request to log into their account or for a withdrawal request from it.
The crypto trading platform's support team is very attentive and has a great reputation. CEX.io has built an excellent support system that can be reached by means of email, phone number, their official social media platforms, as well as the real-time chat feature. The trading platform's support team is very attentive and usually resolves quarries within the hour.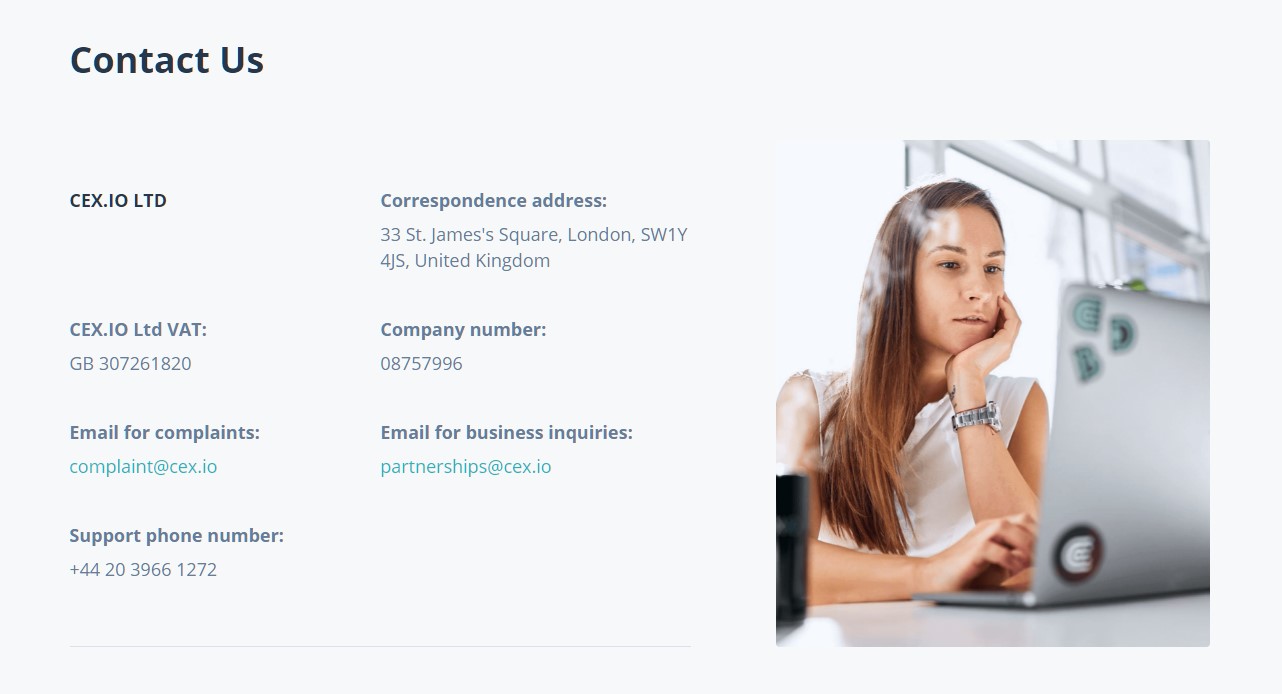 Frequently Asked Questions
What payment methods does CEX.io support?
When it comes to deposit methods and payments, CEX.io provides its clientele with a wide palette of options to choose from. Users are able to make the most out of credit cards and debit card payments, utilise the speed of instant swap providers such as ACH, SEPA, Epay, SWIFT, Advcash, QIWI, and Skrill, make their deposits via traditional bank transfers, or revert to wire transfers. It's noteworthy to mention that not all of the listed deposit methods are available worldwide, so users should always double check if their territory has the deposit method that they are after before signing up. 
Can you buy crypto using your credit card?
Yes, CEX.io makes it possible for traders to deposit funds via credit or debit card. Credit card purchases come at a reasonable 2.99% per deposit. This number is even lower for UK clients and comes at a very affordable 1.49%. 
Does CEX.io come with a wallet?
Yes, the trading platform does come with a native web crypto wallet where users are able to directly store their digital assets upon acquiring them. Nevertheless, it's always safer to store funds in hardware wallets that provide cold storage and keep funds away from malicious attacks, scams, frauds and hack attempts.
What countries does CEX.io support?
CEX.io stands as an international crypto exchange that provides its services worldwide. Traders will be able to find the exchange online from across 150 countries, including most of Europe, the US, and Australia, nevertheless the platform's coverage of Asia and Africa is not as inclusive, so potential users are advised to look up their territory on the platform's unsupported countries list in order to escape taking the VPN route that can be quite unforgiving.
Does CEX.io have a mobile app?
CEX.io does feature an app offering for Android as well as iOS mobile devices. The app is based and closely mirrors the official platform. It makes it possible for users to engage in instant swaps and take full advantage of the CEX.io tools and features on advanced trading. Users are also able to keep track of their orders and keep their eye on their complete trading history, wherever, whenever. 
A Few Words Before You Go...
As we can see, CEX.io is a very capable cryptocurrency exchange that provides users with a stable platform where they are able to buy Bitcoin and enjoy high liquidity on trades. 
The trading platform's verification process might prove to be tedious to some; however, there is no need to go all the way and activate a higher level of verification if you aren't dealing in high volumes or do not require specific payment options. The trading platform also comes in an app format available for Android, iPad, and iPhone devices.
This page was last updated on August 23, 2022