Finding a suitable crypto exchange today is much more challenging than the purchasing process itself. There are so many crypto exchanges out there that you can't pick the right one based solely on its description and market cap.  
No hassle though, half of the work is done once you become aware of the different types of exchanges based on their operational model — centralized exchanges (CEX) as opposed to decentralized exchanges (DEXs).


In a nutshell, some cryptocurrency exchanges are run by a centralized corporation and provide financial services similar to those provided by banks. Such centralized exchanges usually feature intuitive UI designs and offer storage room for your funds on the platform. DEXs, on the other hand, do or act upon the basic blockchain principles and facilitate transactions without serving as an intermediary between the buyer and the seller. 
Interestingly enough, Changelly is somewhere in between. It refers to itself as a decentralized exchange because of its lack of asset custody but at the core, it still operates as an intermediary between participants. Having taken the best of both worlds, the Changelly evolved into a busy marketplace, best recognized for the prompt cryptocurrency swaps and fiat-to-crypto purchases and sales.
If that's what you're looking for, stick with our informative review and find out everything you need to know before landing on Changelly. 
Changelly has been present on the crypto scene since 2013. It was released as a start-up product of MinerGate — a leading Bitcoin mining pool — and the very next year, Changelly was transformed into an independent crypto exchange encouraged by the positive feedback received from the global crypto community. The exchange underwent fundamental technological changes in 2016 and since then, it has reached over 2 million users across the globe with a spotless record in terms of security breaches, users' scams or any other forms of hacks. 
The exchange runs under the umbrella of Fintechvision Limited, a Hong Kong-based company that's currently led by Eric Benz — a renowned fintech expert with a decade of experience in the crypto business.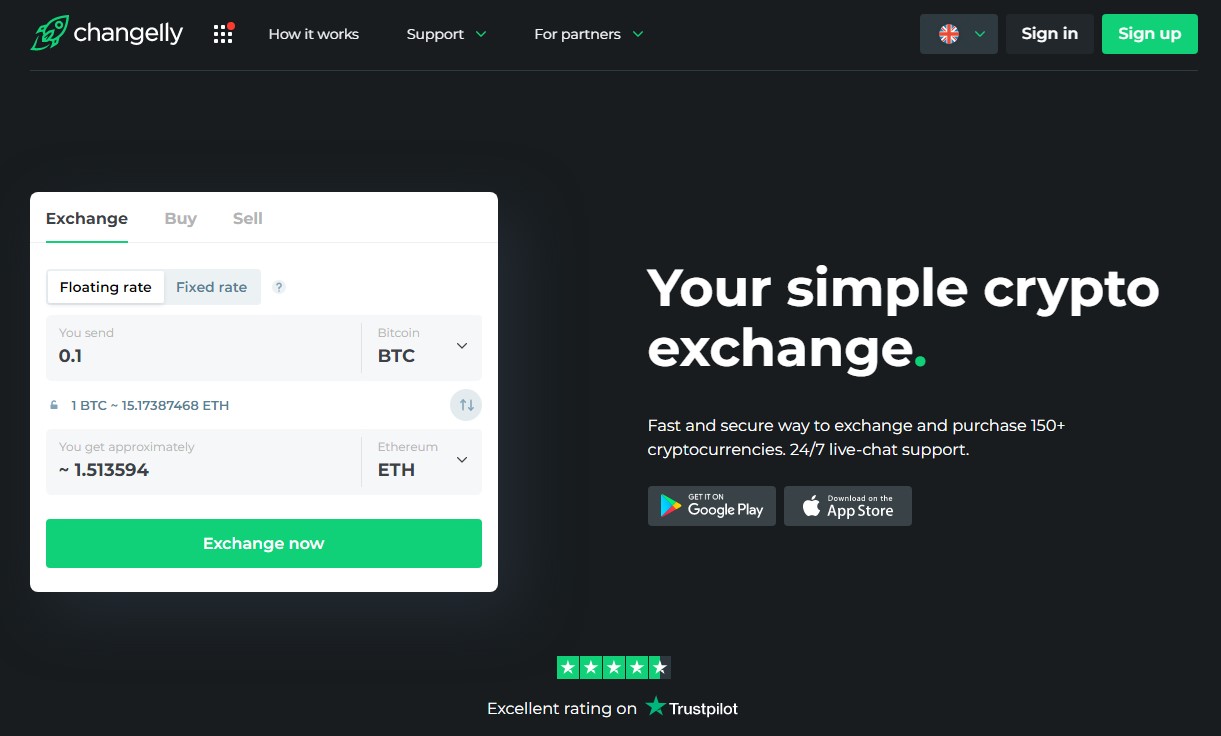 Today, Changelly has a clearly defined scope of operations — providing a user-friendly environment for a large array of crypto swaps and several convenient options for fiat purchases. 
The entire process consists of a few steps and can be done in no time. Since the exchange doesn't offer any wallet services, the major step is to connect your independent crypto wallet to your Changelly account. When done, select a trading pair you want to swap and check the exchange rate. Changelly's trading algorithm will make bids on its liquidity partner- exchanges (industry leaders like Binance, Poloniex, HitBTC, and Bittrex) and show you the best price available. Hence, you don't have to be a crypto specialist in order to make the first transaction on Changelly. 
Finally, the exchange offers easily-adjustable widgets and API to other services, which means that you might integrate features from the Changelly exchange directly into your applications.
The best thing about Changelly is that the team behind is continuously improving the platform's set of tools and services to make users comfortable regardless of whether they use the platform to buy, sell, swap, or earn a return on their crypto investments. Here you can find the most useful trading features of Changelly. 
The trading fees on bitFlyer are among the lowest in the market. They fluctuate based on the quantity of the trade, but they stay minimal even at the small end of the trade-size range. Furthermore, bitFlyer fees vary depending on your region, which means that bitFlyer Japan, bitFlyer USA, and bitFlyer Europe all have distinct pricing schemes.
No matter how much crypto-experience you've already gained, you'll certainly enjoy the intuitive user interface of Changelly. As mentioned above, all you have to do is select the coin in your wallet and the coin you want to swap it with. The exchange system will automatically calculate the amount of crypto you'll get after the platform finds the best match for your order.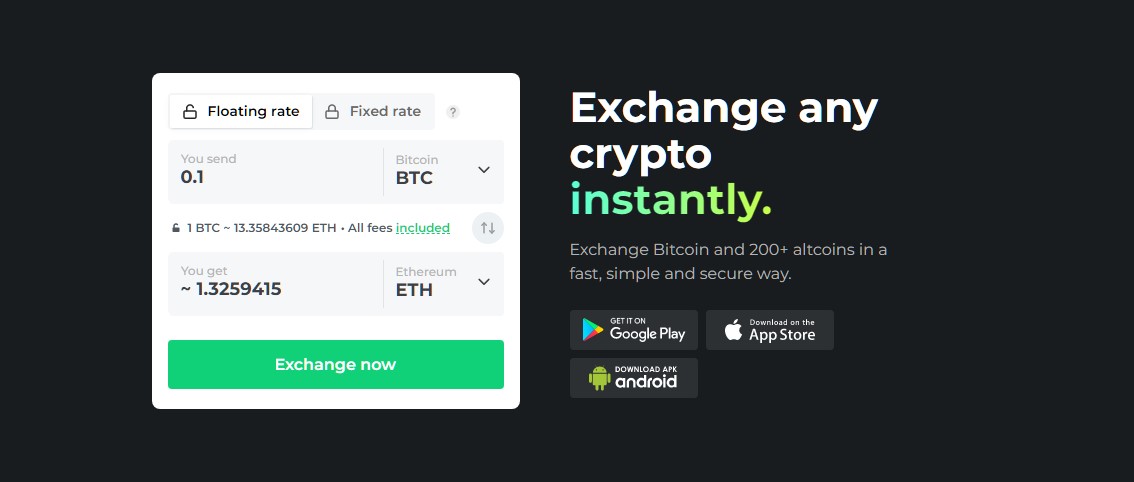 Once you confirm your order form, Changelly will also show you the exchange fee and the network fee directly deducted from the total amount deposited to your crypto wallet. On top of that, the exchange will provide you with information about the estimated completion time depending on the current blockchain congestion.
If you don't own any cryptocurrencies, Changelly provides an equally convenient entry-level market where you can buy one of the supported cryptocurrencies in a time-efficient and smooth manner. When it comes to fiat payments, the Changelly exchange uses the services of the following payment processors: Simplex, MoonPay, Indacoin, and Banxa, which offer various possibilities for purchasing cryptocurrencies using your debit card or credit card and wire transfers through your bank account. The exchange accepts payments in USD, EUR, and GBP.
At this point, it's important to clear up all that fuss about anonymity and KYC verification. Changelly is one of the few marketplaces where you can still set off without an identity check. When opening an account, the exchange will only ask you to provide an email address in order to be able to activate 2FA (two-factor authentication) for security purposes. However, the supported third-party money transmitters come with their own regulatory policies, all of which do require an obligatory KYC verification. For more detailed information, you should read the article on the Changelly official blog, which lists limits and verification tiers for each supported provider.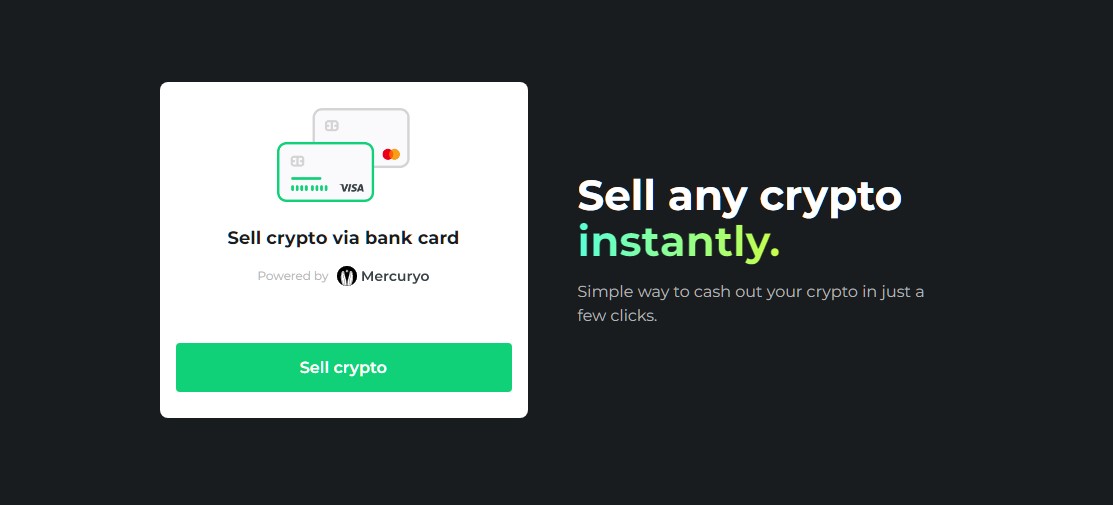 Also, KYC may be required on certain occasions if the transaction is marked by the Changelly risk scoring system. Luckily, the KYC process is relatively simple and will take no more than a couple of minutes from your time.
Floating vs. Fixed Exchange Rates
The crypto market never sleeps, which isn't the case with traditional investment markets. To some level, this can be considered a great advantage for restless crypto traders but it also means that exchange rates and prices on the market can change in the spur of the moment.
Thereby, Changelly offers a unique opportunity to lock your exchange rate with some of the most dominant altcoins. Thus, when trading on the exchange, you can choose between floating and fixed-rate pricing. If you go for the first, you'll pay the current conversion rate, while the fixed rate will allow you to trade with a pre-set favourable exchange rate that you can hold for up to 30 seconds until you close the ongoing transaction. 
In 2020, the Changelly team released a Pro Version that offers a professional trading platform that operates on a fully centralized model. Changelly Pro is a Seychelles-registered entity that delivers a sophisticated trading terminal with all the necessary in-depth trading tools, a highly-protected account, and a multi-cryptocurrency wallet.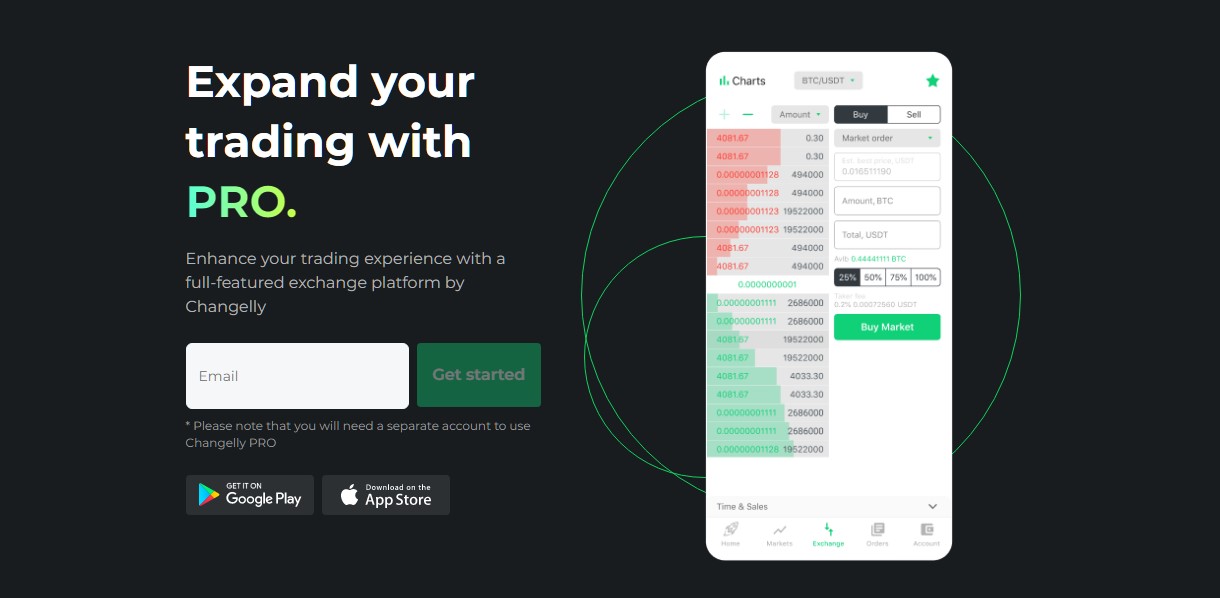 The fees on these types of exchanges are significantly lower than the fees you'll find on exchanges that offer retailer-like instant purchases and sales. The Changelly Pro platform fee system doesn't distinguish between makers and takers, so trading fees start from 0.10%, which is below the industry standard of 0.20%-0.25%. However, they can be drastically reduced based on the trading volume in the last 30 days. Maker fees can fall down to 0% while taker fees can be lowered up to 0.03%. 
As Changelly Pro is a custodial exchange, users will also have to pay a small withdrawal fee depending on the cryptocurrency. For example, it costs 0.0004 BTC for Bitcoin and 4 USDT for USD withdrawals.
Supported Cryptocurrencies
Changelly is a quite versatile marketplace that supports over 230 different digital assets. These include chart-topping cryptocurrencies such as Bitcoin (BTC), Ethereum (ETH), Ethereum Classic (ETC), Litecoin (LTC), Dogecoin (DOGE), EOS, Ripple (XRP), Dash (DASH), Bitcoin Cash (BCH), and Stellar (XLM) as well as a broad range of ERC20 and ERC223 tokens.
Thanks to its non-custodial nature, Changelly has attracted plenty of users who are intimidated by leaving their holdings on an in-exchange wallet, as it means that your private keys will be in full ownership of the exchange.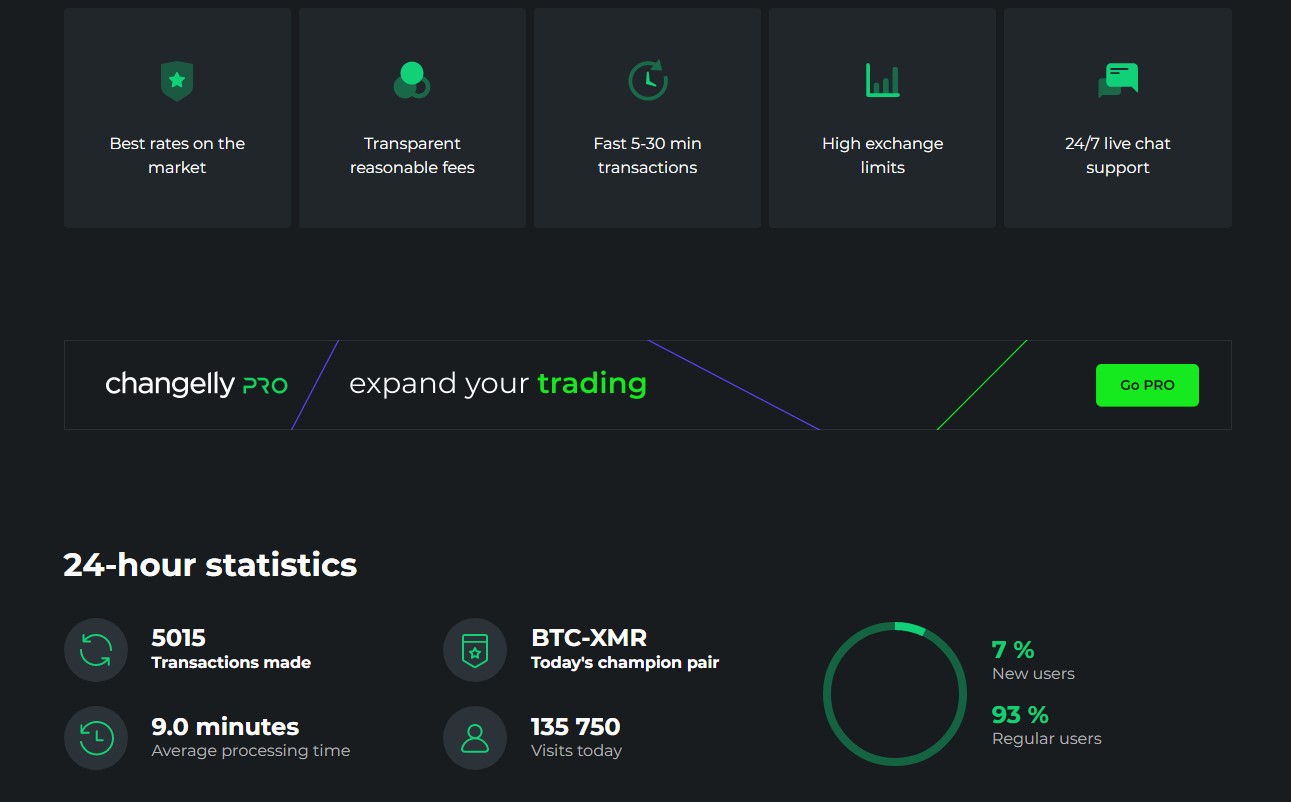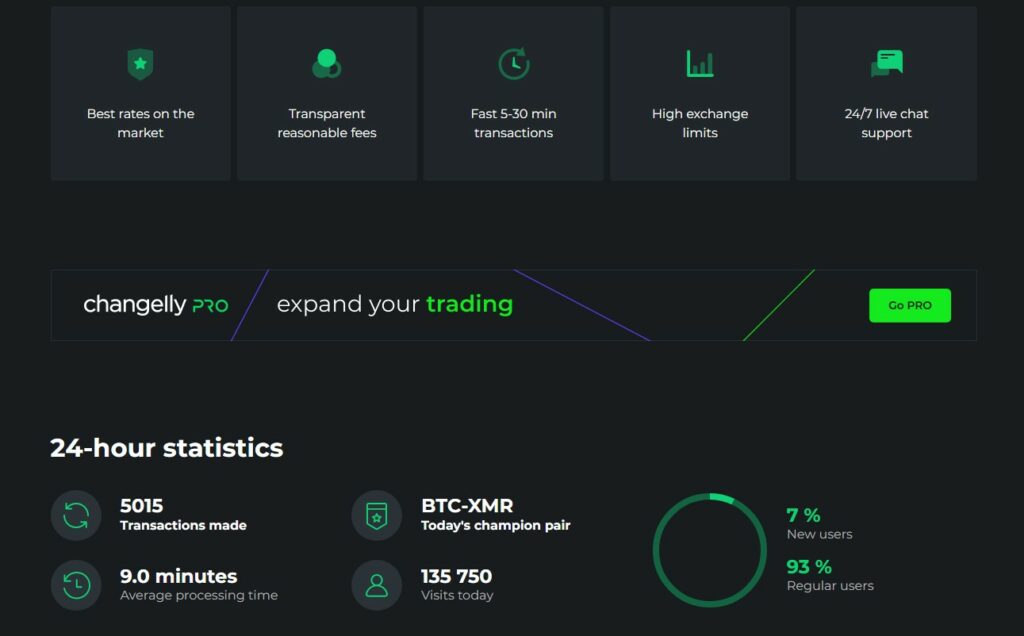 Instead of holding users funds, Changelly integrates with a range of independent crypto wallets including Exodus, MyEtherWallet, Ledger, Coinomi, Freewallet, Edge Wallet, Trezor, Infinito Wallet, Enjin Wallet, NEM XEM Nanowallet, Lumi Wallet, Trust wallet, Atomic Wallet, Jaxx, BRD wallet, Huobi Wallet, ELLIPAL, and Mycelium.
The exchange is exceptionally upfront when it comes to pricing and charges a fixed fee for all crypto-to-crypto trades. As mentioned in the Features section, users don't need to calculate fees manually as they are automatically factored in the rate when making an order.
Until 2019, Changelly incurred a fee of 0.50% but in order to maintain a competitive edge, the fees were reduced to 0.25%, which makes the platform one of the cheapest marketplaces for instant trading. However, there are different rates when your trade involves fiat currencies. Changelly charges a fixed fee of 5% regardless of the cryptocurrency you buy or sell against fiat. 
Deposit and Withdrawal Fees
There are no deposit fees on Changelly except for the transaction fee, which is incurred when the exchange is executed. Similarly, as Changelly doesn't hold your funds on its platform, there are no withdrawal fees as well. 
Because of its non-custodial disposition, Changelly leaves the security of your crypto assets in your hands. On one hand, it can be really comforting as you'll never be a central point for scammers to attack.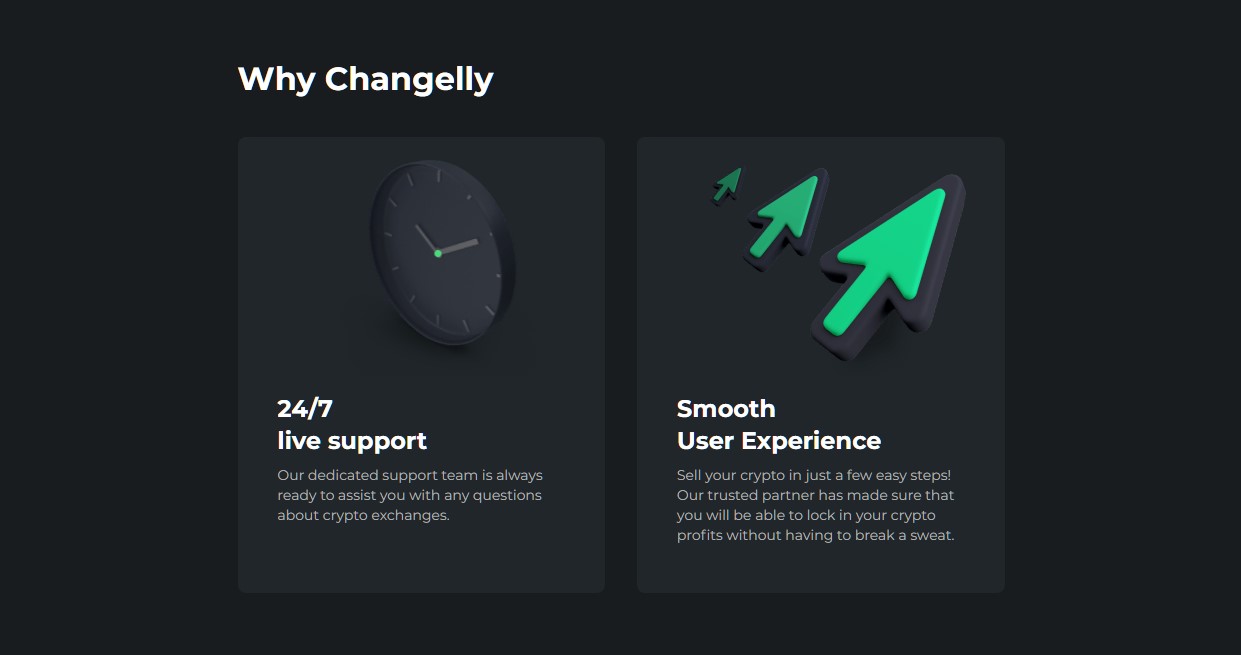 On the other hand, this raises the question of what's the most reliable crypto wallet? The choices in this area are also overwhelming but you can't go wrong with a one-off investment in a hardware wallet. Fortunately, Changelly is compatible with quite a few cold wallets that will keep your coins safe and outside the reach of online hazards. 
For account security, Changelly supports and recommends that you enable 2FA (two-factor authentication).
There are mixed-up reviews about the reliability of Changelly's customer support, ranging from poor to excellent. Technically, the Changelly customer-care department leaves a positive impression because their website is available in 12 languages (English, Spanish, French, German, Turkish, Portuguese, Russian, Korean, Arabic, Chinese, Hindi, and Japanese) and because they offer multiple means of communication. These include real-time chat, email for specific inquiries, and a support ticket. 
Finally, you can always rely on Changelly's extensive knowledge base that's accessible on their website. 
Frequently Asked Questions
How long does it take to swap coins with Changelly?
According to the exchange, a typical swap can take between 5 to 30 minutes. The time may be prolonged if Cangelly finds your trade subject to the KYC check.
How many confirmations does Changelly accept?
Transactions have to go through at least two confirmations so that the exchange can start processing your transaction.
Does Changelly have a mobile app?
Changelly features one of the best mobile apps (for both Android and iOS users) for crypto trading as the nature of the crypto-exchange services it provides can be easily transferred to a small screen. The app provides nearly the same intuitive design as the original web-based platform (changelly.com) and full on-the-go functionality for instant swaps and fiat-to-crypto trades. 
Is Changelly legit or a scam?
Changelly is one of the safest crypto exchange platforms out there. As a long-lasting marketplace, the exchange has no history of security breaches or other online frauds.
A Few Words Before You Go...
The Changelly exchange has been "conquering" the crypto ecosystem with its simplicity and speed. Despite the increased integration of innovative investment practices and sophisticated trading views, there will always be plenty of crypto users who prefer instant trades without manual settings of the transaction parameters.
The platform is an excellent solution for the audience it targets — both beginners and busy professionals who want to take advantage of the automatic records. It offers a full package of an intuitive user interface, reasonable fees (except for credit card purchases) and a great number of supported cryptocurrencies.
If Changelly does feel right for your individual needs, you better start the hunt for a trustworthy wallet to link to the platform as soon as you get onboarded with Changelly.
This page was last updated on August 23, 2022