Changelly vs ShapeShift 2023
A suitable crypto trading platform must meet several requirements for a trader to have a successful, safe, and profitable trading experience. However, choosing the best trading platform is not as straightforward as checking the features off your list since many of them share similar features. 
The purpose of this review is to provide you with a direct comparison of two of the most popular instant crypto trading platforms on the market and to assist you in selecting the most appropriate one for your crypto trading requirements. To begin with, let's take a closer look at both Changelly and ShapeShift before we compare and contrast their features and offers.
About the Crypto Exchanges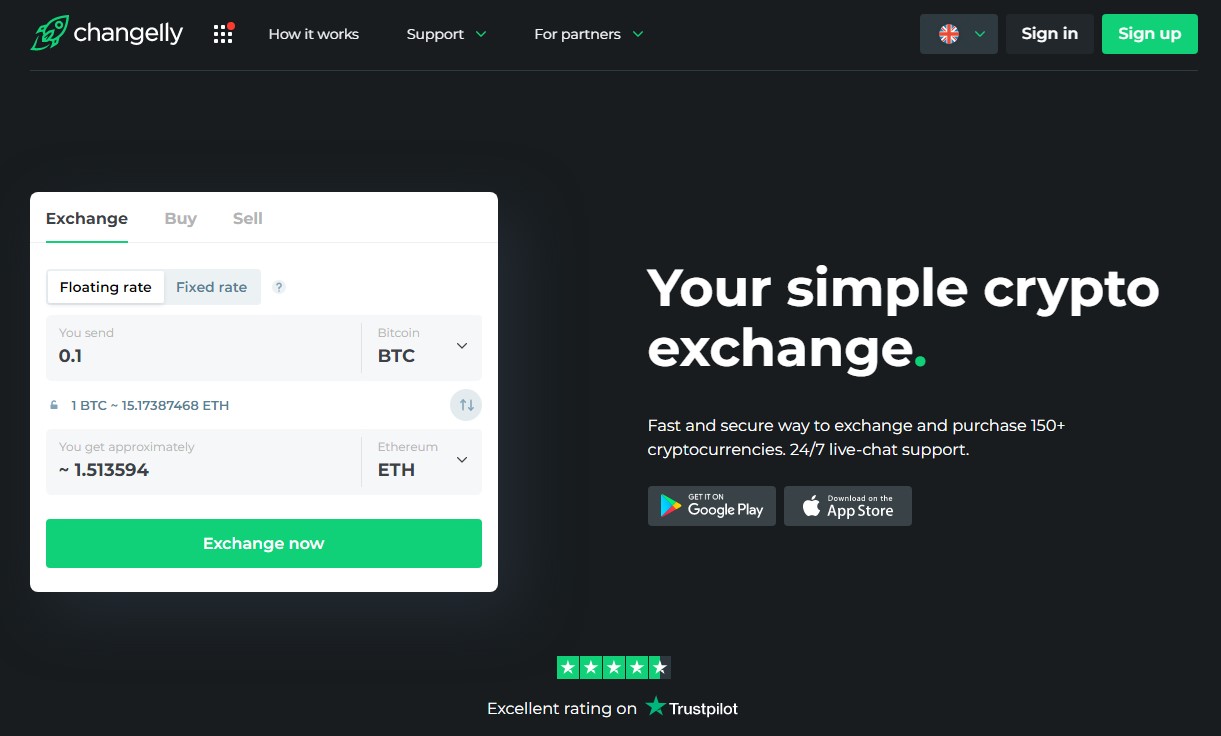 Using Changelly, you can instantly purchase and sell cryptocurrencies with your credit card or debit card. This crypto exchange offers some of the lowest crypto-to-crypto exchange rates and lists over 200 different cryptocurrencies available for trading via the platform. 
When you select a trading pair, the platform automatically searches for the best exchange rates provided by its liquidity partners, such as Coinbase, Bittrex, or Binance. Also, this non-custodial platform does not hold any of the users' funds and does not require its clients to deposit before they start trading on the Changelly platform.
While the Changelly trading platform provides financial services suitable for both beginners and experienced traders in the crypto industry, there is a separate Changelly Pro platform where professional traders can use more sophisticated trading tools to execute intricate trading strategies.

ShapeShift was founded in 2014 by Erik Voorhees, one of the first Bitcoin and cryptocurrency proponents. Even though it started as a CEX project, ShapeShift is now a partially decentralized platform. The exchange's ultimate goal is to become a fully open-source cryptocurrency trading platform. The developers made this shift to fulfil the main vision of Voorhees, who imagined this crypto project as a 'borderless financial system built upon open, decentralized protocols'.
Based in Switzerland, with headquarters in the UK and the USA, this instant cryptocurrency exchange allows customers to instantly purchase their favourite coins using fiat currency while maintaining control of their private keys. Among the financial services ShapeShift offers, the most popular ones are:
Zero-commission crypto trading;
The best rate possible using the 0x DEX aggregation;
Earning interest by facilitating the exchange of the FOX token and Ethereum (ETH);
KeepKey wallet storage support for your digital assets;
Swift coin exchanges, purchases, or transfers, without a trading account or KCY requirements;
THORChain integration for cross-chain swaps, including Bitcoin (BTC), Litecoin (LTC), Dash (DASH), Monero (XMR), Dogecoin (DOGE), Ethereum (ETH), and more.
The FOX token is the native loyalty and governance token of the ShapeShift trading platform, used to support the site's operations. The holders of the FOX token can participate in the decision-making processes of all crucial aspects of the project's development, including its future direction and growth. 
In addition, FOX tokens are used for reimbursing some percentage of the gas fees paid to the Ethereum blockchain network. 
Supported Cryptocurrencies
ShapeShift is a better option for crypto investors who like to be spoiled for choice regarding the number of supported cryptocurrency projects. The exchange lists more than 750 cryptocurrencies supported across 11 blockchains that form over 1,000 trading pairs. On the downside, ShapeShift does not support fiat currencies. 
On the other hand, Changelly offers fewer coins (around 200), as well as three fiat currencies for buying crypto: Euro (EUR), British Pound Sterling (GBP), and the US Dollar (USD). 
You can make deposits and purchase digital assets on Changelly with the aforementioned fiat currencies through a bank transfer, bank card, or Apple Pay.
ShapeShift is a crypto-only exchange that doesn't support any of the fiat currencies for buying Bitcoin or other altcoins. The lack of fiat support is mainly due to its decentralized nature, which lacks financial regulations restricting fiat currency services. 
The Changelly cryptocurrency exchange charges a flat 0.5% fee for all cryptocurrency purchases, sales, and trading conducted through its platform. However, the flat fee does not apply to fiat trading, which may come at a higher cost to the trader. The Simplex payment provider also charges 5% on top of Changelly's 5% flat fee and can be considered a hidden fee. 
This exchange will charge you a miner fee if you're trading digital currencies through ShapeShift. More specifically, ShapeShift's fees are directly proportional to the condition of the blockchain of each cryptocurrency involved in the transaction. 
Are Changelly and ShapeShift Safe to Use?
The Changelly trading platform enables clients to discreetly and instantly trade cryptocurrency without exposing their credentials. A verified e-mail address is the only requirement to open a trading account secured by a 2FA protocol and exchange coins through the Changelly platform. 
Making its mark on the crypto market as a fully decentralized and open-source exchange, ShapeShift, on the other hand, provides instant coin swapping widgets on its platform that require no sign-up, allowing users complete anonymity. No personal data is shared with the third parties through the Shapeshift exchange platform, and there isn't KYC verification, so the chances of confidential data exposure is minimal. Since these are non-custodial trading platforms, the users are in complete possession of the private keys, and the platforms don't hold any of the users' funds. 
While both of these crypto exchanges are guarded with tried and tested security methods, in practice, ShapeShift has suffered a couple of significant attacks on their servers and hot wallets, resulting in the loss of users' assets and breach of privacy. 
After further investigation, the authorities discovered that the primary suspect was a former employee of the exchange who supported an outside hacker in completing their nefarious operation. In response to this, the entire site was taken offline and subjected to a forensic examination, during which ShapeShift was able to retrieve part of the stolen funds.
Changelly, on the other hand, has not experienced any security breaches or cyber-attacks on its platform since its launch in 2015.
Changelly and ShapeShift provide dedicated 24/7 customer support to their users and extensive knowledge centres that include a FAQ area. If the pre-answered questions do not provide you with a solution, you may contact the support teams of these exchanges by creating a ticket explaining your issue.
While Changelly's support team is readily available, you might have to wait a couple of days or more for a response by the ShapeShift team, judging by the TrustPilot reviews shared by users. 
Do Changelly and ShapeShift provide a mobile app?
Yes. These exchanges have mobile apps compatible with Android and iOS operating systems and are available to download from the relevant Internet stores.
Do both platforms provide cryptocurrency wallets?
Changelly and ShapeShift have differing storing solutions for user assets. 
For instance, KeepKey is a multicurrency USB hardware wallet interconnected with the ShapeShift crypto exchange. You will have complete autonomy over your coins if you use this wallet, as there is no way for a third party to freeze or move your digital assets out. The KeepKey user is the only person who has access to the private keys of this digital wallet. Besides that, KeepKey has implemented ERC20 compatibility that can store well over 30 ERC20 tokens.
When it comes to Changelly, the trading account on this site does not include a digital wallet. Changelly only acts as an intermediary between Bitcoin exchanges and cryptocurrency investors. On the other hand, users can connect some of the most popular digital wallets, including Ledger, Trezor, Coinomi, or Jaxx, to this platform, boosting the security of their digital funds on the site.
Having made the side-by-side comparison of Changelly and ShapeShift, the general impression is that both exchanges have their strengths and weaknesses. 
When it comes to security, the most crucial aspect of a crypto trading platform, Changelly fares better than its competitor. Changelly mandates a two-factor authentication protocol for each trade done via its platform, whereas ShapeShift doesn't even require a trading account or KYC verification.
What's more, Changelly's superiority over ShapeShift prevails in practically all other elements of comparison. While some crypto traders may prefer the privacy and speed of transactions provided by the ShapeShift exchange, many favour the user-friendly Changelly platform, which includes dependable customer support and a spotless background, free of security breaches or cyber-attacks. 
Finally, the virtual space is full of hackers and other malicious actors that will try their best to steal user funds, regardless of the security measures implemented in a trading platform. Thus, we strongly advise you to make sure you've done your part to safeguard your assets personally irrespectively of the exchange you choose.
This page was last updated on August 23, 2022