When it comes to the best Bitcoin and crypto exchanges in Australia, Coinbase is a standout because of its user-friendly interface and dedication to security. Read our Coinbase review to find out whether Coinbase could be the best option for your crypto investment. 

The popularity of investing in cryptocurrencies has increased dramatically in recent years. Hundreds of cryptocurrency exchanges have sprung in all over the world to handle the increasing demand. With numerous trading options that it's difficult to locate the perfect exchange. No matter if you're a novice in crypto or an experienced investor Coinbase is an excellent cryptocurrency trading platform.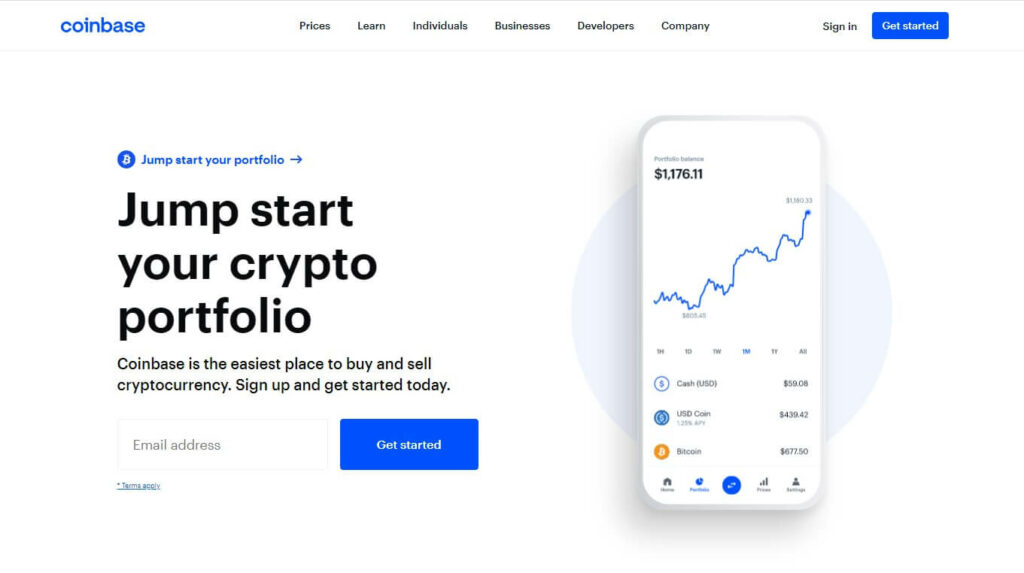 Coinbase is the most popular cryptocurrency marketplace within the United States and among the most popular in the world, including Australia. The company based in San Francisco was founded in 2012 which makes it among the longest-running and most trusted cryptocurrency exchanges in the marketplace. It provides a basic platform for beginners and the more sophisticated service for traders with experience.
Coinbase Pros
A low minimum amount is required to fund your account.
It is simple to use for beginners in cryptocurrency
Support for a wide range of cryptocurrency 
Earning opportunities to get cryptocurrency
Lower rates are available when you sign up for Coinbase Pro
Simple and sophisticated trading
Earn free cryptocurrency
Educational content
The top-rated mobile app
Crypto-rewards
Offers Coinbase debit card
Coinbase Cons
The fees are higher than those of other exchanges that accept cryptocurrency.
Potentially high transaction costs
About Coinbase
Coinbase was established in the year 2012 by Brian Armstrong, a computer engineer as well as Fred Ehrsam, a financial trader. They began buying and selling Bitcoins at the end of 2012, and soon gained millions in venture capital investment. In 2014 Coinbase was already home to 1 million customers, and had grown to over 35 million by the end of January 2021.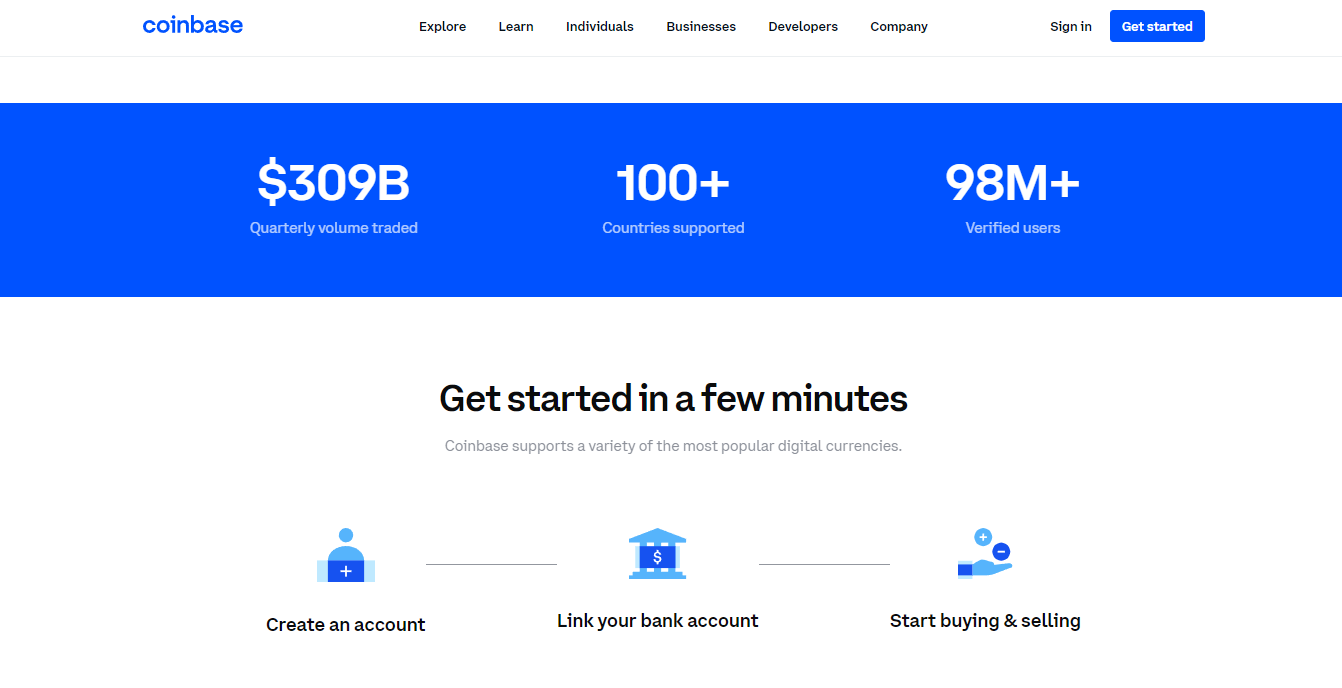 Coinbase has grown in its popularity over time through its positioning as a secure option amid a sea of less secure cryptocurrency exchanges. Coinbase claims that, unlike the majority of its competitors–it hasn't been targeted by hackers.
Coinbase adheres to strict the laws and regulations that govern it that are quite remarkable for a company in the largely unregulated crypto sector.
Coinbase has made it simple for its customers to purchase or sell crypto, making it a top option for those who are just beginning to learn about trading in crypto.
The app's user-friendly interface is one of the most popular free apps available on both the Apple as well as Google Play stores. It also has some of the lowest account minimums in the business and has been able to make Coinbase popular among new traders.
The company provides a variety of options, but its most popular service lets people buy and sell cryptocurrency using an account at a bank as well as a debit card. Although the company states that it's goal is to build an open system of digital currency however, it functions more like an established centralized brokerage. The company earns the majority of its profits through the charging of fees for its exchange as well as brokerage services.
Coinbase is the largest and most well-funded cryptocurrency trading platform across the United States. Coinbase's success has enabled it to shake the cryptocurrency market. Coinbase can cause market volatility simply by introducing new cryptos to its huge customer base.
Trading Platforms
Coinbase offers two major trading platforms: Coinbase as well as Coinbase Pro.
Coinbase allows users to buy and sell crypto by using normal money (also called fiat) via your debit or bank account. Coinbase also lets users to keep their cryptocurrency in a vault that is password-secured. The platform is simple and simple, which makes it a preferred option for traders who are just beginning their journey.
Coinbase Pro: has all the functions of the base service and additional features. It's specifically designed for institutional as well as professional traders that participate in the cryptocurrency market on the highest level. It has more features than the traditional platform and comes with lower costs. It also offers more cryptocurrency than the base platform.
Coinbase Wallet
If you're searching for an online cryptocurrency wallet, Coinbase is also a good choice. Coinbase recently released an app for mobile devices that functions as a wallet, providing users secure access to their funds each of Android or iOS. Coinbase also provides plug-ins to the majority of major CMS platforms, allowing merchants selling online to accept cryptocurrency using Coinbase. Vendors that want to offer diverse payment options for their customers can gain from this option. The supported platforms are Shopify, Magneto, and WooCommerce.
Payment Methods
In terms of payment options, Coinbase offers a huge variety of options, which include bank transfer, credit card, Visa debit card, SEPA as well as wire transfers. You can also make withdrawals from the PayPal account, but at the moment it is not possible to purchase through the service. You can purchase Bitcoin using fiat currencies such like USD, EUR, and GBP.
Supported Cryptocurrencies
Coinbase offers 32 cryptocurrency on its base platform, and the 36 currency options on Coinbase Pro.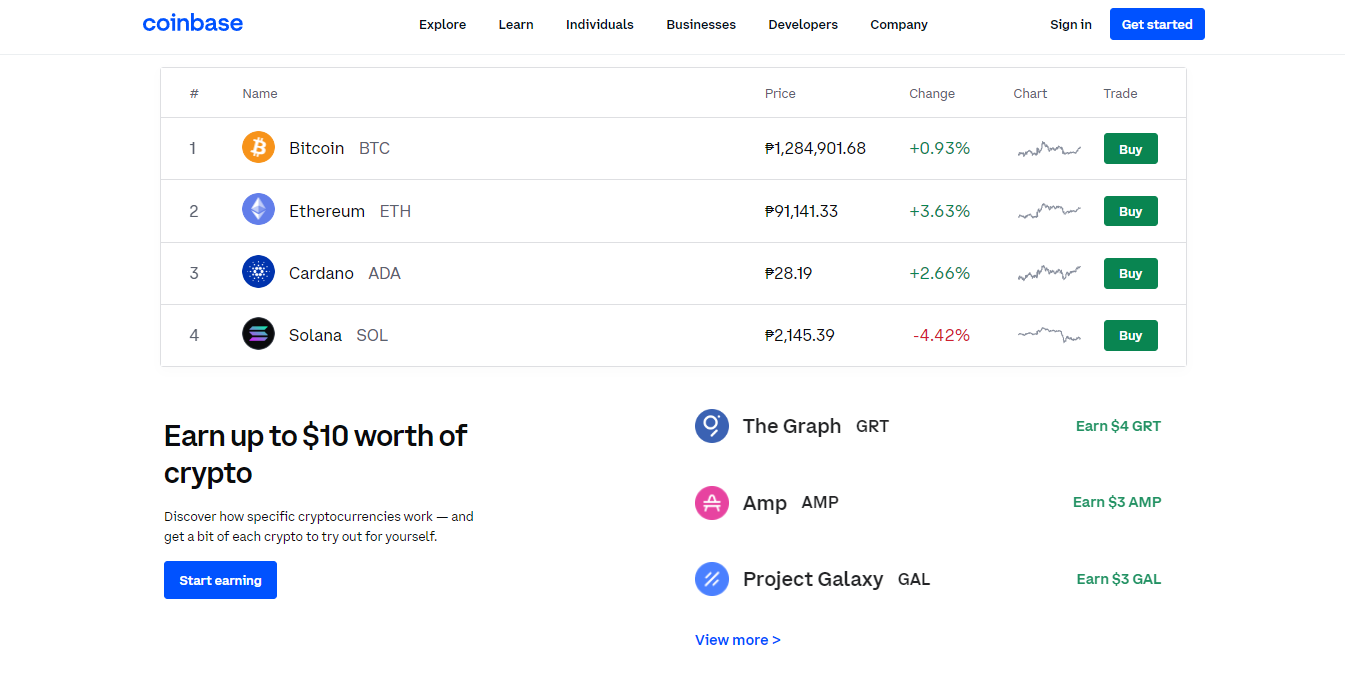 The most well-known currencies that are supported by the base platform are:
Bitcoin
Bitcoin Cash
Ethereum
Litecoin
Uniswap
Stellar Lumens
Ripple
Coinbase lets you purchase cryptocurrency using its services. Once you have created an account for free, you connect Coinbase directly to your account at a bank, debit card as well as your PayPal account. It is also possible to use wire transfers.
Wire transfers and bank accounts allow for higher purchasing limits however, it can take several days to get the money transferred in the Coinbase account. The debit card and PayPal limit purchases are set at lower limits, but they permit instant purchase.
The crypto you purchase is purchased through the trade function on the platform. You have the option to purchase, sell or exchange crypto. When you make a purchase, you must select the crypto you're interested in, as well as the amount you want in actual (fiat) dollars. Coinbase will convert your fiat currency into the cryptocurrency you choose.
Trading Fees and Limits
Coinbase offers a much more complicated fee structure than many of its rivals. Although the fees that Coinbase is in line with industry standards however, the overall structure isn't as simple like other exchanges. The base Coinbase platform comes with an intricate fee structure as compared to Coinbase Pro.
Coinbase has a cost per time you purchase or sell. They also charge fees for deposits of fiat currency and withdrawals. The fees are automatically collected for every transaction. The company charges flat fees or variable charges according to the amount of the transaction.
Coinbase Basic Fees
Coinbase is a company that charges a variable charge on all purchases and sales. Though the fee can fluctuate in the middle, it's usually 0.5 percent. Additionally, Coinbase charges what they refer to as the Coinbase fee per transaction. It is the Coinbase fee is the one that is higher: the percent or flat which varies depending on where you reside. The flat fees for transactions are:
$10 or less: $0.99
$10.01 to $25: $1.49
$25.01 to $50: $1.99
$50.01 to $200: $2.99
If you trade that's $200.01 or greater, Coinbase charges a variable percentage charge.
Coinbase Basic Limits
Coinbase Basic also charges for withdrawals and deposits. The United States, fees are:
US accounts in banks: 1.49%
Bitcoin wallet 1.49%
Card for debit: 3.99%
ACH transfer Transfer of funds to ACH: Free
Wire transfer 10 dollars ($25 for transfers that are not outgoing)
Coinbase Pro Fees
Coinbase Pro users pay less in charges. You can switch for free from the standard version to Pro and is an easy method to get rid of the complex system fee structures. Coinbase Pro charges a lower cost for trades with more. This is the cost formula that applies to Coinbase Pro transactions:
Up to $10K in trades: 0.5% for maker; 0.5% for taker
For trades between $10k and $50K: 0.35 percent for the maker; 0.35 percent for the taking
For trades between $50k and $100K: 0.15% for maker; 0.25% for taker
100k-$1M trades: 0.10% for maker; 0.20% for taker
The trades between $1M and $10M are 0.08 percent for the maker; 0.18 percent for taker
The trades between $10M and $50M: 0.05% for maker; 0.15% for taker
For trades of $50M-$100M: 0.00% for maker; 0.10% for taker
The range of trades from $100M to $300M is 0.00 percent for the manufacturer; 0.07% for taker
The trades range from $300M to 500M dollars: 0.00% for maker; 0.06% for taker
The trades range from $500M to $1B. 0.00 percent for the maker; 0.05 percent for the taker
The trades that exceed $1B: 0.00% for maker; 0.04% for taker
Coinbase Pro also charges much lower withdrawal and deposit fees. The Crypto as well as ACH transfers are absolutely free. Wire transfers cost $10 to deposit and the withdrawal fee is $25. Coinbase Pro users can make withdrawals and deposits through cryptocurrency wallets, bank accounts and wire transfers.
Coinbase Pro Limits
The withdrawal, deposit and trading limits vary in accordance with your Coinbase platform and the country in which you reside. You can check your limits once you log to your personal account. In general, the limits for Coinbase are as follows:
Limits on deposits are unlimited for cryptocurrency and wire transfers. Limits vary for other methods.
Limits on withdrawals Limits for withdrawals: Daily withdrawal limit of $25,000
Limits on trading: No limit are set for Coinbase Pro; limits vary for Coinbase basic
Minimum trade and account requirements: Coinbase requires an account minimum of $2. permits trades as little as $2
Is Coinbase Safe To Use?
There's been plenty of negative media concerning security concerns with brokerages on the internet, and lots of people believe that it's risky to put money into cryptocurrency. A large portion of the negative publicity stems from the Mt. Gox incident, where hackers stole 740,000 bitcoins, the majority of which have not been found. The attack left Mt. Gox in bankruptcy and forced many investors away from cryptocurrency altogether.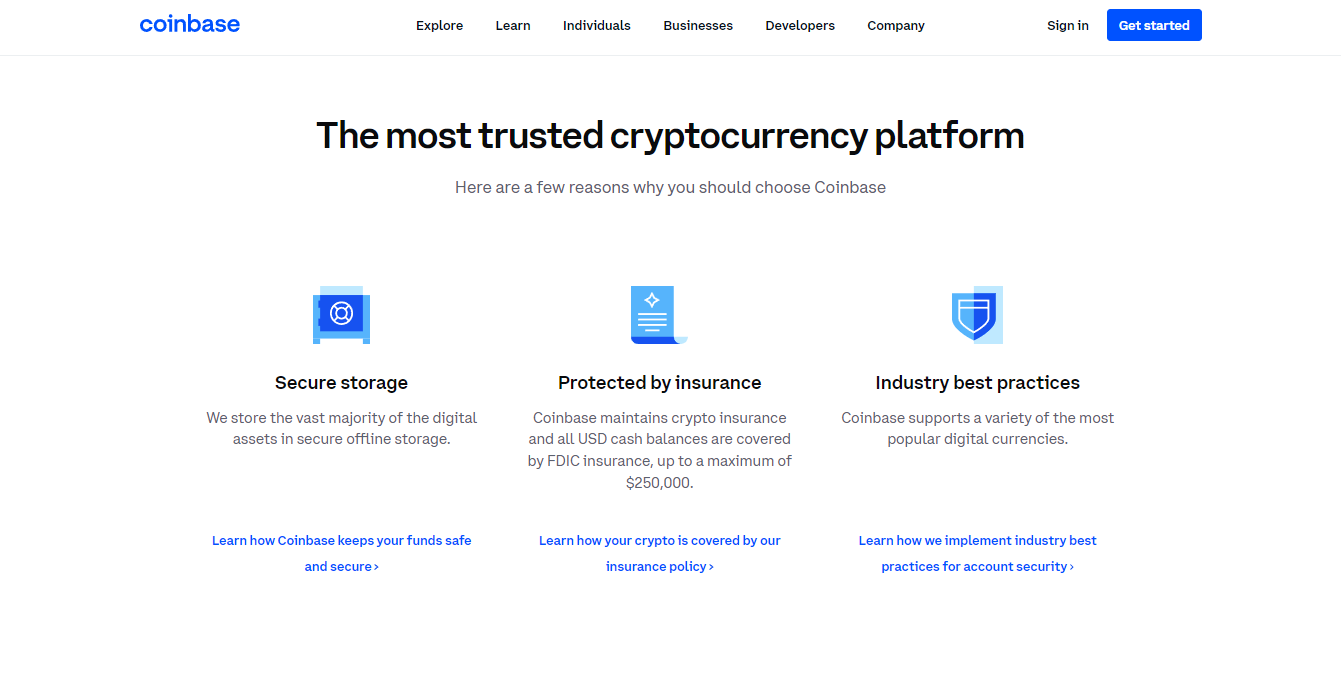 Although there are many concerns regarding crypto's security, Coinbase has a reputation as one of the most secure exchanges available. A large part of this is due to being that Coinbase is a US-based company, which means it is subject to federal and state rules and regulations. In actual fact, Coinbase has worked actively with regulators and legislators in order to make sure that crypto brokers are secure and effective. This proactive approach has prompted many banks such as Bank of Tokyo. Bank of Tokyo to invest in Coinbase and assist in the development of an efficient financial system that is transparent, secure, and ingenuous.
Coinbase-side
The biggest security risk of Coinbase is its tendency to behave like an online bank that accepts cryptocurrency. It's a centralised platform that is not in line with the principles of decentralization the cryptocurrency industry is built on.
Fortunately, in contrast to the other financial institutions, Coinbase has a good degree of transparency about the location of funds. Customers' funds are kept apart from operational funds in order to ensure that, should Coinbase goes bankrupt, Coinbase has no entitlement to the customer's money.
Funds from customers are held in custodial bank account, the majority of which are held off-line in cold storage as well as safe deposit boxes at a number of different locations around the world. In the event of an attack like that which hit Mt. Gox attackers would not have access to the customer's funds. The amount of customer funds that are online is covered with the FDIC. If your funds are stolen Coinbase is responsible to make use of its insurance policy to retrieve the money on your behalf.
User account side
Coinbase also offers high-end security for users with two-factor authentication. Alongside the ability to log into your account, a different code will be sent to your mobile phone or a third-party application to provide an extra level of protection. Coinbase is designed to alert you in the event of detecting suspicious logins from other device or IP which allows you to secure your accounts in the event of a cyberattack quickly.
The onus is on you to ensure your account secure using the tools available, Coinbase doesn't accept liability for any loss of funds if the account of yours is compromised. To ensure the security of your cryptocurrency ensure that you use an offline wallet you are in control of.
Coinbase Customer Support
Coinbase receives low marks for support and customer service. A number of third-party review sites highlight the amount of customers complaining about lack of support. The majority of negative reviews are focused on the time it takes to respond and inability to connect with a live person.
Coinbase offers email support and an exhaustive FAQ site. The company claims that the average time to respond to emails is between 24-72 hours. A lot of users complain that the response is usually generic when they get a reply and doesn't solve their problems.
Frequently Asked Questions
Are cryptocurrency transactions legal within the United States?
The legality of cryptocurrency is throughout the United States. However, unlike US currency or credit cards, crypto isn't restricted nor issued by a bank or a government. Instead, cryptocurrency utilizes encryption to ensure the authenticity and distribution of transactions using a decentralized system.
Since a central authority does not oversee crypto, the market is generally not regulated. Certain exchanges for crypto like Coinbase have self-regulatory processes and have a strong commitment to comply with traditional financial rules. Some exchanges, however, deliberately ignore regulations by establishing operations in countries that don't have cryptocurrency controls.
Which countries Coinbase supports? Coinbase supports?
Customers can utilize Coinbase within Coinbase in the United States, Canada, Australia, Singapore, and the majority of Europe. For the United States, Coinbase's USD wallet is available only to states that have licenses in the transmission of money or in states where licenses aren't issued or required by Coinbase. In the current Coinbase exchange review just the State of Hawai'i was waiting on Coinbase support.
Is Coinbase licensed in the United States?
Coinbase licenses are in all 42 US states and also Washington DC and Puerto Rico. It is still possible to access Coinbase in states that are not licensed.
Does Coinbase has a mobile application?
Coinbase offers a mobile application available for iOS as well as Android users. It is highly rated by customers in their Apple as well as Google Play stores. It lets users buy or sell and store crypto safely, with an intuitive layout and user-friendly platform.
Does Coinbase offer an online cryptocurrency wallet?
Coinbase Wallet is a mobile application that gives you a secure storage space for your cryptocurrency. It is possible to utilize Coinbase Wallet with or without an existing Coinbase cryptocurrency exchange account, however, you are able to connect to your Coinbase Wallet with you Coinbase exchange account to increase security in your crypto storage. It is available for Android as well as iOS devices.
What is the difference between Coinbase and Binance?
Binance was established in the year 2017 is the most renowned cryptocurrency exchange worldwide, while Coinbase is second-largest. Binance has more than 200 cryptocurrency and Coinbase Pro supports 36. The company also has low fees. It is worth noting that Binance has been the focus of one of the largest cryptocurrency thefts of 2019 and doesn't conform to Coinbase's policy of protection and self-regulation. In the past, Binance relocated to Malta in a country where it isn't subjected to the strictest regulations.
Conclusion
According to the findings of our Coinbase Exchange review Coinbase has been rated as one of the most secure and easy to use crypto exchanges available on the market. It's a great option for those who are brand new to cryptocurrency trading or don't have lots of funds to invest. It lets trades be made at a lower level and only requires an account balance of $2.
Even though its base platform has an intricate fee structure which can be costly and more opaque than other platforms, Coinbase Pro offers a simpler approach and reduced charges. Users can upgrade into the Pro version at no cost to avoid costs.
Some users have criticised Coinbase for their poor customer service however, the company earns excellent marks for its easy-to-use interface and top-of-the-line security. Coinbase is a tried and true cryptocurrency exchange that is suitable for every stage of trader.
Related:
Coinbase Compared
Exchange
Deposit Methods
Fiat Currencies
Cryptocurrencies
Trading Fees
Sign Up

Swyftx



Bank Transfer, Crypto, Credit and Debit Card, Osko, PayID
New Zealand Dollars and Australian Dollars
Over 320
0.6%
Australian Dollars Deposits: 0% Crypto: 0%
Australian Dollars Withdrawals: 0% Crypto: 0%
Visit Swyftx

Binance



Crypto, Credit and Debit Cards, Osko, PayID
10 Fiat Including USD and AUD
Over 600
0% to 0.1%
0%
Vary
Visit Binance

CoinSpot



Bank Transfer, Fiat, Crypto, POLi, and PayID
Australian Dollars
Over 370
Instant Buy/Sell: 1% OTC: 0.1% Market Order: 0.1%*
Direct Deposit: $0 Cash: 2.5% PayID, POLi, and direct deposits: $0 BPAY: 0.9% Direct Bank Transfer: $0
Australian Dollars Withdrawals: $0
Visit CoinSpot

Bybit



Crypto, electronic funds transfer (EFT), wire transfer, bank transfer, credit card, and debit card
50+
160+
0.1% spot trading 0.01% – 0.06% market makers/market takers fee
$0
Does not support direct fiat withdrawals Crypto withdrawal fees: Network fees
Visit Bybit

Digital Surge



Bank Transfer, Crypto, POLi, Osko, PayID
Australian Dollars
Over 300
0.1% to 0.5%
Deposit Fees Bank Transfer: $0 POLi: $2 (capped at $3.30)
$0 for AU Bank Accounts Cryptocurrency: Depends On the Network
Visit Digital Surge

CoinJar



Fiat, Bank Transfer, Crypto, Credit or Debit Card, Apple Pay, Google Play
Pound Sterling and Australian Dollars
Over 50
Maker: 0.04 to 0.1% Taker: 0.04 to 0.1%
Fiat: 1.5% CoinJar Users: $0 NPP: $0
$0
Visit CoinJar

Independent Reserve



Crypto, Osko, PayID, Electronic Fund Transfer, SWIFT
Australian Dollars, US Dollars, New Zealand Dollars
Over 25
0.05% to 0.5%
For SWIFT Deposit: $15 for deposits under Australian $5,000 equivalent $0 for deposits over Australian $5,000 equivalent For Electronic Fund Transfer: Australian $0.99 for deposits under $100 $0 for deposits more than Australian $100
Crypto: Fees vary Bank Transfer: $0 for AUD $20 for non-AUD
Visit Independent Reserve

eToro



Bank Transfer, Debit Cards, Neteller, PayPal, Online Banking, and Skrill
15 Fiat Currencies Including USD and AUD
Over 70
Vary
Vary
$5 but minimum withdrawal of USD50
Visit eToro

Coinbase



Debit Card
More than 20 Fiat Currencies Including USD and EUR
Over 200
Vary
Credit Card and Debit Card: 3.99%
2.49%
Visit Coinbase

Bittrex



Bank transfer (ACH)
Euro and US Dollars
Over 320
0.25%
$0
Vary
Visit Bittrex

Bitfinex



Bank Wire Transfer, Crypto, Credit Card
US Dollars, Japanese Yen, Euro, Pound Sterling
Over 200
Taker: 0.055% to 0.2% Maker: 0% to 0.1%
Crypto: $0 Wire: 0.1% (min 60 Euro/USD)
Crypto: $0 Wire: 0.1% Express Bank Wire (within 1 day on business days): 1% (min 60 Euro/USD)
Visit Bitfinex

Coinmama



Bank Card, SWIFT, Google Pay, SEPA, and Fedwire
6 Fiat Currencies Including USD and AUD
Over 10
2.93% to 3.9%
0% to 5%
N/A – assets are directly sent to the user's crypto wallet
Visit Coinmama

Kraken



Bank Transfer, Crypto, Wire Transfer, osko, SEPA, Apple Pay and Google Pay
7 Fiat Currencies Including USD and AUD
Over 140
Maker: 0% to 0.16% Taker: 0.10% to 0.26%
Vary
Vary
Visit Kraken

KuCoin



Crypto, PayPal, Wire Transfer, Credit or Debit Card, SEPA
9 Fiat Currencies Including USD and AUD
over 645
0.1%
$0
Vary
Visit KuCoin

Easy Crypto



Bank transfer, P2P, POLi, OSKO
AUD
100+
0.5% – 1.6%
$0
Fiat Withdrawal fees: $0 Crypto withdrawal fees: Network fees
Visit Easy Crypto

Coinstash



Crypto, PayID, Bank Transfer
AUD
410+
0.85%
$0
Crypto withdrawal fees: Network fees Fiat Withdrawal fees: $0
Visit Coinstash
This page was last updated on September 29, 2022