There's no way you can be successful at cryptocurrency trading without the right crypto platform. Although you'll find hundreds of them online these days, not all of them have the features, payment methods, and assets you're looking for, and not all of them are to be trusted. 

Since we really want to help our readers make a well-informed decision and prevent any lapses of judgment, we created separate guides on the most popular and trustworthy Australian crypto exchanges available on the market right now. We've got both local and international platforms, crypto-to-crypto and fiat gateways too.
Today's review deals with CoinJar, an Australian exchange that's trending the charts right now. Stay with us to learn all about its history, coin selection, fees, and performance.
CoinJar is a cryptocurrency exchange based in Australia and the UK, with a client base of over 400,000 users. It was launched by the financial analyst and current CEO, Asher Tan, and the cyber engineer and current COO, Ryan Zhou, back in 2013. Originally based in Melbourne, since 2020, the exchange has an office in London as well.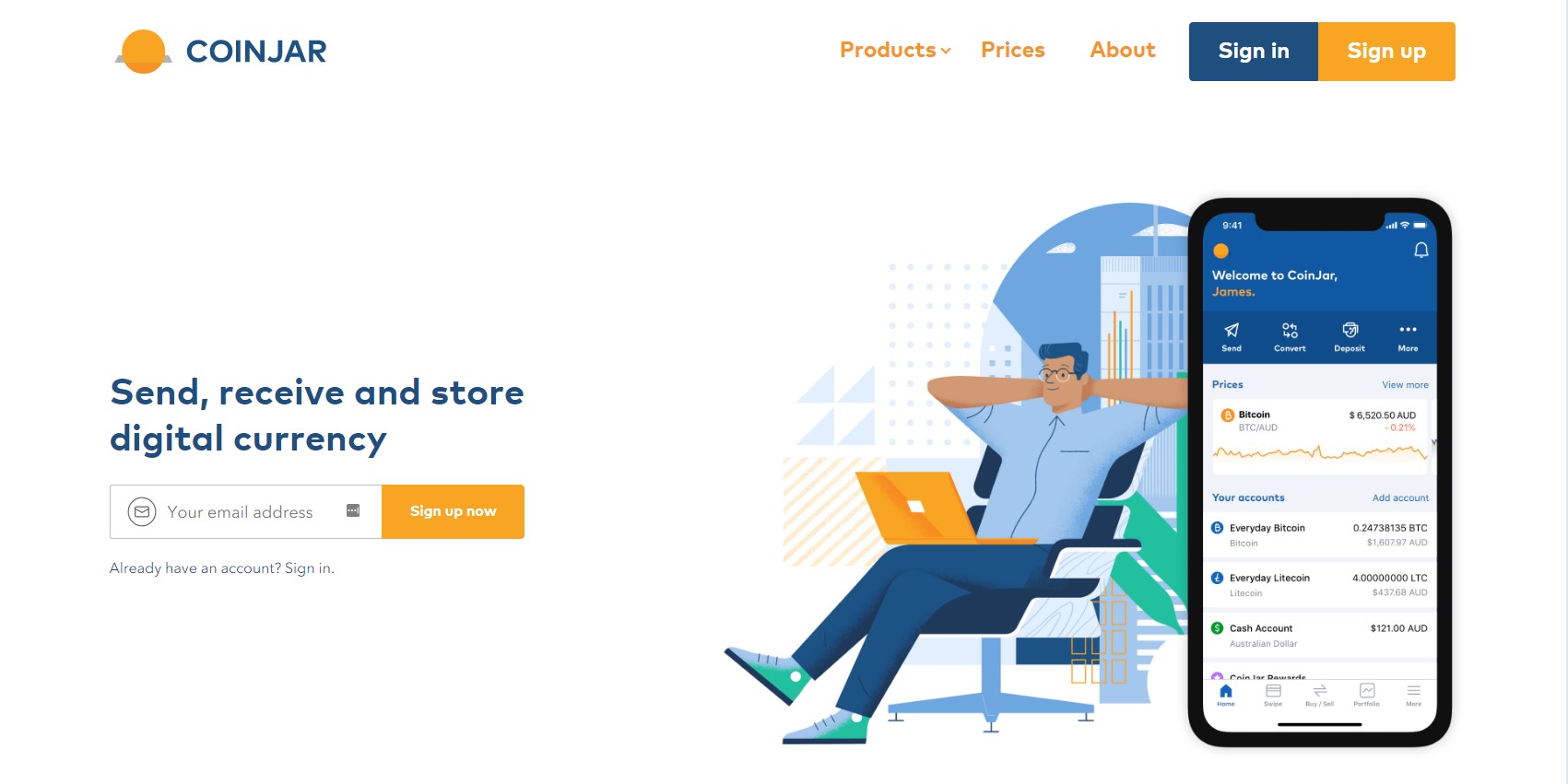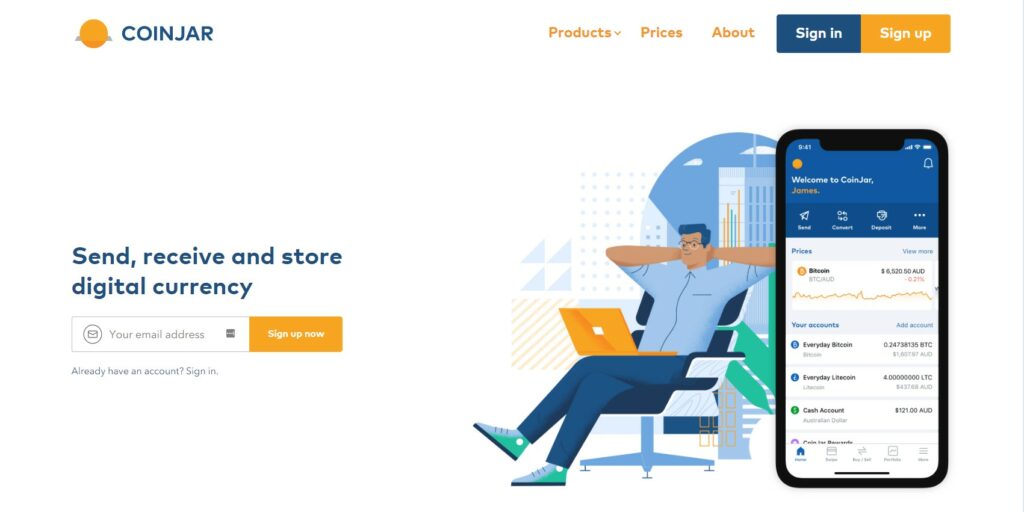 The CoinJar team has always been interested in the development of the fintech industry and actively works on new blockchain-based solutions and state-of-the-art financial services. Their goal is to spread awareness of the potential of cryptocurrencies and make it easier for traders worldwide to exchange between digital and fiat assets.
For instance, CoinJar has already launched an advanced exchange platform with the option to purchase crypto bundles, issued a crypto debit card that saves both time and money on converting currencies to purchase goods, and a mobile app.
Bitcoin and Other Supported Cryptocurrencies
Crypto exchanges typically have order books that include a list of all the open orders that the platform features at that moment. Users browse through the books and find an order they like and click on it to buy those crypto assets from the seller. 
CoinJar has a different approach that resembles financial brokers. The exchange provides the liquidity itself and updates market rates by the minute. You simply need to select the cryptocurrency you want to buy and let CoinJar do its magic and find you an order to your liking.


While definitely not a robust altcoin platform, CoinJar still supports a range of digital assets for everyone's taste. Here's the full list of coins: Bitcoin (BTC), Litecoin (LTC), Ethereum (ETH), Stellar (XLM), Ripple (XRP), and the following ERC-20 tokens for the DeFi enthusiasts among you: Chainlink (LINK), Uniswap (UNI), Compound (COMP), USD Coin (USDC), Dai (DAI), Maker (MKR), yearn. finance governance token (YFI), OMG Network (OMG), Basic Attention Token (BAT), and 0x Token (ZRX).
Since it operated in Australia and the UK, CoinJar accepts AUD and GBP deposits and converts all other fiat currencies. The deposits are credited to your Cash Account and that's how you become eligible for buying, selling, and trading. The available payment methods are Osko BPAY transfers, regular bank transfers, PayID, or Blueshyft cash deposits.
All these deposits are almost instantaneous, except for your first PayID purchase, which might take up to a day. The reason for this is that your bank might decide to look into the details of your money transfer and verify it's really you who's sending money to a crypto exchange. BPAY transfers require you to link your bank account to your CoinJar's account and get a BPAY reference number.
If you want to pay with cash, you can purchase a Blueshyft voucher at one of the local newsagents and scan the QR code. These payments incur a 1.5% fee, while the other deposit methods incur no extra charges.
On top of all this, CoinJar has recently announced the launch of its Instant Buy feature that makes it possible for users to purchase crypto with their Visa and MasterCard credit or debit cards for a 2% fee. In the past, debit cards could only be used in CoinJar Bundles (more on that below).
Trading Fees and Deposit Limits
CoinJar has the following fee schedule based on your 30-day trading volume and market position:
| | | |
| --- | --- | --- |
| Tier  | Taker fee | Maker fee |
| Crypto to crypto  | 0% | 0.5% |
| $0 to $10,000 | 0.20% | 0.15% |
| $10,000 to $100,000 | 0.15% | 0.12% |
| $100,000 to $1 million | 0.12% | 0.10% |
| $1 million to $10 million | 0.10% | 0.08% |
| $10 million + | 0.08% | 0.05% |
As for limits, BPAY payments are limited to a minimum of $10 and a maximum of $10,000, whole Blueshyft deposits have a minimum tier of $50, and a maximum of $5,000.
CoinJar is a truly beginner-friendly platform, with several basic trading options and a straightforward purchasing process. In an attempt to diversify its clientele and attract more experienced traders, CoinJar has launched CoinJar Exchange, an advanced crypto trading platform.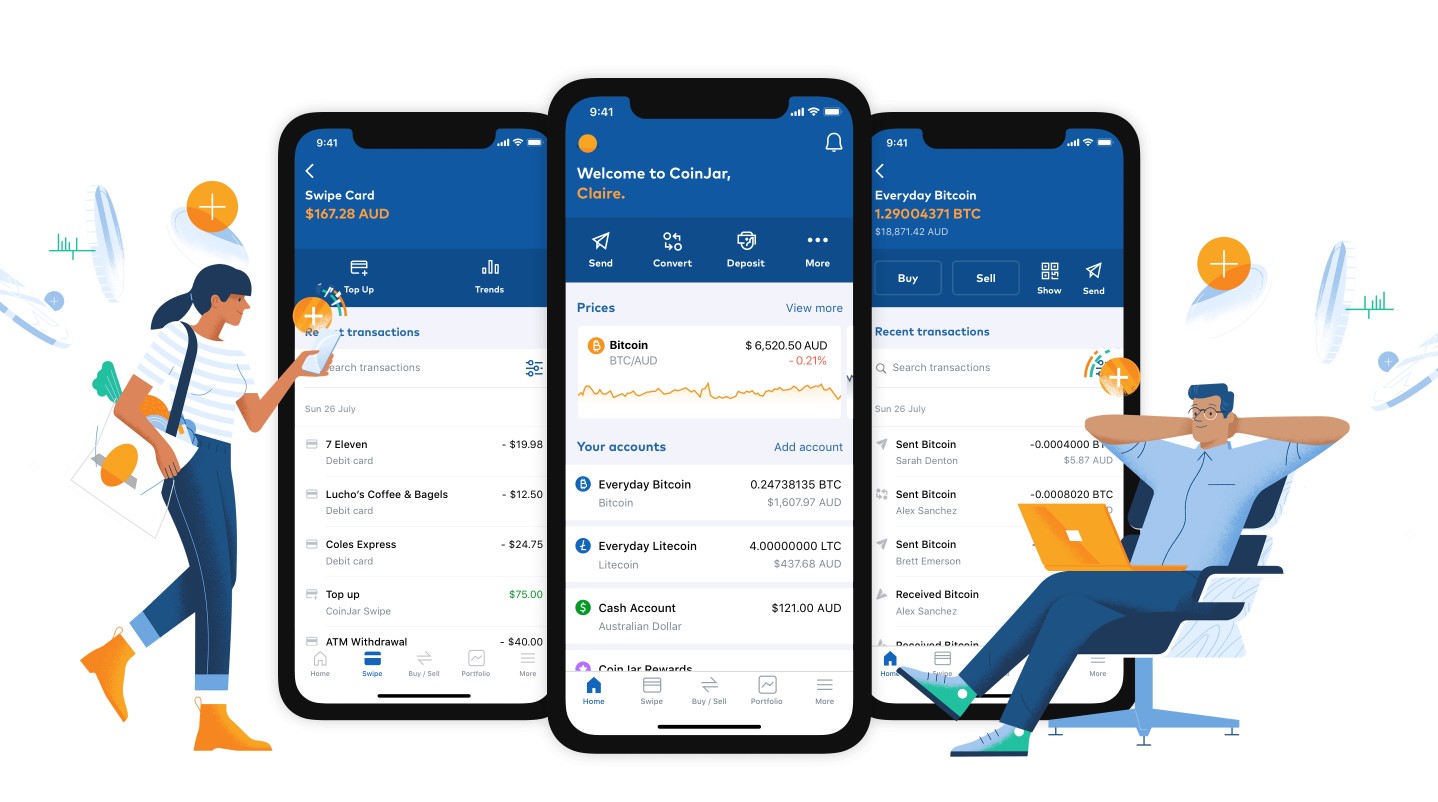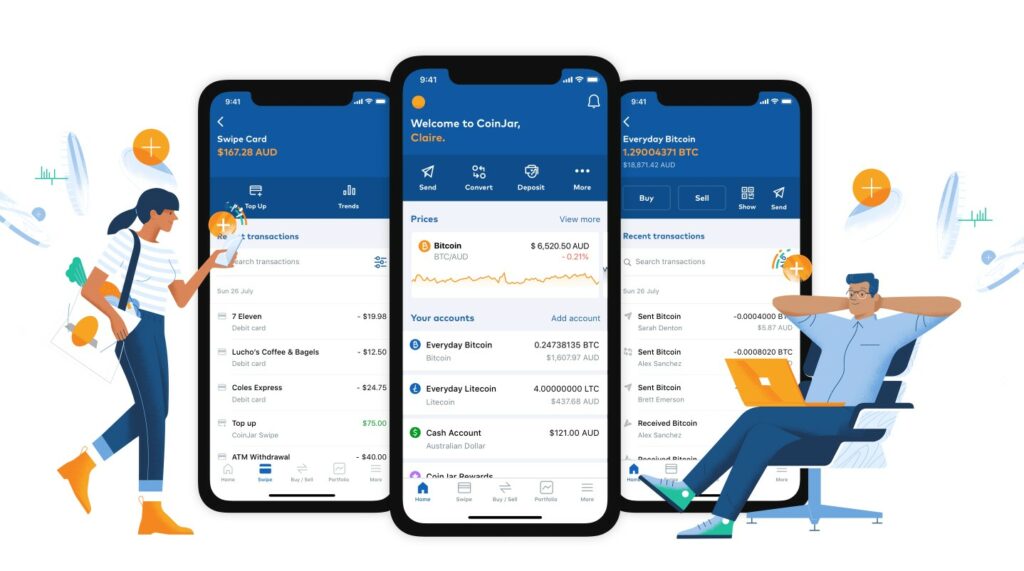 The great thing about it is that you can shift back and forth between the two interfaces. Even if you're a newbie, as soon as you learn the crypto know-how, you can switch to CoinJar Exchange and execute limit, stop loss, fill or kill orders, implement technical indicators into your trading strategies, and learn how to track crypto charts.
CoinJar Swipe EFTPOS Card
As mentioned earlier, CoinJar already has a crypto debit card that you can use all across Australia. The EFTPOS card is called CoinJAr Swipe and it's the first one of its kind to be launched by an Australian exchange.
In order for CoinJar to issue this card to you, you need to pay $29. The card allows you to pay for goods and services with your crypto holdings by converting them into AUD for a small ATM fee. For the time being, the card can't be used abroad.
CoinJar Swipe has a maximum limit of 25 transactions and 10 ATM withdrawals per day.
If you ask for trading advice from experienced traders, you'll most likely hear the following two remarks: "Don't invest more than you can afford to lose" and "Don't put all your eggs in one basket".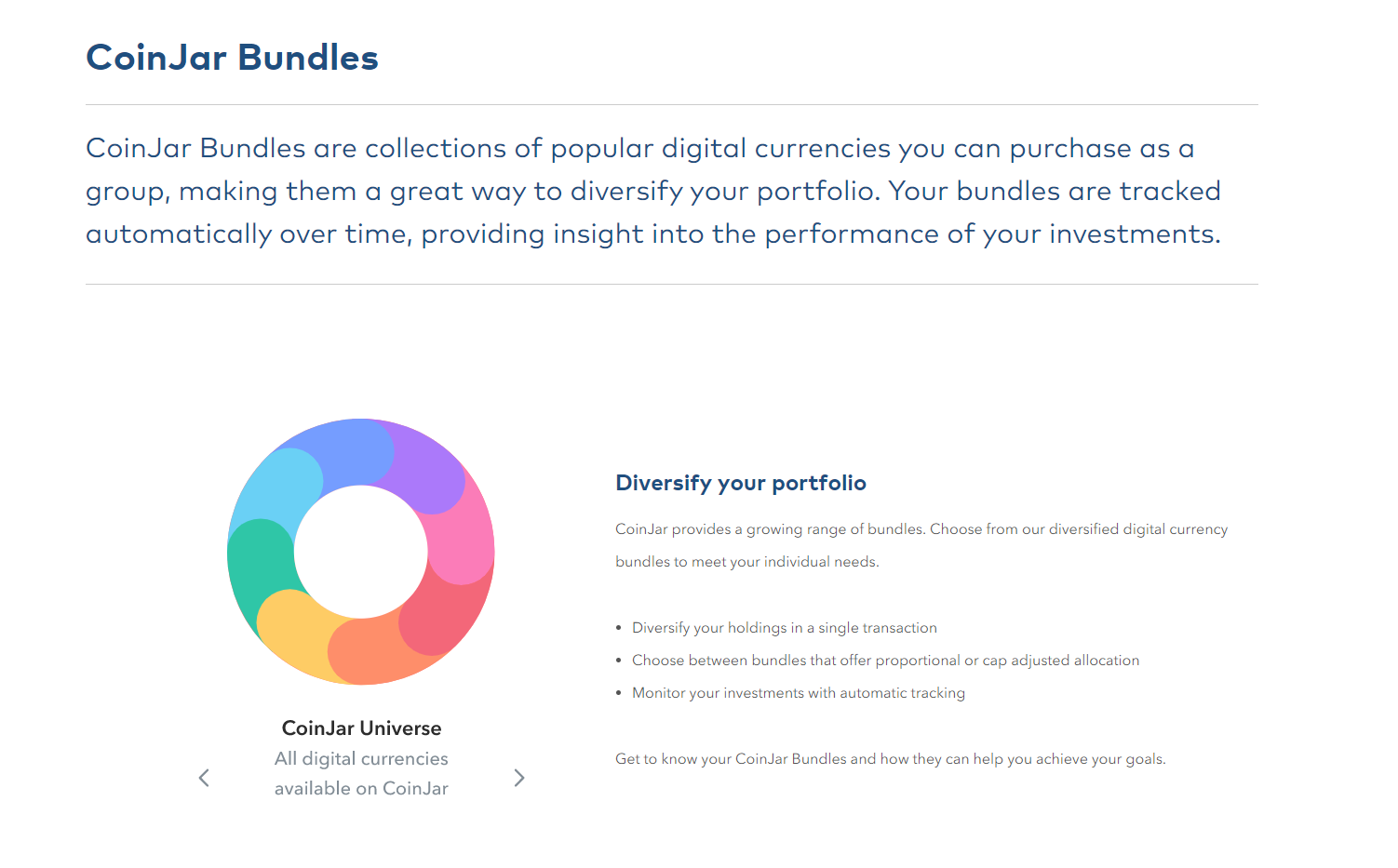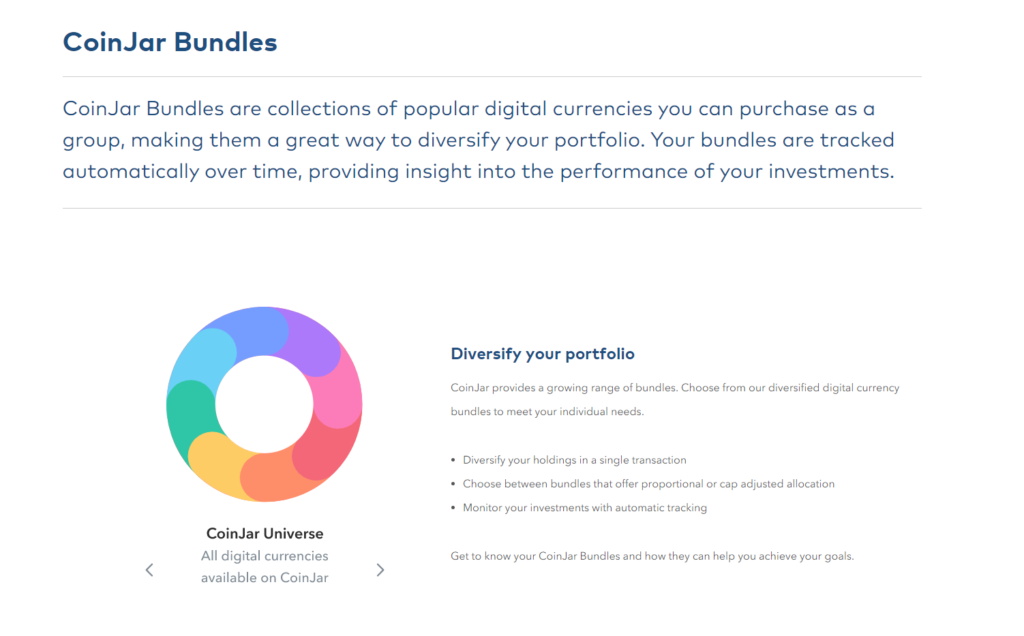 The CoinJar Bundles feature targets the second advice and offers you a way to diversify your asset holdings. Instead of buying only one cryptocurrency at a time, with CoinJar Bundles, you can purchase two or three coins together by sending out a single transaction. For instance, you can choose the Popular Duo and buy 50% BTC and 50% ETH, or the BTC/ETH/XRP trio, etc. All bundles incur a 1% fee on the total sum.
CoinJar offers free custodial services and its wallet has received positive reviews from users who praise its multi-asset support and multi-factor authentication. Now you have an option to store your funds securely online, although we would advise you to look into hardware wallet solutions if you want to store your funds long-term.
CoinJar has a very detailed Knowledge Base where you'll find answers to all your questions and concerns about using the digital currency exchange, depositing funds, linking your bank account, etc. 


Premium CoinJar users are able to contact the support team via phone number available from 9 am to 5 pm on business days. When you call the team, you need to provide your CoinJar account number and the unique phone support PIN you'll receive.
You can also send an email support ticket and follow the platform's regular updates on social media. They're especially present on Twitter, where they share information on newly-added features and projects they're working on.
CoinJar is regulated by Australia's financial regulator, AUSTRAC, and as a result, complies with its guidelines and regulations and implements AML (Anti-Money Laundering) policies. As a next step, the exchange requires every new user to complete a KYC (Know Your Customer) check and verify their identity with a legitimate ID. 


Account-wise, you are advised to activate two-factor authentication (2FA) and create a withdrawal address whitelist and prevent unauthorized IP addresses from logging into your account, making changes, and stealing your data.
The CoinJar platform has some additional security features like secure data encryption and offline wallets – the so-called cold storage – for 90% of users' funds. This method significantly minimizes the risk of hacker attacks.
Frequently Asked Questions
Is cryptocurrency legal and taxable in Australia?
There's nothing to be anxious about as cryptocurrency is perfectly legal in Australia regardless of whether you're interested in buying, selling, or trading these assets. Since 2017, cryptocurrencies are treated as property, while the profits from crypto assets are subject to Capital Gains Tax (CGT). 
To help you regulate your taxes, CoinJar has added downloadable tax statements so that you can export your Purchases and Sales history. If you've made crypto profits from several exchanges and/or wallets, CoinJar can be integrated with popular crypto tax apps.
What countries does CoinJar support?
Right now, Australia and the UK are the only two countries that can use all of CoinJar's features. Although the platform is available internationally, most countries are limited to CoinJar's custodial services but the company definitely plans on branching out in the near future.
Does CoinJar have a mobile app?
Yes, CoinJar is ready to be used on the go! The app is free for download on both iOS and Android devices and has pretty much the same options as the website. You can place orders, execute trades, transfer money, check your transaction history, follow market rates and crypto charts, etc. If you're worried that mobile apps are riskier than desktop-based platforms, you should activate biometrics login to add another layer of security.
Does CoinJar charge deposit fees or withdrawal fees?
In general, CoinJar doesn't charge deposit fees except for debit/credit card purchases via Instant Buy which cost 2% per order and Blueshyft purchases that incur a 1.5% fee. There's no withdrawal fee when transferring funds from your Cash Account to your bank account.
So, what's our final verdict on CoinJar? Although it's your decision to make, we really think that the platform is worth considering, especially if you're trading from Australia, as you can enjoy all trading features and services. This includes the CoinJar Swipe card, deposits in Australian dollars, and low transaction fees. 
On the other hand, if you're living outside of Australia or are interested in altcoin trading, we would suggest using a different exchange (the likes of Binance or Coinbase).
Related:
CoinJar Compared
Exchange
Deposit Methods
Fiat Currencies
Cryptocurrencies
Trading Fees
Sign Up

Swyftx



Bank Transfer, Crypto, Credit and Debit Card, Osko, PayID
New Zealand Dollars and Australian Dollars
Over 320
0.6%
Australian Dollars Deposits: 0% Crypto: 0%
Australian Dollars Withdrawals: 0% Crypto: 0%
Visit Swyftx

Binance



Crypto, Credit and Debit Cards, Osko, PayID
10 Fiat Including USD and AUD
Over 600
0% to 0.1%
0%
Vary
Visit Binance

CoinSpot



Bank Transfer, Fiat, Crypto, POLi, and PayID
Australian Dollars
Over 370
Instant Buy/Sell: 1% OTC: 0.1% Market Order: 0.1%*
Direct Deposit: $0 Cash: 2.5% PayID, POLi, and direct deposits: $0 BPAY: 0.9% Direct Bank Transfer: $0
Australian Dollars Withdrawals: $0
Visit CoinSpot

Bybit



Crypto, electronic funds transfer (EFT), wire transfer, bank transfer, credit card, and debit card
50+
160+
0.1% spot trading 0.01% – 0.06% market makers/market takers fee
$0
Does not support direct fiat withdrawals Crypto withdrawal fees: Network fees
Visit Bybit

Digital Surge



Bank Transfer, Crypto, POLi, Osko, PayID
Australian Dollars
Over 300
0.1% to 0.5%
Deposit Fees Bank Transfer: $0 POLi: $2 (capped at $3.30)
$0 for AU Bank Accounts Cryptocurrency: Depends On the Network
Visit Digital Surge

CoinJar



Fiat, Bank Transfer, Crypto, Credit or Debit Card, Apple Pay, Google Play
Pound Sterling and Australian Dollars
Over 50
Maker: 0.04 to 0.1% Taker: 0.04 to 0.1%
Fiat: 1.5% CoinJar Users: $0 NPP: $0
$0
Visit CoinJar

Independent Reserve



Crypto, Osko, PayID, Electronic Fund Transfer, SWIFT
Australian Dollars, US Dollars, New Zealand Dollars
Over 25
0.05% to 0.5%
For SWIFT Deposit: $15 for deposits under Australian $5,000 equivalent $0 for deposits over Australian $5,000 equivalent For Electronic Fund Transfer: Australian $0.99 for deposits under $100 $0 for deposits more than Australian $100
Crypto: Fees vary Bank Transfer: $0 for AUD $20 for non-AUD
Visit Independent Reserve

eToro



Bank Transfer, Debit Cards, Neteller, PayPal, Online Banking, and Skrill
15 Fiat Currencies Including USD and AUD
Over 70
Vary
Vary
$5 but minimum withdrawal of USD50
Visit eToro

Coinbase



Debit Card
More than 20 Fiat Currencies Including USD and EUR
Over 200
Vary
Credit Card and Debit Card: 3.99%
2.49%
Visit Coinbase

Bittrex



Bank transfer (ACH)
Euro and US Dollars
Over 320
0.25%
$0
Vary
Visit Bittrex

Bitfinex



Bank Wire Transfer, Crypto, Credit Card
US Dollars, Japanese Yen, Euro, Pound Sterling
Over 200
Taker: 0.055% to 0.2% Maker: 0% to 0.1%
Crypto: $0 Wire: 0.1% (min 60 Euro/USD)
Crypto: $0 Wire: 0.1% Express Bank Wire (within 1 day on business days): 1% (min 60 Euro/USD)
Visit Bitfinex

Coinmama



Bank Card, SWIFT, Google Pay, SEPA, and Fedwire
6 Fiat Currencies Including USD and AUD
Over 10
2.93% to 3.9%
0% to 5%
N/A – assets are directly sent to the user's crypto wallet
Visit Coinmama

Kraken



Bank Transfer, Crypto, Wire Transfer, osko, SEPA, Apple Pay and Google Pay
7 Fiat Currencies Including USD and AUD
Over 140
Maker: 0% to 0.16% Taker: 0.10% to 0.26%
Vary
Vary
Visit Kraken

KuCoin



Crypto, PayPal, Wire Transfer, Credit or Debit Card, SEPA
9 Fiat Currencies Including USD and AUD
over 645
0.1%
$0
Vary
Visit KuCoin

Easy Crypto



Bank transfer, P2P, POLi, OSKO
AUD
100+
0.5% – 1.6%
$0
Fiat Withdrawal fees: $0 Crypto withdrawal fees: Network fees
Visit Easy Crypto

Coinstash



Crypto, PayID, Bank Transfer
AUD
410+
0.85%
$0
Crypto withdrawal fees: Network fees Fiat Withdrawal fees: $0
Visit Coinstash
This page was last updated on September 20, 2022