Swyftx is one of the top Australian crypto exchanges out there. However, few people have heard of CoinJar which is also an Australian exchange which has been in operation since 2013.
Swyftx is a great platform that offers more than 320+ cryptocurrency with a Demo mode with live chat support and options for earning crypto interest with 20 coins.
However, while Swyftx is our top cryptocurrency exchange, take a go through this post to compare the advantages and disadvantages of both to help you decide on your own.
Coinjar vs. Swyftx Comparison Table
| Features | Coinjar | Swyftx |
| --- | --- | --- |
| | | |
| Supported Coins | 50+ | 320+ |
| Trading Fees | 1% | 0.6% |
| Deposit Fee | NPP: Free, Blueshyft: 1.5%, Visa/Mastercard: 2% | Free |
| Withdraw Fee | Free | $0 |
| Payment Methods | NPP, Blueshyft, Visa/Mastercard | Credit/Debit card, Bank transfer, POLi, OSKO, PayID |
| | | |
Coinjar Pros and Cons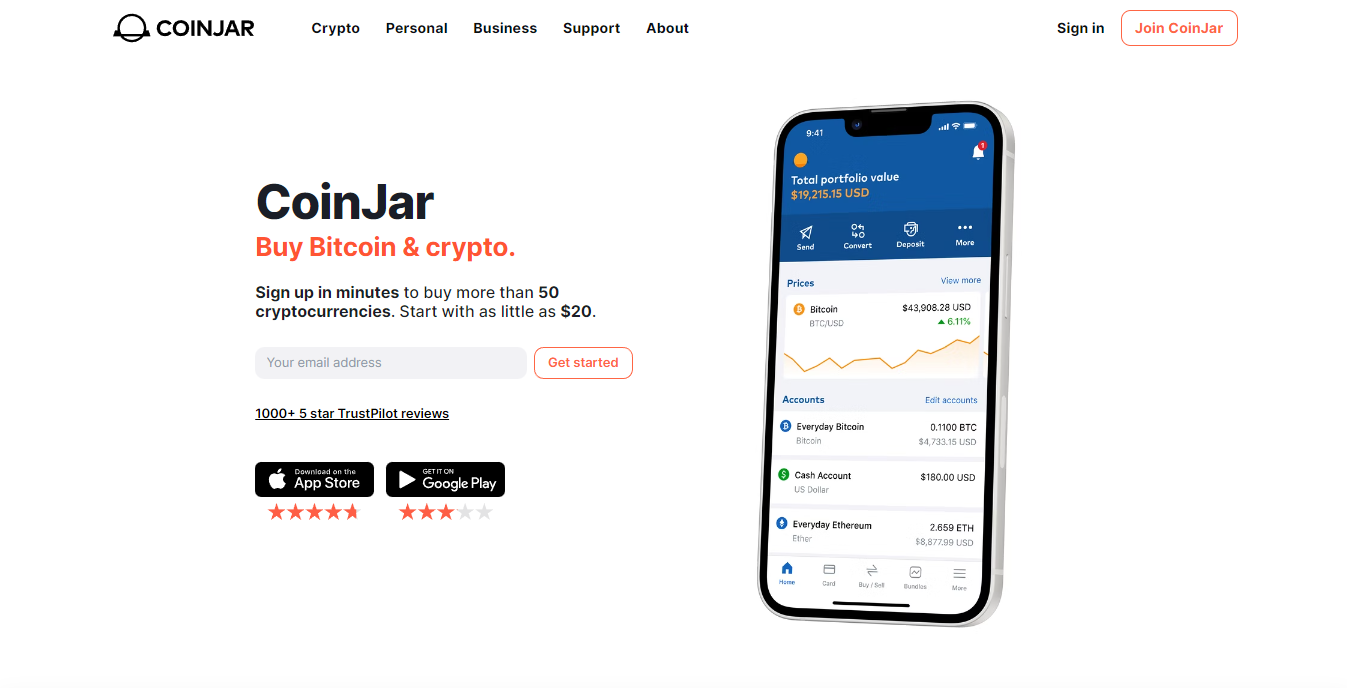 PROS
Native mobile apps so you can truly trade on the go.
Extremely user-friendly interface that will make just about anyone feel at home almost instantly.
The CoinJar Card makes it easy to use your crypto, should you decide not to HODL.
Use a credit card or debit card to buy crypto, although American Express is not accepted.
Two-factor authentication and other security features.
CONS
Limited crypto tokens to trade compared to other platforms.
Uncompetitive fees, especially for Visa and Mastercard deposits.
Swyftx Pros and Cons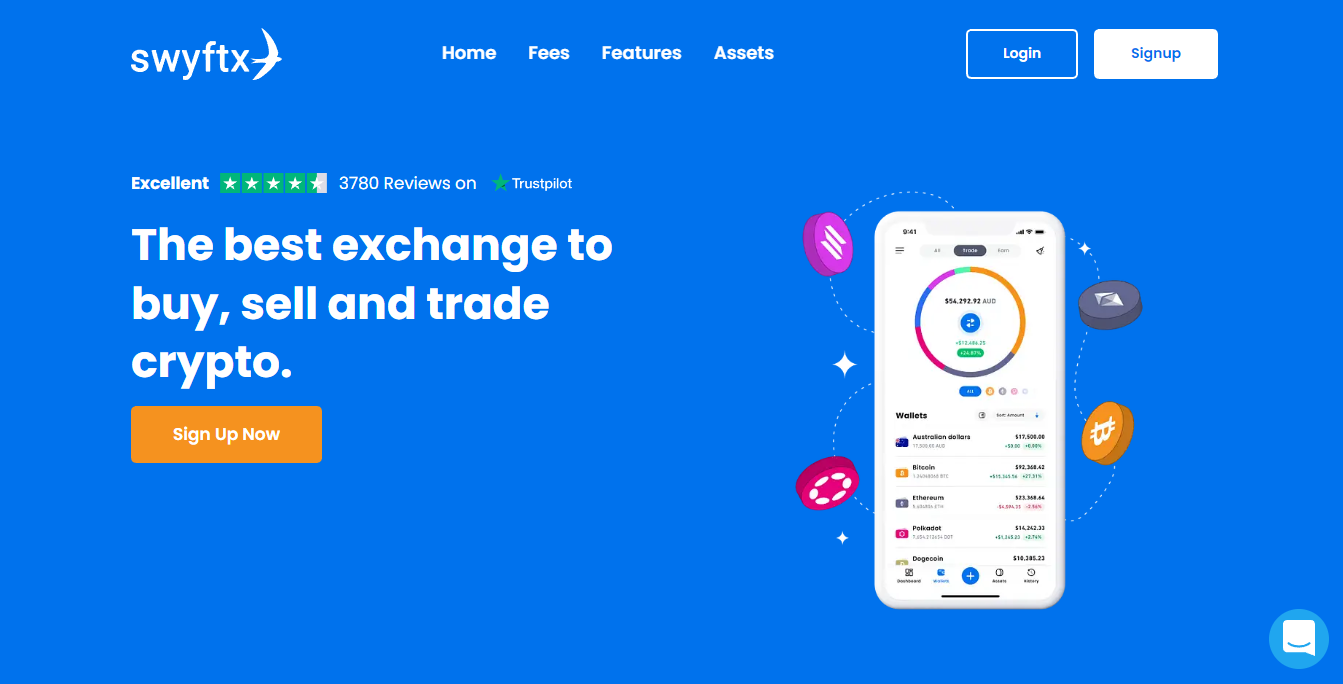 Pros:
Very user-friendly
Quick verification
Live chat support available 24/7
There are many cryptocurrencies
Trading fees for instant trades start at 0.6 percent
Use your Credit Card or Debit Card to buy crypto
Trusted Australian exchange (regulated under AUSTRAC).
Cons:
There is no order-book (only instant purchasing)
Margin trading is not supported
Charge credit card deposit fees (at 2%)
Features
Swyftx is ideal for novices because of its simplicity it is easy to purchase and sell crypto, mobile and desktop access as well as live Chat customer support, as well as an option to demo.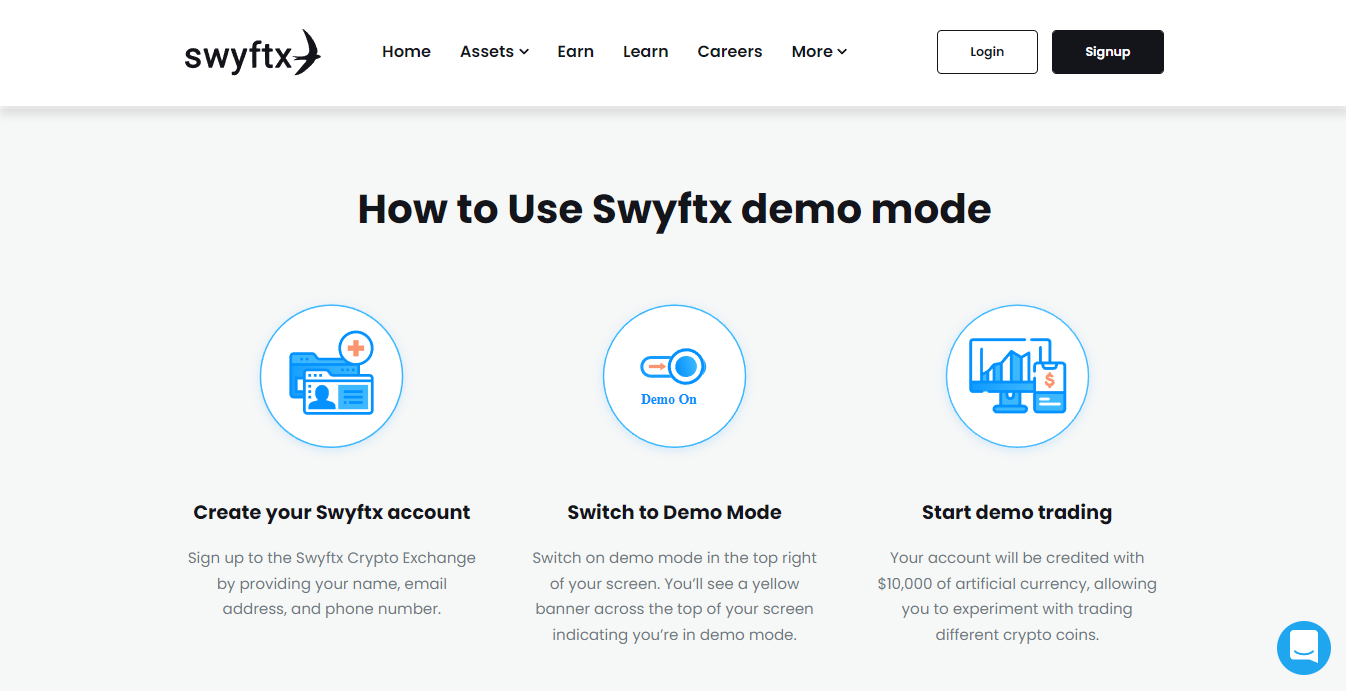 Demo mode is an excellent option for those who are new to the market as it allows them to trade with virtual money and experience how it is working before attempting the real deal. Swyftx lets users earn passive income through making interest by putting bets on 20 coins. This is ideal for those planning to invest for the long-term.
The most notable feature of CoinJar is their CoinJar Mastercard. It's completely free, with no fee for setting up or monthly charges. All you have to do is to load your account with the cryptocurrency that you would like to use with your CoinJar credit card and use it just as you would normally with a debit card.
You can also earn rewards when you use your crypto using the card. If you don't keep your wallet around with you You could set it up using Apple Pay or Google Pay which allows you to use your crypto on your smartphone or smartwatch instead of a physical Mastercard.
While CoinJar offers their Mastercard which allows you to spend the crypto you have, they offer only a few functions. However, Swyftx has their useful demo mode, staking as well as live chat support for customers.
Winner: Swyftx
Supported cryptocurrencies
Swyftx offers a wide collection of more than 320 cryptocurrency.
CoinJar only has more than 50 different crypto currencies.
Swyftx is one of the largest libraries of cryptocurrency, with over 3000+, while CoinJar is quite limited, supporting only more than 50 different coins.
Winner: Swyftx
Fees
Swyftx is not charged any fees for deposits or withdrawals. Their trading charges are 0.6 percent.
CoinJar offers one deposit that is fee-free method: NPP. When you deposit with Blueshyft will cost you an 1.5 per cent fee. Visa/Mastercard costs 2.2%. Making withdrawals at the end of each day is completely free. Fees for trading with CoinJar are 1percent.
Swyftx gives free withdrawals and deposits, regardless of the payment method and offers low trading fees of 0.6 percent..
Winner: Swyftx
Customer Support
Each of Coinjar along with Swyftx have highly skilled team of customer service. Let's examine the customer support of both exchanges.
Coinjar offers support in the form of email. It is possible to raise an issue on the website and also contact the customer service team. Coinjar also has an extensive knowledge base that includes FAQs as well as instructions to help ensure that your trading experience is seamless.
When we wrote the Swyftx review, we learned that Swyftx has an 11-member dedicated customer support team , which includes contact via email, phone live chat, Telegram. The reviews that have been positive for the exchange is proof of the efficiency of its customer support team.
Winner: Swyftx
Deposit Methods
Because each of Coinjar as well as Swyftx have spot exchanges they let the deposit of funds with fiat currency.
Coinjar offers three deposit options:
PayID/NPP: Instant transfers through the account of an Australian bank account
Credit/Debit
Cash deposits made using Blueshyft
Apart from deposits with fiat, Coinjar allows its users to deposit directly into crypto. You can transfer crypto assets from any cryptocurrency wallet to Coinjar's wallet address.
Swyftx allows users to deposit fiat currencies using four methods:
PayID: Instant deposits
POLi: Deposits can be delayed for a minute
Bank Transfers: Can take between 2 and 6 hours (or 1 minute with OSKO)
Credit Card up to 30 minutes
Swyftx also accepts crypto deposits and lets users to transfer digital assets from your wallet into the Swyftx wallet.
Winner: Tie
Security
Swyftx is a reputable as well as legitimate Australian cryptocurrency exchange that has several layers of security in order to ensure their customers their personal and financial information is protected. Biometric authentication is used, as well as 2FA (Two-Factor authentication), KYC verification, consulting with third party security auditors, and conducting external penetration tests are all utilized by Swyftx.
CoinJar employs a variety of methods to ensure that their transactions are safe, including encryption of data, Transport Layer Security, regular security audits, and best practices in organisation security.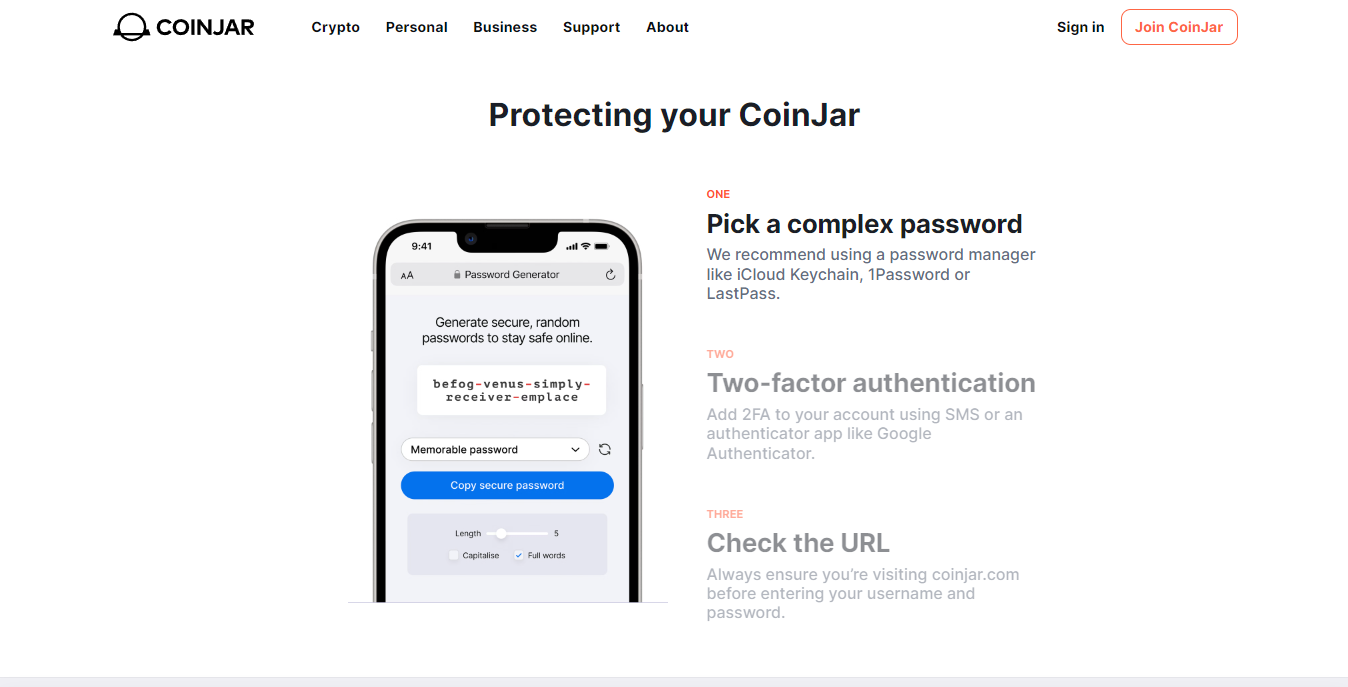 CoinJar also stores more than 90% of their digital assets in cold storage, to ensure the security of their assets.
It's difficult to choose the winner among these two exchanges since they both come with multiple layers of security and are highly secure exchanges.
Winner: Tie
Conclusion
While CoinJar has been around for quite a while however, it doesn't seem like they grow as quickly as Swyftx. While the fees of Swyftx are less than 0.6 percent. They also have an extensive selection of coins, provide live chat, staking and even the option of a demo account. CoinJar appears to be behind in a variety of areas, not least their CoinJar Mastercard that you can use to purchase your crypto wherever you can use a Mastercard.
My choice from the two exchanges listed is Swyftx If you're still searching for alternatives in Australia then you should check out our top list of cryptocurrency exchanges available in Australia. Also, there is a brief table below with essential information for comparing the top exchanges.
Frequently Asked Questions
Does Swyftx have an affiliate program?
Swyftx offers an affiliate program that gives users a 30% discount on all trade fees. This discount applies to all trades made through affiliate accounts. Additional discounts are available for affiliates who can also get a referral code through the platform.
Affiliates receive monthly payouts. When someone registers on the platform using their referral link, the platform's tracking system will inform them.
What is the Self-Managed Super Fund? How does it work?
New Brighton Capital has made it possible to create the SMSF, or The Self-Managed Super Fund. This fund offers multiple tax benefits. It is a savings storage account that provides multiple tax benefits. The SMSF fun offers users a 15% tax rate on digital assets. Registered SMSF traders are considered trustees. This means they must comply with both super laws and ATO tax regulations.
Does Swyftx have a Demo account?
Swyftx offers a demo mode where you can trade, stop and limit orders and make card deposits. You can also track your portfolio and see how two-factor authentication or biometric login feels. Swyftx allows you to fully experience all the features without having to deposit funds or purchase cryptocurrencies.
Is cryptocurrency legal and taxable in Australia?
There's nothing to be anxious about as cryptocurrency is perfectly legal in Australia regardless of whether you're interested in buying, selling, or trading these assets. Since 2017, cryptocurrencies are treated as property, while the profits from crypto assets are subject to Capital Gains Tax (CGT).
What countries does CoinJar support?
Right now, Australia and the UK are the only two countries that can use all of CoinJar's features. Although the platform is available internationally, most countries are limited to CoinJar's custodial services but the company definitely plans on branching out in the near future.
Does CoinJar have a mobile app?
Yes, CoinJar is ready to be used on the go! The app is free for download on both iOS and Android devices and has pretty much the same options as the website. You can place orders, execute trades, transfer money, check your transaction history, follow market rates and crypto charts, etc. If you're worried that mobile apps are riskier than desktop-based platforms, you should activate biometrics login to add another layer of security.
Does CoinJar charge deposit fees or withdrawal fees?
In general, CoinJar doesn't charge deposit fees except for debit/credit card purchases via Instant Buy which cost 2% per order and Blueshyft purchases that incur a 1.5% fee. There's no withdrawal fee when transferring funds from your Cash Account to your bank account.
Related:
Top Crypto Exchanges Compared
| Exchange | Deposit Methods | Fiat Currencies | Cryptocurrencies | Trading Fees | Deposit Fees | Withdrawal Fees | Sign Up |
| --- | --- | --- | --- | --- | --- | --- | --- |
| Swyftx | Bank Transfer, Crypto, Credit and Debit Card, Osko, PayID | New Zealand Dollars and Australian Dollars | Over 320 | 0.6% | Australian Dollars Deposits: 0% Crypto: 0% | Australian Dollars Withdrawals: 0% Crypto: 0% | Visit Swyftx |
| Binance | Crypto, Credit and Debit Cards, Osko, PayID | 10 Fiat Including USD and AUD | Over 600 | 0% to 0.1% | 0% | Vary | Visit Binance |
| CoinSpot | Bank Transfer, Fiat, Crypto, POLi, and PayID | Australian Dollars | Over 370 | Instant Buy/Sell: 1% OTC: 0.1% Market Order: 0.1%* | Direct Deposit: $0 Cash: 2.5% PayID, POLi, and direct deposits: $0 BPAY: 0.9% Direct Bank Transfer: $0 | Australian Dollars Withdrawals: $0 | Visit CoinSpot |
| Bybit | Crypto, electronic funds transfer (EFT), wire transfer, bank transfer, credit card, and debit card | 50+ | 160+ | 0.1% spot trading 0.01% – 0.06% market makers/market takers fee | $0 | Does not support direct fiat withdrawals Crypto withdrawal fees: Network fees | Visit Bybit |
| Crypto.com | PayPal, Cryptocurrency, SWIFT, Fedwire, Wise, Debit Card, Credit Card, SEPA, BPAY, Bank Transfer (ACH) | USD, AUD, SGD, and 15+ more | 250+ | 0.04% to 0.4% | $0 | FREE via bank transfer. $25 for USDC withdrawal via SWIFT Network | Visit Crypto.com |
| Digital Surge | Bank Transfer, Crypto, POLi, Osko, PayID | Australian Dollars | Over 300 | 0.1% to 0.5% | Deposit Fees Bank Transfer: $0 POLi: $2 (capped at $3.30) | $0 for AU Bank Accounts Cryptocurrency: Depends On the Network | Visit Digital Surge |
| CoinJar | Fiat, Bank Transfer, Crypto, Credit or Debit Card, Apple Pay, Google Play | Pound Sterling and Australian Dollars | Over 50 | Maker: 0.04 to 0.1% Taker: 0.04 to 0.1% | Fiat: 1.5% CoinJar Users: $0 NPP: $0 | $0 | Visit CoinJar |
| Independent Reserve | Crypto, Osko, PayID, Electronic Fund Transfer, SWIFT | Australian Dollars, US Dollars, New Zealand Dollars | Over 25 | 0.05% to 0.5% | For SWIFT Deposit: $15 for deposits under Australian $5,000 equivalent $0 for deposits over Australian $5,000 equivalent For Electronic Fund Transfer: Australian $0.99 for deposits under $100 $0 for deposits more than Australian $100 | Crypto: Fees vary Bank Transfer: $0 for AUD $20 for non-AUD | Visit Independent Reserve |
| eToro | Bank Transfer, Debit Cards, Neteller, PayPal, Online Banking, and Skrill | 15 Fiat Currencies Including USD and AUD | Over 70 | Vary | Vary | $5 but minimum withdrawal of USD50 | Visit eToro |
| Coinbase | Debit Card | More than 20 Fiat Currencies Including USD and EUR | Over 200 | Vary | Credit Card and Debit Card: 3.99% | 2.49% | Visit Coinbase |
| Bittrex | Bank transfer (ACH) | Euro and US Dollars | Over 320 | 0.25% | $0 | Vary | Visit Bittrex |
| Bitfinex | Bank Wire Transfer, Crypto, Credit Card | US Dollars, Japanese Yen, Euro, Pound Sterling | Over 200 | Taker: 0.055% to 0.2% Maker: 0% to 0.1% | Crypto: $0 Wire: 0.1% (min 60 Euro/USD) | Crypto: $0 Wire: 0.1% Express Bank Wire (within 1 day on business days): 1% (min 60 Euro/USD) | Visit Bitfinex |
| Coinmama | Bank Card, SWIFT, Google Pay, SEPA, and Fedwire | 6 Fiat Currencies Including USD and AUD | Over 10 | 2.93% to 3.9% | 0% to 5% | N/A – assets are directly sent to the user's crypto wallet | Visit Coinmama |
| Kraken | Bank Transfer, Crypto, Wire Transfer, osko, SEPA, Apple Pay and Google Pay | 7 Fiat Currencies Including USD and AUD | Over 140 | Maker: 0% to 0.16% Taker: 0.10% to 0.26% | Vary | Vary | Visit Kraken |
| KuCoin | Crypto, PayPal, Wire Transfer, Credit or Debit Card, SEPA | 9 Fiat Currencies Including USD and AUD | over 645 | 0.1% | $0 | Vary | Visit KuCoin |
| Easy Crypto | Bank transfer, P2P, POLi, OSKO | AUD | 100+ | 0.5% – 1.6% | $0 | Fiat Withdrawal fees: $0 Crypto withdrawal fees: Network fees | Visit Easy Crypto |
| Coinstash | Crypto, PayID, Bank Transfer | AUD | 410+ | 0.85% | $0 | Crypto withdrawal fees: Network fees Fiat Withdrawal fees: $0 | Visit Coinstash |
This page was last updated on September 20, 2022