Coinspot vs. Coinbase 2023
CoinSpot and Coinbase are two prominent name brands in the crypto space. CoinSpot is among the most popular Australian exchanges, while Coinbase is the biggest in the USA. Which exchange should you choose?
The most concise answer is CoinSpot that has much less expensive fees and 24/7 Live Chat support, staking 21 coins, as well as the ability to buy crypto and withdraw the AUD you have earned from your bank. Our customers can also get $20 in free Bitcoin when they sign to CoinSpot here.
Coinbase isn't designed to cater specifically for Australian market. Because of this, they are far behind and don't offer the basic function of selling cryptocurrency and withdrawal of Australian dollars.
Continue reading to learn how we compared both platforms and decide whether you are in agreement with our conclusion. Your individual needs might differ from those of others, and you might prefer Coinbase better suited to your needs.
Get $20 Free BTC with CoinSpot
CoinSpot vs. Coinbase Comparison Table
| Features | Coinspot | Coinbase |
| --- | --- | --- |
| | | |
| Supported Coins | 360+ | 160+ |
| Trading Fees | Instant buy: 1%, Market: 0.1% | 4.49% |
| Deposit Fee | POLi, Bank transfer, PayID, OSKO: Free; BPAY: 0.9%, Cash: 2.5% | Included in trading fee |
| Withdraw Fee | Free | N/A |
| Payment Methods | Bank transfer, OSKO, Cash Deposit, BPAY, POLi, PayID | Debit card |
| | | |
CoinSpot Pros and Cons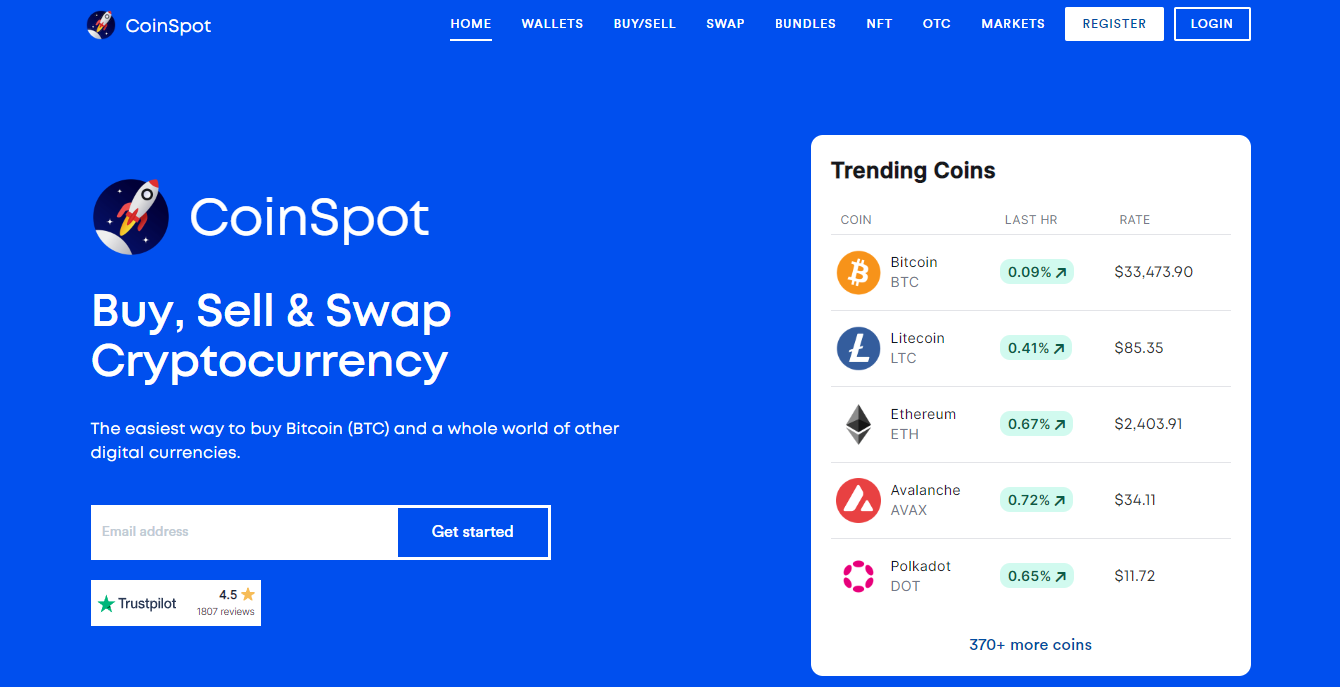 Pros:
An established track record as an honest company
A wide range of cryptocurrency options to make instant purchases and sales
Beginner-friendly design
Rapid withdrawals and deposits
NFT market available
Cold storage is used to keep the company's and user's funds inaccessible
Cons:
AUD withdrawals and deposits only
There is no option for credit or debit card deposits
Costs for purchase in a flash
Coinbase Pros and Cons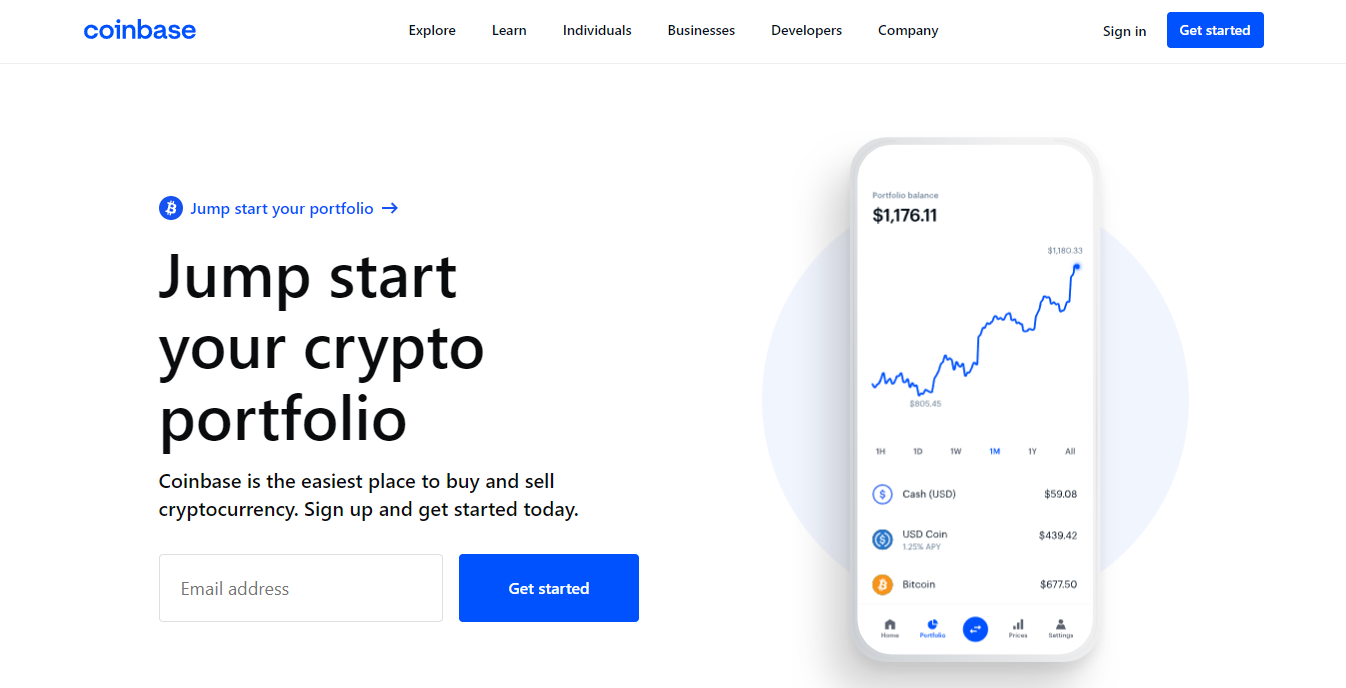 Pros
A low minimum amount is required to fund your account.
It is simple to use for beginners in cryptocurrency
Support for a wide range of cryptocurrency
Earning opportunities to get cryptocurrency
Lower rates are available when you sign up for Coinbase Pro
Simple and sophisticated trading
Earn free cryptocurrency
Educational content
The top-rated mobile app
Crypto-rewards
Offers Coinbase debit card
Cons
The fees are higher than those of other exchanges that accept cryptocurrency.
Potentially high transaction costs
Features
CoinSpot is a simple platform created for daily Australians. It offers a simple-to-use buy and instant sell function along with the ability to trade your currency with users for just 0.1 percent. If you're looking to trade between different coins, it's easy to do and you can use CoinSpot quickly on both your mobile or desktop device by using the app's intuitive interface.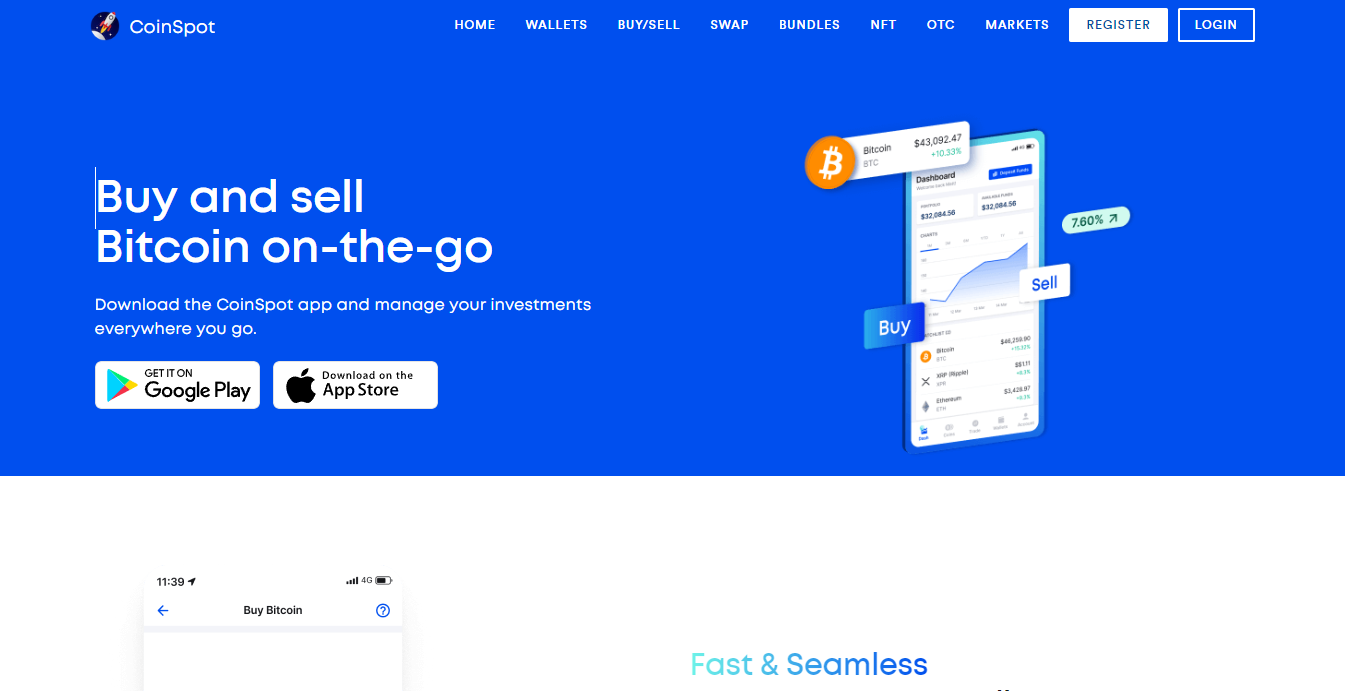 Coinbase is also simple to use, but it is lacking the basic functions in Australia since it was developed specifically for its intended US market. Coinbase is a bit limited in its functionality. Coinbase it is not possible to sell your cryptocurrency or withdraw any fiat currency you want from the exchange that is a significant drawback for Coinbase. Coinbase does however have a distinctive feature known as Coinbase Earn where you are able to earn cryptocurrency for free through short three-minute videos that will teach the user about cryptocurrency.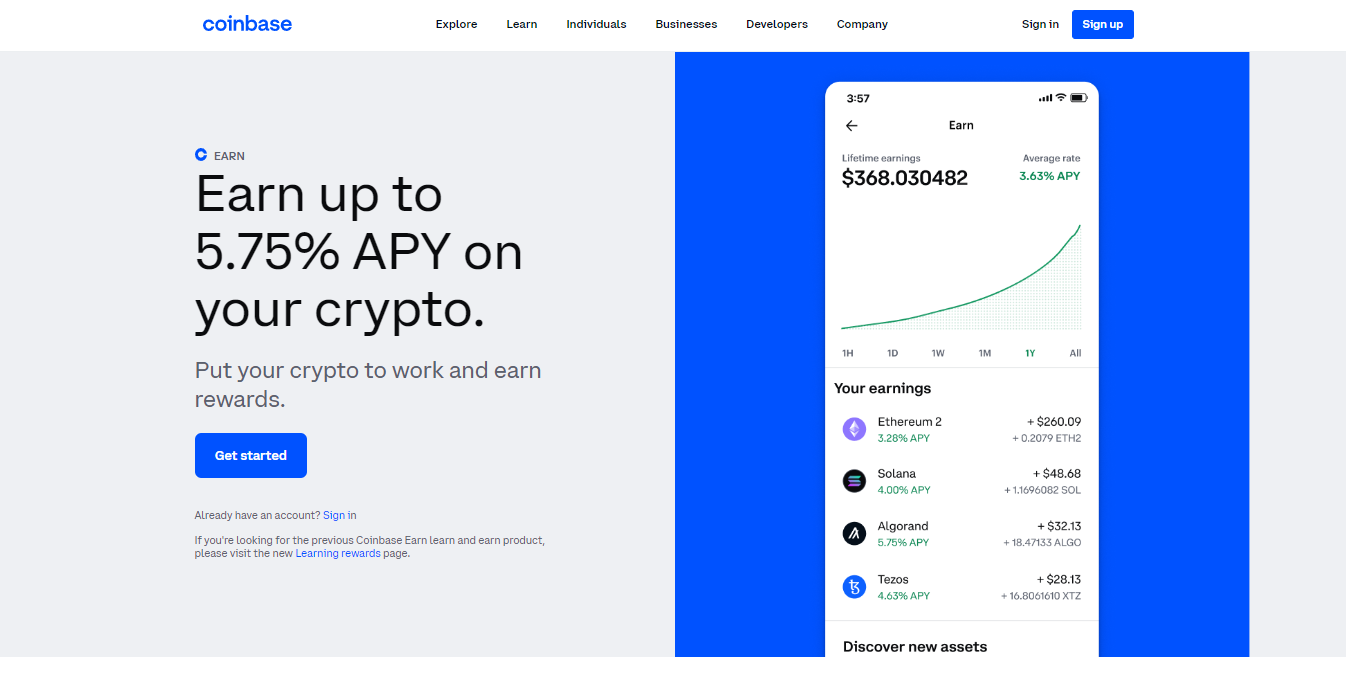 CoinSpot is extremely easy to use and permits the sale of cryptocurrency and withdrawal of fiat currency, which is not offered by Coinbase. Live Chat is also a sought-after feature on CoinSpot.
Winner: CoinSpot
Supported cryptocurrencies
CoinSpot provides over 360 different cryptocurrency options, and they constantly add fresh coins and coins onto their marketplace.
Coinbase provides more than 160 coins that is smaller than CoinSpot.
CoinSpot has more than four times the amount of coins available as Coinbase and also has the broadest selection among all Australian currency exchange.
Winner: CoinSpot
Fees
CoinSpot does not charge fees for withdrawals and offers no cost deposits via Bank transfers, POLi, PayID and OSKO. Making deposits using BPAY costs 0.9 percent and the cash rate will cost 2.5 percent. The cost for instant purchase and sale is one percent. If you purchase on the open market it is 0.1 percent, but there's only a small number of coins that you can purchase through the market.
Coinbase charges 4.49 percent for buying crypto with debit cards. This is the only way to purchase crypto in Australia. There's no option to buy cryptocurrency or withdraw AUD through Coinbase within Australia.
The lower costs lower fees make CoinSpot the clear winner when it comes to costs.
Winner: CoinSpot
Customer Support
CoinSpot's customer support is top-notch and they offer support 24/7 through Live Chat. I've used Live Chat Live Chat a few times and am always talking to a individual (no robots) within a matter of minutes.
My experience has been that I've always encountered the support team to be pleasant professional and knowledgeable in resolving my issues. Coinbase however isn't able to provide Live Chat support, which is an area that they could work on improving in.
Deposit Methods
CoinSpot provides Bank transfers, POLi, PayID, OSKO, BPAY , and Cash deposits.
Coinbase is only accepting Debit cards.
Pay methods for payments: CoinSpot has several deposit options, whereas Coinbase only accepts payments via debit card.
Winner: CoinSpot
Security
CoinSpot is one of the largest, most secured and certified crypto exchange within Australia and has ISO 27001 certification, and affiliation of Blockchain Australia. CoinSpot offers multi-layered security, including 2FA (Two-Factor authentication) and specific withdrawal restrictions, anti-phishing words geo-lock logins, timeout settings for sessions and safe cold storage of all of its cryptocurrency assets.
Coinbase can also be a secure platform, offering biometric logins, 2FA, and the majority of their cryptocurrency stored in cold storage, which is offline. Coinbase even offers insurance for crime that covers loss from theft, which includes security attacks.
CoinSpot along with Coinbase are both extremely safe, but CoinSpot has the upper hand as they are the more secured and verified Australian cryptocurrency exchange and the only one that has been awarded ISO 27001 certification.
Winner: CoinSpot
Conclusion
CoinSpot has the upper hand in this competition, since it was the winner in every section. Coinbase is not the best choice to the Australian cryptocurrency market due to the absence of withdrawals via fiat and sales of crypto.
If you'd like to take the chance to look at alternatives, look at the table below that compares them. 
Frequently Asked Questions
Is CoinSpot Regulated In Australia?
Crypto-currency exchanges are considered legal entities in Australia and are required to comply in accordance with Anti-Money Laundering and Counter-Terrorism Financing Act 2006 (AML/CTF 2006). CoinSpot is a seasoned player in the industry, CoinSpot operates in full conformity with Australian laws.
What kinds of NFTs are offered on CoinSpot?
CoinSpot isn't very closely linked with CoinSpot isn't closely linked to DeFi part of the cryptocurrency world , but it does have a selection of the hugely popular art tokens known as NFTs. You can locate about twenty NFT collection on sale on CoinSpot which includes Decentraland (MANA), ApeCoin (APE) along with Sandbox (SAND)
Are CoinSpot the best exchange to purchase Bitcoin?
It depends. CoinSpot is always the preferred option for Bitcoin transactions (and trading generally) for those who require the assurance of the services they utilize. Its attractive design and a highly efficient customer service which make CoinSpot among the most reliable Australian exchanges. If you're an Bitcoin trading day-to-day, you might want to look for a less expensive and more diverse option.
How do I withdraw my money through CoinSpot?
To withdraw funds from CoinSpot it is necessary to trade them to fiat. It's as easy as buying. All you need to do is click the Sell tab, type in the amount of cryptocurrency you wish to withdraw, then enter the bank details required. The exchange will calculate immediately the exchange rate at the moment and deposit the cash into your bank account once you've confirmed the transaction.
What are the acceptable payment methods on CoinSpot?
In a nutshell, nearly every thing you can think of as a legitimate payment method across Australia other than credit and debit card, ApplePay and PayPal. Its CoinSpot list of payment options that are accepted includes cash deposits, bank transfer (Blueshyft), BPAY, Osko, POLi, PayID and, of course cryptocurrency.
Are cryptocurrency transactions legal within the United States?
The legality of cryptocurrency is throughout the United States. However, unlike US currency or credit cards, crypto isn't restricted nor issued by a bank or a government. Instead, cryptocurrency utilizes encryption to ensure the authenticity and distribution of transactions using a decentralized system.
Which countries Coinbase supports? Coinbase supports?
Customers can utilize Coinbase within Coinbase in the United States, Canada, Australia, Singapore, and the majority of Europe. For the United States, Coinbase's USD wallet is available only to states that have licenses in the transmission of money or in states where licenses aren't issued or required by Coinbase. In the current Coinbase exchange review just the State of Hawai'i was waiting on Coinbase support.
Is Coinbase licensed in the United States?
Coinbase licenses are in all 42 US states and also Washington DC and Puerto Rico. It is still possible to access Coinbase in states that are not licensed.
Does Coinbase has a mobile application?
Coinbase offers a mobile application available for iOS as well as Android users. It is highly rated by customers in their Apple as well as Google Play stores. It lets users buy or sell and store crypto safely, with an intuitive layout and user-friendly platform.
Does Coinbase offer an online cryptocurrency wallet?
Coinbase Wallet is a mobile application that gives you a secure storage space for your cryptocurrency. It is possible to utilize Coinbase Wallet with or without an existing Coinbase cryptocurrency exchange account, however, you are able to connect to your Coinbase Wallet with you Coinbase exchange account to increase security in your crypto storage. It is available for Android as well as iOS devices.
What is the difference between Coinbase and Binance?
Binance was established in the year 2017 is the most renowned cryptocurrency exchange worldwide, while Coinbase is second-largest. Binance has more than 200 cryptocurrency and Coinbase Pro supports 36. The company also has low fees. It is worth noting that Binance has been the focus of one of the largest cryptocurrency thefts of 2019 and doesn't conform to Coinbase's policy of protection and self-regulation. In the past, Binance relocated to Malta in a country where it isn't subjected to the strictest regulations.
Related:
Top Crypto Exchanges Compared
| Exchange | Deposit Methods | Fiat Currencies | Cryptocurrencies | Trading Fees | Deposit Fees | Withdrawal Fees | Sign Up |
| --- | --- | --- | --- | --- | --- | --- | --- |
| Swyftx | Bank Transfer, Crypto, Credit and Debit Card, Osko, PayID | New Zealand Dollars and Australian Dollars | Over 320 | 0.6% | Australian Dollars Deposits: 0% Crypto: 0% | Australian Dollars Withdrawals: 0% Crypto: 0% | Visit Swyftx |
| Binance | Crypto, Credit and Debit Cards, Osko, PayID | 10 Fiat Including USD and AUD | Over 600 | 0% to 0.1% | 0% | Vary | Visit Binance |
| CoinSpot | Bank Transfer, Fiat, Crypto, POLi, and PayID | Australian Dollars | Over 370 | Instant Buy/Sell: 1% OTC: 0.1% Market Order: 0.1%* | Direct Deposit: $0 Cash: 2.5% PayID, POLi, and direct deposits: $0 BPAY: 0.9% Direct Bank Transfer: $0 | Australian Dollars Withdrawals: $0 | Visit CoinSpot |
| Bybit | Crypto, electronic funds transfer (EFT), wire transfer, bank transfer, credit card, and debit card | 50+ | 160+ | 0.1% spot trading 0.01% – 0.06% market makers/market takers fee | $0 | Does not support direct fiat withdrawals Crypto withdrawal fees: Network fees | Visit Bybit |
| Crypto.com | PayPal, Cryptocurrency, SWIFT, Fedwire, Wise, Debit Card, Credit Card, SEPA, BPAY, Bank Transfer (ACH) | USD, AUD, SGD, and 15+ more | 250+ | 0.04% to 0.4% | $0 | FREE via bank transfer. $25 for USDC withdrawal via SWIFT Network | Visit Crypto.com |
| Digital Surge | Bank Transfer, Crypto, POLi, Osko, PayID | Australian Dollars | Over 300 | 0.1% to 0.5% | Deposit Fees Bank Transfer: $0 POLi: $2 (capped at $3.30) | $0 for AU Bank Accounts Cryptocurrency: Depends On the Network | Visit Digital Surge |
| CoinJar | Fiat, Bank Transfer, Crypto, Credit or Debit Card, Apple Pay, Google Play | Pound Sterling and Australian Dollars | Over 50 | Maker: 0.04 to 0.1% Taker: 0.04 to 0.1% | Fiat: 1.5% CoinJar Users: $0 NPP: $0 | $0 | Visit CoinJar |
| Independent Reserve | Crypto, Osko, PayID, Electronic Fund Transfer, SWIFT | Australian Dollars, US Dollars, New Zealand Dollars | Over 25 | 0.05% to 0.5% | For SWIFT Deposit: $15 for deposits under Australian $5,000 equivalent $0 for deposits over Australian $5,000 equivalent For Electronic Fund Transfer: Australian $0.99 for deposits under $100 $0 for deposits more than Australian $100 | Crypto: Fees vary Bank Transfer: $0 for AUD $20 for non-AUD | Visit Independent Reserve |
| eToro | Bank Transfer, Debit Cards, Neteller, PayPal, Online Banking, and Skrill | 15 Fiat Currencies Including USD and AUD | Over 70 | Vary | Vary | $5 but minimum withdrawal of USD50 | Visit eToro |
| Coinbase | Debit Card | More than 20 Fiat Currencies Including USD and EUR | Over 200 | Vary | Credit Card and Debit Card: 3.99% | 2.49% | Visit Coinbase |
| Bittrex | Bank transfer (ACH) | Euro and US Dollars | Over 320 | 0.25% | $0 | Vary | Visit Bittrex |
| Bitfinex | Bank Wire Transfer, Crypto, Credit Card | US Dollars, Japanese Yen, Euro, Pound Sterling | Over 200 | Taker: 0.055% to 0.2% Maker: 0% to 0.1% | Crypto: $0 Wire: 0.1% (min 60 Euro/USD) | Crypto: $0 Wire: 0.1% Express Bank Wire (within 1 day on business days): 1% (min 60 Euro/USD) | Visit Bitfinex |
| Coinmama | Bank Card, SWIFT, Google Pay, SEPA, and Fedwire | 6 Fiat Currencies Including USD and AUD | Over 10 | 2.93% to 3.9% | 0% to 5% | N/A – assets are directly sent to the user's crypto wallet | Visit Coinmama |
| Kraken | Bank Transfer, Crypto, Wire Transfer, osko, SEPA, Apple Pay and Google Pay | 7 Fiat Currencies Including USD and AUD | Over 140 | Maker: 0% to 0.16% Taker: 0.10% to 0.26% | Vary | Vary | Visit Kraken |
| KuCoin | Crypto, PayPal, Wire Transfer, Credit or Debit Card, SEPA | 9 Fiat Currencies Including USD and AUD | over 645 | 0.1% | $0 | Vary | Visit KuCoin |
| Easy Crypto | Bank transfer, P2P, POLi, OSKO | AUD | 100+ | 0.5% – 1.6% | $0 | Fiat Withdrawal fees: $0 Crypto withdrawal fees: Network fees | Visit Easy Crypto |
| Coinstash | Crypto, PayID, Bank Transfer | AUD | 410+ | 0.85% | $0 | Crypto withdrawal fees: Network fees Fiat Withdrawal fees: $0 | Visit Coinstash |
This page was last updated on July 14, 2023