Both CoinSpot and CoinJar stand among the industry's most sought after and in-demand crypto exchange providers. Both platforms come with a stellar offering when it comes to customisation, ease of use, security infrastructure and digital currency selection. The platforms are suited for traders from all walks of life, from veteran traders with extensive knowledge to absolute beginners. Traders will find that both platforms offer fiat-to-crypto trades and are the go-to choice across Australia and the UK.
Nevertheless, there is no such thing as a perfect crypto trading provider. So, today we are going to take a closer look under the hoods of both of these exchanges and find out what makes them tick.
About the Trading Platforms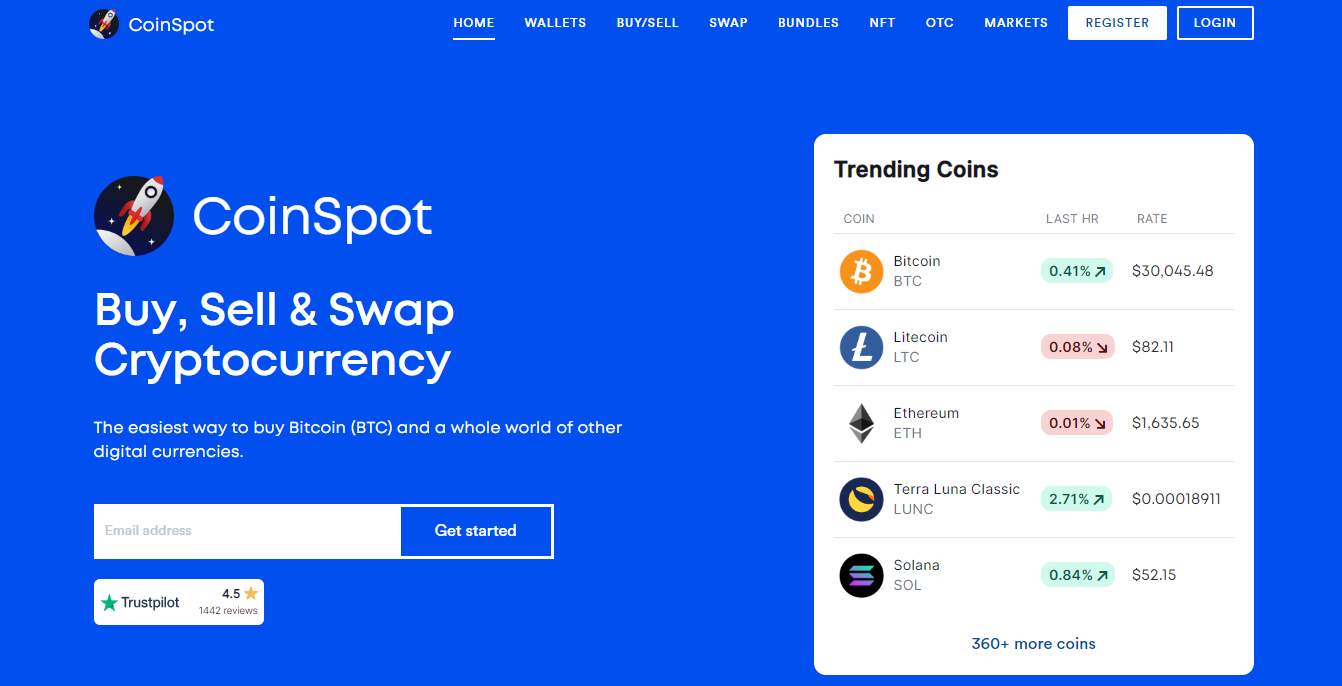 CoinSpot was founded back in 2013 in Melbourne, Australia. The crypto trading exchange quickly grew to be one of the main players on the Australian crypto scene by offering users quality and stable crypto-to-fiat trade offerings. CoinSpot is part of the ADCA, which stands for the Australian Digital Commerce Association. 
The ADCA does not regulate the trading platform; however, it does imply that CoinSpot and its team are well versed in blockchain technology solutions. The crypto trading platform supports more than 280 digital assets accessible from every CoinSpot account. Traders are able to make the most out of instant payment providers such as PayID, BPAY, and POLi for direct and cash deposits. 
The trading platform complies with the latest ISO security protocols and AML (Anti-Money Laundering) policies and administers KYC (Know Your Customer) tests on all of its clients. CoinSpot also provides additional security tools such as a two-factor authentication security layer, an over-the-counter (OTC) brokerage desk that is online around the clock, as well as a live chat feature in place for all Australian Super Fund account holders. 
Besides being an instant crypto provider, CoinSpot also provides its clientele with an affiliate program that delivers a whopping 30% commission on referrals. Most importantly, the trading platform comes with an intuitive user-friendly that's a joy to navigate from end to end.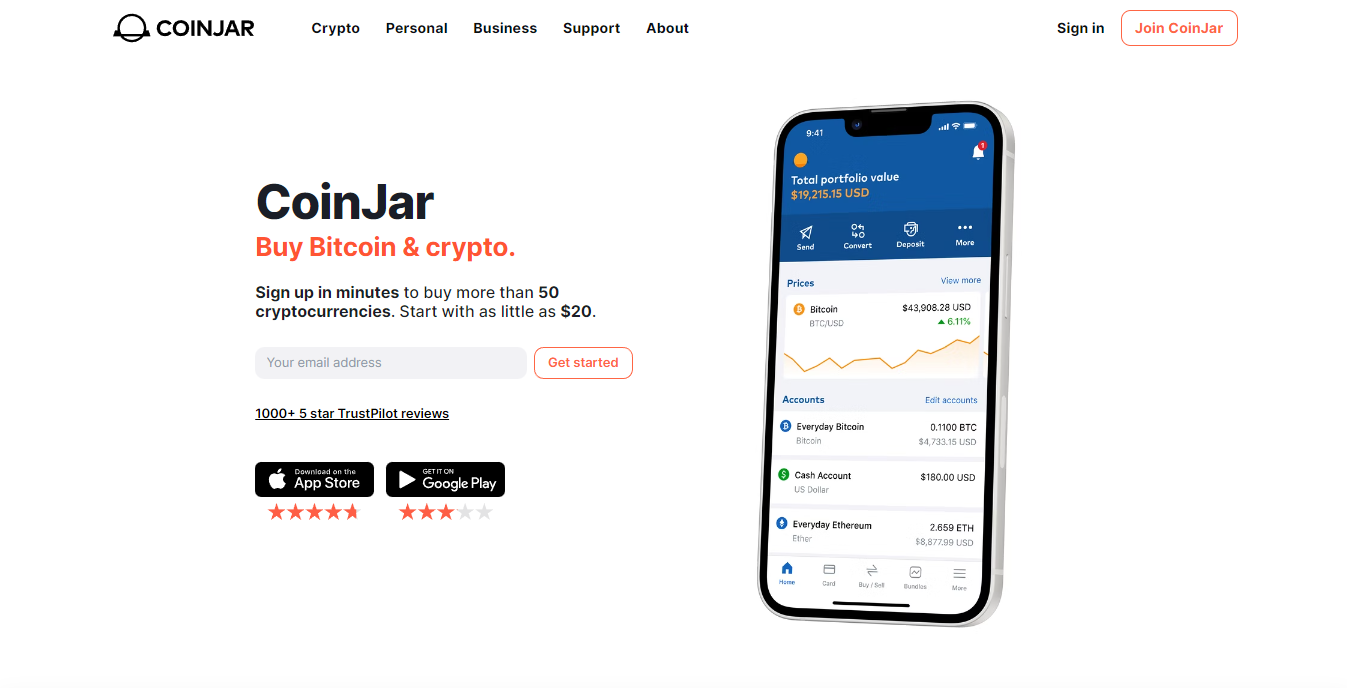 CoinJar also came to the crypto-scene back in 2013 and is Melbourne-based as well. The trading platform makes it possible for Australian crypto traders to engage in trades where they can buy Bitcoin, as well as sell and store digital assets. The crypto platform is credited to Asher Tan and Ryan Zhou. While CoinJar is super functional as a crypto trading exchange, the platform also doubles as a crypto wallet provider. With over 70,000 active users and $100 million in annual transactions, CoinJar is one of the number one choices for Aussies.
The platform makes it possible for traders to buy or sell Bitcoin with fiat deposits at a fixed fee of 1%. In order to make a successful deposit at CoinJar, traders first have to verify their accounts by providing the crypto exchange with a national ID card, passport or driver's license. 
Users who have unverified CoinJar accounts are able to engage in crypto trades; however, there is no option for withdrawals on these accounts. Much like CoinSpot, CoinJar employs the services of some of the most in-demand and popular instant payment providers, such as BPAY, PayID, and Blueshyft.
CoinJar comes with its own native EFTPOS credit card, CoinJar Swipe. Traders who own this card are able to convert Bitcoin to Australian dollars at any EFTPOS dispenser by employing automated protocols. The platform also provides users with a CoinJar Hedge Account that comes particularly handy when they're dealing in several fiat currencies such as USD, British Pounds, Euros, and Australian Dollars.
Bitcoin and Other Cryptocurrencies
When it comes to fiat support on deposits, CoinSpot is limited to Australian Dollars (AUD), whereas CoinJar offers its clients British Pound (GBP) deposits as well.
CoinSpot features an impressive crypto selection with over 150 digital assets, ranging from the most popular and sought after ones to obscure and niche coins. Traders who deal through CoinSpot are able to take full advantage of the platform's coin listing that includes Bitcoin (BTC), Bitcoin Cash (BCH), Ethereum (ETH), Ripple (XRP), Cardano (ADA), Binance Coin (BNB), Doge (DOGE) and Litecoin (LTC). Meanwhile, CoinJar's offering is pretty tight-knit and offers the essentials. However, the trading platform has taken a step forward in this regard and has recently expanded its roster by adding digital goods such as Stellar (XLM), Maker Dai (DAI), 0x, Compound, as well as Chainlink (LINK).
Judged by this, CoinSpot has the upper hand when it comes to cryptocurrency selection because it provides users with a greater pallet of cryptocurrencies to choose from. While this is not always paramount and the focus of trading platforms, it does help to have extra crypto trading pairs lying around.
You could say that both crypto trading providers are pretty evenly matched when it comes to their deposit methods. CoinSpot employs the services of the most popular Australian payment providers such as BPAY, POLi, and PayID. Traders are welcome to make cash deposits by making use of Blueshyft as well.
CoinJar, on the other hand, provides its clientele with the option to deploy funds via direct bank account deposits as well as wire transfers. Of course, instant deposits are still on the table for users who feel comfortable going through Blueshyft or BPAY. BPAY stands as one of the quickest and most widely utilised methods of transferring digital goods while offering some of the best spreads in the instant-payment-provider world. Even though some crypto traders might prefer CoinJar's offering because of their traditional deposit offering, most traders prioritise speed, so the offering is always playing second fiddle to instant providers. 
CoinSpot employs a stable flat 1% fee on all instant purchases and a super affordable and competitive 0.1% fee on market orders. BPAY deposits come at 0.9%, while Blueshyft deposits clock at a high 2.5%. POLi, PayID, and direct deposit methods are all free of charge. CoinJar is a bit more expensive and provides its users with a flat 2% fee on instant purchases. However, BPAY deposits are completely free. Crypto-to-crypto orders come at a very competitive 0.1% fee and are closely tied in with the user's monthly trading volume.
By offering the services of POLi, PayID, direct deposits and wire transfers for free, CoinSpot does seem like the better choice of the two. Nevertheless, both trading platforms employ a very affordable 0.1% on market orders, incentivising traders to deal more frequently. 
The fact that CoinSpot is exclusive to Australia and regulated with the Australian Digital Commerce Association makes it an excellent and stable choice for Aussie traders. CoinJar, on the other hand, is both registered on Australian and UK soil. So, besides being backed by AUSTRAC, the trading platform also complies with AML protocols that are mandated by the UK, which adds a whole different regulation infrastructure on top of the AUSTRAC one. By extension, this makes CoinJar one of the most stable platforms out there. 
CoinSpot is the only Australian crypto trading platform that is ISO 27001 certified, which meets the international standards when it comes to safety, asset storage and asset and data management. The platform uses two-factor authentication or 2FA, through which clients are able to receive notifications on every withdrawal and login attempt. This way, they are able to manually confirm or dismiss all notifications before they are executed. Most of the platform's crypto assets are kept in cold storage, offline and away from the prying eyes of hackers. 
CoinJar stores over 95% of user assets in cold storage as well and employs smart algorithms that monitor their premises and search for suspicious accounts. Users can activate two-factor authentication to increase the level of account security.
CoinSpot and CoinJar employ different avenues for their users to get in touch with them. Both crypto exchange platforms feature a knowledge base in the form of a FAQ section, where users are able to browse and seek out any entanglements and find resolutions to most problems.
However, when it comes to customer support, CoinSpot relies on ticketing and email support, while CoinJair employs the services of Zendesk, through which users are able to get in touch and file for a support ticket. By employing a dedicated company to handle their customer support, CoinJar might be alienating some of their users because they have to trust the third party in order to provide it with sensitive data and information.
Do CoinSpot and CoinJar have a mobile app?
While CoinSpot does not provide its clients with a separate mobile app, its user interface is geared towards beginners and can be easily navigated through a mobile device. That being said, there is no substitute for the real thing. CoinJar has a robust and excellent mobile app that's compatible with both Android and iOS devices. Traders who close out their deals on the go will benefit from this option.
Can I buy Bitcoin (BTC) with Australian dollars (AUD) on these two cryptocurrency exchanges?
Yes, both trading platforms support AUD and BTC deposits and purchases, so it really comes down to which platform you prefer. The most important parameter to consider is the fees the exchanges administer on fiat purchases. CoinSpot might be the way to go here because they have a very reasonable 1% fee for instant purchases, as well as an exceptionally low 0.1% fee on market orders. CoinJar's fiat fee is a bit more expensive as it comes at 2% per order, but you can go fee-free on BPAY purchases.
How does CoinJar fare against Swyftx?
Even though both CoinJar and Swyftx share similar features when it comes to deposit methods and security infrastructure, Swyftx might be the better of the two for traders who are looking for more options and Bitcoin pairs. Not to mention the slightly lower fees. 
Does Binance have better altcoin support than CoinSpot?
When it comes to altcoin support, both platforms are pretty evenly matched. CoinSpot comes only 10 currencies short of Binance's 300 supported assets. That being said, Binance employs a vastly different and more affordable fee structure, which makes it the obvious winner between the two. Moreover, traders who use Binance enjoy a very affordable 0.1%, while users who opt for CoinSpot will have to deal with a 1% fee on trades. 
A Few Words Before You Go...
CoinJar and CoinSpot might not be internationally renowned platforms like Binance or Coinbase, but these two Australian cryptocurrency exchanges still provide plenty of trading options, excellent support teams, instant buy offers and very low fees on trades. Moreover, both platforms support fiat currencies, making it possible for users to buy crypto and engage in cryptocurrency trading using a plethora of payment methods. Both trading platforms are very capable of delivering on a multitude of fronts, so the only thing that should be up for consideration is whether they are a good fit for your needs and preferences.
Related:
This page was last updated on July 14, 2023