Coinstash is a simple and relatively new cryptocurrency exchange, specifically designed to cater to Aussie cryptocurrency traders as well as investors. Coinstash declares that they will allow crypto-traders from other countries in the future , and extend their reach to a wider audience. For now, only Australians are able to use the features of Coinstash.

Coinstash was launched in 2017 and have been focused on providing the most convenient and easy user experience since their inception. One of their primary goals is their 24/7 customer support and support to help crypto investors and traders resolve their problems.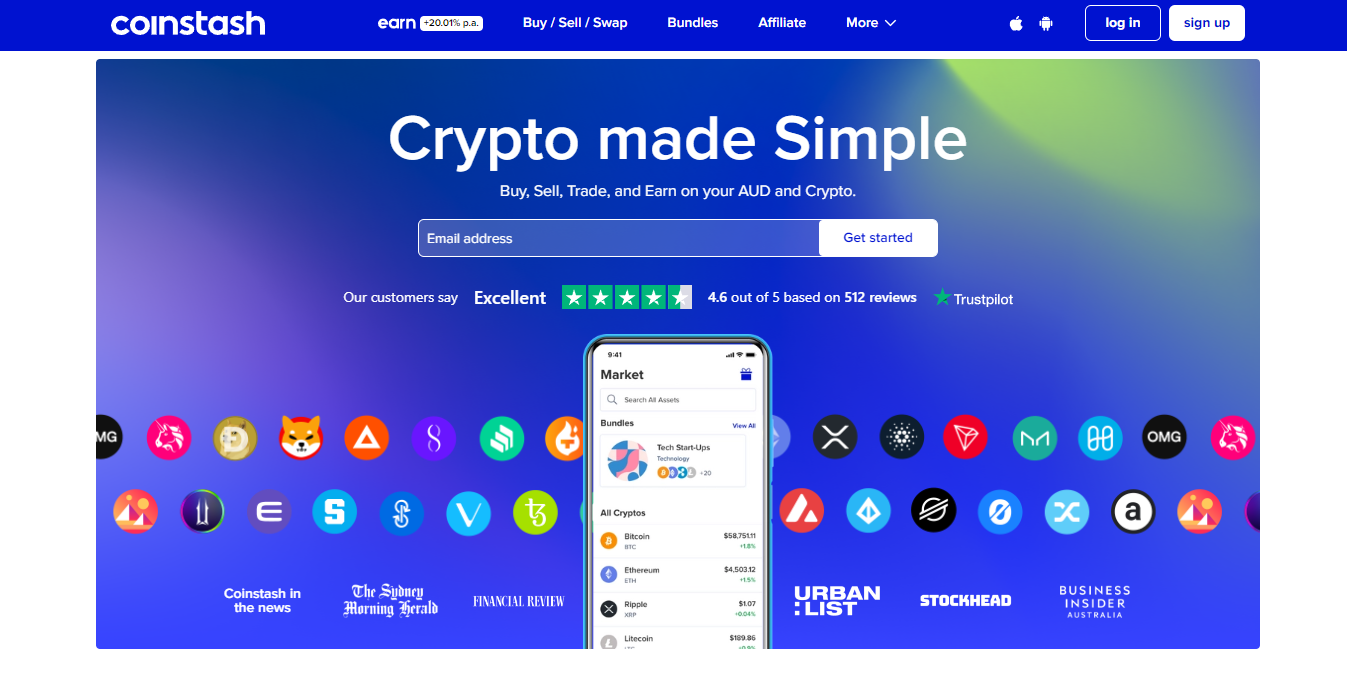 The Australian cryptocurrency exchange is a secure and secure platform because it is a registered firm in Australia and additionally an Australian Financial Services AFS (Licensee) to ensure that everything is safe and secure. Coinstash is also steadily growing in popularity and users. It has actually been featured on a variety of major media outlets.
Pros:
Recurring purchases allow you to easily do DCA.
A great trade on the go available for iOS as well as Android smartphones.
Easy to use Interface, perfect for beginners.
Purchase bundles of the top crypto coins or altcoins, making it simpler and faster to diversify your investments.
Stake crypto , which includes BTC as well as ETH, with competitive yields.
Lower fees for trading, so that less of your money is spent on the exchange.
Cons:
Deposit methods limited to Bank Transfer and PayID.
Features of Coinstash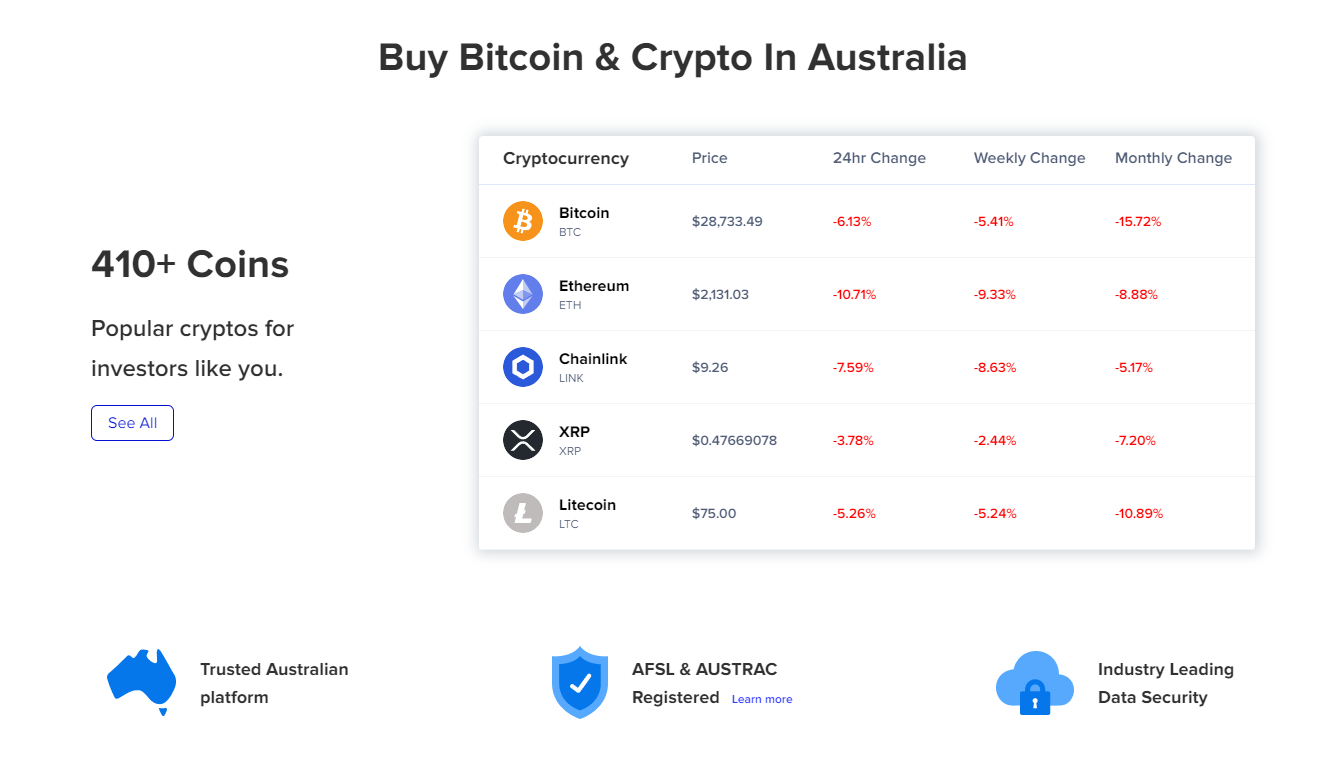 Coinstash is a great exchange for Aussie crypto-savvy people who are looking to begin their journey to trading in crypto. Selling, buying, and trading cryptocurrency on Coinstash is easy and quick.
Supported Cryptocurrencies
Additionally, they provide more than 410 cryptocurrency assets, and of course, these include the most popular ones like BTC, ETH, ADA and many other. Coinstash is constantly adding new digital assets each and then to ensure that their customers have the latest information.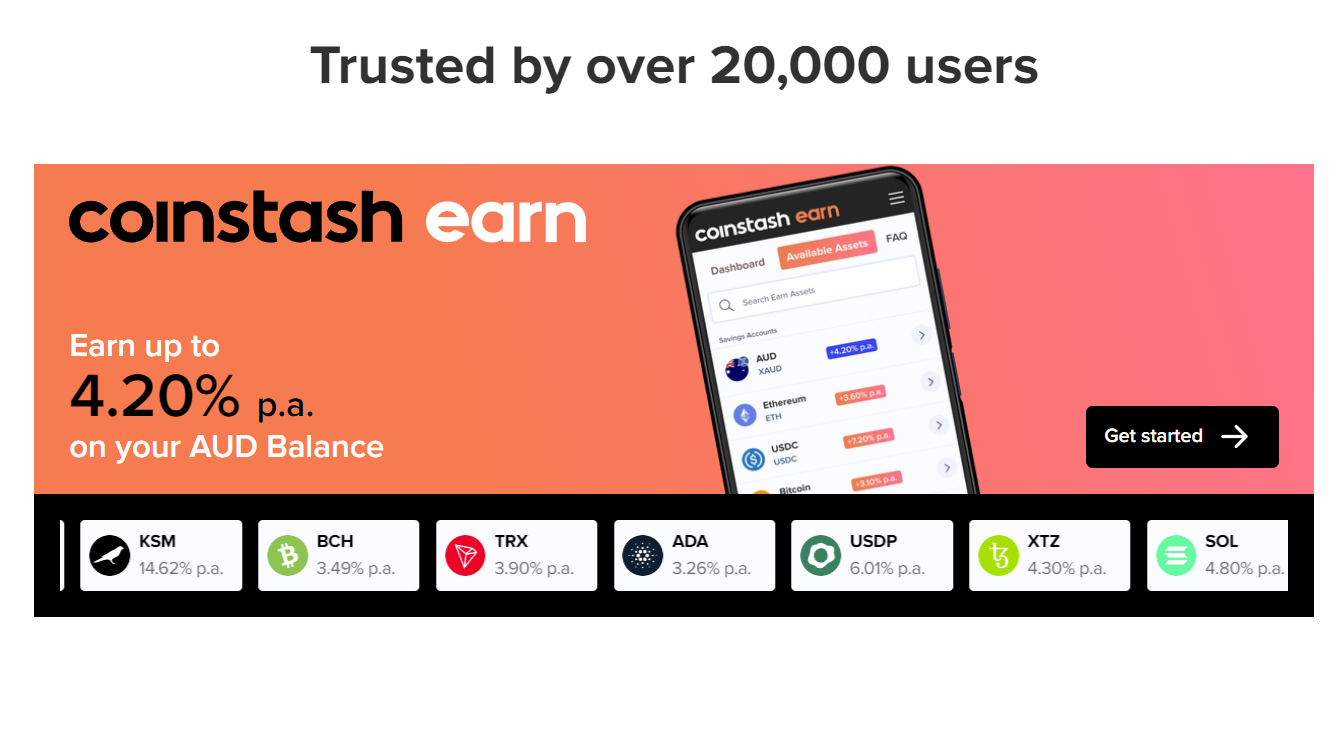 Coinstash is ideal for new and experienced traders as it provides simple trading charts as well as additional technical charting.
Withdrawal and Payment Methods
The Aussie exchange also offers fast and reliable withdrawal and deposit methods. Although it takes a while to process the first withdrawal and deposit (mainly due to the verification process) The second and subsequent deposits are processed nearly in real-time.
User-Friendliness
One of the best features of Coinstash is that it is a user-friendly and simple platform. Users will be provided with an easy interface and a dashboard. There aren't any complicated marketplaces listed on the exchange, which can make it difficult for novice traders and experienced traders.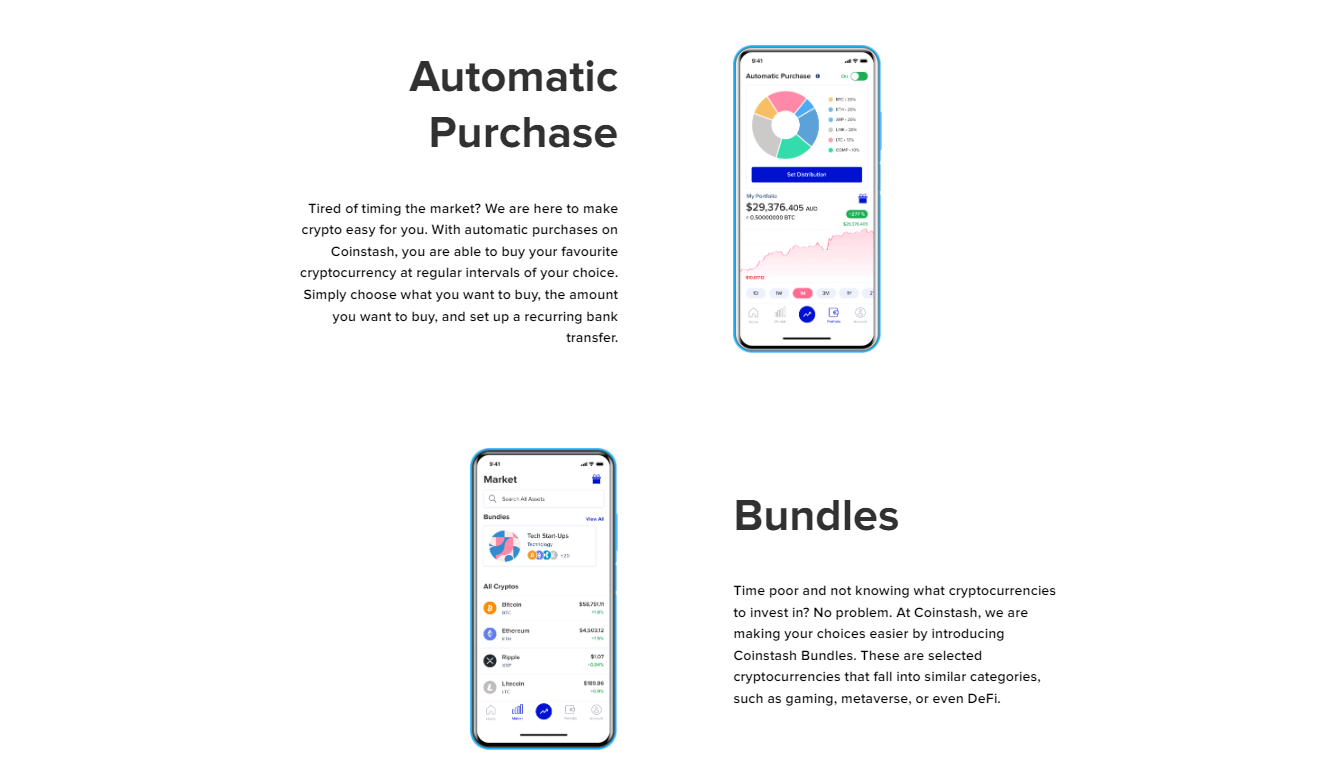 Other options that Coinstash provides include an the ability to purchase automatically, referral programs Staking, and Coinstash Make (for the passive source of income).
Security and Customer Service
Alongside security, safety along with features Coinstash is also a great source for customer service. Coinstash offers the traditional contact forms and email addresses to reach them with the issues you have. Of course they also provide Live Chat support that is available seven days a month between 9:00 AM and 11:00 PM.
Coinstash Fees
For Coinstash's fees, firstly it doesn't charge any deposit or withdrawal fees (except the fees your bank might be able to). Be aware that the withdrawal fee is 0% and is only available for fiat transactions – i.e. you pay for withdrawals made using crypto. For trading fees, Coinstash charges 0.85% for trading fees, which is a flat fee.
In the end, Coinstash is a great crypto exchange that is ideal for Aussie cryptocurrency traders, particularly novices. Coinstash is among the most trusted crypto exchanges due to their easy withdrawal and deposit methods with great security, an app for mobile devices, a basic interface and live chat assistance to name just some.
Frequently Asked Questions
How Do I Verify My Identity With Coinstash?
The company offers a variety of options for users to confirm their identity using the system. With the assistance of their customer support chat features can be utilized by those who don't possess an ID card or driver's license but can verify their identity with the Birth certificate or medical certificate or any other recognized identity documents.
What Cryptocurrencies Does Coinstash Offer?
Coinstash provides a selection of the most well-known and well-known cryptocurrency on its platform, with the possibility of adding the support of additional altcoins as well as crypto-assets. The current assets offered comprise DogeCoin, Etheruem, Ripple, Bitcoin, etc.
Is Coinstash Safe?
Coinstash has put in place various security methods for its platform, which include SSO encryption and a 2-factor authentication process for its users. The security layering approach has protected the platform from any criminals so far.
Coinstash Compared
Exchange
Deposit Methods
Fiat Currencies
Cryptocurrencies
Trading Fees
Sign Up

Swyftx



Bank Transfer, Crypto, Credit and Debit Card, Osko, PayID
New Zealand Dollars and Australian Dollars
Over 320
0.6%
Australian Dollars Deposits: 0% Crypto: 0%
Australian Dollars Withdrawals: 0% Crypto: 0%
Visit Swyftx

Binance



Crypto, Credit and Debit Cards, Osko, PayID
10 Fiat Including USD and AUD
Over 600
0% to 0.1%
0%
Vary
Visit Binance

CoinSpot



Bank Transfer, Fiat, Crypto, POLi, and PayID
Australian Dollars
Over 370
Instant Buy/Sell: 1% OTC: 0.1% Market Order: 0.1%*
Direct Deposit: $0 Cash: 2.5% PayID, POLi, and direct deposits: $0 BPAY: 0.9% Direct Bank Transfer: $0
Australian Dollars Withdrawals: $0
Visit CoinSpot

Bybit



Crypto, electronic funds transfer (EFT), wire transfer, bank transfer, credit card, and debit card
50+
160+
0.1% spot trading 0.01% – 0.06% market makers/market takers fee
$0
Does not support direct fiat withdrawals Crypto withdrawal fees: Network fees
Visit Bybit

Digital Surge



Bank Transfer, Crypto, POLi, Osko, PayID
Australian Dollars
Over 300
0.1% to 0.5%
Deposit Fees Bank Transfer: $0 POLi: $2 (capped at $3.30)
$0 for AU Bank Accounts Cryptocurrency: Depends On the Network
Visit Digital Surge

CoinJar



Fiat, Bank Transfer, Crypto, Credit or Debit Card, Apple Pay, Google Play
Pound Sterling and Australian Dollars
Over 50
Maker: 0.04 to 0.1% Taker: 0.04 to 0.1%
Fiat: 1.5% CoinJar Users: $0 NPP: $0
$0
Visit CoinJar

Independent Reserve



Crypto, Osko, PayID, Electronic Fund Transfer, SWIFT
Australian Dollars, US Dollars, New Zealand Dollars
Over 25
0.05% to 0.5%
For SWIFT Deposit: $15 for deposits under Australian $5,000 equivalent $0 for deposits over Australian $5,000 equivalent For Electronic Fund Transfer: Australian $0.99 for deposits under $100 $0 for deposits more than Australian $100
Crypto: Fees vary Bank Transfer: $0 for AUD $20 for non-AUD
Visit Independent Reserve

eToro



Bank Transfer, Debit Cards, Neteller, PayPal, Online Banking, and Skrill
15 Fiat Currencies Including USD and AUD
Over 70
Vary
Vary
$5 but minimum withdrawal of USD50
Visit eToro

Coinbase



Debit Card
More than 20 Fiat Currencies Including USD and EUR
Over 200
Vary
Credit Card and Debit Card: 3.99%
2.49%
Visit Coinbase

Bittrex



Bank transfer (ACH)
Euro and US Dollars
Over 320
0.25%
$0
Vary
Visit Bittrex

Bitfinex



Bank Wire Transfer, Crypto, Credit Card
US Dollars, Japanese Yen, Euro, Pound Sterling
Over 200
Taker: 0.055% to 0.2% Maker: 0% to 0.1%
Crypto: $0 Wire: 0.1% (min 60 Euro/USD)
Crypto: $0 Wire: 0.1% Express Bank Wire (within 1 day on business days): 1% (min 60 Euro/USD)
Visit Bitfinex

Coinmama



Bank Card, SWIFT, Google Pay, SEPA, and Fedwire
6 Fiat Currencies Including USD and AUD
Over 10
2.93% to 3.9%
0% to 5%
N/A – assets are directly sent to the user's crypto wallet
Visit Coinmama

Kraken



Bank Transfer, Crypto, Wire Transfer, osko, SEPA, Apple Pay and Google Pay
7 Fiat Currencies Including USD and AUD
Over 140
Maker: 0% to 0.16% Taker: 0.10% to 0.26%
Vary
Vary
Visit Kraken

KuCoin



Crypto, PayPal, Wire Transfer, Credit or Debit Card, SEPA
9 Fiat Currencies Including USD and AUD
over 645
0.1%
$0
Vary
Visit KuCoin

Easy Crypto



Bank transfer, P2P, POLi, OSKO
AUD
100+
0.5% – 1.6%
$0
Fiat Withdrawal fees: $0 Crypto withdrawal fees: Network fees
Visit Easy Crypto

Coinstash



Crypto, PayID, Bank Transfer
AUD
410+
0.85%
$0
Crypto withdrawal fees: Network fees Fiat Withdrawal fees: $0
Visit Coinstash
This page was last updated on September 7, 2022