Crypto.com vs. Binance 2023
Crypto.com along with Binance are two popular cryptocurrency exchanges. We have to compare them with one another to determine which is in leading position. We've gathered the most important details for you and put together an exhaustive comparison so that you are able to make the most informed choice for yourself.
After a thorough analysis after a thorough comparison, we can see that Binance is the best choice over Crypto.com due to its ease of use and user-friendly interface that offers the best user experience for novice investors. Binance also meets the needs of experienced traders, offering a competitive price structure as well as a variety of features that are more advanced including margin/futures trade and Binance Visa Card, and many more.
Crypto.com vs. Binance Comparison Table
Features
Crypto.com
Binance
Supported Coins
250+
600+
Trading Fees
Included in spread
0.1%
Deposit Fee
PayID, BPAY: $0,
Credit/Debit card: 3.50%
Free
Withdraw Fee
Free
Free
Payment Methods
PayID, BPAY, Debit/Credit card
PayID/OSKO
Crypto.com Pros and Cons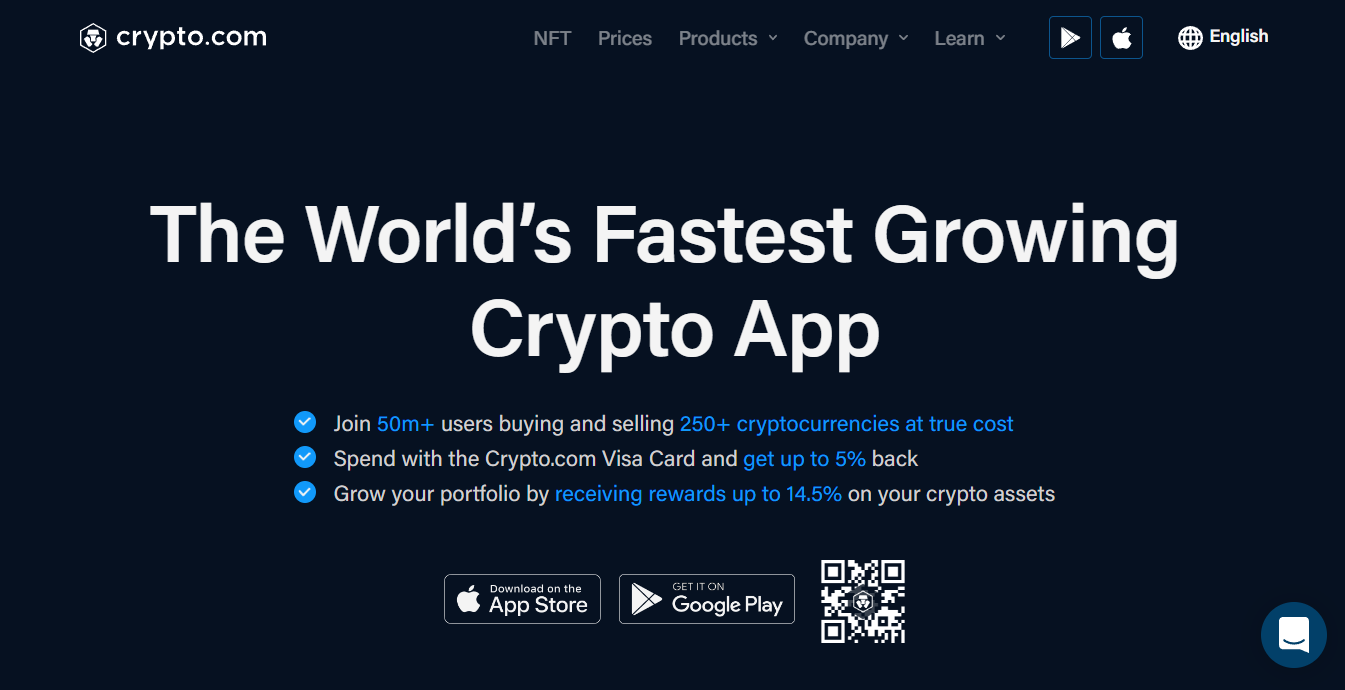 Pros
Has 250+ crypto with staking available on 40+ crypto
Easy and fast lending and borrowing of crypto
Offers derivatives and margin trading
Insurance cover on cryptocurrency
Crypto.com's Visa debit card comes with 5% cashback
Cons
Desktop website is limited to trading with only BTC, USDC, USDT, and CRO
Binance Pros and Cons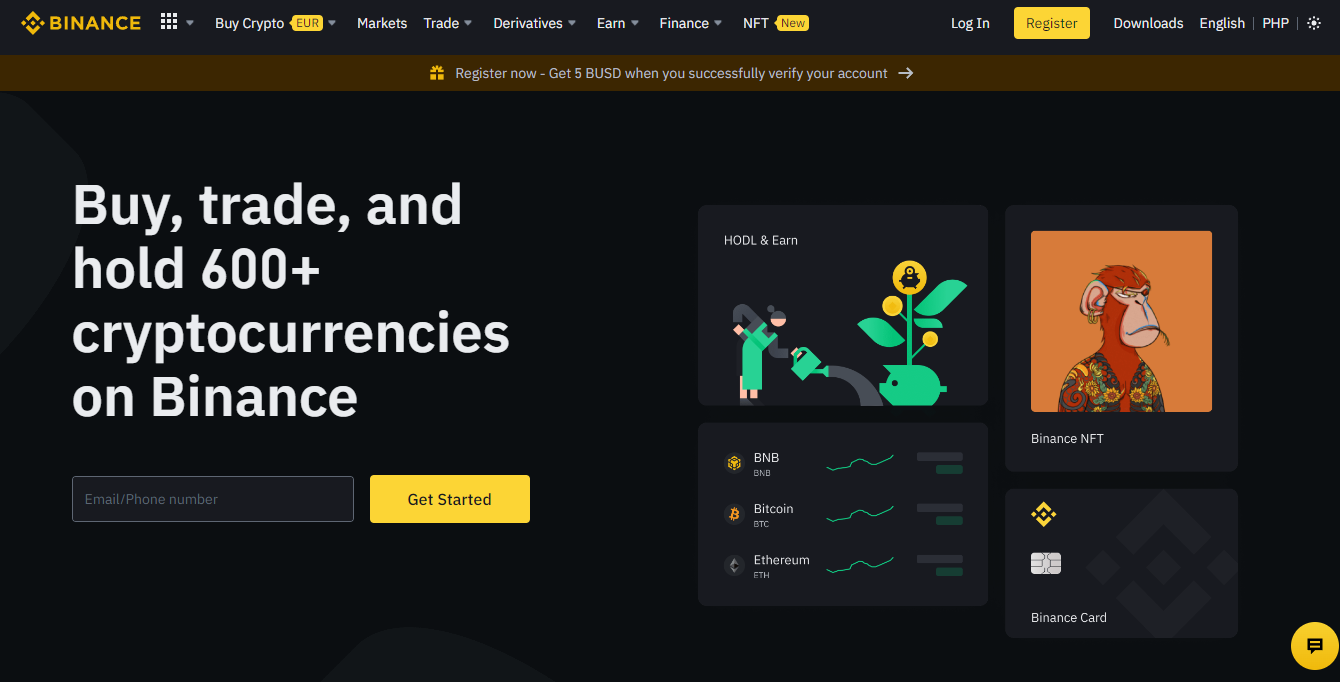 Pros
A huge spot market that includes more than 600 different cryptocurrencies
Affordable fee structure with the possibility to discount
Staking options to over 70 coins
Deposits and withdrawals that are sleek
Separate platforms for different markets
Advanced markets for professional traders
Cons
A complex platform design for novice
Excellent customer support
Features
Binance and Crypto.com provide a range of features and benefits for crypto.
It is believed that the Binance exchange is the largest in the world. Apart from an extensive selection of coins that number more than 600, certain coin pairs are able to be traded at up to 10x leverage. Limit markets, stop, and limit orders are accepted.
Binance has recently launched an NFT marketplace, which supports the creation, sale as well as purchase NFTs and you can even get them in its Mystery Box Playground.
Crypto.com also offers an NFT marketplace that lets users are able to trade limited edition digital artwork and collectibles that are hosted via the Blockchain. Crypto.com also comes with margin/futures trade and Crypto.com Visa Card.
Winner: Binance
Supported Cryptocurrencies
Binance provides over 600 stablecoins and cryptocurrencies for trading, which is among the biggest numbers of them accessible in one location. The complete list of all the major cryptocurrencies, including Bitcoin and Ethereum is available here.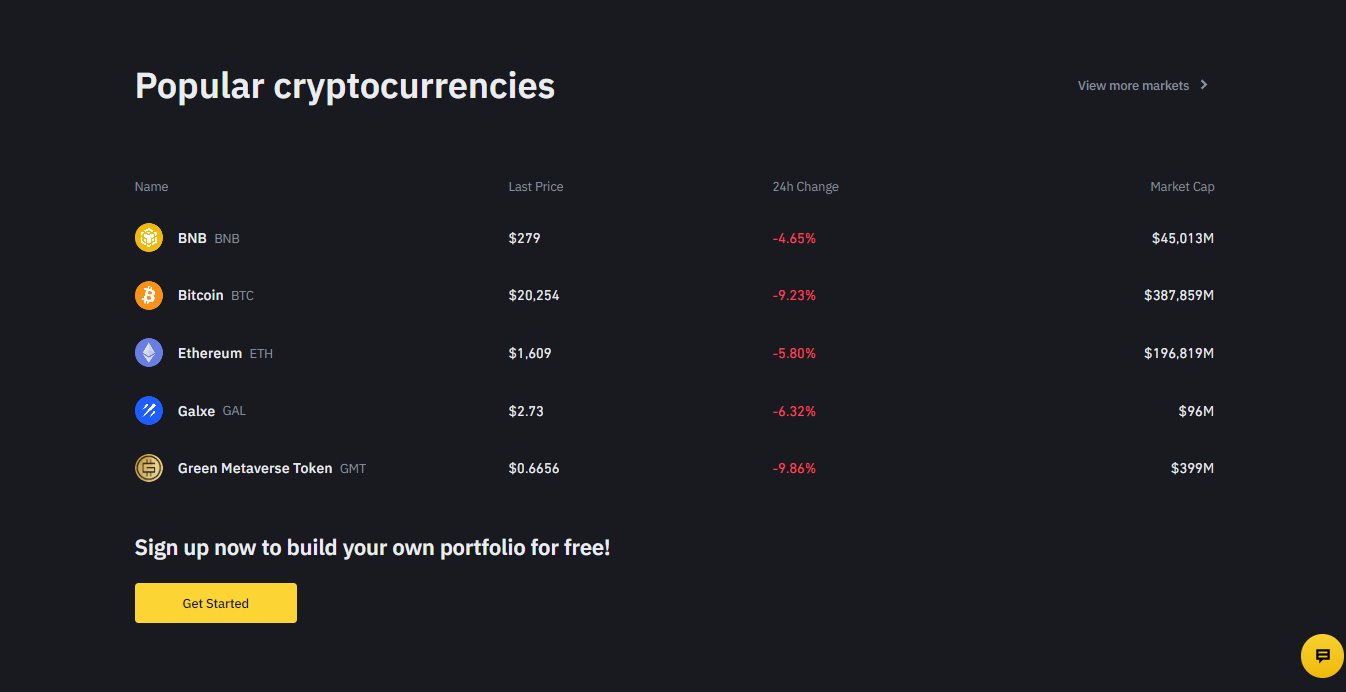 Crypto.com provides over 250 cryptocurrency and counting, which includes popular coins such as Bitcoin, Litecoin, Ethereum, Ripple (XRP), and many more.
Winner: Binance
Fees
Binance is one of the lowest rates for trading of all exchanges that are commission-free within the crypto industry and typically, they offer much smaller choice. Binance and Binance.US charges are comparable but not the same users from outside the US receiving slightly higher rates.
Crypto.com has a tied Maker-Taker fee structure that is based on the volume of trading over a 30-day period. It also appears that they charge spreads on trades, reportedly that range from 0.25 percent to 0.5 percent.
Winner: Binance
Customer Support
When visiting the Binance website users first connect via a chatbot in order to get their questions addressed. The chatbot shows the most crucial Frequently Asked Questions and elaborates on a subject after receiving your inquiries. Users can reach the support team of the customer if there is a problem that cannot be resolved. But, many customers were disappointed with the customer support's slow response time. Because of the unpredictable character of cryptocurrency markets this delay in response could result in significant financial loss for investors.
Crypto.com provides customer service via an email, a help page and live chat. While Crypto.com's customer support is standard, some customers have complained about the slowness of responses. A lot of people consider Crypto.com as a self-service site since customer support isn't always beneficial. It's ideal for those who are familiar with financial services online and does not require any guidance.
Winner: Tie
Deposit Methods
You can replenish your balance on account Crypto.com account by transferring any cryptocurrency that you already own as well as by making deposits into Singapore Dollar (SGD) via third-party payment processors like Xfers and IBAN or by transferring USD in USDC through your multi-currency account to Crypto.com. Crypto.com wallet. To Australian users, customers can only deposit AUD. can't be transferred using PayID or debit/credit cards, as well as the BPAY option for trading.
For Binance it's the only provider that has OSKO together with PayID as options for depositing using the fiat currency for Aussie customers. You can also transfer crypto into your Binance account.
Winner: Crypto.com
Security
Crypto.com's protection features comprise multi-factor authentication and insurance and cold storage of user money. Additionally, Crypto.com possesses advanced security and privacy options like CCSS Level 3, ISO/IEC 27001:2013, PCI DSS v3.2.1 level 1 conformance Level 4 NIST Security and Privacy Frameworks for Cybersecurity. They also conduct reviews of the essential Blockchain technology with well-known security auditing and consulting firms like Kudelski Security.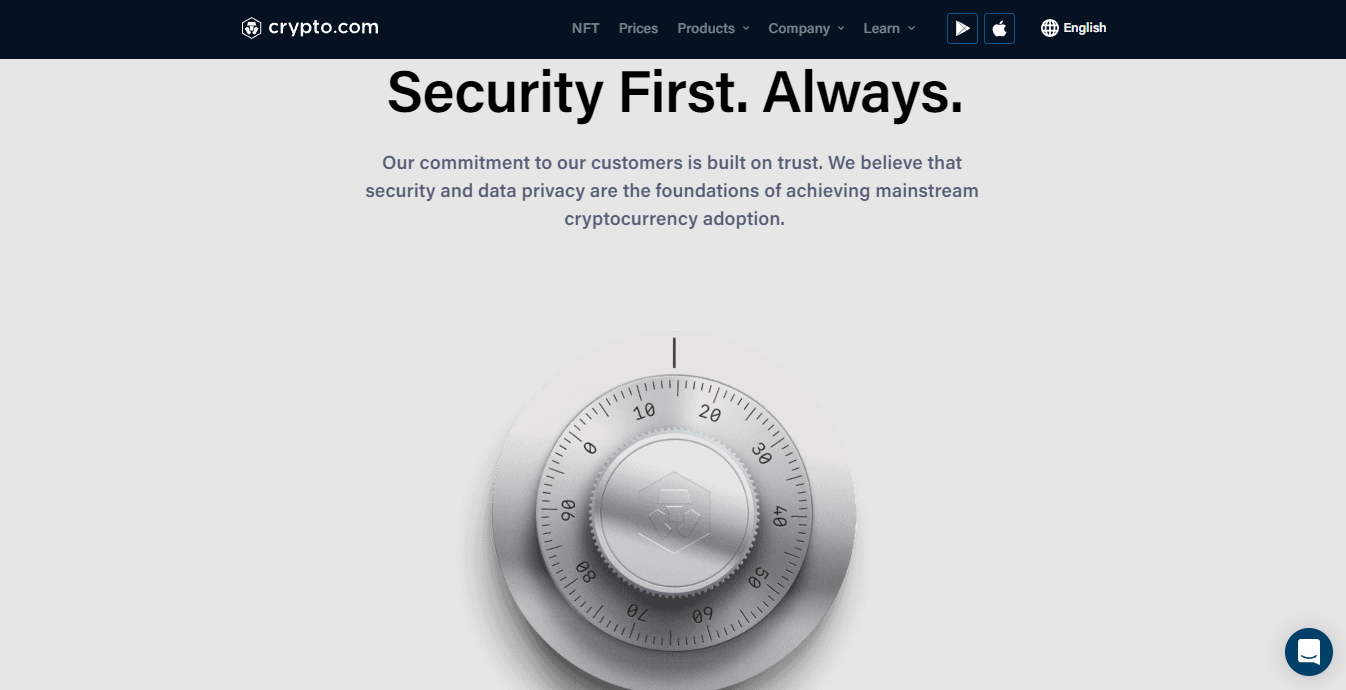 Numerous financial institutions are looking into Binance as a platform. It isn't regulated in many countries including those in the United States and the United Kingdom. Additionally, hackers stole 7,000 bitcoins from the exchange during an attack on security in the year the year. Binance has taken steps to reimburse customers for the losses they suffered in the aftermath of the attack, with funds from the Secure Asset Fund and enhancing its security measures with more rigorous KYC and AML processes.
Winner: Crypto.com
Conclusion
Crypto.com along with Binance are both excellent options, but if we had to choose one, it's Binance. If you are a beginner looking for an encrypting and secure storage space to store their cryptos and then use the coins for "real life," Binance is the best choice. The mobile application and user interface of Binance ensure that the experience is easy for those who are new to the market. Additionally, it offers an attractive pricing structure and numerous advanced options, such as leveraged margin/futures trading and staking, and the Binance Visa Card, etc.
Frequently Asked Questions
What exactly is Crypto making?
Crypto Earn is an Crypto.com product which allows users to earn money from their cryptocurrency. In particular, by depositing cryptos, Crypto.com clients may earn up to 8 percent (this can be increased to 14% for deposits of in stable currencies) of interest that is paid every week.
Does Crypto.com have an account?
Yes. This platform has an uncustodial Crypto.com wallet that is available as an individual application. It's important to know that when you use this wallet to hold your digital assets, you'll remain solely accountable for the private keys.
Which countries are covered by Crypto.com?
The company is based with its headquarters in Hong Kong, the Crypto.com trading platform is available to residents in Hong Kong, the United States, Singapore, Singapore, the United Kingdom, and more than 30 European countries.
Does Binance offer an account for cryptocurrency?
Since the year 2018 it has been the Binance wallet has been officially launched. Binance wallet has been Trust Wallet. It is free and simple to download via through the Internet, Trust Wallet is secure and private. It also can support thousands of different cryptocurrency.
Does Binance has a mobile application?
Yes. Binance's app is completely free and helps you trade and organize your cryptocurrency easy. It can be downloaded through both the Apple Store and Google Play.
How do Binance earn money?
In 2021, Binance reached a record revenue in the range of $20 billion from fees to trade in trades and fees. Additionally, Binance charges margin borrow interest, futures fees, trading, as well as cross interest rates for collateral.
Do you think it is safe to connect the bank account of a customer to Binance?
The transactions that take place on the internet is 100% secure, but according to the security measures that Binance has implemented, Binance is a reputable cryptocurrency venture.
How can I take my money from Binance?
The cash-out process using Binance is simple and rapid. Go to your Wallet page on your dashboard, and then select Spot Wallet. Just next to your AUD wallet you'll find the option to withdraw on cash Balance tab.
If your request is approved after which you'll get your money sent to your account within 3-5 business days.
How can I earn money with Binance?
Binance provides a variety of trading options so that you can purchase and sell cryptocurrency and benefit by profiting from the advantageous price difference. Additionally, you can speculate about prices of the assets available by trading on the derivative market. Additionally, Binance features a few options for passive earnings and stakes. It is true that Binance is a great platform to make a profit, with a sound trading strategy and some luck.
Related:
Top Crypto Exchanges Compared
| Exchange | Deposit Methods | Fiat Currencies | Cryptocurrencies | Trading Fees | Deposit Fees | Withdrawal Fees | Sign Up |
| --- | --- | --- | --- | --- | --- | --- | --- |
| Swyftx | Bank Transfer, Crypto, Credit and Debit Card, Osko, PayID | New Zealand Dollars and Australian Dollars | Over 320 | 0.6% | Australian Dollars Deposits: 0% Crypto: 0% | Australian Dollars Withdrawals: 0% Crypto: 0% | Visit Swyftx |
| Binance | Crypto, Credit and Debit Cards, Osko, PayID | 10 Fiat Including USD and AUD | Over 600 | 0% to 0.1% | 0% | Vary | Visit Binance |
| CoinSpot | Bank Transfer, Fiat, Crypto, POLi, and PayID | Australian Dollars | Over 370 | Instant Buy/Sell: 1% OTC: 0.1% Market Order: 0.1%* | Direct Deposit: $0 Cash: 2.5% PayID, POLi, and direct deposits: $0 BPAY: 0.9% Direct Bank Transfer: $0 | Australian Dollars Withdrawals: $0 | Visit CoinSpot |
| Bybit | Crypto, electronic funds transfer (EFT), wire transfer, bank transfer, credit card, and debit card | 50+ | 160+ | 0.1% spot trading 0.01% – 0.06% market makers/market takers fee | $0 | Does not support direct fiat withdrawals Crypto withdrawal fees: Network fees | Visit Bybit |
| Crypto.com | PayPal, Cryptocurrency, SWIFT, Fedwire, Wise, Debit Card, Credit Card, SEPA, BPAY, Bank Transfer (ACH) | USD, AUD, SGD, and 15+ more | 250+ | 0.04% to 0.4% | $0 | FREE via bank transfer. $25 for USDC withdrawal via SWIFT Network | Visit Crypto.com |
| Digital Surge | Bank Transfer, Crypto, POLi, Osko, PayID | Australian Dollars | Over 300 | 0.1% to 0.5% | Deposit Fees Bank Transfer: $0 POLi: $2 (capped at $3.30) | $0 for AU Bank Accounts Cryptocurrency: Depends On the Network | Visit Digital Surge |
| CoinJar | Fiat, Bank Transfer, Crypto, Credit or Debit Card, Apple Pay, Google Play | Pound Sterling and Australian Dollars | Over 50 | Maker: 0.04 to 0.1% Taker: 0.04 to 0.1% | Fiat: 1.5% CoinJar Users: $0 NPP: $0 | $0 | Visit CoinJar |
| Independent Reserve | Crypto, Osko, PayID, Electronic Fund Transfer, SWIFT | Australian Dollars, US Dollars, New Zealand Dollars | Over 25 | 0.05% to 0.5% | For SWIFT Deposit: $15 for deposits under Australian $5,000 equivalent $0 for deposits over Australian $5,000 equivalent For Electronic Fund Transfer: Australian $0.99 for deposits under $100 $0 for deposits more than Australian $100 | Crypto: Fees vary Bank Transfer: $0 for AUD $20 for non-AUD | Visit Independent Reserve |
| eToro | Bank Transfer, Debit Cards, Neteller, PayPal, Online Banking, and Skrill | 15 Fiat Currencies Including USD and AUD | Over 70 | Vary | Vary | $5 but minimum withdrawal of USD50 | Visit eToro |
| Coinbase | Debit Card | More than 20 Fiat Currencies Including USD and EUR | Over 200 | Vary | Credit Card and Debit Card: 3.99% | 2.49% | Visit Coinbase |
| Bittrex | Bank transfer (ACH) | Euro and US Dollars | Over 320 | 0.25% | $0 | Vary | Visit Bittrex |
| Bitfinex | Bank Wire Transfer, Crypto, Credit Card | US Dollars, Japanese Yen, Euro, Pound Sterling | Over 200 | Taker: 0.055% to 0.2% Maker: 0% to 0.1% | Crypto: $0 Wire: 0.1% (min 60 Euro/USD) | Crypto: $0 Wire: 0.1% Express Bank Wire (within 1 day on business days): 1% (min 60 Euro/USD) | Visit Bitfinex |
| Coinmama | Bank Card, SWIFT, Google Pay, SEPA, and Fedwire | 6 Fiat Currencies Including USD and AUD | Over 10 | 2.93% to 3.9% | 0% to 5% | N/A – assets are directly sent to the user's crypto wallet | Visit Coinmama |
| Kraken | Bank Transfer, Crypto, Wire Transfer, osko, SEPA, Apple Pay and Google Pay | 7 Fiat Currencies Including USD and AUD | Over 140 | Maker: 0% to 0.16% Taker: 0.10% to 0.26% | Vary | Vary | Visit Kraken |
| KuCoin | Crypto, PayPal, Wire Transfer, Credit or Debit Card, SEPA | 9 Fiat Currencies Including USD and AUD | over 645 | 0.1% | $0 | Vary | Visit KuCoin |
| Easy Crypto | Bank transfer, P2P, POLi, OSKO | AUD | 100+ | 0.5% – 1.6% | $0 | Fiat Withdrawal fees: $0 Crypto withdrawal fees: Network fees | Visit Easy Crypto |
| Coinstash | Crypto, PayID, Bank Transfer | AUD | 410+ | 0.85% | $0 | Crypto withdrawal fees: Network fees Fiat Withdrawal fees: $0 | Visit Coinstash |
This page was last updated on July 14, 2023