Digital Surge Review 2023
It's not easy to locate a cryptocurrency exchange that is perfect to your needs as a trader. There are a number of best crypto exchanges in Australia out there, so it can be hard to find the best one for your needs. While reading through the various features offered by exchanges I often get the impression that exchanges for beginners offer merely buy-and-sell offerings, while attractive trading programs are complicated and difficult to understand. 

What would I say if I told you that you can locate a cryptocurrency exchange that is able to effectively combine convenience with the "pile" of crypto functionalities? This is Digital Surge Digital Surge, an Australian cryptocurrency exchange founded with the purpose of bringing crypto investment to larger audience.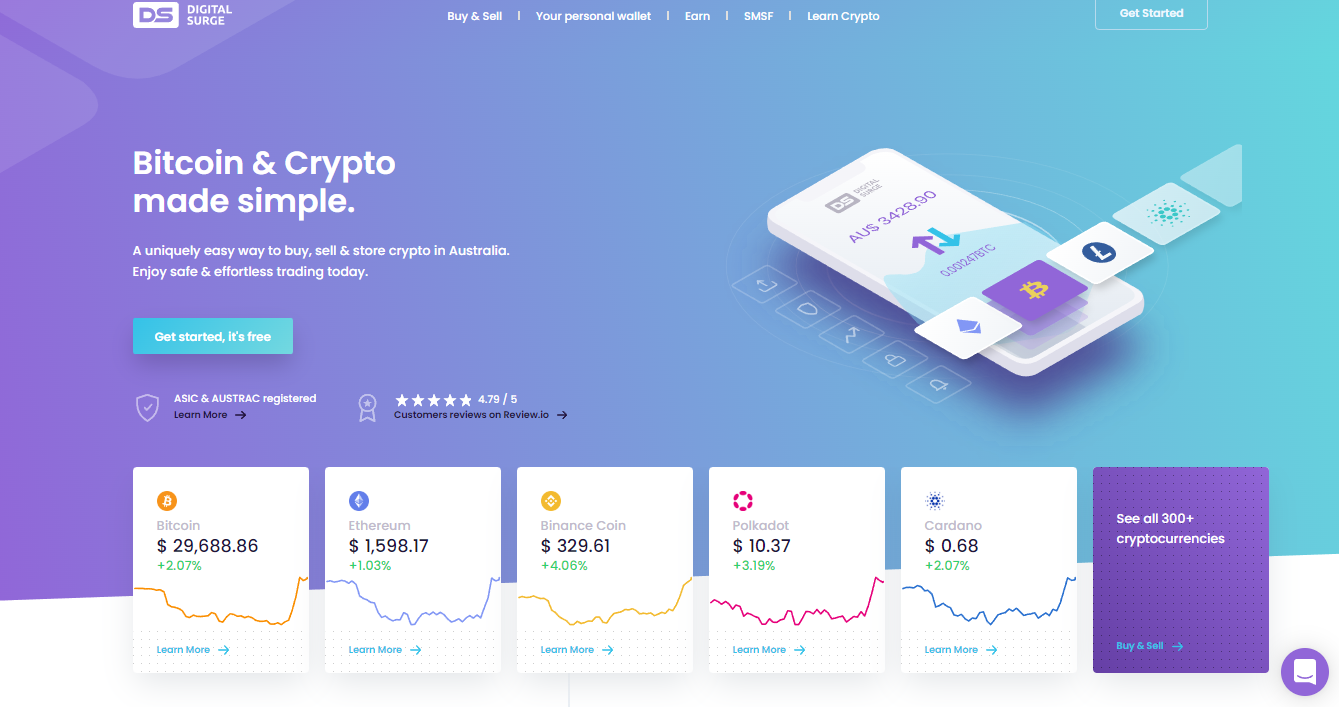 Let's take an in-depth review of the capabilities that are available in Digital Surge and find out the best way to take advantage of its remarkable user-friendliness.
Digital Surge Pros
All-in-one beginner-friendly design 
Advanced options for orders and a dollar-cost average, in conjunction with the standard interface for trading
The vast array of over 300 digital assets
SMSFs support
The lowest prices for instant purchases
Very responsive customer service
In-platform payment system to pay bills using cryptocurrency
Digital Surge Cons
There is no access to DeFi markets or NFTs
Only AUD fiat currency payments
There is no way to deposit credit cards
What Is Digital Surge?
Digital Surge is a Brisbane-based digital currency exchange offering top-quality services to Australian crypto users since the year 2017. Digital Surge is the work of two well-known IT expert, Josh Lehman and Dan Rutter who recognized the kind of support Australians required to incorporate crypto as part of their long-term plans for investment.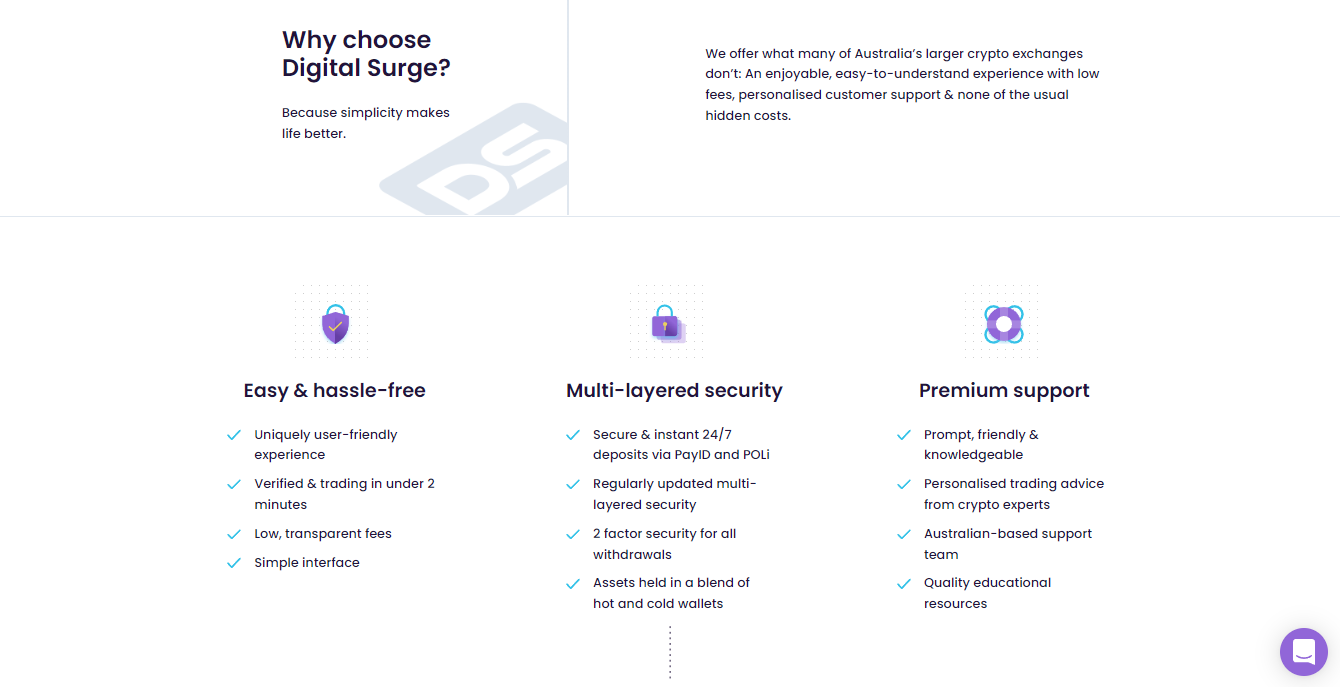 My initial experience with Digital Surge was that I found a website that I could trust, partly due to the attractive design, and also because of the openly presented costs and terms.
I was stunned to find the number of options within a user interface with a basic interface. Perhaps, it's a well developed user-experience strategy. everything I'm able to say is this DS team has perfected the concept of functional minimal design.
Digital Surge provides an optimal setting for making easy purchases using the AUD currency, prompt verification and a user-friendly buy-and-sell interface and deposit solutions that are working and reasonable costs. Furthermore, you'll be able to enjoy the unique chance to pay your bills using Bitcoin or create a self-managed super-fund and earn some income through lending and staking crypto through the platform.
Who Is Digital Surge Aimed At?
On a glance at the interface, I'd say Digital Sure is a perfect place to start for those who are new to crypto due to its ease of use, easy accessibility as well as one-click AUD transfers. As a second thought I would suggest that you should look into Digital Surge to be an alternate even if you're adept in crypto.
Every experienced treader eventually get "sick and tired" with excessively cluttered markets and hidden spreads which impede their ideal trading results. In these instances the features of Digital Surge can be a solution. But, it is important to know that the exchange doesn't cater towards the DeFi business So don't be expecting market for NFT, token-swap as well as yield farm.
Supported Cryptocurrencies
There are over 300 different cryptos in Digital Surge. The list begins by mentioning Bitcoin (BTC) then follows with Ethereum (ETH), Binance Coin (BNB), USD Coin (USDC), XRP(XRP), Solana (SOL), Cardano (ADA), Dogecoin (DOGE) as well as numerous other lesser-known but well-known altcoins. DeFi tokens such as Sushi (SUSHI), Aave (AAVE) as well as Maker (MKR) as well as Maker (MKR) are accessible on the DS platform.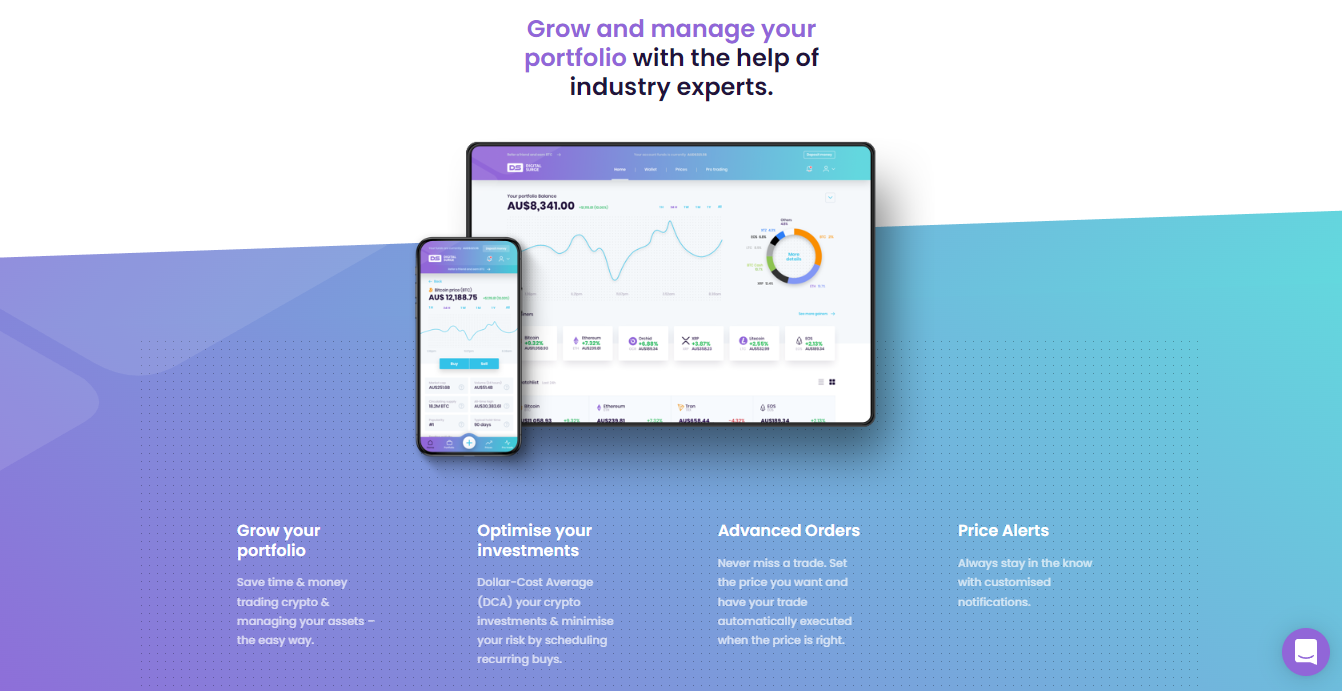 It makes me feel happy to find a local cryptocurrency exchange which is willing to expand its capabilities. Market trends in the cryptocurrency sector are evolving so quickly that numerous exchanges are struggling to keep up with the changes, but Digital Surge is not. Digital Surge. It is simply the best in this regard. The one aspect that caught my attention was the fact that stablecoins with a lot of popularity like Dai (DAI) as well as Binance USD (BUSD) aren't on the list.
Key Features & Advantages of Digital Surge
My first lesson in crypto was to understand that you shouldn't be expecting everything from a single cryptocurrency exchange. The platforms that offer professional trading are generally less expensive but can be overwhelming for beginners. international brands offer more trading possibilities, yet slow in providing assistance to customers.
Let's assume that a reliable cryptocurrency exchange is able to maintain a balance between these competing features. To help you understand what Digital Surge is doing on the market, I highlighted its key advantages and features.
Instantly Buy & Sell Cryptocurrency
I'm able to tell you that instant purchase and sales of all cryptocurrency assets are the main benefit that comes with Digital Surge. It has been made simpler to be a perfect beginner's framework and meet the requirements of the most discerning traders in crypto while at the same time.
All you need to do is go to your Buy & Sell tab and browse or search for the cryptocurrency you want to add to your list of. When I chose Ether it showed me the current exchange rate of Ether as well as market cap and recent price fluctuations. I believe this simple visual layout is only beneficial for novice users.
Beginner-Friendly
I've already said that Digital Surge impressed me with its friendly design right from the beginning. The dashboard is extremely user-friendly and transparent, offering clear information as well as on-site support for all transfer or trading actions.
You'll see a clear picture of your portfolio displayed on the screen, which is rounded off with basic but useful details like exchange rates, price fluctuations and the performance of the most highly ranked cryptos.
When you click on a certain cryptocurrency option, the website will provide detailed review and analysis of the cryptocurrency. Additionally, you can avail live chat during your stay at Digital Surge and an extensive information base to ensure that your stay is as comfortable as possible.
Mobile App for Convenience
A mobile-friendly platform is an absolute requirement for crypto providers to maintain an edge in this highly competitive market. I've seen artwork from various crypto exchanges which is why I downloaded Digital Surge's Android app from Digital Surge (iOS is also available) to see whether it is comparable to its rivals in terms of style and performance.
I was able to experience the same ease of use that the web-based version of the platform had. In a nutshell, the interface is smooth, and includes various options and alerts in real-time to give you a seamless experience on the go.
Staking: Earn interest on crypto with Digital Surge
Digital Surge has recently introduced the lending program which allows its users to put in their digital coins and earn high-interest rate in return. By staking your coins, you could earn as much as 23% APY from Digital Surge, depending on the cryptocurrency. For example, Cardano can bring you up to 6% in APY, PolkaDot up 12% and Mina Protocol (MINA) and Secret (SCRT) can reach higher than 20 percent.
The rewards you earn are calculated daily and paid monthly in the Digital Surge account. I like that you are able to stop the program at any time without penalty. Plus is that the exchange doesn't place any restrictions on assets or the money you can put up under Surge Earn. Surge earn.
Premium Customer Support
From what I've seen on the internet, Digital Surge gets high reviews for its customer service. The support team is accessible via email 24/7 and live chat throughout working times (from 8 am until 10 pm on both weekend and business days as well as holiday weekends). They replied to my inquiry via email in under an hour, which means that the 5-star ratings are definitely earned.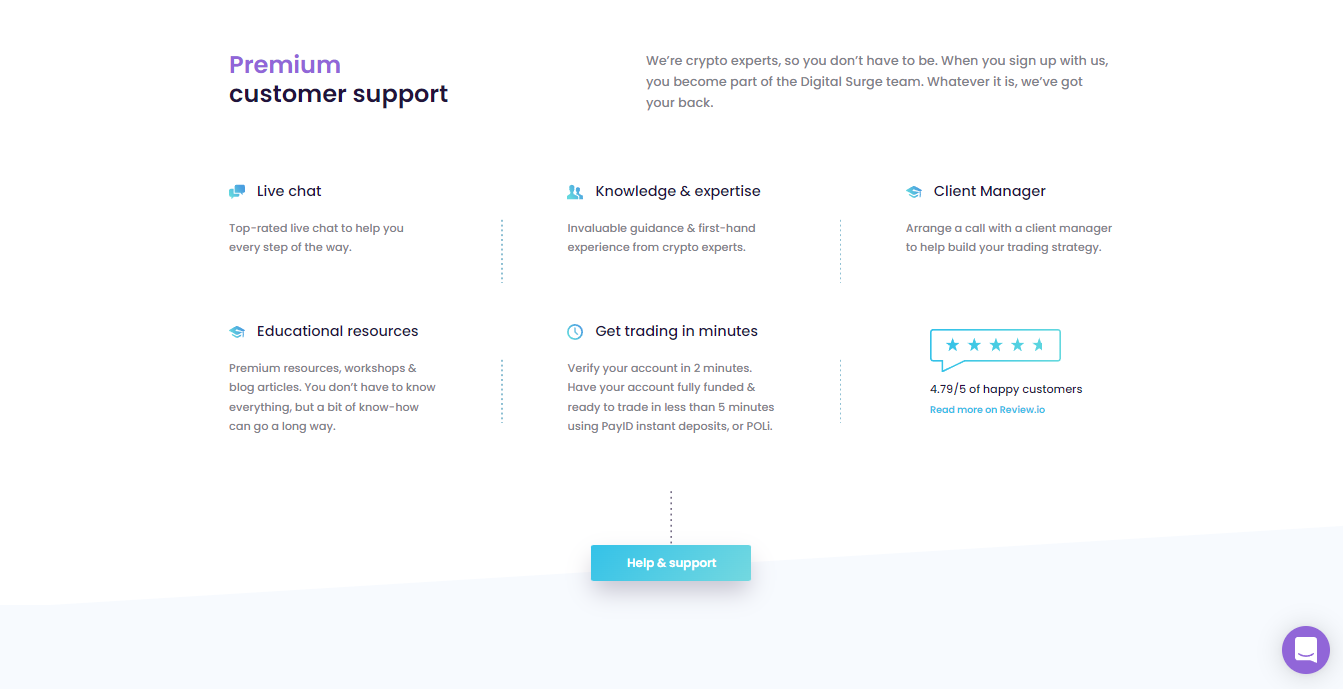 However, did you are aware the fact that Digital Surge goes a step beyond providing superior customer service? You can schedule an individual call with a client manager and they can help with the creation of a customized investment plan, which isn't something you'll see frequently on trading platforms, no matter if they're dealing in traditional stocks or crypto.
Learning Materials and Documentation
I was really impressed by my time with the Digital Surge library dedicated to those who are just beginning to learn about crypto. It has an extensive library of knowledge organized by subject matter written in simple English. The topics include a lot of valuable information and tips like How to be Safe trading in cryptocurrency, How to select the best Crypto Exchange, 12 Mistakes for Beginners in Crypto to avoid and more.
If you're a registered user you'll have access to the libraries, but you will also have the chance to talk about the topics and discuss your concerns about crypto with an individual from their assistance team.
As you gain experience with crypto and you get more comfortable with crypto, browse The digital Surge blog to stay informed about future market developments.
Pay Bills With Bitcoin
It is interesting to note that the distinct alternative for Digital Surge is very close to what Satoshi Nakamoto was thinking during 2009 as they first introduced Bitcoin — which was a way to utilize cryptocurrency as a method of payment.
Digital Surge enables you to pay any bill issued in Australia or credit card with an BPAY biller code using Bitcoin. This feature can help you save many hours of conversion time if you are planning to convert BTC to AUD before you convert. Consider this:paying bills using Bitcoin could be smart money management, if you decide to choose to pay in the event that it is when the BTC price is increasing.
The process is simple and is fully supported with a wizard for the platformsimply click on the Pay Bills tab, and you'll be presented with three choices: to pay the BPAY bill, pay through a bank account or with a credit or debit card. Choose the option you prefer and then input the BPAY information. The exchange will start the transfer, taking funds from either the account of your Digital Surge account or your external wallet.
Fees and Costs
In the end I believe Digital Surge is a great choice. Digital Surge is a great price for the amount of money. The fees for trading of 0.5 percent are less as other regional exchanges that permit directly AUD purchases. To illustrate, CoinSpot charges 1% while BTC Markets imposes a trading cost of 0.85 per cent for the exact service.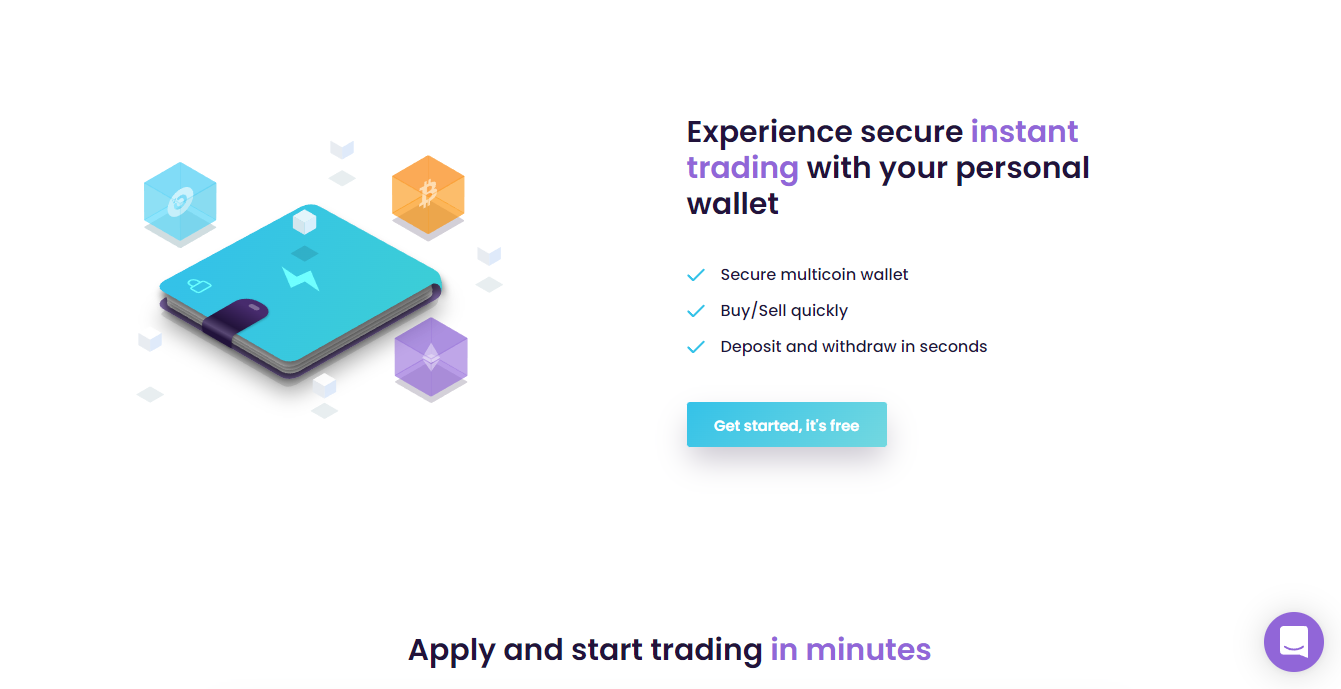 Comparatively to the other counterparts Digital Surge is also better with a lower spread that can be reduced to 0.4 percent. The spread for the industry is between 2 between 2% and 2.5 percent. People who trade huge amounts can enjoy discounts on fees that range from 0.1 percent. The volume of your transactions must be greater than $1 million in order to qualify to receive this discount.
With regards to deposits, if you transfer AUD money using POLi the bank will charge you charges of 2-3.30 fee in AUD per transaction. There aren't any additional fees for using another method. There are also no fees to withdraw cash out AUD and transaction charges for the transfer of crypto to crypto wallets that are not part of the Digital Surge network depend on the blockchains of their native wallets. Digital Surge doesn't have a separate fee structure for withdrawals of crypto.
Is Digital Surge Safe to Use?
Australia is among the very few countries in the world that allows crypto trading within a fully-regulated market. Every crypto-related service that is offered within the country are required to be AUSTRAC conforming. Digital Surge isn't an exception.
Digital Surge employs the standard security tools – 2FA (two-factor authentication) for withdrawals as well as cold storage vaults for most of the money that is circulated as well as encrypted SSL (HTTPS) as the base for all web traffic. Furthermore, the company demands security clearances for new employees to ensure security.
If I were you there isn't a security assurance for any online-based business, however, according to its history of performance, Digital Surge is to be believed. Digital Surge has not been the victim of hacker attacks or any other type of cyber-scams. In addition, you will notice when using the services of the exchange it is evident that Digital Surge is putting serious efforts to safeguard the trustworthiness of the image it has built over the decades of existence.
Digital Surge Alternatives
In spite of my established criteria for secure crypto exchanges I'm often overwhelmed by the sheer number of options available online. This is the reason I insist that any potential trader in crypto must examine the exchange's characteristics, along with their own requirements and expectations. The best way to grasp my opinion is by looking comparative analysis between two exchanges that are rated as good choices in the overall framework.
Digital Surge vs. Swyftx
This "battle" here is between two Australian cryptocurrency exchanges who are striving toward the same end goalto bring trading in crypto closer to local people. In this instance I'll base my analysis on other factors: charges, customer service as well as payment methods in accordance with the type of trading you prefer the number of accepted currencies.
To begin, Swyftx trading costs are a bit higher0.6% – 0.6 percent, compared to Digital Surge fees of 0.5 percent per trade. But, Swyftx doesn't charge anything for POLi deposits and has an unbeatable spread. In contrast, Digital Surge supports debit card transactions, whereas Swyftx does not.
Both offer a vast range of about 300 currencies as well as their Swyftx list being slightly bigger. They also have the best customer support, however, Swyftx has a telephone number and a live chat. Also, Digital Surge lacks a Demo Account for novices to try before making a purchase.
Based on the volume of trading daily and the volume of traffic it appears that the Australian public has embraced Swyftx better, despite the fact that Digital Surge looks much more friendly to me as a user.
Digital Surge vs. Binance
Digital Surge and Binance both target various types of users. Binance is a worldwide brand that offers the most diverse crypto options available in the marketplace in the present. In addition, Binance features a large spot market, with a myriad of trading pairs. Its global coverage simply permits this kind of diversity, without "liquidity drains".
But, Binance also offers a large market that allows margin trades and crypto derivatives and a variety of other advanced orders. Binance offers its own P2P marketplace and mining pool and even an "personal" blockchain.
If you're thinking looking to start a crypto business Navigating through Binance could be a bit difficult or, as I'm sure you've heard it's difficult.
However, local exchanges like Digital Surge offer a different array of benefits. They provide a more amiable setting for purchases at the beginning of their sales, and advice that is based on local payment regulations.
I'm not going to claim that Binance isn't in tune with its Australian market. In fact the exchange permits customers from Australia to create no-cost payments through PayID and Osko. They also offer many trading pairs using the Australian dollar as the base currency. The only difference is that a local exchange that has a good selection of trading options is the better option in the event that you're a professional trader who has a full schedule of crypto-related activities.
How to Create an Account on Digital Surge?
I love how this exchange has organized its set-up process. There are without hassles, selfies, scans, or scans. It's all smooth and easy, while the exchange is in full compliance with all applicable AML/CFT procedures: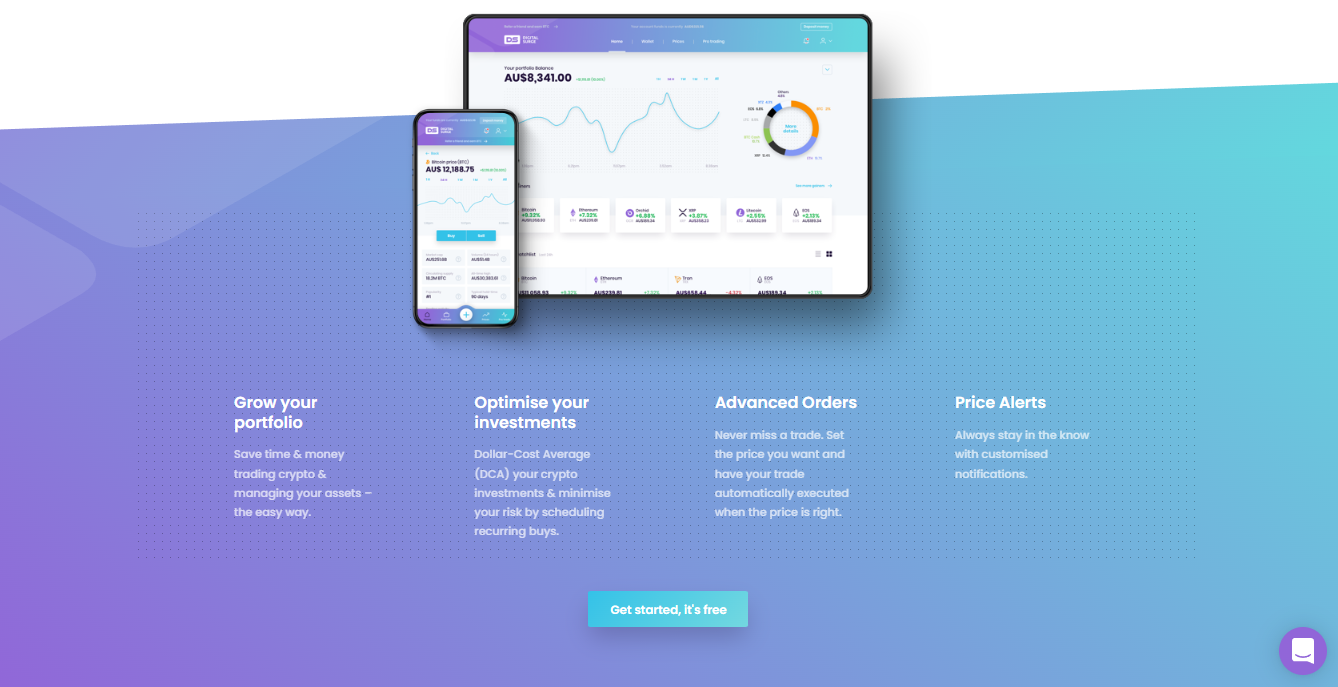 Go to the official Digital Surge website and create an account by entering your email address and creating a secure password. To make things easier it is possible to sign up using your current Facebook account.
Accept the terms and conditions and then confirm the account through email.
In this stage you have the option of exploring the various options available on platforms, however prior to making a purchase in crypto you will need to go through an KYC verification.
Choose a government-issued document , and make sure you fill in the details with care. Choose one of the below options:
Australian driving license
Australian passport
Medicare card
A passport from another country that includes an Australian visa
ImmiCard
Australian citizen certificate
You don't have to wait around until the exchange will approve the authenticity for your identification. Digital Surge processes the verification quickly. You're now ready to go.
Frequently Asked Questions
How many customers do Digital Surge have?
Digital Surge counts an impressive number of more than 1 million users who have benefited from the exchange service.
Does Digital Surge a crypto wallet?
Digital Surge is a digital currency exchange that comes with an integrated wallet that you can manage and store the funds you purchase on the platform as well as deposit funds from a different cryptocurrency wallet that you have. There's a separate Wallet tab that lets you view your balance total and the balances of every crypto you own. The best part is Digital Surge allows you to purchase, sell or send electronic assets straight from wallets.
Who is the owner of Digital Surge?
Digital Surge is an ASIC-registered firm with the ABN (89 820 473109) that is operating as a legal entity under Digital Surge Pty Ltd. Digital Surge has its head office in Brisbane and has founder Dan Rutter as its CEO.
Conclusion
With its remarkable simplicity of use and its accessibility, Digital Surge can be an unwavering guide for your journey through crypto. Digital Surge has everything you require to start your journey with confidence: robust security, a user-friendly interface rapid deposits, speedy verification as well as dependable customer support.
It's definitely legal to search for the exchange, but it's not enough to satisfy your crypto-related desires. However, I think that despite the small selection of markets with advanced features and features, some such as Pay a Bill with Bitcoin will work for you well even if you're an experienced crypto trader.
Overall, Digital Surge is a reliable crypto destination, and is among my Australian most favored destinations.
Digital Surge Compared
Exchange
Deposit Methods
Fiat Currencies
Cryptocurrencies
Trading Fees
Sign Up

Swyftx



Bank Transfer, Crypto, Credit and Debit Card, Osko, PayID
New Zealand Dollars and Australian Dollars
Over 320
0.6%
Australian Dollars Deposits: 0% Crypto: 0%
Australian Dollars Withdrawals: 0% Crypto: 0%
Visit Swyftx

Binance



Crypto, Credit and Debit Cards, Osko, PayID
10 Fiat Including USD and AUD
Over 600
0% to 0.1%
0%
Vary
Visit Binance

CoinSpot



Bank Transfer, Fiat, Crypto, POLi, and PayID
Australian Dollars
Over 370
Instant Buy/Sell: 1% OTC: 0.1% Market Order: 0.1%*
Direct Deposit: $0 Cash: 2.5% PayID, POLi, and direct deposits: $0 BPAY: 0.9% Direct Bank Transfer: $0
Australian Dollars Withdrawals: $0
Visit CoinSpot

Bybit



Crypto, electronic funds transfer (EFT), wire transfer, bank transfer, credit card, and debit card
50+
160+
0.1% spot trading 0.01% – 0.06% market makers/market takers fee
$0
Does not support direct fiat withdrawals Crypto withdrawal fees: Network fees
Visit Bybit

Digital Surge



Bank Transfer, Crypto, POLi, Osko, PayID
Australian Dollars
Over 300
0.1% to 0.5%
Deposit Fees Bank Transfer: $0 POLi: $2 (capped at $3.30)
$0 for AU Bank Accounts Cryptocurrency: Depends On the Network
Visit Digital Surge

CoinJar



Fiat, Bank Transfer, Crypto, Credit or Debit Card, Apple Pay, Google Play
Pound Sterling and Australian Dollars
Over 50
Maker: 0.04 to 0.1% Taker: 0.04 to 0.1%
Fiat: 1.5% CoinJar Users: $0 NPP: $0
$0
Visit CoinJar

Independent Reserve



Crypto, Osko, PayID, Electronic Fund Transfer, SWIFT
Australian Dollars, US Dollars, New Zealand Dollars
Over 25
0.05% to 0.5%
For SWIFT Deposit: $15 for deposits under Australian $5,000 equivalent $0 for deposits over Australian $5,000 equivalent For Electronic Fund Transfer: Australian $0.99 for deposits under $100 $0 for deposits more than Australian $100
Crypto: Fees vary Bank Transfer: $0 for AUD $20 for non-AUD
Visit Independent Reserve

eToro



Bank Transfer, Debit Cards, Neteller, PayPal, Online Banking, and Skrill
15 Fiat Currencies Including USD and AUD
Over 70
Vary
Vary
$5 but minimum withdrawal of USD50
Visit eToro

Coinbase



Debit Card
More than 20 Fiat Currencies Including USD and EUR
Over 200
Vary
Credit Card and Debit Card: 3.99%
2.49%
Visit Coinbase

Bittrex



Bank transfer (ACH)
Euro and US Dollars
Over 320
0.25%
$0
Vary
Visit Bittrex

Bitfinex



Bank Wire Transfer, Crypto, Credit Card
US Dollars, Japanese Yen, Euro, Pound Sterling
Over 200
Taker: 0.055% to 0.2% Maker: 0% to 0.1%
Crypto: $0 Wire: 0.1% (min 60 Euro/USD)
Crypto: $0 Wire: 0.1% Express Bank Wire (within 1 day on business days): 1% (min 60 Euro/USD)
Visit Bitfinex

Coinmama



Bank Card, SWIFT, Google Pay, SEPA, and Fedwire
6 Fiat Currencies Including USD and AUD
Over 10
2.93% to 3.9%
0% to 5%
N/A – assets are directly sent to the user's crypto wallet
Visit Coinmama

Kraken



Bank Transfer, Crypto, Wire Transfer, osko, SEPA, Apple Pay and Google Pay
7 Fiat Currencies Including USD and AUD
Over 140
Maker: 0% to 0.16% Taker: 0.10% to 0.26%
Vary
Vary
Visit Kraken

KuCoin



Crypto, PayPal, Wire Transfer, Credit or Debit Card, SEPA
9 Fiat Currencies Including USD and AUD
over 645
0.1%
$0
Vary
Visit KuCoin

Easy Crypto



Bank transfer, P2P, POLi, OSKO
AUD
100+
0.5% – 1.6%
$0
Fiat Withdrawal fees: $0 Crypto withdrawal fees: Network fees
Visit Easy Crypto

Coinstash



Crypto, PayID, Bank Transfer
AUD
410+
0.85%
$0
Crypto withdrawal fees: Network fees Fiat Withdrawal fees: $0
Visit Coinstash
This page was last updated on August 26, 2022