eToro is an internationally renowned Israeli fintech development firm with affiliates within the United Kingdom, the United States, Australia, and Cyprus. Established in 2007, this social trading platform permits crypto trading and a vast variety of other financial services through its platform. It's also regarded as one of the more reliable and well-known cryptocurrency exchanges within the digital financial industry. 

The platform was named the Best Broker's site of 2021 in two categories including The Best Broker to Trade Cryptos and the best broker in Social Trading. The assessment was based on an extensive analysis from more than 70 brokers on the internet and included a review of their accounts that are active. The brokerage also receives an ongoing stream of positive 5 star reviews from its clients.
In the present, eToro might be one of the most well-known and admired CFDs and also a cryptocurrency trading platform with more than 6 million users however, it wasn't able to come onto the market with the utmost enthusiasm. Let's take a look at the way things went.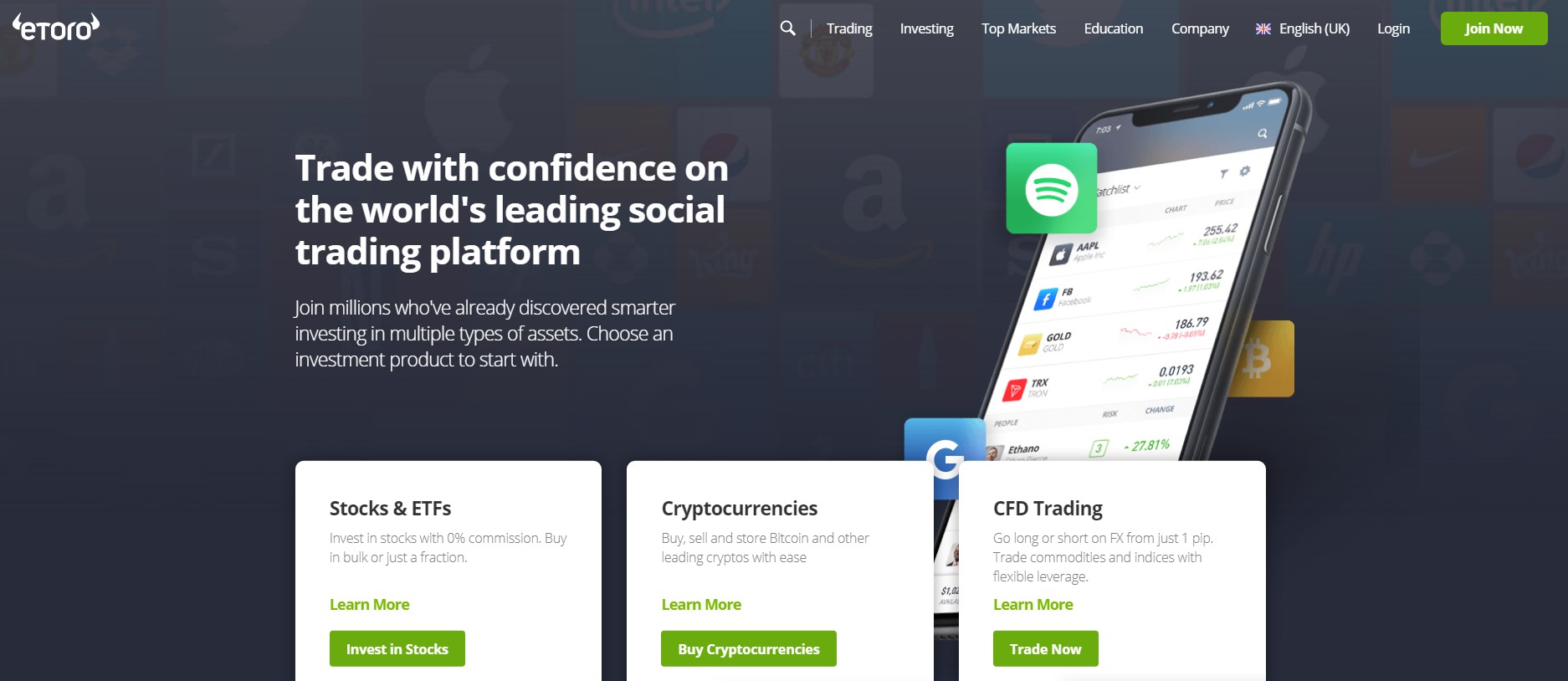 On a side note, you  might want to have a look at our comparison of the best Australian cryptocurrency trading platforms here to compare other exchanges with eToro.
eToro Pros
Provides access over 30 cryptocurrency.
Minimum amount to open an account and start investing.
Social investment ability to track the movements of traders who are popular. 
Established platform
Regulated in a variety of jurisdictions
eToro Cons
Stock, ETF and cryptocurrency trading is only accessible only in the only 44 U.S. states
Margin trading isn't accessible for U.S. users
About the eToro Exchange
eToro is an exchange platform which lets users replicate the trading actions of other investors over more than 2300 financial services. These include commission-free trading CFDs, trading stocks ETFs, forex and a broad variety of cryptocurrencies.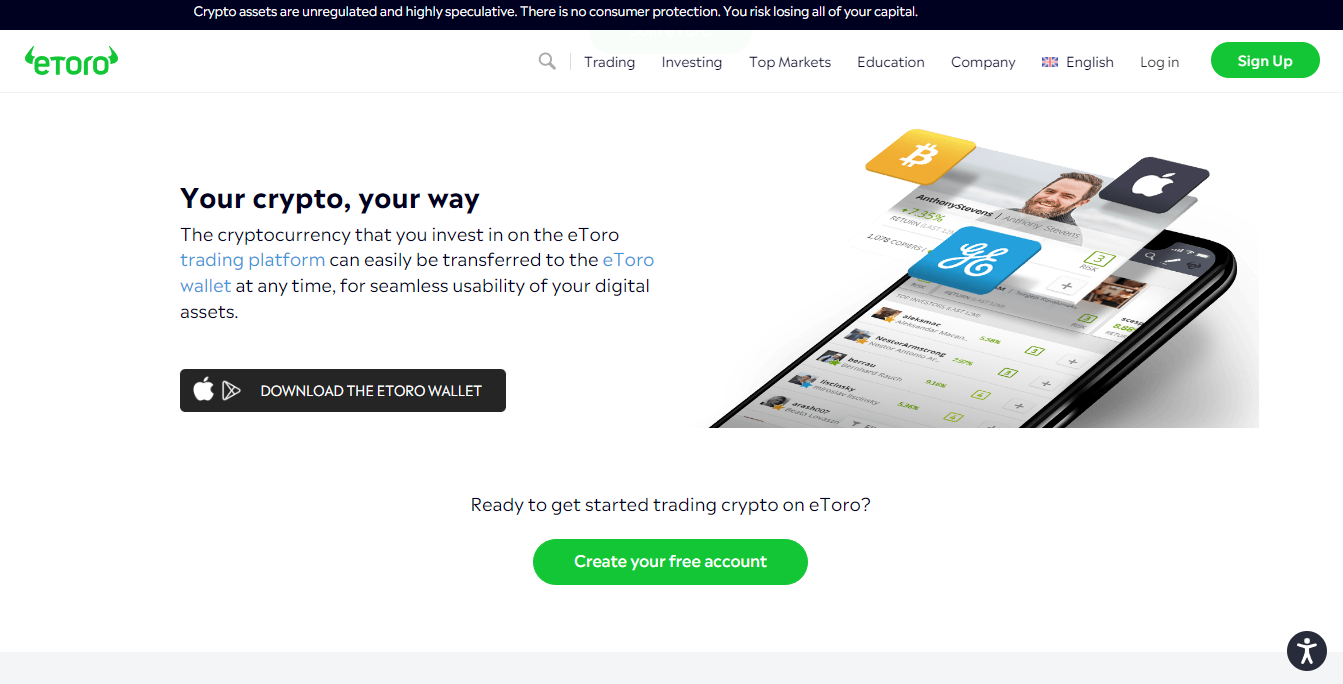 To access the official website of the marketplace, users need to register for an eToro account using an two-step process to login or link your account that is already in place, such as Google, Apple, or Facebook account. To better learn more about the trading processes that are available on this platform and to decide which trading platform they prefer customers can open demo accounts.
Users who have visual impairment as well as reading and focusing difficulties or who are susceptible to seizures, are able to alter your eToro information on their site by making it seizure-safe (an option that disables flashes and decreases the color intensity) as well as improving keyboard navigation by making use of a screen reader etc.
Supported Cryptocurrencies
eToro doesn't provide a broad selection of crypto currencies and pairs, however, there are some of the most well-known and well-established cryptocurrencies include Ethereum (ETH), EthereumClassic (ETC), Litecoin (LTC), Stellar (XLM), Dash (DASH), Bitcoin (BTC), XRP, NEO (NEO), and IOTA are all is available.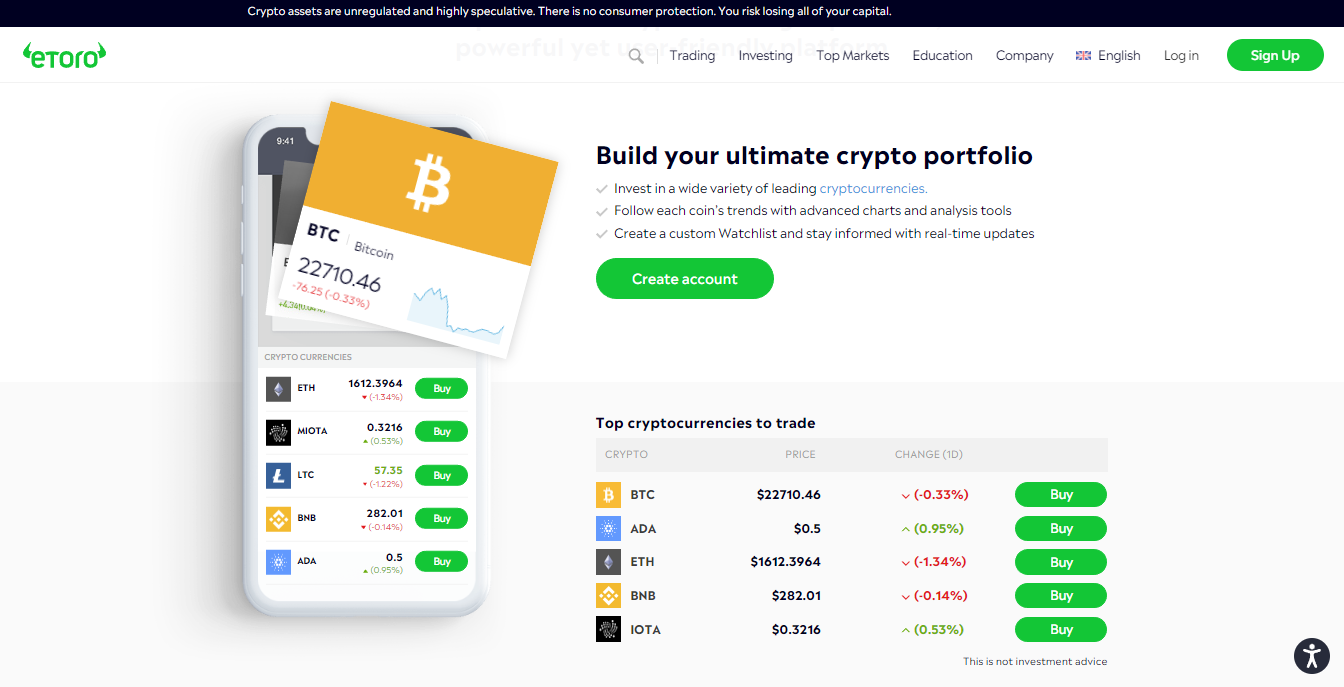 The platform gives users a pleasurable experience for making trades and setting them up. eToro users are just two steps away from every trade accessible through the system. eToro also offers a library of instructional videos as well as an active community of support that can get even complete novices ready to go in just a few hours.
The platform can support transfer of funds to banks as well as debit or credit card deposits in four money exchanges (EUR the USD and AUD, GBP, and AUD) as well as instant payment services like Skrill, iDEAL, Neteller, PayPal. Wire transfers can also be made and if you need specific information about the minimum thresholds of each method you can access the FAQ section of the platform and discover exactly what you need within a matter of minutes.
For experienced traders the exchange platform can support high-risk CFD trades in assets, which means that experienced traders will be able to have a blast when their stars coincide.
Trading Features
The features for trading on eToro are extensive and varied. Through providing sophisticated trading tools such as CFDs and keeping active social channels This company gives the best user experience for users using its platforms.
CFDs
This broker for multi-assets provides useful tools for trading on its user-friendly platform. It is suitable even for beginners in crypto. It is able to facilitate trading in digital currencies using contracts for differences (CFDs) and trade directly with the base asset. It is also an option among the tools for trading offered on the exchange platform.
Copy Trader/Social Trading
CopyPortfolios (formerly called CopyFunds) is another unique trading instrument that is available through the eToro exchange platform. It helps traders expand their portfolios, decreasing the risk associated with crypto investment, and maximizing on current market trends. A default limit for stop-loss in CopyPortfolios from eToro has been set for 10 percent.
Payment Methods
In order to be an exchange that is responsive to the needs of its customers, eToro offers a variety of payment options to provide an easier trading experience on its platform.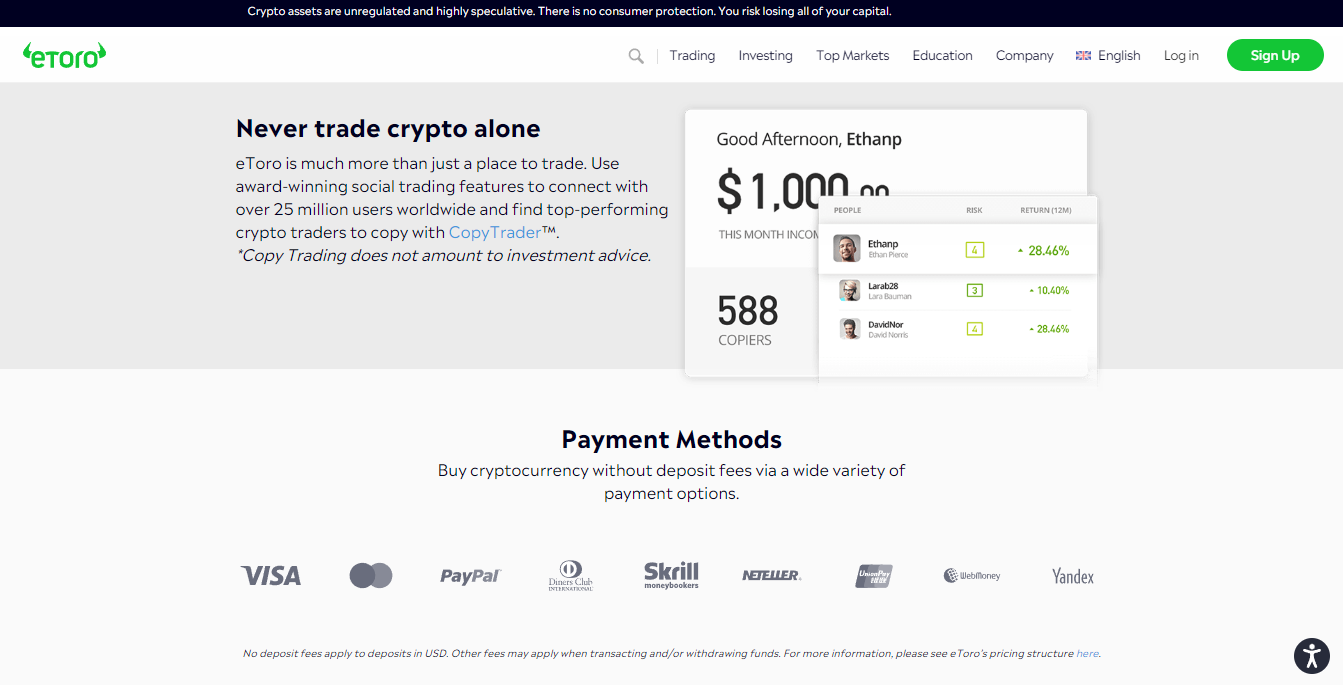 Users can make deposits of their crypto assets as well as fiat currencies with the following payment methods:
Credit card or debit credit card (instant payment in USD GBP, EUR, USD and AUD, with an maximum of $40,000 in USD);
POLi (instant payments in AUD that allow the maximum amount of $40,000 for deposits USD);
PayPal (instant payment with dollars, GBP, EUR and AUD, with a maximum amount in USD $10,000);
Neteller along with Skrill (instant payment for USD, GBP and EUR, with the maximum amount of deposit of $ 10,000 in USD);
Rapid transfer (instant payment for USD, GBP or EUR and a max amount at $5500 dollars);
Klarna/Sofort Banking (EUR payments with an maximum deposit of $35,000 USD);
Bank account or transfer (payments within 3-7 day intervals for USD, GBP, and EUR with an unlimited amount of deposit);
Online Banking – Securely (available only to EU countries. Instant payment in GBP, EUR SEK DKK, NOK, CZK, PLN with a maximum limit at $40,000 dollars).
There aren't any costs to transfer your digital assets to the eToro platform.
Trading Fees and Limits
The eToro platform has spreads that are charged, an amount determined by the gap between the advertised estimate and the price which may change during times that are high-risk. Like the other platforms for exchange, there's the blockchain transaction fee which is usually charged to miners of crypto to cover maintenance of the network.
Currency pairs offered on this exchange platform can be costly in terms of trading. The price to trade EUR USD being 3 pip (the price fluctuates at a certain price or exchange). Contrary to this different brokers cost between 0.6 and 1 pip for each trade. Furthermore, you'll be required to pay conversion charges of 5% every time you switch from fiat currencies to cryptocurrency or the reverse.
eToro also charges users 10 dollars per month for trading account inactivity for twelve months or more. The fees for inactivity, which are quite high, also include an additional $5 USD fee for withdrawals.
Additionally the moment a trader executes an exchange of cryptocurrency from the eToro investing application in an eToro Money crypto wallet, the exchange platform will charge only a small and modest cost. The minimum amount to open an account to trade on the site is $500 USD.
Is eToro Safe to Use?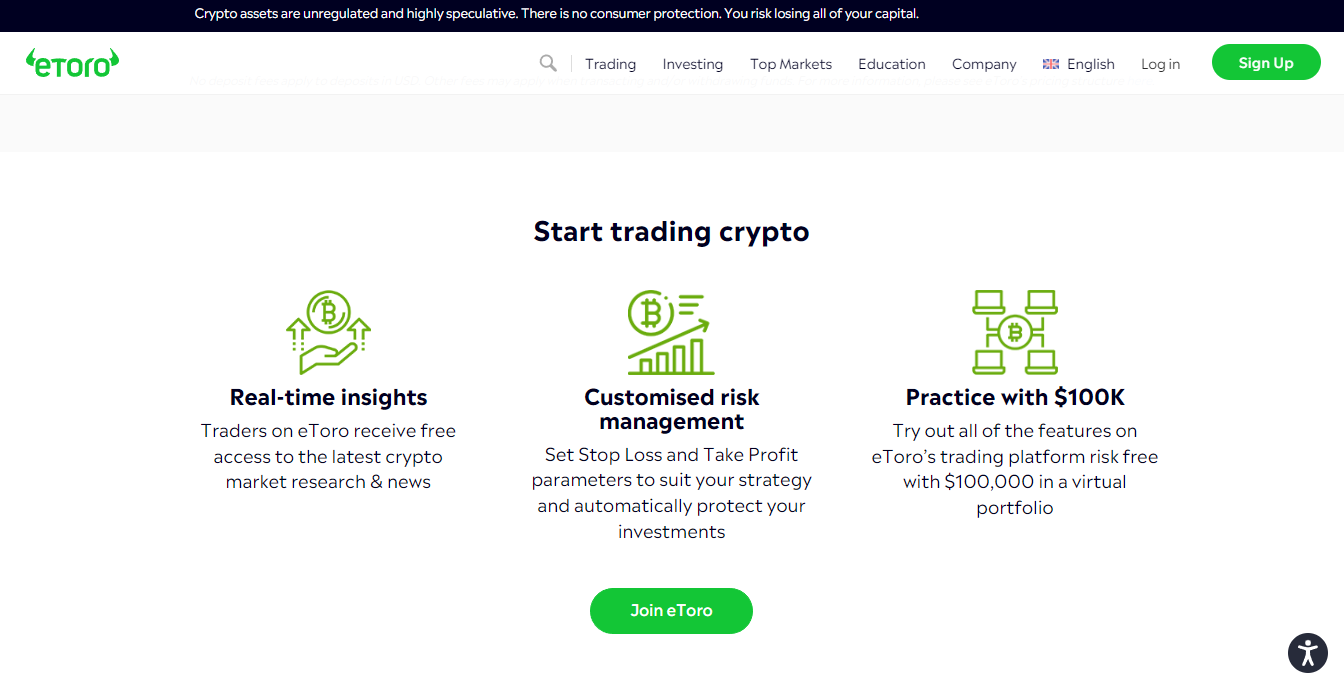 The service uses the most recent and advanced technology for security, storage, and ensuring that the user's funds remain where they are supposed to be. eToro does not provide a great deal of details about its security measures, however, it does say that if they do the data could be used as a deterrent to malicious third parties.
It is overseen by ASIC (Australian Securities and Investments Commission), FCA (Financial Conduct Authority of the United Kingdom), ESMA (European Securities and Markets Authority) as well as the CySEC (Cyprus Securities and Exchange Commission).
The platform uses two-factor authentication (two-factor authentication) as well as SSL encryption. It also runs periodic know-your Customer (KYC) checkups.
Since eToro is licensed from a variety of banks, this company is required to comply with their anti-money laundering regulations so as not to damage its image. One of the requirements is the KYC verification, which is an additional step in the registration procedure.
To sign up for with an eToro account, customers need to present the platform with a valid government-issued ID that is in the form of an ID card valid for the country of origin or passport, or driving license. Additionally, they must show proof of residency by verifying their address giving a recent bank account statements or utility bills. The verification process may last up to 48 hours following which the user is able to begin trading.
Customer Support
The eToro customer service, which is multilingual and available 24 hours a has a huge knowledge base that could be beneficial for any trader, regardless of whether they don't experience any issues when trading on the website. The tabs that are specialized in the upper toolbar of the platform provide a variety of areas of interest , with information regarding investing, trading the best market trends, educational videos tutorials, and even the profile of the company – which are all available in 18 international languages.
If the answer you receive isn't one of the options offered and you're experiencing difficulties getting funds out or investing then you can start an account with Customer Service Center where you can monitor its progress and save the tickets that have been resolved to refer to in the future.
Frequently Asked Questions
Which countries are covered by eToro?
eToro is a global platform that operates in more than 140 countries across the globe. Some of the countries that are able to use eToro's service include Australia and a number of USA nations, UK, Argentina, Bahrain, France, Colombia, Cyprus, Greece, Lichtenstein, Dominican Republic, UAE etc.
Does eToro provide mobile trading?
It is a great platform for trading. eToro platform is easy to access and easy to use on both mobile and web-based devices that have integrated Android and iOS operating systems. The mobile trading application makes use of the smartphone's intuitive features such as push alerts, sync watchlists and touchscreen interactions. For the portfolio you have, as an instance you could swipe of the screen on your smartphone to check the stats or start an order. Through blending trading tools along with social trading features and the news feed generated on the site, it provides an ideal tool for traders who are on the move.
Does eToro Have a Cryptocurrency Wallet?
Yes the trading platform can offer an in-built cryptocurrency wallet that can be used to store and deposit cryptocurrency assets. Simplex lets users deposit crypto money directly into their wallets, in the form of credit card transactions. The catch is that once the funds are placed stored in the account, they are unable to transfer back onto the eToro trading service.
Who pays the tax on the profits generated by eToro?
Users on the eToro exchange are required to establish the taxable profits earned through trading on the platform by examining the statement of their account. This means that they have to be liable for their fair share of the gain from trading, in line to the legal requirements for financial transactions and the regulations of their home state.
Is eToro the biggest fraud in cryptocurrency exchanges?
It isn't likely. Because this exchange has been licensed by a variety of financial authorities of the state in the countries where the eToro offices are The chances of being victimized by a licensed exchange fraud are almost zero.
Conclusion
The Israeli fintech development firm that is the primary topic of our analysis, is a simple, copy-trading service. eToro provides its users with an intuitive and clear website interface, which includes the most simple registration procedure, a variety of trading services for cryptocurrency, as well as an extensive social trading experience. Apart from the vast variety of trading indices available, the company also provides assistance to their visually impaired clients or those with seizures, allowing them to alter the intensity of lighting, colors and also access to the site's content.
The constant search for technological innovations in the fields of online trading and finance, along with the determination to create an accessible and accessible to everyone, regardless of physical limitations give all the rave critiques of eToro exchange well-deserved rewards for the exchange's ongoing expansion.
Related:
eToro Compared
Exchange
Deposit Methods
Fiat Currencies
Cryptocurrencies
Trading Fees
Sign Up

Swyftx



Bank Transfer, Crypto, Credit and Debit Card, Osko, PayID
New Zealand Dollars and Australian Dollars
Over 320
0.6%
Australian Dollars Deposits: 0% Crypto: 0%
Australian Dollars Withdrawals: 0% Crypto: 0%
Visit Swyftx

Binance



Crypto, Credit and Debit Cards, Osko, PayID
10 Fiat Including USD and AUD
Over 600
0% to 0.1%
0%
Vary
Visit Binance

CoinSpot



Bank Transfer, Fiat, Crypto, POLi, and PayID
Australian Dollars
Over 370
Instant Buy/Sell: 1% OTC: 0.1% Market Order: 0.1%*
Direct Deposit: $0 Cash: 2.5% PayID, POLi, and direct deposits: $0 BPAY: 0.9% Direct Bank Transfer: $0
Australian Dollars Withdrawals: $0
Visit CoinSpot

Bybit



Crypto, electronic funds transfer (EFT), wire transfer, bank transfer, credit card, and debit card
50+
160+
0.1% spot trading 0.01% – 0.06% market makers/market takers fee
$0
Does not support direct fiat withdrawals Crypto withdrawal fees: Network fees
Visit Bybit

Digital Surge



Bank Transfer, Crypto, POLi, Osko, PayID
Australian Dollars
Over 300
0.1% to 0.5%
Deposit Fees Bank Transfer: $0 POLi: $2 (capped at $3.30)
$0 for AU Bank Accounts Cryptocurrency: Depends On the Network
Visit Digital Surge

CoinJar



Fiat, Bank Transfer, Crypto, Credit or Debit Card, Apple Pay, Google Play
Pound Sterling and Australian Dollars
Over 50
Maker: 0.04 to 0.1% Taker: 0.04 to 0.1%
Fiat: 1.5% CoinJar Users: $0 NPP: $0
$0
Visit CoinJar

Independent Reserve



Crypto, Osko, PayID, Electronic Fund Transfer, SWIFT
Australian Dollars, US Dollars, New Zealand Dollars
Over 25
0.05% to 0.5%
For SWIFT Deposit: $15 for deposits under Australian $5,000 equivalent $0 for deposits over Australian $5,000 equivalent For Electronic Fund Transfer: Australian $0.99 for deposits under $100 $0 for deposits more than Australian $100
Crypto: Fees vary Bank Transfer: $0 for AUD $20 for non-AUD
Visit Independent Reserve

eToro



Bank Transfer, Debit Cards, Neteller, PayPal, Online Banking, and Skrill
15 Fiat Currencies Including USD and AUD
Over 70
Vary
Vary
$5 but minimum withdrawal of USD50
Visit eToro

Coinbase



Debit Card
More than 20 Fiat Currencies Including USD and EUR
Over 200
Vary
Credit Card and Debit Card: 3.99%
2.49%
Visit Coinbase

Bittrex



Bank transfer (ACH)
Euro and US Dollars
Over 320
0.25%
$0
Vary
Visit Bittrex

Bitfinex



Bank Wire Transfer, Crypto, Credit Card
US Dollars, Japanese Yen, Euro, Pound Sterling
Over 200
Taker: 0.055% to 0.2% Maker: 0% to 0.1%
Crypto: $0 Wire: 0.1% (min 60 Euro/USD)
Crypto: $0 Wire: 0.1% Express Bank Wire (within 1 day on business days): 1% (min 60 Euro/USD)
Visit Bitfinex

Coinmama



Bank Card, SWIFT, Google Pay, SEPA, and Fedwire
6 Fiat Currencies Including USD and AUD
Over 10
2.93% to 3.9%
0% to 5%
N/A – assets are directly sent to the user's crypto wallet
Visit Coinmama

Kraken



Bank Transfer, Crypto, Wire Transfer, osko, SEPA, Apple Pay and Google Pay
7 Fiat Currencies Including USD and AUD
Over 140
Maker: 0% to 0.16% Taker: 0.10% to 0.26%
Vary
Vary
Visit Kraken

KuCoin



Crypto, PayPal, Wire Transfer, Credit or Debit Card, SEPA
9 Fiat Currencies Including USD and AUD
over 645
0.1%
$0
Vary
Visit KuCoin

Easy Crypto



Bank transfer, P2P, POLi, OSKO
AUD
100+
0.5% – 1.6%
$0
Fiat Withdrawal fees: $0 Crypto withdrawal fees: Network fees
Visit Easy Crypto

Coinstash



Crypto, PayID, Bank Transfer
AUD
410+
0.85%
$0
Crypto withdrawal fees: Network fees Fiat Withdrawal fees: $0
Visit Coinstash
This page was last updated on October 18, 2022