The growing public interest in cryptocurrency has compelled trading platforms to expand the number of digital currency projects they support. However, only a small number of these exchanges have chosen to make this leap. It seems like, for the most part, cryptocurrency marketplaces decided to play it safe by trading only the most liquid currencies. 


Gate.io is one of the world's major cryptocurrency exchanges in terms of trading volume, and it's proud to have one of the most extended lists of supported coins. So, how does this trading platform handle its financial services, is it safe to trade on it, and what else does it provide? Read on to find out. 
About the Gate.io Exchange
Located in the Cayman Islands, Gate.io is a well-established exchange that uses innovative technology to provide an effective and convenient trading platform and a service that allows instant deposits and withdrawals. It's a one-stop solution for asset management and crypto trading, with a rich offer of financial services and trading tools. The variety is so vast that Gate.io's user interface could come a bit overwhelming for beginners. 
On the other hand, professional traders would undoubtedly like the multiple payment choices, the extensive list of supported cryptocurrency projects, and the advanced trading tools and applications that make it easier to do business through this exchange. 

Furthermore, the user-friendly web platform provides many functionalities for more convenient trading, including detailed TradingView charting for more efficient monitoring of the market fluctuations, quickly accessible order books and history of the past trades, and detailed profiles of the listed cryptocurrency projects. 
Through Gate.io, digital asset traders can venture into spot trading (flash swaps), futures or options trading, perpetual contracts trading, or even margin trading with 10x leverage (or 5x leverage on EFT tokens). The platform also offers IEO products, push transactions, CBBC trading, and the attractive copy trading option.
Moreover, Gate.io serves as an excellent coin investment hub by offering a broad range of financial tools, such as a HODL and earn function, periodic investment plan, crypto lending option, crypto loans, margin borrowing, liquidity mining, cloud mining, developers' APIs, verification search, etc.
Gate.io Affiliation and Reward Programs
Regarding the passive profits, at Gate.io, crypto investors may join in the affiliate program by referring their friends to trade using this platform. For each successful transaction by your affiliate buddies, you'll get compensation of around a 40% trading fee rebate. Traders can also engage in slot auctions, accomplish designated tasks, and receive incentives for them.

Supported Cryptocurrencies
This crypto exchange is renowned for its support of over 800 cryptocurrency projects, including the most popular ones: Bitcoin (BTC), Dogecoin (DOGE), Tether (USDT), Qtum (QTUM), Ethereum (ETH), Litecoin (LTC), Iost (IOST), Eos (EOS), Shiba Inu (SHIB), Tron (TRX), ZCash (ZEC), Solana (SOL), Ripple (XRP), Kyber (KNC) – the list is long. The most significant market cap coins (BTC, USDT, ETH, and QTUM) are also part of the most popular trading pairs on Gate.io. 
Gate.io offers you the possibility to buy and sell digital currencies with one click by using your credit card, debit card, bank account, or through a peer-to-peer trade (P2P). Additionally, this exchange enables users to buy any of the listed cryptocurrencies using an equally diverse range of fiat currencies.

Some of the supported fiat currencies include the US Dollar (USD), British Pound Sterling (GBP), Euro (EUR), Russian Ruble (RUB), Indonesian Rupiah (IDR), Japanese Yen (JPY), Ukraine Hryvnia (UAH), to name a few. On the other hand, fiat deposits are not supported on the Gate.io exchange. 
While Gate.io does not charge any deposit fees, the withdrawal fees are minimal, and the spot and margin transaction take around 0.2% off your balance. The maker fee/taker fee schedule is somewhat different and pricier than the other exchanges.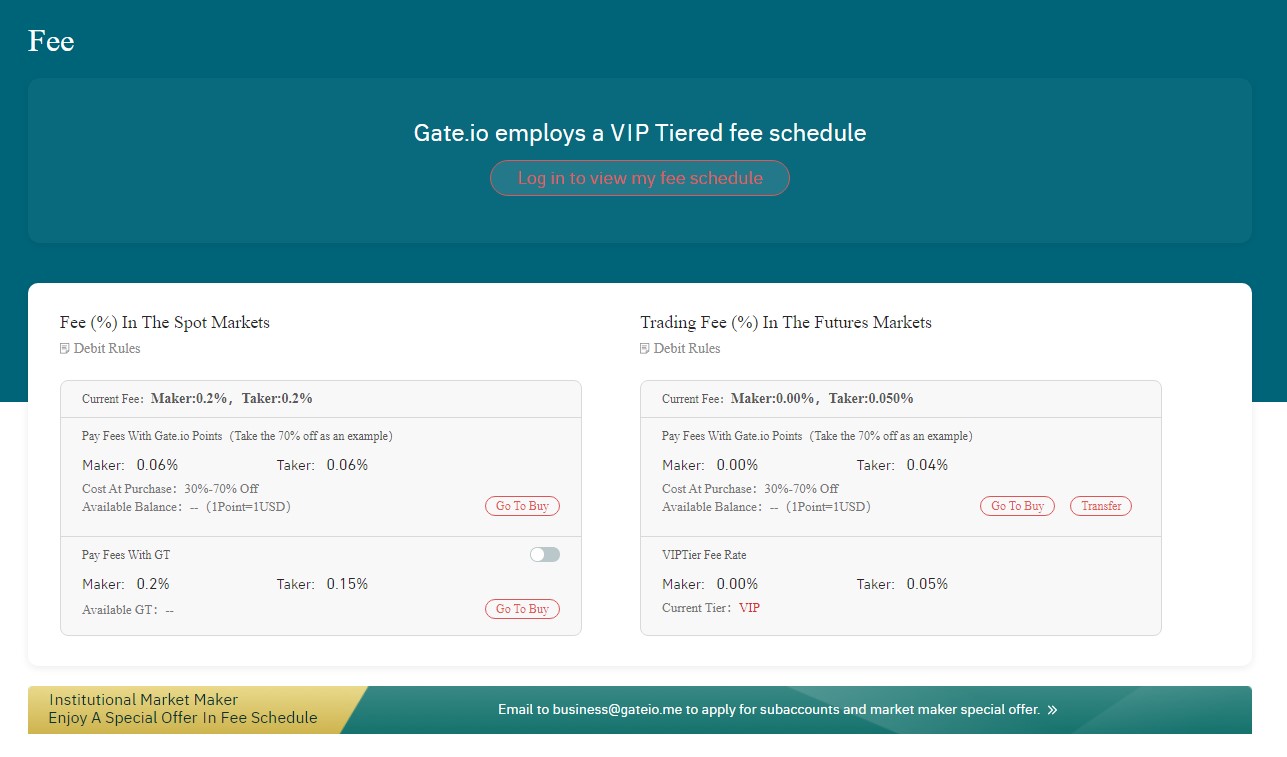 This exchange platform's minimum and maximum withdrawal limits illustrate the lowest or the highest amount you can withdraw for one purchase of a particular blockchain asset. These limits are only for one transaction made on the blockchain that includes one type of digital asset.
Your funds are protected by Gate.io using both centralised and decentralised approaches. As a result, it is the first exchange to make significant investments in security and legal resources to provide additional protection for your valuables.
In this respect, the company's developers have incorporated in the platform many of the most tried and proven security methods for both user funds and online data protection. These include, for example, the two-factor authentication protocol (2FA), SMS anti-phishing codes, KYC & KYC2 verification for accounts with bigger deposits, both hot and cold wallets for increased fund security, and so on.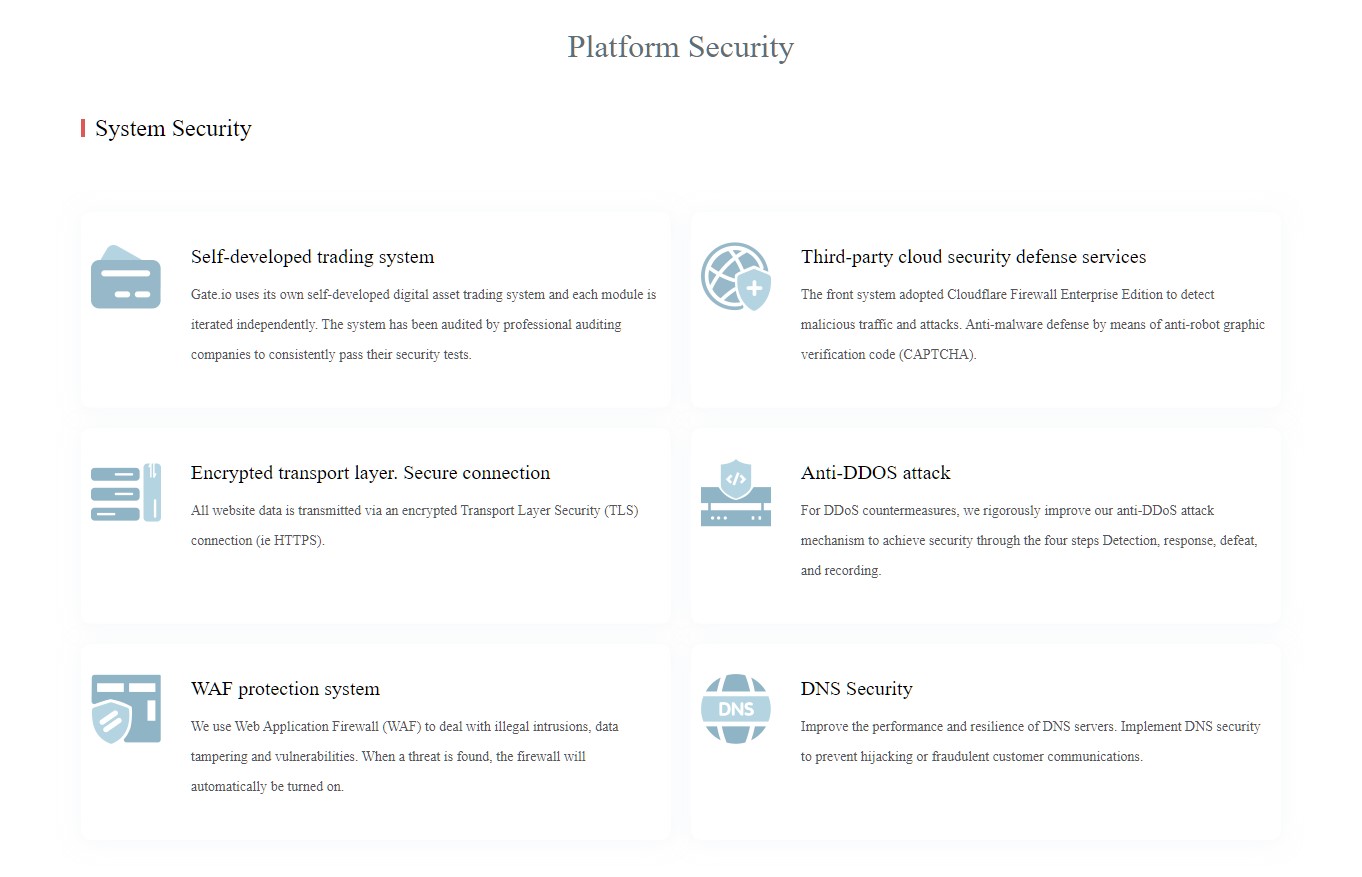 Is Gate.io Legit or a Scam?
Although Gate.io follows the KYC verification regulative, this is not an exchange regulated by financial authorities. Of course, this doesn't indicate that it is a scam – on the contrary. As is the case, most decentralised crypto exchanges are not regulated, as operating without an intermediary is one of the primary cornerstones of cryptocurrency startups.
To begin with, Gate.io provides a vast knowledge base that contains practically all of the essential functions and processes of the platform. Moreover, there's a quick search tool labelled Cryptopedia, where you may browse for blockchain-connected phrases and insights. With the help of these two sections, you can both expand your understanding of blockchain technology and maybe discover the solution you need. 
In addition to the informative sections, this trading platform has several interactive features and services for traders (such as Chatroom, Live Stream, Gate Blog, and Podcast), thus allowing them to share their trading experiences with other users.

If you still have any unanswered questions, you can reach the customer support team submit a ticket via their email address, as there is no phone number provided on the site for more immediate contact. Additionally, you may contact them through some of their social media channels.
Frequently Asked Questions
Does Gate.io have a mobile app?
Yes. The users of this trading platform can easily install the Gate.io app on mobile devices operating on both iOS and Android systems. 
What countries are supported by Gate.io?
Gate.io is a global digital currency exchange that provides financial services to most nations. This website does not permit access to its financial assistance to certain jurisdictions. Countries and regions on this listing include Washington and New York (USA) and Syria, Uganda, Crimea, Iraq, Iran, Korea, Bosnia and Herzegovina, Vanuatu, Ethiopia, and Cuba. 
Does Gate.io provide a cryptocurrency wallet?
Yes. Gate.io provides a digital wallet for convenient access to your stored assets and allows tracking them at any moment during the transaction. The wallet.io is one of the more secure storage choices on the market, as it only allows you to access your funds. This restriction mechanism is a good idea to consider before storing your coins in this digital wallet.
Gate.io is a one-stop-shop platform for Bitcoin and a wide variety of altcoins. With its rich offer of trading tools, this exchange might come overwhelmingly for the new crypto trading realm. However, the seasoned traders would benefit from the wide selection paired with low fees. 
On the other side, having ambiguous legal status might be a turn-off factor for crypto investors who prefer to trade via a licensed platform. But, considering that most of the DEXs can provide quality financial services without being regulated by top-tier monetary authorities, Gate.io is not an exception. Even more so, this exchange often ranks among the most secure trading platforms where you can buy or swap your favourite coins.
This page was last updated on August 23, 2022