If you belong to those crypto users who value security over any other convenience, you'll find our Gemini review quite a useful read. 
Gemini is a US-based cryptocurrency exchange, globally recognised for its professional approach to trading and storage crypto services. Gemini is a representative of the old-gen trading platforms — it has been actively operating since 2014 under the leadership of Tyler and Cameron Winklevoss.


Their names may sound familiar to you even if you have no point of contact with the crypto realm. The twins accused Mark Zuckerberg of stealing their Facebook idea, which ended up with a $60 million court settlement in their favour. Soon afterwards, the Winklevoss brothers saw Bitcoin as a great opportunity to nurture their entrepreneurial spirit and invested a great amount in the leading crypto coin.
They also established their own cryptocurrency exchange, Gemini, which evolved into a reliable marketplace available in over 50 countries across 6 continents. This part of their career isn't covered in the Social Network movie.
About the Gemini Exchange
Gemini Trust Company, LLC is registered with NYSDFS (New York State Department of Financial Service) and complies with all anti-money laundering, compliance, user protection and other cyber security regulations under the state of New York. This gives the exchange quite a competitive edge in a world that has a long history of virtual scams. 
Thereby, it's not surprising that Gemini targets institutional clientele at the same rate as casual investors who can trade comfortably with their FDIC-covered holdings.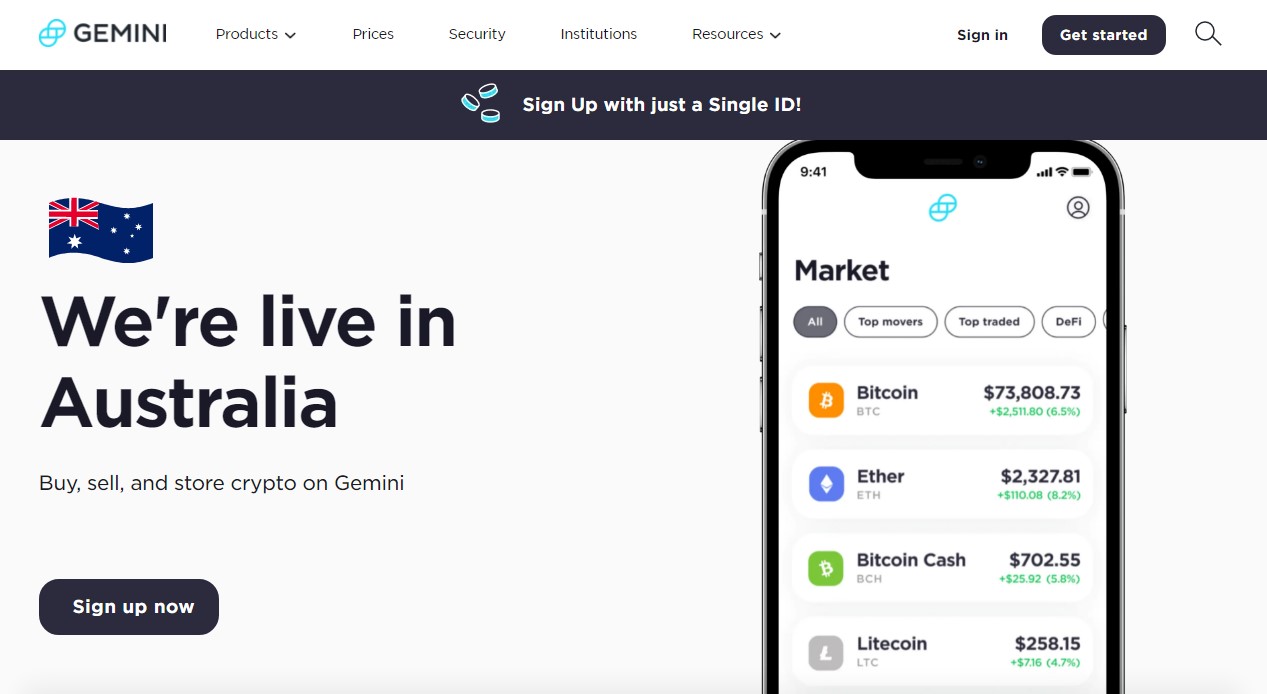 Apart from the regular buy-and-sell options, on Gemini, you can take advantage of the interest-bearing opportunity that will allow you to earn a lucrative APY (annual percentage yield) on selected cryptocurrencies and a personalised OTC (over-the-counter) desk. There are also online and offline storage solutions and a chance to pay with crypto coins at supported retailers. 
Gemini features a clean interface supported by sophisticated menu options, which can be a bit challenging for novices. However, the company offers a more user-friendly yet highly functional mobile app available for Android, iOS, and Galaxy systems, which is considered a simplified version of the original web-based Gemini platform.
Gemini is a carefully visualised platform with quite a range of trading services aiming to serve as a bridge between virtual and traditional currencies. Despite the professional outline, the exchange offers suitable trading grounds for all types of users. 
Gemini allows first-time crypto users to buy some of the supported cryptocurrencies directly from the platform in exchange for fiat currencies. This process is designed to flow in a simple manner, and you can set automatic orders in a certain timeframe (daily, weekly, or monthly) to the dollar-cost average of your purchase. 
For seasoned traders, Gemini offers a separate trading platform with an elegant set of trading tools in the form of candlestick charts and 8 different order types: market, limit, Immediate-or-Cancel (IOC), Maker-or-Cancel (MOC), Fill-Or-Kill (FOK), Auction-Only Limit (AO), Indication of Interest (IOI), and stop-limit order.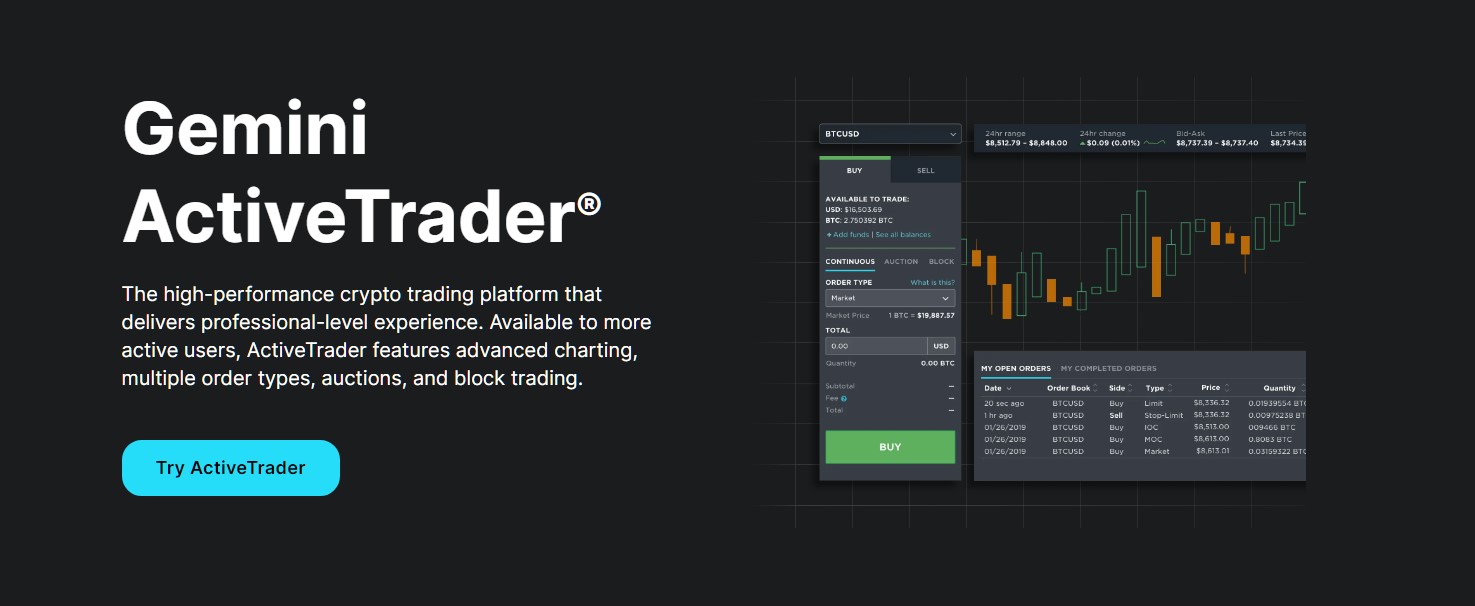 You can easily switch to the ActiveTrader mode — find Settings under the Account section and select the ActiveTrader interface. Now that you're trading directly on the market, expect much lower fees than the ones applied to instant purchases from the exchange.
The majority of well-established cryptocurrency exchanges offer an over-the-counter desk for large-scale investments in order to protect their whale customers against the rapid price change and the negative outcome arising from it, known as slippage. Your investment capital needs to exceed a certain threshold amount ($20,000, for example) to qualify for this personalised service. 
However, Gemini has launched a unique OTC system under a separate platform called Gemini Clearing™. It allows off-exchange and OTC trades to be settled between Gemini accounts with the support of a third party broker. Gemini Clearing provides highly regulated settlements for pre-set trades of this kind, which helps a great deal to prevent delayed settlements and counterparty risks. 
Gemini Earn enables you to earn an attractive APY on certain cryptocurrency balances by lending crypto funds to institutional clients. The interest rate is settled on a daily basis and its amount depends on the coin type. For example, Gemini Earn offers 1.49% for Bitcoin, 2.05% for Ethereum, and 3.78% for Dogecoin. You can find the complete list of interest rates on their official website.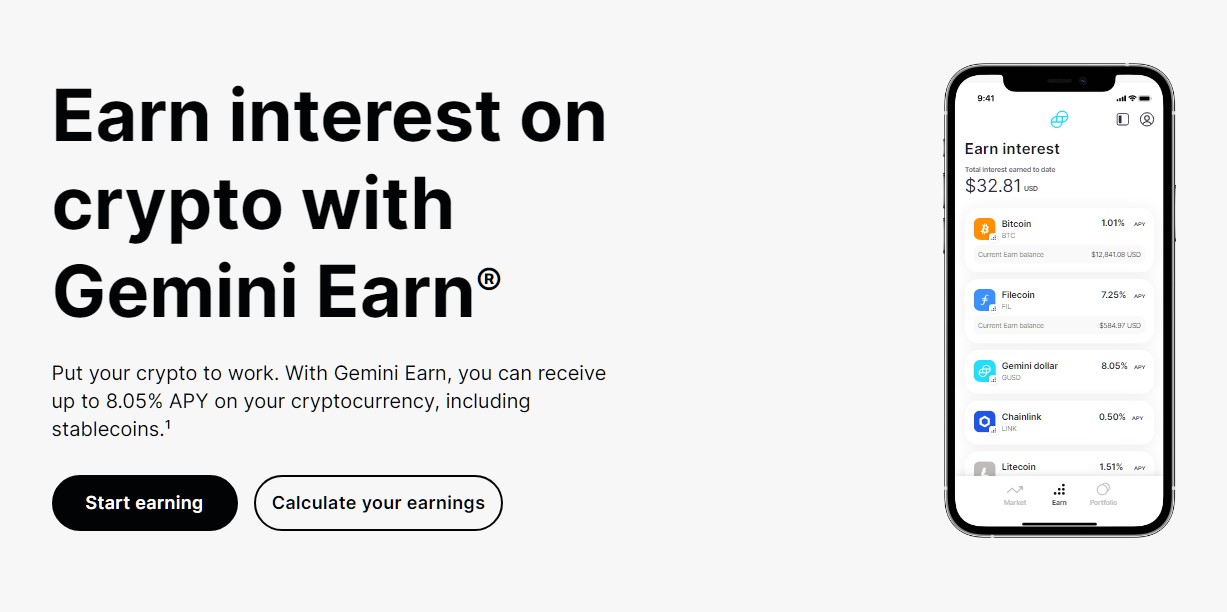 The exchange allows you to start using the Earn option immediately after you register on the platform and buy your first crypto. Finally, you'll have clear insight into both the Gemini Earn balance and the regular trading balance.
The storage option on Gemini is far more than a regular in-exchange web wallet, as is the case with the majority of custodial crypto exchanges on the market. To make it clearer, exchanges usually allow you to keep your virtual assets on the platform with full control over your private keys. This means that you'll need to fully rely on their security systems — which are robust nowadays — but still, the very fact that your cryptocurrencies will reside online make such hot wallets not a recommended solution in the long run. 
Gemini wallet options provide both regular hot wallets and institutional cold storage. The latter is called Gemini Custody and comes with no minimum limit, instantaneous withdrawals, deep liquidity (no cash-out delays), and most importantly, an insurance fund of $200 million. 
A new Gemini function — Gemini Pay — allows you to spend your crypto at over 30,000 crypto-friendly retailers without a transaction fee. As innovative as this concept may sound, cryptocurrencies haven't reached the role of a medium of exchange yet due to the extremely high volatility. So, be cautious when paying for goods and services in crypto — their price may double the very next day.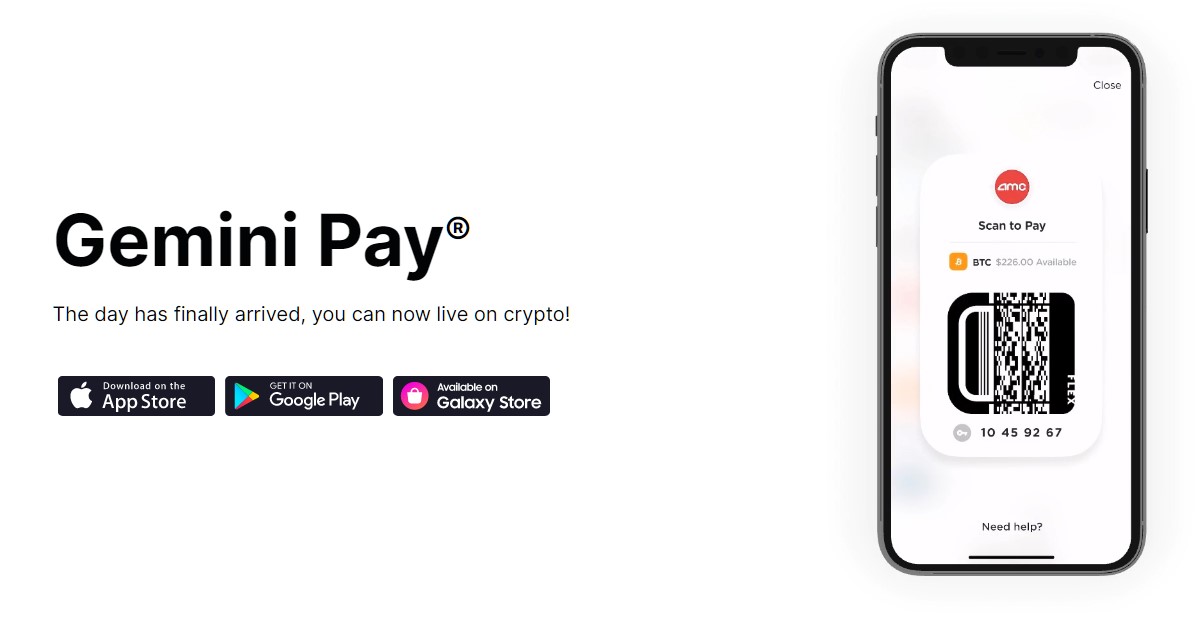 Since the very first years of operation, Gemini has been building an image of a user-oriented financial institution supported by a devoted knowledge base where beginners can learn the ropes of basic blockchain concepts. Their educational library consists of the Gemini Blog and the Cryptopedia platform.
The blog covers the standard industry-related topics and updates about new products and accounts settings. On the other hand, Cryptopedia is rather an ambitious educational resource. It has over 300 different topics — from Bitcoin to non-fungible tokens (NFTs) and ERC-20 tokens.
On top of this, on Gemini, you can find a range of webinars and video guides on cryptocurrencies such as Crypto 201, Intro to Ethereum, and Intro to Crypto webinars.
Supported Cryptocurrencies and Payment Methods
Overall, the Gemini exchange is oriented towards the Bitcoin community, but apart from Bitcoin (BTC), it supports a decent range of around 40 different crypto assets, including the mainstream altcoins such as Bitcoin Cash (BCH), Ether (ETH), Litecoin (LTC), Dogecoin (DOGE), Zcash (ZEC), Tezos (XTZ), and Filecoin (FIL). 
The coin diversity on Gemini focuses on a range of ERC-20 tokens like 1INCH (1INCH), 0x (ZRX), Chainlink (LINK), Balancer (BAL), SushiSwap (SUSHI), Uniswap (UNI), and many more. 
The exchange also has its own stablecoin known as Gemini Dollar (GUSD), which is backed by the US dollar.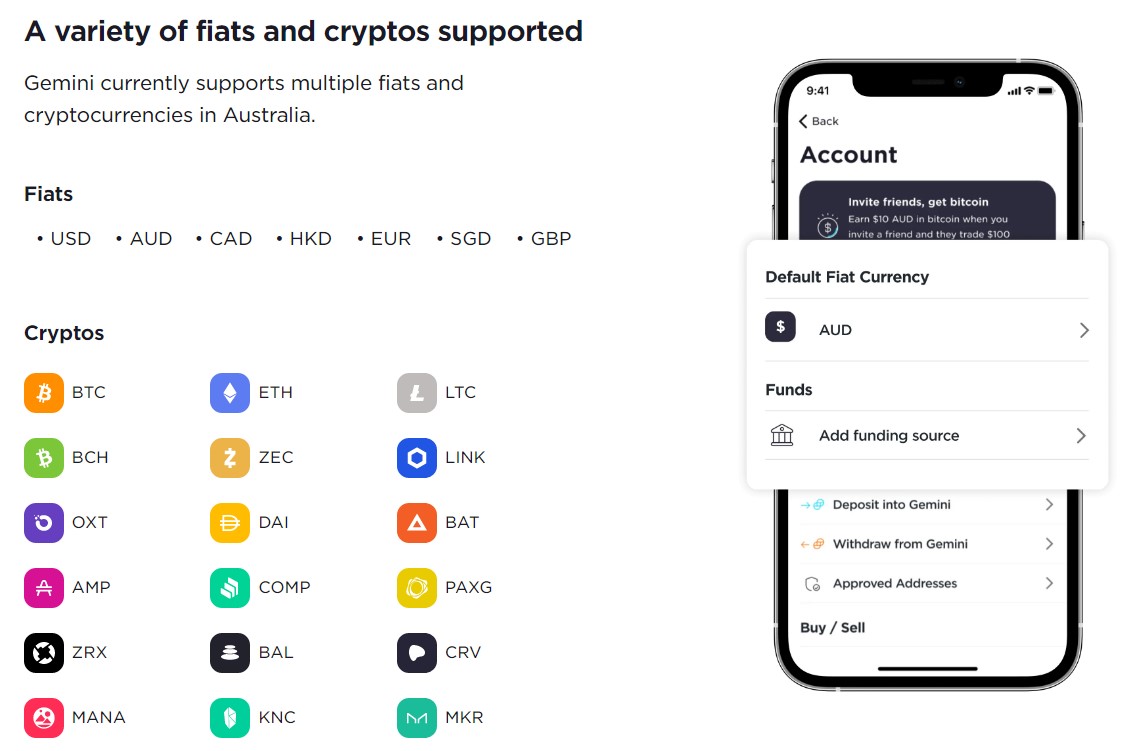 When it comes to fiat payments, Gemini allows you to deposit funds to your exchange account either through ACH transfers or wire transfers. The bank transfer time depends on the method, so the ACH-transferred funds are immediately available for trading, while wire transfers deposits usually take 1-3 business days. 
Debit card payments are also available on Gemini, but only for instant purchases. 
Gemini charges a bit higher than other industry leaders, and you may find its fee schedule a bit complicated if you have no previous experience with crypto transactions. However, both convenience and transaction fees are transparently shown within your quoted price before confirming the transaction. 
The convenience fee on Gemini is around 0.5% of the total market price for a given coin but it may vary depending on the respected market. This fee is also incurred in instant crypto purchases. So, if the ETH market price is $3,000, you'll have to pay $3,015 for one token. 
Apart from the convenience fee, you'll also be charged a transaction fee depending on the amount traded. Thus, for common crypto conversions such as BTC to LTC, there is a fixed fee of 1.49%.
For crypto purchases and sales, this fee is calculated on the basis of the cryptocurrency type and can vary from a flat fee for low-scale orders to a percentage for larger orders. For example, USD transactions of less than $10 come with a fee of $0.99. There is a $1.49 fee for transactions between $10 and $25, a $1.99 fee between $10 and $25, and a $2.99 fee for transactions under $200. Above this amount, you'll have to pay 1.49% per trade.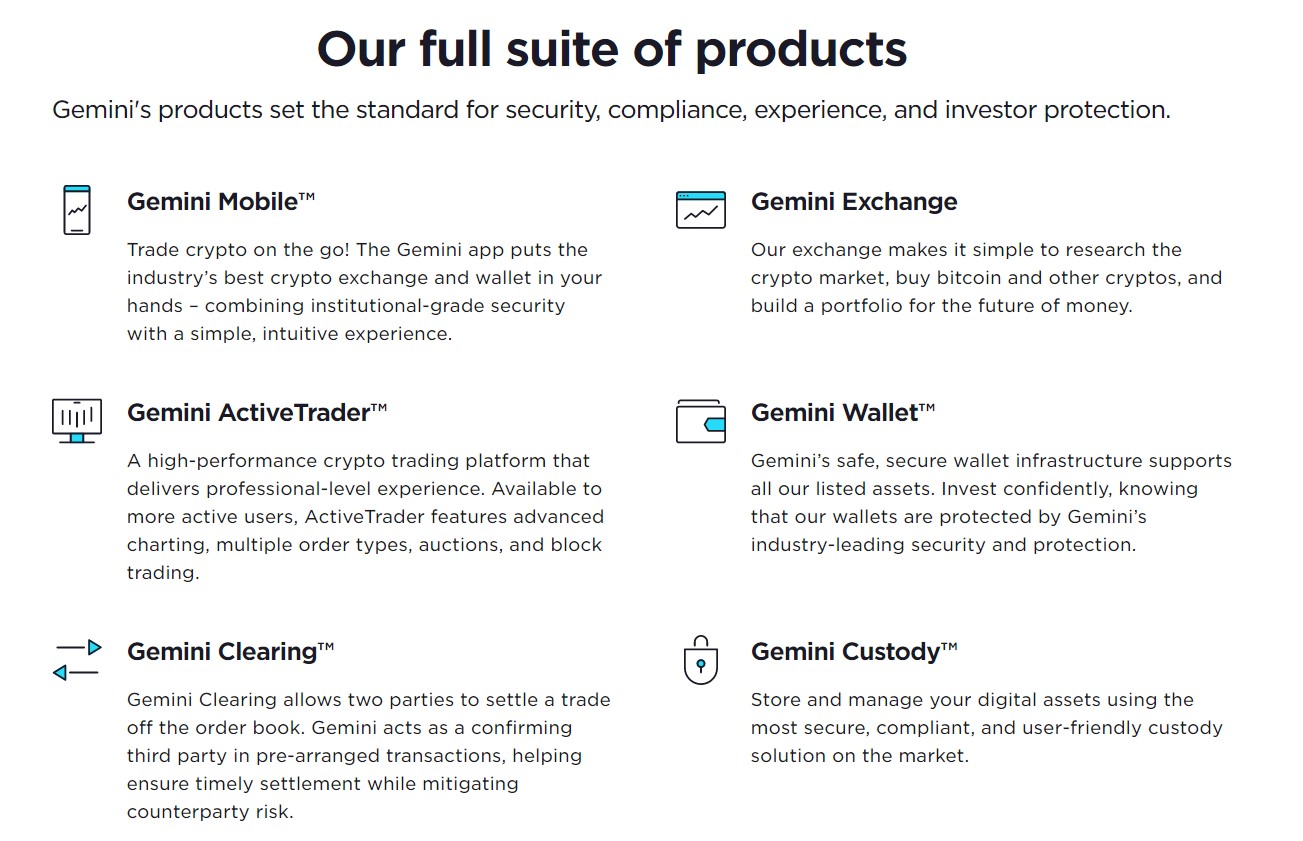 These numbers may initially not seem like a fortune, but Gemini doesn't appear to be the most favourable environment if you're a day trader. However, the level of protection you get with Gemini is definitely worthwhile the relatively high fees. Finally, more advanced users can always turn to Gemini's ActiveTrader, which features a cheaper fee structure. 
In a word, the exchange doesn't charge for deposits unless you buy crypto instantly with a debit card. In that case, be prepared for an additional fee of 3.49% per debit fee transfer. Surprisingly, the debit card fee on Gemini is lower than the industry standard of 5%. In this context, it's worth mentioning that debit card purchases come with a maximum limit of $100,000 per day. 
Withdrawing crypto from your Gemini account and USD from your bank account after selling your crypto is free but limited to up to 10 withdrawal transactions per month. When exceeding the limit, the exchange will activate a certain fee depending on the crypto coin. This withdrawal schedule is considered fair compared to other exchanges that belong to the same category as Gemini. Coinbase, for example, will charge you every time you move your digital assets to a third-party crypto wallet. 
Gemini always points out its regulated status as the main advantage over its competitors. As mentioned above, it's very rare in the cryptocurrency sphere to find an FDIC-insured marketplace. However, you should know that the insurance money doesn't cover any loss arising from unauthorised access to your account but only an external security breach, hack, or fraudulent action. Nonetheless, only a small portion of Gemini circulating funds are stored online. 

Gemini also supports 2FA (two-factor authentication) and allows you to make a list of addresses that have the approval to withdraw money from your account. 
If you can't find a solution for your issue across one of the given sections in the Gemini knowledge base, the exchange offers direct assistance through a Zendesk email system. Most of the exchange reviews online rate the Gemini support team very high in response time and accuracy. 
Frequently Asked Questions
How long does it take to register on Gemini?
Gemini is claimed to have rather an extensive verification process as the Winklevoss brothers aim at full compliance with all regulatory policies. Once you land on the Gemini web platform, you'll have to provide your full name, valid email address, and password. However, this is only the beginning. After you receive the verification code, you'll be directly diverted to the verification stage.
First, you'll need to activate 2FA by providing an active mobile phone number. The second stage concerns your bank account, which has to be issued in one of the supported countries. Afterwards, you'll have to verify your identity by submitting photos as ID proof and finally, submit the required documents to complete the verification process.
What countries does Gemini support?
This US-based exchange is internationally available in over 60 countries, including Australia, New Zealand, the UK, Singapore, and Canada.
Does Gemini provide a mobile app?
Both iOS and Android users can download the renowned Gemini app, which has inherited the elegance and neatness of the original web-based platform. Moreover, the mobile version of the Gemini exchange is considered much simpler for navigation and hence, more suitable for novices.
In terms of functionality, the Gemini mobile app does contain almost all trading features so you can freely rely on it for purchases and sales of all platform-supported cryptocurrencies. In addition, with the Gemini app, you will have a clear view of your active orders and current market trends. Finally, the app will enable you to customise alerts based on your personal interests.
Does Gemini offer margin trading?
The Gemini exchange does not provide margin trading or any other option for leveraging your position.
A Few Words Before You Go…
With its simple yet highly professional approach, Gemini welcomes users of all backgrounds regardless of their previous experience in crypto trading. 
However, based on the sophisticated trading features and traditional performance style, this exchange seems to be the best match for seasoned Bitcoin traders who don't mind giving an extra penny to buy their comfort and get impeccable fund protection and value quality over quantity. High-security measures are also attractive for corporate clients that accept nothing but industrial-grade safety.
Finally, if you're looking for a more daring selection of available cryptocurrencies or challenging futures markets with leverage, you'd better direct your attention to a different type of crypto exchange such as Binance.
This page was last updated on July 7, 2023