HitBTC Exchange Review 2023
HitBTC, which was formed in 2013 by a group of experienced IT experts, is one of the longest operating cryptocurrency exchanges currently in service. Because of its proven record of trustworthiness, this crypto exchange continuously keeps growing and provides its clients with a broad range of trading services, including swift order execution, an innovative trading platform, as well as high liquidity, among other things. 


A few of the questions we address in this HitBTC review include: how secure is this platform's foundation, what are the trading costs it incurs and does this crypto exchange with a long history still enjoy the trust of its customers? Read on.
About the HitBTC Exchange
This veteran crypto exchange provides its clients with a broad range of trading services. HitBTC is one of the largest spot trading platforms in the business, supporting more than 800 trading pairs, as well as over 500 financial tools. The platform offers OTC trading for crypto investors interested in larger Bitcoin purchases, limit orders, stop orders, as well as margin trading alongside the numerous advanced features. Moreover, HitBTC is a pioneering crypto company in the market that has provided fast and efficient WebSocket, REST, and FIX APIs for automated and algorithmic trades.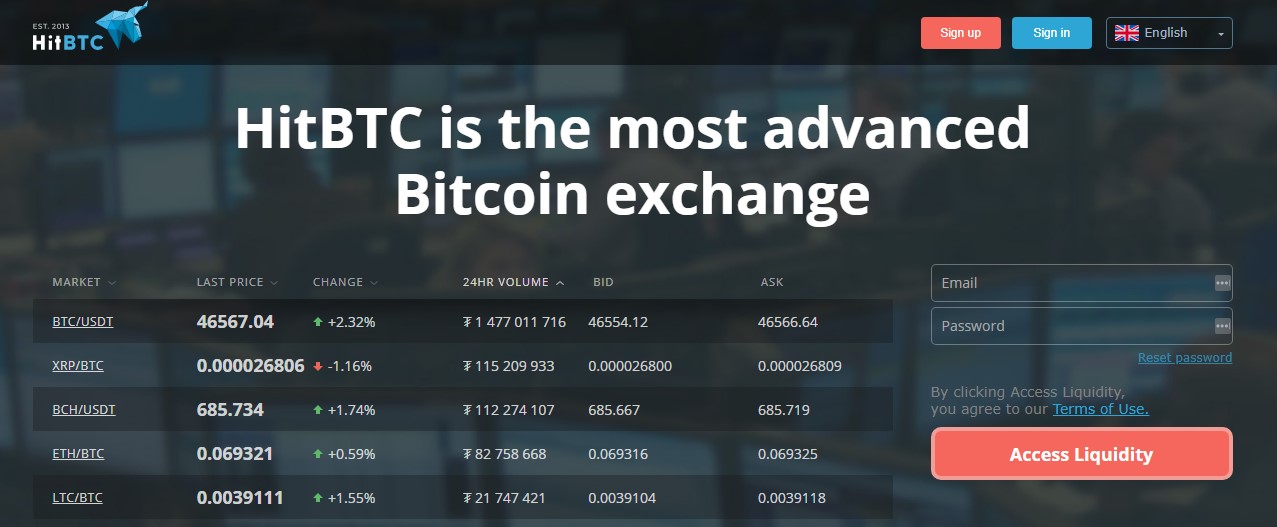 The HitBTC exchange has a distinctive feature that enables users to test their trading strategies and adjust API settings. For beginners in cryptocurrency trading, the standalone demo trading platform developed by the HitBTC team provides real-world experience in professional trading by allowing them to swap any of the HitBTC trading pairs without making any real investments. 
Traders may also use the demo account to develop realistic crypto trading skills before making their first real deal on the market, and they can do so by using a variety of financial instruments and security features.
HitBTC's native token is an ERC-20 built token that serves as the network's basis and is used to pay for different services. To be specific, the HIT utility token provides its holders with a broad range of benefits, including lower fees, higher staking rewards, and the ability to use the token as collateral for margin and futures trading transactions. The total supply of HIT tokens amounts to 2,000,000,000 tokens.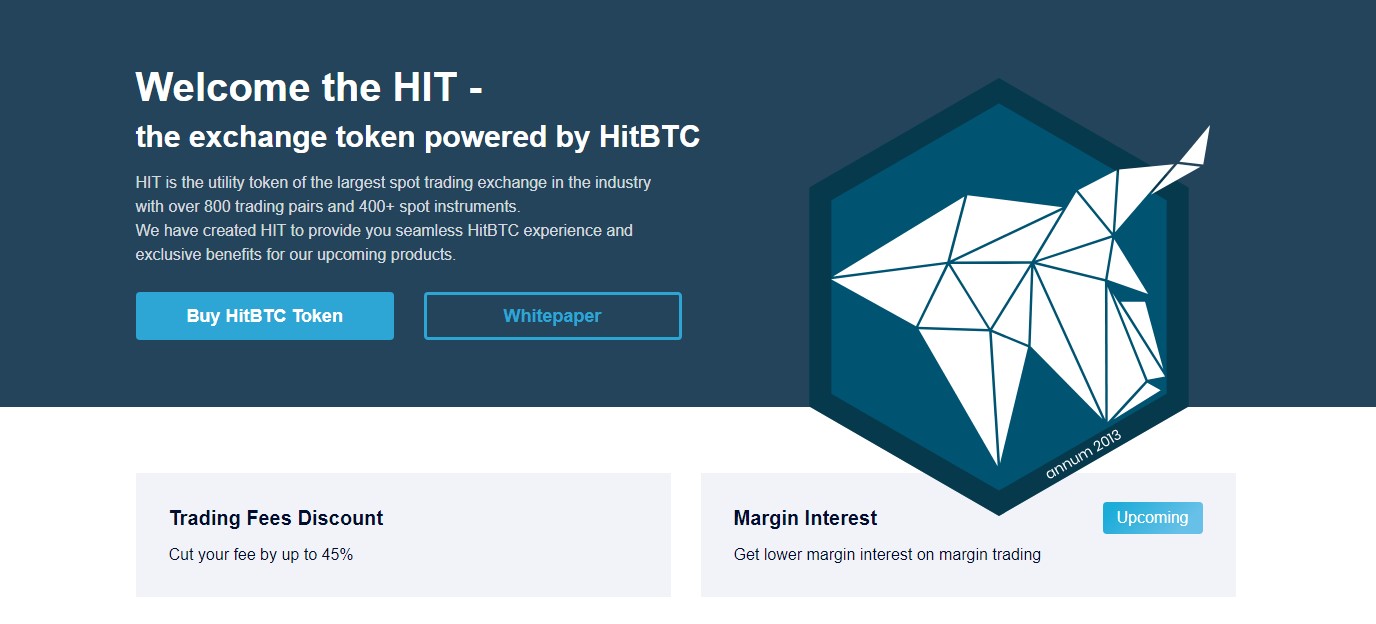 To receive virtual currency through the HitBTC exchange, you must first establish a digital wallet for the particular cryptocurrency you wish to receive. Then, transfer the funds to the wallet address that is generated in the wallet you created.
Please have in mind that you'll also need a separate wallet per each cryptocurrency you want to trade. Namely, it is not permitted to transfer cryptocurrencies to a wallet that is not intended to accept them. Otherwise, you may lose your digital assets. All of the wallets you've generated for trading via HitBTC exchange will be easily reachable to you from the app's home screen.
How to Receive Cryptocurrencies in Your Wallet
The first step is to obtain your wallet address in order to receive coins to your HitBTC wallet. Next, click on the 'Receive' option on your wallet tab. As soon as the QR code shows on the screen, you'll be provided with two options: to copy the wallet address to the clipboard or share it through one of the applications that will show up.
As the same token might exist in multiple networks at the same time, it is of critical importance to verify that the token you are sending to your wallet and the token in the application are both from the same network before proceeding with the transaction.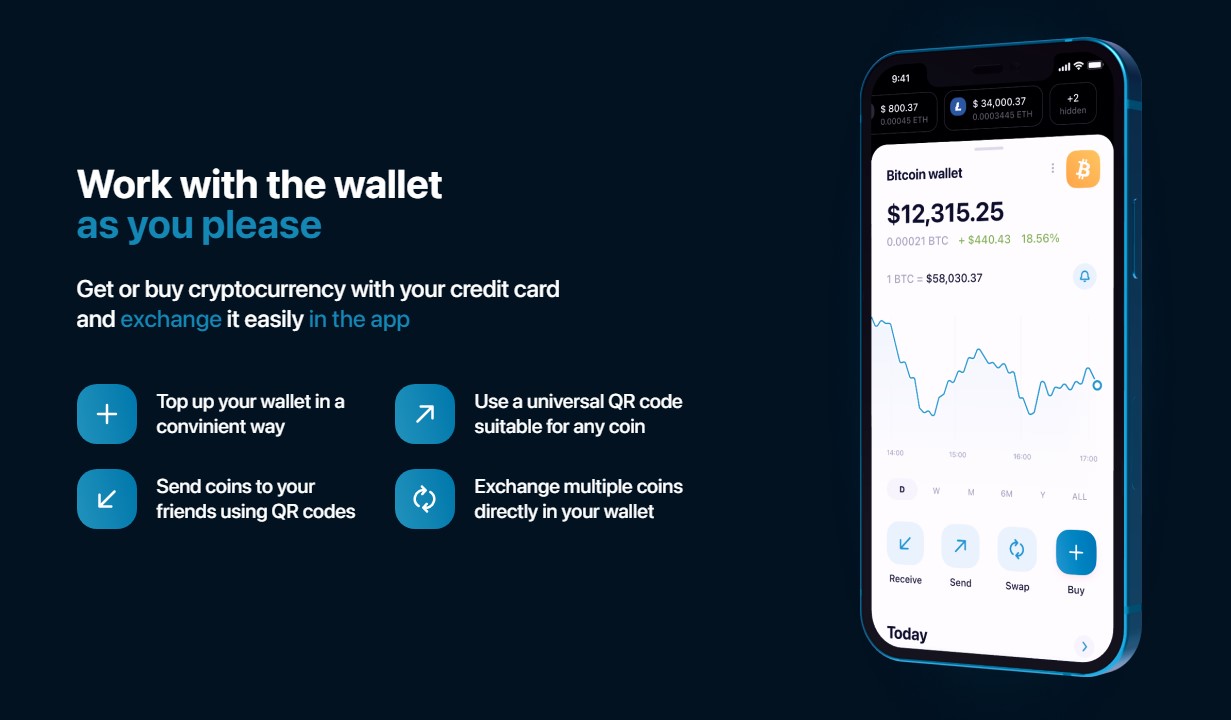 How to Send Cryptocurrencies to an External Wallet
After selecting the 'Send' option from the app's UI, you'll be prompted to either scan a QR code or input the recipient's wallet address in text format before the transaction can be completed. If necessary, you can additionally include the Payment ID. The instructions on the screen will naturally walk you through the process of moving cryptos to an external wallet and completing the transaction successfully.
In order to avoid having to input your 2FA code every time you transmit money to another wallet, make sure you have this security feature activated before you begin sending coins.
How to Swap Cryptocurrencies
To swap coins across your digital wallets, click on the Swap option on the wallet bar. After that, enter the coins that you want to use. If a certain cryptocurrency is not represented, you'll first need to generate a wallet for that coin before you start trading cryptocurrencies.

The minimum exchange amount will be displayed when you have selected the cryptocurrency you wish to swap. For the purpose of displaying the market fluctuations, the swap rate is refreshed every ten seconds on the dashboard.
Supported Cryptocurrencies
If you're looking to exchange one cryptocurrency for another, HitBTC provides one of the most comprehensive selections of crypto-to-fiat and crypto-to-crypto currency pairs available. Some of them include BTC/USD, BTC/EUR, BTC/LTC, etc. 
On the flip side of the (crypto) coin, the vast choice of coins might result in you coming across any dubious cryptocurrency projects, so make sure you are thoroughly acquainted with the cryptocurrency you intend to use before proceeding with any trade.
HitBTC exchange lists some of the most popular cryptocurrencies, including Bitcoin (BTC), Ethereum (ETH), Ripple (XRP), Zcash (ZEC), Stellar (XLM), Cardano (ADA), Litecoin (LTC), Neo (NEO), EOS (EOS), Tron (TRX), IOST (IOST), Tether (USDT), Dash (DASH), Monero (XMR), DogeCoin (DOGE), as well as more than 500 other altcoins.
As a Bitcoin exchange and cryptocurrency trading platform dedicated to offering the highest level of user satisfaction in crypto trading, HitBTC supports all major methods of payment for purchasing Bitcoin. However, you must successfully pass the KYC verification process on the site prior to making the purchase.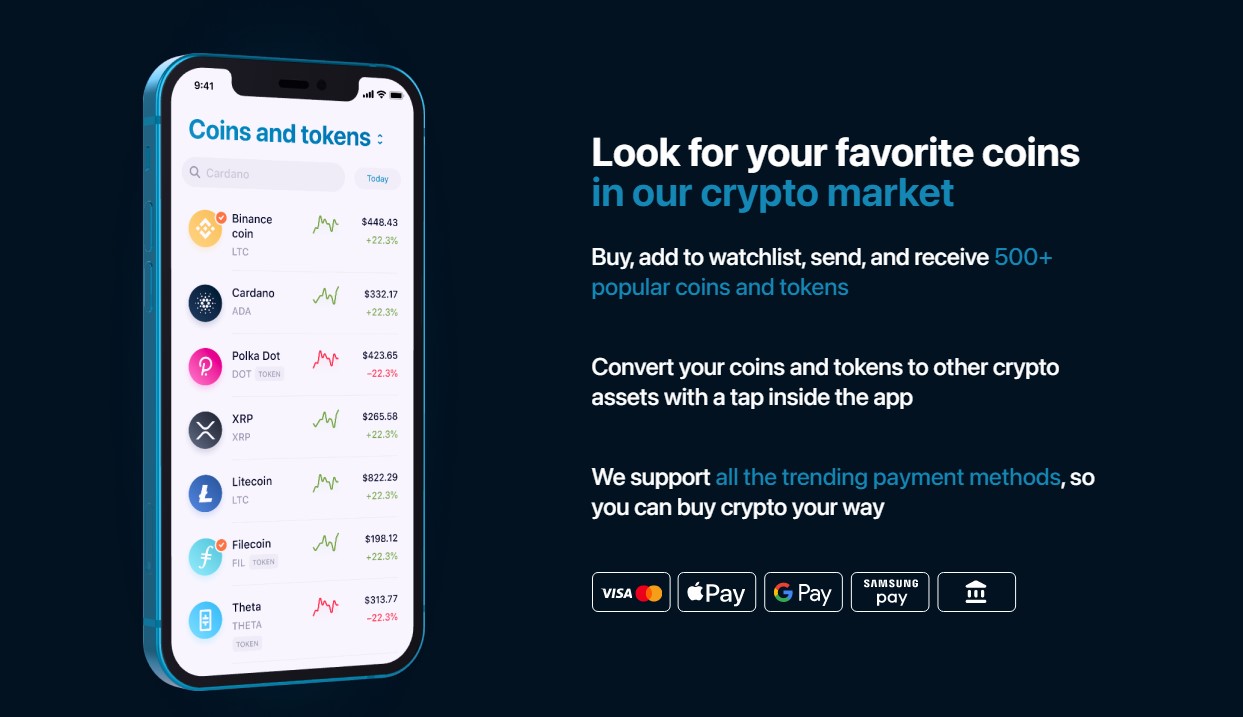 Credit cards or debit cards issued by the Visa or Mastercard payment providers, bank transfers, fiat currencies, ApplePay, wire transfers, GooglePay, and other similar payment options are all available for the traders who prefer trading cryptos through the HitBTC cryptocurrency platform.
It should be noted that HitBTC accepts only digital money as deposits for your trading account. HitBTC formerly permitted its users to deposit and withdraw money in traditional currencies like British Pound (GBP), the US Dollar (USD), and Euro (EUR). However, this is no longer the case and there is no other way to connect a HitBTC account to a user's bank account.
HitBTC has a trading fee tier structure for the accounts that have been fully verified and upgraded, which rewards members of the community who engage in high-volume trading. Essentially, the more trades a client completes through the exchange, the smaller their transaction fees will be.
The HitBTC tier fee structure comprises ten tiers, each of which represents more than 30 days of BTC trading volume. This calculation is used as the basis for estimating the fees. In this way, the total amount of coins transferred by each user stated in the BTC equivalent at the time of the transaction will be used to calculate the volume of each user.
The fees for the Starter and General accounts, on the other hand, are fixed at 0.1% maker fee and 0.2% taker fee. Finally, there is no deposit fee at HitBTC. Users may fund their trading accounts for free using digital currencies.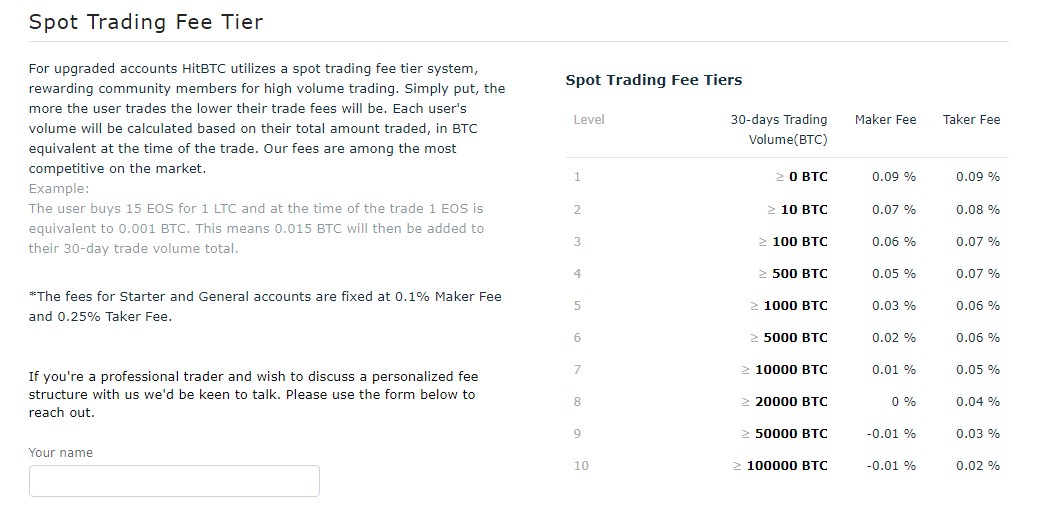 When you withdraw your Bitcoin assets, HitBTC will deduct 0.00085 BTC from your HitBTC account as a withdrawal fee. 
There are two main forms of fund safeguarding protocols implemented in the HitBTC exchange's custody infrastructure: top-tier security for the market's top 10 coins (along with all ETH tokens), and standard security protocols for the other virtual currencies accepted by this platform. 
To begin with, HDKey technology and multilayer in-house encryption are used to create the top-tier security custody system. Stringent regulations that prohibit the use of third-party software, especially third-party blockchain technologies, are also in place. 
Furthermore, HitBTC offers its users whitelisting controls and two-factor authentication in order to ensure the safety and security of their trading activities and accounts. Additionally, it retains custodian ownership of the users' funds and keeps them in cold storage wallets to ensure that the digital assets are kept safe at all times.
Is HitBTC.com Legit or a Scam?
The HitBTC exchange performs its financial activities in accordance with the KYC/Market Surveillance/KYT/AML regulatory framework and procedures. But despite this fact, some platform users have claimed difficulties in withdrawing their digital assets, which have been accompanied by a lack of relevant customer service from the exchange. 

Could this be due to professional fatigue on the part of the exchange's developers as a result of the extended period of time devoted to the development of the cryptocurrency market, or could it be a momentary malfunction in their operation? Is HitBTC facing its downfall after so many years at the top? We are unable to tell for certain.
When you visit the HitBTC exchange's customer support page, you'll be presented with a comprehensive knowledge base that encompasses in-depth articles on some of the most prevalent questions regarding the characteristic features and operations of this exchange. 
If you have a problem, question, or complaint, HitBTC's support team is available to help you solve it 24/7 through the exchange's social media pages, including Facebook, Twitter, and Telegram, as well as Reddit and other forums.
HitBTC also features a forum page labelled as the TrollBox, where the traders chat and share both their user and trading experiences. This HitBTC service is offered in a number of different foreign languages, in the same way that the UI of the exchange is available in English, Portuguese, Chinese, Spanish, and Korean.
Frequently Asked Questions
Does HitBTC have a mobile app?
Yes. The HitBTC mobile app is equipped with a fast market-matching technology, a user-friendly interface, sophisticated trading tools, as well as market indicators, allowing for seamless Bitcoin and cryptocurrency trading on the go.
What countries are supported by HitBTC?
Headquartered in Hong Kong, Chile, and Estonia, this internationally accessible platform makes trading feasible from virtually any location on the planet. It is possible for crypto traders to access the platform from anywhere in the world. However, owing to legal concerns, the United States, Crimea, Cuba, Syria, and North Korea are the only countries that are exempt from this rule.
What is a whitelisting control?
In the computing realm, an application whitelist refers to a list of computer programs and software modules that are permitted to be used within a company's infrastructure. Application whitelisting services involve the use of keyword filtering to govern which programs are allowed to run on a certain network or computer. 
In turn, whitelisting assists the respective trading platform in blocking the activation of computer viruses or unauthorized software that could breach its security protocols or damage the blockchain's architecture.
Due to the extremely large number of cryptocurrency trading platforms available today, it can be difficult to choose one cryptocurrency exchange that will meet, if not exceed, your trading requirements. With a unique set of specifications designed to support crypto traders of all experience levels and skill levels, HitBTC functions as a third-party intermediary between buyers and sellers of cryptos.
Even though this exchange has a lengthy history and trading rebate for the market makers on the platform, some TrustPilot reviewers have highlighted concerns regarding the exchange's operation and integrity as the main red flags. In accordance with the feedback received from the platform's users, it appears that HitBTC is experiencing extended support response times, as well as withdrawal challenges. To put it bluntly, what started off as a success story in the early days of cryptocurrency, now it's probably losing its sway over the cryptocurrency industry.
This page was last updated on August 23, 2022