Thanks to Bitcoin (BTC), cryptocurrency mining has become a very attractive method to make some serious profit from your home. The high price of BTC and the potential gains from setting up a strong mining rig motivate thousands of crypto enthusiasts over the world to set up their own mining operations. However, building a strong rig and maintaining it can be quite expensive and require some technical expertise to maintain your rig functional 24 hours a day.
Many crypto holders would like to engage in crypto mining without all the hassle of investing a lot of time and money in a rig, and MinerGate is a legit mining project designed for these users. You don't need to have a strong rig or to dedicate several hours a day to maintain a mining operation because MinerGate does all the technicalities for you. The only thing you need to do is install it on your computer and watch your crypto wallet get filled with coins.
The mining pace and the number of coins you earn do, however, depend on the hashing power of your computer, so if you do want to earn a lot of cryptos with MinerGate, you do need a strong rig.
Let's take a closer look at MinerGate, how it works, which cryptos you can mine and how to install it.
Cryptocurrency Mining
Before we dive into the characteristics of MinerGate, let's have a quick overview of how the cryptocurrency mining process works. In order for a cryptocurrency to be minable, it needs to be based on a Proof of Work algorithm. This means that the transaction verification system of a cryptocurrency works with the help of thousands of independent network nodes that are actually miners and their rigs, powerful mining computers specialized for mining cryptos.
Some of the most popular examples of Proof of Work blockchains are Bitcoin (BTC), Ethereum (ETH) and Bitcoin Cash (BCH), but the list goes on with hundreds of crypto projects that can be mined by their users.


The mining mechanism is closely linked to the process of verifying transactions and it's pretty much the same across all Proof of Work blockchains, except that the hashing algorithms are different, along with the blockchain data block size and processing time.
When you send out a transaction of some PoW-based crypto, like Bitcoin Cash, your transaction first goes to a memory pool where pending transactions wait for miners to pick them up. Once a miner starts verifying your transaction, their computer needs to find an appropriate transaction hash that corresponds with the cryptographic key of your transfer data.
Miners pool together their hashing power in mining pools to process transactions faster, find the right hashes and earn more block rewards in the form of freshly mined coins and tokens. When a miner does find the right hash, they send it out to the rest of the network as Proof of Work. Each time a certain number of transactions have been processed to fill a blockchain data block, the miners involved in the verification of those transactions get a block reward of fresh coins.
MinerGate Review Key Points
These are the key characteristics of MinerGate:
The platform simplifies crypto mining: install it, optimize your account and watch your wallet get filled with coins.
Has several advanced mining modes.
Offers a great selection of cryptocurrencies.
You can't mine Bitcoin because the Bitcoin mining pool was shut down in 2019.
Affordable pool fees.
Android and iOS compatible mobile app.
How to Use MinerGate
The MinerGate platform is best described as an open mining pool that can be joined by users from any part of the world, regardless of the hardware they are using for crypto mining. MinerGate was launched back in 2014 by a group of developers who are also crypto miners, with the aim of providing crypto enthusiasts with a platform that simplifies all the technical aspects of crypto mining. Some popular mining pools such as Slushpool are much more complex than the MinerGate pool because they require in-depth knowledge about the technical characteristics of crypto mining hardware and software.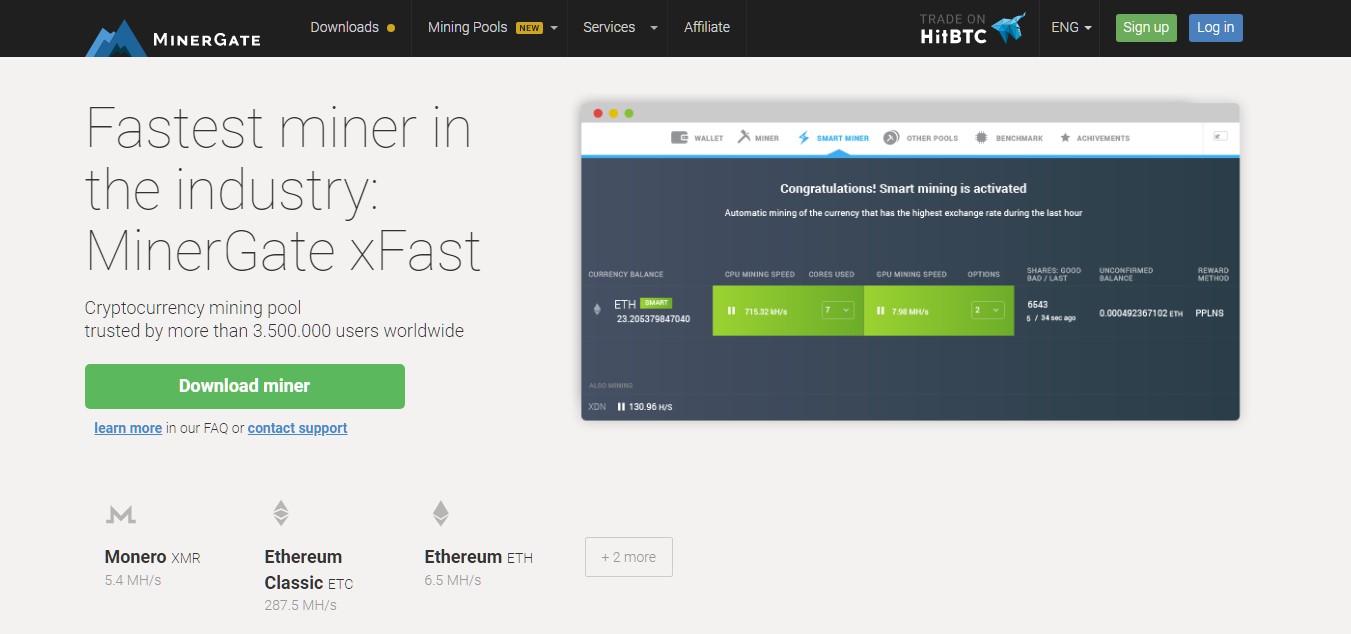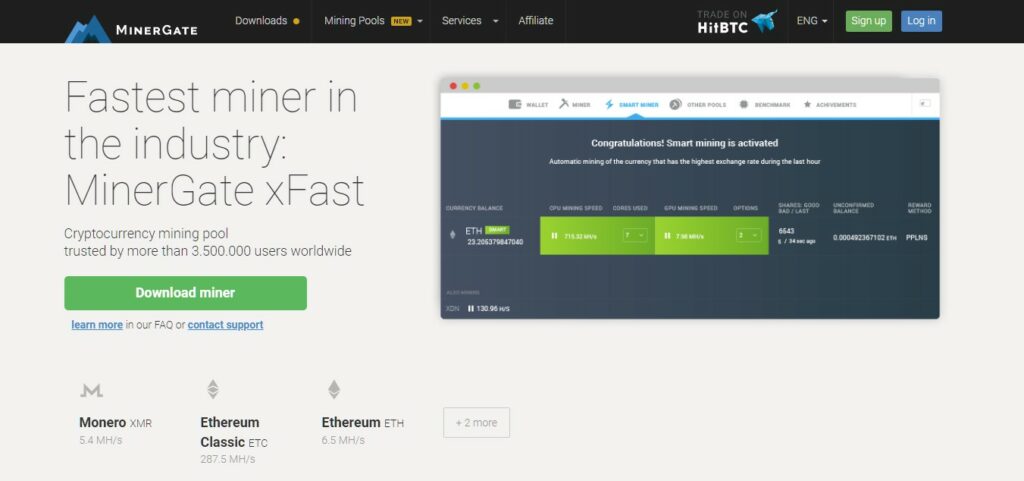 You can try the platform on your standard home PC and start mining various cryptos right away, but keep in mind that you won't earn much with a low hash rate computer. If you don't want to engage in professional crypto mining with an expensive rig, it's totally fine to use MinerGate to mine cryptos with a single GPU. However, if you do want to invest in expensive mining equipment or even an ASIC miner machine, you can connect your hardware to MinerGate and let the platform manage your operations while simply streaming all your crypto gains to your wallet.
MinerGate offers users several advanced mining modes. With merged mining users can choose to mine two cryptocurrencies simultaneously with the hashing power of a single computer. This means you can mine Ethereum and Bitcoin Cash at the same time. The smart mining features enable MinerGate to automatically select and mine the digital currency that's most profitable based on market conditions and your hash rate, while web mining allows users to mine without installing the MinerGate GUI.
MinerGate also has a practical mobile mining app for Android and iOS mobile phones.
Supported Cryptos
The selection of available cryptos for mining on MinerGate consists of ten top altcoins. MinerGate also had a Bitcoin mining pool that was shut down in 2019 because of the reduced profitability of BTC mining. From then on, MinerGate concentrates its services on altcoins that can be mined faster, with less computing power.
Available crypto coins include Ethereum, Ethereum Classic (ETC), Aeon (AEON), Bitcoin Gold (BTG), Monero (XMR), Litecoin (LTC), Eos (EOS), Tron (TRX), Icon (ICX), Zcash (ZEC), Bytecoin (BCN) and Grin (GRIN).
MinerGate Fees
MinerGate has relatively affordable service fees that don't take too much of your mining profits. There is a standard flat fee in the range of 1% to 1.5% depending on the mined cryptos.


How to Install MinerGate
Installing MinerGate is quite simple, just follow these steps to set up your user account and start mining cryptocurrency:
Go to MinerGate.com and create a MinerGate account. You only need a valid email address. The platform doesn't require you to provide any personal details or photos of your documents. An email address is all you need and there's no user authentication process.
The platform automatically detects your operating system, whether its Windows, Linux or MacOS and provides you with a download link for the appropriate version of the mining software.
Download, install and initiate the MinerGate program on your computer.
MinerGate comes with a very handy Benchmark that enables the software to analyze your hardware components and deliver you a quick estimate of what you can achieve if you start mining cryptocurrency with your computer. This is a great feature to let you know how many crypto assets you can earn in a set amount of time. The benchmark analysis doesn't take much time and it's highly recommended to use this feature before you start mining.
Either manually choose a cryptocurrency that you want to mine or select the Smart Mining feature and let the program select the most profitable option for you.
You can always choose whether you want to use your CPU or GPU for mining in the MinerGate user interface. Don't forget that GPU mining is much more profitable than using a CPU.
Once you've chosen a cryptocurrency you can immediately start mining by clicking the Start Mining button.
A Few Final Words…
Crypto enthusiasts who want to engage in mining some of the most popular Proof of Work cryptocurrencies besides Bitcoin can start doing so literally in a couple of minutes with MinerGate. The whole sign up and set-up process is really straightforward, without any complex account verification procedures and you have several advanced mining options at your disposal to maximize your gains from crypto mining.
There's no need to spend hours studying the various technical aspects of crypto mining because the MinerGate platform handles the whole process for you. Sure, if you have a stronger computer then the mining rewards will also be higher because you contribute a higher amount of hashing power to MinerGate, but even with an average PC, you can engage in some modest crypto mining with this user-friendly mining platform.