There are more than 400 cryptocurrency exchange platforms listed on Coinmarketcap and the whole crypto market accounts for more than two trillion US dollars worth of transactions. It can get quite confusing for crypto newcomers when they need to decide which exchange platform they should choose. Most beginners end up choosing one of the most popular exchanges such as Coinbase or Binance, but there are dozens of other top-quality platforms with their own advantages. One of such platforms is the Coinmama crypto exchange.
Coinmama offers users most of the necessary services they need for buying and selling cryptos. In fact, Coinmama is known as a top-quality exchange platform for buying cryptos directly with cash and it's available in most regions of the world, unlike many exchange platforms that are limited geographically to just a few regions.
Let's take a deeper look at the Coinmama exchange platform to show you all the key characteristics of the platform and help you decide whether you should create an account on this exchange.
The Coinmama Exchange Platform
Coinmama is a veteran exchange platform that's been active on the crypto market since 2013. The company is physically located in Israel, but it operates all over the world, in 188 countries, including 43 US states. This alone is a huge advantage compared to many exchanges because global regions such as large parts of Asia, Africa, and South America are often left out from the list of available locations by many popular crypto exchanges. This makes Coinmama a primer medium for buying and selling cryptocurrencies on an international scale.


The exchange platform isn't your classic crypto exchange like Binance. Coinmama is rather a crypto exchange that's actually a crypto broker platform. This means that all the funds you purchase on the platform are directly purchased from Coinmama as a broker who holds those assets, which is different from exchange marketplace platforms that simply connect two interested parties and act as an intermediary during a trading deal. Coinmama directly supplies users with cryptocurrency or fiat money kept by the platform.
The platform has more than 2 million verified users worldwide and it offers a range of popular payment methods along with a strict selection of only the most popular cryptos with the highest market demand.
Unlike many popular exchange platforms, Coinmama doesn't provide crypto wallet options for users. This means that you can't buy cryptos on the platform and leave them there because there isn't any storage for users. You need to connect your crypto wallet to the platform and instantly transfer the digital currency you bought to your own crypto wallet. Some users might find this a bit of a hassle, but it's actually very good for security because there's no chance for a security hack to compromise your funds on the platform if there are no crypto storage user accounts are connected to.
Key Coinmama Review Takeaways
Here are some of the key Coinmama review takeaways that emphasize the main aspects of the platform:
10 available cryptocurrencies.
Sell Bitcoin for fiat money instantly.
Supports a very broad range of fiat currencies.
Popular payment methods such as credit/debit card.
Great Customer Support.
Very user-friendly platform interface.
Fast transactions.
Users can purchase cryptocurrency directly with fiat money.
High fees compared to competitor platforms.
Lack of mobile apps.
No crypto wallet on the platform.
Coinmama Buy Bitcoin With Credit Card Instantly
Coinmama is a great platform for Bitcoin (BTC) buyers that want to purchase some BTC fast. A lot of exchanges don't allow credit card purchases and this is one of the main selling points of Coinmama. Users can purchase BTC with their credit cards, directly on the platform in just a couple of minutes and send those bitcoins to their crypto wallet.

The process is very simple. You just need to create an account on the platform, verify it, connect your credit card and purchase up to 15,000 USD worth of Bitcoin in a single day. Once you place a purchase order, your BTC will arrive in your wallet after a standard 5 to 10-minute blockchain transaction.
You can also purchase other cryptos that are available on Coinmama with your credit card.
Cryptocurrency Selection
The selection of available cryptocurrencies on Coinmama is a lot smaller compared to platforms like Coinbase and Binance, which offer a very high number of cryptos, along with numerous crypto to crypto trading pairs.
On Coinmama, you can buy or sell 10 cryptocurrencies, including Bitcoin (BTC), Ethereum (ETH), Bitcoin Cash (BCH), Dogecoin (DOGE), Cardano (ADA), Uniswap (UNI), Chainlink (LINK), Tezos (XTZ), Ripple (XRP), and Litecoin (LTC).
The selection is rather narrow, but it does provide a top-quality mix of the most popular cryptocurrencies, and don't forget that you can buy these cryptos with fiat money or cash them out into fiat at any moment using Coinmama. This is a huge advantage that a lot of exchanges don't offer.
You should also keep in mind that while the most popular exchanges support only a few biggest fiat currencies such as USD, EUR, AUD, CAD, and GBP, Coinmama supports far more local fiat currencies, because it directly converts your local fiat currency into a more popular one such as USD. This means that you can use your credit card or debit card with your local currency and use it to buy cryptos on Coinmama without the need to exchange your local currency for US dollars or Euros.
Coinmama Trading Features
Coinmama isn't a classic crypto exchange not only because of its policy to directly sell you cryptos that are the company's ownership but also because you don't have crypto-to-crypto trading pairs. This means there aren't any complicated market charts that can be a bit confusing to crypto beginners.
Instead, the platform comes with a really simple and easy-to-use interface. You just need to select the cryptocurrency you wish to buy, enter the amount, and initiate a purchase. The minimum for buying BTC on Coinmama is 50 USD, while the minimum amount you can sell is 200 USD.


Your purchase orders are instantly processed and the daily buy limits are quite high compared to other exchanges. You can purchase as much as 15,000 USD worth of cryptos 10 times a day with a wire transfer and you can purchase 5,000 USD worth of coins 5 times a day with a bank card.
As far as monthly limits, you can purchase 15,000 USD worth of coins 20 times a month with a bank card and 50 times with a wire transfer.
Coinmama Fees
Platform fees are what users are usually concerned about the most when they're deciding whether to create an account on a certain exchange platform. There's a lot of exchanges that offer quite cheap services but aren't very reliable in terms of security or speed, and on the other hand, there are exchanges that charge higher fees, but you know that you'll receive what you pay for fast and without any security issues.
Coinmama is one of such platforms that charge higher fees, because of the convenience of providing users with fast and safe services. The fact that you can buy some of the most popular cryptos with a credit card or wire transfer in just a few minutes is definitely worth the fee. Also, when you want to sell some Bitcoin on an exchange, that can take some time, while Coinmama handles a BTC purchase or sale in just a few minutes, processing your order and sending the coins or fiat money to your desired crypto wallet or bank account.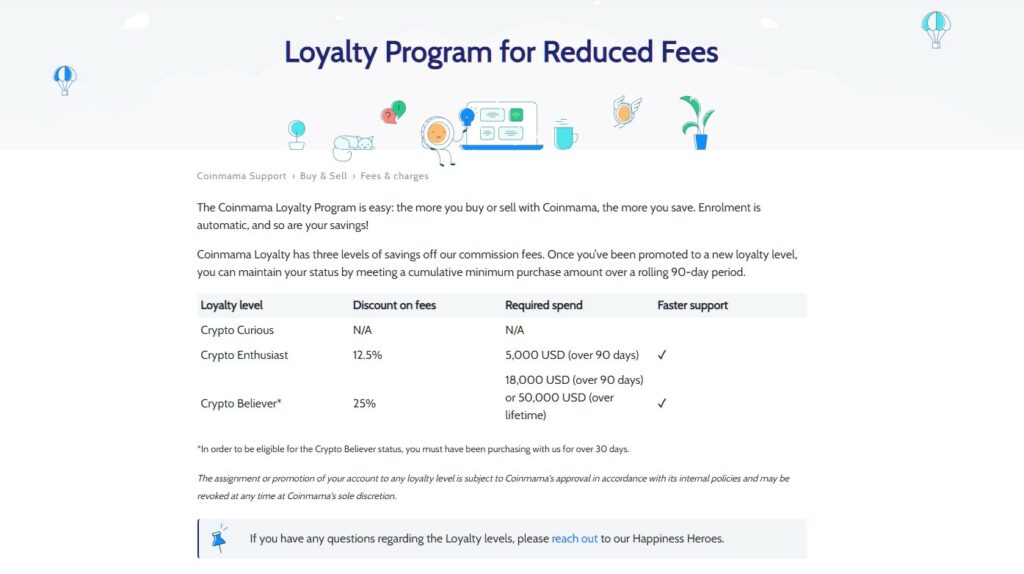 The Coinmama trading platform will charge you 2% transaction fees for all transfers. Additionally, you'll be charged a commission fee when purchasing cryptos and this fee can be as high as 3.9% depending on which crypto you're purchasing. When selling your BTC, you'll be charged a 0.9% fee.
When buying cryptos with a credit card or debit card, you'll have to pay a 5% payment card processing fee. It's worth noting that card purchases are always charged extra on exchange platforms, so Coinmama isn't charging you something other exchanges aren't.
If you're a loyal Coinmama user, the fees will get reduced over time. For instance, your sales fee will be reduced by as much as 12.5% if you've made at least 5000 USD worth of purchases during a 90-day period. If you've purchased at least 18,000 USD of cryptos during a 90-day period, your sales fee will be reduced by a total of 25%, which is quite a lot.
Payment Methods
Coinmama offers some very convenient payment methods, which make it a great platform for directly buying cryptos with cash. People generally get quite frustrated when an exchange platform requires them to deposit some cryptos in order to buy other cryptocurrencies. Numerous exchanges don't allow fiat money purchases and this is where Coinmama excels, because you can use all of the most popular payment methods.
You can buy cryptos with a direct wire transfer from your bank account, without any intermediaries. The bank transfer facilitates a transaction of cash directly to Coinmama. Both SWIFT and SEPA bank transfers are accepted by Coinmama.
Different payment cards are also accepted by the platform and you can buy digital currencies with a Visa or Mastercard debit card and credit card. Many platforms don't allow crypto purchases with credit cards. So this is a big plus for Coinmama. You can also purchase cryptos with the Skrill, Apple Pay, and Google Pay services.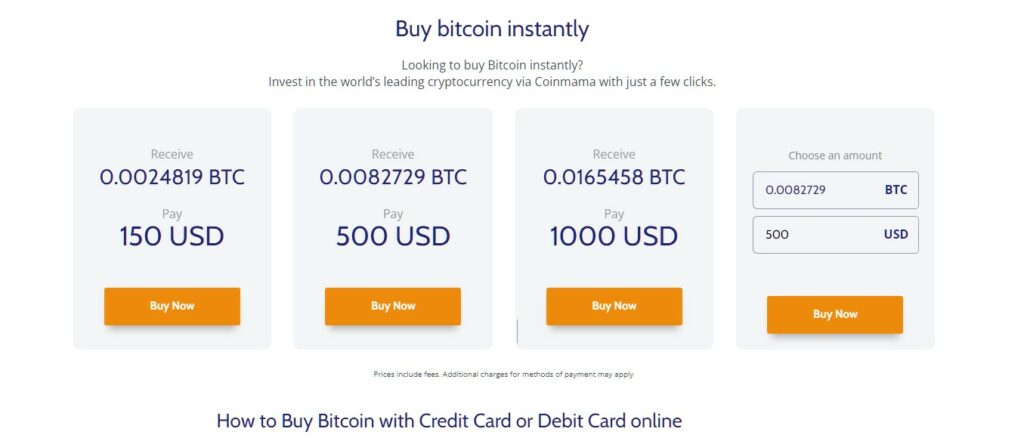 Unlike many popular exchanges, the purchase process at Coinmama is lightning fast, because you just need to place a purchase order, choose your payment method, and initiate the purchase. There are no extra steps or delays.
Coinmama Security
As far as security goes, a great thing about Coinmama is that it doesn't store any user assets on the platform, due to the fact that all the cryptos users can purchase are the ownership of the company. This means there's no risk of your assets being compromised on the platform.
We mentioned earlier that there's no crypto wallet as a part of the platform, which is good because integrated wallets that are part of exchange platforms can sometimes be quite vulnerable to security breaches and cyber-attacks. With Coinmama, you directly send funds to your crypto wallet once they are purchased. In fact, you can't make a purchase on the platform if you don't have a crypto wallet address to where the funds will be sent once you buy them. This also eliminates the risk of any third party getting hold of information regarding your financial situation, because the amount of funds in your wallet isn't available in any form on the Coinmama platform.
Coinmama Verification
The account creation process on Coinmama is very simple and it's similar to other popular exchanges. Coinmama uses the KYC (know your customer) protocol, which means you'll need to provide documentation proving your identity when creating an account on the platform. All the information you provide is confidential and stays private, available only to Coinmama. The KYC protocol is implemented in order to prevent scams and money laundering.
You'll need to provide some basic personal details about yourself such as full name, country of residence, phone number, and birth date. Also, you'll have to send Coinmama a photo of a government-issued, official identification document such as your government ID, passport, or driver's license.


Once you fulfill the form for creating a new account and submit the document photos, the verification process should take around 10 minutes to verify your account so you can start buying cryptos.
This is the procedure for the basic account verification for trading volumes up to 10,000 USD. The level two account for higher spending limits up to 50,000 USD and the level 3 verification for no limits can take up to 6 hours to get verified and these two levels acquire additional documentation.
The level 2 verification requires a photo of a valid utility bill with your personal information and a selfie photo of you holding your government-issued ID card. The level 3 verification requires you to fill out a specific form and it0s best to contact support@coinmama.com for the details about this type of verification.
Customer Support
Coinmama customer support works really well, even though it's only available through email, but there's a really good FAQ section on the platform that can answer most of the common user issues.
A Few Final Words…
Coinmama isn't an all-around service platform like Binance or Coinbase with a huge range of cryptos and numerous trading features. The platform is focused on fast purchases of popular cryptos with fiat money and if you're looking for a fast way to buy cryptocurrency with cash, this exchange is just what you're looking for.