Cryptocurrency exchange platforms have made buying, selling, and exchanging digital currencies a lot easier compared to the early days of crypto in 2010, when you had to manually find someone who wants to sell you some Bitcoin (BTC) or exchange BTC for fiat money. The Gemini exchange is one of the top crypto platforms in the industry with its broad range of services that enable users to do much more than just buy or sell the most popular digital assets on the market.
In this guide, we'll take a detailed look at the Gemini exchange platform to see what exactly it offers users and why it is ranked among the top 15 exchanges on the market according to Coinmarketcap.
The Gemini Exchange
The story of the Gemini exchange began back in 2014 when it was launched by Tyler and Cameron Winklevoss, two crypto enthusiast entrepreneurs that became famous by winning a multi-million dollar lawsuit against Facebook.
The Gemini trust company is a fully regulated exchange platform whose operations are approved by government institutions in the countries and regions where it provides services. The platform operates in over 60 countries, including all US states, most of Europe, Australia, Singapore, and Canada. Gemini has an operational license for the state of New York, which is something a lot of popular exchanges lack, due to the strict legal regulations of this US state.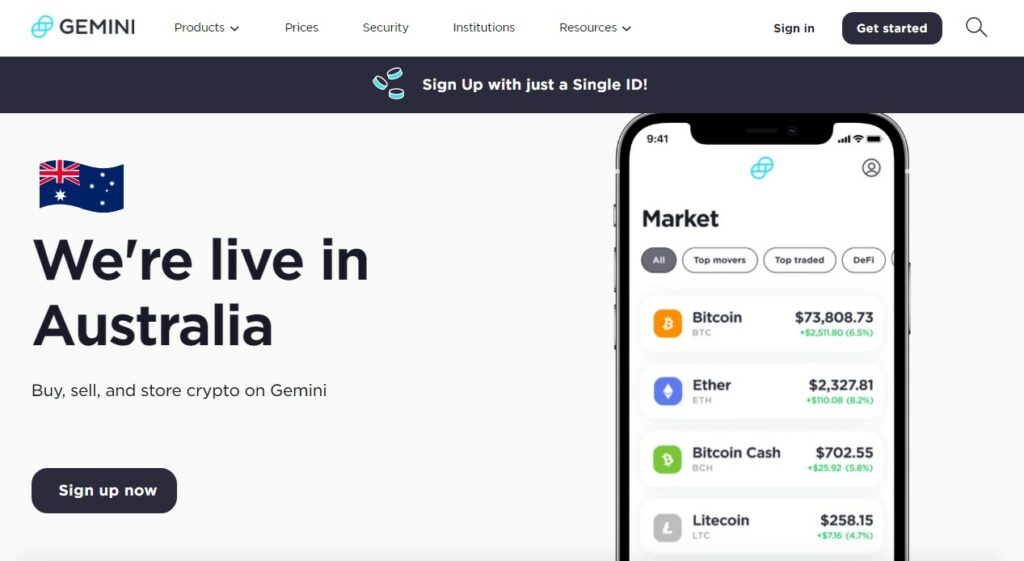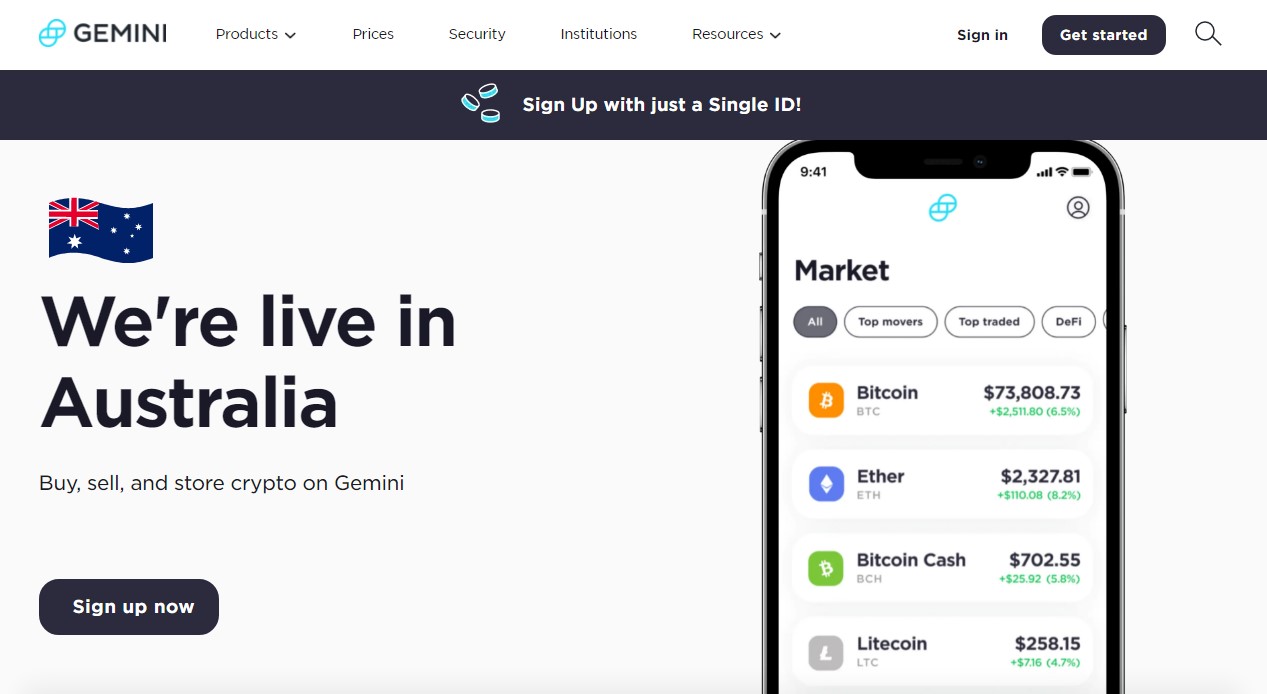 Users that decide to create an account on Gemini get full access to an all-around crypto exchange ecosystem that includes basic and professional trading platforms, an easy-to-use mobile trading app, great customer service, industry-leading security, and all of the most popular cryptos. The idea behind the platform was to provide crypto traders with everything they need in one place, as a part of one platform.
The Gemini Trading Platform
The basic Gemini trading platform is great for crypto beginners who don't have a lot of experience in trading digital currencies. Even if you don't have any experience, the platform is pretty easy to navigate and you'll also find a lot of educational FAQ articles that will help you get started with the platform. 
The interface is straightforward, enabling users to select which assets they want to buy, sell, or exchange. You can track a currency's market history and see all of the price fluctuations during previous periods with the help of detailed market charts. If you want to seat recurring buys, it can be done in just a few clicks by selecting the crypto you want to buy, entering the desired amount, and setting the buy order frequency. All basic trading order features are available on the platform to get your trading operation going without having to spend too much time on the platform.
A great thing about Gemini is that you can start trading with really low amounts of cryptos, which is highly suitable for beginner traders that want to start out with low sums and gradually build their portfolio as they learn crypto trading.
Gemini Active Trader Platform
For professional traders that deal with high trading volumes on a daily basis, Gemini has the Active Trader platform, which comes with a classic pro trader interface. The market charts are even more detailed than those on the basic platform and experienced traders who are acquainted with professional trading strategies have all the necessary information they need to conduct fast trading deals in real-time.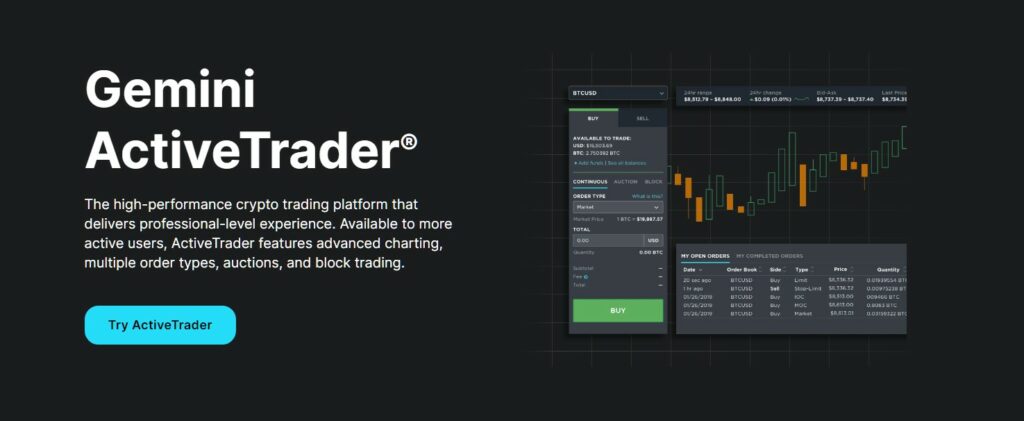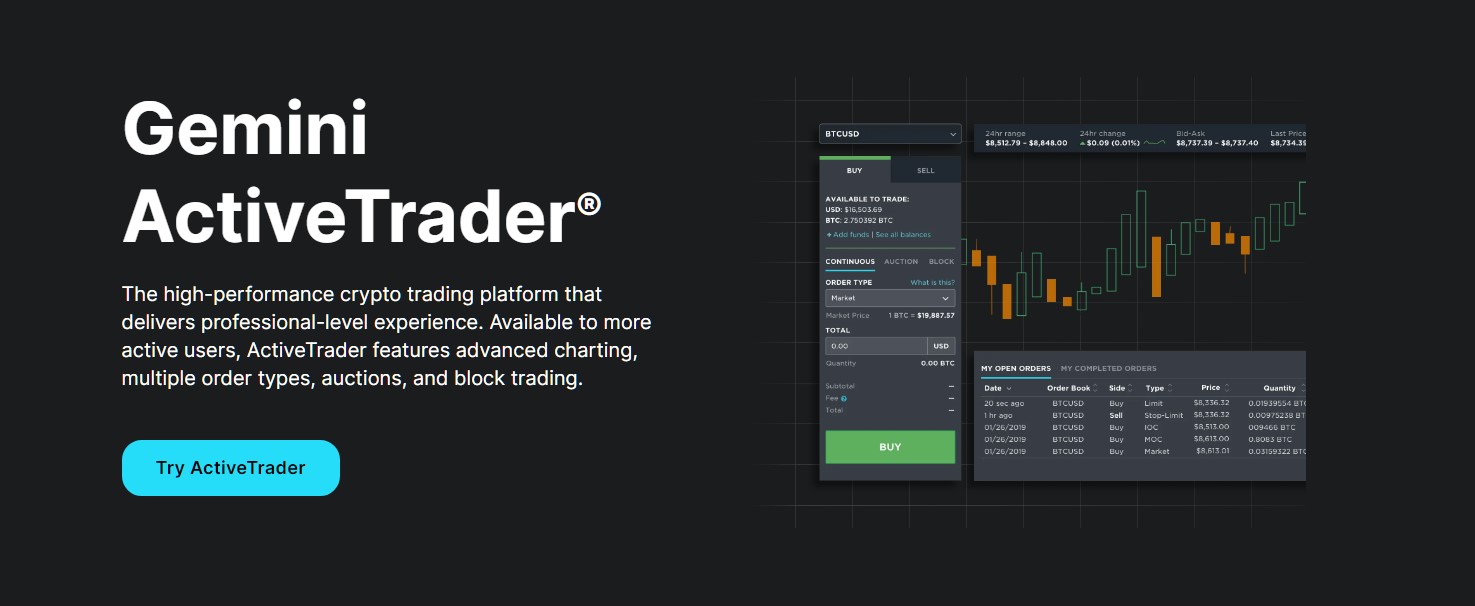 This platform really isn't meant for beginners, who could literally get lost among the numerous professional-grade trading tools such as block trading, advanced trading orders, auctions, deep order books, and trading pair selectors.
It's also worth noting that because the Active Trader platform is focused on high-volume trades, brokers that use the platform get rewarded with considerably lower fees compared to the basic platform fees.
Gemini Buy Bitcoin Instantly App
Gemini has developed a very popular mobile trading app called Gemini Buy Bitcoin Instantly. The app offers a simple and user-friendly crypto trading experience with all of the trading features from the web platform available on the mobile app. Just as the name says, you can literally buy Bitcoin and other cryptocurrencies instantly, place recurring buy orders, and set price alerts in just a few clicks.
Apart from making trading cryptos so easy, the app is also very secure with its 2FA (two-factor authentication). Also, in order to make sure the person accessing the app is really you, you can also set up email confirmations for each withdrawal of funds from the app.
Basically, there's no real difference between the app and the online platform apart from the format, which means that you can access the app through an Android or iOS mobile device all the time, without missing any functionality. Some exchange platforms don't include some key features on their mobile apps, but this isn't the case with Gemini Buy Bitcoin Instantly.
Coins Supported By Gemini
A good selection of coins is the key to success for crypto exchanges and it isn't easy for a platform to include a bunch of cryptocurrencies. Each crypto needs to go through a rigorous process of platform implementation before it can get included on an exchange and in case the platform is legally regulated like Gemini, traded coins need to comply with the trading license of the platform.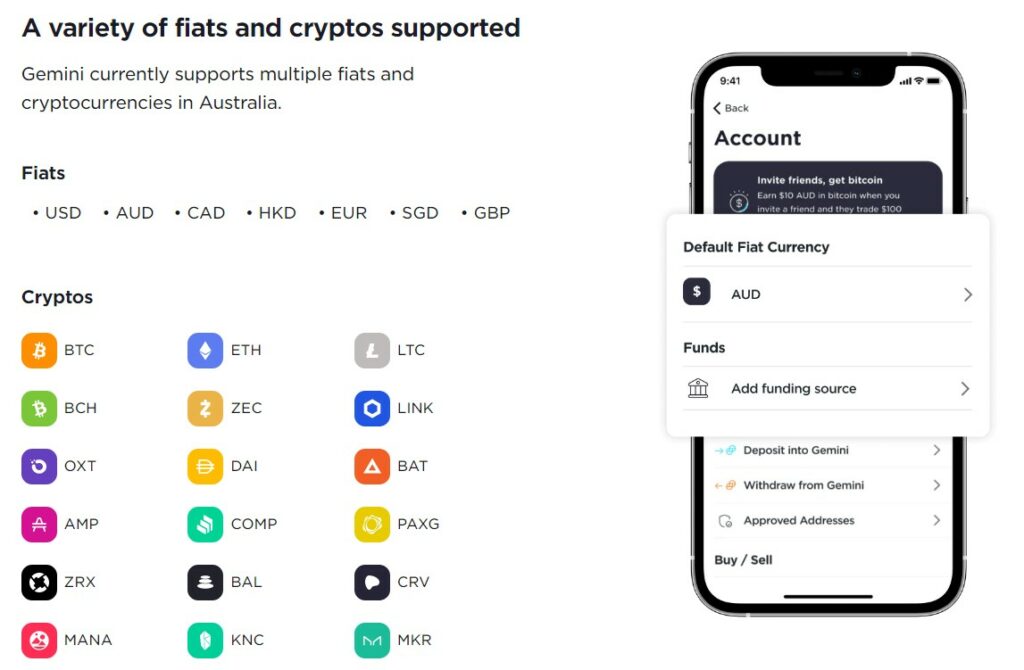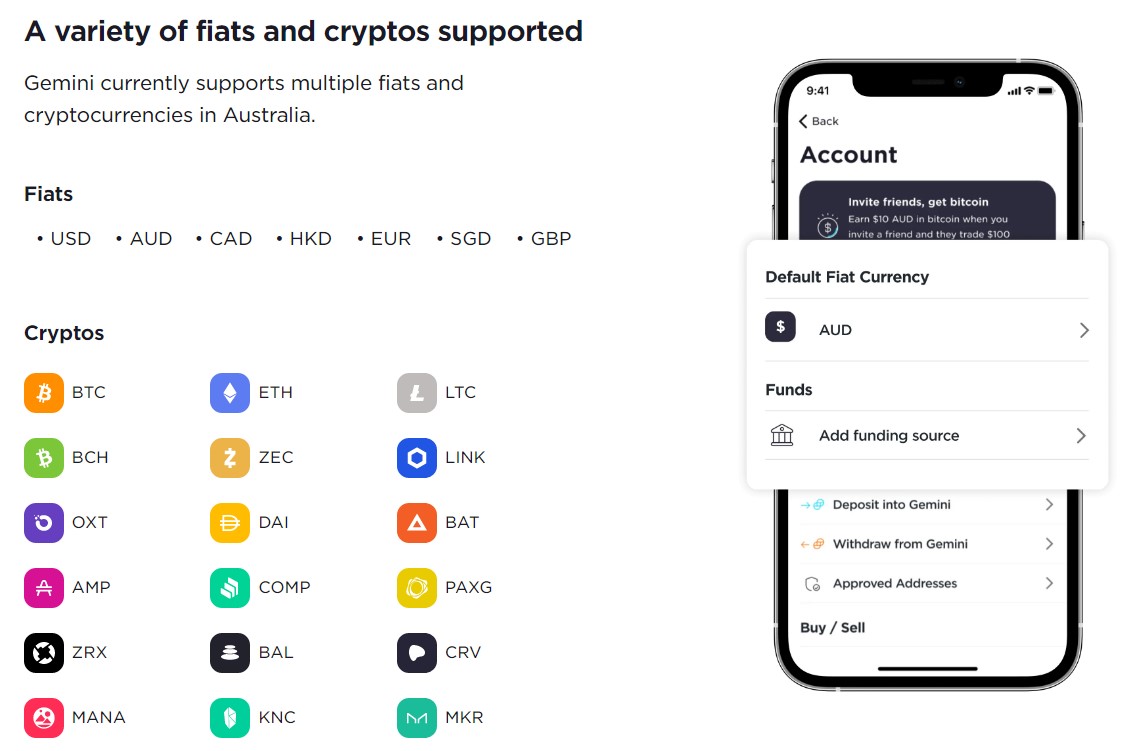 Gemini offers a great selection of over 50 coins and tokens that include the most popular trending cryptocurrencies according to Coinmarketcap. Supported coins include Bitcoin, Ethereum (ETH), Cardano (ADA), Solana (SOL), Ripple (XRP), USD Coin (USDC), Polkadot (DOT), Dogecoin (DOGE), Litecoin (LTC), Bitcoin Cash (BCH), Chainlink (LINK), Gemini Dollar (GUSD) and numerous other altcoins that can be bought with fiat currency such as US dollars.
When you want to withdraw cryptos from your Gemini account to your crypto wallet, don't forget that each digital currency has its specific withdrawal fee, but a great advantage of Gemini is that withdrawal fees are incurred only if you withdraw assets more than ten times within a single month. This is a great feature that can mean a lot to crypto brokers that don't do a lot of withdrawals because they can save money when withdrawing coins from Gemini.
Platform Fee Policy
Apart from the selection of supported coins, users are generally very concerned with the fee policy of a crypto exchange platform when deciding whether to create an account on a certain exchange.
The fee policy of Gemini is a bit complex because there are several fees and variables you need to take into account when conducting a trade. You will be charged a 3.49% transfer fee when depositing money into your account with a credit card or debit card. If you're depositing money through a wire transfer from your bank account, you won't be paying any fees. In case you want to withdraw funds and convert cryptos to fiat money or just withdraw to your crypto wallet, the fees are different for each asset on Gemini, but remember that you won't be paying withdrawal fees unless you withdraw assets more than 10 times per month.
As far as trading fees go, they can vary depending on the trading platform you are using. Whether you're using the basic platform, the Active Trader platform, or the mobile app, fees can range from a fixed amount of 0.99 USD to 2.99 USD, or you can incur a percentage fee for transactions higher than 200USD. This percentage fee is 1.49%, but you may also incur additional Gemini convenience fees
When using the Active Trader platform the fees are based on a market maker and taker model and they range between 0.25% for a market taker monthly trading volume of less than 500,000 USD to 0.03% for market takers with more than 500 million USD traded in the last 30 days. Market makers with the same trading volumes incur fees from 0.15% to 0.00%.
Gemini Verification Process
Gemini follows a strict KYC (know your customer) protocol because it complies with government laws and financial regulations regarding money-laundering prevention and tax policy. This means that when you're creating a Gemini account, you need to provide extensive personal information such as your full name and address, phone number, along with a photo of an official government-issued document such as your personal ID, passport, or driver's license.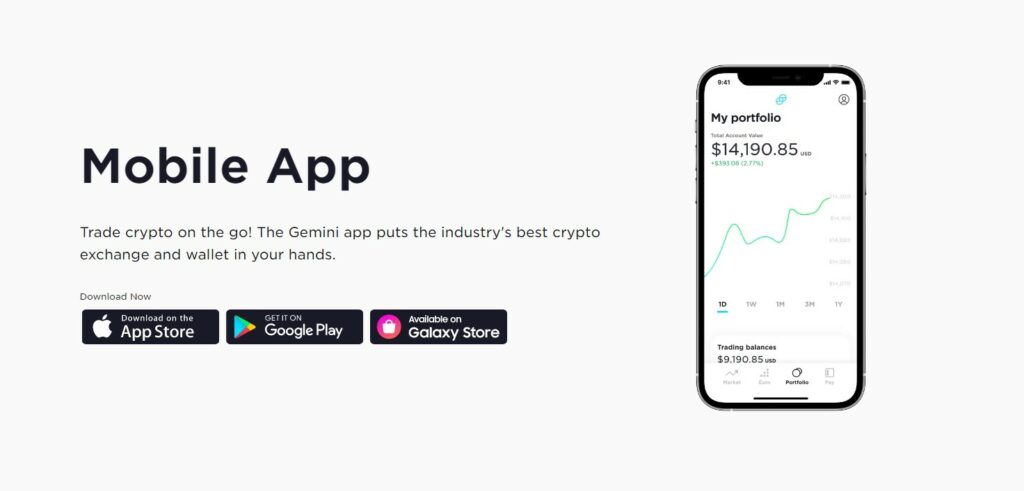 The information you provide Gemini during your account verification process will never be shared with any third parties except for law enforcement agencies in the event that you're under suspicion of illegal activities. Otherwise, you have nothing to fear because the user information is safely stored by Gemini and isn't used for anything except to verify your identity. The verification process for your account can take a couple of business days, depending on the busyness of the Gemini team, but usually doesn't take long.
Only after your account is verified will you be able to access all platform features and freely invest, sell, and trade cryptos.
Gemini Earn
Gemini Earn is a platform developed by Gemini specifically to offer users the opportunity to earn interest in their crypto portfolio. If you plan to keep certain coins as a store of value, you can also make those coins earn money for you while keeping them completely safe with the Gemini Earn feature.
Users don't have to search the web for staking pools and interest-earning options by themselves since that's all done by Gemini. Just bear in mind that there's a difference between staking your coins and lending them which is also available through Gemini Earn. You can lend coins to institutional investors which are approved by Gemini for a yearly interest rate between 1.26% and 7.4%.
Gemini Pay Platform
Gemini Pay is a very innovative feature that allows users to pay for products at retail shops with various cryptocurrencies including BTC, ETH, GUSD, and LTC. The platform offers users the possibility to shop at over 30,000 retail locations around the world. Users don't need to convert their cryptos into fiat money when using Gemini Pay, which is a huge convenience because that means you're avoiding all the hassle of converting cryptos into fiat money and withdrawing it to a bank account.
Platform Security
The Gemini crypto exchange is known for top-notch security. It has never been hacked, which is more than many popular exchanges can say. Gemini has extensive security measures in place to make sure their clients are safe while trading and storing cryptos on the platform and as much as 98% of all traded assets on the platform are stored in offline, cold storage that can't be hacked.


The remaining 2% of assets are kept in an insured Gemini software wallet in order to provide platform liquidity at all times. In case that 2% of cryptos get compromised, they are insured, so the users they belong to will be reimbursed in case of any hack. In case you're storing fiat money on Gemini, your cash is insured by the FDIC up to the amount of 250,000 USD.
Gemini Support
As far as customer support goes, Gemini provides standard support team services through email and chatbots. You can easily contact Gemini support with an email describing any problems you may be experiencing on the platform and the team is very responsive. Additionally, the FAQ section of the platform can answer most common user questions and you also have the Gemini chatbot at your disposal.
A Few Final Words…
One of the main selling points of the Gemini exchange is that it provides a full spectrum of crypto services for both beginners and experienced crypto traders. Whether you're a newcomer to cryptocurrencies or a pro broker, Gemini has all the top-quality trading tools and reliable services you'll need.