Investing in cryptocurrency is a very risky business endeavor because cryptos are known for price volatility. They are digital assets whose market prices fluctuate far more than company stocks or the price of oil and gold. 
However, if you've managed to make the right crypto investments and gained some considerable profits, you'll probably want to cash out some of those gains into fiat currency. In order to do this, you need to use a fiat-friendly cryptocurrency exchange platform that will allow you to sell cryptocurrency for USD, GBP, EUR, or CAD.
Coinbase.com is one of the most popular and most reliable crypto exchange platforms that support fiat currency cashouts, which makes it an ideal choice for investors that want to turn their crypto profits into real-world money. The ability to sell your crypto assets and exchange them for fiat cash is not the only reason why Coinbase is so awesome. It's actually a crypto exchange ecosystem that provides users with a full range of crypto services.
Let's take a detailed look at the platform, find out what are the key services this exchange offers, and how long it takes to sell your Bitcoin (BTC) or other cryptos for fiat money using Coinbase. 
Coinbase: One of the Most Popular Cryptocurrency Exchanges
Coinbase is among the oldest and most trusted crypto exchange platforms on the market. It was launched back in 2012 as a Bitcoin exchange, but it quickly evolved and started including all the most popular coins and tokens in its portfolio of available assets. The exchange is based in the US and fully regulated under American tax laws and cryptocurrency regulations. This means that the platform is in compliance with US laws and all users are protected by these regulations, unlike some less known exchange platforms that aren't legally regulated and attract a lot of scammers.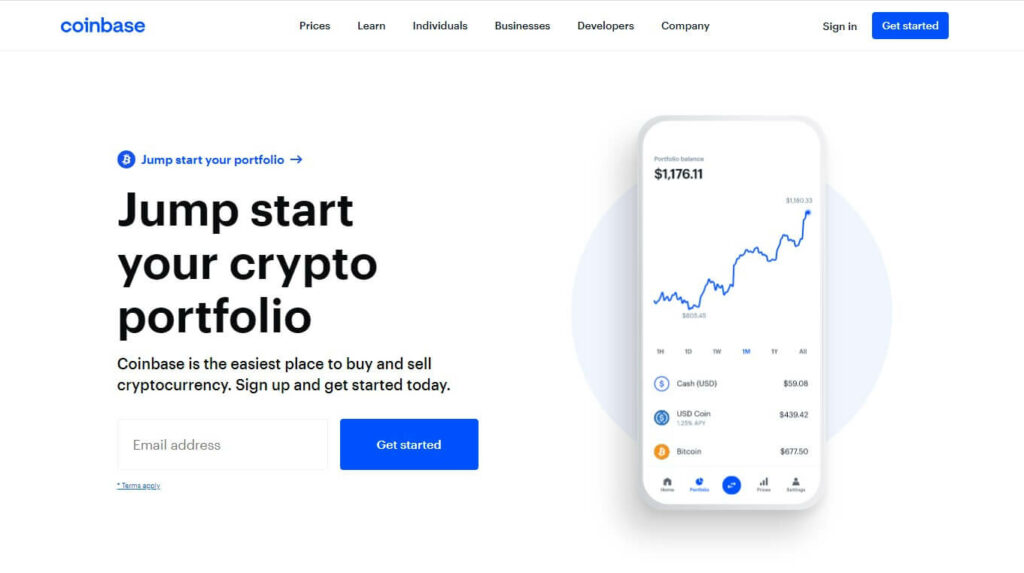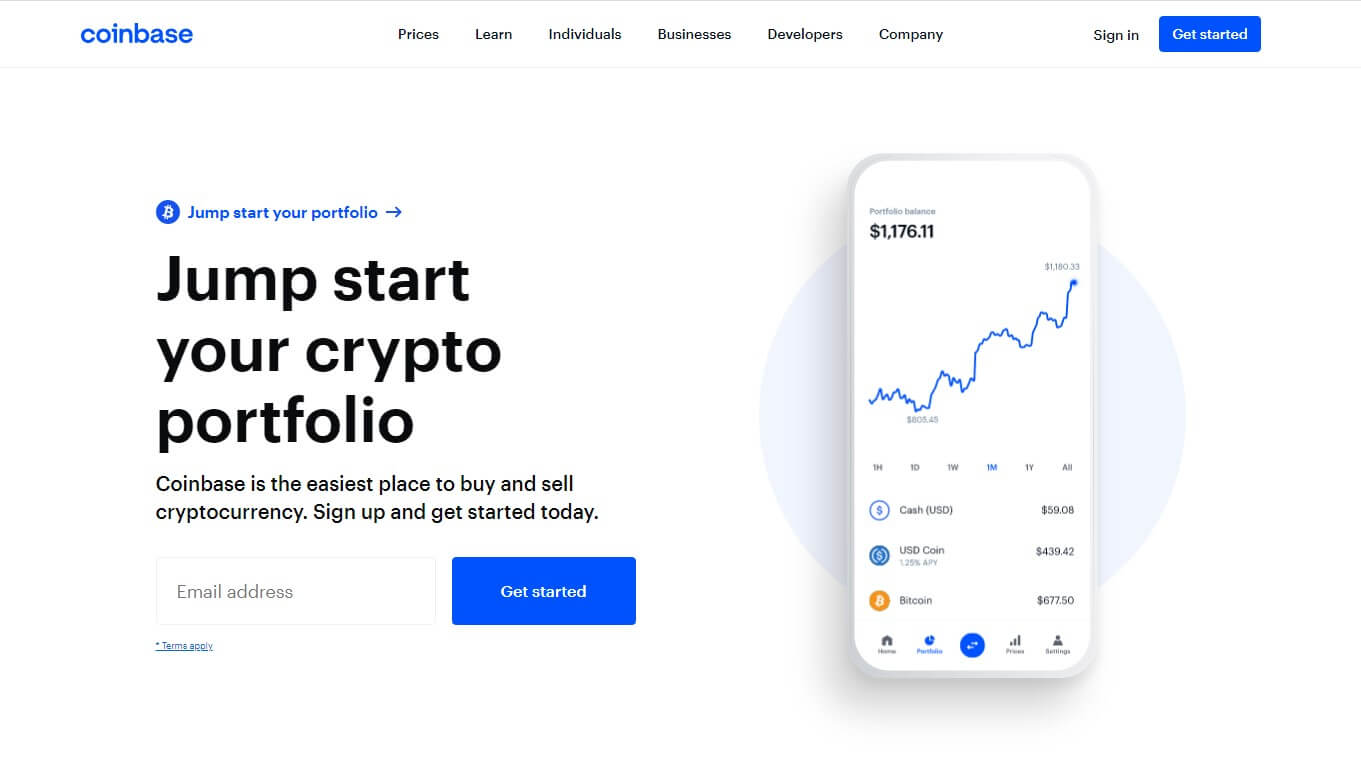 Over the years, Coinbase has progressed from a simple crypto exchange platform that offers users the possibility to buy, sell, and trade cryptocurrency, to a crypto ecosystem with its own Coinbase Wallet, mobile app, and a professional-grade Coinbase Pro trading platform. The platform also includes a Coinbase Learn section ideal for educating crypto beginners on how to use the numerous platform features as well as showcasing the key aspects of crypto technologies such as blockchain networks and teaching users basic crypto trading rules.
In 2021, Coinbase became the first crypto exchange platform in the world to list its company stocks on the NASDAQ stock exchange, which was accepted very well by investors who recognize the huge potential of the crypto market. Coinbase had a quarterly platform trading volume of over 462 billion US dollars and over 68 million verified users in 2020. Also, the platform is available for users in over 100 countries and global regions.
Coinbase is known for its top-quality services but it's also known for higher platform fees compared to competitors. The somewhat higher fees, however, are totally worth it because users get access to some of the fastest, most secure, and most practical crypto exchange services available.
The Coinbase Trading Platform
The key characteristic of the Coinbase trading platform is its simplicity. The user interface is so straightforward and simple that crypto beginners who have never used a crypto exchange before can get the hang of it in just a couple of minutes. All of the key features are clearly visible. You can buy/sell and exchange cryptos easily from the platform interface. Each individual crypto or trading pair you select will be shown in the form of a simple market chart where you can monitor the price changes of that crypto or trading pair. The actual trading volume for the selected crypto during the last 24 hours, along with the total market cap and circulating supply is also shown when you click on a certain asset such as Bitcoin.
If you want to purchase cryptos, you can do it in a matter of minutes once you've added a verified payment method and this is one of the most convenient characteristics of the Coinbase platform. The fact that you're able to purchase cryptocurrency with fiat money and directly store it securely in your Coinbase Wallet is a feature definitely worth the somewhat higher Coinbase fees.
The market charts on the platform are very easy to understand and all you have to do is put your cursor on a certain point of the chart to see the time and exact price of your selected crypto at that point of the price chart. These charts are used to show you the general price fluctuation trend of a digital currency and help you decide whether it's a good moment to buy or sell that asset. Underneath the chart, you'll also see a detailed overview of the crypto in question, with a text report about its recent price fluctuation along with links to the crypto projects website and white paper.
Coinbase Pro
The Coinbase trading platform is perfect for crypto beginners and intermediate traders that are looking for a quick and simple user experience without too many details. For experienced traders who deal with cryptos on a professional scale, frequently, and with high trading volumes, Coinbase has its Coinbase Pro trading platform. This platform was formerly known as GDAX, but the name was changed to reflect the Coinbase company identity more closely and emphasize the fact that Coinbase cares about pro traders too.


Coinbase Pro is free to use, just like the basic platform, but it offers numerous advanced trading features. For example, the market charts are far more detailed and allow experienced crypto brokers to plan complex trading tactics and implement advanced strategies for entering and exiting trading positions at the right moment. This platform is very useful for brokers that want to do things like arbitrage trading and need to have detailed insights into the price changes of crypto assets. Margin trading and other advanced trading orders are also available on Coinbase Pro.
A key characteristic of the Coinbase Pro platform is its lower fees compared to Coinbase. This is a key incentive for pro traders to use the platform since the fees become lower as your monthly trading volumes increase.
Tradable Coins
During the first couple of years since its launch, Coinbase supported only a few cryptos besides Bitcoin, but as the crypto market started rapidly expanding and altcoin projects with huge potential started reaching high market caps, Coinbase started including these coins and tokens on the platform.
Over 50 cryptocurrencies are available on Coinbase, including Bitcoin, Ethereum (ETH), Bitcoin Cash (BCH), Polygon (MATIC), Dogecoin (DOGE), Shiba Inu (SHIB), Cardano (ADA), Litecoin (LTC), Uniswap (UNI), Polkadot (DOT), Solana (SOL), Chainlink (LINK), Algorand (ALGO), Avalanche (AVAX), Stellar Lumens (XLM), Eos (EOS), Dai (DAI), the Tether (USDT) stablecoin and various other altcoins.
Platform Fee Policy
We already mentioned that Coinbase fees are higher compared to other popular exchange platforms, but they are worth the additional expense since you get some of the most reliable crypto services on the market for your money.
If you want to buy cryptos on Coinbase with a debit card, you'll have to pay a 3.99% standard card fee. ACH and SEPA transfers are free of charge, while standard US bank account purchases are charged 1.49% of the total spent amount. Also, if you're buying with fiat money from your Coinbase wallet, that's also charged 1.49% per transaction. When withdrawing funds, you'll incur a 1.5% fee if it's an instant card withdrawal. Wire transfer purchases are charged 10 USD per transfer, while outgoing cash-out wire transfers are charged 25 USD.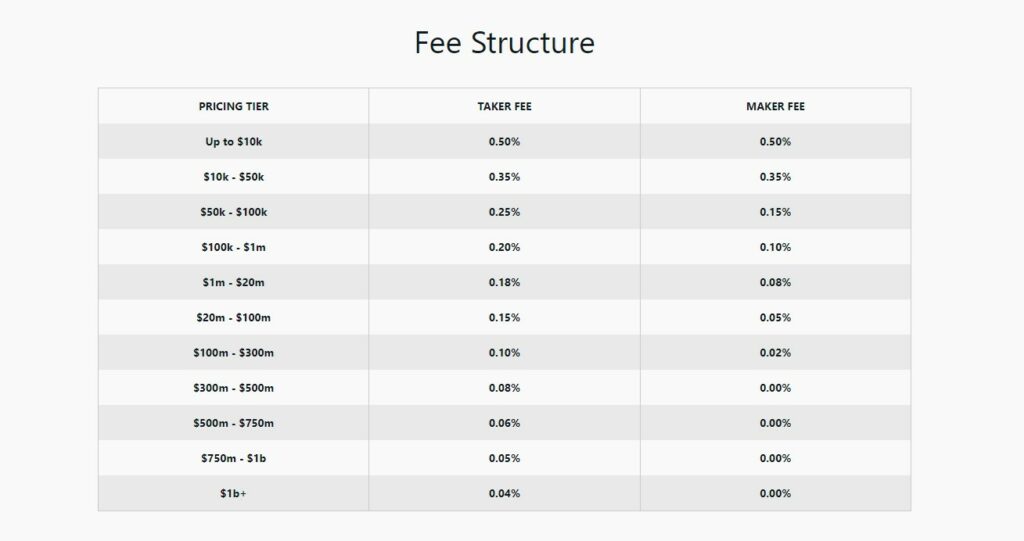 On top of these fees, you need to take into account the Coinbase platform fee which is charged based on the crypto spread you're buying. This fee can fluctuate depending on market circumstances but it's generally around 0.5% of the total crypto spread you're purchasing.
When using Coinbase Pro, your transactions are subject to a market maker and taker fee model, similar to many other exchanges. If you have a monthly trading volume of 10,000 USD or less, you'll incur the highest platform fee of 0.50% per transaction, but as your trading volume increases, the fees will become lower.
For instance, if you're a market maker trading between 100,000 USD and 1 million USD per month, the fee drops to 0.10%, but if you're a market taker your fee for this trading volume will be 0.20%. The fee can even drop to 0% if you're a market maker with a monthly trading volume of at least 300 million USD.
Payment Methods
One of the key selling points of Coinbase is the convenience of multiple fiat-friendly payment methods. A lot of exchange platforms require users to purchase cryptos with intermediary digital currencies such as Bitcoin or Ethereum as the most popular currencies. Coinbase, however, enables you to purchase more than 50 trending cryptos with fiat cash.
You can purchase cryptos with your bank account through a classic bank transfer, you can use a wire transfer, or even connect a debit card as a payment method for purchasing coins.
When adding a purchase method to your Coinbase account, you'll be required to verify the payment method through two small test charges that will be made by Coinbase to your selected payment method. Don't worry. These charges are minimal and they will be reimbursed to you immediately after your payment method gets approved.
Once you've added a verified payment method, you can almost instantly purchase cryptos and send them to your wallet or keep them in your Coinbase account ready for further trading.
How Long Does a Coinbase Cashout Take?
In case you've made some profits from trading and want to cash out your cryptos into fiat money, Coinbase is a great choice because you can sell your cryptocurrency and send the fiat money you've earned directly to your bank account.

Cashouts are something people usually want to get done quickly so they can have their money in their bank accounts as fast as possible. Let's see how long the procedure of selling cryptos for fiat money takes on Coinbase when selling coins through a SEPA or ACH bank transfer.
European Crypto Traders
The fiat money balance of your Coinbase account is kept in the form of EUR. Every time you sell cryptos for fiat money, the transaction is instantly finished, but you need to wait one or a maximum of two business days for the cash to arrive in your bank account through a standard SEPA transfer. A wire transfer cash out usually takes a single day.
US Crypto Traders
If you're a US crypto trader, you can easily sell your Bitcoin and other cryptos for USD and withdraw the cash to your US bank account directly. In case the Coinbase USD Wallet is supported in your state, then the US dollars from your sale will automatically be stored in the wallet. It can take anywhere between 1 and 5 business days for the cash to get deposited in your bank account.
Canadian Crypto Traders
Canadian crypto traders can't cash out to their bank accounts, but they can use PayPal to transfer fiat money from Coinbase once they sell their cryptos on the platform. This option is also available for traders in the US, UK, and in Europe.
UK Crypto Traders
In case you're a UK crypto trader, you can withdraw fiat money to your GBP bank account once you've sold your coins and tokens on Coinbase. Withdrawing money to a British bank account usually takes one business day.
Coinbase Wallet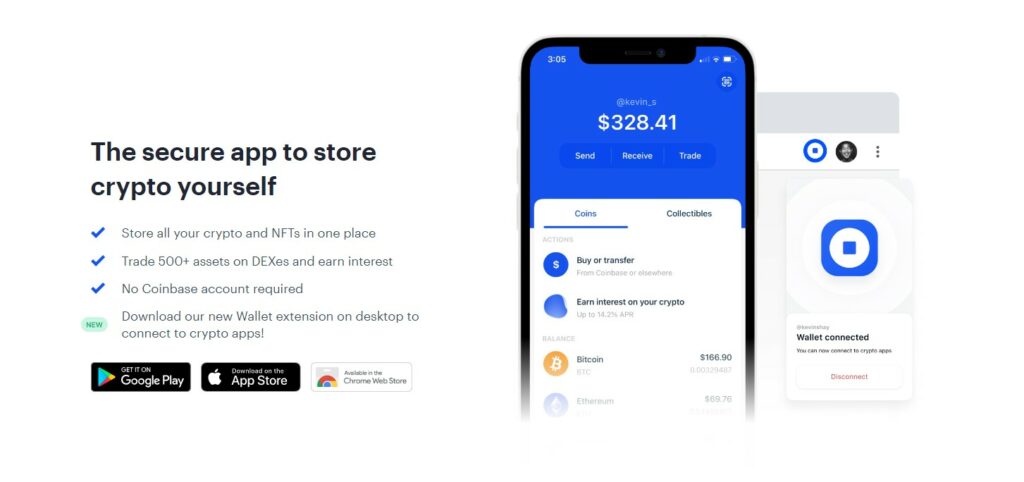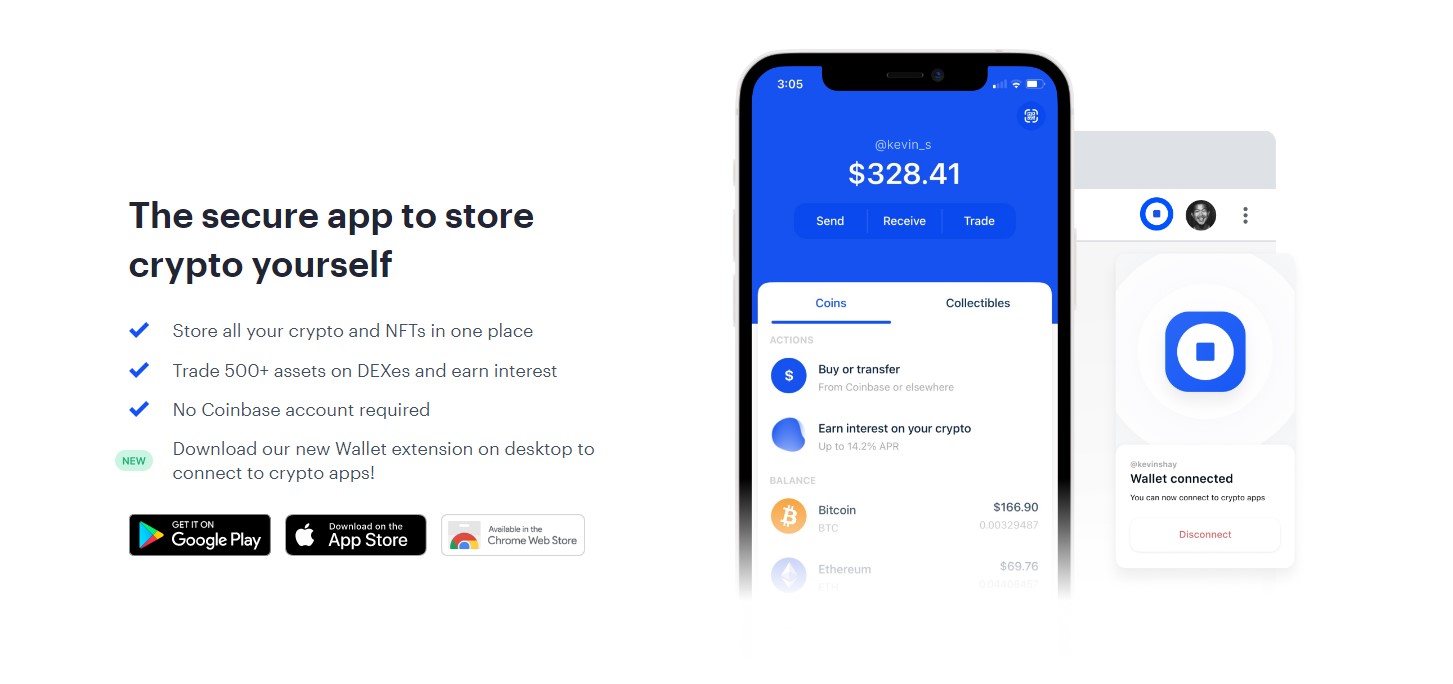 Storing your crypto safely in a reliable crypto wallet is very important and this is where Coinbase excels since it has its own Coinbase Wallet, which can be connected directly to your platform account for safely storing your coins and tokens. The Coinbase Wallet is compatible with both Android and iOS smartphones and it's considered a very safe software wallet that allows users to conveniently send, receive, and exchange their assets.
A Few Final Words…
When trading cryptos, you should always have a fast and safe option for cashing out your profits. This is why it's a good idea to have a user account on a popular and reliable fiat-friendly exchange platform such as Coinbase. With Coinbase, you can sell your coins and withdraw the cash to your bank account with just a few clicks. Just don't forget about the transaction fees and withdrawal fees when cashing out.