Poloniex is a veteran cryptocurrency exchange that went through considerable changes in the past couple of years. The Poloniex exchange was launched as a US-based cryptocurrency trading platform back in January 2013, in Delaware, US. The exchange platform operated mainly out of Somerville, Massachusetts.
Poloniex was later purchased by Circle, the cryptocurrency company behind USDC stablecoin, for 400 million dollars. However, Circle announced Poloniex spin out about a year after their purchase, as the exchange received backing from a consortium of investors (including Justin Sun, founder of Tron). After leaving Circle, Poloniex removed itself from the US market and relocated its base to Seychelles, an offshore island country.
Poloniex had implemented Know Your Customer (KYC) and Anti-Money Laundering (AML) checks when it was providing service to US-based customers, as per US government regulations. Currently, Poloniex doesn't require customers to verify their identity for the most part. Customers are able to deposit, trade, and withdraw cryptocurrencies without waiting for identity verification. Verified customers can withdraw even more from the platform on a daily basis.
In this guide, we will review Poloniex's history as a cryptocurrency exchange and look into how it operates currently in order to help you understand how you can use Poloniex.
Poloniex Exchange History
Unlike many other crypto exchanges that focused entirely on trading Bitcoin at the beginning of the crypto mania, back in 2014, Poloniex offered up to 28 altcoins on the trading platform. Out of 29 digital currencies, Bitcoin (BTC), Litecoin (LTC), and Dogecoin (DOGE) still remain in operation today, whereas most of the others have become dust in the wind.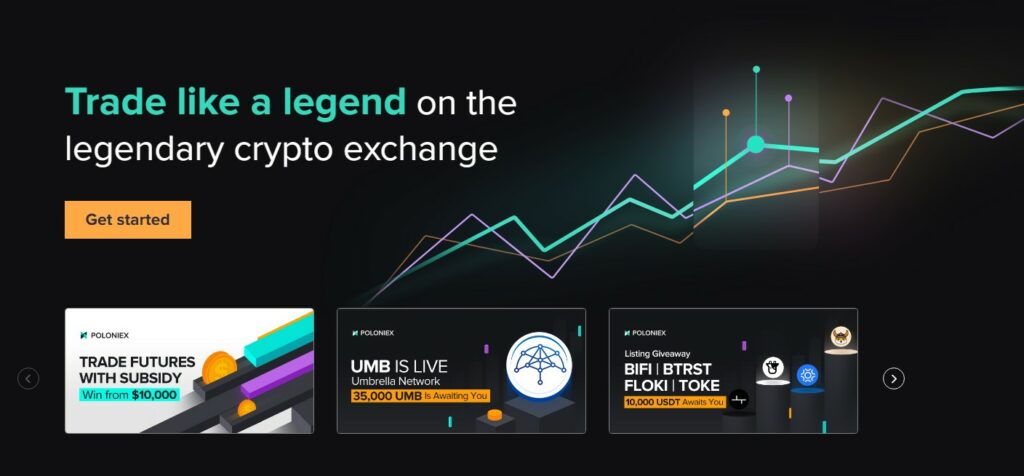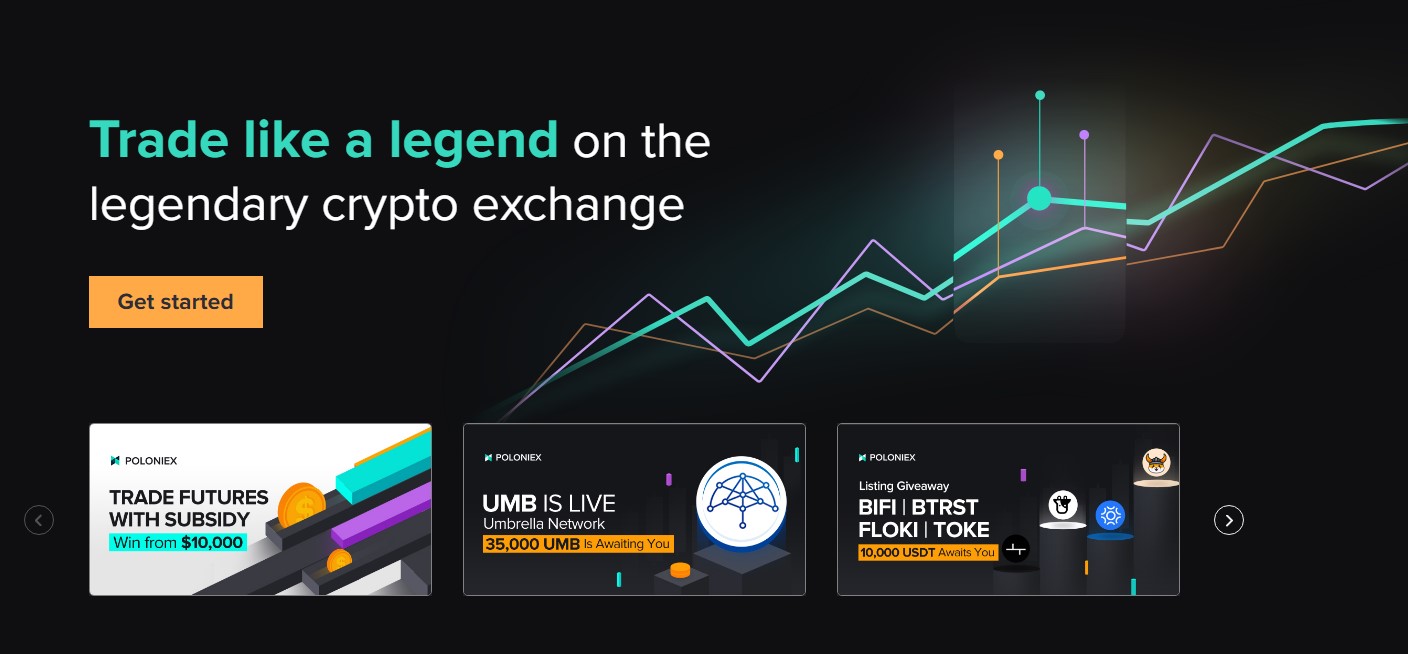 Poloniex suffered a major hack in March 2014, losing 12% of its Bitcoin supply due to faulty code. Tristan D'agosta, owner of Poloniex at the time, stated that the platform would deduce all Bitcoin balances on the platform by 12% in order to prevent customers from racing each other to cash out, leaving the trading platform in debt and without liquidity. D'agosta, who was active in the Bitcointalk forum, assured the community that the hack wouldn't hurt their customers and that the exchange would pay back what was stolen from them in due time.
Indeed, Poloniex covered its losses in a few months following the attack, mostly thanks to the emergence and popularity of privacy coins like Monero.
In 2017, as the initial coin offering craze reached its peak, Poloniex listed many ICO altcoins on the trading platform, with USDT and USDC stablecoin pairings. In February 2018, Poloniex was purchased by Circle, a peer-to-peer payment company that focuses on blockchain-related financial services. Circle was rumoured to have plans to make Poloniex regulated cryptocurrency exchange, introducing KYC and AML checks to the trading platform as per Financial Crimes Enforcement Network (FinCEN) requirements. 
However, Circle spun out the exchange platform after less than two years of its purchase. Thanks to investor support, including Tron's Justin Sun, Poloniex became an entity operating under Polo Digital Assets, Ltd. based in Seychelles, instead of the United States.
Currently, Poloniex isn't regulated by United States authorities. It remains a crypto-to-crypto exchange though customers who complete KYC checks are allowed to use the Simplex banking system to make cash deposits and withdrawals.
Poloniex SEC Investigation
US Financial authorities have been looking into cryptocurrency regulation at least since 2017. The U.S. Securities and Exchange Commission (SEC) released a report on Dao tokens, which concluded that digital assets should be considered as securities. Since then, the SEC has been taking steps to regulate the cryptocurrency exchanges that operate in the US, which led to cryptocurrency exchanges with high trading volumes frequently making frontlines due to the SEC issued fines.
Nearly all cryptocurrency exchanges that operate in the US have faced similar problems with SEC regulations. Coinbase and Gemini managed to go the extra mile to be able to offer services in New York by getting a Bitlicense from NYDFS. Bittrex and Kraken couldn't. NYFDS suggested Bittrex's authentication measures weren't considered good enough to prevent money laundering.

While some crypto exchanges managed to solve their issues, others like Binance and Poloniex opted to move their services from the US entirely. Binance and Poloniex customers in the US can't trade cryptocurrencies on these platforms anymore. More recently, Poloniex had to pay 10 million dollars in fines after an SEC investigation concluded it listed medium risk ICO assets on the trading platform, and without a regulatory permit. Poloniex is one of the several exchanges that were hit with fines, including Bitfinex and Bittrex in 2021.
Poloniex Verification Issues
When Poloniex first announced plans for mandatory KYC checks back in 2017, customers of the trading platform assumed they would have ample time to withdraw their digital assets from the cryptocurrency exchange or complete verification. However, when the crypto exchange implemented the KYC policy in 2018, many customers complained that they didn't receive sufficient warning.
Many others reported that their accounts remained frozen even after they completed the necessary KYC forms. This caused a massive backlog of tickets inquiring about identity verification issues from the customers. The cryptocurrency exchange managed to unfreeze the accounts after a while, but problems with customer service became much more visible during that term.
Currently, Poloniex doesn't require customers to complete KYC checks. You can start trading on Poloniex simply by verifying your email address. Identity verification for better crypto deals only requires photographs of the customer, not a government ID.
While this is quite convenient for traders who don't wish to give their personal information, it also prevents the platform from allowing fiat purchases (though there is a workaround for Simplex users). It has also been suggested that Poloniex's identity verification measures are not stringent enough, leading to hackers and criminals using Poloniex to cash out after robbing other cryptocurrency exchanges. Back in 2020, 4 million dollars worth of cryptocurrency stolen from EXMO crypto exchange was withdrawn from Poloniex.
Poloniex CLAM Clash and ETC Freeze
In 2019, the CLAM token suffered a massive flash crash on the Poloniex exchange. The token was also used as collateral for several loans on the platform and the crash resulted in a 13 million USD loss to the customers on the platform. CLAM had liquidity issues and as such, traders weren't able to liquidate their positions before the token crashed.
Poloniex came up with an unorthodox solution that made a mark in crypto history when it tapped into the active BTC margin pool to cover the losses in the lending pool. Poloniex platform socialized 13 million USD worth of debt with 1,800 BTC from the margin pool. Later on, Poloniex introduced a new policy whereby they returned the lost funds by depositing BTC directly to all impacted customers, as well as reimbursing the trading fees they have paid to the platform since the incident.

While the CLAM crash hurt the exchange to some extent with some preparing to take legal action over the trading platform's move to socialize the debt, a more recent event caused even more anxiety for Poloniex customers.
In February 2021, Poloniex announced they disabled their Ethereum Classic (ETC) wallet for maintenance. The wallet remained inaccessible to Poloniex traders for about four months, a time during which the value of ETC increased significantly. At the time, Poloniex account holders weren't able to move their ETC to other exchanges to take advantage of increasing prices, and the prices on Poloniex were 30% lower compared to other crypto exchanges according to a blogger with a Poloniex account. The blogger also pointed out that at least 2 million USD worth of ETC had been moved to Binance from Poloniex during the maintenance break, alleging that Poloniex used customers' funds to trade on Binance to make a profit for itself.
FAQ
Which cryptocurrencies besides Bitcoin does Poloniex support?
Following the CLAM clash, Poloniex banned several cryptocurrencies from margin trading, including MAID, CLAM, FCT, and BTS. However, Poloniex lists more than 100 assets on its exchange platform, and many trading pairs with stablecoins Tether (USDT) and USD Coin (USDC).
Supported assets include Bitcoin (BTC), Ethereum (ETH),  Litecoin (LTC), Ripple (XRP), Bitcoin Cash (BCH), Monero (XMR), Tron (TRX), Stellar, (XLM), and Dash (DASH).
Does Poloniex require KYC checks for withdrawals?
Since Poloniex moved its base of operations from the United States and banned customers based in the US from using their services, they are able to offer crypto withdrawals without performing KYC checks on the customers. The exchange announced plans for its new operation guidelines regarding identity verification and withdrawal policies in December 2019 in a blog post.
Currently, Poloniex has two account tiers. All customers can qualify for a level 1 Poloniex account simply by registering on Poloniex and verifying their email. Poloniex customers with a level 1 account can deposit and trade without limits, and take advantage of staking. The withdrawal limit for level 1 accounts is $10,000 per day.
Customers with level 2 Poloniex accounts can withdraw $500,000 per day and can take advantage of margin trading and custom withdrawal limits for different cryptocurrencies. The verification process for tier 2 accounts includes submitting a photo of the account holder, taken with a handwritten note that spells Poloniex and the date they are submitting the photo.
What types of withdrawals does Poloniex support?
Poloniex is mainly a crypto-to-crypto trading platform and it doesn't offer cash deposits and withdrawals except for Simplex banking. This feature is only supported for customers in countries that allow Simplex banking. Simplex requires identity verification, and you might need to present a government-issued ID to complete the process.
You can buy Bitcoin (BTC) and altcoins such as ETH, LTC, XRP, XLM, USDT, BCH, ATOM, BNB, BSV, BUSD, PAX, NANO, DASH, TRX with fiat currencies through Simplex banking system with credit cards and debit cards. However, you can only sell BTC and USDT (ERC-20 version) for fiat currency through Simplex.
The Poloniex website offers conflicting information regarding Simplex withdrawals so if you want to use Simplex to withdraw cash directly to your bank account, make sure you contact the Poloniex customer support directly before you sell your crypto assets.
A Few Words Before You Go…
Poloniex no longer requires customers to complete KYC checks before they start trading cryptocurrencies on the platform. All Poloniex account holders with verified emails have a level 1 account that entitles them to deposit, trade, and withdraw cryptocurrencies. You can also easily get a level 2 account by submitting a photo of yourself holding a paper that shows the crypto exchanges name and the date of the photo. Poloniex customer service is usually considered slow, as is the case for most crypto exchanges. If your identity verification process fails, contact customer service.