There's over 12,000 cryptocurrencies on the market according to Coinmarketcap and more than 400 cryptocurrency exchange platforms. It can be quite difficult for crypto beginners and experienced crypto enthusiasts alike to find an adequate exchange platform that can satisfy all their trading needs.
Most platforms offer several useful services but don't offer users an all-around crypto service. Usually, smaller exchange platforms support just a couple of the most popular cryptos that users can buy, sell or trade and that's it. There are only a few premium exchange platforms that provide their users with all services necessary for trading, storing, and growing their crypto portfolio. These are, of course, the largest crypto exchanges on the market such as Coinbase, Binance, Kraken, and Gemini.
In this guide, we'll be focused on Coinbase, one of the most popular crypto exchange ecosystems on the market that really gives users everything they need, from a broad range of supported coins and trading options, all the way to an educational platform and great crypto wallet.
The History of Coinbase
Coinbase is one of the largest crypto exchange platforms in the world and it has gone a long way to become one of the top-ranked trading platforms since its launch back in 2012. The company was originally founded in San Francisco but has since embraced a remote working policy with no actual company headquarters due to the COVID-19 pandemic in 2020. It was launched as an ambitious business project by a former Airbnb engineer Brian Armstrong and a former Goldman Sachs trader Fred Ehrsam, who joined the project as a co-founder. The first 150,000 USD that were used for powering the Coinbase project were obtained by Armstrong from the Y Combinator startup program.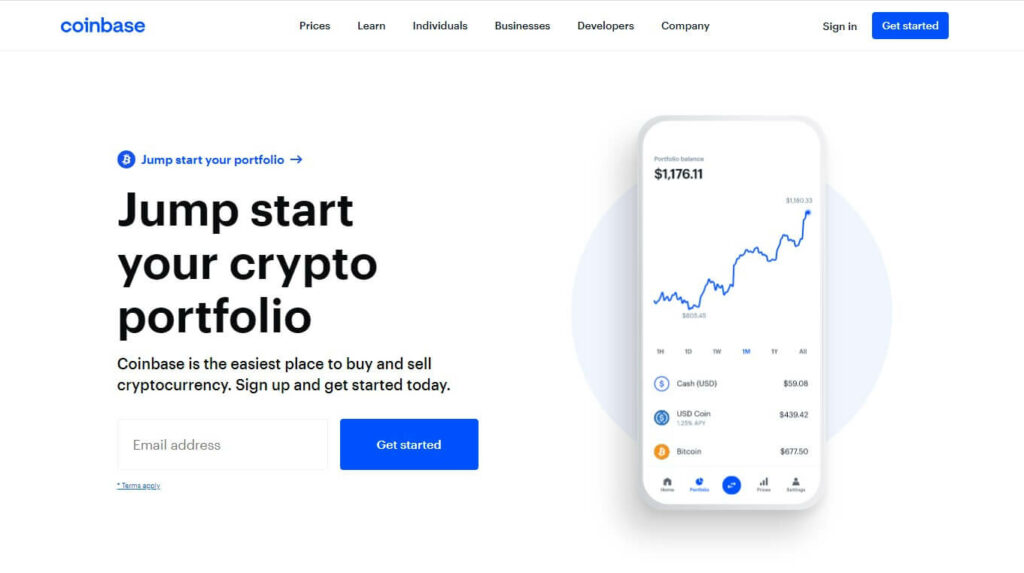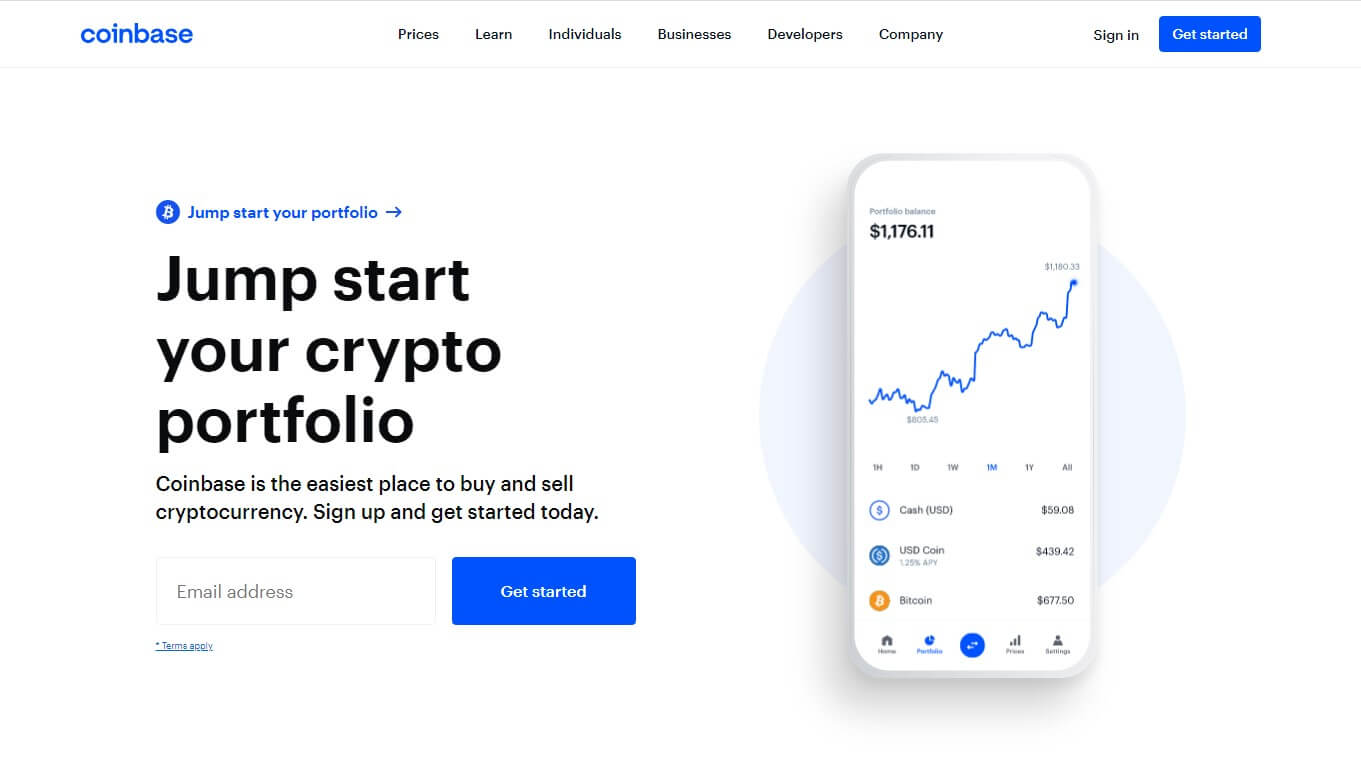 As Coinbase started operating in 2012, focusing on Bitcoin (BTC) as the main player on the crypto market, which was pretty much synonymous with the term cryptocurrency, the popularity of the platform started growing. Numerous crypto traders were delighted with the simplicity and fast services on Coinbase, which enabled people to fund their platform account with bank transfers and directly buy BTC or withdraw their fiat dollars to their bank accounts. It should be noted that this is a feature that many exchange platforms still lack today.
Growth and Expansion
The policy of Coinbase was to comply with all laws and regulations regarding crypto-related financial services in the regions it operates in. This enabled Coinbase to quickly expand its portfolio of services and to include fast and practical options such as funding user accounts through bank transfers, credit cards, and debit cards.
Coinbase steadily started including new cryptocurrencies on the platform and upgrading its existing services to include a more advanced trading platform for professional users, the Coinbase Pro platform, formerly known as the GDAX platform.
Today, the platform has more than 68 million verified users and operates in more than 100 countries worldwide. It has even publicly listed its stocks on the Nasdaq stock exchange, without a classic IPO (initial public offering). Instead, the Coinbase stocks appeared on the Nasdaq stock market through a direct listing in April of 2021, valuing the company at almost 86 billion USD.
Cryptos Supported by Coinbase
One of the main characteristics that show the range of functionalities of a good crypto exchange is the choice of supported coins and tokens. Back in 2010, when the first exchanges were launched, they were all called Bitcoin exchanges because BTC was all that people could buy or sell. Nowadays, when traders are exchanging thousands of different coins, crypto platforms need to offer a careful selection of all of the most popular coins.
Coinbase allows users to buy, sell and trade more than 50 of the largest cryptos including BTC, Ethereum (ETH), Bitcoin Cash (BCH), Litecoin (LTC), Cardano (ADA), Dogecoin (DOGE), Uniswap (UNI), Stellar Lumens (XLM), Ripple (XRP), ERC20 tokens, USD coin (USDC), the Tether (USDT) stablecoin, and many others.
The selection of supported coins reflects the Coinbase policy of offering users all of the most popular, trending cryptos on the market.

In case some altcoins you're trading with aren't listed on Coinbase, you can still use the platform for cashing out those coin into fiat if you exchange your altcoins for an intermediary currency such as ETH or BTC, because crypto to fiat conversions are really easy to conduct on Coinbase. 
Coinbase Fee System
The fee system is of key importance when choosing an exchange platform. The fees on Coinbase are somewhat higher than those on other popular crypto exchanges but this is the price of a very reliable and highly secure crypto trading platform. Even so, they're not too high.
If you want to buy some cryptos with fiat money or want to sell your cryptos and cash out, you'll have to pay a spread fee and a platform transaction fee. A spread fee is charged based on the margin between the amount you pay or get paid for a certain asset and its market price. It's just like a commission fee when trading with company stocks. The standard Coinbase spread fee is 0.50%, but it can change depending on the market conditions.
When converting one type of digital currency for another, you won't be charged any platform fees except for the standard blockchain transaction fee which has nothing to do with Coinbase. The platform fee also depends on your payment method. The flat fee for a transaction that's worth 10 USD or less is 0.99 USD, while a transfer that's worth between 50 and 200 USD is charged 2.99 USD.
As far as percentage fees for payments, when you use a debit card or PayPal you'll be charged a 3.99% fee, while a bank account transfer can incur a 1.49% fee. If you want to initiate an instant card withdrawal from your Coinbase account, the maximum fee is 1.5%.
In case you want to deposit cash with a bank transfer, you'll pay a 10 USD fee, while bank account withdrawals are charged 25 USD per transaction.
Coinbase Pro
The Coinbase Pro platform, which is the rebranded GDAX platform, provides experienced traders and institutional investors with all the necessary brokerage tools for conducting large-scale trading deals. This platform comes with detailed market charts for monitoring market volatility and changes in crypto valuation. Coinbase users can easily switch between monitored assets and trading pairs.
This platform is made for active traders and it rewards them with considerably lower fees compared to the Coinbase standard platform. The fees are based on a maker and taker model. This means if you're a market maker who is placing purchase orders with prices that are different from the standard market price of an asset, you're adding liquidity to the platform by driving market demand and in turn Coinbase Pro provides you with lower fees. Market takers, however, who just purchase or sell assets agreeing to the current market prices, incur higher fees.


The fees are also based on your monthly trading volumes and the more you trade, the lower your fees will be.
If you're a crypto beginner who plans to conduct modest trades on an irregular basis or you just want to keep your cryptos as a store of value, then the basic Coinbase platform will definitely suit you better.
Account Verification
The fact that Coinbase strictly complies with laws in countries where it operates means that it enforces a KYC (know-your-customer) protocol. Basically, the platform requires users to provide detailed personal information when creating an account.
You'll need to provide your personal details such as full name and address, along with a photo of an identification document issued by your local governments such as an ID card, passport, or driver's licence.
This signup process is done in a matter of minutes and it shouldn't worry you, because all the information you have provided Coinbase with is protected by extensive cyber security measures to make sure your info isn't compromised by any sort of cyber attack. Also, Coinbase itself never shares your information with any third party except with government authorities only in case there's a legal procedure that suspects you of illegal activities such as fraud or tax evasion. In all other cases, your information is safe and generally private with Coinbase.
Supported Payment Methods
Coinbase supports numerous payment methods that may vary depending on region, because not all methods are available in every county that Coinbase operates in. The most used payment methods include bank account transfers (ACH), PayPal, Visa, Mastercard and other debit cards, wire transfers, and Apple Pay. It's best to check if your preferred payment method is available on Coinbase in your country on the Coinbase Getting Started page.
Security Features
A great thing about Coinbase is that it takes security seriously. The platform stores 98% of all traded funds offline in hardware storage, safe from any type of cyber attack. The remaining 2% are kept online just to provide platform liquidity and even if that 2% of assets do get compromised somehow, the users are protected because the funds are insured and they will be reimbursed to users in case their digital assets get compromised.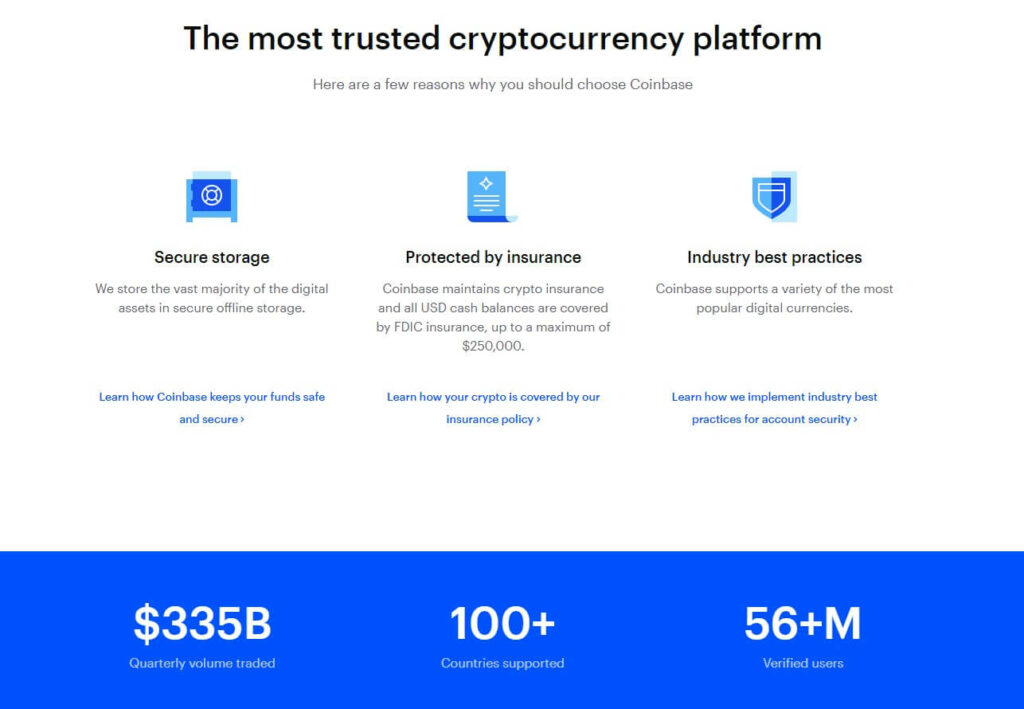 However, in case a user account gets compromised due to the fault of the user, by disclosing their login details or due to a phishing attack, the platform won't refund the user. This shouldn't be much of an issue because if you turn on the 2FA (two-factor authentication) option, you'll always have to double verify your identity when logging into your Coinbase account, which is a very secure method for keeping your account safe. You can also choose the fingerprint ID or face recognition login security measures that can make your account literally impenetrable without your consent.
In case you're holding some cash on your Coinbase account, that money is insured by a Coinbase agreement with the FDIC (Federal Deposit Insurance Corporation) and your money is pooled together and stored either in US bank accounts or in the US treasuries. The cash is insured up to a maximum of 250,000 US dollars per user.
Coinbase Learn and Coinbase Earn
Coinbase offers users a broad range of educational articles that are great for crypto beginners who are new to trading and want to learn all of the basics before investing cash in digital currencies. The more advanced crypto traders can also learn a lot from the Coinbase Learn section about some advanced trading tools and techniques.
Another great addition to Coinbase Learn is the Coinbase Earn section of the website where users can watch educational videos about different cryptocurrencies and then answer quiz questions about the viewed videos. Users that correctly answer a certain number of questions are then rewarded with a modest amount of the cryptocurrency they watched videos about. This is a great way to motivate users to learn more about various altcoins.
Mobile App
Coinbase has a great user-friendly mobile app for Android and iOS mobile devices. Most crypto traders want to be able to manage their portfolio of digital currencies on the go and this is why all of the most popular crypto exchanges strive to create mobile app versions of their online platforms.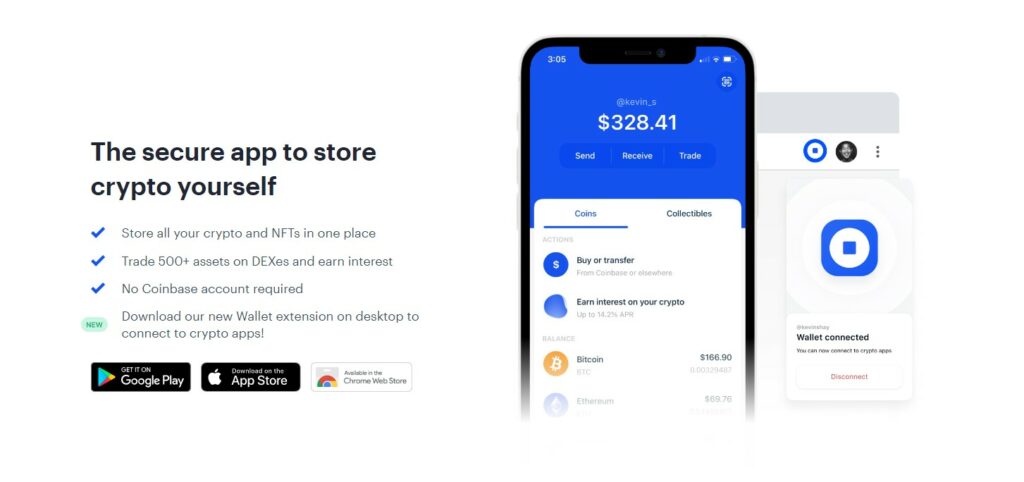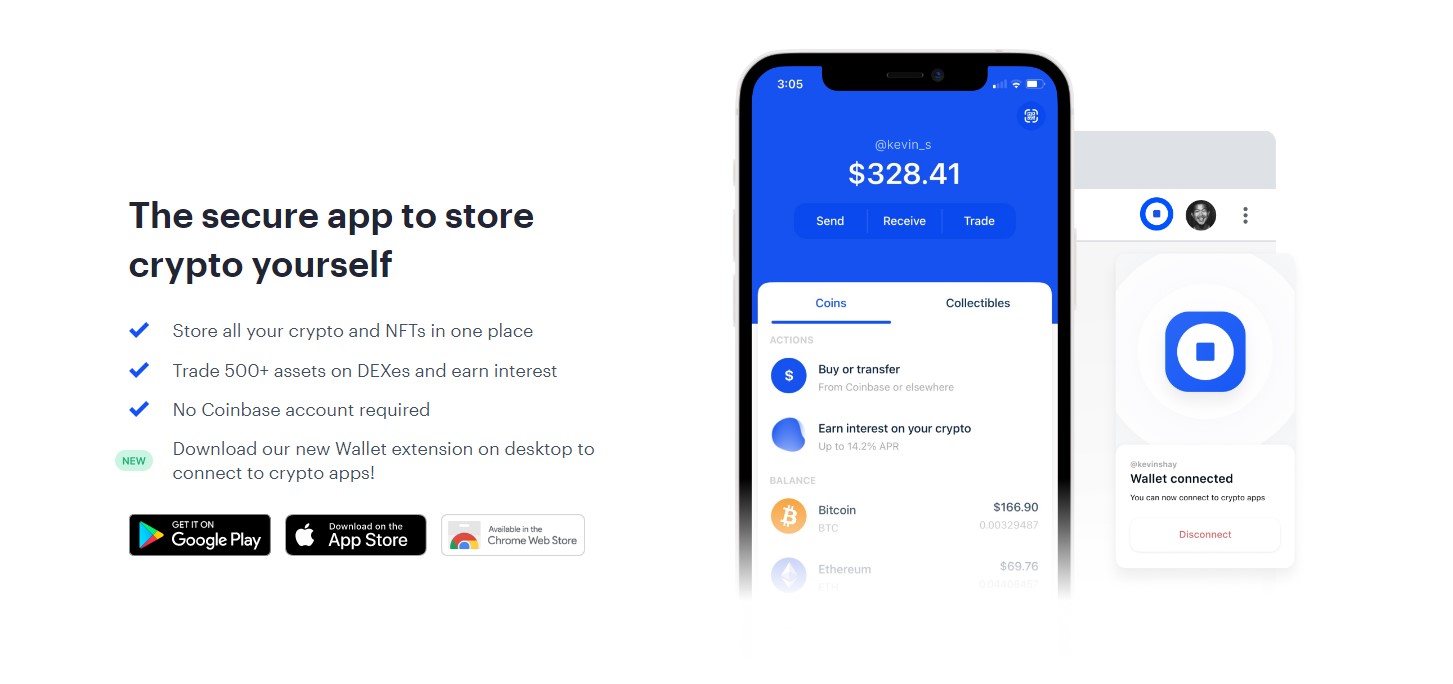 The Coinbase app enables users to quickly buy, sell and exchange assets and it comes with a simplified user interface that makes things easy even for crypto beginners. You can manage your crypto portfolio, track price changes, and read carefully curated news about the cryptos you're trading. Facilitating transactions is even simpler than on the online platform and all the options you'll ever need are just a few clicks away.
Coinbase Wallet
When trading cryptocurrencies, users want to be sure that their funds are really safe and this is why they need a top-quality crypto wallet, to keep all of their private keys secure. The Coinbase platform has its very own Coinbase wallet which can be seamlessly integrated with the main platform, enabling users to safely store, sell, buy and exchange assets, without compromising their safety.
Users have 2FA login options available for the wallet just like the login process for the Coinbase platform and the encryption of the data stored in the wallet is top of the line, which means you don't have to worry about the safety of your cryptos. The Coinbase wallet is one of the most popular software wallets on the market because the secure storage is combined with all of the trading features of the Coinbase exchange, making it a great choice for Coinbase traders. However, if you're looking to store really large amounts of cryptos, it's recommended to use a hardware wallet or a paper wallet to keep your funds offline.
A Few Final Words…
Among the hundreds of exchange platforms on the market, Coinbase stands out with the supreme quality of their services and the reliability that comes at somewhat higher fees than competitor exchanges, but it's only natural that the best services in the industry come at a cost.
While the basic Coinbase platform is a great choice for crypto beginners, the Coinbase Pro version targets experienced investors, which illustrates the platform's dedication to providing both types of users with adequate tools for trading cryptos since 2012.