Digital wallets are a must when handling crypto and they usually come in two forms: software as opposed to hardware wallets. The difference between them is that software wallets maintain a constant internet connection and are very handy when trading on the go. On the other hand, hardware wallets are physical devices that are always offline, hence they're sometimes referred to as cold storage devices.
One of the best hardware device providers out there is Ledger. The company has provided state-of-the-art hardware wallets with top-notch security for a couple of years now. Their most popular product and the topic of our article today is the Ledger Nano S wallet. In what follows, we'll discuss its key features, the way it's used, and give you an answer to the question of how many coins can the Ledger Nano S hold?
How Do Hardware Wallets Work?
Software wallets are very similar to debit cards in terms of making online transactions. They are mostly utilized for selling or purchasing crypto on the go as they usually come in the form of mobile apps available for both iOS and Android devices. Users can send, receive, and trade crypto through wallets and their designated apps.
Hardware wallets, on the other hand, often come in different shapes and sizes. For instance, the Ledger Nano S shape looks a lot like a stainless-steel encased USB drive. They're also the safest way in which users can store their crypto assets because they are always offline. They are physical devices and the private keys stored on them are kept off the grid. Because of this, they aren't prone to hackers' attacks.

For someone to lose access to their hardware wallet, they would have to lose the wallet or have it stolen. Even if that happens, or the user forgets their private keys, there are backup systems that could restore their access. Features like PIN codes and mnemonic seed phrases add an extra layer of security for maximum protection.
To purchase a hardware wallet users should contact the wallet manufacturers like Ledger, Trezor, and Electrum for Bitcoin, and purchase a brand new factory wallet. Both companies offer different models but their most famous devices are the Trezor One wallet and the Ledger Nano S. There are second-hand wallets on sites like Amazon but their safety can be compromised because there is no way that users can tell if the previous owner hasn't spiked the wallet with a virus program. 
Be prepared that there could be a waiting period before you get your hardware wallet because of the recent surges in crypto popularity and the high demand for brand new wallets. The most successful and popular hardware wallets provider is definitely the Ledger hardware wallet company with their two signature wallet devices: Ledger Nano S and their latest model, Ledger Nano X.
Ledger Hardware Wallets
Ledger is a French-based company that released its first hardware wallet in 2014. Since then, they have climbed to the top of the hardware wallet chain and hold first place for the best hardware wallet available on the market.
Ledger devices are digital wallets that support numerous cryptocurrencies and are used to store users' private keys. Ledger devices are device-based wallets and their storage mechanism comes in the form of USB drives that store data offline. This safety feature makes them impervious to hackers from online and remote locations, ensuring the complete safety of their users' digital assets.
Currently, there are two available Ledger devices on the market – the Ledger Nano S and the Ledger Nano X. Both wallets are USB storage devices and some of their security features include: safely sending and receiving crypto, buying crypto through the Ledger Live App, two-factor authentication system, 24 digit seed phrase, and a backup passphrase. Both wallets also have an integrated security chip that uses CC EAL5+ certification.
Ledger Nano S Review
The Ledger Nano S wallet was released in 2016 and since then it has remained the number-one hardware wallet in terms of both safety and practicality. The Ledger Nano S comes at an affordable price that matches the features it offers.
The Ledger Nano S is a multi-currency wallet that supports 23 cryptocurrencies and over 1,500 ERC-20 tokens. The most prominent cryptocurrency that it can store is Bitcoin (BTC) and other popular altcoins like Ethereum (ETH), Ethereum Classic (ETC), Litecoin (LTC), Bitcoin Cash (BTC), Ripple (XRP), DogeCoin (DOGE), Neo (NEO), Zcash (ZEC), Cardano (ADA), as well as privacy coins like Dash (DASH) and Monero (XMR).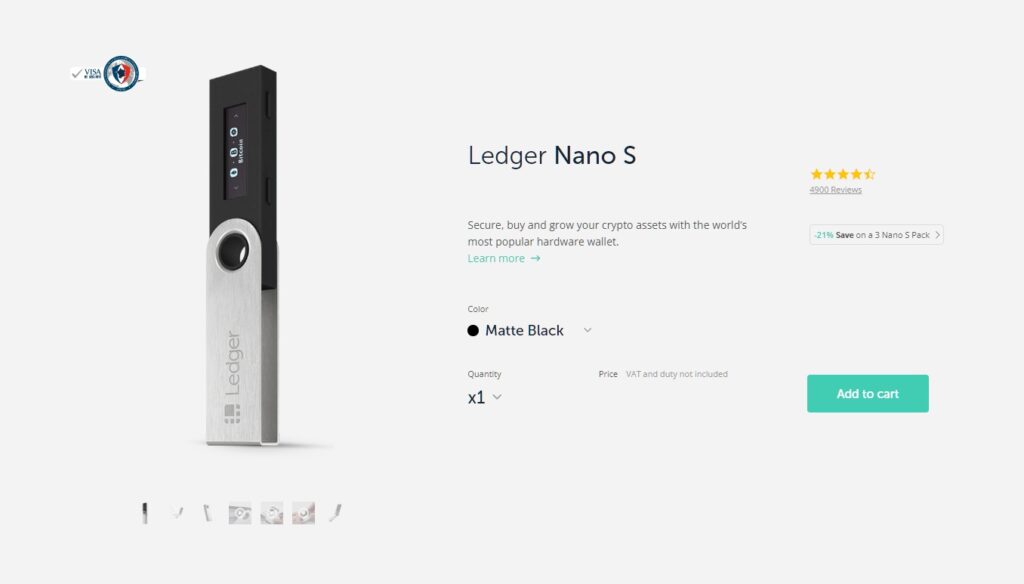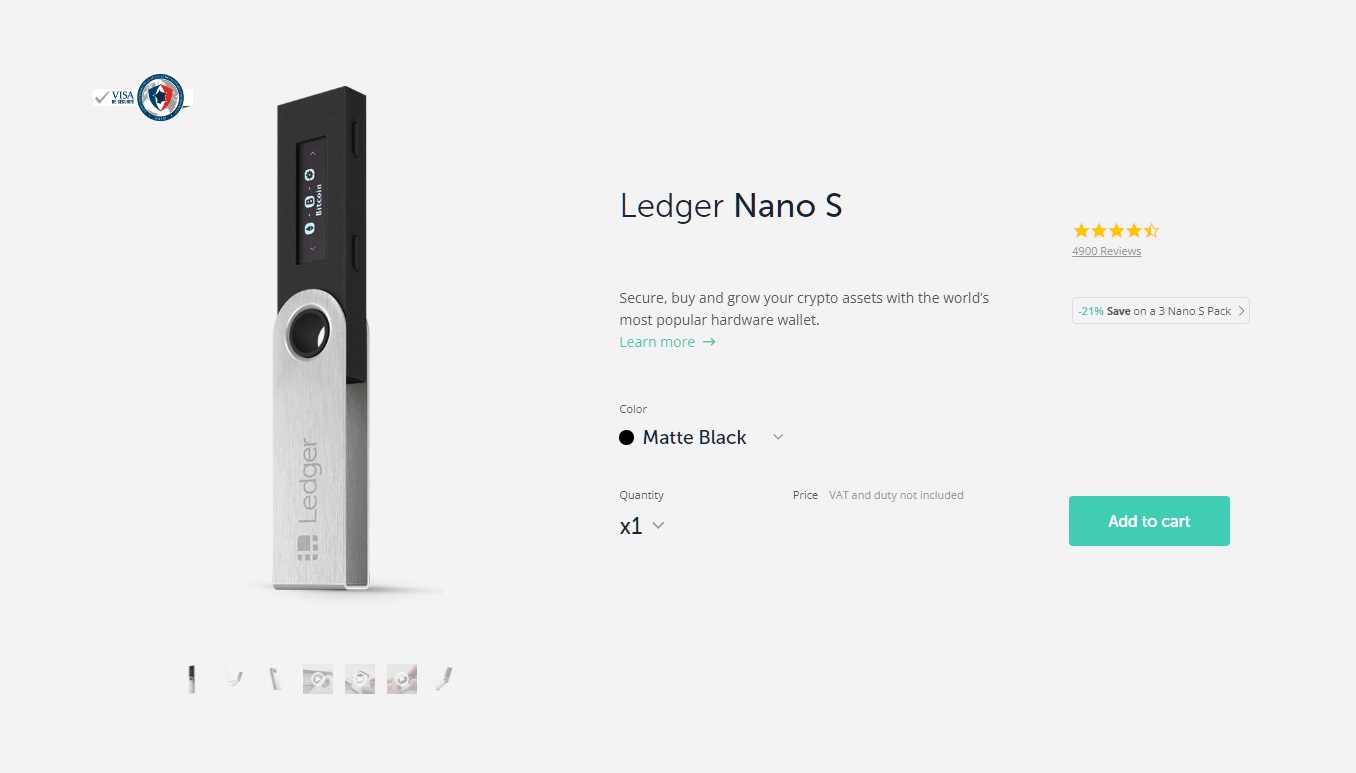 When a user purchases their new device from Ledger, the device will come in a stylish box, and inside there will be other items along with the wallet. Inside the box, users will find their Ledger Nano S device, a micro-USB cable, a stylish paracord to wear the device around the neck, a keychain with a keyring, and a recovery sheet for writing the recovery seed phrase.
The Ledger device itself has a small screen, sporting a look between a USB drive and a straight razor due to its collapsing metal case.
Security Features
As a hardware crypto wallet, Nano S isn't connected to the internet except when it is linked to a PC and used to conduct transactions through the Ledger App.
First off, when users pick up the Ledger device in their hands they will feel two physical buttons on the side. These buttons are used to operate the interface and confirm transactions. Users will have to push both buttons at the same time to confirm any transaction or operation on the device. This is a feature that makes it impenetrable by hackers when the device is connected to a PC to the Ledger Live App.
Another layer of security is added when the device is powered up for the first time and requires a PIN code from the user for access. This PIN code will enable users to keep their coins safe in case they've lost their device. There is a 3 attempt system before the device performs an auto wipe and locks out for further use.
The device also allows users to create a backup version of their wallet by implementing a 24-word phrase. Users can use this 24-word phrase to gain control of their assets in case their wallet gets stolen or damaged.
Setting Up Ledger Nano S
Setting up the Ledger Nano S wallet is a simple task in which instructions have to be followed and users will need a PC for a successful wallet setup.
First of all, users will need to download the Ledger App from the official website. After the app is installed, users should connect the device to their PC with the USB cable that is provided in the box. Once this is done, users should open the Ledger App and select the device that they want to activate. For a first-time setup, users should click on Initialize as a New Device.


Once this is completed, the user will be asked to choose a PIN number. There will be extra safety features from the get-go like the 24-word recovery phrase. Users should only follow the instructions on the app for the best safety experience. After this is completed, users will be asked for a password to connect the device to the app. There will be a prompt that asks the user to create a hard password with uppercase, lowercase letters, and digits.
Further into the installation, users will see a window with some technical data and will be asked to give permission for the data they want to share with the wallet. After this, the wallet's activated and ready for storage. The whole process of setting up the wallet shouldn't take more than 5 minutes.
After the installation process is completed, users will need to install the Ledger Manager App from the official site.
Ledger Applications
One of the downsides to the Ledger Nano S is the fact that it can only store 3 to 7 applications at the same time. Every different cryptocurrency requires its own app in order to be stored on the Ledger device, which means you can only store up to 7 different cryptocurrencies.
The Ledger Manager App allows users to install crypto software to the Ledger device. There is a Bitcoin Ledger App, Ethereum Ledger App, and other third-party apps for different blockchains.
Luckily, users can utilize a couple of fixed and optimized combinations of cryptocurrencies that would allow them to manage all coins from the same app, instead of using separate ones. One of the best combinations includes the following 7 coins: Bitcoin, Ethereum, Bitcoin Cash, Ripple, Litecoin, Dash, and Ethereum Classic.
Ledger Nano X
The Ledger Nano X is a premium cryptocurrency wallet that takes a big leap ahead of its competitors with the features that it hosts. It hosts the Ledger native BOLOS operating system and has all of the features from its predecessor, the Ledger Nano S. The features that are added on the Ledger Nano X include a Bluetooth connection, 100 mAh battery, unlike the Ledger Nano S which doesn't come with an integrated battery, the Ledger Nano X can be remotely used when users are on the go.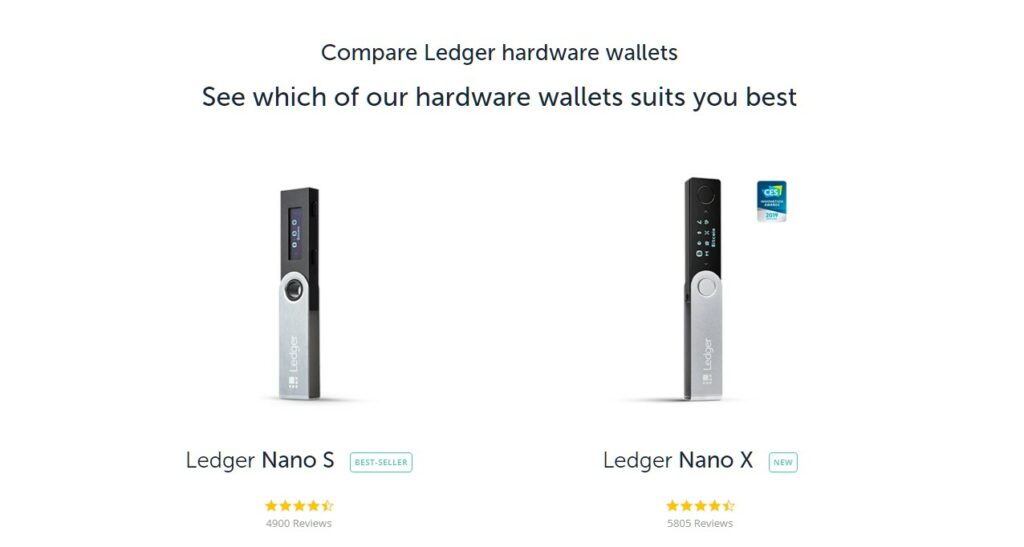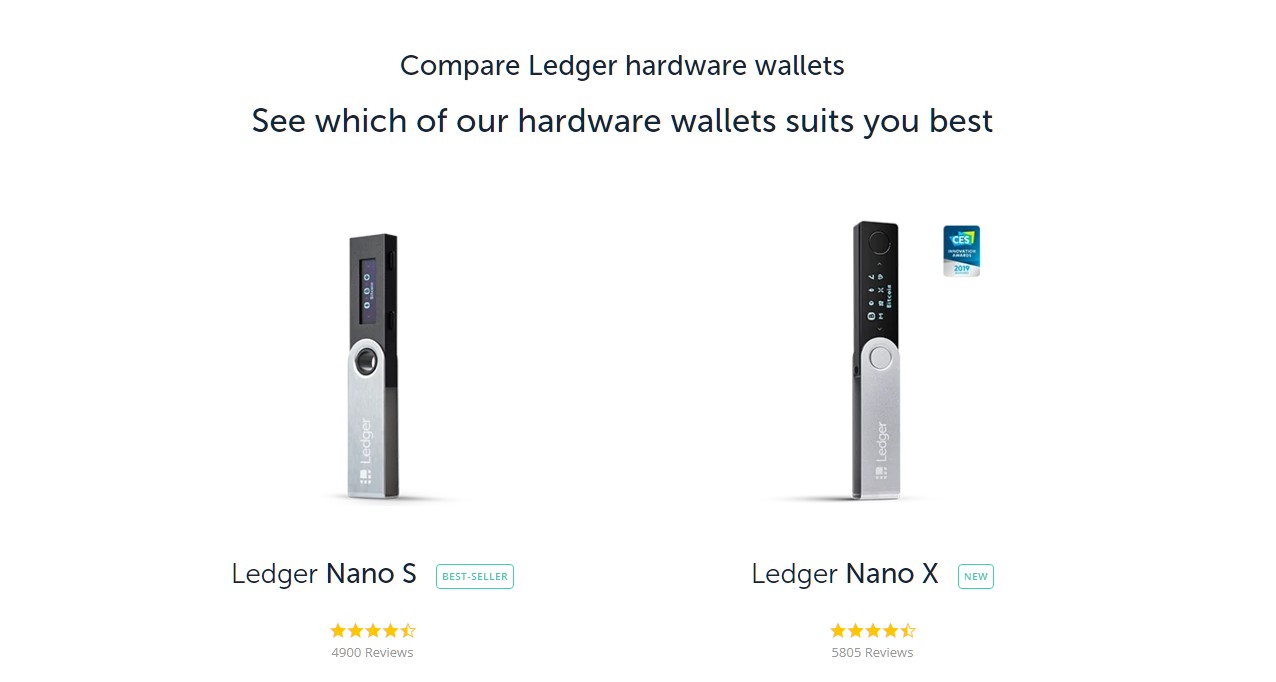 The most important feature that the Ledger Nano X has is that it can store up to 100 crypto applications. When compared to the Ledger Nano S, which can hold up to 7, this is a big game-changer. With more features and options comes a hefty price. The price of the Ledger Nano X is a bit higher than the Nano S, but it's a price worth paying for the wallet's improved features and extra storage.
A Few Words Before You Go…
All things considered, the Ledger Nano S is a great hardware wallet for the current price that it holds, and both beginners and seasoned traders can reap the benefits from using it. Although Ledger Nano S supports only 7 coins, at least you can optimize the wallet to store all of them within the same app for practicality. And if Nano S falls short of your expectations, there's always the upgraded version – Nano X.