Are you interested in earning Bitcoin, but you don't have an expensive mining rig? Or maybe you already own a mining rig, but you don't want to deal with the more technical issues such as calibrating a mining software and joining a mining pool? Well, you are in luck, because Nicehash allows you to rent your computing power to the highest bidder and make a profit without jumping through technical hurdles.
Nicehash is a hash power marketplace that connects buyers of hash power with sellers – or miners, in other words. Buyers name a price for the cryptocurrency they want to be mined and sellers rent their computing power through the platform. While the profits may be lower compared to mining your own cryptocurrency, the ease of use and stability of earnings make Nicehash an attractive option, especially for cryptocurrency mining beginners without high-end mining rigs.
We prepared a small guide to explain how Nicehash works and how you can earn Bitcoin through the platform.
What is Nicehash?
Nicehash is a cryptocurrency mining and trading platform founded in 2014. The platform had its share of controversies, including the co-founder Matjaz Skorjanc's criminal past and the loss of 60 million dollars worth of Bitcoin after a cyber attack in 2017, but it still remains a popular and well-received service for crypto miners and traders, partially because Nicehash actually reimbursed customers for their stolen funds.
There are several advantages to using Nicehash. Whereas the traditional cloud mining market is chock full of scams and ponzi schemes, Nicehash is a decentralized marketplace where buyers and sellers can interact securely.


Another benefit of using Nicehash to sell computing power is that the market entry threshold is relatively low compared to other options. While solo mining requires immense computing power and most mining pools require industry-standard ASIC mining rigs, Nicehash allows sellers to use their CPUs and GPUs for cryptocurrency mining.
Nicehash offers Bitcoin (BTC), Litecoin (LTC), Ethereum (ETH), Ripple (XRP), Bitcoin Cash (BCH), and Zcash (ZEC) mining through several compatible pools including F2Pool and SlushPool. Buyers select the cryptocurrency they want mined as well as a compatible pool they wish to use and name a price they are willing to pay for the mining service.
Sellers can start mining once they download the Nicehash mining software and connect to the Nicehash stratum servers.
How to Earn Bitcoin With Nicehash?
If you want to rent out your hashpower to earn BTC, all you need to do is to download the Nicehash miner software to your PC or connect your ASIC mining hardware to Nicehash stratum servers. Once you complete this step, your hashing power is automatically forwarded by the server to the mining pool that the buyer has picked and you can start mining. You earn Bitcoins for each share you earn through the pool.
Nicehash offers two mining software that you can use. If you have an NVIDIA graphics card, you are advised to use the Nicehash QuickMiner. The Nicehash QuickMiner only runs Excavator and XMRig mining algorithms. They are both trusted miners that you can use without paying additional developer fees. The Nicehash QuickMiner also has a convenient built-in auto overclocking mechanism that helps you mine more efficiently. Nicehash offers a demo for NiceHash QuickMiner that you can test without registration.
If you want to mine using your computer's CPU or have a PC with an AMD graphics card, you can use the Nicehash miner. The Nicehash miner automatically chooses the most profitable algorithm so you don't have to worry about technical stuff. However, the Nicehash miner depends on 3rd party miner plug-ins to switch algorithms, so you might have to pay additional developer fees.
If you already own an ASIC mining rig, you need to find out which algorithms and stratum servers your ASIC supports. You can find out more about that here.
How Much Bitcoin Can You Earn with Nicehash?
How much you can earn depends on many factors, including the amount of hash power you provide, how much buyers are willing to spend, and finally the price of Bitcoin. This is because while the prices are expressed in fiat currencies (USD or EUR) they are actually tied with Bitcoin and they adjust depending on Bitcoin's value.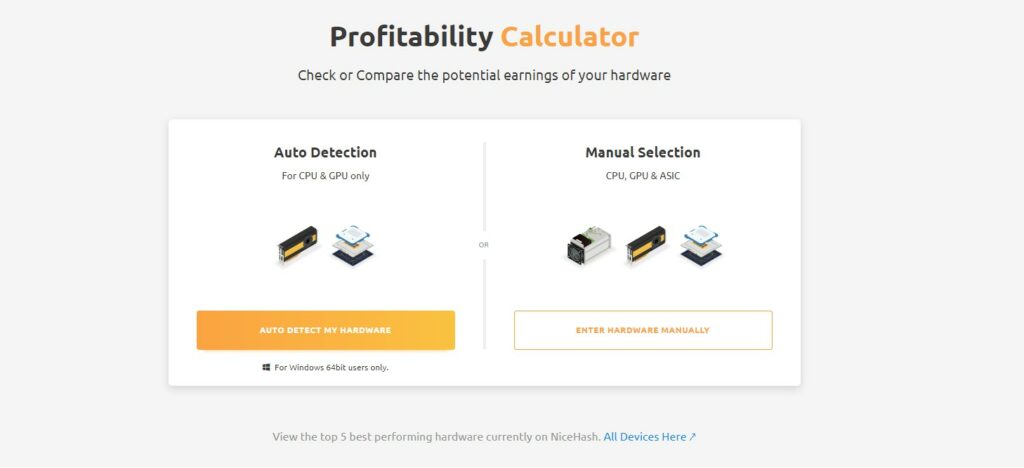 Nicehash provides a profitability calculator that you can use to check out how much you can earn in a day or a month. The profitability calculator uses lab-tested benchmarks to give you an idea of how much profit you can make with your miner's hash rate.
While miners don't pay pool fees, Nicehash charges a service fee for selling hash power. You pay a 2% service fee to receive payouts to a Nicehash wallet. It is not recommended to use another Bitcoin wallet address to receive payouts, as Nicehash announced this feature will not be supported.
You also have to pay withdrawal fees to move your Bitcoin from the Nicehash wallet. Withdrawal fees vary depending on the amount and the withdrawal option that you choose. The best withdrawal options are to transfer your Bitcoin through the Lightning Network or to transfer them to a Coinbase wallet, as you won't have to pay any transaction fees. Fees for transferring to a different BTC wallet vary depending on the blockchain network traffic.
How Often Does Nicehash Pay Out?
You receive payments to your internal wallet address (Nicehash wallet) every four hours, provided that you are over the minimum payout threshold limit of 0.00001 BTC.
If you are using an external Bitcoin wallet address, the minimum payout threshold is either 0.001 BTC to be paid once per week on Wednesdays, or 0.1 BTC daily. However, receiving payments to an external wallet address incurs an additional 3% (weekly) or 1% (daily) fee, in addition to the original 2% service fee. That makes mining to an internal wallet the more profitable choice as you'll also get the option to trade your Bitcoin on the Nicehash cryptocurrency exchange.
You can track your payment schedule and see how much you've received under the "Last Mining Payments" section in History & Stats.
A Few Words Before You Go…
Nicehash is a marketplace that connects buyers of hash power with miners around the globe. It works like a cloud mining service but unlike many other cloud service platforms, it doesn't claim to run its own mining servers and instead serves as a platform to facilitate transactions between individual buyers and sellers. Cryptocurrency beginners who want to try their hand at CPU or GPU mining can easily start mining through Nicehash. Nicehash has a frequent payout schedule and sellers receive payments every four hours, provided that they are over the 0.00001 BTC threshold.