When dealing with cryptocurrency, no matter whether you're a regular crypto trader or someone who's looking to keep some digital currency as a long-term store of value, you definitely need a secure storage option for your crypto assets. Given the fact that cryptos don't exist physically, they can't be stored in a regular wallet or in a bank account, because banks only accept fiat money.
For a digital currency, various types of cryptocurrency wallets have been invented to safely store the private keys to your assets. Private keys act as passwords that prove your ownership over a certain amount of selected coins and tokens.
There are two main types of crypto wallets on the market. The first type is cold wallets that come in the form of hardware wallets, specialized USB devices for storing private keys offline, and paper wallets that keep your keys on a piece of paper in the form of a QR code. The second type of crypto storage is hot wallets, also referred to as software wallets. These wallets are used on computers or mobile phones and have a constant internet connection.
Exodus wallet is a popular multi-currency software wallet that provides great security along with a wide range of services. In this article, we'll take a detailed look at its main features and purposes.
Exodus Wallet Review Key Points
Before we go any further, take a look at this list with Exodus's key characteristics:
A multi-currency crypto wallet available both for desktop computers and mobile phones.
Very user-friendly interface suitable for beginners and advanced users.
Support for more than 100 cryptocurrencies.
Compatible with Trezor hardware wallets.
Strong security measures for keeping your private keys safe at all times.
Integration with the popular FTX crypto exchange.
Staking features for various cryptocurrencies within the wallet.
The option to exchange selected cryptocurrencies within the wallet.
Great customer support team.
The Exodus Crypto Wallet
Exodus is a veteran software crypto wallet launched in 2016 by JP Richardson and Daniel Castagnoli who wanted to integrate all the key features any crypto holder needs to manage their complete portfolio, within a single wallet app. The more basic crypto wallets only offer asset storage services, but Exodus goes far beyond with its offerings, paired with industry-leading security and privacy features.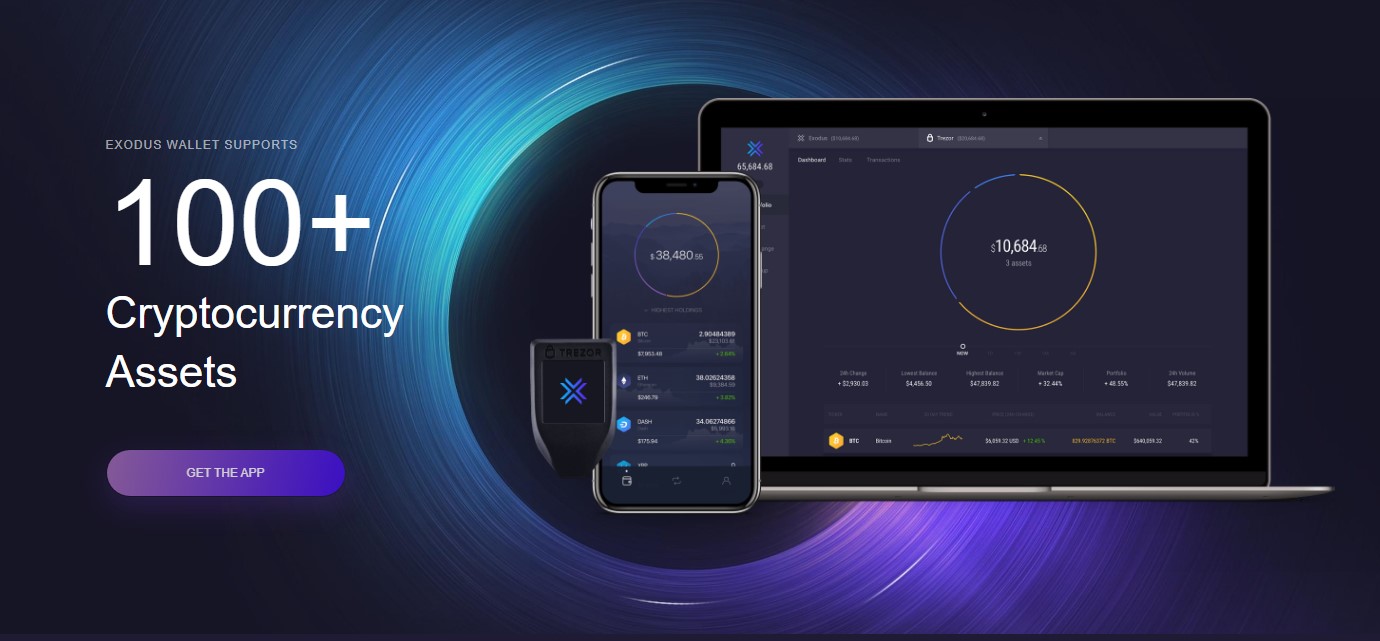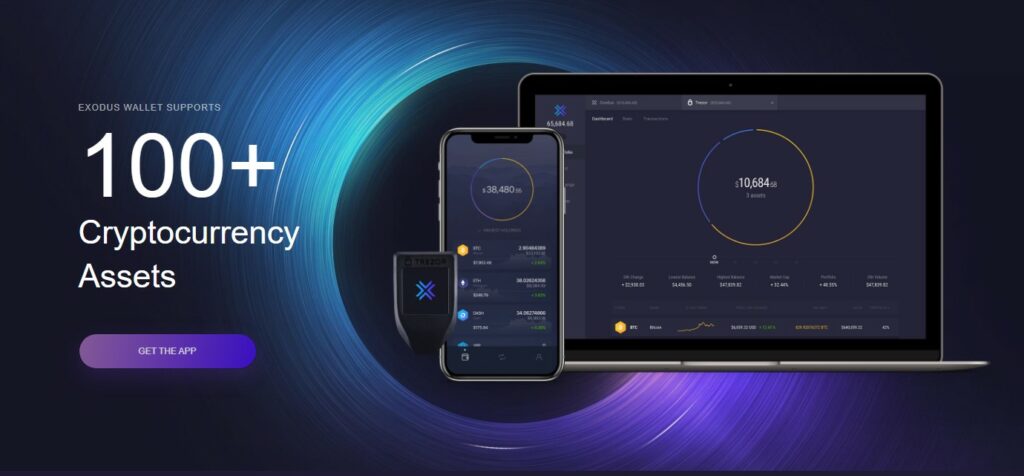 The wallet comes in two forms. The desktop program is downloadable for free from the Exodus official website. All you need to do is install it on your computer and you can start storing cryptos right away. As far as operating systems, you can run Exodus on Windows, Linux, and macOS. For users that want to have access to their crypto portfolio while on the move, Exodus has developed a very smooth-looking and practical mobile app, compatible with both iOS and Android mobile phones.
Users usually have trust issues with software wallets because of the fact that they rely on a constant internet connection that's vulnerable to potential hackers. This is why popular software wallet developers such as the team behind Exodus wallet tend to implement robust security measures to show users that their private keys are entirely safe, despite the wallet's internet connection.
User Interface – Great for Both Beginners and Experienced Users
One of the characteristics that immediately attract users towards the Exodus wallet, even before they know anything about its top quality features, is the design of the user interface. The interface is dominated by dark colour tones, while all the tabs, buttons, and options are highlighted clearly in order to provide a smooth user experience.
Crypto beginners will learn all the basic features very quickly because the layout is quite intuitive and after a bit of exploring, operations like sending, receiving, and exchanging assets become super easy. Note that Exodus provides much more than just crypto wallet services, which makes the fact that the interface is so simple and understandable all the more important. Shifting between crypto storage, portfolio management, and crypto exchanges is easily done with just a few clicks.
When using the Exodus wallet, you have several key icons in the top section of the app window that you can use to navigate through the various services provided by the wallet. You can choose the Portfolio icon to get a quick and detailed overview of the value of your stored assets and the price fluctuation history for each stored cryptocurrency. The Wallet icon lets you manage your digital currencies by sending them or receiving them. You can instantly get a public address for each of your cryptos and use it to receive assets into your wallet. In case you wish to exchange some coins for another currency, just head over to the Exchange icon.
Beginners won't have the immediate need for some of the Exodus features such as the Trezor integration, asset staking, or the detailed monitoring of crypto markets, but advanced users, especially large-scale crypto traders, will definitely find these features useful.
Cryptocurrency Selection – From Bitcoin Wallet to ERC20 Token Storage
Exodus brings a strong selection of some of the most popular cryptocurrencies on the market, along with various low cap altcoins and projects. When the wallet was launched it didn't support many cryptos, but over the years the Exodus team considerably expanded the selection of available coins and tokens that amount to more than 150 cryptocurrencies today. Most multi-currency crypto wallets don't support such a wide range of assets.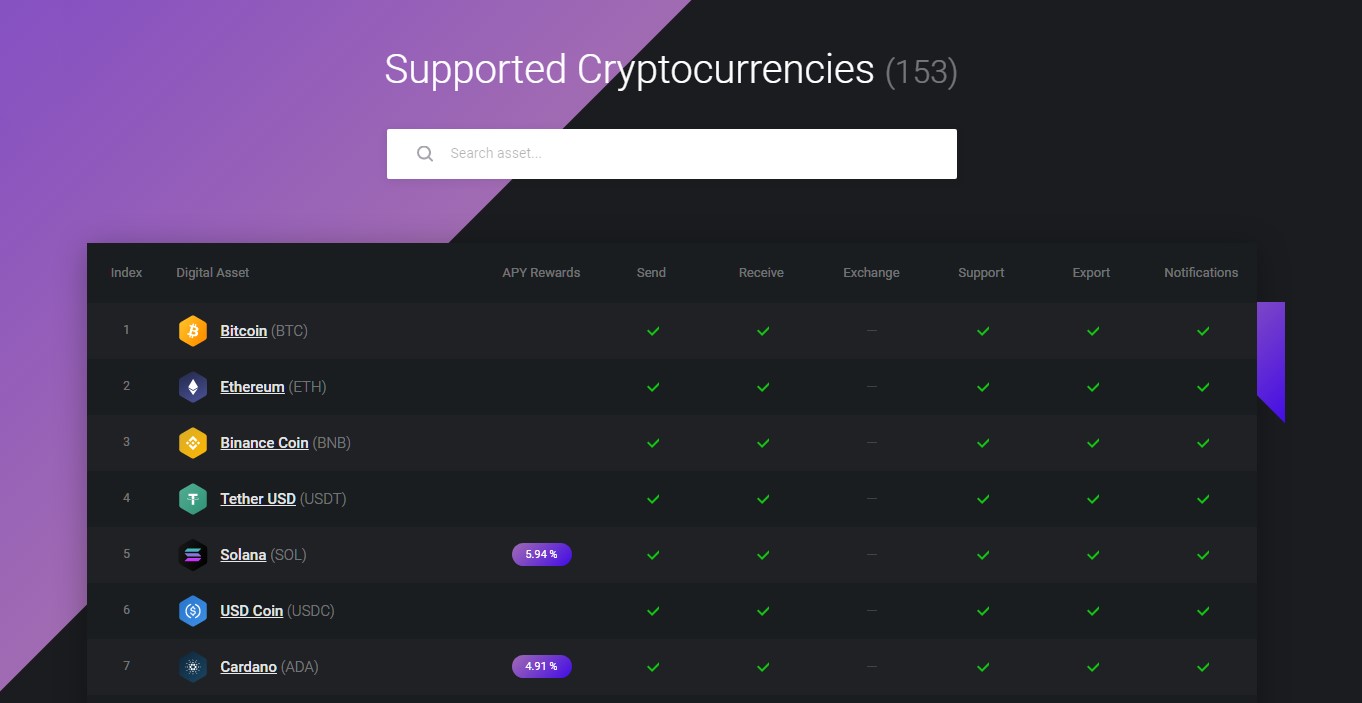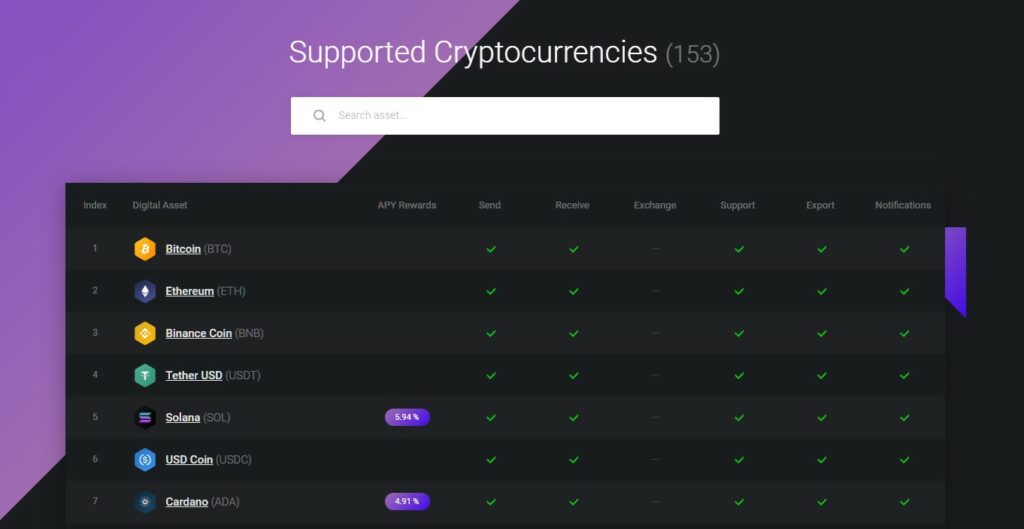 Exodus supports all of the top trending cryptos such as Bitcoin (BTC), Bitcoin Cash (BCH), Tether (USDT), Cardano (ADA), Ethereum (ETH), Algorand (ALGO), Cosmos (ATOM), FTX Token (FTT), VeChain (VET), Filecoin (FIL), Eos (EOS), Hedera Hashgraph (HBAR), Litecoin (LTC) Aave (AAVE), Bit Torrent (BTT), Zcash (ZEC), Ethereum Classic (ETC), Maker (MKR), Monero (XMR), Enjin Coin (ENJ), Dash (DASH), and a bunch of other altcoins.
You can in fact store any ERC-20 token on your Exodus wallet, but the wallet doesn't show the exact number of stored tokens for ERC-20 tokens that aren't officially supported by the wallet. To view the number of these tokens you need to use an Ethereum blockchain explorer to see how many of the selected tokens are located in your wallet address.
Wallet Security
The Exodus wallet is a quite secure software crypto wallet. Unlike some less safe wallets that store your private keys on company servers, Exodus always keeps your private keys on your device, so your assets can't be stolen by a cyber attacker who managed to hack the wallet manufacturer's central server.
If you're using the desktop wallet version, your keys are all stored on your computer and if you're running the app on your smartphone, the keys are stored on your mobile device. This means that your cryptos are safe as long as the device you're using to access the wallet is uncompromised. It's a good idea to combine a reliable antivirus program with any software wallet, just to make sure your device is protected from the most common computer viruses and malware hacks.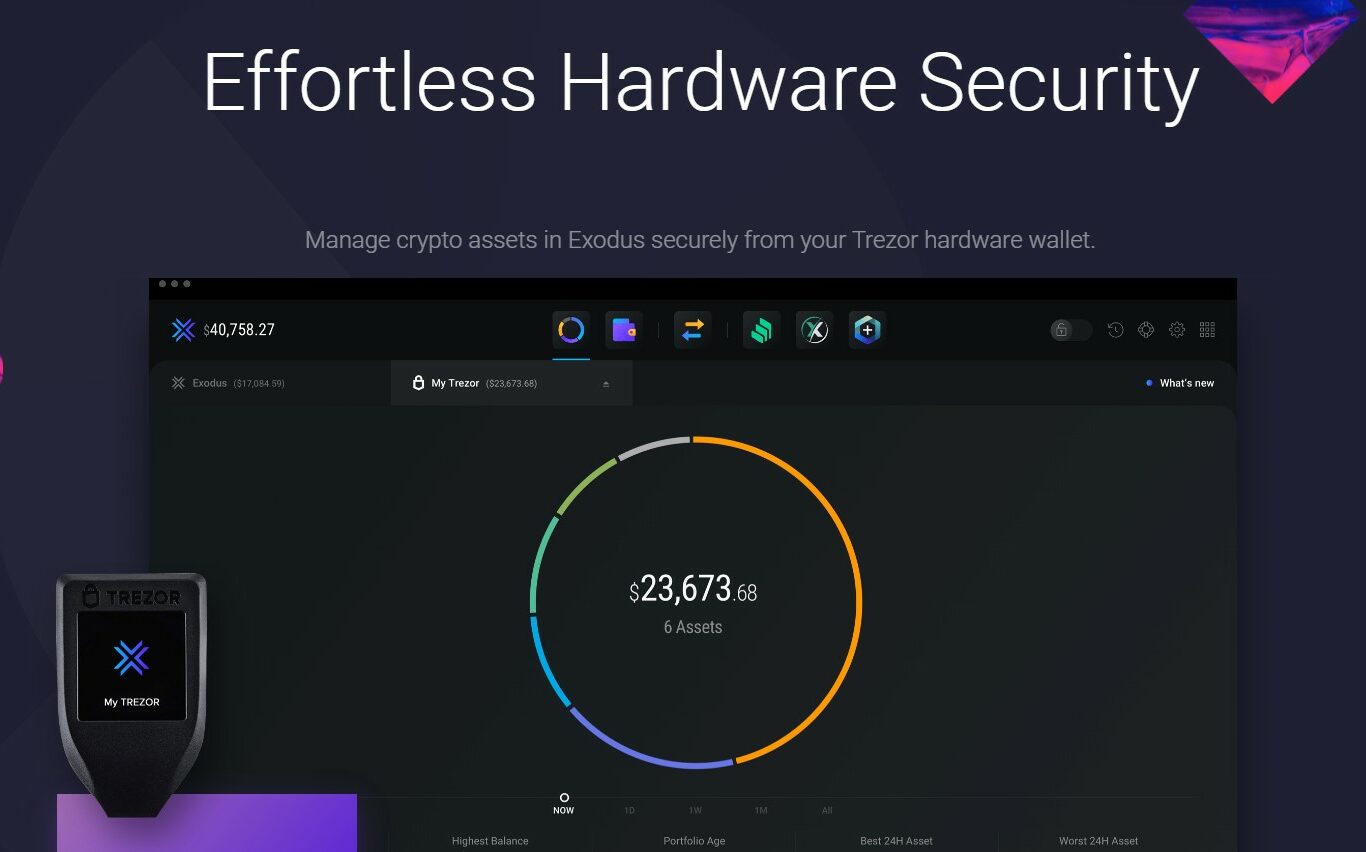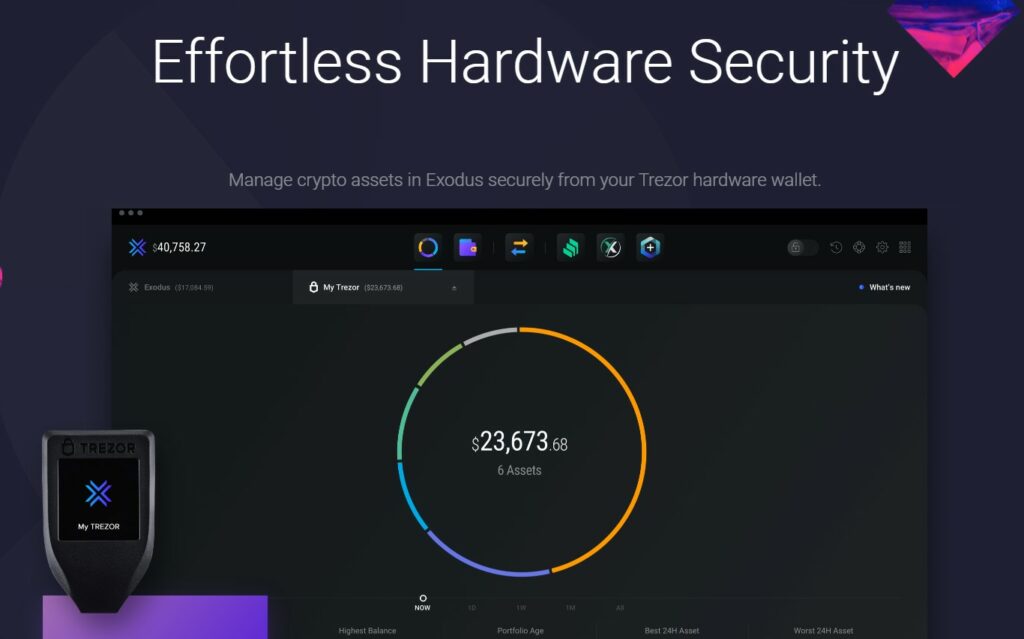 The wallet doesn't support the common third-party two-factor authentication options such as email or mobile text message login verification. Exodus developers argue that their wallet lacks these options in order to minimize potential security breaches related to third-party services such as email hacks. If you consider the fact that email hacks are one of the most common consequences of mass cyber attacks, this can be considered a smooth move. Also, email providers often gather a lot of personal data, and linking a user's email to their Exodus wallet would breach the users' privacy.
When creating your Exodus wallet account, you'll be required to create a strong password, sufficient to protect your cryptos. Also, the wallet will provide you with a recovery seed phrase that consists of 12 words. Write these words down on a piece of paper and keep them somewhere safe because if you ever lose access to the device you're using Exodus on, these words will be the recovery phrase that will enable you to retrieve your funds through the Restore Wallet feature.
Exodus Privacy Features
There are several cool privacy features that make Exodus a great crypto wallet for users who value their anonymity when dealing with digital currencies. The company doesn't require or hold any personal user information on their server and you don't need to provide any personal data about yourself when creating an Exodus wallet account.
Essentially, there's no connection between an Exodus user and the company in the form of a user database. A lot of wallets require users to provide detailed information about themselves which automatically compromises their privacy. On the other hand, you just need to download, install and run Exodus on your device, without giving up any portion of your privacy.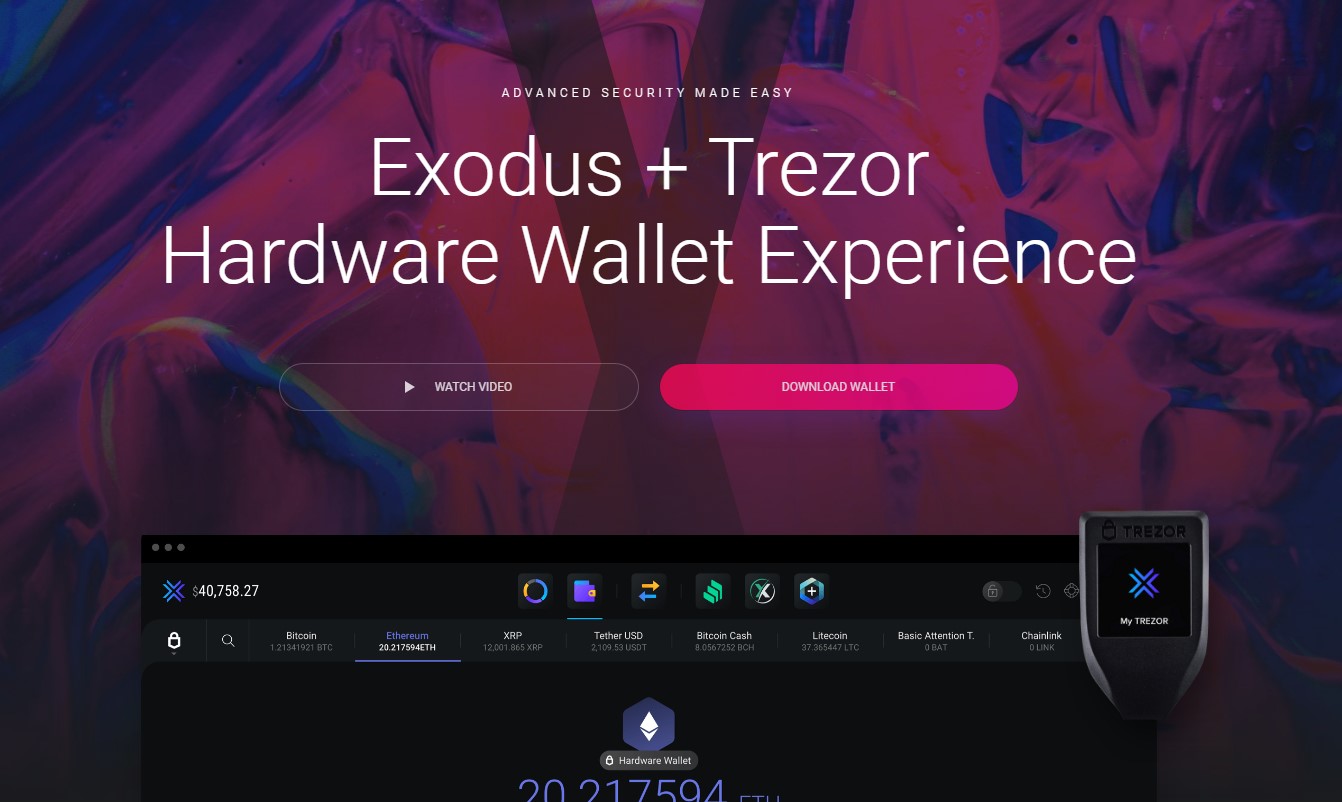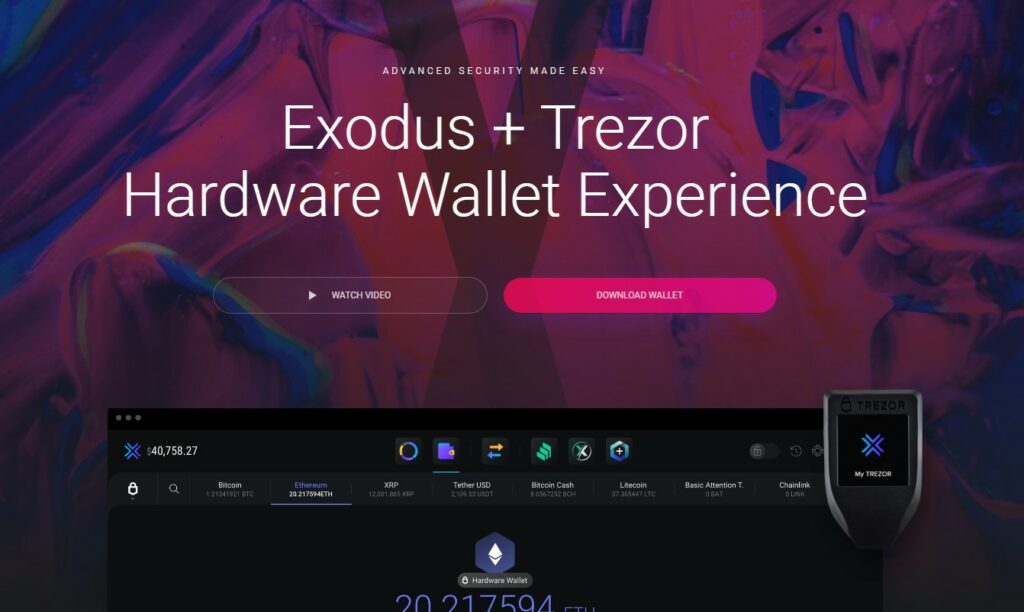 In case you want to fully exploit the fact that Exodus doesn't store any user information, you can use it to facilitate Monero or Zcash transactions and remain anonymous. Beware, however, that you can't send fully shielded ZEC transfers with Exodus, but the standard Zcash transactions also provide a high level of anonymity, suitable for the average privacy-focused user.
Integration With Trezor Hardware Wallet
As much as the Exodus wallet is safe for storing cryptos, you definitely want to have an extra security layer in case you're storing large amounts of digital currency. For this reason, Exodus developers have integrated Trezor hardware wallet support into the Exodus app. You can seamlessly integrate your Trezor One or Trezor Model T devices with Exodus, which will enable you to store all your private keys offline, out of reach of cyber attackers.
Even though Exodus doesn't have two-factor authentication (2FA) features, the wallet outperforms most popular software wallets in terms of security thanks to the integration with Trezor, which is regarded as one of the safest hardware wallets on the market. Each time you want to make a transaction or exchange of your assets through Exodus, you'll be required to confirm the operation through your Trezor device, which provides you with next-level crypto security, even better than 2FA.
Integration With FTX
One of the numerous practical features of the Exodus wallet is the integration with FTX, one of the best crypto exchanges on the market. FTX has been rapidly expanding its portfolio of supported cryptos along with a constantly increasing trading volume that provides high liquidity for platform users.
Exodus developers have launched an FTX Exchange app that can be installed within the wallet. You can find and install the app through the built-in app browser of the Exodus wallet and then all you need to do is either log into your existing FTX account or create a new one, which you'll be able to integrate with your wallet. Through the Exodus FTX app, users can simultaneously monitor and manage their crypto portfolios stored on the wallet and on the FTX exchange, without exiting the wallet app.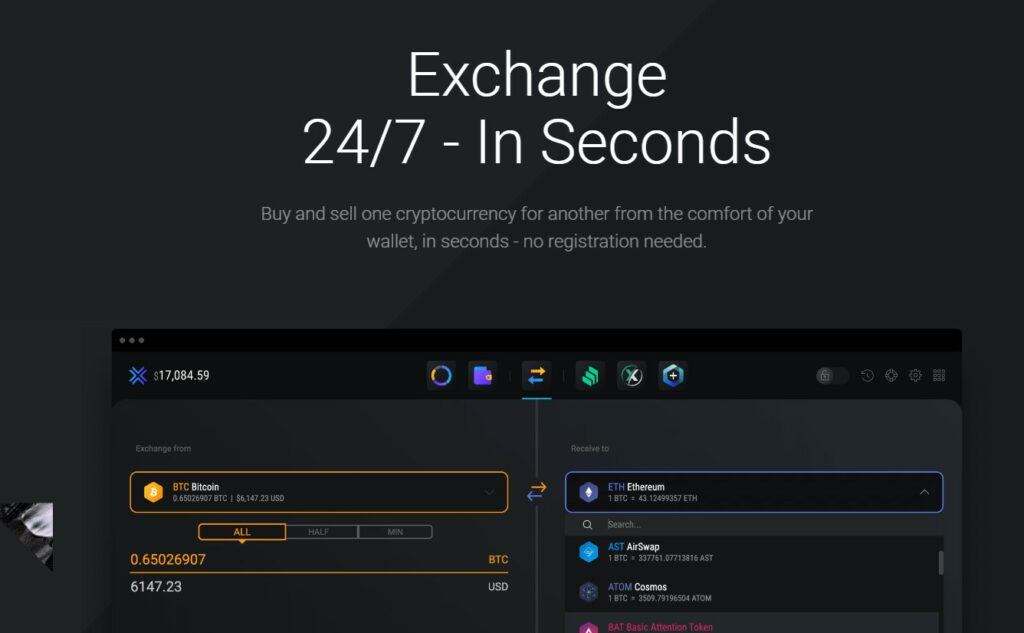 Keep in mind that using the FTX integration will require you to provide your personal details and comply with the KYC (Know Your Customer) protocol of the exchange platform, so if you want to keep your privacy, you should avoid this feature.
Built-in Currency Exchange Feature
For users that want to retain their privacy at all costs, Exodus has a quick and reliable crypto exchange feature within the wallet. This way, users can exchange any of their stored cryptos for other digital currencies supported by the wallet, without leaving the wallet app and using a crypto exchange. The feature is enabled through non-custodial exchange services that don't require any KYC protocols. A very handy feature for exchanging assets without leaving a digital footprint.
The process is really simple:
Select the Exchange tab;
Choose a coin or token that you want to exchange and also select the currency you wish to exchange your assets for;
Specify the exact amount of coins you want to exchange. It's even possible to specify the amount in fiat currency such as USD or EUR;
Select the Exchange button and the transaction will go through in a few minutes;
Sometimes your new balance might not show in your wallet immediately, so it's a good idea to close the wallet and then open it again. Your balance should be refreshed.
Staking Features
The trend of Proof of Stake cryptocurrencies is on the rise, with some of the most popular crypto projects like Cardano and Solana using this innovative consensus mechanism, where users stake their assets in order to provide liquidity and approve transactions. Many crypto exchange platforms offer users the possibility to stake their cryptos and earn an annual percentage yield just by holding assets.
The Exodus wallet integrates staking features and provides users with the opportunity to earn cash directly through their wallet, instead of using a crypto exchange. You can stake Solana, Algorand (ALGO), Cardano, ATOM, Neo (NEO), VeChain (VET), Tezos (XTZ) and other popular altcoins. To start staking cryptos, you need to download the Exodus Rewards app from the app browser. Once the app is installed, you can choose which asset to stake. Take your time to learn about the available currencies through the Exodus knowledge base, which contains a bunch of useful, educational content about cryptocurrencies.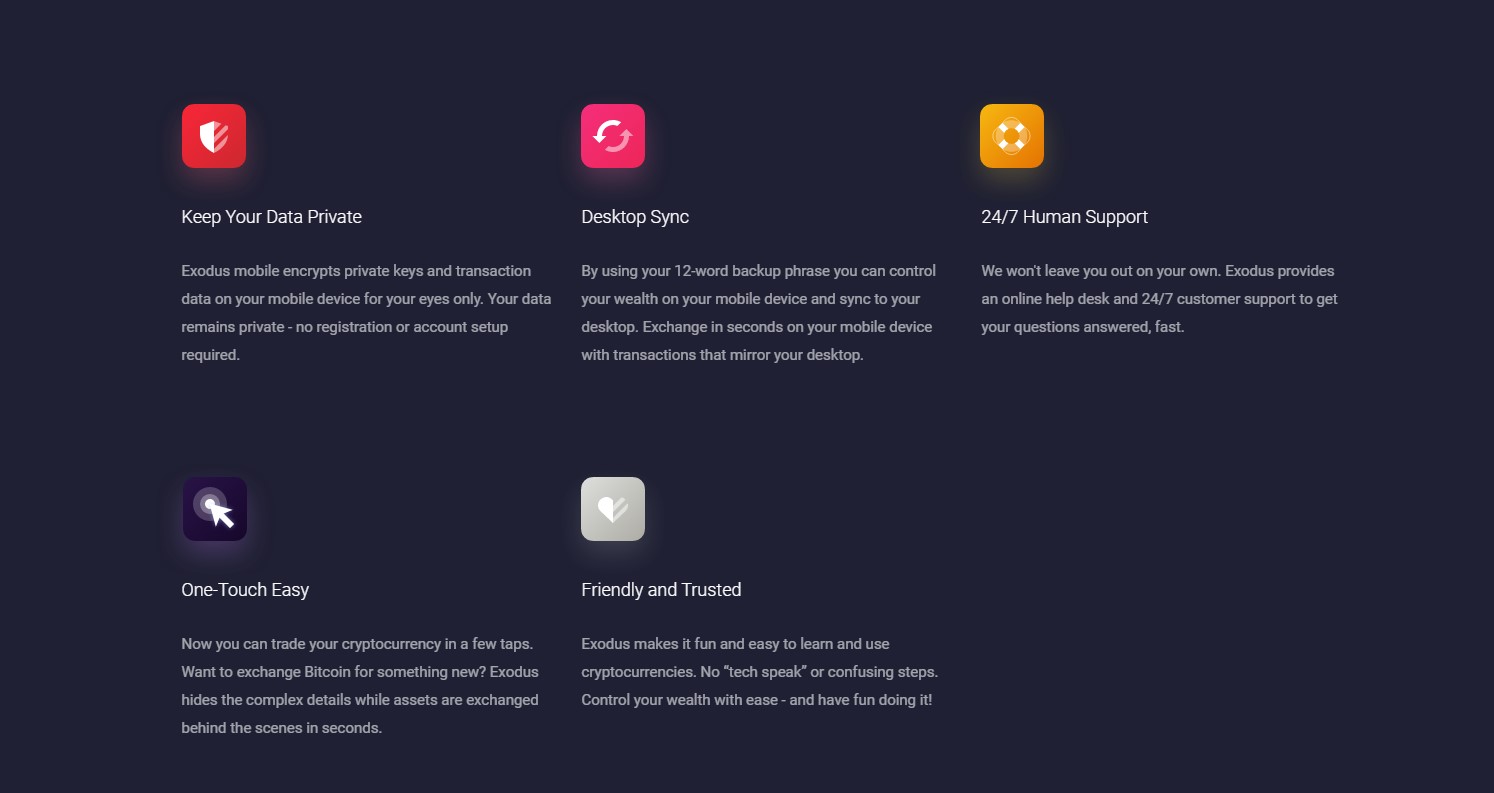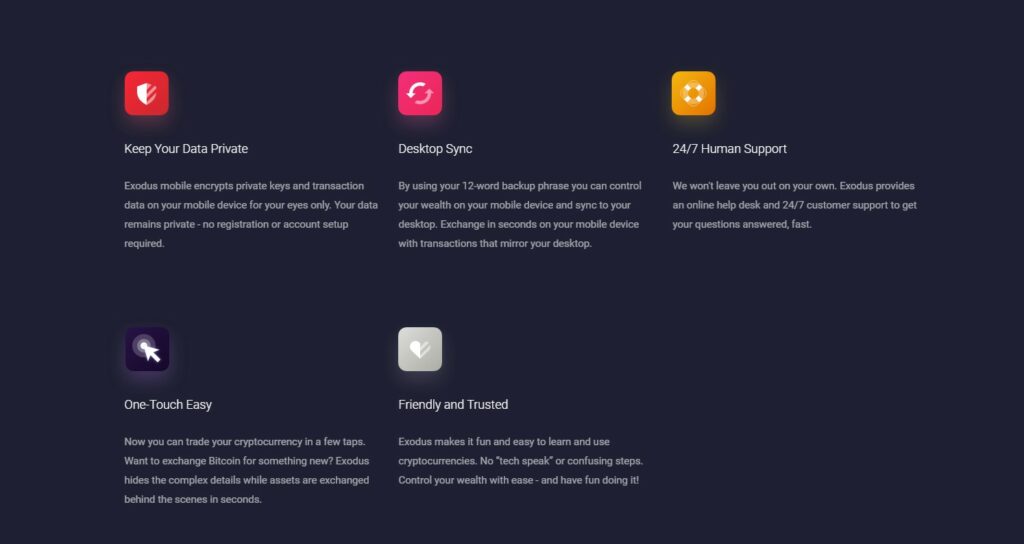 Instead of searching the market for a staking pool manually, Exodus enables you to automatically join a trusted staking pool for the asset of your choice. Rewards are quite different and the staking mechanism also depends on each crypto. Some assets like Cardano don't require any lockup period and you can constantly claim your staking rewards, while some other cryptos might require you to lock up your assets while they are being staked.
Customer Support
Customer support is always an important factor when choosing a crypto wallet because blockchain transactions can sometimes go sideways and you need to contact your service provider for support. Exodus support is really flawless, since there's a dedicated support team available 24/7 through email, with a quick response time for any user issues. Also, the Exodus knowledge base has a lot of articles that describe all essential wallet functions in detail, through step-by-step guides to make your user experience as smooth as possible.
Exodus Public Offering
It's a rare thing among crypto wallet companies to go public by listing their company shares as tradable stocks. Exodus has issued over 2.7 million of their shares in 2021 as tokenized Class A common stock. The stocks were made available for purchase by investors and the sale generated a total of 75 million US dollars for Exodus. As expected from a crypto company, Exodus didn't issue classic stocks. Instead, the company made their stocks available as so-called Exit tokens built on the Algorand blockchain.
The idea behind the tokenized shares is to enable Exodus users to hold their shares in their crypto wallet just like other digital currencies. Even though a large portion of the shares is already sold out, Exodus users can still purchase Exit tokens directly through their wallet thanks to the integration with the tZERO brokerage service for stocks. Buying Exit tokens through this service requires you to comply with a KYC protocol, which might be a deal-breaker for users that want to retain their anonymity.
Exodus vs. Coinbase Wallet Comparison
The Exodus wallet is often compared to the Coinbase wallet to highlight some of its key advantages compared to popular software wallets.
The Exodus wallet supports hardware wallet integration with Trezor devices, while the Coinbase wallet only offers hot storage services.
Exodus provides unlimited trading amounts compared to Coinbase's limits based on the chosen payment method.
The Coinbase wallet only comes in the form of a mobile wallet app, while Exodus has both a desktop app and a mobile app.
Over 140 cryptos are supported by Exodus, compared to a little over 60 coins and tokens on Coinbase.
A Few Final Words…
The Exodus wallet is one of the top-ranking software crypto wallets on the market in terms of safety and efficiency, alongside top wallets such as Trust Wallet and Atomic Wallet. No matter if you're a crypto beginner who is looking to store their freshly bought bitcoins for some time or an experienced trader who invests in different cryptocurrencies on a daily basis, the top security and ease of use of the Exodus wallet are more than an adequate choice among hundreds of crypto wallets.