Kraken is a cryptocurrency exchange based in San Francisco. It's one of the first crypto exchanges established in the US and it's also known as one of the most secure trading platforms in the world. In fact, asset security is one of Kraken's biggest draws in a market saturated with hacks and exit scams.
If you're a crypto trader or generally interested in investing in digital assets, finding a reputable platform that guarantees the safety of your investments should be a top priority. Cryptocurrencies are by nature volatile so investing in digital assets already carries inherent risks. Trading at an unsafe or unregulated crypto exchange can lead to more stress than you need and distract you from the process itself.
We prepared this guide to explore what makes Kraken a global tour-de-force among other crypto exchanges and give you an account of how it works. We will cover the security practices Kraken employs and explain which features make Kraken a desirable choice for trading. Let's see what properties make Kraken a secure crypto exchange that you can trade safely on.
Who Is Behind Kraken?
Kraken was founded by Jesse Powell who had witnessed the breakdown of cryptocurrency exchange Mt. Gox first hand, as he had been there as a volunteer to get the site back up after a cyberattack that decapitated the exchange for a few days back in 2011.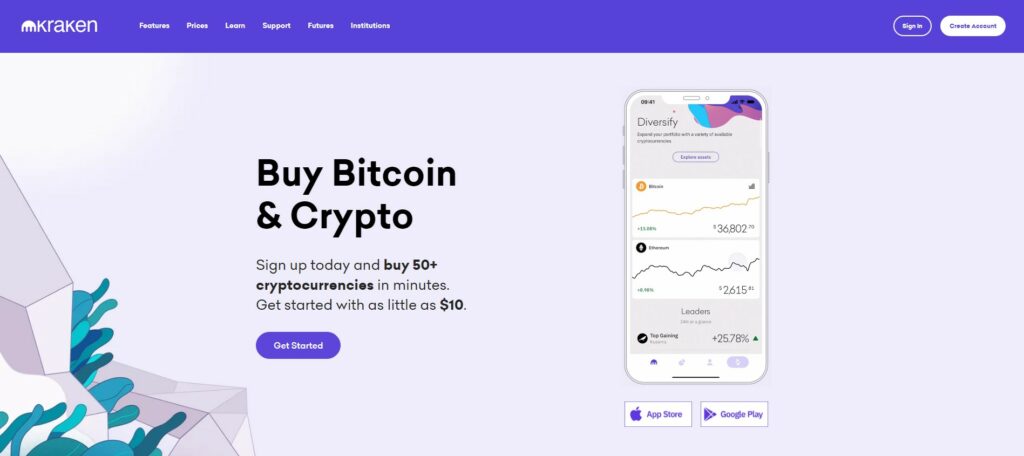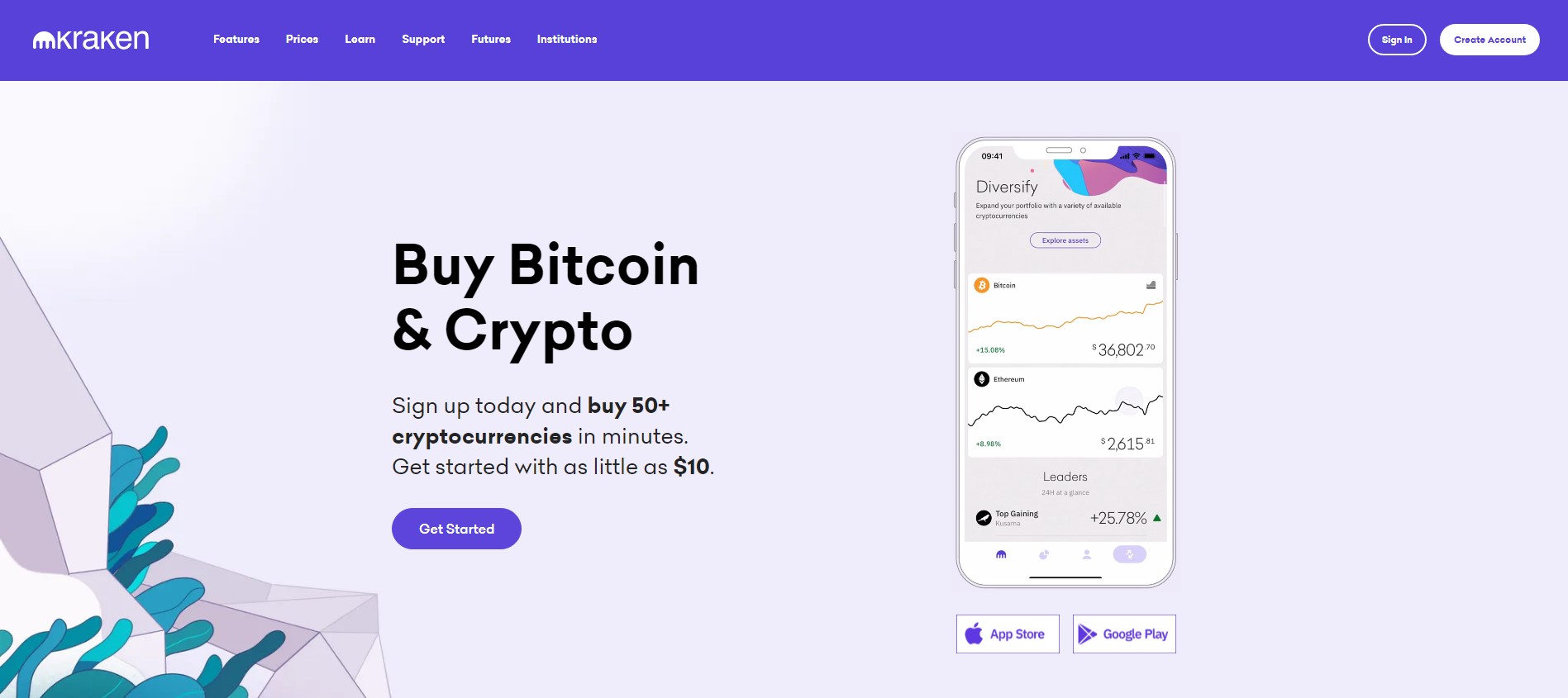 Witnessing the (temporary) breakdown of the largest Bitcoin exchange in the world prompted Powell to think about starting his own business, in case Mt. Gox permanently went down someday, leaving all Bitcoin holders empty-handed. Powell was already experienced in digital currencies, as he had started his own company back in 2001 to help MMORPG players manage their in-game currencies.
Powell regularly attended San Francisco crypto meetings while he was developing Kraken and he was in good company. Among the attendees were others that would go on to become cryptocurrency pioneers, such as Brian Armstrong of Coinbase and Jed McCaleb of Ripple.
Kraken: A History
Kraken launched in 2013, a year before Mt.Gox finally collapsed for good. The exchange offered Litecoin (LTC) as well as Bitcoin (BTC) on the platform, foreshadowing Powell's intentions to make Kraken a multi-currency crypto exchange.
Kraken had a strong agenda from the start and was a founding member of the Committee for the Establishment of the Digital Asset Transfer Authority (DATA), an organization that aimed to create a regulating body for cryptocurrencies.
Kraken gained a prestigious reputation, something that other crypto exchanges struggled with, by being one of the first (and therefore more serious) Bitcoin exchanges that were listed on the Bloomberg Terminal, along with Coinbase. Kraken advised members of the Japanese parliament during the establishment of the country's first Bitcoin regulation body, the Japan Authority of Digital Assets (JADA).
Kraken was also selected to help the Mt.Gox investigation process by the trustee in charge of the liquidation case. Kraken helped authorities to trace the stolen Bitcoin, but also with returning the recovered funds back to their owners, which meant a lot of customers who previously used Mt.Gox opened Kraken accounts.
Kraken expanded its customer base as well as market reach considerably in the following years, buying several crypto exchanges over the world, including Coinsetter, Cavirtex, CleverCoin, Glidera, and cryptocurrency futures exchange Crypto Facilities.
Bitcoin and Other Supported Cryptocurrencies
Kraken allows users to buy and sell cryptocurrencies with fiat money and offers 72 digital currencies for trading. You can buy many altcoins with fiat currency directly, but even some altcoins that are not listed on the platform can be traded with Bitcoin (BTC) and Ethereum (ETH) currency pairs.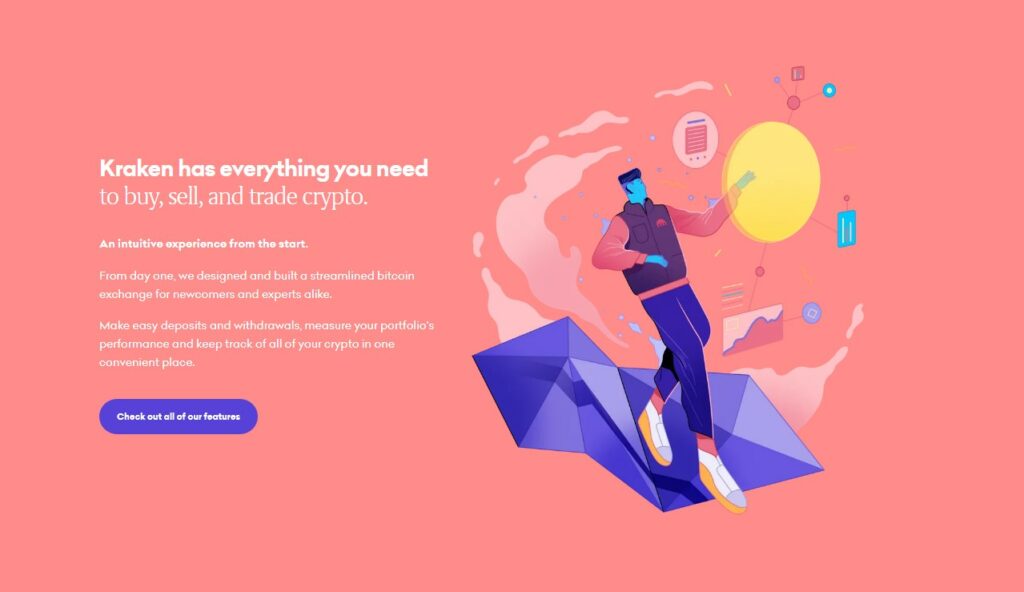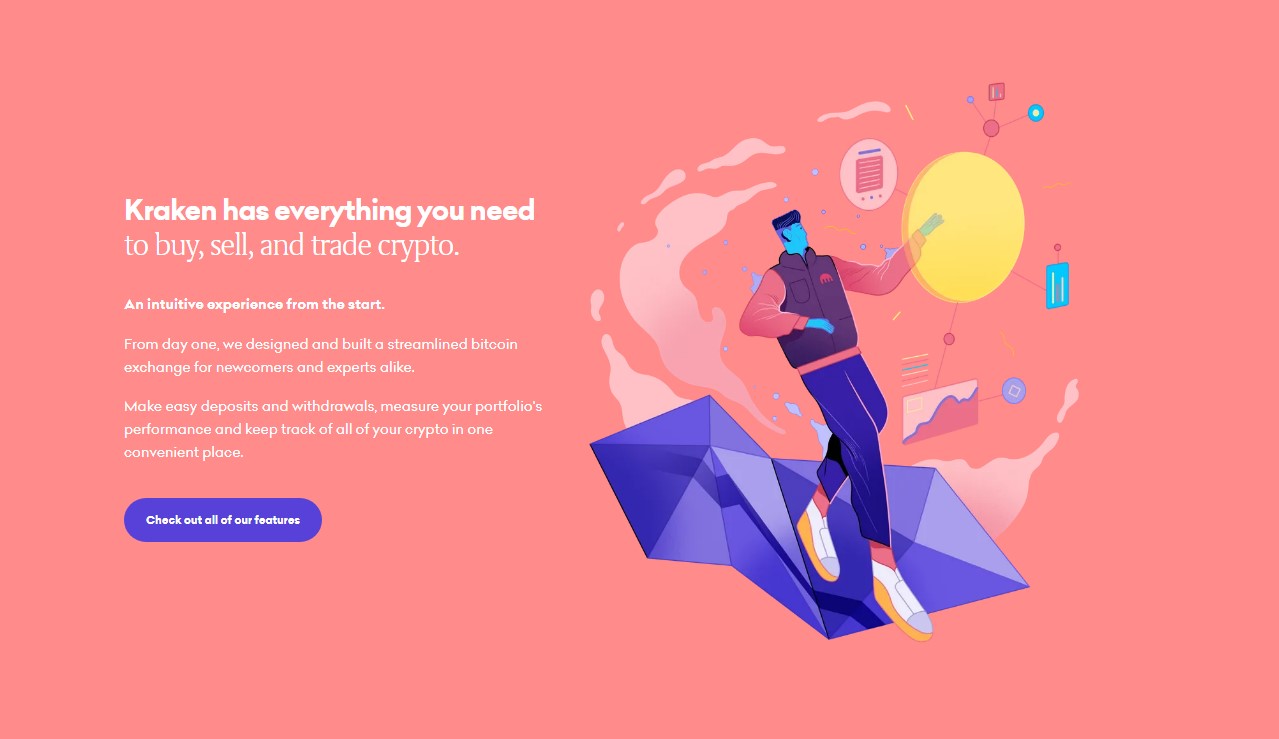 Besides Bitcoin and Ethereum, Kraken lists trending digital assets such as Dogecoin (DOGE), Cardano (ADA), Dash (DASH), Augur (REP), Monero (XMR), EOS, Cosmos (ATOM), Bitcoin Cash (BCH), ZCash(ZEC), Tezos (XTZ), Ripple (XRP), and stablecoin Tether (USDT).
One of the nice things about Kraken is that it's truly a global company. It's open to customers from 176 countries worldwide and allows purchases in many different fiat currencies including Australian dollars (AUD), Canadian dollars (CAD), US Dollars (USD), British pounds (GBP), Euros (EUR), and Japanese yen (JPY).
You can easily deposit fiat currency to your Kraken account through bank transfers, wire transfers through SWIFT/SEPA, or through a debit card or credit card.
Kraken Trading Fees
Kraken uses a maker/taker fee structure. That means Kraken transaction fees are calculated depending on the order type and trading volume. Makers, that is, customers who place an order either lower or higher than the existing orders on the platform are charged a lower fee, while taker fees are usually higher since they take away from the existing liquidity pools. This type of fee structure means that a crypto trader with a high trading volume can pay very little or no fees for using Kraken's services, though it should be mentioned that this is unlikely for regular traders. 
Still, Kraken's fees are not as high as some of its biggest competitors, such as Coinbase. Maker and taker fees are ratio-based, which means you pay a set percentage of your total purchase to Kraken as a brokerage fee.
Kraken Deposit and Withdrawal Fees
Deposit and withdrawal fees vary depending on a few factors, such as the payment method, the fiat currency that is used to purchase cryptocurrencies, and the digital asset itself.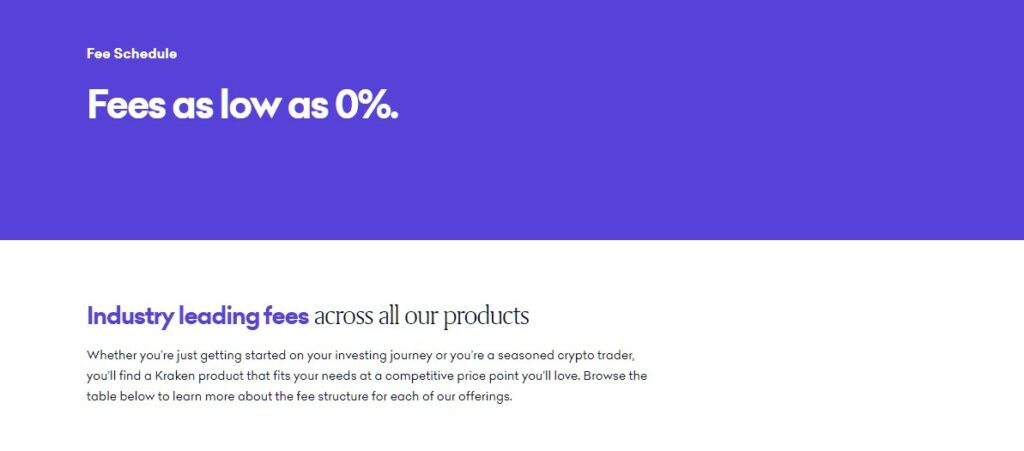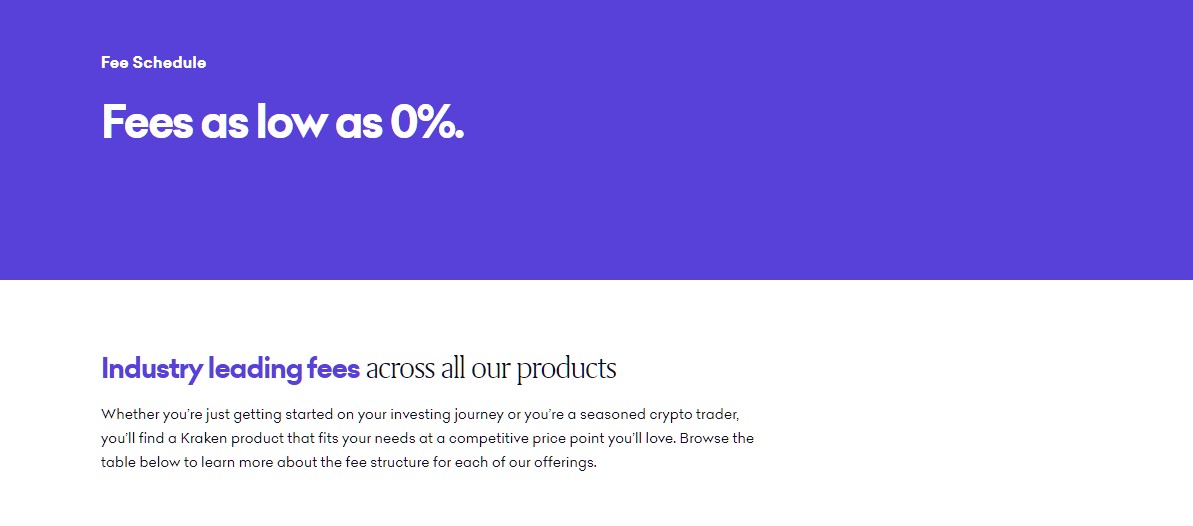 Kraken doesn't charge any fees for SEPA bank transfers, available to Europe-based customers. If you are depositing or withdrawing US Dollars, you pay a $5 flat fee, so making smaller purchases on the platform can be expensive.
Opening Kraken and Kraken Pro Accounts
Kraken is a regulated exchange that complies with financial regulations. That means Kraken exchange enforces Know-Your-Customer (KYC) and Anti-Money-Laundering (AML) policies and customers need to verify their identities before they can trade cryptocurrencies. ID verification typically involves providing a valid photo ID, and proof of residence for your address, as well as a Social Security Number (only for US-based customers). The process is automated and can be finished in a couple of minutes.
There are three verification levels across the platform: Beginner, Intermediate, and Pro. If you acquire a Pro Kraken account, you can use Kraken's more exclusive features such as its anonymous dark pool, over-the-counter (OTC) broker desk, personalized fiat deposit and withdrawal fee rates, and higher margin trading limits.
Regulations
Kraken complies with local regulations of the regions it operates in. It's registered as a money exchange business with FinCEN in the US and with FINTRAC in Canada. Kraken also became the first crypto exchange to obtain a U.S. state banking charter and opened a Wyoming-based crypto bank in 2020.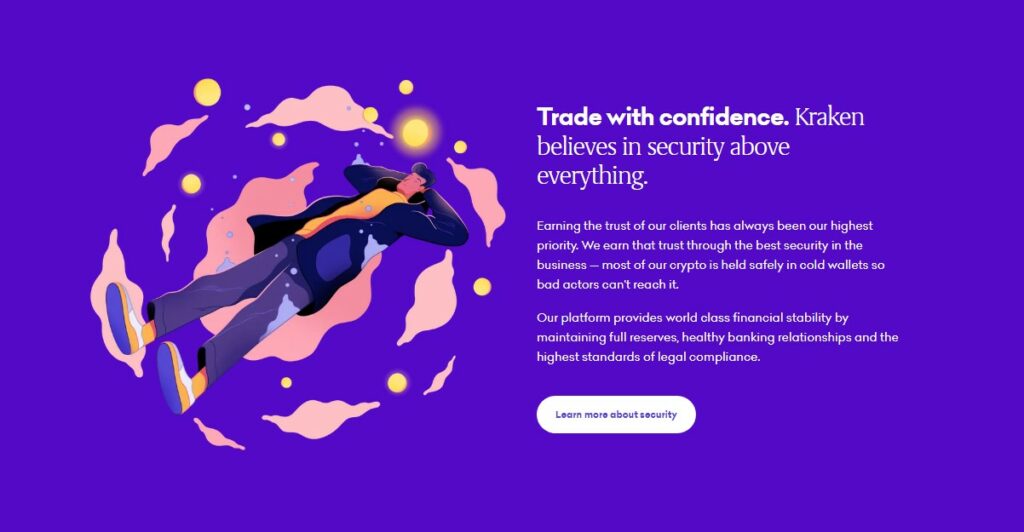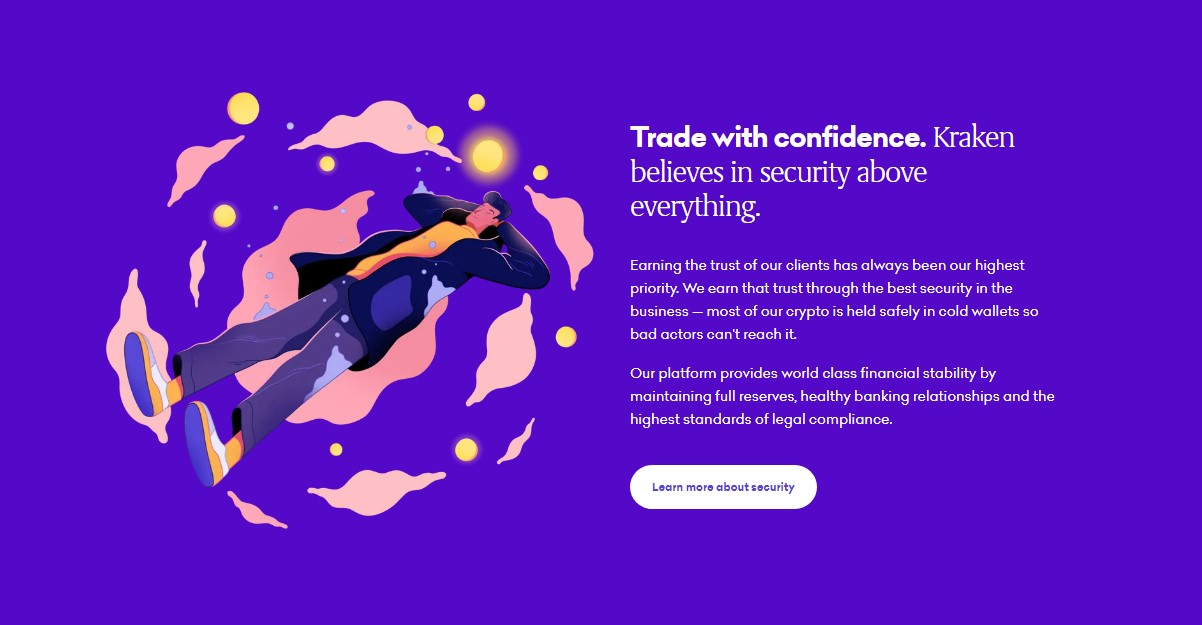 Of course, Kraken has been contesting the authorities when it comes to crypto regulations, as most crypto exchanges do. Commodity Futures Trading Commission (CFTC) and the Securities and Exchange Commission (SEC) have been tightening the crypto regulations and limiting the financial products that can be offered by exchange platforms over the last few years. Coinbase, for example, was promptly warned by the SEC that the yield-based lending product they planned on launching would be countered by a lawsuit. Similarly, Kraken was fined 1.25 million US Dollars for offering margin trading products without proper registration.
Kraken Review: Security
Kraken has excellent security for a crypto exchange platform. Unlike many other crypto exchanges, including rival trading platforms Coinbase and Binance, Kraken has never been hacked.
However, that doesn't mean Kraken is not targeted by hackers. Chief security officer Nick Percoco said in an interview that the Kraken exchange faces daily attacks including scams, distributed denial of service (DDoS), and phishing.
Kraken takes crypto security seriously. In fact, Kraken's whole company culture can be summarized in two words: Constant Vigilance. Imagine Harry Potter's Alastor Moody running a crypto exchange company and you pretty much have Kraken.
Kraken's security measures involve 24-hour video surveillance of servers, armed guards, and strict employee contracts which include nondisclosure agreements that even employees' children sign when they attend the company parties.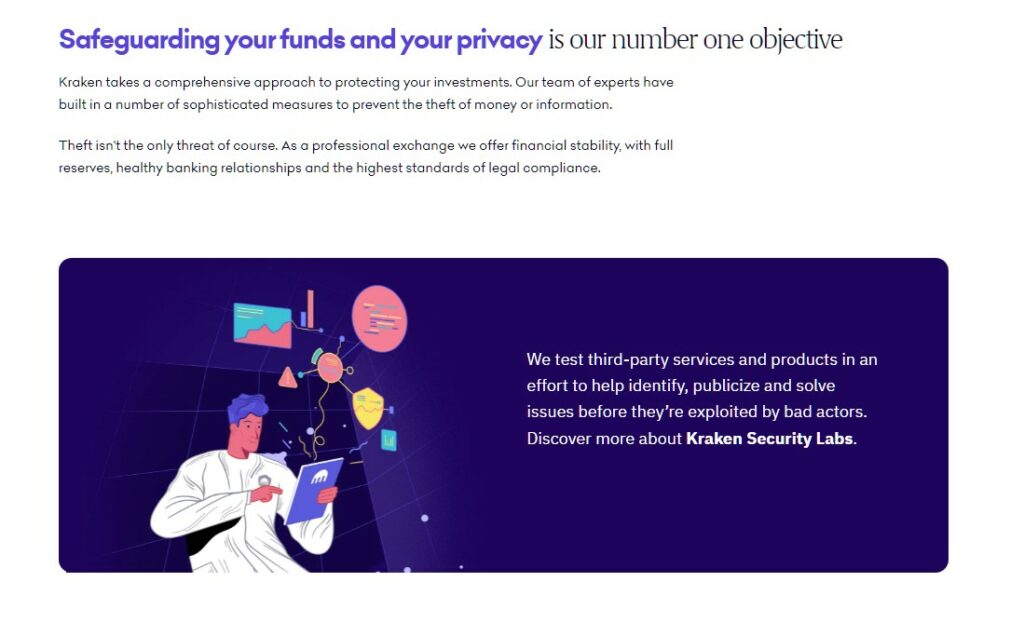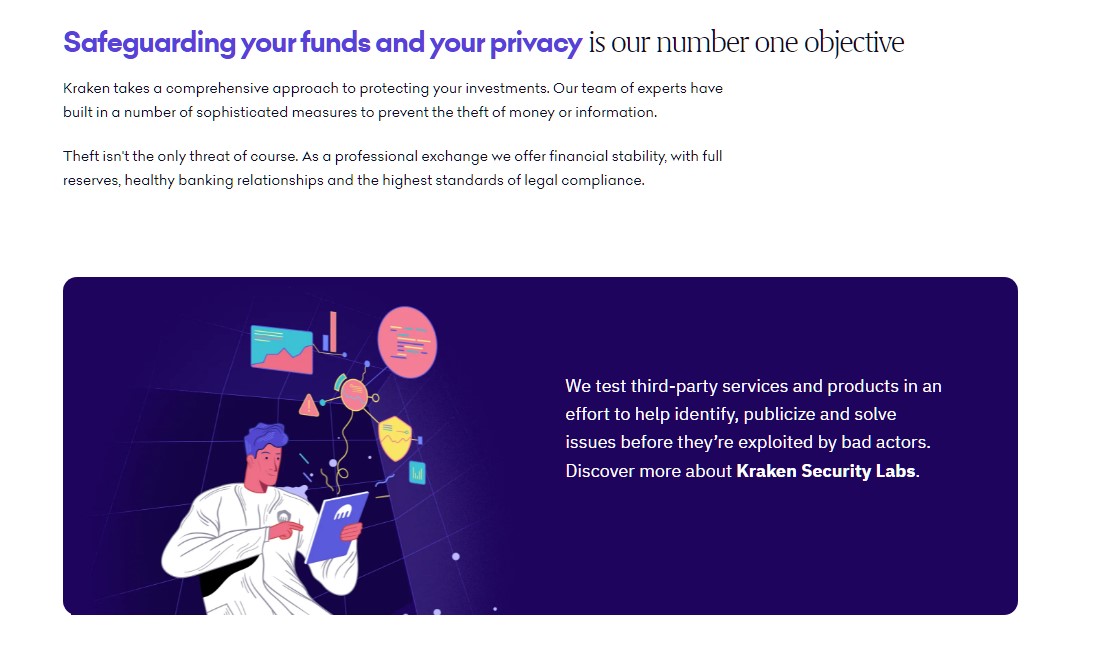 Kraken uses cold storage for 95% of the assets in their trust. All Kraken accounts and related information are encrypted. All customers have to use two-factor authentication with Google Authenticator.
But clearly, the vigilance has paid off. Kraken is regarded as the most secure crypto exchange in the market, placing first in ICO Rating Safety Audit and Assessment Report.
On the other hand, while Kraken hasn't been hacked yet, there are many ways customers can be fooled into giving up their funds to con artists. There is a common scam where con artists create professional-looking websites to trick users to hire them as low-fee portfolio developers. The scammers link to the Kraken website, asking users to open an account on the platform and deposit funds. Once users create an API link to their account, they are asked for their passwords so that "professionals" can manage the portfolio. In these cases, since the customers willingly hand over their information, there is not much Kraken can do, so every user has to educate themselves and exercise Kraken's motto: constant vigilance.
A Few Words Before You Go…
Kraken is a user-friendly crypto trading platform with a well-deserved reputation for going the extra mile when it comes to asset security. It has a strong company culture based around the idea of vigilance, which may sound paranoid at first but, as fans of Catch-22 very well know, "Just because you're paranoid, doesn't mean they aren't after you".
At this point, it's clear that hackers all over the world are after those crypto assets so Kraken's vigilance provides some much-needed peace of mind to millions of crypto traders already trading in a very stressful and dynamic market.