By now, you probably know that you need to have a cryptocurrency wallet in order to access and manage your cryptocurrency. There are many types of crypto wallets on the market, including online wallets offered by exchange services like Coinbase or Gemini, or software wallets you can download on your computer.
You can also use a hardware wallet to ensure your cryptocurrency is kept completely offline and safe from hackers. Of course, it is hard to decide which wallet to use when you have so many options. To help you in your search, in this guide, we will talk about Exodus wallet, as one of the most popular hardware wallets, and explain how you can use it to store Bitcoin and other cryptocurrencies.
What Is Exodus Wallet?
Exodus Movement, INC., a Delaware based company created by JP Richardson and Daniel Castagnoli in 2015, is the power behind the Exodus wallet. Thanks to the popularity of the Exodus wallet, Exodus Movement, INC. went through a regulated public offering in 2021, raising more than 75 million USD.
Like many other crypto wallets, the Exodus wallet was thought of as a Bitcoin wallet when it first came out. But what differentiates Exodus from other wallets on the market is that Exodus wallet is a multi-cryptocurrency wallet that supports many altcoins. Exodus offers support for more than 100 altcoins and it is generally regarded as a good wallet for traders who wish to explore altcoin trading.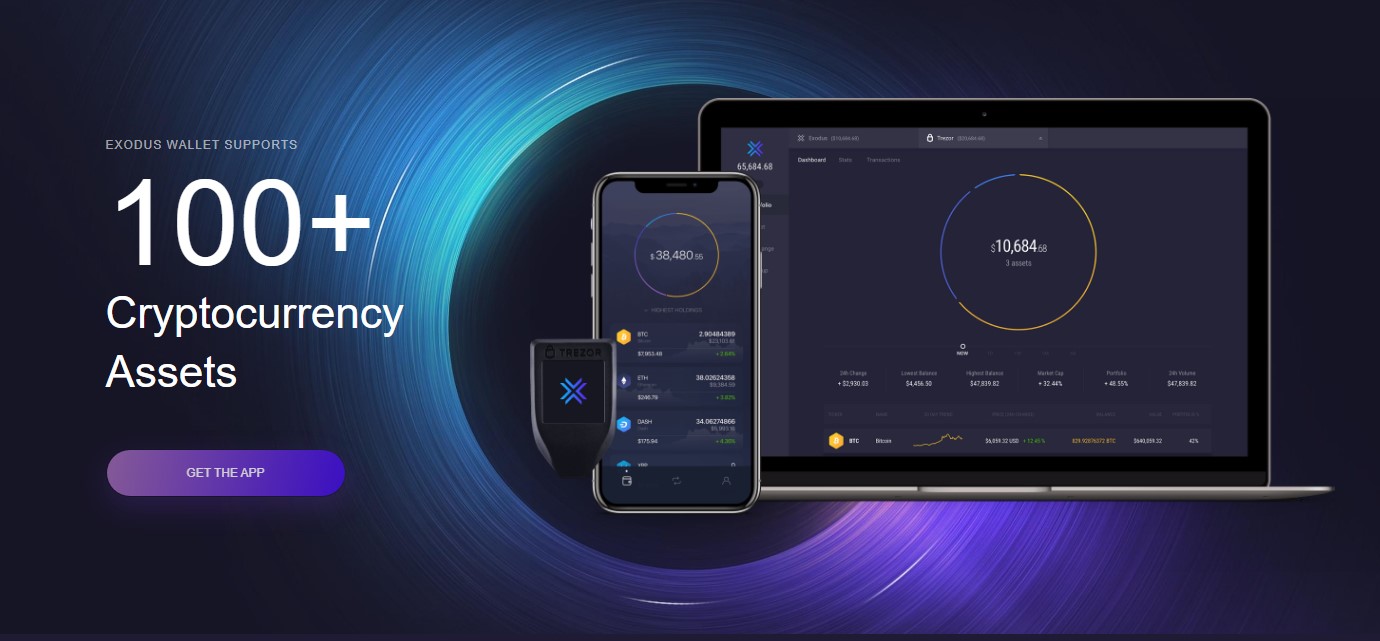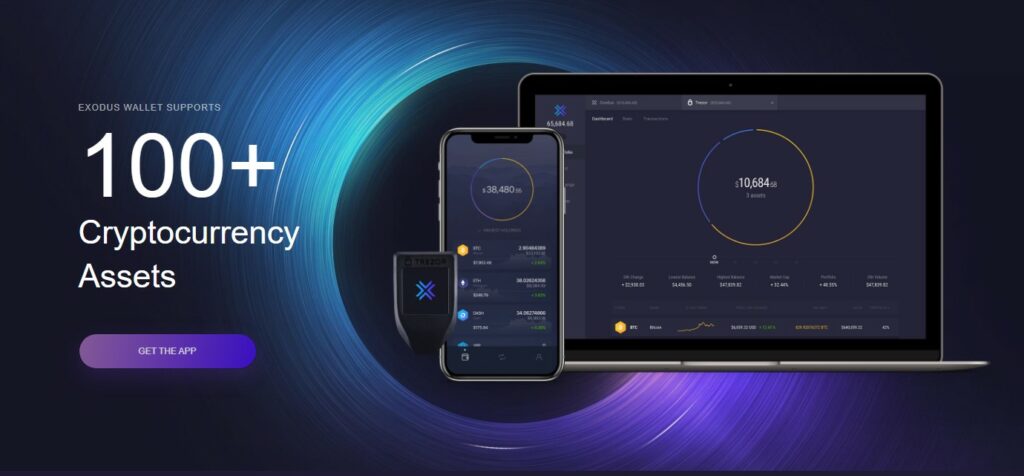 Exodus wallet is a light wallet meaning that it doesn't store the entirety of the crypto blockchain on your device. Instead, it relies on Simplified Payment Verification, a technology that allows users to verify that the funds they are receiving have not been spent before. SPV wallets download only the block headers and use Merkle paths to ensure transactions are valid. So even though it is a desktop wallet, you won't have to keep several gigabytes of information on your computer when you are using Exodus.
Another advantage of using the Exodus wallet is that you can use it to exchange cryptocurrencies thanks to the wallet's integrated exchange feature.
Exodus Wallet Features
The Exodus wallet is part of the Exodus ecosystem which allows customers to access, manage and oversee their crypto assets. The wallet essentially keeps the necessary private keys to interact with the blockchain, so that you can control your digital assets securely.
The Exodus wallet layout includes a live portfolio page where you can see all your assets and how much they are worth in fiat currencies in real-time. This is particularly useful because Exodus wallet has an integrated cryptocurrency exchange feature thanks to a partnership with ShapeShift that allows Exodus users to swap cryptocurrency while using the Exodus wallet.
Also, Exodus offers staking opportunities for selected cryptocurrencies at different times. You can earn passive income from your digital assets by simply staking them using the Exodus wallet. Users can easily download the Exodus wallet for free from the official Exodus website. Unlike most other wallets, Exodus doesn't require any personal information from its users and no registration is necessary.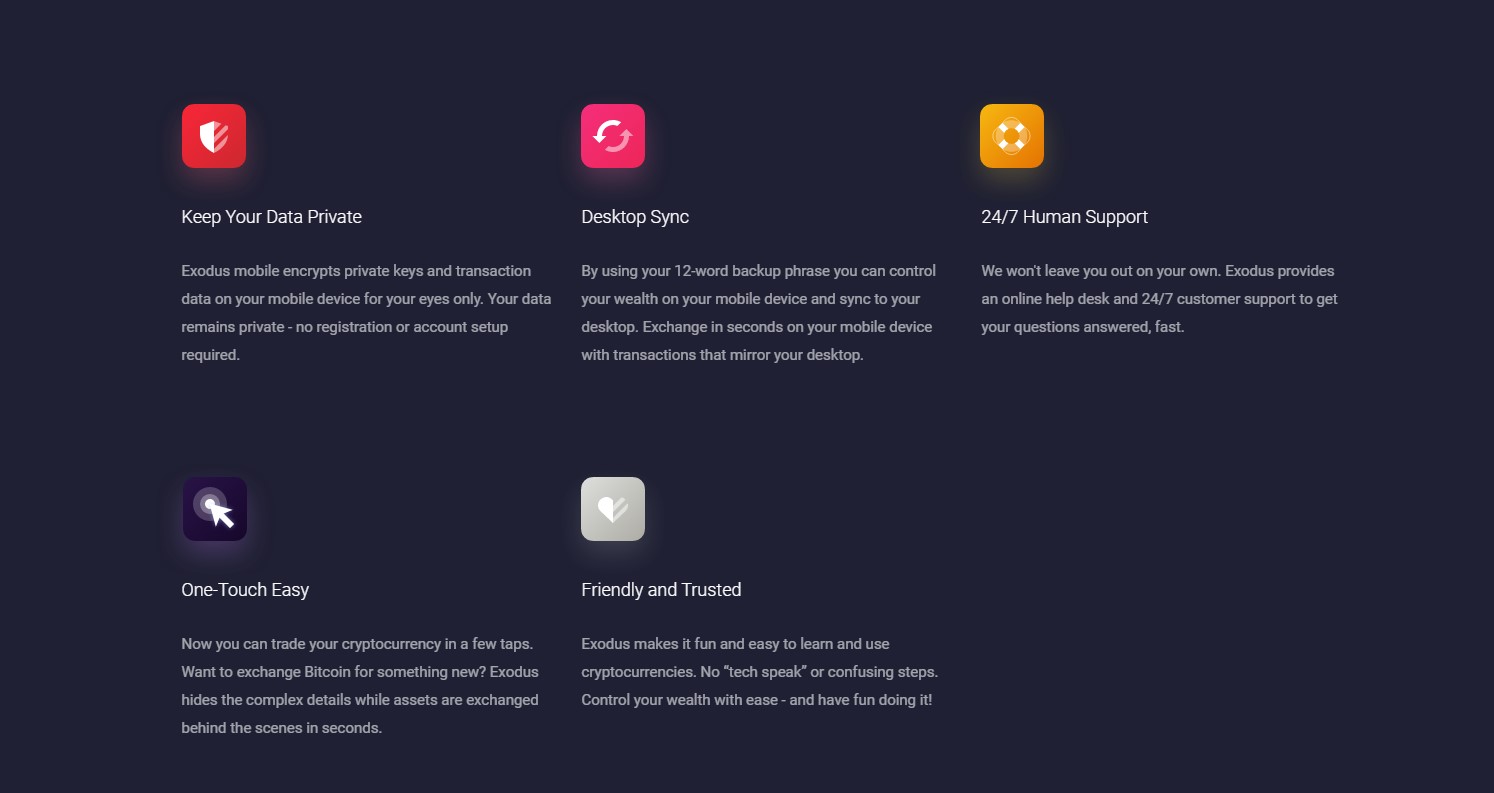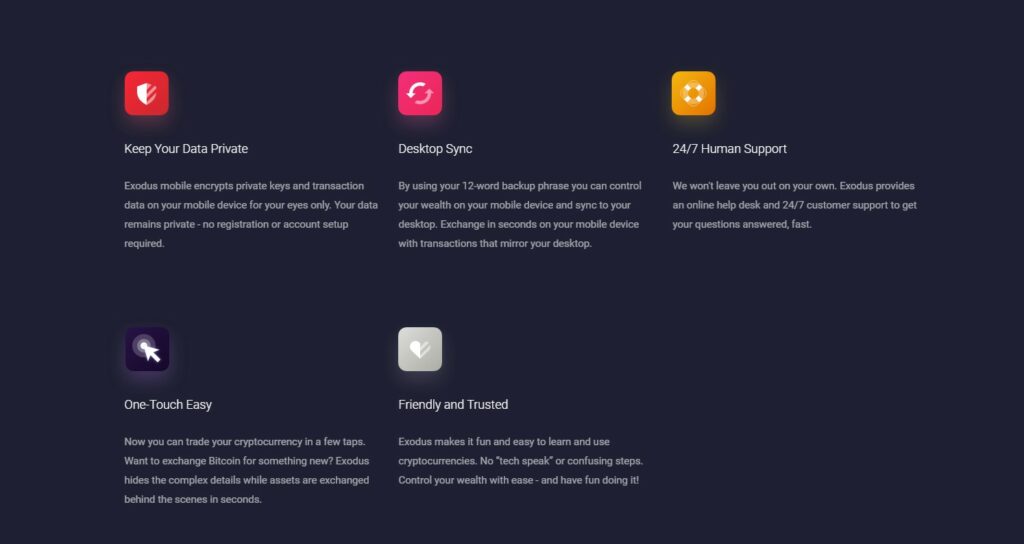 Exodus wallet has an intuitive and user-friendly layout making it beginner-friendly. There is also a great support team you can reach directly within the wallet through the help desk. Other support options include Facebook, Twitter, Slack channels, and email support.
One of the most important features of Exodus is that it is a non-custodial wallet, which means users are in charge of their blockchain assets. Many online and exchange wallets are custodial wallets that control your private keys but with Exodus, you have the responsibility of keeping your private keys secure.
Exodus also offers hardware wallet support. You can use your Trezor wallet (both Trezor models) with Exodus in order to add more security to your cryptocurrency storage practices. Finally, Exodus wallet has a mobile wallet app you can use with your mobile devices. Exodus mobile app is available for IOS and Android. You can download the Exodus mobile app from the Exodus official page or find it on Apple Store and Google Play Store.
Bitcoin and Other Supported Cryptocurrencies
Exodus wallet supports Bitcoin and many other altcoins including some most popular digital currencies on the market. You can store all your favourite assets in your Exodus wallet and use the integrated wallet exchange to swap your blockchain assets.
Here's a list of some of the assets it supports:
Bitcoin (BTC), Ethereum (ETH), Bitcoin Cash (BCH), Litecoin (LTC), Cardano (ADA), Dogecoin (DOGE), Binance (BNB), Monero (XMR), Ripple (XRP), Bitcoin SV (BSV), Cosmos (ATOM), EOS (EOS), VeChain (VET), Ontology (ONT), Ontology Gas (ONG), Algorand (ALGO), Tezos (XTZ), Binance Coin (BNB), Ethereum Classic (ETC), Bitcoin Gold (BTG), Tether USD (USDT), Gemini Dollar (GUSD), Multi-Collateral Dai (DAI), USD Coin (USDC), Sai (old DAI) (SAI).
Exodus Wallet Security
The Exodus wallet requires you to create a password in order to log into your wallet. If you lose your password, or your device is broken or stolen, you can use the 12-word seed phrase to regenerate your wallet. You must generate your seed phrases as soon as you set up your Exodus wallet and carefully note them down in a secure place. It is best to use paper and store seed phrases in a safe place. If you lose your seed phrases, you might lose access to your crypto wallet completely.
Exodus used to offer wallet restoration through email. This is no longer supported in newer versions of the Exodus wallet, so make sure your seed phrases are safe. However, you can use QR codes to integrate Exodus wallet with a different mobile device.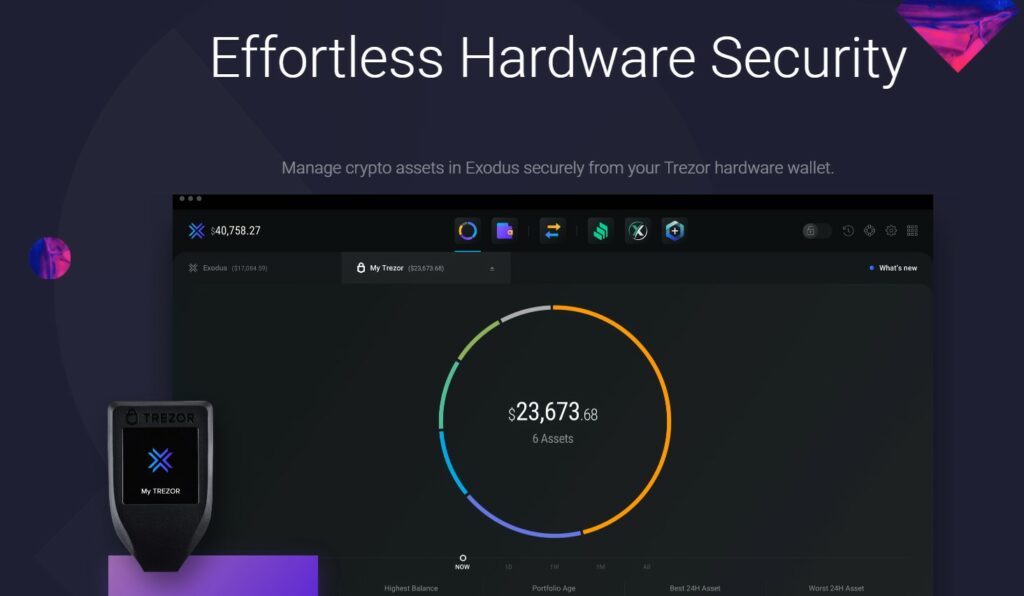 As a non-custodial wallet, Exodus gives you complete control over your crypto assets, but it also means that the security of your private keys is up to you when you are using Exodus. You should be aware that there is an inherent risk to using software wallets on devices that are internet-connected, like your computer or mobile phone. Since these devices are connected to the internet they are open to hacks and other attacks from malicious actors. If your computer gets hacked, you might lose your crypto assets.
One solution is to use the Exodus software wallet together with a hardware wallet like Trezor. Trezor wallets are hardware devices that are not connected to the internet and offer high levels of security. Exodus supports Trezor hardware wallets, allowing users to increase their security.
Unfortunately, Exodus lacks two-factor authentication (2FA) and multi-signature features. If you are in possession of large amounts of crypto, it is best to use the Exodus wallet together with a hardware wallet like Trezor Model T or Trezor One.
Advantages and Disadvantages of Exodus Wallet
Exodus is generally considered extraordinary in terms of ease of use and functionality. Thanks to its user-friendly layout and supportive features that let you make transactions within the wallet interface, not to mention the number of cryptocurrencies it supports, Exodus is a popular and well-reviewed crypto wallet.
One disadvantage to Exodus wallet is that its exchange features don't include setting custom network fees for transactions. The only exception is the Exodus Bitcoin wallet, as you can choose custom fees when you are sending BTC. However, custom network fees for Ethereum are not supported (yet), which means users pay higher gas fees when they are using Exodus wallet to exchange cryptocurrencies.
A Few Words Before You Go…
Exodus is a popular multi-currency wallet that has been around since 2015. It is a convenient lightweight wallet that can be used on computers and mobile devices. It is easy to download and set up, and thanks to the intuitive user interface it is suitable for cryptocurrency beginners as well. Since Exodus wallet supports many digital currencies, the user interface and layout include a portfolio and search features that make it easy to find and manage your favourite assets. You can also use the Exodus wallet together with a Trezor hardware wallet to increase asset security.