Bittrex is a popular cryptocurrency exchange that has been around since 2014. The platform is known for its fully-fledged crypto-to-crypto trading market, and it is often one of the go-to exchanges for anyone interested in altcoin trading. However, when it comes to fiat-to-crypto purchases and vice versa, Bittrex can be a bit hard to navigate. 
While the crypto exchange allows customers to deposit fiat currency to their accounts and use it to purchase crypto, the process isn't as straightforward as with other crypto exchanges. Rules regarding fiat-to-crypto purchases vary by country as well, so it might get even more confusing.
Luckily, there's nothing to worry about, as we will go step-by-step and explain how you can deposit money to your Bittrex account or purchase crypto with fiat currency through other payment methods.
What Is Bittrex Global?
The Bittrex exchange was founded in the US in 2014 and continues to serve US-based customers under US crypto regulations. Bittrex Global is the international arm of Bittrex and serves many customers around the world, including Australia, Canada, and Europe. Bittrex Global and Bittrex US follow different regulations, so make sure you take your place of residence into account when you are searching for information about Bittrex. In this guide, we will be talking about Bittrex Global.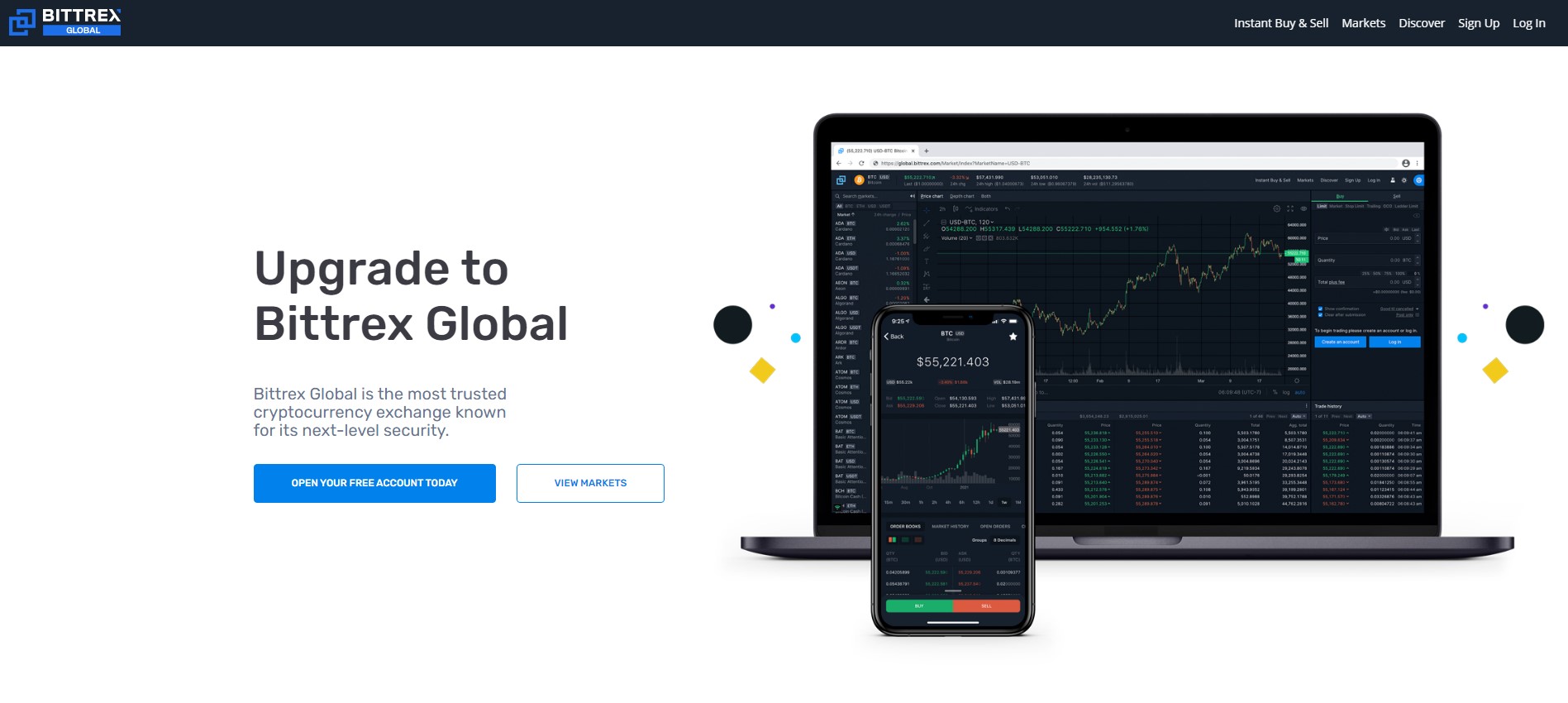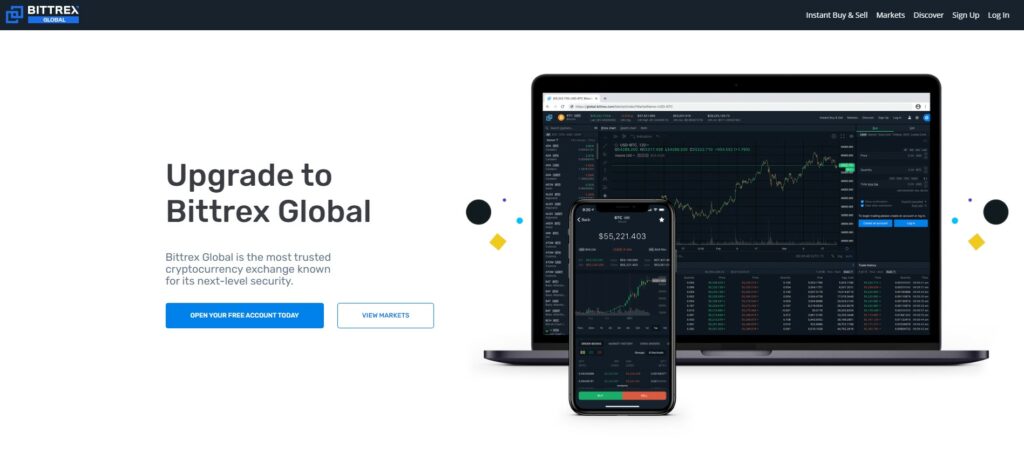 Supported Currencies
Bittrex offers more than 400 crypto trading pairs, including both lesser-known altcoins and popular digital assets like Bitcoin (BTC), Ethereum (ETH), Bitcoin Cash (BCH), Litecoin (LTC), Ripple (XRP), Tether (USDT), etc.
In addition, the exchange offers around 140 fiat-to-crypto pairs, all denominated in US dollars. That means you can only buy cryptocurrency with USD on the platform, though you are able to deposit Euro (EUR) as well.
Can You Buy Cryptocurrency With Fiat?
Bittrex allows fiat-to-crypto purchases through credit card and debit cards, as well as through wire transfer. Customers based in Australia are limited to VISA debit or credit cards when it comes to digital asset purchases on the platform. Certain countries in Europe can use Mastercard credit/debit cards too. For more information on geographical restrictions, check out Bittrex.com.
Another way to fund your Bittrex account with fiat currency is to make a wire transfer. Bittrex accepts bank transfers, international transfers, and SEPA transfers, though it may take up to 10 days or more for the funds to arrive in your account, depending on your bank and its regulations.
Bittrex itself complies with KYC (Know Your Customer) and AML (Anti-Money Laundering) regulations. That means you have to complete ID verification on the platform if you want to fund your Bittrex account with fiat currency or buy Bitcoin and other digital currencies with credit/debit cards.
How to Deposit Fiat on Bittrex
On Bittrex, fiat currency deposits and withdrawals require some extra steps compared to other popular crypto exchanges like Binance, Coinbase, or Kraken. In other words, you have to jump through some hoops before you are able to transfer money to your Bittrex account. We will cover the whole process step by step, so you know exactly how to do it.


Request Form
Before everything else, make sure you complete the identity verification check with accurate and recent information. Then, submit a Fiat (USD) Trading Request to the Bittrex customer support. You may be asked to provide documents that prove your identity and address, including a government ID, a copy of your lease, and a selfie.
Once you receive approval for fiat trading, you can transfer money from your bank account to your Bittrex account. However, you should make sure your bank account is whitelisted by following these steps:
Sign in to your Bittrex account;
Go to the Holdings tab;
Search for "US Dollar";
Click Withdraw.
Here, you will be able to see all the whitelisted bank accounts. If you don't see your bank account despite receiving an approval email, reach out to customer support and submit a support ticket.
Get a USD Deposit Code
In order for your bank to be able to send the funds to your Bittrex account, you'll need a deposit code:
Go to the Holdings tab;
Search for "US Dollar";
Click Deposit.
You will see the instructions you need to follow to make a wire transfer and you'll find a USD deposit code underneath them. Copy the code and put it in the memo or notes section of the wire transfer form.
Get Help From Your Bank
If this is your first international wire transfer, you may want to pay a visit to your local bank and request their help to make sure your funds arrive to your account as smoothly as possible.


Use the instructions for making a wire transfer and your USD Deposit code to fill the wire transfer form. Beware that Bittrex doesn't accept ACH transfers. If you have multiple bank accounts, remember that you have to use the bank account whitelisted by Bittrex to send funds.
If you have done everything right, you can sit back and wait until your money shows up in your Bittrex account. Wire transfers can take between five to ten days, so don't panic if you don't see them in your balance right away.
How to Withdraw Fiat on Bittrex
If you have received approval for your Fiat Trading Request, you can easily withdraw fiat currency from the platform by following these steps:
Login to your Bittrex Global account;
Select Holdings;
Search "USD";
Select Withdraw;
Select Your Bank Account;
Enter the amount you wish to withdraw;
Confirm.
If you have enabled two-factor authentication, you can enter the six-digit code you've received to confirm the transfer. If you haven't enabled two-factor authentication, you will receive a verification link in your email.
Deposit and Withdrawal Limits
The minimum deposit limit for bank transfers is 50 USD per transfer but there isn't an upper limit for how much you can deposit. While Bittrex doesn't charge fees for wire transfers, your bank and other intermediary banks may deduct fees. Check with your bank to see their international transfer fees.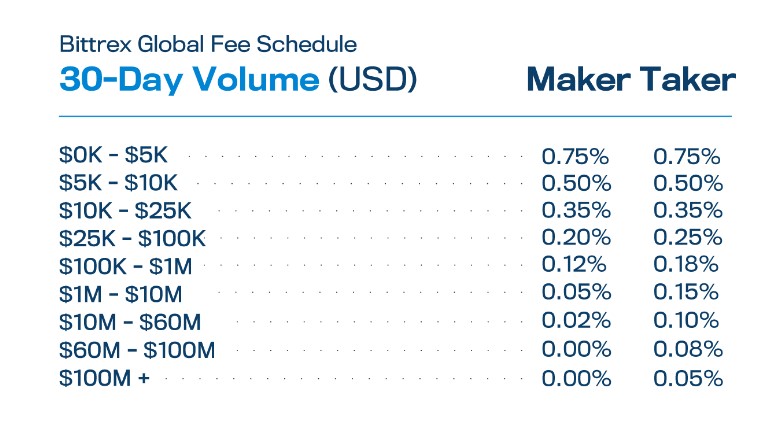 The minimum withdrawal limit is 35 USD per transfer. However, withdrawal fees are quite high, as you have to pay a flat 25 USD fee for each withdrawal.
Bittrex charges a 0.25% flat fee for all transactions. You might also have to pay blockchain fees depending on the digital currency, though these are paid to the miners and not to the crypto exchanges.
A Few Words Before You Go…
Bittrex is mostly known as a crypto-to-crypto trading platform, as it supports many altcoin trading pairs. However, you can also buy, sell and trade cryptocurrencies with fiat currency on the Bittrex Global exchange, though it requires a bit of work.
First, make sure you complete the identity verification check in order to submit a Fiat Trading request to Bittrex support. Once your request has been approved, you can wire money to your account through your bank account. Bittrex doesn't charge fees for wire transfers, but you'll have to check the fees charged by your bank. Wire transfers usually take a few days or a week to come through. Alternatively, you can purchase crypto with a VISA debit or credit card and pay a 3% flat fee.