Cryptocurrency exchange platforms are one of the most popular mediums for buying, selling, and trading cryptos on the market. A considerable chunk of the 2-trillion USD cryptocurrency market is the product of the largest exchange platforms, which offer users various services. These platforms have gone a long way from the first Bitcoin (BTC) exchanges in 2010 that only offered BTC as a currency for buying and selling.
Today, crypto exchanges offer users various cryptocurrency trading options and numerous altcoins along with user service packages and different payment options. Also, all of the popular exchange platforms have very advanced and user-friendly mobile apps for Android and iOS mobile devices, which makes accessing your crypto portfolio, managing your assets, and buying and selling coins quite easy. 
This is why the number of cryptocurrency investors is drastically increasing. Cryptocurrencies are easily accessible through exchange platforms and more and more people want to invest in these innovative, digital assets.
The Gemini crypto exchange platform is one of the most popular platforms for trading digital currency online and it is trusted by traders all over the world as a secure and reliable platform.
Let's take a look at the main characteristics and features of the Gemini platform and how to close your Gemini account in case you want to move to another platform or open a new account on the same platform with different identification details.
The Gemini Cryptocurrency Exchange Platform
The Gemini crypto exchange was launched back in 2014 by the Winklevoss twins as an exchange platform based in the US, in compliance with US crypto regulations. The platform has been expanding its services ever since and today it offers a wide range of options for crypto traders such as crypto exchange services, a native crypto wallet, a payment platform called Gemini Pay, its own currency called Gemini Dollar, and many more features.
Gemini is ranked among the top crypto exchanges in the world such as Binance, Coinbase, and Kraken. The platform is quite user-friendly and it's easy to navigate for beginners who are new to the world of cryptocurrency, but it also offers numerous professional trading features for experienced traders.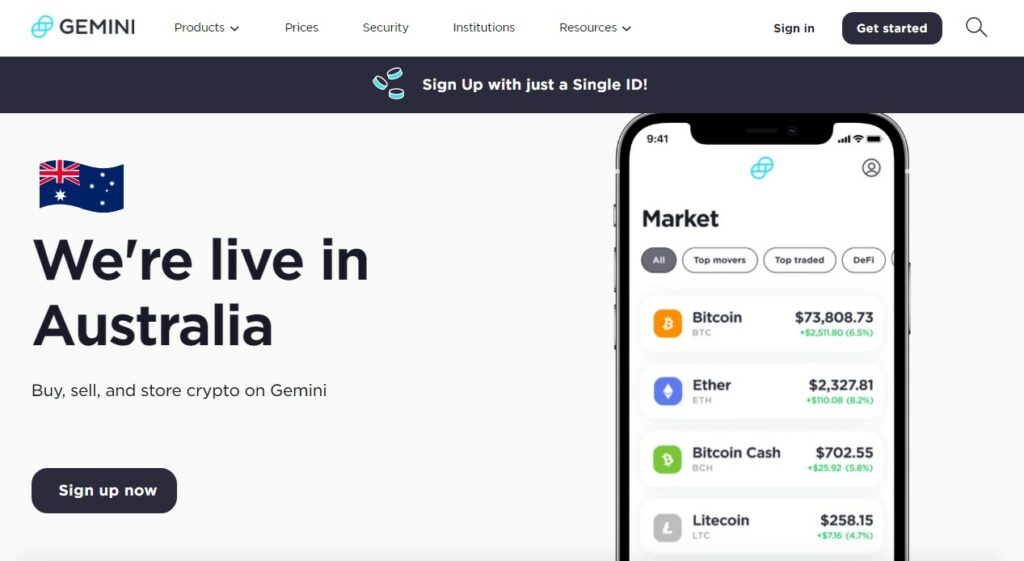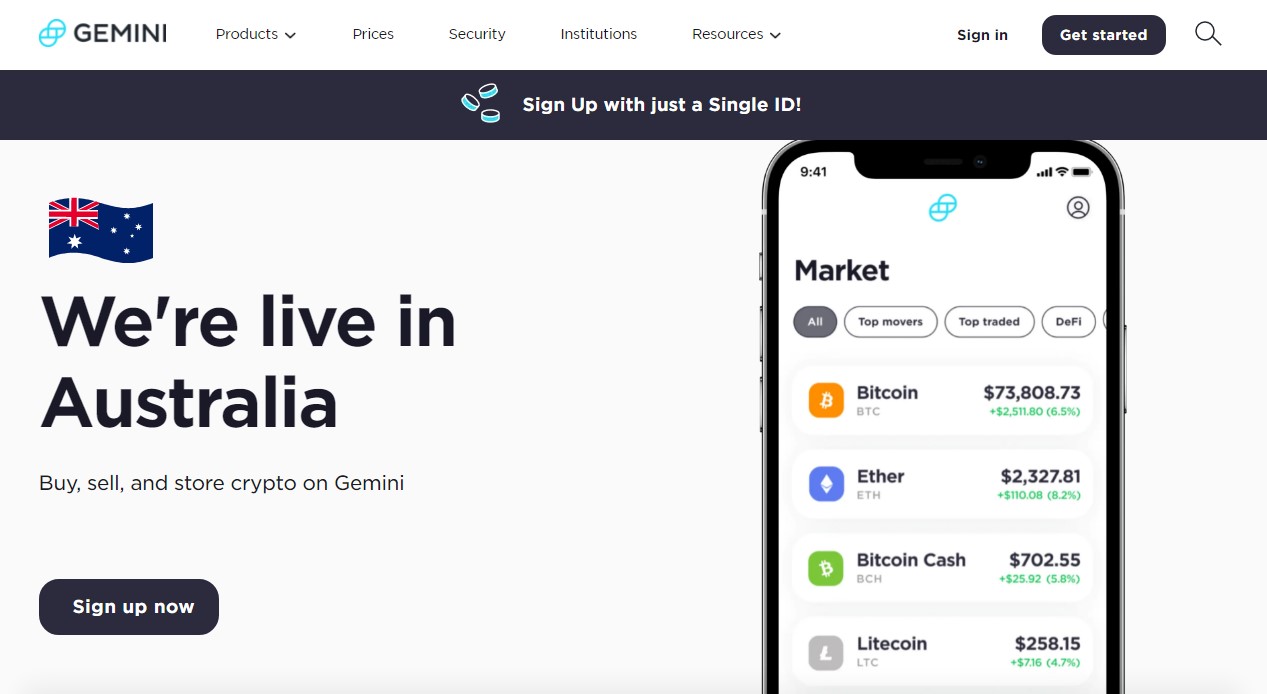 This exchange offers a strong selection of over 60 cryptocurrencies that include all of the most popular assets such as Bitcoin (BTC), Ethereum (ETH), Litecoin (LTC), ZCash (ZEC), Bitcoin Cash (BCH), and various other altcoins. The choice of available coins is carefully picked so that it includes most of the digital currencies investors are interested in, coins with strong market caps and high trading volumes.
Just like most exchange platforms, there are minimum orders when buying or selling cryptos but what is specific to Gemini is that the minimums are very low, so you can begin investing in cryptos with a modest amount of cash. Also, all new users get a 150 USD bonus if they invest at least 1000 dollars within their first 30 days, which is one of the highest bonuses on crypto exchanges in general.
Crypto beginners and experienced users alike can find a lot of useful, educational content about cryptocurrencies and trading on Gemini's educational platform Cryptopedia. This section of the platform covers all topics related to crypto, whether it's trading, security, decentralized finance, or the characteristics of specific altcoins. Other exchange platforms don't have such a detailed educational platform, which is a huge advantage of Gemini.
Platform Fees
The fees on Gemini are somewhat higher compared to other popular crypto exchanges, but users get higher security and a wider range of services than those provided by other platforms.
There are four types of fees on Gemini.com:
Trading fees, which depend on whether you are trading on the Gemini web platform, mobile app, the Active Trader platform, or through the Gemini API (application programming interface). Depending on which service you use for crypto trading and how much funds are traded, the fees range from 0.35% as the highest, to 0.03% as the lowest for high trading volumes. The more you trade during a 30-day period, the fewer fees you pay on the platform.
Transfer fees are the fees charged for deposits and withdrawals to and from Gemini. Bank account transfers aren't subject to a transfer fee, but if you want to fund your platform account with a debit card or credit card, you will be charged a 3.49% standard fee. Basically, it's better to fund your Gemini account with a bank transfer.
Agent fees are fees that are deducted from your stored cryptos that are earning interest in the Gemini Earn platform and these fees are automatically deducted from your earnings.
Custody fees are charged for your digital assets, which are stored in the Gemini Custody secure crypto storage platform, generally only used by large-scale investors.
Platform Security
Gemini is famous for its high security. The platform has never been the victim of a major security breach like many other exchanges. This is because Gemini has robust security measures and it offers insurance to users for their potential losses in case of a cyber attack that would compromise their assets.

Most of the cryptocurrency stored on the platform is actually kept offline in hardware storage. Users are also required to use two-factor authentication with their phone number every time they want to make a withdrawal from their account and even when they are logging into their Gemini account. This verification process adds an extra layer to user account security.
Gemini Pay
Gemini Pay is one of the coolest features of the platform. It enables users to purchase goods at more than 30.000 retailers directly with cryptocurrency, through their Gemini account, with a simple QR code scan. The currencies which users can spend this way include Bitcoin, Ethereum, Zcash, Litecoin, Bitcoin Cash, and the Gemini Dollar stable coin.
The Gemini Pay platform also doesn't include any blockchain transaction fees when paying in retail shops that accept this payment method.
Gemini Earn
The Gemini Earn platform enables users to earn interest in their cryptocurrencies. Basically, you lend your cryptos to institutional investors for an annual interest rate between 1.26% and 7.4%. This can be very attractive because of the high interest rates but keep in mind that, unlike your bank savings, the cryptos you lend aren't insured by government financial institutions and you might lose your cryptos in case of a financial crash.
Gemini: Buy Bitcoin Instantly App
One of the most practical and user-friendly aspects of the Gemini exchange is its Android and iOS compatible mobile app called Gemini: Buy Bitcoin Instantly. The app allows users to buy, sell and trade all the usual cryptos available on the Gemini exchange. The app also comes with some advanced features such as scheduling of recurring buy orders in case you want to regularly purchase a set amount of a certain crypto and you can also purchase a specific set of different cryptos according to your needs, called a Cryptoverse.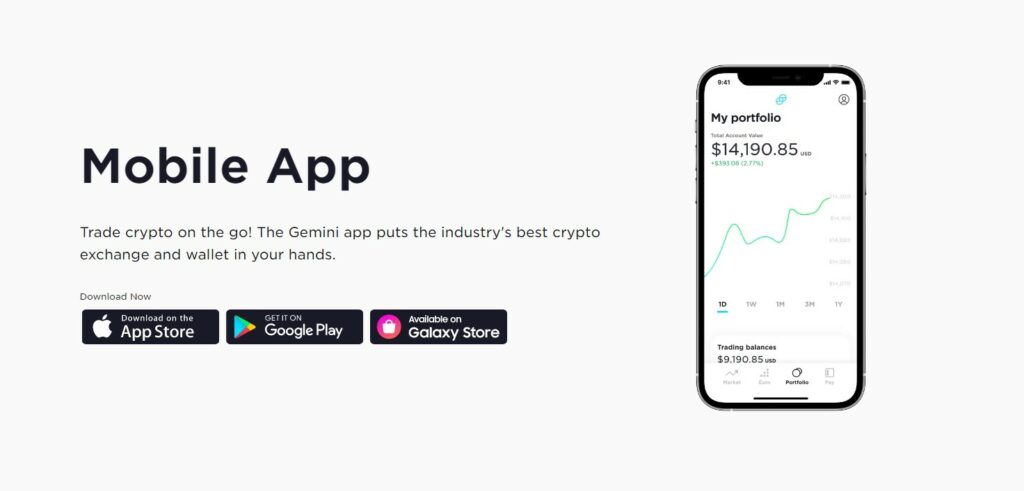 Closing a Gemini Account
These are all the main characteristics of the Gemini exchange platform and as you can see, it really offers a lot to users. The various features are more than sufficient to satisfy both the usual crypto enthusiast and experienced crypto trader.
However, in case you want to delete your Gemini account because you want to take a break from crypto or you simply want to move to another platform or choose another exchange method such as decentralized exchanges or OTC broker services, this is how you can do it.
Closing Your Gemini Account on the Platform
Choose whether you want to close your Gemini account with your mobile browser or from your desktop or laptop.
Make sure your account balance is 0 USD.
In case you have any pending transaction that uses the ACH (automated clearing house) network, you have to finish the transaction and additionally wait five business days. After 5 days you can make a withdrawal of funds to clear your account balance.
Once you have 0 USD in your account, you can go to the Profile Settings section.
Select Close your Gemini account. This option is located under the Account Closure subsection.
To finish closing your account, just type CLOSE and that's it, it's that simple.
You can always reactivate your Gemini account by contacting the platform with an email.
Closing Your Gemini App Account
With the Gemini app, there isn't any fixed procedure for closing your account. You just have to uninstall the app from your mobile device and delete Gemini. However, keep in mind that in case you have a subscription for the app, you need to manually unsubscribe because if you don't, the subscription will continue to automatically renew itself.
In order to unsubscribe from the Gemini: Buy Bitcoin Instantly app, you need to go to your subscriptions section on your Android or iPhone device and manually unsubscribe from the service.
A Few Final Words…
In the world of cryptocurrencies, there are hundreds of exchange platforms available for trading assets, and there are various types of platforms, ranging from large centralized exchanges like Gemini to popular, decentralized platforms like Unicorn Swap. Many users also prefer exchanges that are specialized in dealing with just a couple of the most popular cryptos like BTC and ETH, so basically, there are various different platforms for different needs. 
This guide has highlighted the main advantages of Gemini, along with a brief explanation of how to close your Gemini account if you ever have to. We hope it equipped you with all the information you need to do that.