Out of over 400 cryptocurrency exchange platforms on the market, it's quite difficult for crypto beginners to pick a reliable platform that offers top-quality services and a broad range of tradable crypto assets. The key features users are looking for when choosing an exchange platform is reliability, a good selection of cryptos, and various tools that will allow them to conduct all of their crypto-related business using only one platform. Most exchanges don't offer that many features. In fact, most exchanges offer just a few currencies for crypto trading and exchanging, and the trading tools are also quite limited to the basics.
The Binance platform is among the handful of industry leaders such as Coinbase, Kraken, and Gemini, that offer an all-around range of services and are more than enough for both beginners and crypto experts.
Let's take a more detailed look at all of the key features of the Binance platform, including tradable assets, platform fees, trading tools, security, and mobile functionality, before we give you a quick guide on how to deposit cryptos in your Binance account.
The Binance Crypto Exchange Platform
Binance isn't a crypto veteran platform from the early days of the crypto market like Coinbase or Kraken. The platform was established in 2017, in Hong Kong, which makes it relatively young, but it has managed to achieve immense popularity in just a year. There were so many people opening user accounts on Binance, that the platform had to temporarily suspend the option of opening new accounts in January of 2018 to upgrade the platform so it could accommodate the rapidly increasing number of users.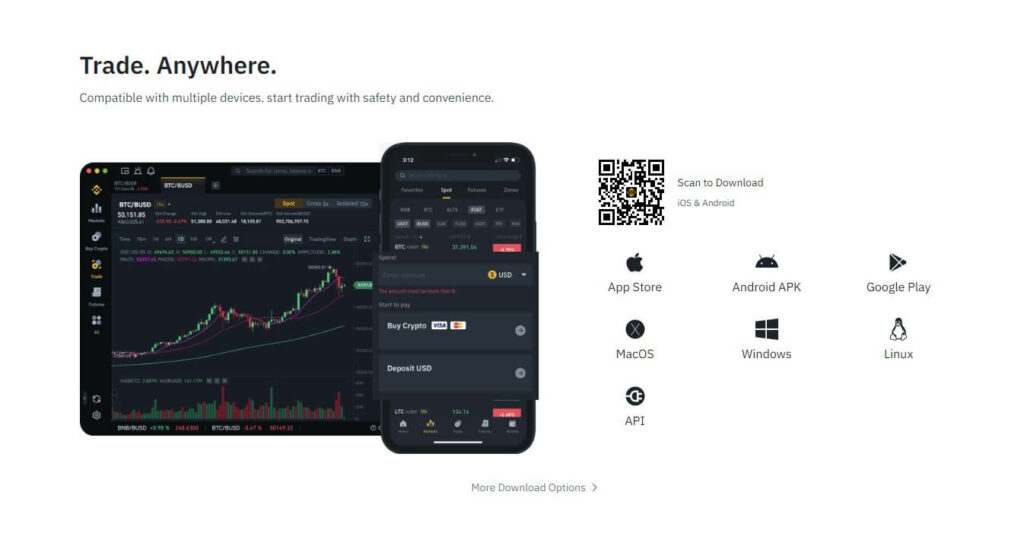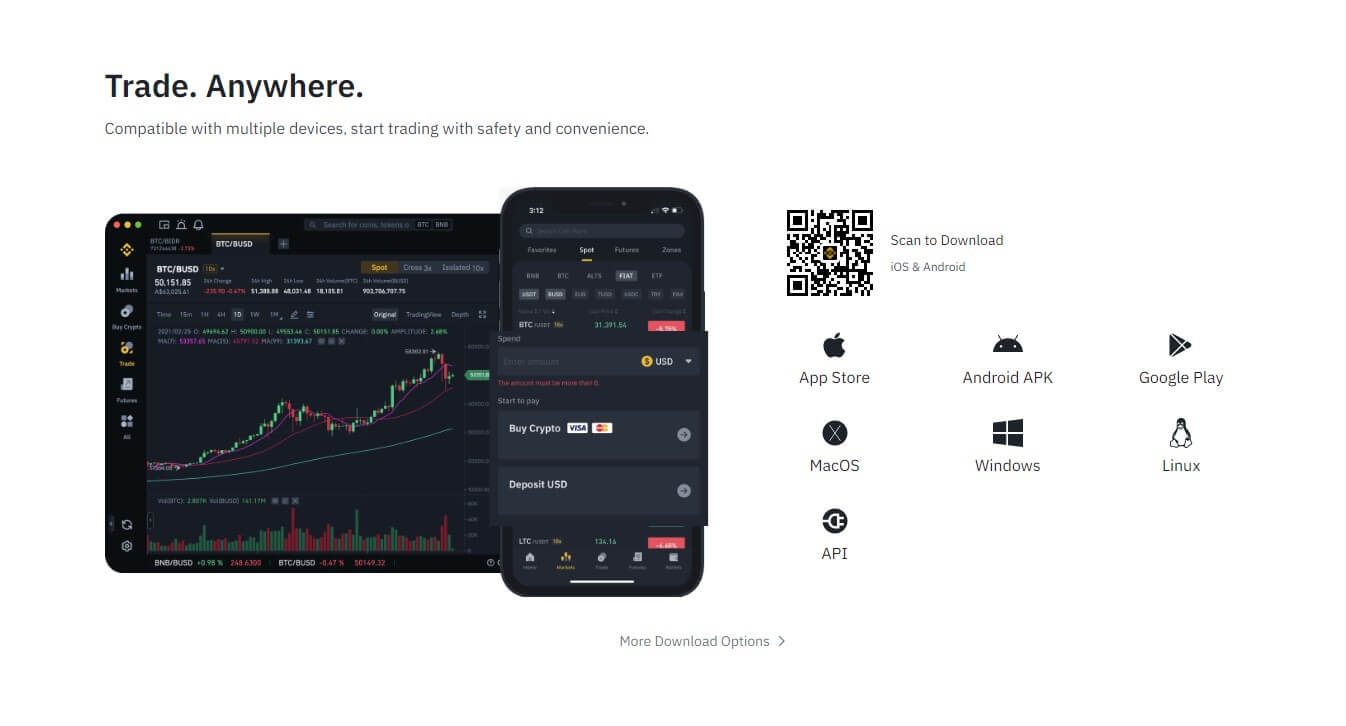 Today, Binance is by far the largest crypto exchange platform in the world when it comes to trading volume. This means that the platform's liquidity is extremely high, which makes buying and selling coins very easy, since there is a constant demand for all offered assets. Binance is available in more than 180 countries and regions globally, making it accessible to most of the world's population, which in turn opens up great possibilities for international trading deals facilitated by the Binance platform technology.
There are various types of Binance platform trading features specifically designed to accommodate beginners, experienced, and pro traders alike. The exchange also incurs very low fees and lots of useful fund management options such as the special Binance Visa Card, the Binance Earn platform, a bunch of payment methods, and a very reliable crypto wallet.
Supported Cryptocurrencies and Fiat Currencies
A lot of platforms offer a few of the most popular cryptos for investing, such as Ethereum (ETH), Bitcoin (BTC), etc. The platforms that offer a broader range of digital currencies are usually focused on coins among the top 100 assets by trading volume on CoinMarketCap.
Binance, however, goes to extreme lengths to provide its users with absolutely all of the assets they need for investing, selling, and exchanging on the market. Users are offered to trade with over 300 cryptocurrencies on Binance, along with more than 40 fiat currencies.
Such a large portfolio of tradable assets is something that's unique for Binance and it's one of the main selling points of the platform, which makes it a prime destination for crypto traders of all experience levels. Binance even has its own stable coin, the Binance USD (BUSD) coin which is tied to the value of the US dollar. Also, the platform has an extremely popular native Binance Coin (BNB), which is among the top 10 largest cryptos according to CoinMarketCap. These cryptos are both built on the Binance smart chain.
Binance supports Ethereum (ETH), Bitcoin (BTC), Stellar Lumens (XLM), Ripple (XRP), Cardano (ADA), Tether (USDT), Eos (EOS), Tezos (XTZ), Bitcoin Cash (BCH), Avalanche (AVAX), Dogecoin (DOGE), Solana (SOL) and many other altcoins. The bottom line is that basically, any cryptocurrency that achieves some considerable popularity or market demand is immediately added to the Binance platform as a tradable asset.
When it comes to fiat money, users can buy cryptos with EUR, USD, GBP, CAD, HKD, and more than 30 other currencies.
Trading Interfaces
Binance has a broad range of trading tools specifically tailored to meet the demands of different types of users. There are three types of user interfaces. The Basic interface is great for crypto beginners because it offers a really simple and straightforward interface if you want to buy cryptocurrencies in just a few clicks. You just select a trading pair by choosing the currency you want to exchange and specify the amount of that currency in the top field, and in the second field, you select the currency for which you want to exchange the above selected assets and that's that.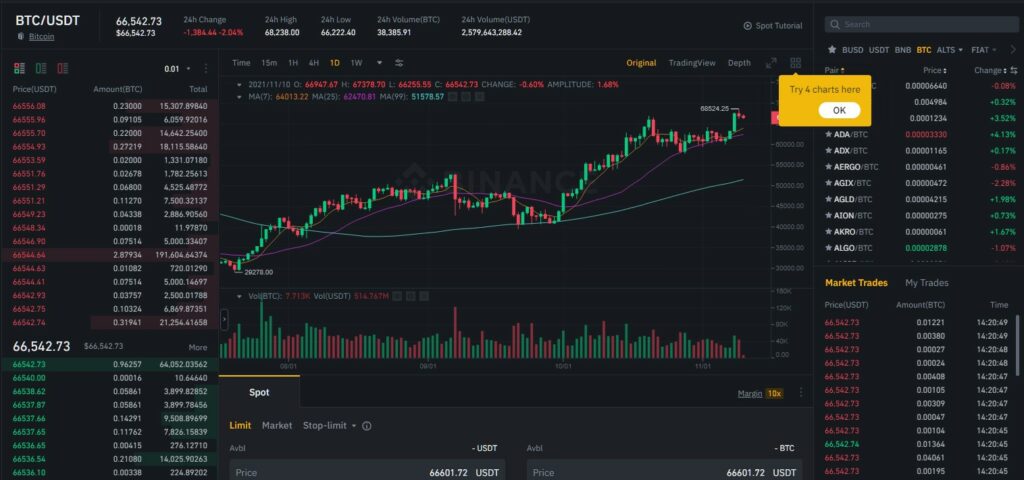 For the more experienced users that are no strangers to price charts and other standard trading tools, there is the Classic interface. Here, you have a lot more info available on the dashboard. You can see the exact market price fluctuation patterns of your selected asset or trading pairs. You'll be able to clearly read the market sentiment of the selected market and see the whole price change history for any given asset.
Traders that want access to professional-grade trading tools can choose the Advanced interface, which contains even more detailed market charts and information that can easily be read by experienced traders that understand market sentiment changes. The advanced interface is a great platform for experienced investors that deal with huge trading volumes, because it contains everything they need to make the right decisions based on the available information that's automatically pulled from numerous sources in real-time.
Fees
Exchange platform fees are the source of profit for every crypto exchange. The fact that you don't have to manually search for people who want to do a trading deal with you and that you have a very reliable intermediary guaranteeing the safety of the deal is something that comes at a cost. What makes Binance stand out among many centralized exchanges is the fact that these services come relatively cheap. Binance is famous for its low transaction fees, which makes it a perfect platform for beginner investors that are looking to invest modest sums of fiat while learning about the crypto market.
When depositing cryptocurrency to your Binance account, you don't pay any fees, but if you're depositing fiat money to your account, you'll have to pay a deposit fee that varies based on the payment method. Fiat money deposits with a bank account transfer don't incur fees, but if you're depositing money with a bank card, such as a credit card or debit card, you will be charged a 3.50% fee.
As far as withdrawal fees, they vary depending on the crypto coins you're withdrawing from the platform. Given the fact that there are more than 300 cryptos available on Binance, it's best to check the crypto fee section to see the exact withdrawal fees for the asset you're withdrawing. When withdrawing fiat money, the fee depends on the currency and withdrawal method. Some fiat currencies can be withdrawn with a bank transfer free of charge such as the Australian dollar, while a bank card withdrawal can incur a 1% fee.
Trading fees on Binance are some of the lowest on the crypto market. They vary based on whether you're a market maker or market taker, and they start at 0.075% for both makers and takers. However, if you're a large-scale market maker, the fee can drop even lower, to 0.015% per transfer. The fees are always lower if you're paying them with Binance coins.
Payment Methods
Binance facilitates all of the most popular payment methods such as SWIFT bank transfers, SEPA, payment card deposits, crypto deposits, and payment service transactions such as PayID. It's important to note that not all of these options are available in all regions where Binance operates and not all fiat currencies can be used for all of these payment methods. That's why it's important to be sure your local currency supports your preferred payment method.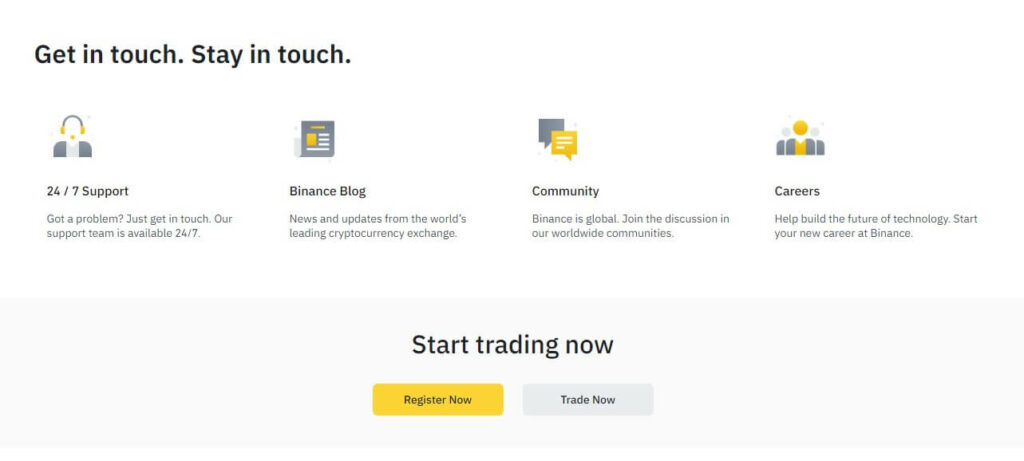 Binance Visa Card
Binance has its own Binance Visa card, the result of a strong partnership with Visa in order to make cryptocurrencies a legitimate payment method for products and services. The card is free of charge for Binance users and it is accepted by approximately 60 million merchants across the globe, which is really a lot, especially if you consider the fact that cryptocurrencies aren't backed by governmental financial institutions. Additionally, Binance Visa card users can even get an 8% cashback on various purchases promoted by the Binance – Visa partnership.
Binance Earn
If you're a long-term crypto investor and plan to hold on to some of your assets, then the Binance Earn feature is a great way to make your cryptos earn you more cash. You can stake various currencies with the help of the Binance platform and earn a yearly interest for doing so. The staking pools are approved by Binance and you don't have to worry about potential risks.
Platform Security
Being the largest crypto exchange platform on the market means that Binance has to pay a lot of attention to security measures. The platform is very reliable and you don't need to worry whether your transaction will go through or whether someone is trying to trick you during an exchange, because the platform's security measures guarantee the safety of your assets.
Most of the traded assets on Binance are securely stored offline in cold storage devices and users have various secure login options such as 2FA (two-factor authentication), anti-phishing codes, and whitelisting devices.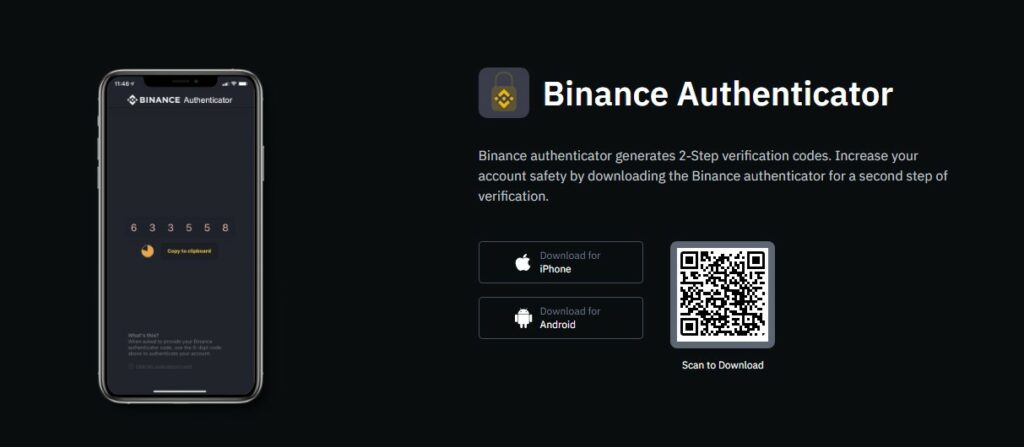 There was an unfortunate cyber attack in 2019, when hackers managed to steal 40 million USD worth of BTC from the platform, but all of the funds were insured by Binance and the users were refunded down to the last cent. This shows how much Binance cares about its users' assets.
Users also have quite the responsive customer support at their disposal for any issues with their accounts.
Binance Mobile Features
Binance has a great user-friendly mobile app that's Android- and iOS-compatible. Instead of creating two separate apps, the developer behind the app decided to offer users two working modes, depending on their needs and experience level. Beginners can choose the Binance Lite version, while more experienced traders can shift to the Binance Pro interface that has all the advanced trading tools and features.
The Binance Wallet: Trust Wallet
Every crypto trader needs a secure storage option and the Binance platform offers users seamless integration of their exchange account with the official Binance wallet, the Trust Wallet, an external wallet with official support by Binance. The Trust wallet is a multi-currency software crypto wallet that supports all of the most popular cryptocurrencies available on Binance and it comes in the form of a user-friendly mobile app, compatible with Android and iOS devices.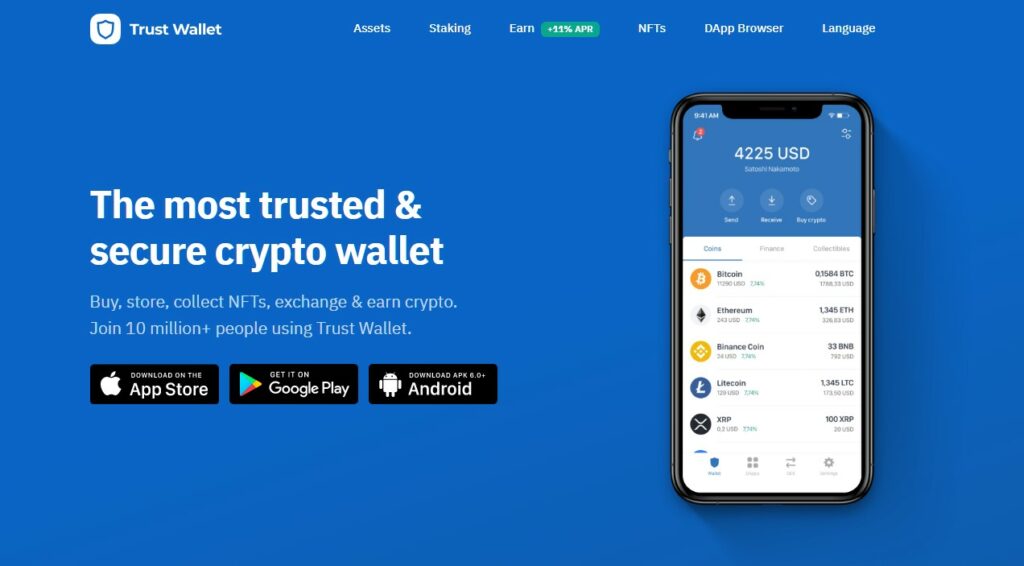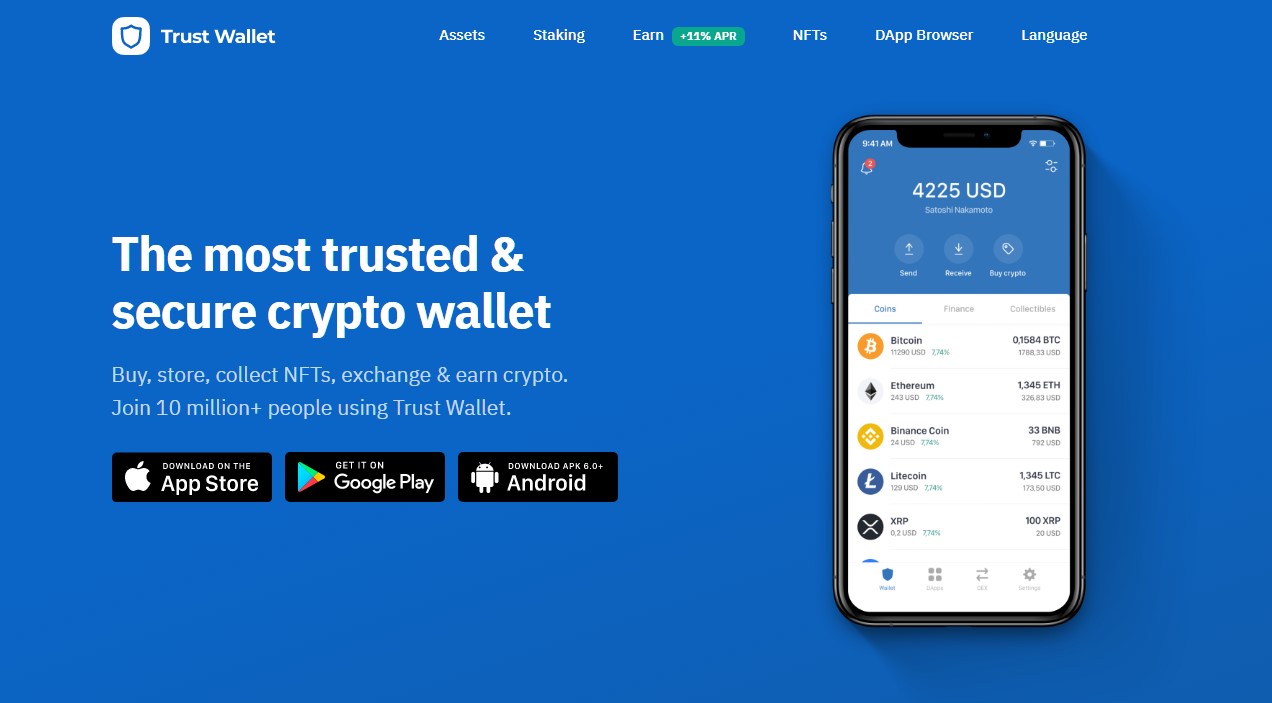 How to Deposit Cryptos Into Your Binance Account
Depositing cryptocurrencies into your Binance account is quick and simple once you understand the whole process. Here's a step-by-step guide on transferring some Bitcoin into Binance:
Once you're logged into your Binance account, go to the Wallet section in the menu bar at the top right section of the window and select Fiat and Spot.
Select the Deposit option and then click on the Crypto button.
Choose Bitcoin as the desired crypto. Keep in mind that in case you want to deposit BEP2 tokens or ERC20 tokens, you need to choose those options instead.
Scan the deposit address's QR code with your mobile device and paste the code into the wallet you're sending the BTC from. Be sure to double-check the deposit wallet's address and not to type it in manually because if you misspell the address, your funds will be irretrievably lost.
Once you've sent the desired amount of BTC through the blockchain, that is from your wallet to your Binance account, you'll see the incoming deposit on Binance under the Transaction history tab.
It's that simple and the process is the same for other cryptocurrencies as well.
A Few Final Words…
The Binance crypto exchange is far more than just a medium for buying, selling, and trading digital currencies. It's a modern financial platform that gives users the power to invest in cryptos, trade cryptocurrencies and fiat currencies, manage their portfolio, and use a wide range of services to grow their investments. Binance is the largest crypto exchange for a good reason: you get reliable crypto services at a modest price, without sacrificing quality and security at any point.