It's not right but it's quite understandable why we still perceive the entire crypto industry through the performance of Bitcoin (BTC). The truth is that cryptocurrencies have built a brand new financial system, which is much more diverse and far more dynamic than the traditional one.
There are over 5,000 active coins out there, each of which has a specific purpose — and not rarely, it's rather different from the role BTC has. Ripple (XRP) is just one of few examples that managed to get to the list of top 10 cryptos with a unique aim to serve as an intermediate mechanism between two networks.
Regardless of what direction you'll take in managing your virtual "fortune", ensuring the safe storage of your holdings is a job that has to be done impeccably at the earliest stages of your blockchain endeavour.
Therefore, in this article, we'll provide a compact overview of the best Ripple wallet solutions available on the market today. But before that, we'll cover the aim and operational area of XRP as a fast-growing cryptocurrency designed to improve the quality and speed of payment settlements in the crypto realm.
What Is Ripple?
Ripple is a system for payment settlements and an exchange network that is used for facilitating transactions worldwide. The idea behind Ripple is to serve in the capacity of a reliable agent between two participants in a transaction and, regardless of the geographical restrictions, to provide a sleek transaction flow of the assets being transferred. The network is envisioned to be a replacement for SWIFT or substitute the settlement layer between high-profile financial institutions in some other way.


So, let's clarify right away that XRP and Ripple refer to different concepts even though their interchangeable use is widely accepted on all virtual markets and reviews. XRP is the native cryptocurrency to Ripple's XRP Ledger. Anytime the user makes a transaction through Ripple, the network withholds a certain amount of the XRP as a transaction fee. The Ripple native cryptocurrency XRP is also a popular tradable asset on all multi-currency crypto exchanges so if you come across a buy-and-sell Ripple offer online, don't get confused. The company is actually selling XRP coins to you.
The Ripple Labs company was established as a peer-to-peer trust system for social media users that would allow them to avoid central banks and trade with each other. While the idea was revolutionary at the time, the network never managed to take off. In 2012, Ripple went in a different direction, becoming OpenCoin — a money transfer provider tailored for large financial businesses and other corporate customers.
The very same year, the company presented the network's native cryptocurrency XRP with a total supply of 100 billion tokens, out of which 20% were kept by its co-founders. Immediately after its launch, XRP started serving its aimed function as a utility mechanism in the exchange transfer between two currencies. In 2013, OpenCoin rebranded into Ripple Labs and it currently facilitates transfers for several fiat currencies, a variety of cryptocurrencies, and even commodities.
How Does XRP Work?
XRP is a type of cryptocurrency that runs on its own blockchain called XRP Ledger, which was developed by Arthur Britto, Jed McCaleb, and David Schwartz. Just like any other crypto, you can invest in XRP by purchasing a certain amount of XRP coins on an Australian cryptocurrency exchange like Swyftx or Coinspot in return for other cryptocurrencies or fiat money or as a means to finance transactions on the Ripple network.
Ripple was recently involved in legal disputes with the Securities and Exchange Commission (SEC) even though this didn't stop XRP from surging in price against other cryptos.
XRP vs Bitcoin
However, XRP Ledger works a bit differently from Bitcoin and other better-known networks. For example, Bitcoin allows free access to all its ledgers for anyone who has enough hash-power equipment to solve complex math equations. At the same time, the Bitcoin blockchain provides a robust secure environment for the execution of pending transactions since blockchain validators i.e miners must validate and confirm the transaction prior to adding it to the network.


On the other hand, Ripple has adopted a more centralized approach — it does allow anyone to download the validation software yet it maintains unique node lists (UNL) for users to select validators based on their personal opinion i.e who users believe they wouldn't defraud them. Each server operator can select their own UNL, which, in most cases, is based on a default set enabled by a trusted publisher.
This XRP mechanism allows nearly immediate confirmation of transactions without an official centralized facilitator monitoring the process. Moreover, the XRP consensus for generating new coins is far more cost-efficient than Bitcoin's, which demands energy-consuming and expensive rigs. As a result, XRP transactions are executed within seconds at a very affordable cost rate — the standard transaction fee is set at 0.00001 XRP.
How to Store My XRP Coins?
As an attractive digital asset, you can store XRP in multiple types of cryptocurrency wallets but as XRP runs on its own native blockchain, you must be sure that your desired wallet is compatible with XRP.
Remember that XRP Ledger (XRPL) imposes a minimum balance limit — all new XRP wallets must contain at least 20 XRP to be activated on XRPL and all existing wallets must have a balance of a minimum of 20 XRP for maintenance. This 20 XRP limit is subject to change through blockchain voting. An exception to this rule are XRP coins that reside on centralized crypto exchanges, where XRP holdings are classified and stored in smaller groups by the exchanges themselves and don't interact directly with their native blockchain all the time.
In the context of centralized crypto exchanges, note that XRP is one of the few cryptocurrencies that are transacted by utilizing a Destination Tag or MEMO — an additional address layer (either numeric or string) that enables centralized exchanges to track down the recipient behind the XRP transfer.
That's why you need to get a good understanding of the four main categories of crypto wallets before deciding on the most suitable wallet solution against your personal trading plan.
Web or Online Crypto Wallets
The vast majority of this wallet group are in-exchange wallets powered by the centralized exchanges we mentioned above. Web wallets are a convenient course for first-time XRP users since you can leave the coins at their purchasing point and let the exchange take full responsibility for their safety.


In addition, entry-level centralized exchanges are a full package in terms of user experience, followed by a devoted customer support team, and a user-friendly interface — everything you need for a hassle-free crypto exploit.
However, leaving your savings (private keys) in the hands of a virtually-governed company doesn't feel right from a security point of view, especially not for large XRP amounts.
Desktop and Mobile Crypto Wallets
The most diverse and perhaps the most popular group of crypto wallets are these downloadable software packages. Mobile and desktop wallets are nothing but applications available for free download that allow you to store your private keys directly in your device where the wallet app is downloaded.
With regard to ease of access, they share a high level of convenience with web wallets. While mobile wallet apps give you the flexibility to use your crypto funds on the go, desktop crypto wallets have laid out the groundwork for in-depth monitoring of real-time data concerning your inner and outer transactions.
Apart from the smooth navigation, mobile and desktop wallets come with a range of upgraded functionalities that allow you to make instant XRP purchases in partnership with a wallet-supported crypto exchange. However, when it comes to security, they aren't even close to what hardware wallets can offer you.
Hardware Crypto Wallets
Hardware wallets are USB-like devices that pair with a desktop or mobile device using either USB cable or Bluetooth. However, they store digital currencies independently of the paired device, in the range of their simple in-device software and that is why they can't offer the ease of use and all those extra facilities typical for software crypto wallets.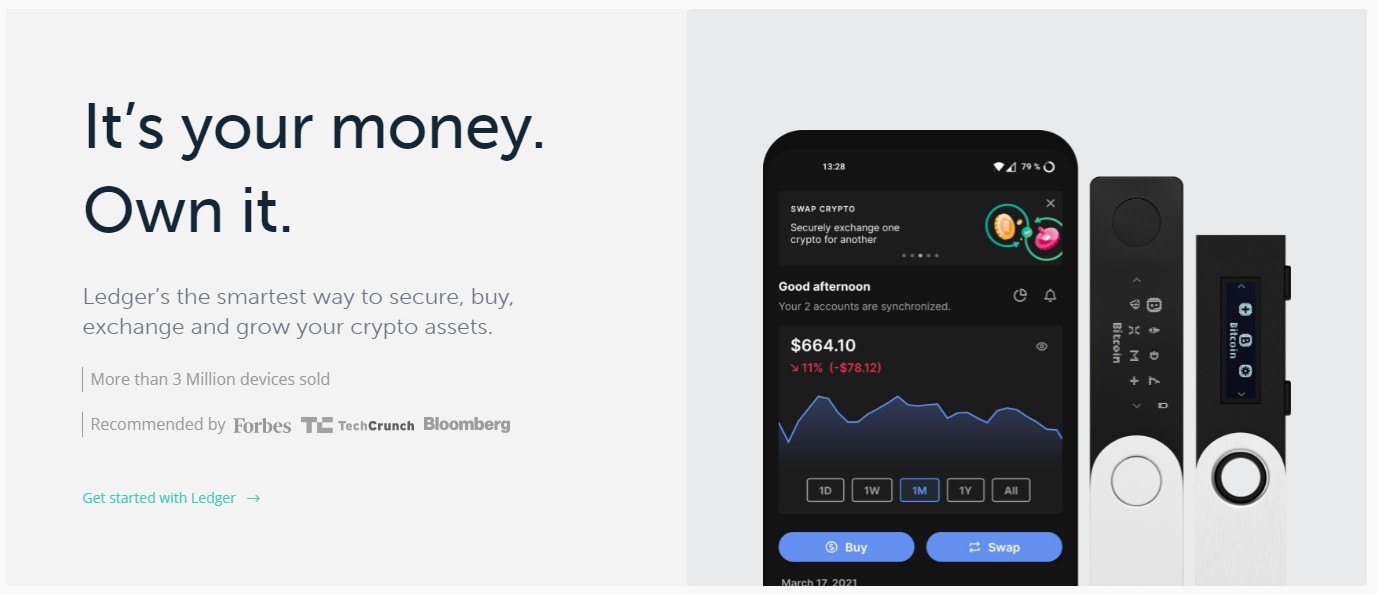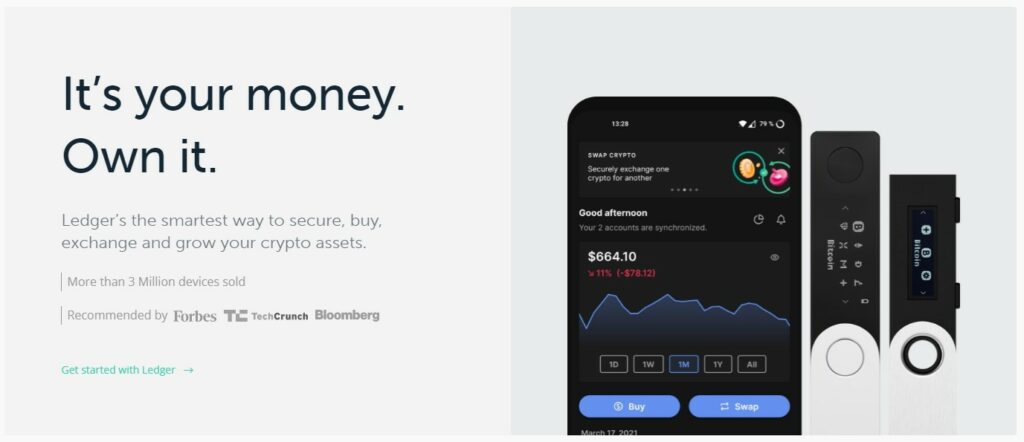 However, most of them can interact with software wallets for a full user experience and usability. More importantly, they offer unparalleled protection of your funds as your private keys are stored in the wallet device itself, immune to viruses and scams that threaten internet-connected devices and web browsers.
For this reason, hardware wallets are also called cold storage as opposed to hot storage — a broader categorization for all crypto wallets conditioned by internet connection including web, mobile, and desktop wallets.
Paper Wallets
Considered an old-fashioned method for private key storage, paper wallets are the safest crypto wallet representatives — resistant to malware and other forms of cybercrime (although the paper can be spoiled physically).
Paper wallets consist of two components: software — which enables you to generate private keys or QR codes for your XRP wallet online, and physical — the printed hard version that contains the private key or recovery passphrase.
Despite being foolproof, paper wallets are obsolete or even forgotten means of storage in today's crypto industry. However, XRP is one of the few cryptos out there that has online mechanisms (generators) for creating a paper wallet so it's worth mentioning Bithomp and Exarpy as XRP paper wallet representatives.
What's the Best Ripple Wallet?
As you can see from the general classification of crypto wallets, the abundant market will allow you to choose a wallet based solely on your personal preferences in handling your XRP coins. For instance, beginners are advised to start small so an in-exchange wallet will serve its purpose perfectly in the short run. Professionals, on the other hand, should definitely go for a desktop solution where they can comfortably read market analysis but if they own large amounts, they can also pick a hardware wallet and take advantage of hardware-wallet support.
Fortunately, XRP can be housed in all categories of crypto wallets so let's see what are the best-recommended storage pieces for your XRP holdings.
Ledger Nano X — Best Hardware XRP Wallet
Ledger Nano X is a renowned hardware wallet compatible with Windows, Mac, Linux, as well as iOS and Android mobile devices. Its sophisticated design allows you to use it either through an encrypted USB or a Bluetooth connection, powered by its own native software known as Ledger Live.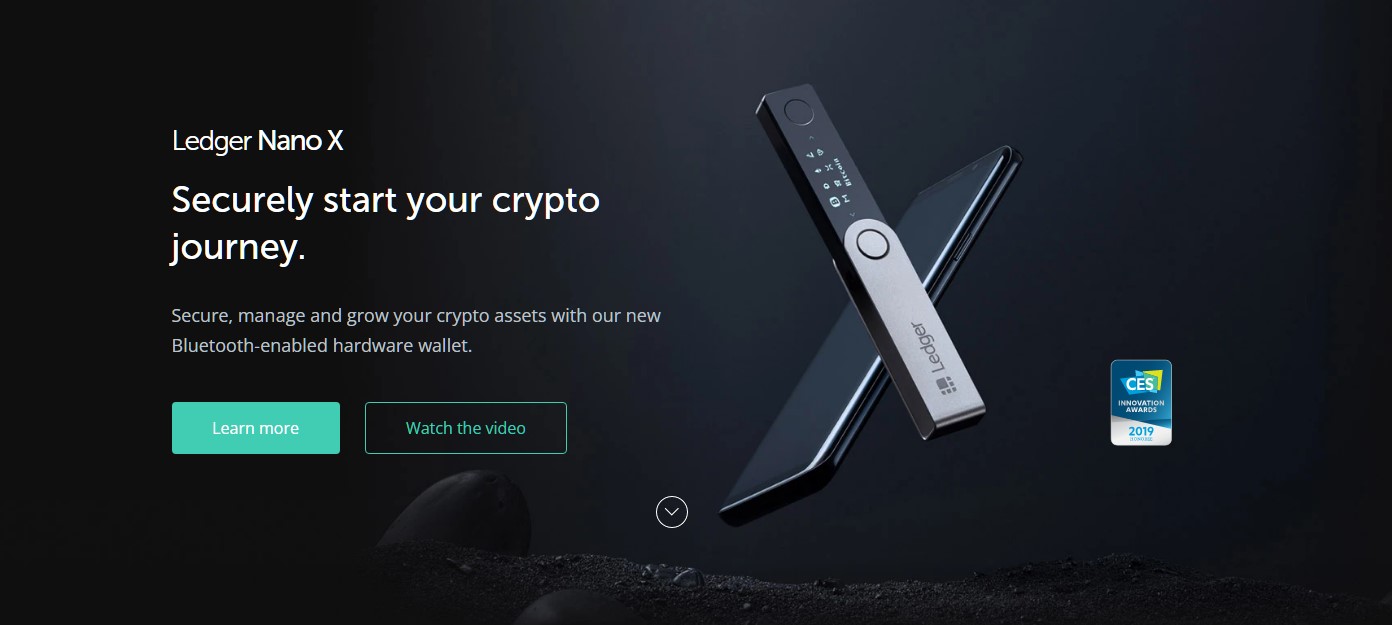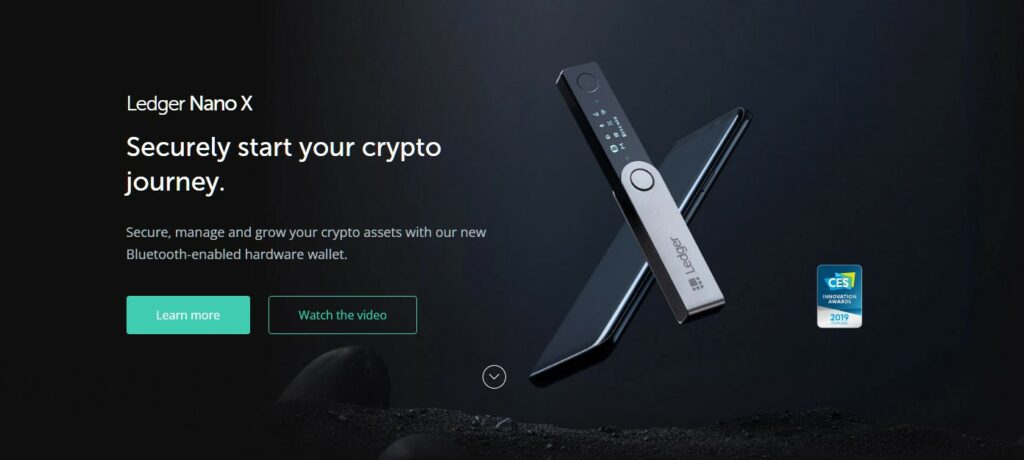 Ledger Nano X claims to support over 1,800 altcoins including XRP as well. Although many of the supported coins require a third-wallet backup to start using Ledger, XRP doesn't. You can directly open an XRP account on Ledger Live after installing an XRP app on your device. Afterward, you can closely monitor your portfolio, receive, and send XRP by confirming the pending transaction directly on the hardware wallet. You'll sign the transaction internally with your private key that is never exposed outside the wallet device, which is exactly how hardware wallets protect our crypto funds against cyber threats.
As an extra advantage for direct transactions with external wallets, you can verify your public wallet address on your Ledger device by using the QR code.
Finally, with Ledger Live, you'll be able to purchase, sell, swap, and even lend your XRP coins in a fully protected environment. Note that Ledger Nano X is relatively expensive in comparison to other hardware wallets but it's definitely worth investing in.
Trust Wallet — Best Mobile XRP Wallet
Trust Wallet was originally designed to provide handy management of DeFi tokens and tokens built on the Binance Smart Chain. However, this open-source wallet turned out to be a highly functional multi-currency solution supporting 50 other blockchains and nearly 1 million digital assets including XRP, other popular coins like Bitcoin (BTC), Ethereum (ETH), Ethereum Classic (ETC), Litecoin (LTC), TRON (TRX), Stellar (XLM), Polkadot (DOT), Dash (DASH), Dogecoin (DOGE) and many more new projects.
As a mobile-only app, Trust Wallet features a modern and compact platform followed by extra functionalities apart from the basic management and storage mechanisms for tokens. Trust Wallet offers direct fiat-to-crypto purchases through the external payment providers Simplex and MoonPay whose services are incorporated within the Trust Wallet app.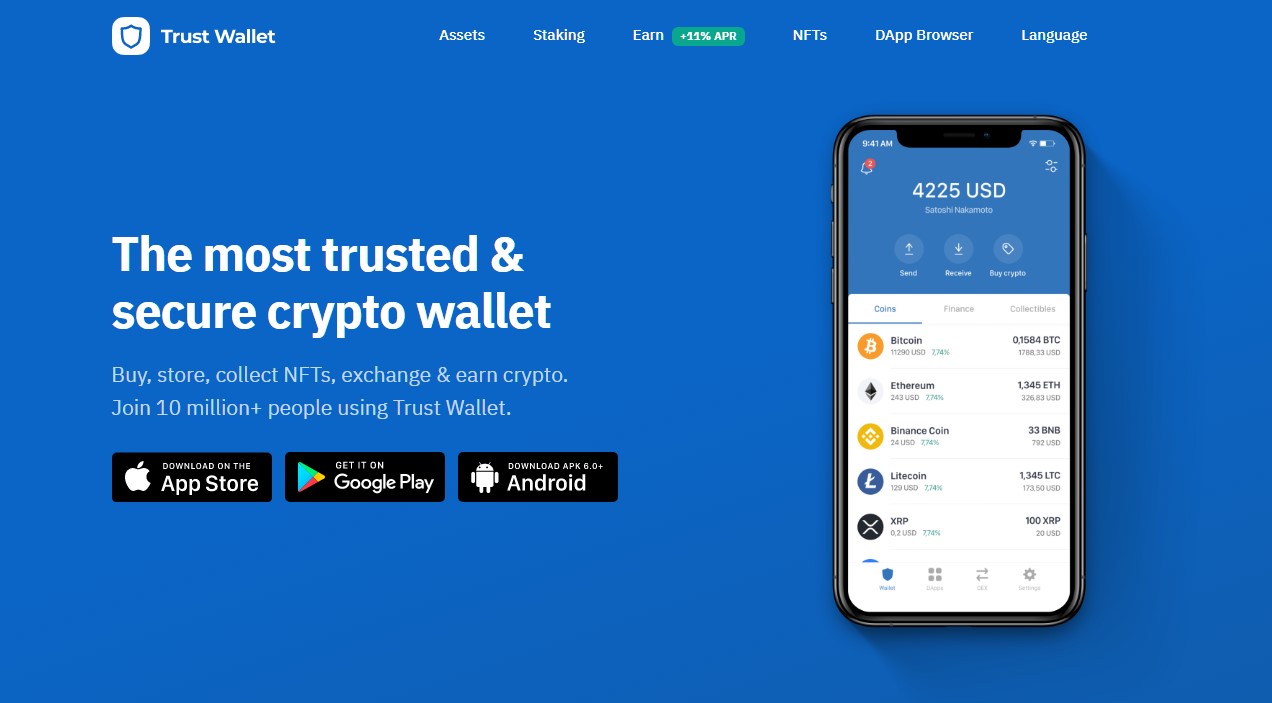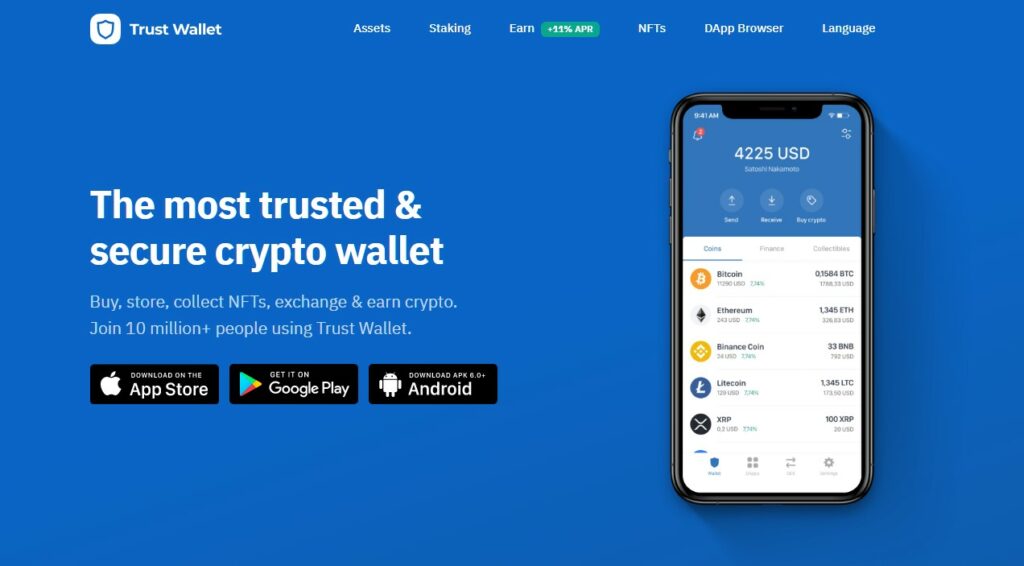 The wallet also gives you access to multiple dApps and DeFi protocols where you can make use of Etherum-pegged and Binance-pegged XRP tokens — Wrapped XRP (wXRP) and Baby XRP (bXRP) respectively — and trade with your XPR in the increasingly growing DeFi ecosystem.
In conclusion, Trust Wallet is the most secure form of crypto wallet you can get today in the form of a mobile app. The company keeps most of the assets in cold storage and provides account protection through the gold security standards: two-factor authentication (2FA), Google Authentication, and SMS verification.
The only downside we could notice is the lack of a desktop version for more insightful XRP management.
GateHub — The Original XRP Wallet Suitable for Beginners
The GateHub wallet originates from the UK and was launched back in 2014 to accommodate Ripple users with convenient storage of their XRP holdings. Over time though, the wallet expanded its services to providing storage and payment gateway for 8 other popular cryptocurrencies.
GateHub is a web wallet compatible with all desktop and mobile browsers. This ease of access makes GateHub a suitable wallet for beginners even though the setting-up process may appear a bit challenging.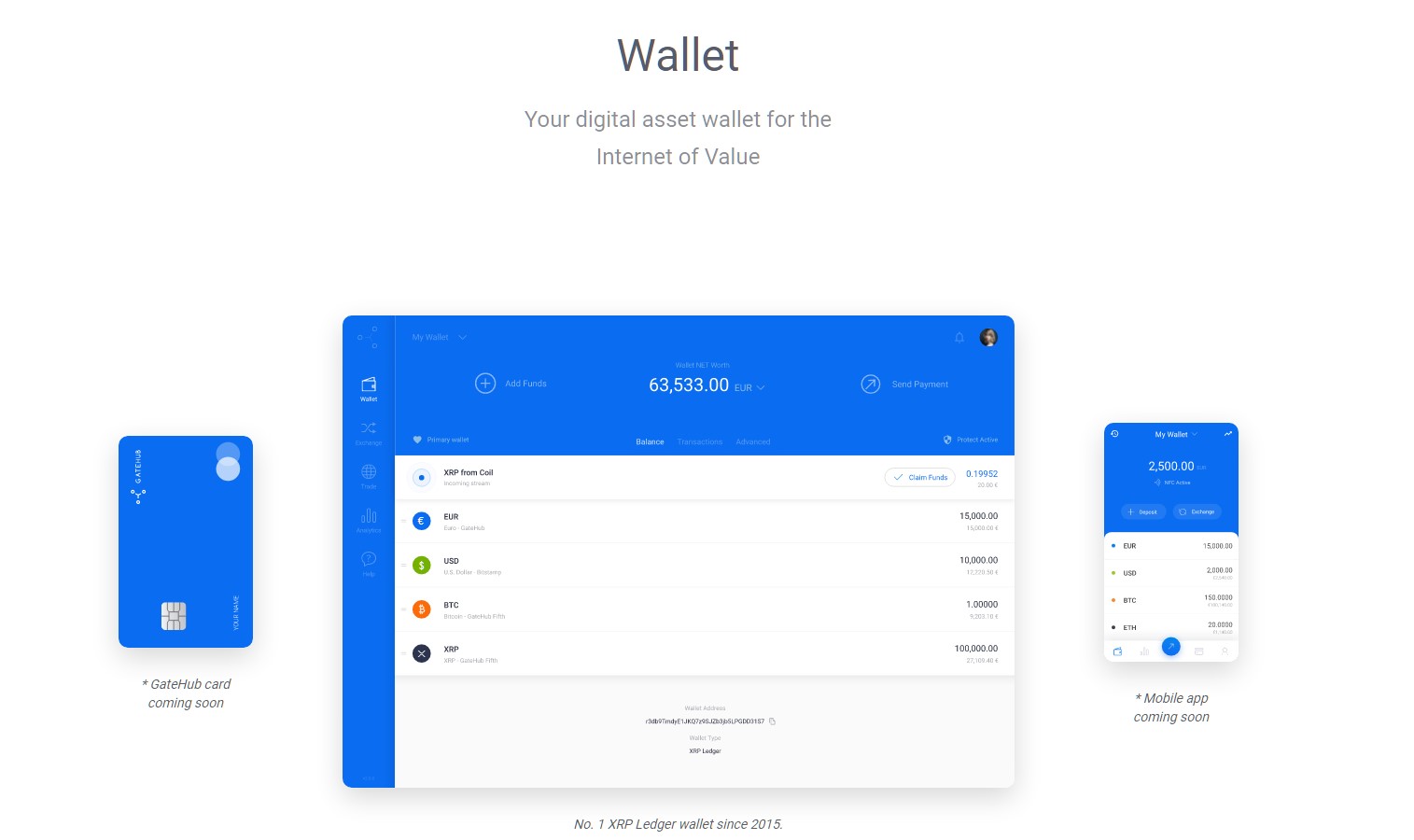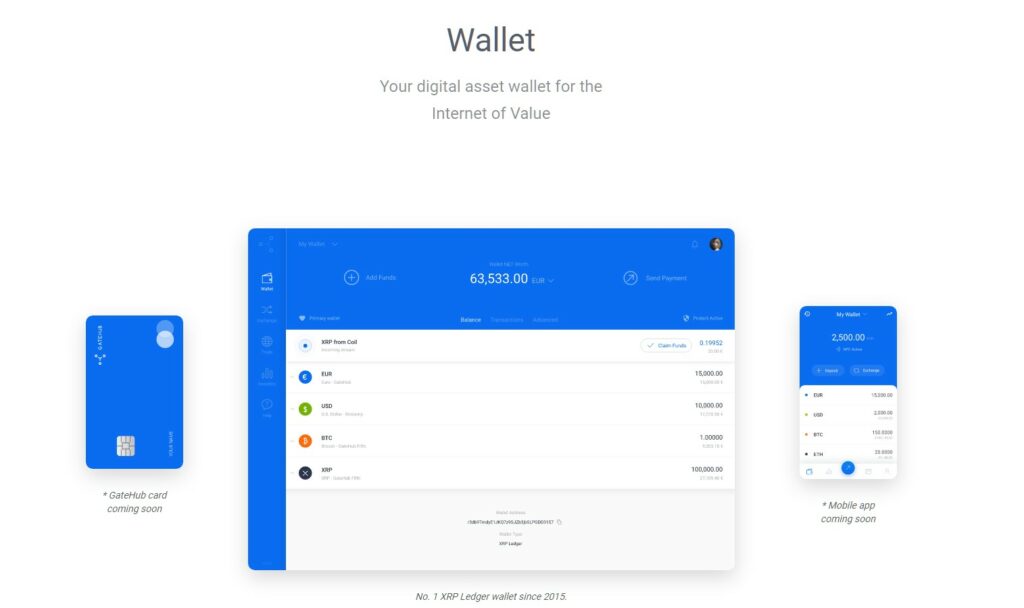 Apart from its storage capacities, GateHub supports fiat deposits and in-platform exchange where users can internally trade their XRP coins without having to transfer coins on a specialized crypto exchange. The fiat opportunity is greatly appreciated by the active XRP community as GateHub allows different fiat currencies such as USD, EUR, JPY, and CNY transferred through SWIFT and SEPA at a certain rate (deposit fee depends on the currency and payment method). However, involvement of fiat requires a full KYC verification, which is a time-consuming process that includes exposure of sensitive personal and bank information.
As a web-based platform, GateHub keeps your private keys in a hosted manner, stored on GateHub private servers. The platform requires re-confirming the user's email address any time they try to log in from a new IP address and provides data encryption for added security.
Backup and recovery of the account are also possible with a recovery passphrase.
Atomic Wallet — Best XRP Wallet for In-Wallet Crypto Swaps and Direct Fiat-to-Crypto Purchases
Atomic Wallet is a desktop app (supported by a mobile version) that differentiates itself from other user-friendly crypto storage solutions with the in-app integration of its decentralized exchange known as Atomic Swap. Once you download the app, you can save private keys on your local device, backed up with a 12-word recovery passphrase.
Atomic Wallet supports XRP and over 500 cryptocurrencies and based on its design and functionality, it's one of the best desktop wallets for XRP users, suitable for both novices and advanced traders.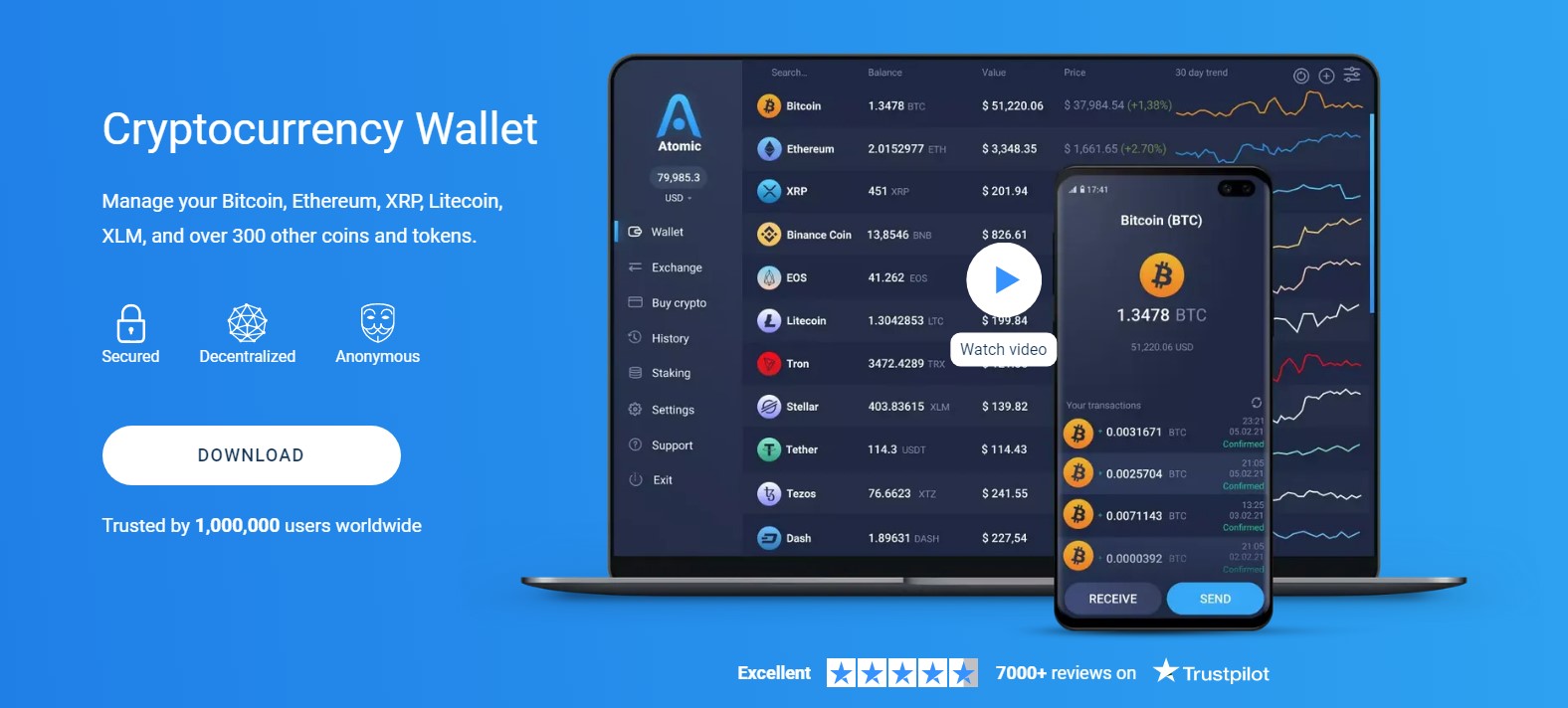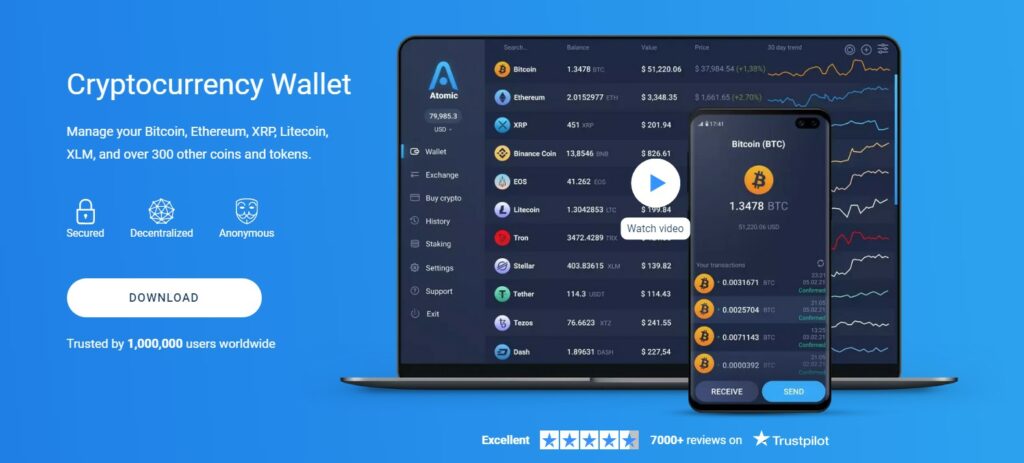 Similar to GateHub, the Atomic Wallet is practical for first-time traders as it allows them to buy Ripple with fiat. However, the Atomic Wallet has gone a step forward in providing more convenient grounds for instant fiat-to-crypto purchases — users can do so using their credit cards and debit cards without the need for a third-party provider to facilitate the transaction.
One more thing before you go, Atomic Wallet won't charge you anything for downloading the app and its day-to-day maintenance. However, always double-check fiat-related transfers as they can cost you up to 5% per transaction.
A Few Words Before You Go…
If you believe in the prospects of the Ripple network as an improvement to traditional money transmitters, then wait no further for investing in its native cryptocurrency XRP, which serves as moving power in the highly dynamic Ripple system. This unique utility has always led XRP to a high position in the list of most valuable cryptocurrencies by market cap and trading volume.
However, don't forget that in the volatile crypto world, there is no comfortable place and high ratings change within a day. You can't predict the future behaviour of this peculiar blockchain representative but you can surely do everything to provide safe storage once you've decided to invest in it.