Finding a secure crypto storage solution for your digital currencies is one of the most important aspects of dealing with cryptos, regardless of whether you're an experienced crypto broker who does a lot of daily trading or a crypto investor who wants to keep their cryptos as a store of value. You definitely need to have a safe and reliable option for storing those crypto assets. Hardware wallets such as Ledger Nano S, Ledger Nano X, Trezor One, and the Trezor Model T are some of the best choices for storing your cryptos safely offline.
If you're a crypto enthusiast who's managed to dig into the world of cryptos, you're probably going to invest in some ERC20 tokens at one point since some of the most exciting and promising projects except for Bitcoin (BTC) are built on the Ethereum (ETH) blockchain as ERC20 tokens. Software wallets are a good storage option if you're looking to store low or moderate amounts of tokens, but if you're planning on investing some serious amounts of cash in digital currencies, it's best to pick a strong hardware wallet with reliable firmware.
In this guide, we're going to take a look at what ERC20 tokens are, and how to store them on the Ledger Nano S hardware wallet, with the help of the MyEtherWallet.
What Are ERC20 Tokens?
The Ethereum blockchain is among the largest blockchain networks in the crypto world. It was launched in 2015 and it brought numerous functionalities and developer features to the world of cryptocurrencies.

Ethereum introduced smart contracts, a sort of automated self-executing agreement made of programming code in order to facilitate complex computer operations and transactions of data. This feature paved the way for the creation of decentralized applications (DApps) on the Ethereum blockchain, which enabled developers to create all sorts of apps that can be used in different industries such as finance, education, and healthcare, to speed up things while saving money and improving efficiency.
Another key feature enabled by Ethereum smart contracts is the introduction of token creation on the ETH blockchain thanks to smart contract token standards. ERC20 is the name of the most popular token standard on the ETH network. It contains a series of rules about the connectivity, fungibility, and technical characteristics that need to be implemented within a crypto project before it can get launched on the ETH blockchain as an ERC20 token.
This token standard enabled hundreds of developer teams to use ETH-based program languages such as Solidity to develop and launch their own cryptocurrencies on the Ethereum blockchain, utilizing all the advantages of one of the largest blockchains on the market. Developers that choose to create an ERC20 token don't need to launch their own blockchain from scratch, instead, they launch their cryptocurrency on top of the ETH main chain.
There are thousands of ERC20 tokens but most of them don't achieve any widespread popularity, however, there are also numerous very popular crypto projects with high market caps that are, in fact, ERC20 tokens. These are some of the most popular ERC20 altcoins: Chainlink (LINK), Maker (MKR), Shiba Inu (SHIB), Golem (GNT), OmiseGO (OMG), Basic Attention Token (BAT).
Ledger Nano S
The Ledger Nano S is one of the most popular hardware crypto wallets on the market. It's a small, specialized USB device that's made to safely store all of your crypto coins and tokens offline, out of reach of any cyber attacks and hackers.
When you keep the private keys to your cryptos on a Ledger Nano S device, you're entrusting your digital assets to a device that has received security certification by ANSSI, the French cybersecurity agency which has rated the Ledger Nano S as a CC EAL5+ Secure Element. This means that the device is considered a secure element with some of the best safety measures in the world.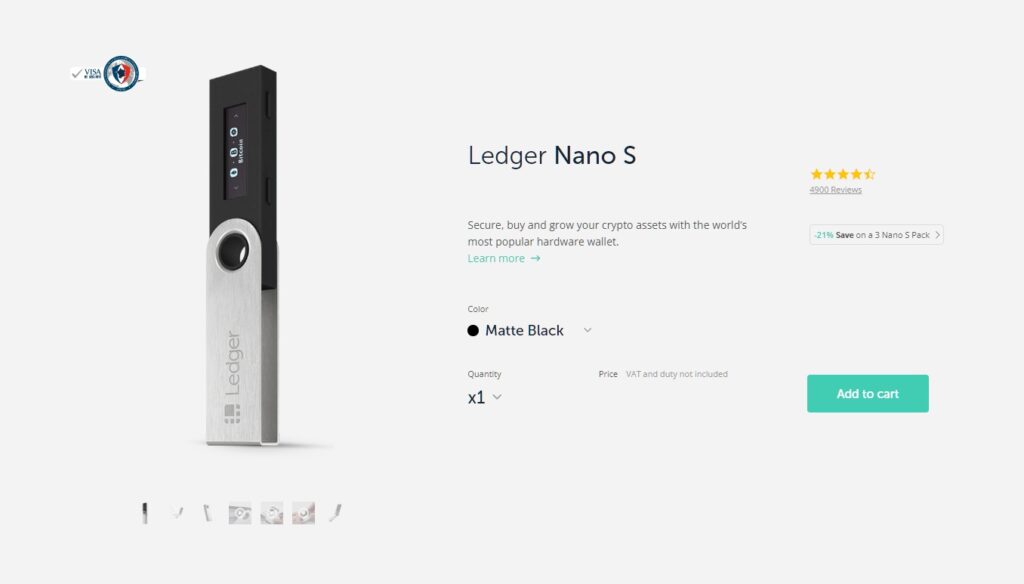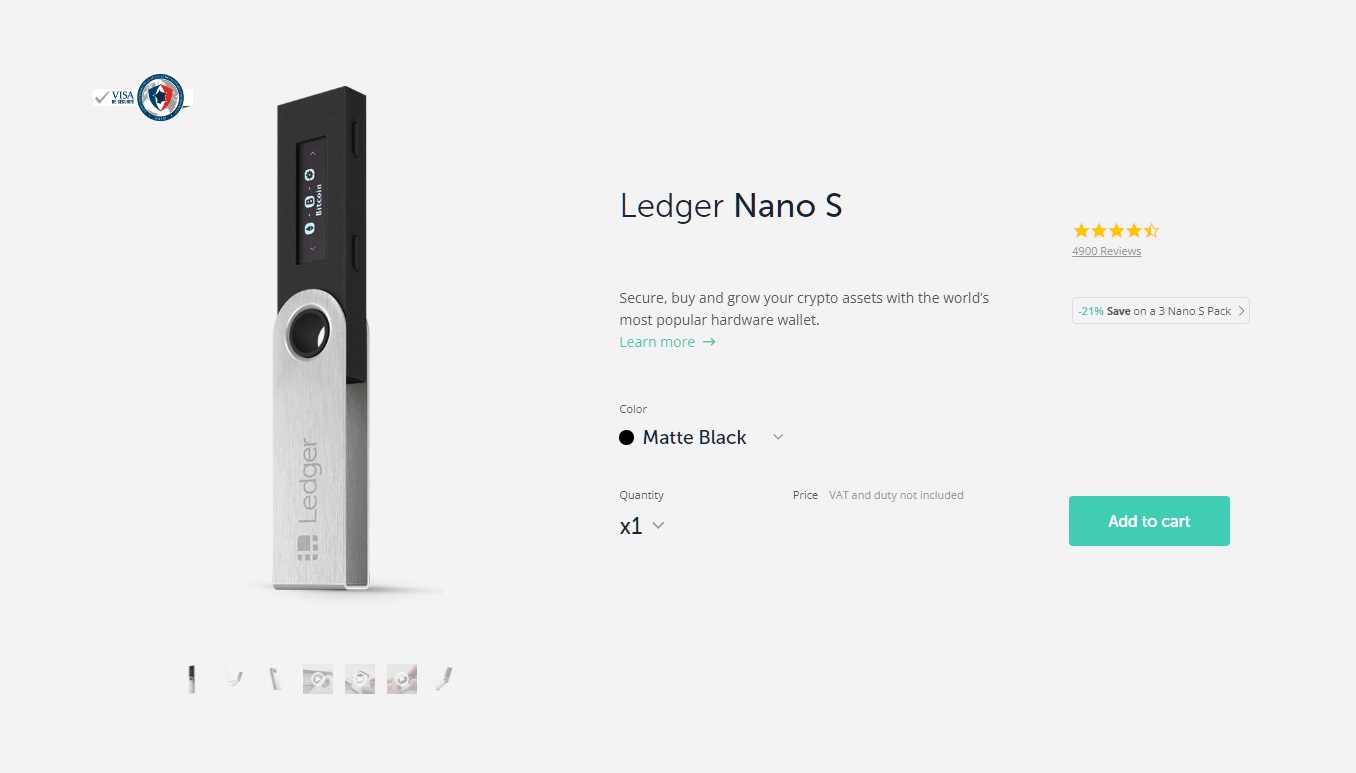 The Ledger device can't be accessed without entering a custom PIN code, and your data is also protected by a BIP39 standard 24-word recovery seed phrase. The seed phrase is used to backup your wallet in case you lose the device or forget the PIN code. If someone gets hold of your Ledger device, they can't access it without both the PIN code and passphrase, so, basically, you just need to keep that information safe and there's no way anyone can compromise your private keys.
Apart from advanced hardware and software encryption solutions, Ledger devices also come with some of the best hardware wallet firmware in the industry. You can install up to five crypto apps on your device, depending on the size of the apps. Each cryptocurrency you want to store on your Ledger Nano S needs to be installed first. More than 1000 various coins and tokens are supported by Ledger and all you need to do is install the appropriate apps through the Ledger Live device manager. In case you want to store ERC20 tokens, Ledger is a great choice and it works perfectly in combination with MyEtherWallet.
MyEtherWallet: One of the Best Ethereum Crypto Wallets
MyEtherWallet.com is one of the most popular software wallets for interacting with the Ethereum blockchain. The wallet supports the storage of Ether, ETH forks like Ethereum Classic (ETC), and ERC20 tokens. MEW supports all the most popular ERC20 tokens by default, but you can also add any ERC20 custom tokens in just a few clicks by pasting the contract address in the contract data field. The wallet was developed by members of the ETH core team, so it's considered an official Ethereum wallet.
MEW is very user-friendly, with an interface that's easy to navigate, although the wallet set-up process is a bit different compared to many other software wallets. You first create a wallet password, while the private key to your wallet is generated afterward.
When using MEW, you aren't storing any data on a central server, like in the case of many popular wallets. Instead, you're interacting with the ETH blockchain directly, and your private keys are stored on your mobile device. Transactions are really fast because you aren't sending cryptos from a third party to the ETH blockchain, instead, you're directly leveraging the transaction speed of the ETH blockchain which makes transfers and exchanges happen really fast.
You can use MEW through a browser such as Google Chrome and you can also use it on your mobile device. The wallet is compatible with both Android and iOS smartphones, which enables you to use it while on the go, however, the fact that it's a software wallet means it isn't fully secure. Even though the private keys aren't kept on any central server, they can still be at risk on your mobile device, in case a cyber attacker manages to hack your smartphone and steal your keys. A lot of people store their wallet passwords on their phones, which makes them an easy target for cyber attackers. This is why it's generally advised to combine a top-quality software wallet such as MEW with an industry-leading hardware wallet like the Ledger Nano S.
Connecting MyEtherWallet and Ledger Nano S
The main reason why people use hardware wallets is that they know that their funds are totally safe, stored offline, without any hackable internet connection. However, the Ledger Nano S needs third-party apps such as MEW to facilitate transactions of ERC20 tokens. A great thing about the Ledger firmware is that you don't need to worry about third-party wallet apps compromising your private keys on the Ledger device, because the software blocks any possible internet connections from interacting with the data within the hardware wallet.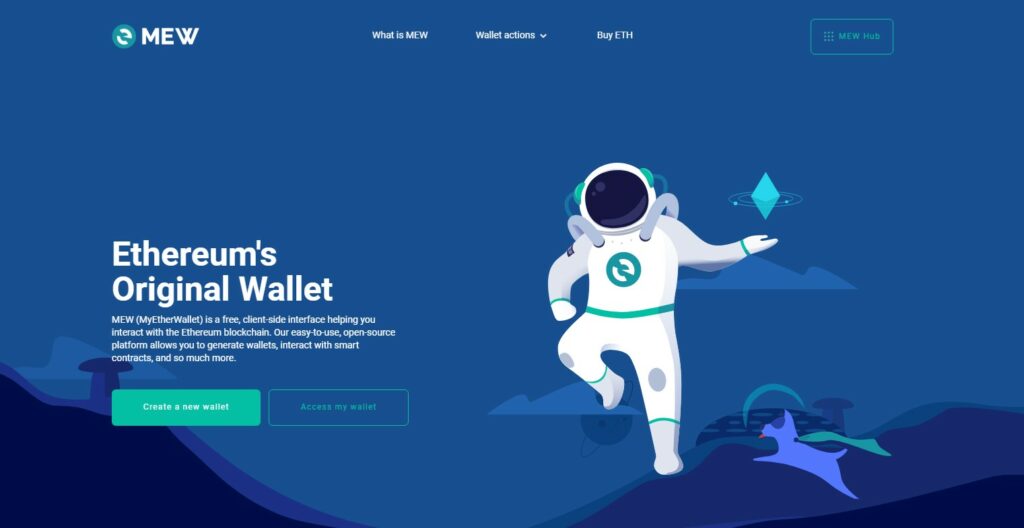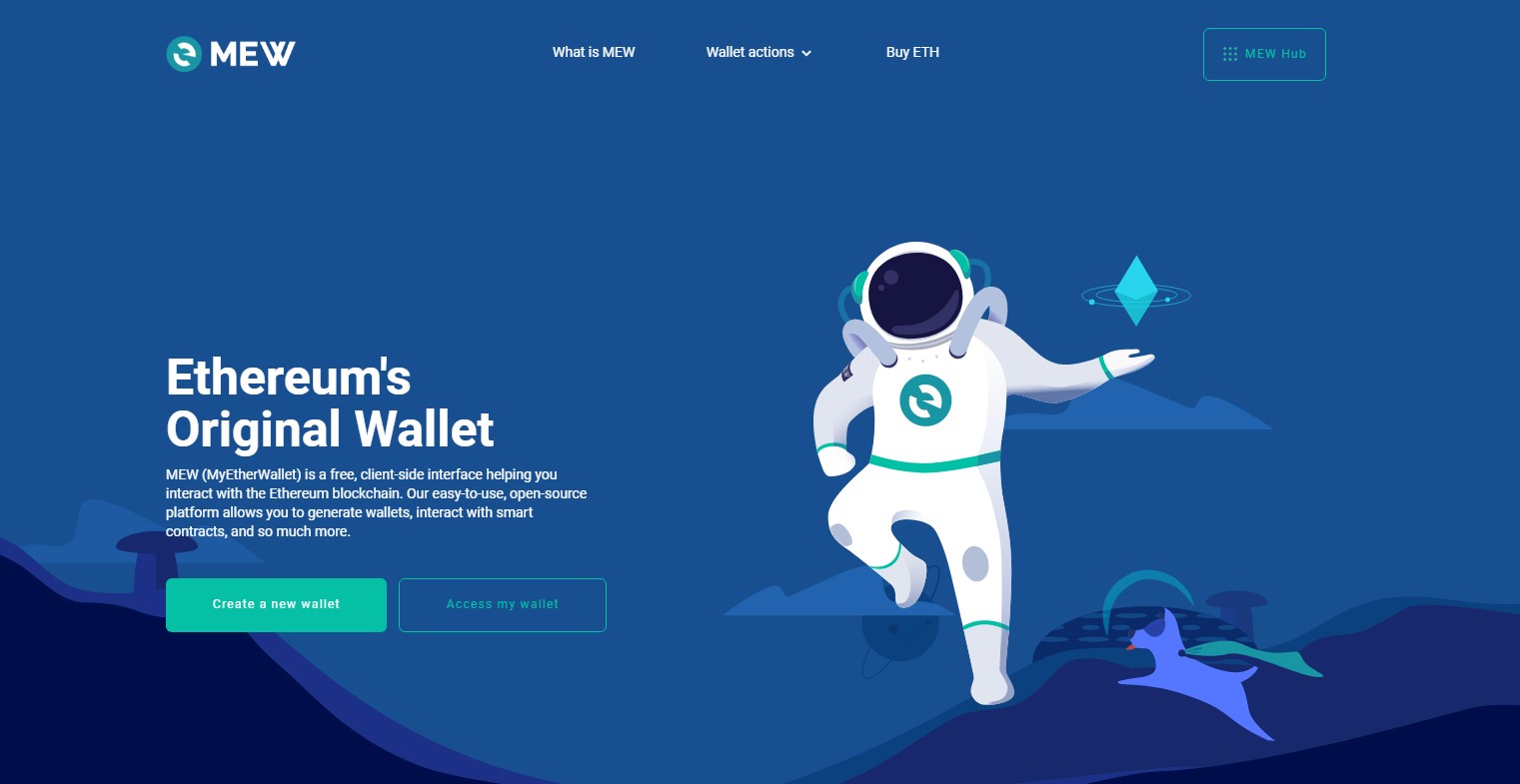 It's important to note that the Ledger Nano S is compatible with numerous popular and reliable software crypto wallets and the Ledger firmware always blocks any third-party internet connections that could be a possible gateway for cyber attackers to your private keys.
Here's a step-by-step guide on how to connect your MEW account with a Ledger Nano S device:
First, you need to connect your Ledger device to a computer or laptop with a USB cable. Make sure you've got your Ledger Live app installed and running on the computer you're connecting the device to. Unlock your wallet by entering the appropriate PIN code.
You'll be able to choose between multiple sections on the Ledger device screen. Choose Ethereum and click both device buttons to enter the subsection for Ethereum.
Now choose the setting section and once again click both buttons.
Choose the Contact Data section and toggle the Yes option.
Now go back all the way to the Ethereum section and leave your Ledger device. You can now move to your MEW account.
Open MEW, select Access My Wallet, and then select Hardware.
Choose Ledger Wallet from the offered options and then select the Connect With Your Device option. Make sure that your Ledger wallet is unlocked and connected to your computer.
You'll see a pop-up screen where you can choose derivation paths and networks. Since you want to use the Ethereum blockchain for transferring ERC20 tokens, you should select the Ethereum network and choose the Ethereum derivation path.
On the next screen, you'll be able to choose addresses for your main ERC20 wallet. You'll be offered a choice between five wallet addresses. Select one and proceed.
Now you've officially connected your MEW account with your Ledger Nano S device and you can send your ERC20 tokens between your MEW and Ledger device in just a few clicks by pasting a destination Ethereum address associated with your Ledger wallet into MEW.
Managing ERC20 Tokens on Ledger Nano S
Connecting your MEW account with your Ledger Nano S wallet will enable you to easily transfer ETH and ERC20 tokens from MEW. Now let's see how to manage your ERC20 tokens on Ledger.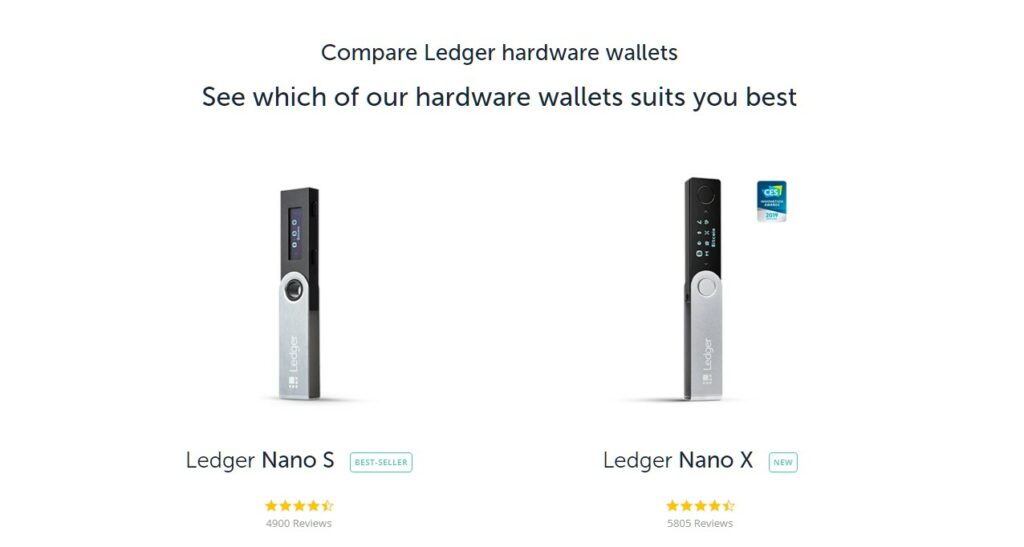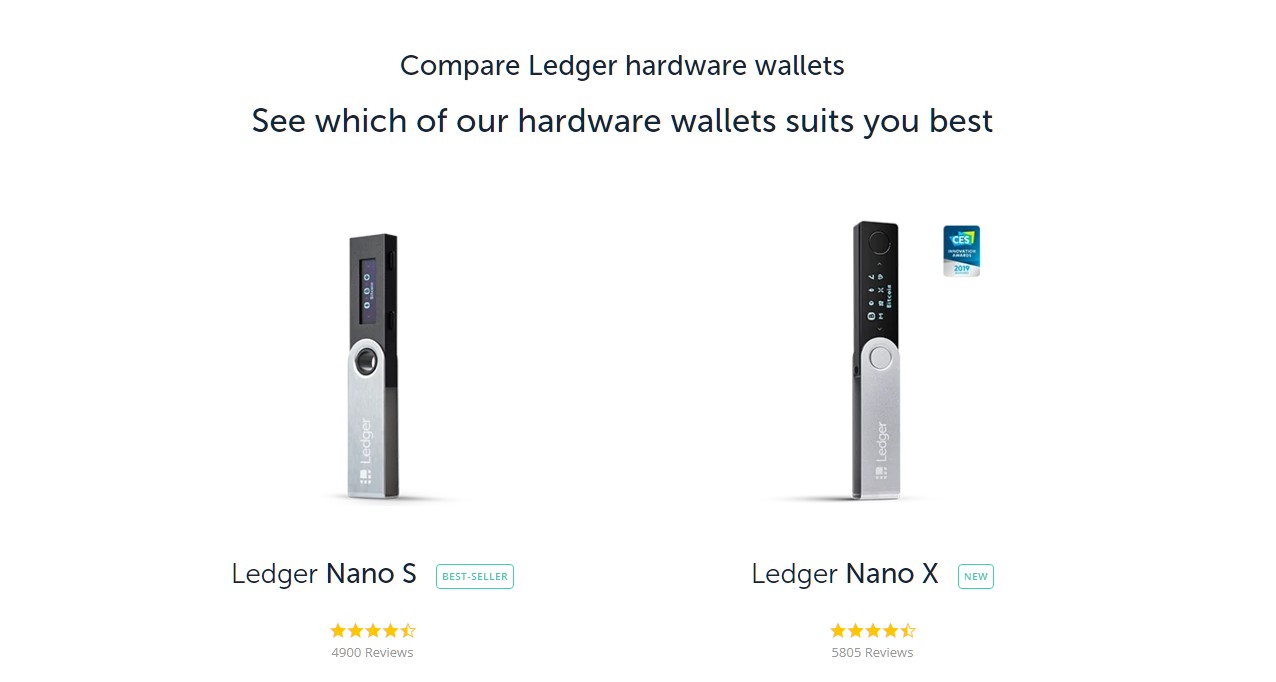 First, make sure that your Ledger Live app is updated to the most recent version. If your firmware isn't updated, you might encounter errors.
Make sure the latest version of the Ledger Ethereum app is also installed on your wallet device.
In order to receive and manage ETH and ERC20 tokens, you need to add an Ethereum account to your Ledger device. Go to the Accounts section and choose Add Account. Select Ethereum and then proceed. When you connect your Ledger device and start your Ethereum app within the wallet, Ledger will scan the ETH blockchain and list all available ETH accounts associated with your wallet.
It's important to note that when you select the Accounts section, you'll see three types of accounts: existing accounts that have some blockchain transaction traffic but aren't yet added to your Ledger device, accounts already in your portfolio which are already included on your Ledger device, and new accounts that can be added to Ledger (these accounts need to have at least one transaction in their transfer history).
In order to view your ERC20 token balances, go to the Accounts section in your Ledger Live app, select Ethereum, and then choose Show Tokens.
A Few Final Words…
Using a reliable software wallet for everyday crypto trading and storing assets is quite fine if you're dealing with a moderate amount of cryptos, however, when it comes to large amounts of digital currency, it's better to choose a hardware wallet. Imagine losing thousands of US dollars worth of cryptos, or even more because a malicious hacker managed to steal your software wallet's private keys from your mobile device. Such a situation is extremely frustrating, especially since you could have avoided it entirely by using a secure hardware wallet.
Ledger hardware wallets boast some of the best available security measures on the market and they're a great choice for storing any amount of cryptocurrency safely, without fear of security hacks. Ledger devices work perfectly with most popular software wallets and if you're looking to store Ethereum tokens such as ERC20 assets, then MEW is a perfect software wallet with Ledger Nano S compatibility. Setting up your Ledger and MEW wallet accounts is pretty straightforward and transferring assets between the two accounts is really simple.