When cryptocurrencies started becoming popular a few years after the launch of Bitcoin (BTC) back in 2009, the possibility of surpassing the whole contemporary monetary system by directly sending each other cash through the blockchain was something people were genuinely amazed at. However, Bitcoin's blockchain didn't provide user anonymity because it was still possible for third parties to track transactions between people around the world.
This is why numerous developer teams quickly started working on cryptocurrency projects that would focus on user privacy, by providing people with the means to securely and anonymously send each other funds with the help of blockchain technology. That's why privacy-oriented cryptos like Monero (XMR), Zcash (ZEC) and Verge (XVG) were created, so people could exchange funds and send cash without fear of their personal information being monitored by big data companies, cyber criminals, or government institutions.
In this guide, we'll take a detailed look at one of these privacy-first cryptos, Verge coin, to see how it works, where you can buy it, and what your options for securely storing XVG coins are.
History of Verge (XVG) Coin
The main focus of the Verge cryptocurrency is privacy, but the developer team behind it also prioritized cheap transactions and high blockchain processing speed as core values of the project. When the Verge project was initiated, it began as DogecoinDark in 2014, just a year after the launch of the original Dogecoin (DOGE) crypto in 2013.

The main reason for launching Verge was the opinion of several developers on the project that Bitcoin was simply too public of a project and thus attracted a lot of unwanted attention that could possibly backfire on BTC users. The BTC blockchain is publicly available for browsing on the blockchain explorer platform, which isn't that much of a problem, but the fact that wallet addresses are publicly available can be a serious privacy issue.
Not only are wallet addresses publicly visible, but the amount of BTC that's transferred between wallets and the amount that's currently kept in any BTC wallet is also visible to anyone that analyzes the blockchain. While Bitcoin provides users with a certain degree of pseudonymity, since they don't have to reveal personal information with their BTC addresses, if someone would want to track them and find their location or true identity, they could do it through a user's IP address and web hosting service.
Enter: Verge Coin
The Verge team created a secure cryptocurrency that doesn't expose any sensitive information regarding transactions and wallets, thus helping people avoid any unnecessary attention from third parties.
In the beginning, the project was promoted by an anonymous developer under the pseudonym Sunerok, but he soon decided to reveal himself as Justin Sunerok, a senior software engineer from Florida. Anonymous crypto developers aren't really trusted among crypto enthusiasts and this is why Sunerok and the rest of the team decided to reveal their identities to the public.
The rest of the Verge team is a mix of programmers and crypto enthusiasts from different parts of the world, including Australia, Russia, India, Germany and Switzerland, and all of the developers are actually volunteers that created the currency without any personal profit. Since there was no Verge ICO (initial coin offering) and no pre-mined XVG coins, the team didn't gain any profits from this project.
XVG: A Privacy-First Cryptocurrency
Banks, payment services, and other traditional financial institutions keep tight records of their users, including account balances and transaction history that is often used for purposes users haven't consented to. Cryptocurrencies like Verge tend to solve this ever increasing issue of financial privacy by keeping absolutely all data that might reveal anything about the financial situation of users private.
Verge is a cryptocurrency that can be used as a fully-private exchange medium. This means users can send each other XVG without any fear of being traced and then they can either keep the Verge currency as a store of value, spend them with vendors that accept the crypto, or exchange it for another more popular coin and withdraw to fiat money, without anyone tracking the origins of the money.
Transactions on the Verge network hide user IP addresses using two methods, to ensure no one can physically trace the location of a sender or receiver. The first method is the integration of Verge and the TOR Onion network, which acts as an intermediary when you're sending or receiving XVG coins, effectively hiding your address. The second method uses I2P anonymous network solutions to hide your IP address.

Users have the Verge Wraith protocol at their disposal if they want to send a standard public transaction or the private XVG channels, which makes the network highly adaptable to user needs. Basically, users can choose if they want to use a public XVG blockchain or the private one and they can switch between the two at any time.
The code is totally open-source and all community members that hold XVG coins can suggest updates and changes of the ecosystem. Suggestions are then eligible for community votes and those that achieve a sufficient number of votes get implemented on the Verge blockchain.
The Technology Behind Verge
Verge developers wanted to make a crypto that can process transactions faster than BTC and they succeeded in doing so because an XVG transfer takes just 30 seconds, compared to the 5 to 10 minutes of a BTC transaction.
Verge is also more scalable than Bitcoin, because it can process up to 100 transfers per second, compared to just 7 transfers per second on the Bitcoin blockchain. Such high processing speed means that XVG can easily become used as an everyday currency for retailers and vendors around the world, because they can process transactions quickly, without delays caused by network busyness.
All of this has been made possible by the variety of mining algorithms used by the Verge blockchain, which enabled it to drastically increase network processing speed compared to other popular cryptos. XVG uses 5 different mining algorithms: Blake2s, Myr-groestl, Lyra2rev2, X17, and Scrypt. This makes Verge mining fully decentralized, allowing various types of mining hardware to effectively mine XVG, using classic GPU mining rigs, CPUs, and ASIC miners alike.
The XVG Coin
The XVG coin is the token of the Verge blockchain and unlike some digital cash cryptos like BTC (which is capped at 21 million coins), XVG has a cap of 16.5 billion coins. Because of the huge supply of coins, XVG naturally has a far lower market value than Bitcoin, because, in order for a cryptocurrency to achieve a high price per coin, it needs to be scarce and to have a high market cap along with adequate trading volumes.
A single XVG coin has never even remotely reached the price of 1 USD, but this is exactly what makes it an ideal digital currency because anyone can afford to conduct private transactions using Verge, without spending too much money. 
Verge Security Breach Cases
Just like many cryptocurrencies, XVG also had its share of security breaches which compromised the whole network, but this wasn't due to the Verge privacy technology, because that was never breached. In fact, XVG was a victim of a classic miner attack.

In April of 2018, a cyber attacker managed to take advantage of an algorithmic bug among the 5 Verge mining algorithms and infiltrate the network, changing the timestamps on blockchain blocks. This enabled the hacker to lower the mining difficulty and mine new blocks very quickly. This attack type is known as a 51% mining attack, where the hacker takes control over 51% of network nodes, enabling them to alter the data in the blocks to their advantage, thus manipulating the whole network.
The Verge team quickly responded to the attack with a network update that seemingly fixed the situation, but soon afterwards another similar attack took place. The two attacks enabled hackers to mine approximately 1.7 million USD worth of XVG at the time.
Luckily, the developers managed to create a thorough update that closed this loophole and there haven't been any such security breaches ever since.
It's important to note that these cyber attacks didn't manage to compromise the Verge network's privacy technology at any point.
How to Buy Verge Coins
Given the fact that XVG is pretty cheap and has a lot of development ahead of it, crypto enthusiasts may wonder how to buy Verge coins and invest in this crypto's future. XVG isn't a top 100 crypto according to Coinmarketcap, but it is located in the top 200 which is a good indicator of this asset's growth potential.
In case you want to buy XVG coins, Binance and Bittrex are some of the most popular cryptocurrency exchanges that support this crypto. You can fund your account on these exchanges with a fiat currency and instantly buy Verge.
If you want to buy Verge with other cryptos, it's best to do it with Ethereum (ETH) or BTC because you can easily find an ETH/XVG or BTC/XVG trading pair on these exchanges, while some lesser known altcoins might not be supported as a trading pair with XVG.
Popular Verge Wallets
Once you buy some Verge coins, you'll need a safe crypto storage solution to securely store your coins. Luckily, Verge is compatible with a lot of popular crypto wallets, and it also has its own network wallet, specifically created for storing Verge.
Here's a couple of popular and reliable XVG wallets.
Verge Electrum Wallet
The Verge Electrum Wallet is the official XVG wallet, supported and recommended by the Verge developer team. It's a desktop wallet that works best if you download it and install it on your PC or laptop computer, but also has Android and iOS versions for mobile devices. The desktop version supports Windows, Linux, and Mac OS.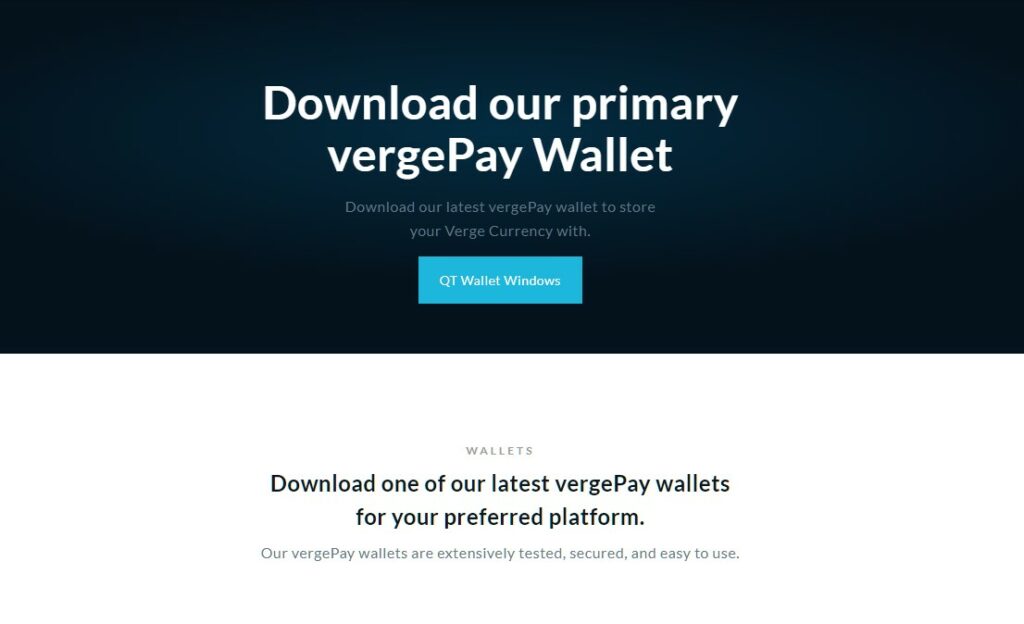 This wallet is specifically created for storing XVG and it allows users to securely send and receive their Verge coins. The user interface is pretty simple and there aren't any complex commands that you need to learn. Everything you need to conduct successful transactions and manage your coins is available in just a couple of clicks.
An important characteristic of the Verge Electrum Wallet is that it comes with the Simple Payment Verification option that enables users to effectively manage their XVG portfolio without downloading the whole blockchain on their device.
All of the Verge privacy features are available with this wallet, plus some extra security measures such as the 2FA (two-factor authentication) login procedure.
Atomic Wallet
Atomic Wallet is a great multi-currency software wallet that is praised by the crypto community for its tight security and privacy. If you're using Verge, you probably value your privacy and the Atomic Wallets does too. That's why there's no KYC (know-your-customer) protocol with this wallet and you don't need to disclose any personal information when registering or using the wallet. 
It supports Verge and a bunch of other popular cryptos. You can also convert your altcoins into Verge and vice versa without leaving the wallet, through a direct crypto exchange feature which is integrated into the wallet.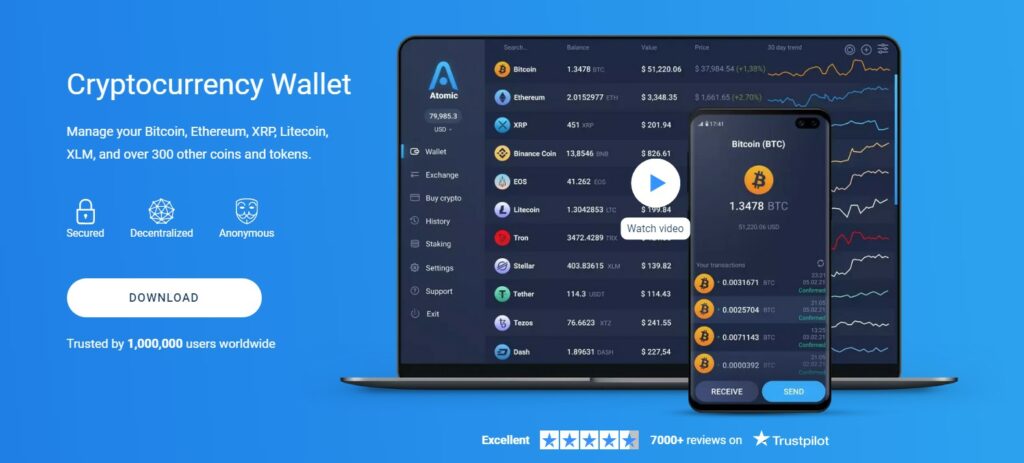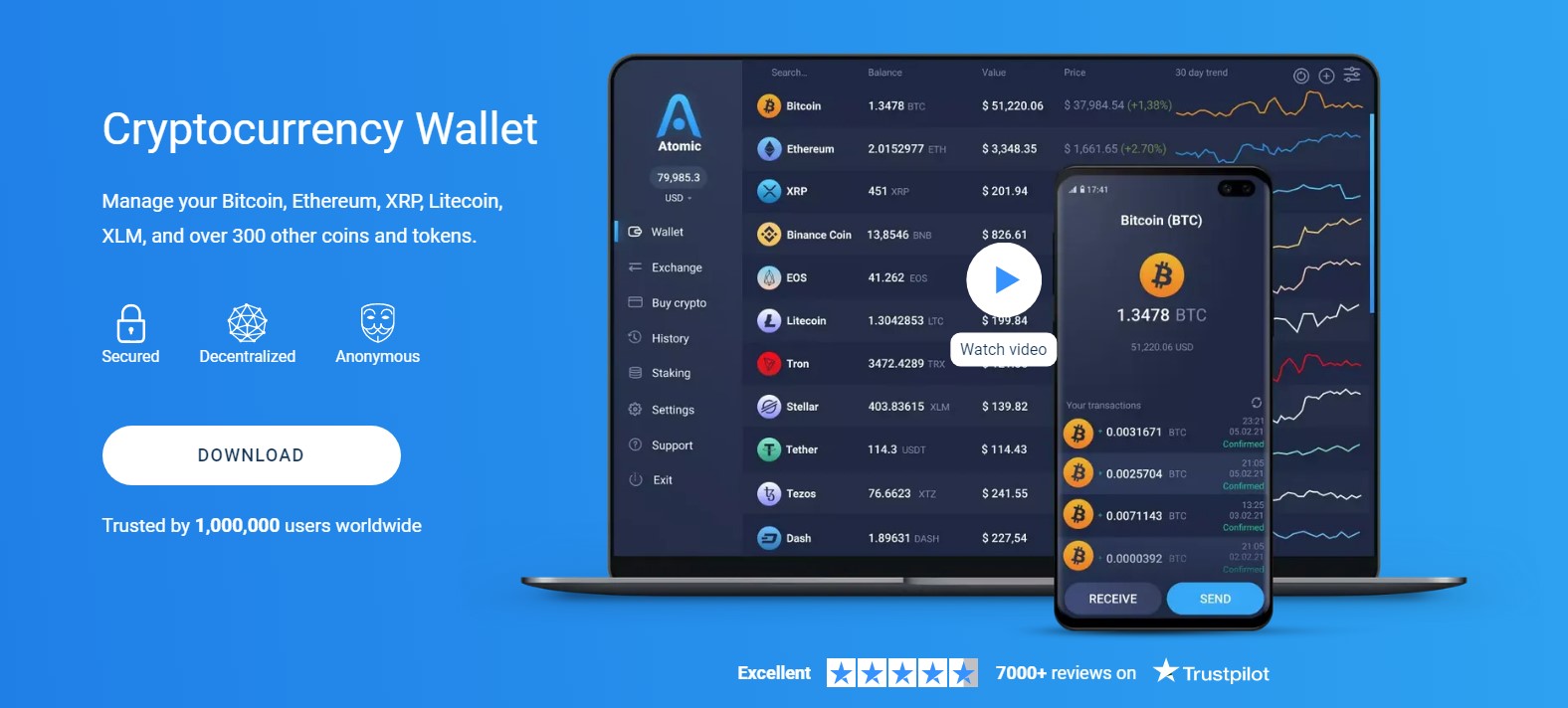 You can even buy numerous popular cryptocurrencies and have them directly transferred to the wallet because of the wallet's integration with the Simplex crypto exchange. However, when purchasing cryptos through the Atomic Wallet, you will need to provide your personal info and payment details, so if you want to stay anonymous, it's best not to make purchases through the wallet.
All your private keys are safely stored on your device and not on company servers. The wallet comes in the form of a mobile app and desktop program so you can access it through whatever devices that suit you most.
Coinomi Wallet
The Coinomi Wallet is another top-quality, multi-currency software wallet that supports XVG. Coinomi is a mobile wallet compatible with Android and iOS devices and it comes with a user-friendly interface that's easy to navigate. You can store your Verge coins and more than 1,700 other cryptos from various blockchains. 
It has a nice selection of cryptos you can directly purchase and all of your private keys are stored on your mobile device, thus eliminating the risk of a security breach at Coinomi servers compromising your cryptos. The wallet has integrated Changelly and ShapeShift services, which means you can exchange your Verge coins for other cryptos without visiting crypto exchange platforms and transferring your tokens to other addresses just to exchange them for other cryptos.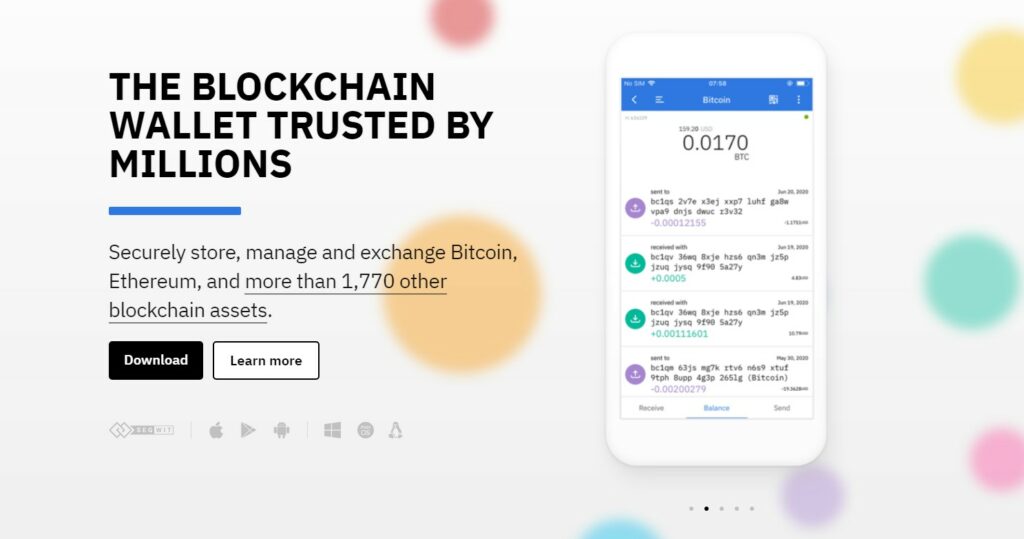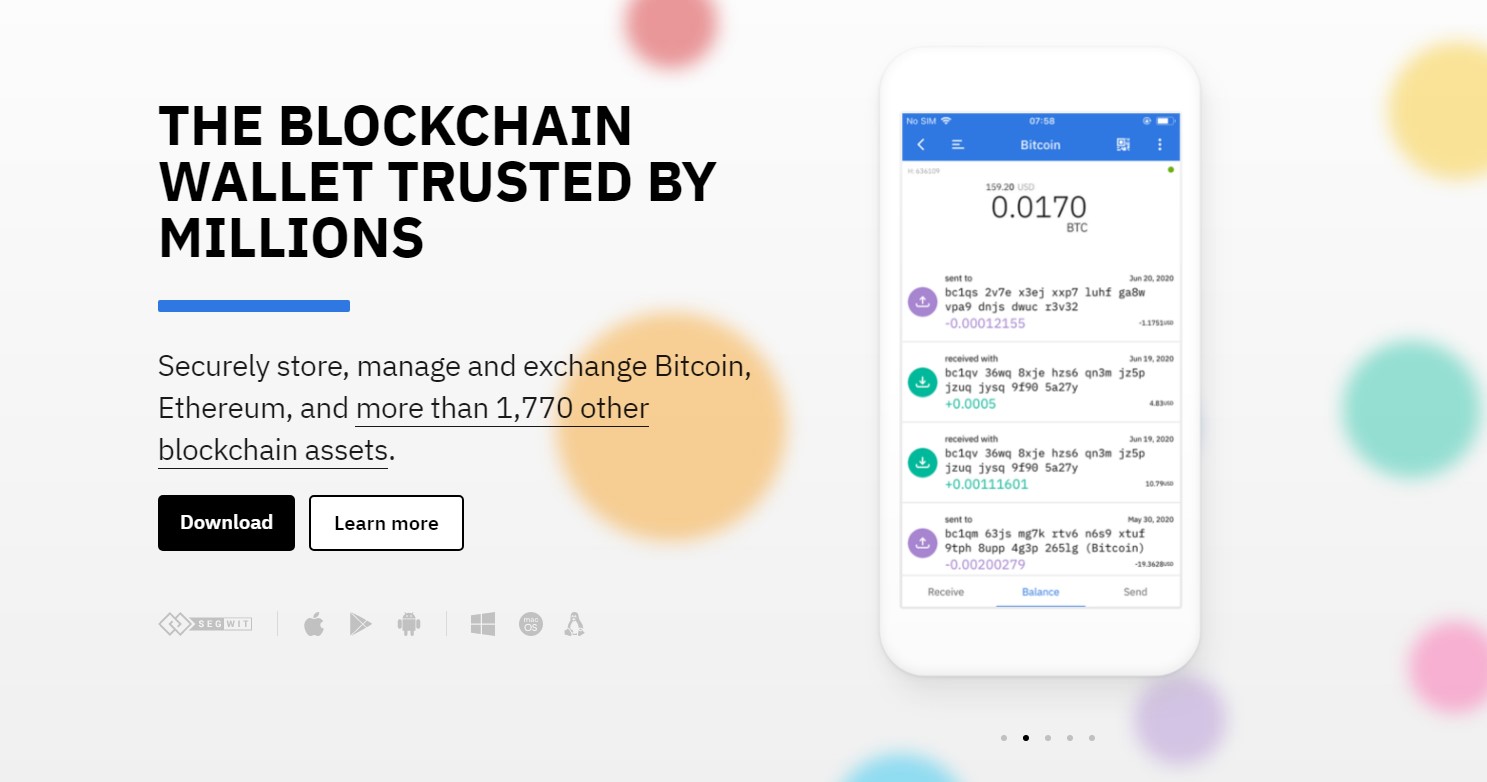 The Coinomi also excels at privacy, because it has multiple privacy features along with an IP address hiding service that fits perfectly with Verge's privacy functions.
Trezor One
In case you want to store a lot of Verge coins, the best option is to use a reliable hardware wallet such as the Trezor One. Trezor is known as the manufacturer of some of the most secure and trustworthy cold storage devices on the market.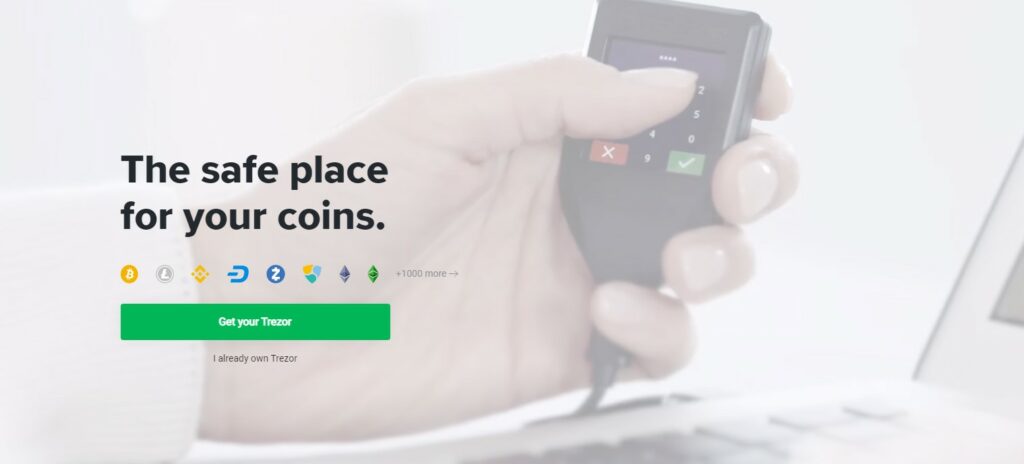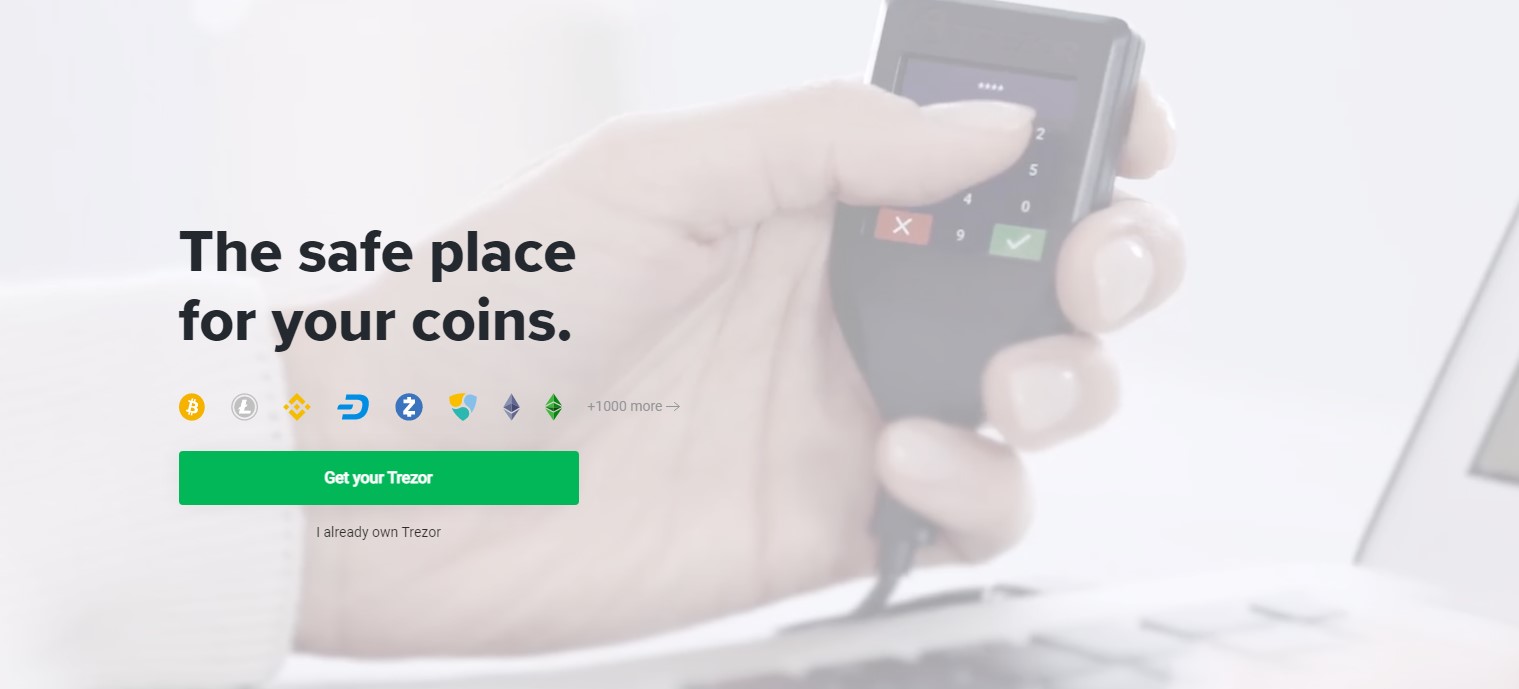 The Trezor One device is a top-quality USB device with highly advanced encryption technology for storing your private keys offline, safe from any sort of cyber attack. Trezor supports XVG coins and you can store them without fear of any unpleasant cyber hacks. Even when you connect your Trezor device to a third-party app to manage your Verge coins, the coins stay safely stored on the Trezor device, without the possibility of a cyber attacker compromising your assets because the Trezor firmware makes sure no one can interrupt the connection between your private keys and the Verge managing app.
Trezor has multiple security layers such as 12-word seed phrases, passwords, and even a special PIN code for your device.
A Few Final Words…
Verge is one of those cryptocurrencies that offers users some authentic value and not just a means for storing money. Thanks to its privacy-focused features and capability for fast transactions through a dual blockchain model with both a private and public chain, XVG is a convenient crypto for both investors and retailers as a secure payment medium that doesn't reveal any private information if the user wishes it so.