Choosing a good cryptocurrency exchange platform can be quite complicated, given the fact that there are more than 400 such platforms on the market. One way to be sure that you've made the right choice is to select one of the largest exchange platforms, an exchange with a huge trading volume and lots of satisfied users, such as Kraken, Coinbase, Binance, and Gemini.
This guide is about Kraken.com, one of the most popular centralized crypto exchanges in the world. We're going to take a detailed look at how the platform works, what it offers, and how to transfer assets out of the platform.
The Kraken Cryptocurrency Exchange Platform
The story of Kraken begins in 2011 when crypto investor Jesse Powell visited the offices of Mt. Gox, one of the first crypto exchange platforms at the time. Mt. Gox would soon become famous because of a huge cyberattack that hacked the platform's funds, stealing millions of USD worth of assets, leaving thousands of users without their cryptos. This event inspired Powell to found a crypto exchange platform that would put client safety and asset security in the first place. Kraken was subsequently launched in San Francisco in 2013.
Kraken has more than 6 million users worldwide and is known as a crypto exchange that takes good care of its users, providing them with some of the best security features on the market and a broad range of trading possibilities.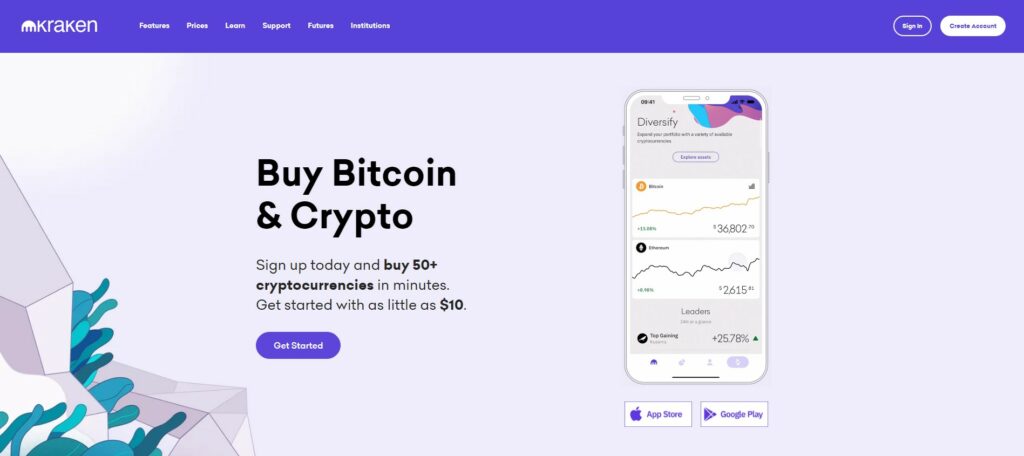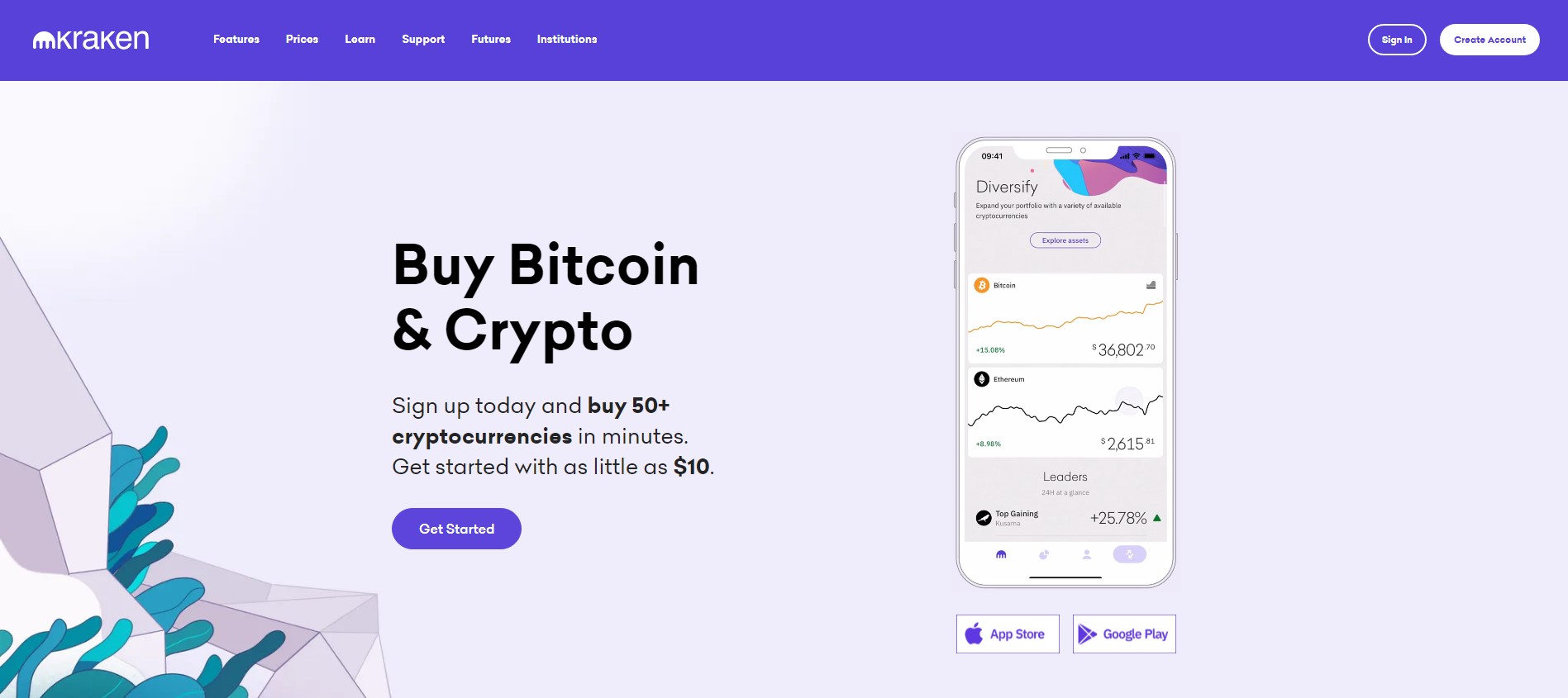 The platform is great for crypto beginners, with a simple, user-friendly interface and easy-to-learn trading mechanisms. Also, it has a lot of professional-grade trading services for advanced crypto brokers that need a platform catered to experienced users. There are several trading platforms that are part of Kraken, such as the Kraken Terminal, Cryptowatch, and the mobile-based apps, starting with the basic Kraken app, along with the more advanced Kraken Pro and Kraken Futures apps for Android and iOS devices.
Among centralized crypto exchanges, Kraken is known as a highly reliable and trustworthy platform that complies with all legal regulations in the regions where it operates such as the USA, Canada, UK, Japan, and Australia.
Available Cryptocurrencies
Kraken allows users to buy, sell, and exchange quite a number of different cryptocurrencies. The platform supports 56 of the most popular cryptos including BTC, Ethereum (ETH), Ripple (XRP), Monero (XMR), Litecoin (LTC), Tether (USDT), Cardano (ADA), Bitcoin Cash (BCH), Polkadot (DOT), Dogecoin (DOGE), Eos (EOS), USD Coin (USDC), Dai (DAI), and other altcoins.
It also supports 7 fiat currencies, including USD, EUR, GBP, AUD, CHF, JPY, and CAD. Users can also trade fiat-crypto pairs, combining the available fiat currencies and selected cryptos.
The selection of crypto and fiat currencies is more than enough for most crypto traders, including experienced professionals.
Supported coins and tokens on Kraken are constantly being added and you can be sure that once a cryptocurrency achieves some considerable market cap or popularity, it will definitely find itself on the platform at some point.
Platform Fees
Cryptocurrency exchange platforms mainly profit from the various fees they charge for their services. Kraken uses a similar system to most of the popular centralized exchanges and it has a maker and taker fee model. This means that if you are a market maker, who places purchase orders for a price that is higher or lower than the current market price of a certain cryptocurrency, you will incur lower fees compared to market takers. 
Market makers influence the change of crypto prices by generating demand, thus providing liquidity to a crypto exchange, while market takers just trade using the current market prices. Takers don't generate liquidity, instead, they take it away from an exchange by sticking to the current market price and taking coins off the market. That's why takers incur higher fees.

The Kraken platform won't just charge you a fee if you simply place a purchase order. You will be charged a fee only once your order is matched and the purchase or exchange is initiated. The fees range from 0.02% for large-scale market makers that have a 30-day trading volume of more than 5 million USD, up to as much as 0.26% for small-scale takers with a 30-day trading volume of less than 50.000 USD.
The trading fees are relatively low and they are certainly much lower than fees for bank transfers. These fees apply to the various Kraken trading platforms that will be listed below, but the Kraken Instant Buy option, which is quite handy for beginner traders, has different fees.
The Instant Buy option lets users quickly buy cryptos, but the fee for buying, selling, or exchanging digital currency is 1.5% per transaction. If you use a credit card or debit card for your purchases, you'll also pay an additional 3.75% fee. Basically, it's much cheaper to trade on the various Kraken platforms without using the Instant Buy option, but it can come in handy if you want to buy some assets fast.
Platform Security
Cryptocurrency exchange platforms are similar to fiat money banks in the sense that they have huge amounts of user funds in their system, especially the more popular exchanges with high trading volumes. Kraken is at the top of the list when it comes to popular crypto exchanges and the trading volumes on the platform are huge, which means that millions of dollars worth of cryptos are constantly exchanged on the platform. However, this also means that various hackers and cybercriminals find trying to compromise those funds very lucrative.
This makes the platform susceptible to crypto exchange hacks and theft of user funds. This is why Kraken was built with state-of-the-art asset security in mind. On Cer.live, a website that evaluates the security measures of crypto exchanges, Kraken has been holding the number one spot out of 100 of the most popular exchange platforms for several years. The platform is so secure that it's actually famous for not having any hacking issues since it was established.
Approximately 95% of all digital currencies that are deposited on the platform are stored in the company's hardware storage so that even if a cyber attacker managed to get through the Kraken security measures, they wouldn't be able to compromise more than 5% of the funds on the platform. Kraken servers are kept under constant surveillance so a manual hack is also out of the question and all user data and information is also protected by advanced encryption solutions.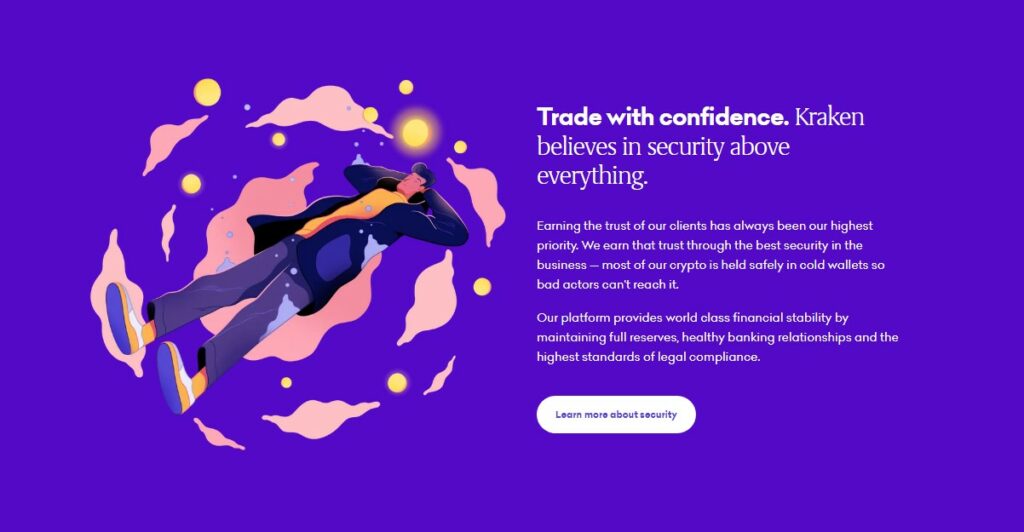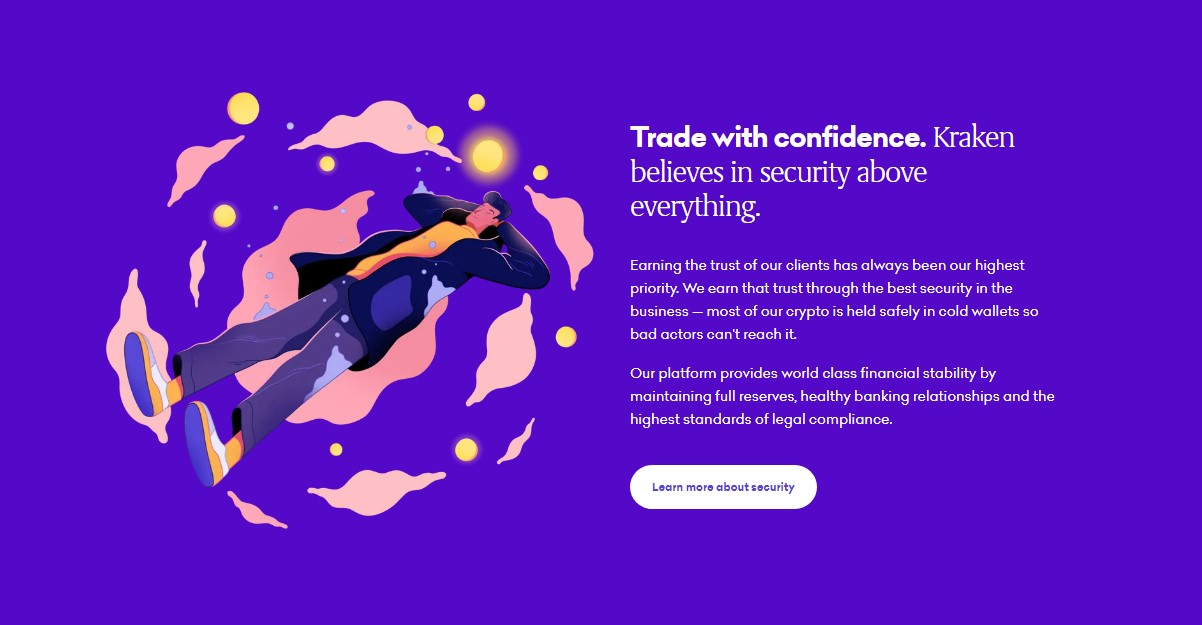 As far as user login procedures go, Kraken has 2FA and SSL encryption as an integral part of the standard login process and you can also set email confirmation as a necessary step for all withdrawals of funds from the platform.
Asset Staking
Similar to other popular crypto exchange platforms, Kraken allows users to stake cryptos and fiat money in order to earn interest. Users can rely on the Kraken platform to facilitate the whole staking procedure, without the need to personally search for staking pools. The platform offers as much as 12% annual interest on some digital currencies.
Kraken Customer Support
When it comes to customer support, there are several ways for solving user issues on Kraken. One way is to search for helpful articles on the support centre section of the Kraken site, which is really detailed and contains articles that can help you resolve some of the most common user problems and issues.
Another method for reaching out to Kraken support is through the chatbot on the platform, which is really helpful and operational 24/7 or through email. The team is very responsive and you'll probably get an answer quickly.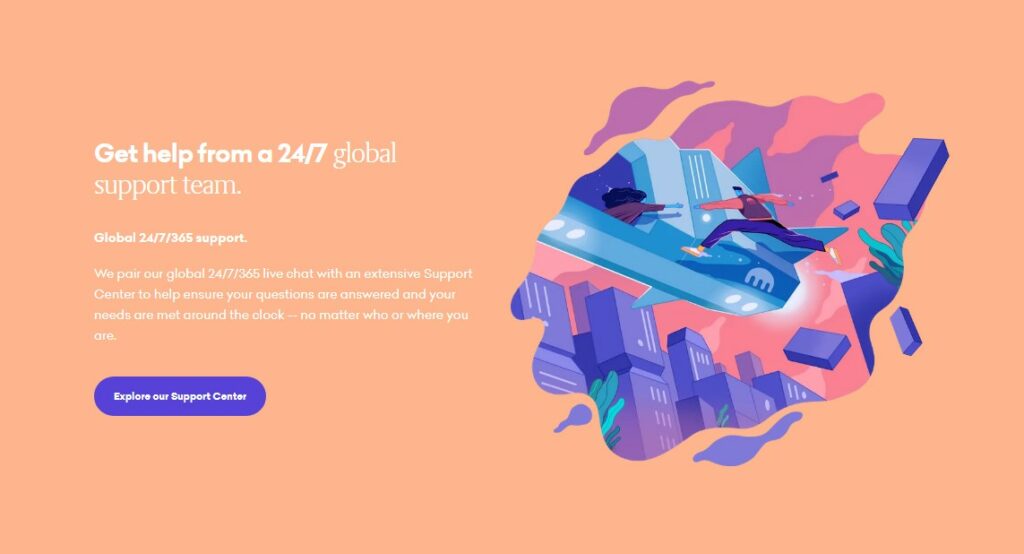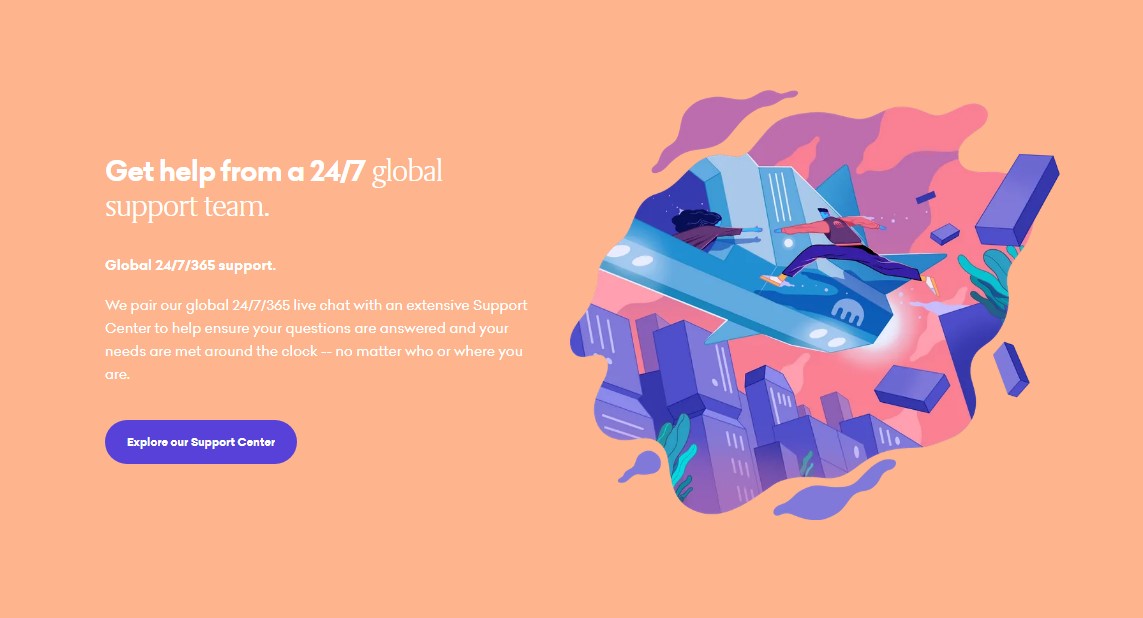 Account Types and User Verification
There are basically four types of Kraken accounts, which enable different trading and investment options and services. These four account types are Starter, Express, Intermediate, and Pro.
One of the main advantages of the Pro account is that there is no maximum withdrawal limit, while the other account types have daily withdrawal limits. The Pro account verification process can take several days, while all the other account types can get certified in just a couple of minutes.
Since Kraken complies with laws and legal regulations in the regions it operates in, the platform requires a KYC (know your customer) protocol when signing up and opening a user account. This means that you will be required to provide personal information such as your full name and address and a photo of some identification document such as your government-issued ID card, passport, or driver's license.
Once you've set up your account, you can fund it with a bank transfer or with cryptocurrencies from your crypto wallet. The cryptos with which you can fund your Kraken account include Bitcoin, Ethererum, Tether, Ripple, and Litecoin.
Kraken Terminal
The Kraken terminal is the basic Kraken trading platform that offers a wide variety of trading tools for buying, selling, and exchanging cryptos. The terminal features a professional broker chart and interface with all the necessary information for conducting successful trades.
For a beginner, the Kraken terminal can first seem a bit complicated, but it's actually very easy to navigate once you learn which tools are at your disposal and realise that you have most of the options you need in a single dashboard. You get a depth chart where you can follow the market sentiment regarding a particular crypto or trading pair, along with an order book for your trading orders. The platform toolbar is where you can shift between monitored markets and cryptos.
There is a very useful history bar where you can view the price fluctuation history of a selected asset and you can submit your trading orders directly from the Kraken terminal, without extra steps. You can even make a selection of monitored financial markets and create your personal watchlist, which means that you don't have to separately search for the markets you want to monitor.
Cryptowatch
Cryptowatch uses a similar interface as the Kraken terminal but it has much more advanced features. Basically, this is the premium trading terminal of the Kraken platform. It can be used for free, but it also has paid premium options. Even without the premium features, Cryptowatch provides users with a wide range of pretty useful, advanced trading tools.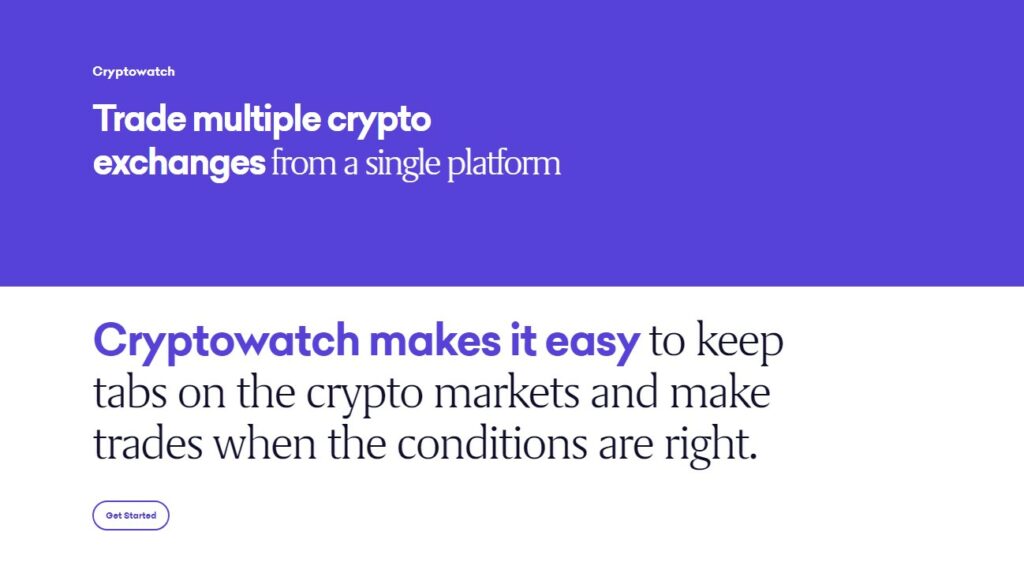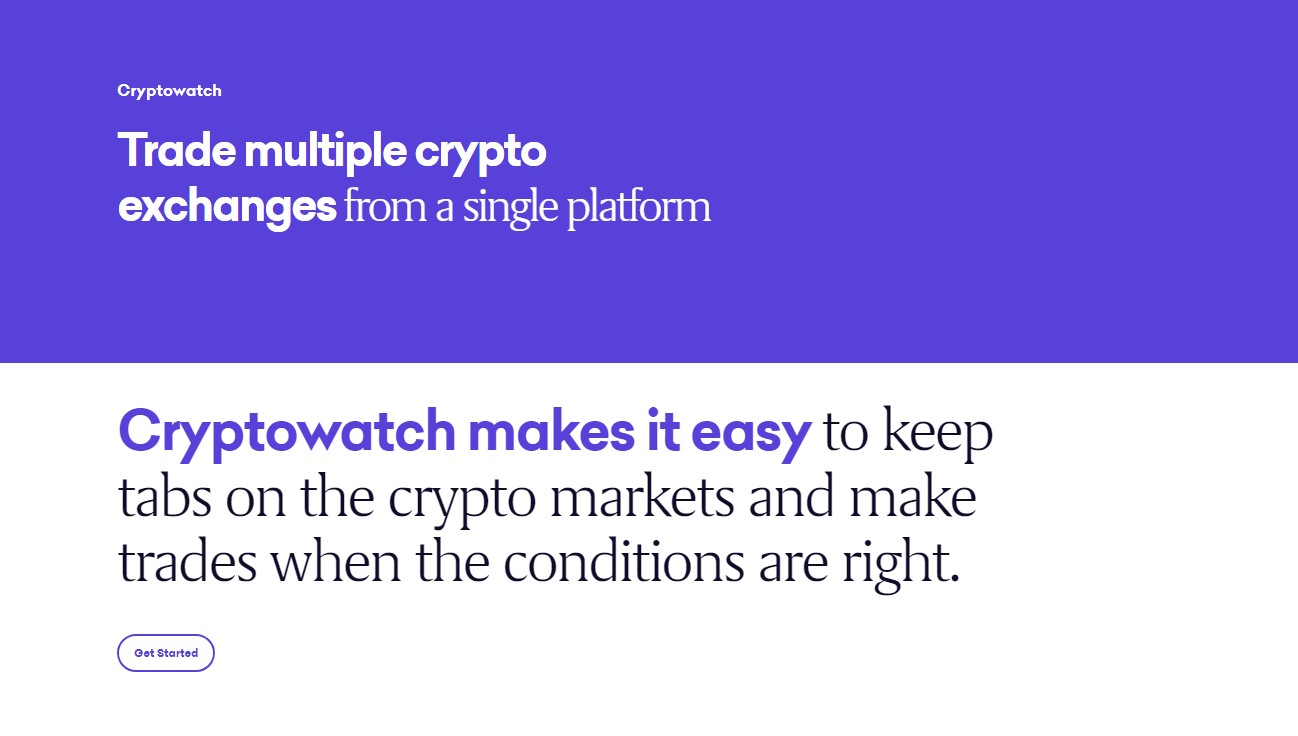 You can view real-time data from 4000 markets and the platform also pulls information from more than 25 popular crypto exchanges, enabling users to make trading decisions based on hard facts and information from multiple sources. This is a key tool for experienced traders, especially those that trade large amounts of assets because for them, a price change of just 0.1% can carry a huge profit opportunity. Average traders and crypto beginners that trade low amounts of cryptos don't really need such extensive market monitoring tools.
All Cryptowatch users have access to the advanced charting interface which can be adjusted to their needs just like the chart screen on the Kraken terminal. Users can also trade on multiple exchange platforms other than Kraken simultaneously, through the Cryptowatch interface.
In order to use the premium platform features, users need to spend Cryptowatch credits to unlock them. These credits can be bought with fiat money or earned through activity on the platform. One of the most popular premium features are text message and email alerts for price changes, trading volume fluctuations, and data analyses, which are available 24 hours a day. Another popular premium feature is the Cryptofinance.ai plugin, which automatically gathers crypto market data from numerous sources and inserts it into Google sheets documents.
Kraken Mobile Features
The thing with mobile apps is that they are usually a lot simpler and more user-friendly than the classic web platforms of crypto exchanges. Considering that a lot of crypto enthusiasts and traders want to be able to access their portfolio of digital assets quickly, on the go, apps also need to be practical and easy to use. And this is true of Kraken. Just like other popular crypto exchange platforms, Kraken is present on Android and iOS mobile devices in various forms.
It has three mobile apps that serve different trading needs.
Kraken Mobile App
The Kraken App is the basic app of the Kraken exchange. It's very easy to navigate for beginners and enables all basic functions such as purchasing, exchanging, and selling cryptocurrencies. The app also provides portfolio tracking and market monitoring features. Unlike the Kraken web platform, the mobile app supports credit card and debit card purchases of cryptos and you can also initiate withdrawals to your crypto wallet or bank account, in case you want to cash out cryptos into fiat money.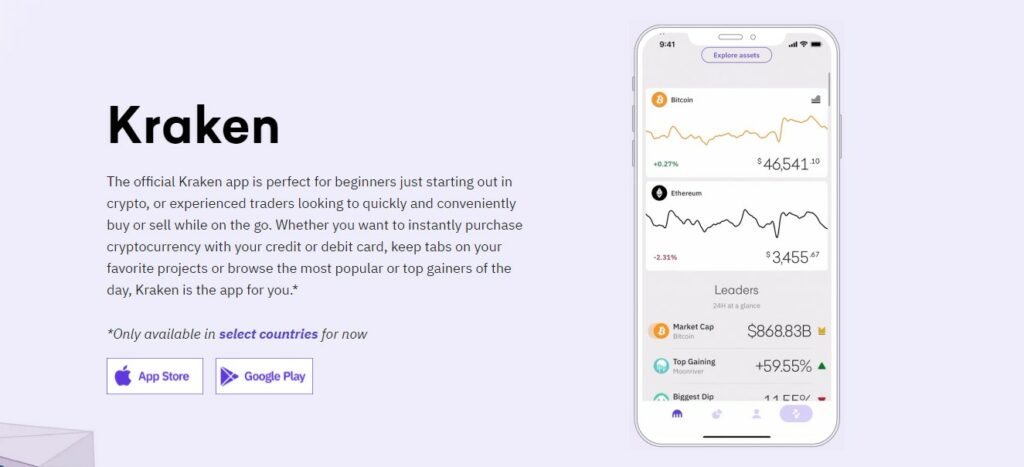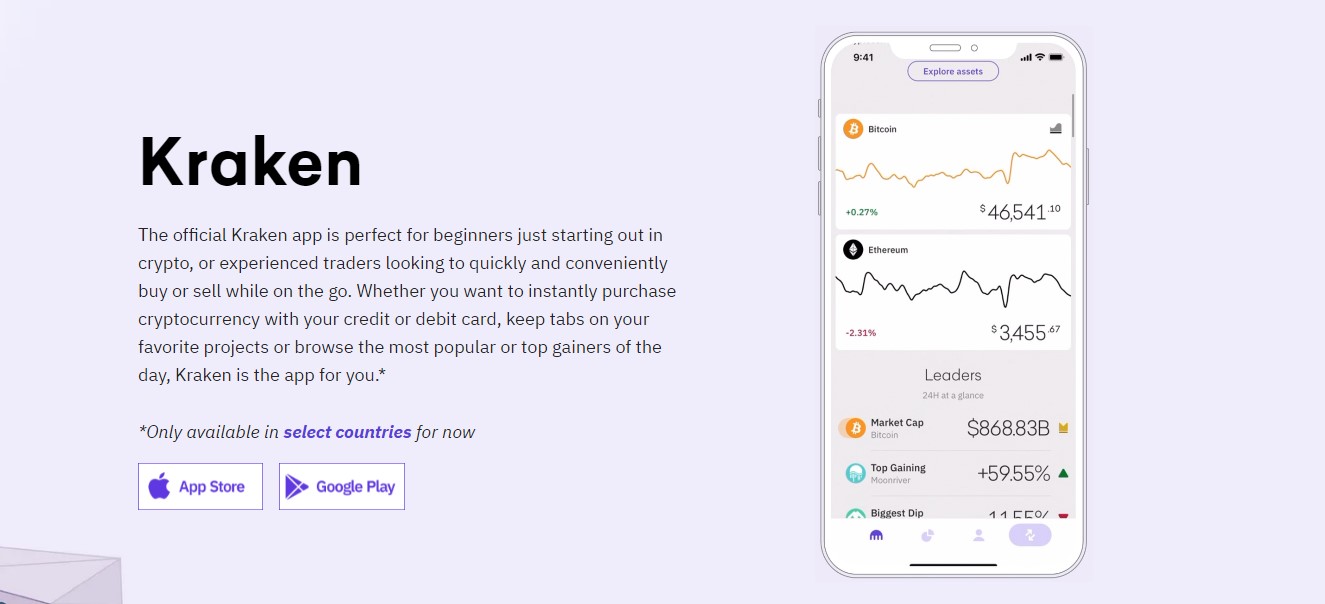 Kraken security software handles the privacy of all your user data associated with the app, and you can set up two-factor authentication for logging into your user account.
Kraken Pro
Kraken Pro is the next-level mobile app for crypto brokers and it carries sophisticated trading functions meant for experienced investors. All of the advanced trading features provided on the Cryptowatch platform are available on Kraken Pro, so users can set trading orders on the go.
This app enables up to 5 times leverage while margin trading and it provides in-depth data analysis, order book overview, as well as professional candlestick charts for monitoring the price fluctuation of selected currencies.
Unfortunately, you can't directly fund your Kraken Pro account through the app. You have to visit the official website and log into your account in order to transfer assets to your Kraken Pro profile.
Kraken Futures
The Kraken Futures app is mainly meant for highly experienced brokers and investors that deal with serious amounts of assets. It enables up to 50 times leverage on some of the most popular cryptocurrencies like BTC and ETH. Besides all of the professional trading options from the Kraken Pro app, Futures also enables users to set entry limits.
A key aspect of the Kraken Futures app that proved to be very valuable for users is the educational section of the app, along with the personal support option where traders can get direct support from the Kraken team.

Transferring Assets Out of Kraken
Once you've set up a Kraken account and started buying, selling, and exchanging assets on its platforms, you'll probably need to withdraw funds from the platform at some point. Kraken is a very safe crypto exchange, but it is generally highly recommended to keep your crypto portfolio in a separate crypto wallet because wallets are specially designed for storing digital currencies and have multiple security layers created specifically for that purpose.
Adding a Withdrawal Address on Kraken
The first thing you need to do is add a withdrawal address to Kraken.
These are the necessary steps for adding and confirming a withdrawal address:
Log into your Kraken account and go to the Funding section.
Select the Withdraw option.
Now you need to find the currency you wish to withdraw. Enter the name of the currency in the Search section and select the currency once it appears.
Now you need to enter the withdrawal address for the selected crypto. It's very important to enter an appropriate address because if you send funds to the wrong address, your assets will be lost. It's best to copy and paste the withdrawal address from your crypto wallet in order to be sure the address is entered correctly. You should also make sure your wallet is compatible with the selected crypto before trying to initiate a withdrawal.
Select the Add Address option in order to confirm the address.
Put a distinct label on the new address, something like My ETH address or anything similar, that will make the address distinguishable for your future withdrawals.
Once you've added the new withdrawal address, you will receive a confirmation email to verify the new withdrawal address by clicking on the link in the email.
You have to click on the verification link quickly, because it will only be valid for 1 hour before it expires.
Withdrawing Funds From Kraken
Just like the process of adding a new withdrawal address to your Kraken account, withdrawing cryptos from the platform is also fairly simple. Just keep in mind that once you have initiated a withdrawal and it is approved, your funds will be transferred out of Kraken, through the blockchain and you won't be able to reverse the transaction.
After you've signed into your Kraken account, go to the Funding section in the menu bar.
Select the currency you wish to withdraw from Kraken.
Now you have to select a withdrawal address from your address menu where you can navigate between available withdrawal addresses you've added for that specific currency.
Enter the exact amount of the specified cryptocurrency in the Amount field or select a percentage of the available amount of cryptos you want to withdraw.
Double-check the selected address, currency, and amount, and then select the Withdraw option to initiate the transfer.
You'll get a withdrawal confirmation window with the details of the transaction, along with the transfer status.
A Few Final Words…
Among numerous other popular cryptocurrency exchange platforms, Kraken is known as one of the most versatile platforms, one that offers a ton of options for all users, regardless of whether they are crypto beginners or experienced traders and investors. The top-notch security and broad range of features are something that makes Kraken stand out from the competition.
This guide has highlighted the most important features of the platform, along with a quick overview of the steps you need to make to withdraw funds from your Kraken account.