Secure multi-currency crypto wallets are a great choice for storing your whole portfolio of digital currencies all the way from Bitcoin (BTC) and Ethereum (ETH) to trending altcoins such as Dogecoin (DOGE). But, many popular cryptos also have their currency-specific wallets that are supported by the developer team behind certain crypto. These wallets are launched to facilitate only the storage of one cryptocurrency or a range of tokens built on one specific blockchain.
The NEO cryptocurrency has a large and vibrant community, along with a huge number of tokens that use the NEO blockchain. One of the most popular wallets that can only be used to store NEO, GAS, and NEP5 tokens is the NEON wallet. This wallet was developed and launched by the City of Zion developer team, which is the developer community behind the NEO ecosystem. It's considered one of the best and safest wallets for storing all cryptos based on the NEO blockchain.
Let's take a look at the key characteristics of NEO and the NEON wallet's functionalities that make it such a great choice for storing your NEO coins.
The NEO Cryptocurrency
In many ways, NEO is similar to Ethereum (ETH) and Solana (SOL). Just like these two cryptos, it's much more than just digital cash. In fact, NEO is a crypto ecosystem that enables users to create self-executing smart contracts and develop highly advanced decentralized applications (DApps) that can be implemented in various different industries.
NEO was launched in 2014 by two Chinese crypto enthusiasts, Da Hongfei and Erik Zhan, and it was first named AntShares, before the name was changed in 2017 to NEO and the project started really growing. The network is based on the NEO blockchain, which is called Onchain, and the goal of the project is to build a decentralized global economy that relies on smart contract functionalities to save time and money for developers and businesses of all sorts.

There are already numerous decentralized apps utilizing the NEO blockchain's smart contract capabilities and implementing them in various segments, from decentralized markets and the travel industry all the way to decentralized finance (DeFi) and exchange platforms.
Travala is a blockchain-based travel booking service that people can use to book accommodation, flights, and plan their travel activities. Moonlight is a NEO-based project management and workforce productivity analysis platform that helps businesses step up their efficiency. Adex is a highly versatile blockchain ad platform that helps marketers and advertising professionals reach the appropriate target audience for their products and services. These are just a couple of NEO-based apps that illustrate the broad range of functionalities of the NEO blockchain.
NEO smart contracts and DApps are powered by NEO coins and GAS is the cryptocurrency used to pay for transaction fees on the NEO blockchain. The whole project is open-source, which means that developers can freely create their apps and new tokens on the NEO blockchain. NEP5 tokens are tokens created on the NEO network and represent the cryptographic and security standard developers need to follow to create their cryptos based on NEO.
NEON Wallet
The NEON wallet is the most popular and most trusted NEO wallet on the market. It's developed by NEO community developers and is regarded as the best choice for holding NEO, GAS, and all NEP5 tokens. This is a desktop wallet, which means you need to download it and install it on your PC or laptop computer. The wallet is open source and compatible with Windows, Mac OS, and Linux operating systems.
Key Features
The NEON wallet is a light wallet, which means you don't have to run a full node of the NEO network to operate it. Many wallets that are compatible with just one blockchain require you to download a copy of the whole blockchain and operate a full network node to use it. This isn't the case with the NEON wallet. The wallet also doesn't require a lot of hard drive space and power to work.
The wallet is open source and subject to regular updates and changes which are implemented based on community feedback. All NEON wallet users can submit their feedback to the developer team and suggestions that gather considerable community support get included in NEON wallet updates. This is a huge advantage compared to non-open-source wallets whose firmware is rarely updated.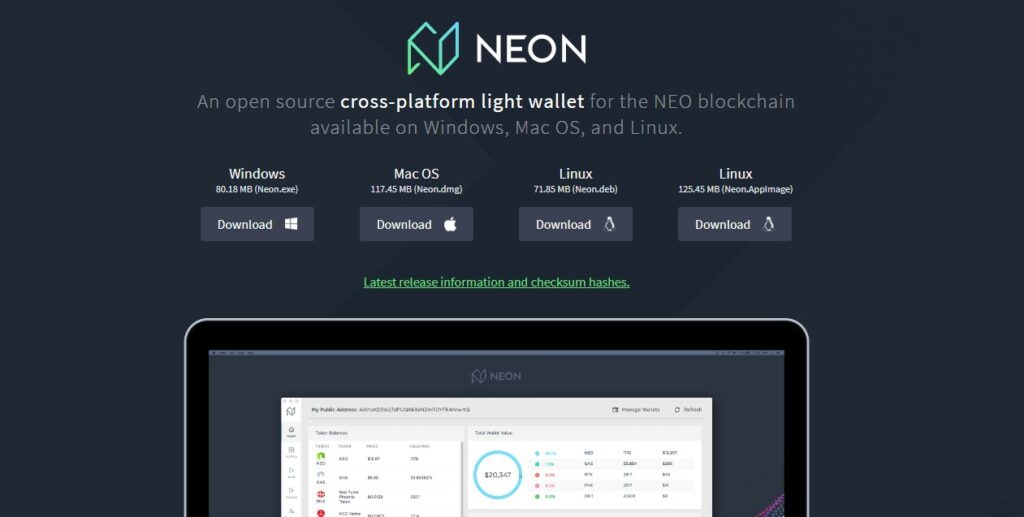 The user interface of the NEON wallet is pretty intuitive and straightforward because you can only conduct a couple of operations such as sending and receiving your NEO, GAS, and NEP5 tokens. More than 10 popular languages are supported by the wallet, as well as the option to authorize transactions while the wallet is offline.
As far as fees are concerned, creating a NEON wallet account and storing your coins and tokens on it is free, but you will be charged a standard blockchain transaction fee every time you send your coins from your wallet to a third party.
Security
The NEON wallet is quite secure. It comes with password encryption that ensures no one can access the app without proper authorization. You just need to keep the password safe. Don't ever keep the password in a text file on the same computer your NEON wallet is installed on.
A great thing about the NEON wallet is that it's a non-custodial wallet, which means your private keys aren't kept on the NEON wallet server. Instead, all your private keys are kept on your computer, under encryption. This way, no cyberattack on the NEON wallet website can compromise your wallet, because the private keys are on your computer, protected by your password.
There's no recovery seed for the NEON wallet, but you can save and export your private keys to a USB device and keep them safely offline. Also, the NEON wallet is compatible with some of the best hardware wallets on the market.
Ledger Nano S Compatibility
The NEON wallet is fully compatible with the Ledger Nano S multi currency hardware wallet, one of the best such devices in the industry. The Ledger Nano S stores all your private keys and public addresses safely offline, under state-of-the-art encryption, with several additional security layers such as a device password, PIN code, and 12-word passphrase.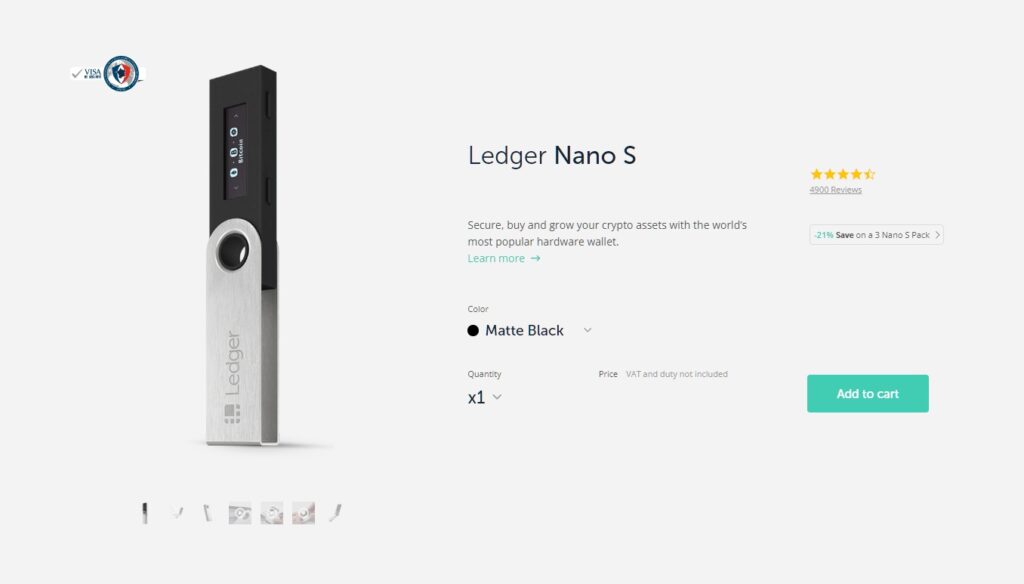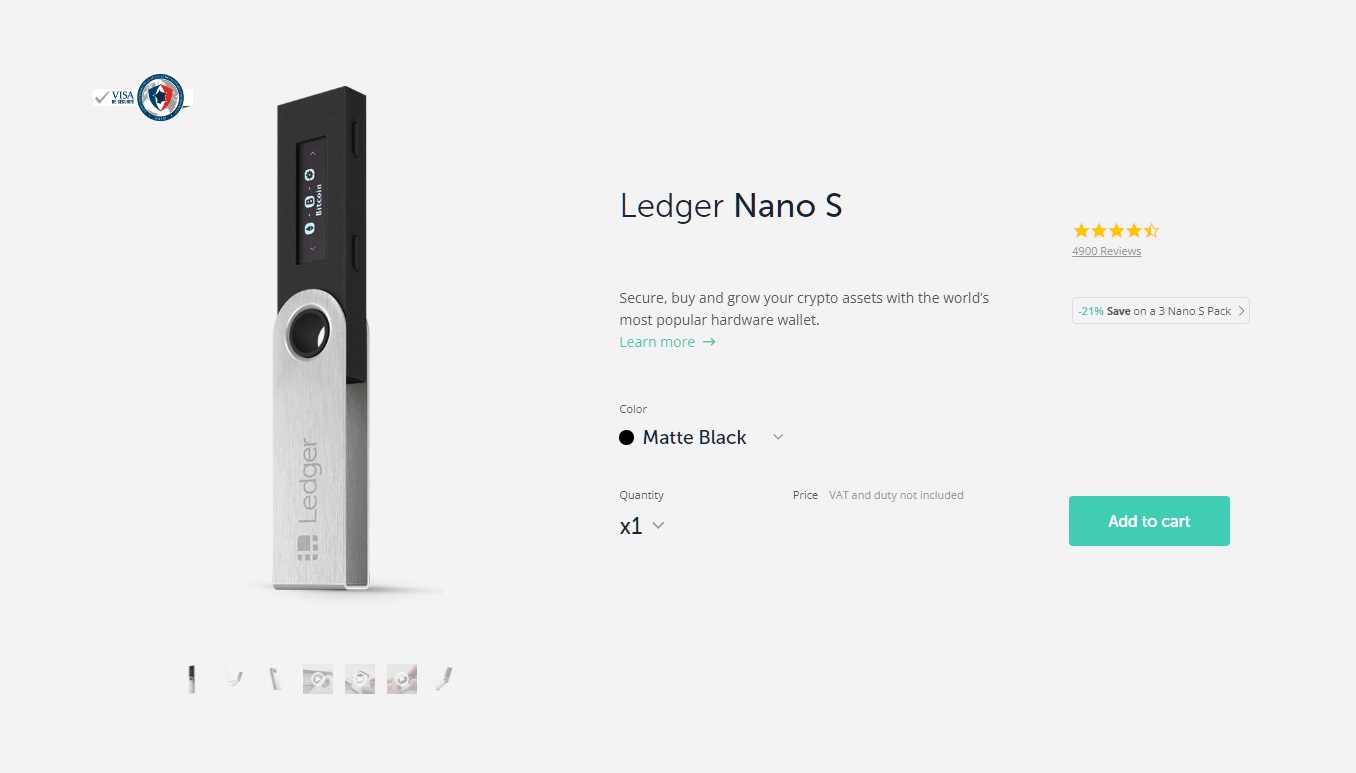 All you need to do is install the NEO N3 app on your Ledger device in order to enable the storing of NEO, NEP5, and GAS tokens. After installation, your NEON wallet has Ledger support and you can easily store and manage your coins on the Ledger device through your NEON wallet.
If you want to learn more, check out our article on how to use NEO on Ledger Nano S.
Updating NEON Wallet
The NEON wallet is regularly updated by the developer team and the best way to keep your wallet updated to the latest version is to check the official Github NEON wallet thread at https://github.com/cityofzion/neon-wallet/releases.
It's advised to always update your NEON wallet to the latest version because the developers tend to improve numerous aspects of the wallet with every new update.
A Few Words Before You Go…
In case you're looking for an easy and safe way to store NEO, GAS, or NEP5 tokens, creating a new wallet account on the NEON wallet is a great choice. However, if you plan to store considerable amounts of coins it's advised to connect your NEON wallet with the Ledger Nano S device for full security of your funds.