When dealing with cryptocurrency, regardless of whether you're an experienced crypto trader, a retail investor, or a total newcomer to the crypto world, you need a safe storage option.
Unlike fiat money such as EUR or USD, digital currencies don't exist physically beyond their blockchain networks. You can't just store cryptos in your wallet, since there are no Bitcoin banknotes, and you can't send them to your bank account because banks don't accept crypto as a valid financial asset.
As a result, cryptocurrency wallets have been created to provide users with safe storage options for their digital assets once they've bought them on crypto exchange platforms such as Coinbase or Binance. However, even crypto wallets don't exactly store your crypto assets but rather your private key, a type of password that proves your ownership over your assets.
While popular crypto wallets always support large cryptos such as Bitcoin (BTC) and Ethereum (ETH), they're becoming more and more open to all sorts of altcoins. One such promising altcoin is NEO, an increasingly popular crypto ecosystem that provides users with smart contract functionalities and resources for developing decentralized apps.
In this article, we'll tell you all about storing NEO in one of the most sought-after hardware wallets, Ledger Nano S.
What Is NEO?
The NEO cryptocurrency is one of the most popular smart contract ecosystems besides Ethereum. Compared to leading cryptocurrencies such as BTC, Bitcoin Cash (BCH), Litecoin (LTC), and Ripple (XRP), which mainly work as digital cash, NEO offers a far broader range of services.
It is a highly sophisticated crypto that belongs to the NEO network, a blockchain that employs a consensus mechanism called delegated byzantine fault tolerance, which uses consensus nodes and ordinary nodes to process and validate transactions. The ordinary nodes vote which nodes will become consensus nodes. The weight of each vote depends on the amount of NEO the node is currently holding. The elected consensus nodes are the ones that validate transactions and manage the NEO blockchain.
Transactions on the NEO blockchain are powered by the network's secondary cryptocurrency called GAS. The role of GAS is to control the network traffic by making transactions cost more, which in turn motivates users to conduct meaningful transactions, without spamming the network.

While NEO can also be used as digital money, just like other cryptos, its main purpose is to provide developer teams around the world with a versatile and highly functional programming ecosystem for the development of decentralized applications (dApps) and smart contracts. This is why it is regarded as a direct competitor to Ethereum, Solana (SOL), Cardano (ADA) and other similar platforms.
The NEO community is quite developed and already includes a bunch of highly useful decentralized apps such as Nash, an online platform for crypto trading, banking and payment services. Another popular NEO dApp is Moonlight, which is an app that makes HR recruitment processes easier and more efficient. Thanks to the NEO community called the City of Zion, enthusiasts can already try a number of innovative dApps with many more to come.
The Ledger Nano S Wallet
Hardware wallets are generally the safest option for storing cryptocurrency because they don't have a constant internet connection and your funds can't be compromised by cyber attacks or other security breaches. There are various popular hardware wallets on the market such as Trezor, Ledger Nano X and Ledger Nano S. 
The Ledger Nano S is a highly sophisticated hardware wallet in the form of a specialized USB device with advanced encryption and multi-layer security for storing cryptocurrency. It comes with password protection and a randomized 24-word passphrase that protects your assets at all times. You can install up to three apps on the device in order to manage your crypto portfolio. The Ledger Live app enables users to effectively manage their assets while keeping them protected within the device. You can exchange, buy or sell cryptos with the help of the Ledger Live app and you don't have to worry about possible security breaches. 
This wallet supports more than 1,100 cryptocurrencies, including NEO. It uses secure element chips developed with advanced cryptographic solutions and runs on the Blockchain Open Ledger Operating System (BOLOS) that takes care of all your transactions from and to the device. This system lets users install apps from other manufacturers in order to manage specific cryptos on their Ledger device.
The best thing is that when you connect a third-party app to integrate a specific cryptocurrency to the Ledger hardware wallet, the integration doesn't compromise your assets, because the private keys never leave the device.
The Neon Wallet
You can safely store and manage the NEO coin on Ledger Nano S, just like hundreds of other cryptocurrencies, but you need to combine the NEO blockchain's native wallet, the Neon wallet with your Ledger device first. The Neon wallet is an open-source app for storing NEO, GAS, and NEP-5 tokens and it works great with Windows, Mac OS, and Linux.
Just like other NEO wallets, the Neon wallet steadily streams GAS rewards to NEO holders and all users have the chance to participate in initial coin offerings of NEO-based NEP-5 tokens. The wallet has been created by developers from the City of Zion community and it is supported by the NEO developer council as one of the best and most reliable wallets for the coin.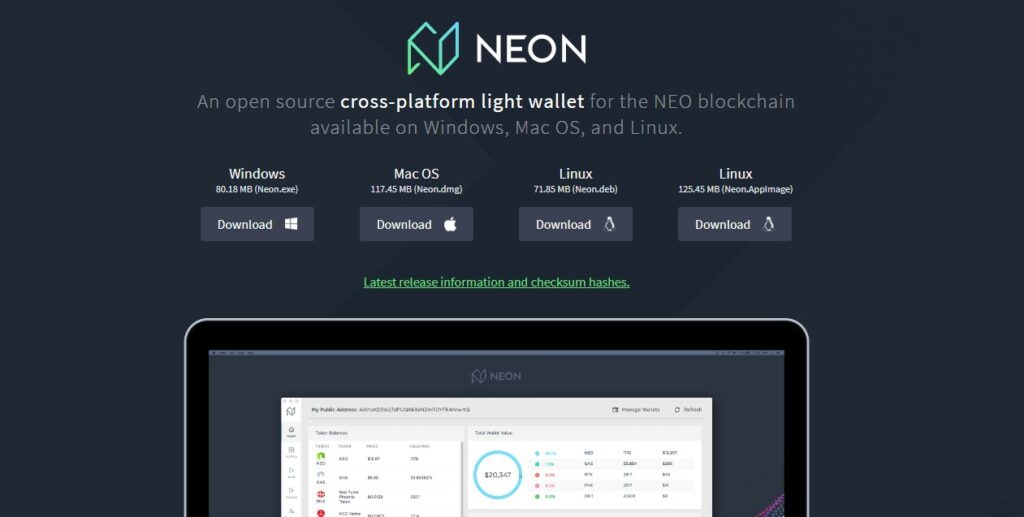 Just like Ethereum wallets support ERC-20 tokens built on the ETH blockchain, so, too, the Neon wallet supports all NEP-5 tokens such as Moonlight (LUX), Exchain (EXT), Asura Coin (ASA), and others. A big advantage of the Neon wallet is that it doesn't charge transaction fees for sending or receiving NEO coins or any NEO-based tokens. 
The interface of the Neon wallet is user-friendly and intuitive, which is quite important for a wallet app because users should always be able to quickly access their assets and manage them in a simple and efficient manner. Also, you don't need to download the full blockchain history in order to access transactions. Installing the app is all you need to do before initiating transfers.
This wallet is a desktop wallet, which means you need to install it on a desktop device, but it can also be combined efficiently with a hardware wallet such as the Ledger Nano S. In combination with a hardware wallet, the security of the Neon wallet is greatly increased because the private keys would be stored on the hardware wallet and not on your PC or laptop.
Tutorial on How to Store NEO on the Ledger Nano S
Before you can send and receive NEO coins on your Ledger Nano S device, you need to do two things: install the NEO app on your Ledger device and install and activate the Neon wallet app.
You should also install the Ledger Live app, which is your primary app for managing the Ledger Nano S hardware wallet, and make sure to update your Ledger wallet's firmware software to the most recent version so that all the installed apps work in the best possible way. A great thing about the Ledger Live app is that it's Android and iOS compatible so you can easily manage your cryptos with your mobile device.
Install NEO on the Ledger Nano S
Start your Ledger Live app and choose the Manager option.
Connect your Ledger Nano S device through the device management interface and make sure you unlock it.
Go to the cryptocurrency catalogue menu in Ledger Live and choose the NEO coin to initiate the installation process.
Your Ledger Nano S will display the word Processing on its screen.
Once the installation is finished, your Ledger app will confirm the process.
Install and Connect Your Neon Wallet to the Ledger Nano S
The first thing you need to do is download the Neon wallet and install the app on your computer.
When the installation is complete, open the app on your computer.
Now open the NEO app on your Ledger Nano S.
The Neon wallet has the option for seamless integration with the Ledger Nano S. Select the Login Using Ledger option in order to connect the wallet with the hardware device.
You can now use your Neon wallet in combination with the Ledger Nano S and securely store, send or receive NEO, GAS and NEO-based tokens.
A Few Final Words…
Among hardware cryptocurrency wallets, the Ledger Nano S is one of the most reliable and secure devices, alongside the Ledger Nano X model. If you're looking for a top-quality hardware wallet that can store NEO and NEP-5 tokens, then the Ledger Nano S is a perfect choice. In combination with the Neon desktop wallet, your funds will be fully secure and available for all sorts of transactions. 
As you can see, combining the Neon wallet with Ledger Nano S is quite simple. You just have to follow the step-by-step tutorial from this guide to enable a seamless connection between these two wallets.