Cryptocurrency exchanges are the most practical medium for buying, selling, and trading digital currencies. Sure, you can also do a crypto trade directly through a peer-to-peer deal, but crypto exchange platforms offer you much more safety because they guarantee that the deal will go through and you'll get the assets you paid for. Not all exchange platforms are trustworthy, however, and it can be quite difficult to find a really reliable exchange among the more than 400 available platforms according to Coinmarketcap, especially if you're a crypto beginner.
The Coinbase crypto exchange platform is among the top-ranking exchanges on the market, right next to Binance, Kraken, Kucoin, and Huobi and it's perfect for crypto beginners who are totally new to digital currencies. Many exchanges only offer basic trading services, while Coinbase is more of a Crypto exchange ecosystem that covers all of your crypto needs, from trading to storing cryptos in the official Coinbase wallet. The top-of-the-line services provided by Coinbase come at a price since the platform fees are a bit higher compared to competitors, but it's really worth the convenience and security you get for your money.
Let's take a detailed look at Coinbase, find out why it's one of the most popular and most trusted crypto exchange platforms in the world. We'll also take a look at how you can verify your bank account on Coinbase and start buying cryptos.
Coinbase Crypto Exchange
While Bitcoin (BTC) was launched back in 2009 as the first cryptocurrency, Coinbase.com emerged in 2012, just three years later, which makes it a veteran crypto exchange platform. During its early days, just like other popular exchanges, Coinbase was mainly a Bitcoin exchange. As the popularity of BTC grew and developers started launching various altcoin projects, the most popular ones were gradually included on Coinbase. Today the platform offers a strong selection of over 50 of the most valuable, trending coins and tokens.
The platform is fully regulated, which means that it complies with all tax regulations and cryptocurrency-related laws in the regions where it operates. This adds a strong sense of security and reliability to the platform because users know that their rights are protected by official government institutions while using Coinbase. Many less-known exchanges aren't regulated at all and this makes them a great target for money laundering scams and possible fraud.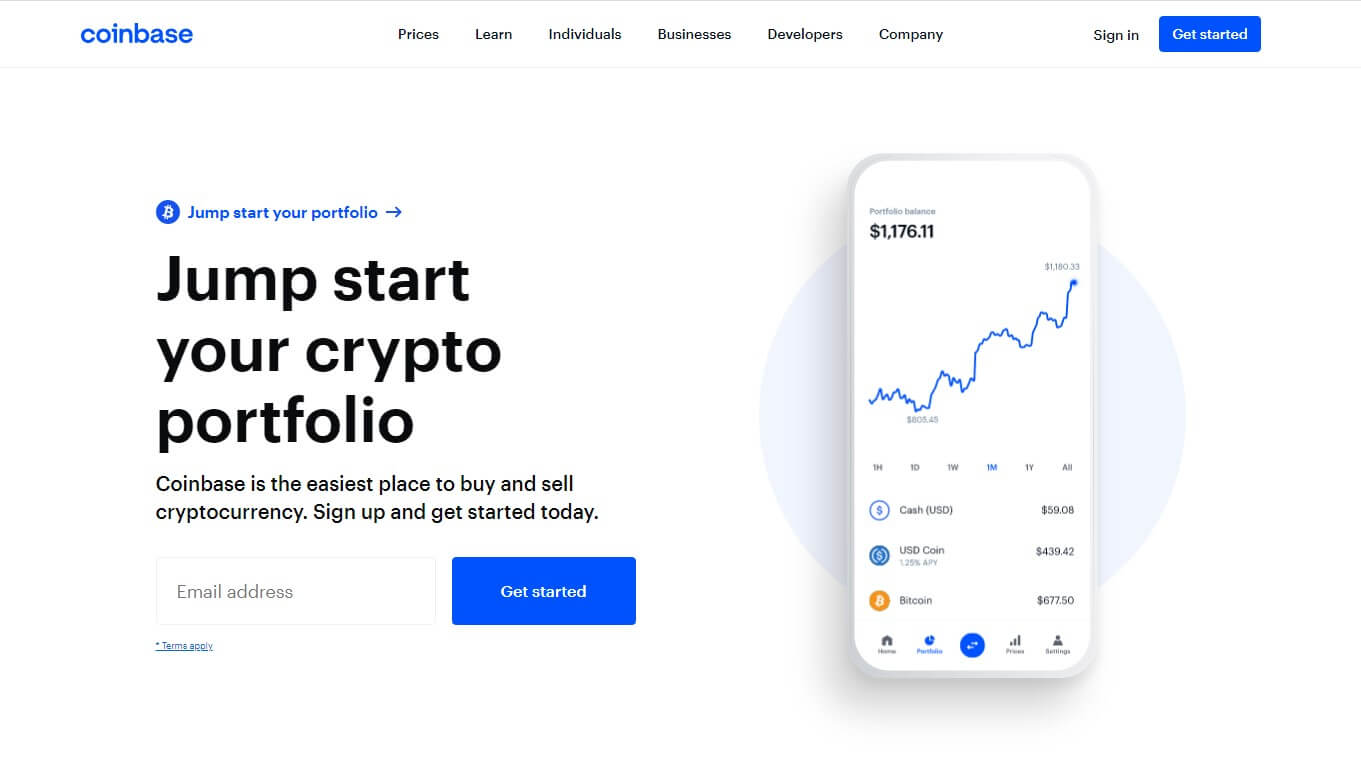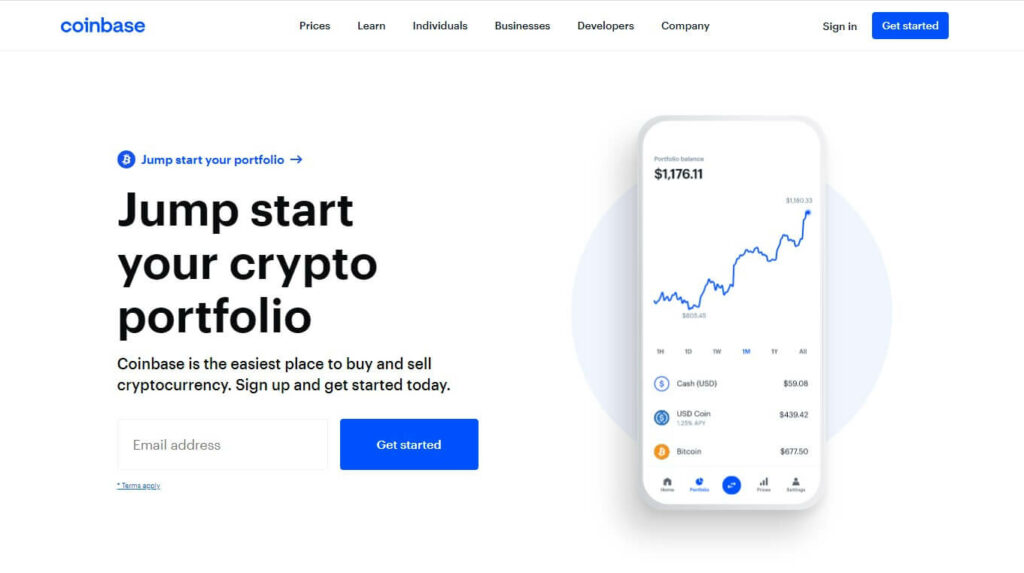 In 2021, Coinbase became the first crypto exchange in the world to list their company stocks on the NASDAQ stock exchange, which gave the platform a huge boost in popularity and revenue.
Apart from crypto trading services, the platform also offers loads of educational content suitable for crypto beginners, an in-house crypto wallet, the Coinbase Wallet, Coinbase Pro, a professional trading app for the more advanced crypto brokers, and an easy-to-use Coinbase mobile app.
Apart from the wide range of services, the broad choice of payment methods available to users also makes Coinbase a great choice for investing in crypto. Not only can you buy cryptocurrency with fiat money, but you can also choose whether you want to make a purchase through your bank account, with a debit card, or even with your PayPal account.
According to the company's website, as of 2021, Coinbase has a quarterly trading volume of 462 billion USD, more than 68 million verified users and it operates in more than 100 countries and regions around the world.
Trading Features
Coinbase is incredibly easy to use. The basic Coinbase trading platform comes with an intuitive interface where you can select which cryptos you wish to buy or sell, browse trading pairs, and monitor markets through simple price charts. The price charts display the price fluctuation history for a selected cryptocurrency. You can view how the price has been changing and you can easily place a purchase or sell order with just a few clicks. You can even set your Coinbase account to conduct recurring purchases of certain cryptos on a regular basis.
There aren't any complicated details within the interface that might obscure how the exchange process actually works, but in case you need some help, the Help section of Coinbase really covers most of the common questions and issues. You can find a lot of step-by-step instructions and guides on how to fund your account, facilitate a crypto trade, or learn about various altcoins and blockchain technology.
Coinbase Pro
While the basic Coinbase platform offers all the necessary trading features for beginners and intermediate crypto investors, the Coinbase Pro platform provides advanced trading tools and features to pro traders and large-scale investors. This platform comes with much more detailed market charts that enable traders to conduct detailed price change analyses of selected cryptos and possibly anticipate future price changes. For advanced traders who are acquainted with complex trading strategies and know how to read detailed market charts, the Coinbase Pro platform offers very useful features.


Coinbase Pro is free to use just like the Coinbase platform. It was formerly known as GDAX but the company rebranded it to Coinbase Pro in order to clearly show the connection with the Coinbase platform. This platform is also a great choice for highly active traders that deal with large trading volumes because the fees become gradually lower as your trading volume increases.
Cryptocurrency Selection
Many less popular and less reliable exchanges offer just a few cryptos for trading. They mainly stick with a couple of the top cryptos like Bitcoin (BTC), Ethereum (ETH), and Litecoin (LTC). Coinbase, on the other hand, has a company policy that carefully observes the crypto market in order to include all of the most popular, trending cryptos with high market caps.
The available cryptos on Coinbase include BTC, ETH, Ethereum Classic (ETC), Cardano (ADA), Bitcoin Cash (BCH), Ripple (XRP), Tether (USDT), Eos (EOS), Uniswap (UNI), Litecoin (LTC), USD Coin (USDC), Polygon (MATIC), Stellar Lumens (XLM), Chainlink (LINK), Aave (AAVE), Tezos (XTZ), Dai (DAI), Cosmos (ATOM), Zcash (ZEC), Dash (DASH), and various other altcoins.
Fees
Platform fees are the main source of income for crypto exchanges and they are also the main factor for users when deciding whether to create a user account on an exchange. The thing with Coinbase is that it's known as a platform with high fees compared to many competitors. That doesn't mean that the fees are really astronomically high and there's a good reason for this.
When using Coinbase, you're getting access to an all-around crypto service that enables you to securely buy, sell, trade, and store cryptos without fear of a cyber-attack or platform security breach that might endanger your funds. The fact that Coinbase is a fiat-friendly exchange that enables users to directly purchase cryptos with fiat money like USD, EUR, and GBP is also a huge plus since that's something you can't do on many exchanges.
So let's check out the fees. If you're buying cryptos with a debit card, you'll incur a 3.99% payment card fee. In the case of ACH or SEPA transfers, you won't incur any fees whatsoever. Purchase with a US bank account or through your Coinbase wallet will incur a 1.49% fee, while a wire transfer will incur a standard 10 USD fee for buying cryptos and a cash out wire transfer will incur a 25 USD fee.
On top of these fees, you'll always be charged a Coinbase trading fee for the purchased or sold spread of cryptos. This standard spread is 0.5% per transaction which is much higher compared to some platforms that charge in the range of 0.05 to 0.1%.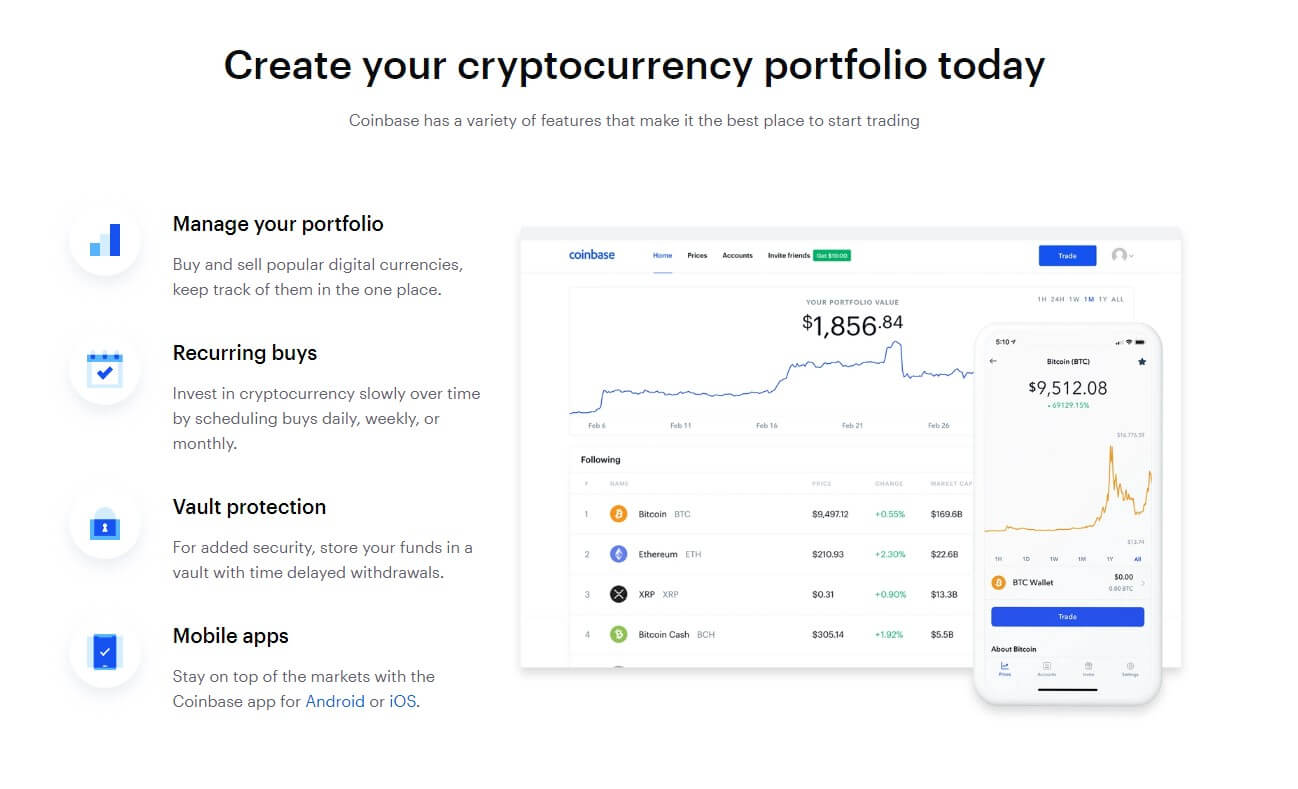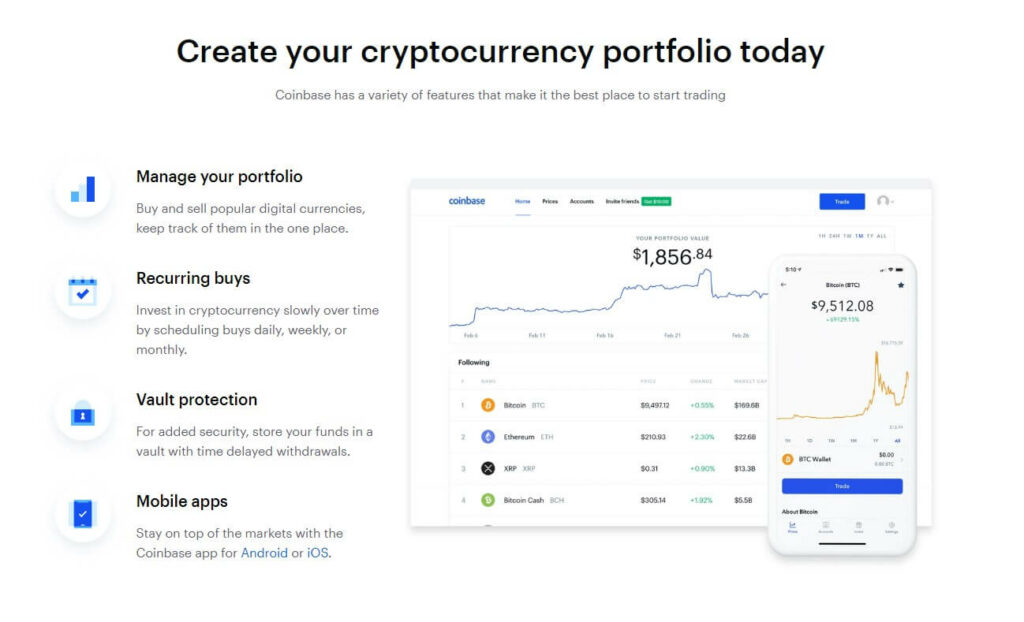 The Coinbase Pro platform has a different fee structure. It uses a standard maker and taker fee model, where market makers get charged a lower fee compared to takers and the fees are calculated based on your monthly trading volume. These fees can range from 0.50% for both market makers and takers with monthly trading volumes under 10,000 USD, down to 0.08% for market takers and 0.00% for market takers with a monthly trading volume over 300 million USD.
How to Buy Bitcoin and Other Cryptos on Coinbase?
One of the main conveniences Coinbase offers to its users is the possibility of buying cryptocurrency with fiat money. Experienced crypto traders are used to buying cryptos with other digital currencies, but beginners that don't have any cryptos and are really acquainted with the crypto market are much more comfortable if they can buy crypto assets with fiat money, just like any other product. Coinbase offers the possibility of fiat money crypto purchases through several popular payment methods.
Bank Account Transfer
For users that wish to purchase Bitcoin or other available cryptos on Coinbase through a bank transfer, the platform offers multiple options. US customers with a US bank account can conduct a direct bank wire transfer to Coinbase and purchase cryptos. You can also initiate an ACH bank transfer and acquire your cryptos.
If you don't have a US bank account, but instead use a British or EU bank account, you can also buy cryptos easily, because Coinbase supports SEPA transactions which are available in the European Union and in Great Britain.
Using bank account transfers is only available for US, EU, and British banks. Coinbase users from other regions need to use a different payment method.
Bank Account Verification Process
To add a bank account and verify it, you need to go to the Deposit option in your Coinbase account, then select USD, GBP, or EUR and add your bank account number under the Bank Account tab.


After adding a bank account as a payment method, you will be sent two verification amounts as bank account charges that are used to verify the validity of your payment method. The two verification amounts will be charged as credits and you should check your online banking app to find these transactions as pending transfers.
In case you can't find these two verification amounts as pending transfers, you should contact your bank to manually check if the amounts have been registered. The bank account verification process can sometimes take several business days. Once the verification payments are registered, you can freely use bank transfers as a payment method.
Debit Card
Unlike bank account transfers, Coinbase debit card purchases are available in far more regions. It's best to check if your country is on the list of regions that support debit card purchases of cryptos on Coinbase. With a debit card, you can purchase cryptos in a matter of minutes and have them automatically transferred to your Coinbase account. It's even better to have a Coinbase Wallet and facilitate an automatic transaction to the wallet once you purchase digital currency.
When you add a debit card as a payment method to your Coinbase account, you need to verify the debit card. This is done by making test charges to your debit card to make sure it works and that you have the necessary access credentials. Make sure that you enter the proper card information when adding it as a payment method.
Two minimum test charges will be made to your debit card in order to verify it as a payment method. These charges are between 1.01 and 1.99 and they are charged in your local currency. Usually, you should immediately see these charges in the recent activity field of your card management app.
Sometimes these verification charges don't appear immediately in your card management app. In that case, wait at least 24 hours because sometimes it might take a bit longer for your card service to register the verification charges in the card activity log.
If the amounts aren't appearing in the activity log after 24 hours, it's best to contact your payment service and ask them to check the status of pending Coinbase charges to your card. If everything is in order, and the test charges were processed, they will be refunded to you after the debit card is verified as working. Coinbase doesn't accept credit cards.
PayPal
Users from selected global regions can use their PayPal account to buy cryptocurrency on Coinbase. PayPal is the largest crypto-friendly payment service in the world and users can buy digital currency on Coinbase with it. You can even transfer your crypto to PayPal and use them to pay for services and products and selected retailers that allow crypto purchases.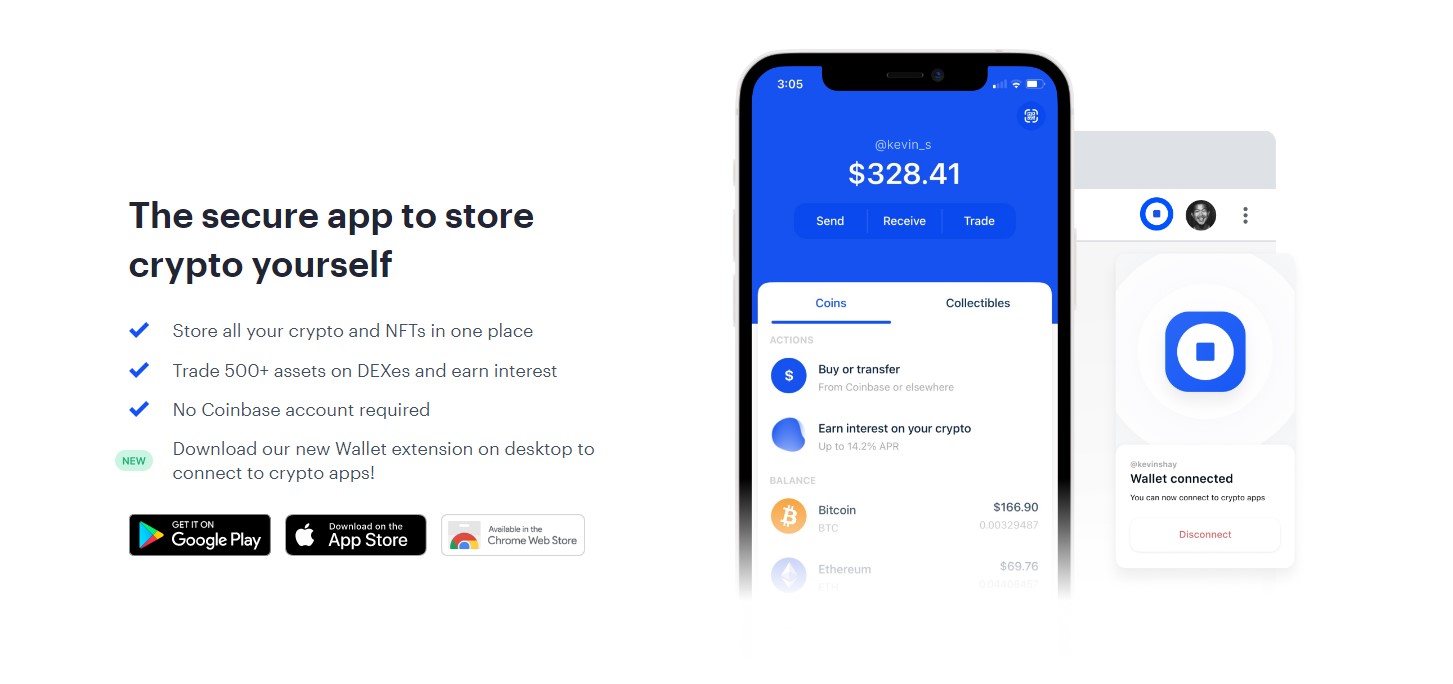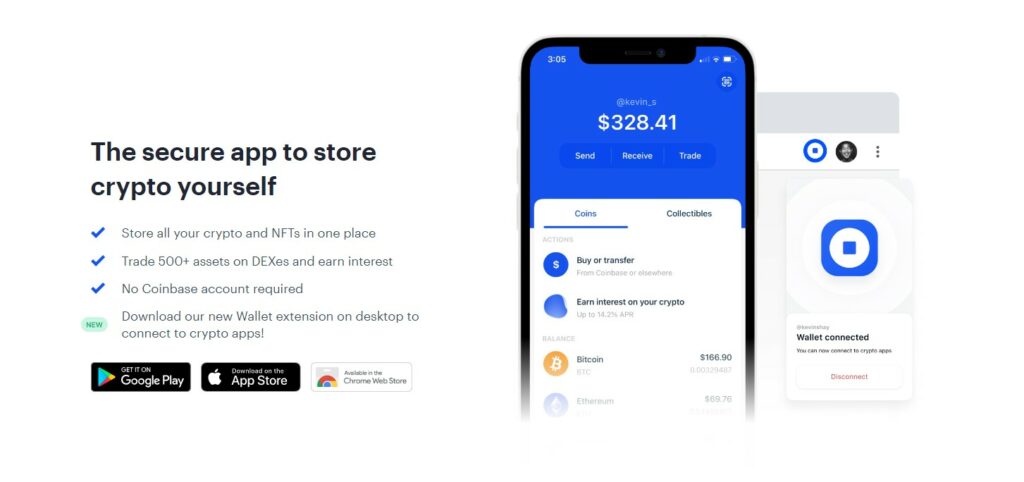 Setting up Your Coinbase Account
Since Coinbase is a fully-regulated crypto exchange, you need to go through a detailed account set-up process which requires you to comply with the KYC (know your customer) standard. This means you need to provide Coinbase with your personal details, such as your full name, address, phone number, email address, and proof of identity. You'll need to take a photo of your government-issued ID card, driver's license, or passport and upload it to your Coinbase account in order to verify the account and start trading cryptos.
All of the information you provide will stay confidential and stored on Coinbase servers. The sole purpose of this information gathering and the photo ID verification is to prevent any sort of money laundering or other scams. The fact that Coinbase has detailed information about the identity of its users means that it's highly unlikely for a user to engage in illegal activities such as money laundering on the platform.
Coinbase Mobile App
On top of the user-friendly web platform, Coinbase also has a very easy-to-use mobile app that's very practical and suitable for total crypto beginners. All the features of the browser version of the platform are available on the Coinbase app and you can install it on both Android and iOS smartphones.
A lot of crypto traders want to be able to access their portfolio quickly, while they are on the move. This is why it's so important for a market-leading crypto exchange to have a reliable mobile app, which doesn't hold back on any platform features. Everything you can do on the Coinbase website is also available on the app and this is another reason why millions of users choose Coinbase.
A Few Final Words…
Among crypto exchanges, Coinbase is one of the top choices for users that want fast and reliable trading services, safe crypto storage, and a flawless mobile crypto exchange experience that doesn't sacrifice functionality in any aspect. The selection of tradable cryptos contains a careful choice of some of the most popular assets on the market and you have a wide range of fiat-friendly payment methods at your disposal, which enables you to buy cryptos directly with USD, EUR, or GBP.
All of these services really make the somewhat-higher platform fees worthwhile. It's much better to pay an extra percentage of exchange fees than to be a scam victim on some less-known platforms.